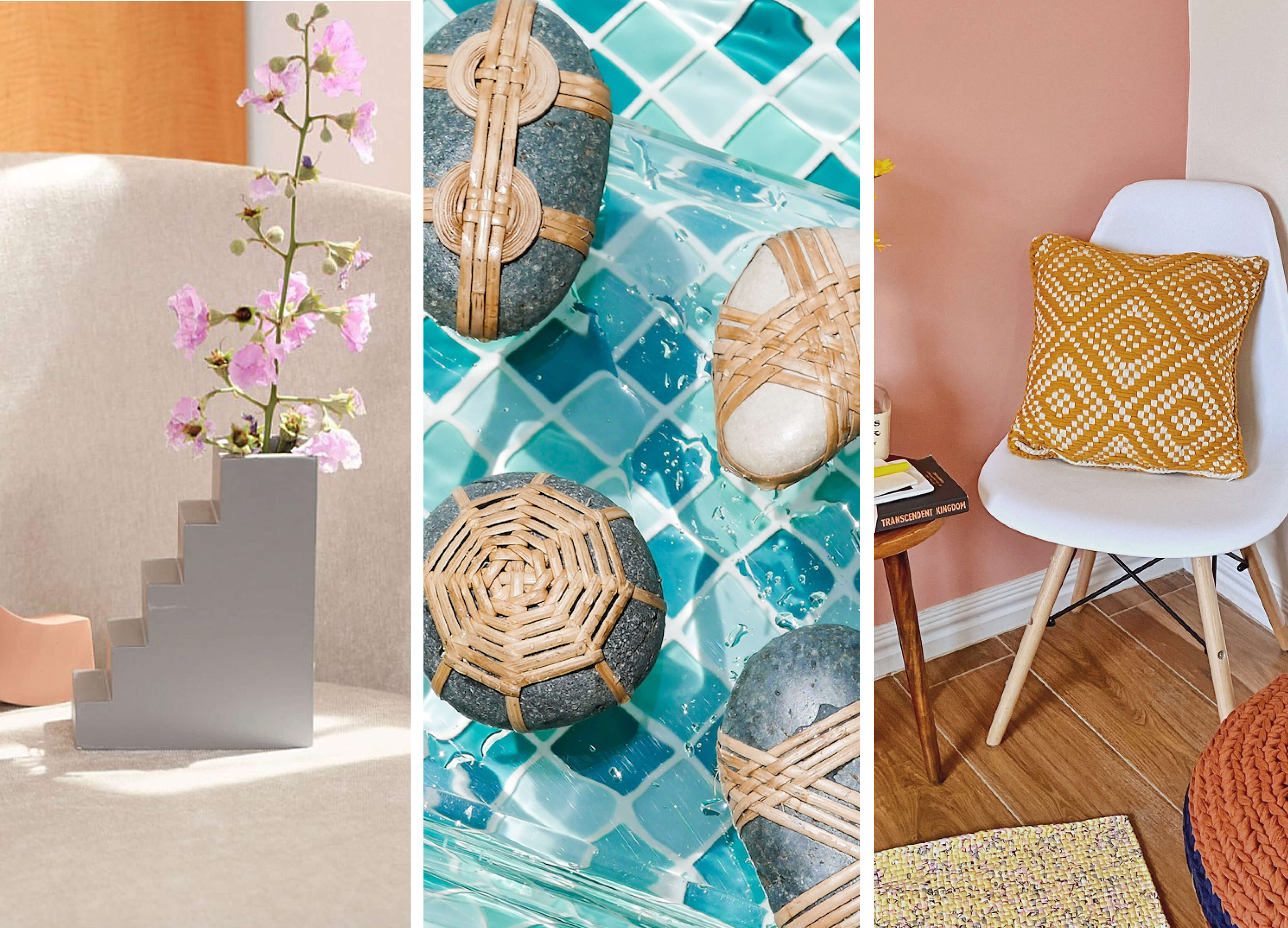 Gift Guide for the Home Design Lovers
Spoil the people on your list with these home finds that perfectly marry style and sensibility
By Vicky Montenegro

FOR THE ORGANIZATION-OBSESSED
The extra time spent at home has allowed a lot of us to do a bit—or a lot—of home editing. And suddenly, organization has turned into a lifestyle crusade for those who have been doing work and everything else at home. For those on your list who have become obsessed with keeping everything organized at home, gift them with these pieces—storage boxes, baskets, canisters, and the like—that make everything look neat and chic.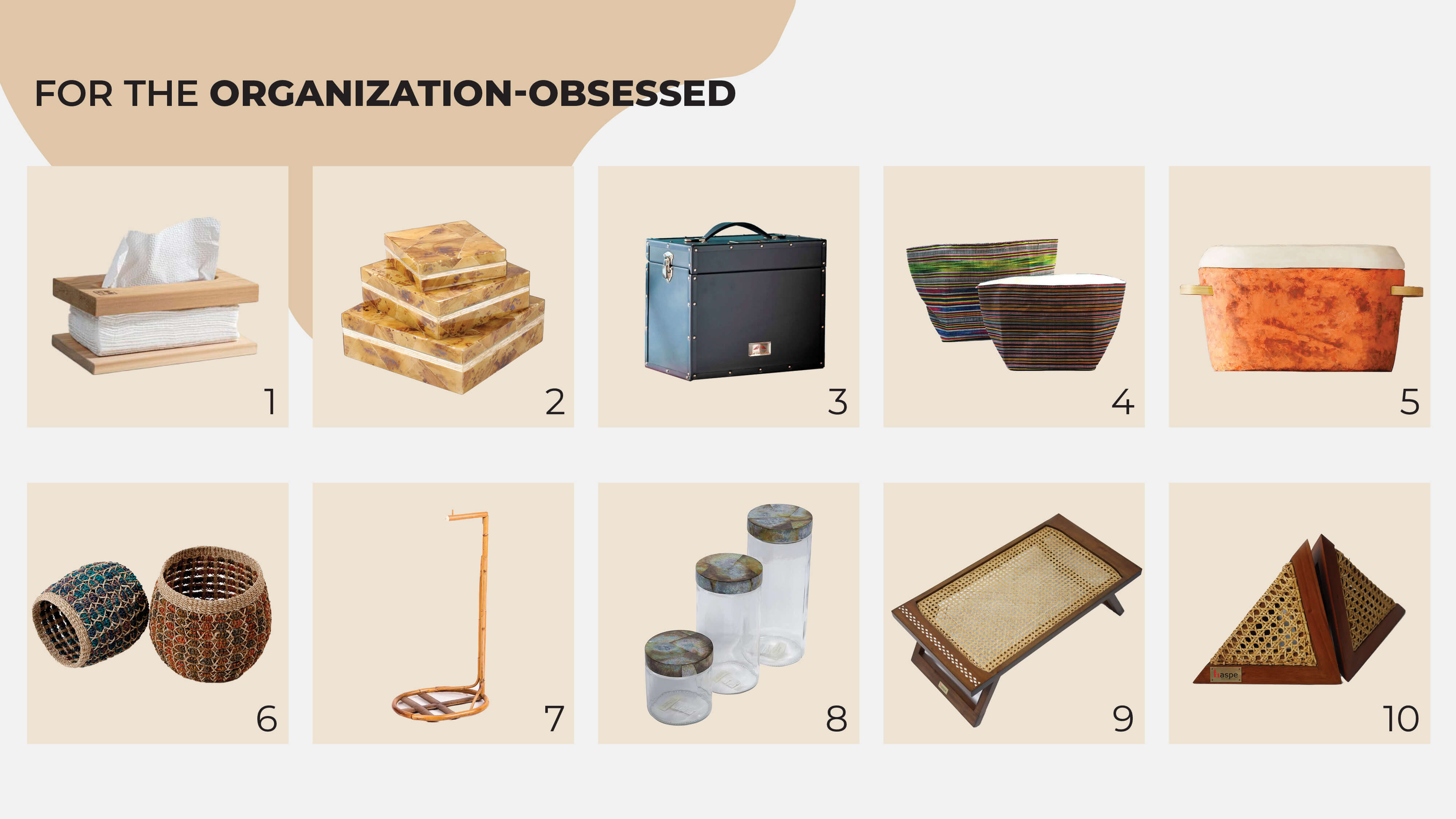 1) Tissue Weight, LAMANA 2) Utility Box, TUMANDOK 3) Stationery Box, Prizmic & Brill 4) Soft Basket, CUSTOMMADE CRAFTS CENTER 5) Red Oval Paper Clay Storage with Cover, INDIGENOUS 6) Round Bulging Tahiti Basket with Centipede Insert (Set of 2), SHELMED 7) Pivot Tissue Holder, E. MURIO 8) Glass Canisters (Set of 3), ISLAND RKOC HOME DECORS 9) Imbute Folding Bed Tray, HASPE DESIGN STUDIO 10) Tatsulok Bookends, HASPE DESIGN STUDIO

FOR THE DECORISTA
We all had the time to arrange and rearrange our homes and spaces these past months—from reimagining rooms to creating personal sanctuaries and cozy cocoons. Chances are, you have a friend or two who would welcome new decor options for their home. From tabletop accents to vases and pillows, these pieces will warm up your loved ones' spaces and bring an extra layer of design and delight.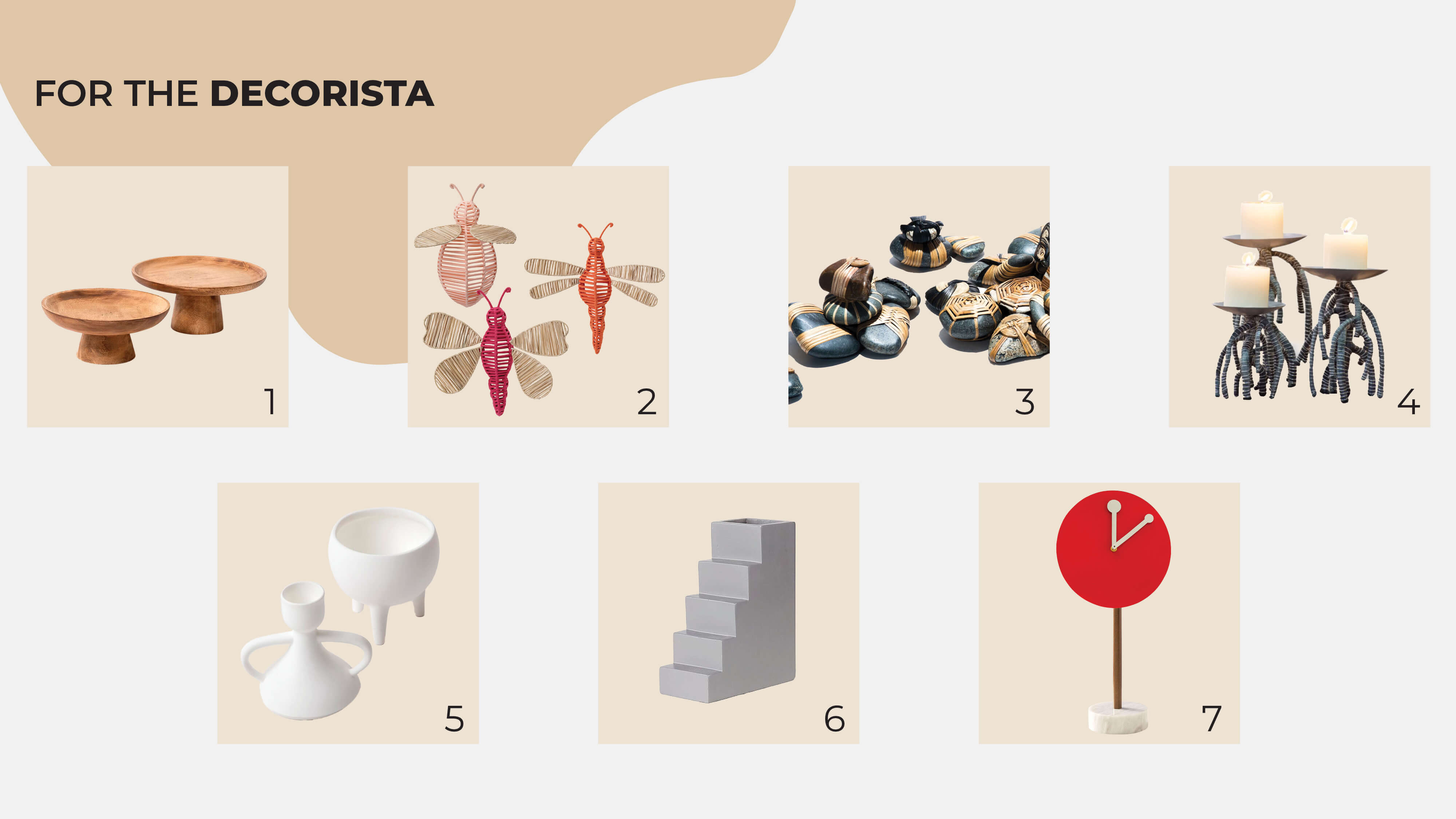 1) Pedestals BNWF-2024, BASKET AND WEAVES 2) Bumblebee, Tubi, Butterfly, LIJA BY THAT ONE PIECE 3) Woven Stones, SC VIZCARRA 4) Table Candelabra, TADECO HOME 5) Box Potts Candle Holder / Bud Vase, CSM PHILIPPINES INC. 6) Staircase Vase, ALBERO 7) Button Collection Clock, VENZON LIGHTING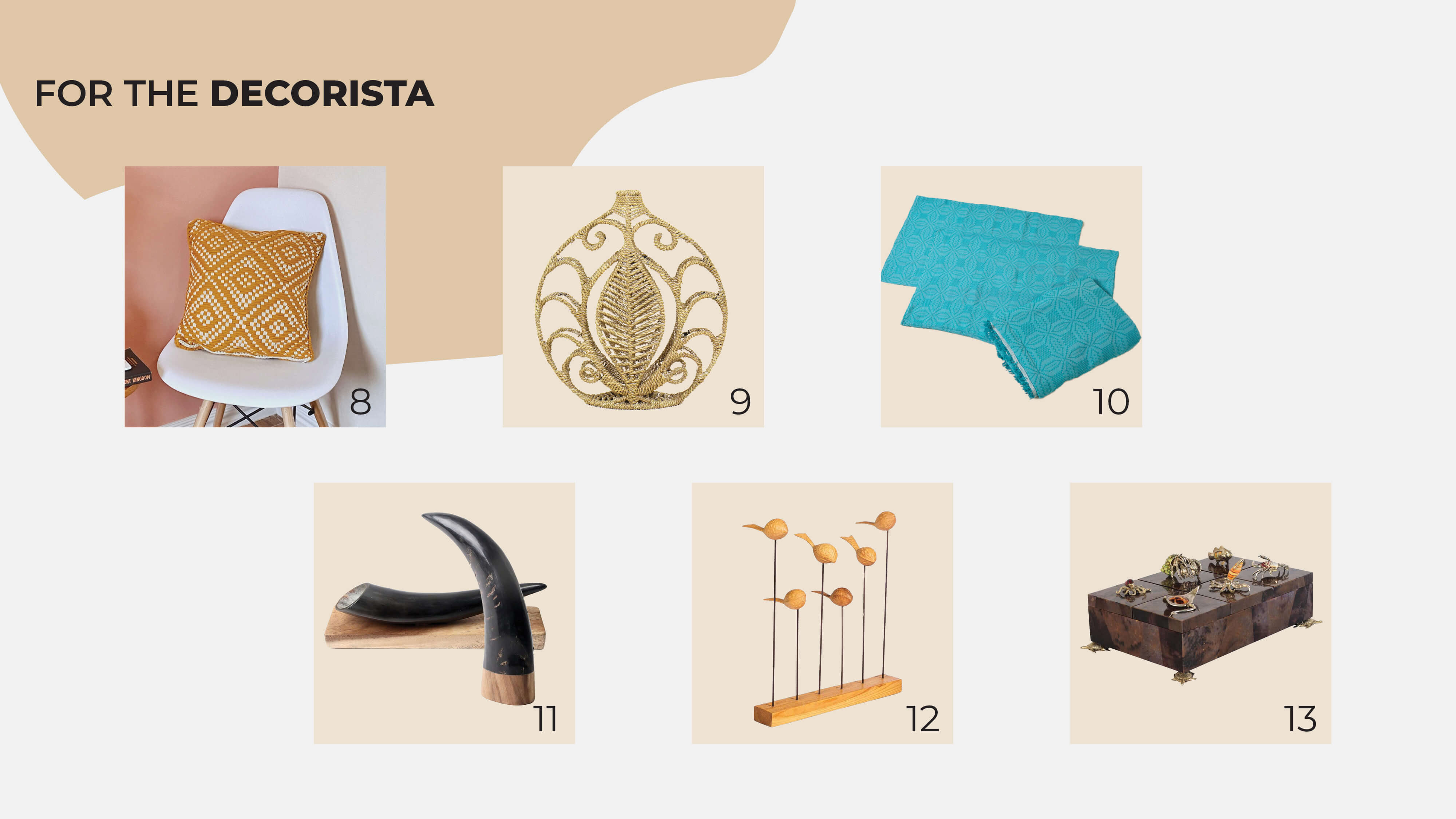 8) Pixel Pillow Diamond, R2R 9) Rope Vase, ENPEKEI INTERNATIONAL 10) Himbing Inabel Blanket and Pillowcase Set, TAHANAN FURNITURE 11) Horn Table Décor, ELM'S ACCESORIA DE CASA 12) Lovely Birds, PHILIANA DESIGN 13) Marina Box, ARDEN CLASSIC INC.

FOR THE CAREER-ORIENTED
Everyone has carved out niches in their homes for their work-from-home setup, so why not gift friends with pieces that will make the WFH experience more pleasant and aesthetic? From a sustainable set for coffee breaks to stylish organizers for odds and ends, help transform an everyday workspace into an inspired and inspiring environment.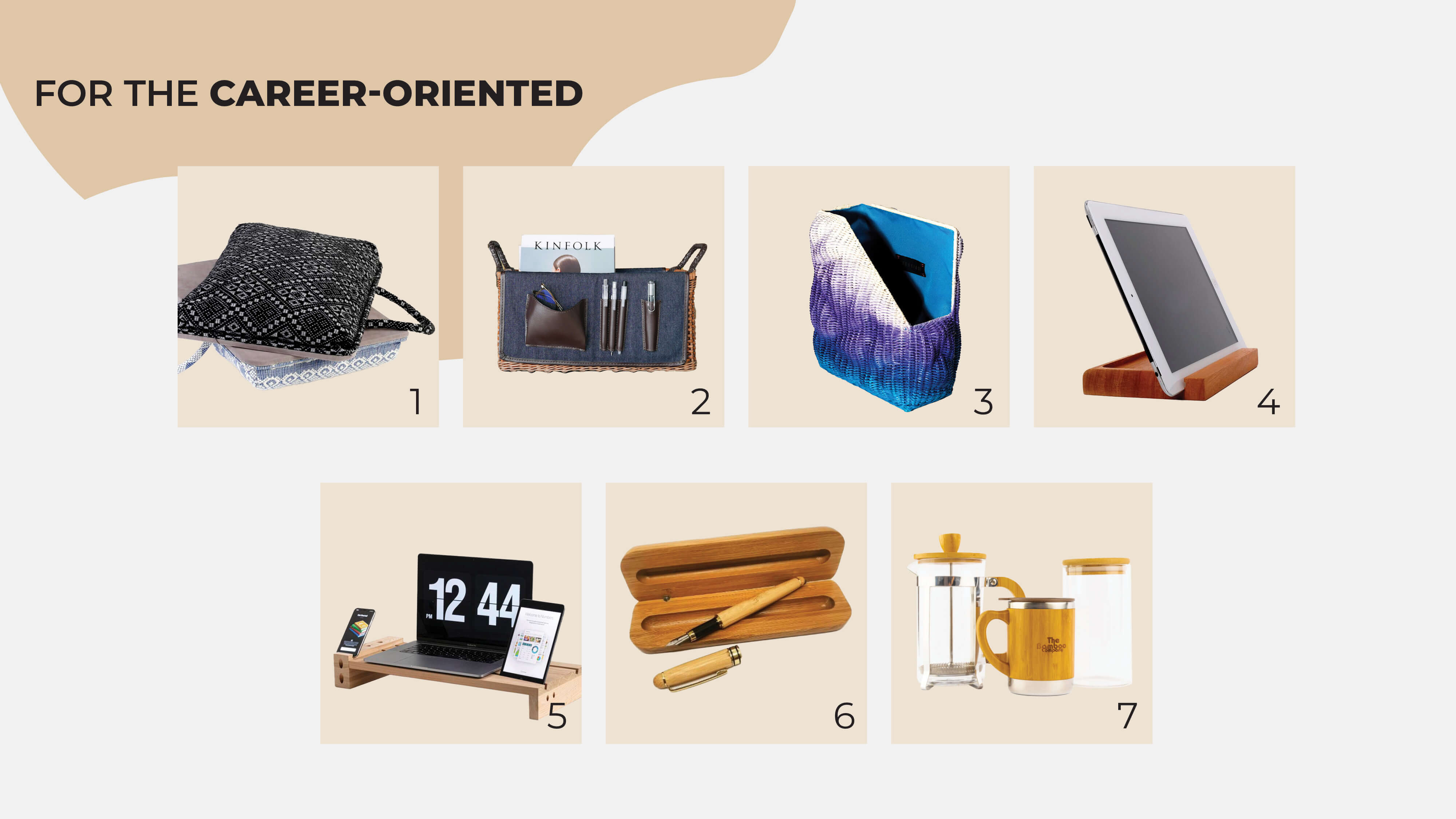 1) Laptop Pillow, LARONE 2) SCV Organizer, SC VIZCARRA 3) Monolith Ombre Bookends File Holder, ZACARIAS 1925 4) Tablet Stand, SUSTAINABLYMADE – MARSSE 5) Opus, LAMANA 6) Bamboo Fountain Pen, THE BAMBOO COMPANY 7) Eco-Friendly Coffee Set Buddy (Coffee Press + Mug + Jar), THE BAMBOO COMPANY
FOR THE GRACIOUS HOSTESS
The aspiring hostess with the mostest might have missed out on some celebrations the past years, but you can always gift her with pieces that will make her look forward to the next years' festivities. Intimate dinners will most likely be the norm for the next few months, and these gift ideas will pretty up any tablescape. And just in case she'd want to take the occasion outdoors, there's a charming picnic basket just for that, too.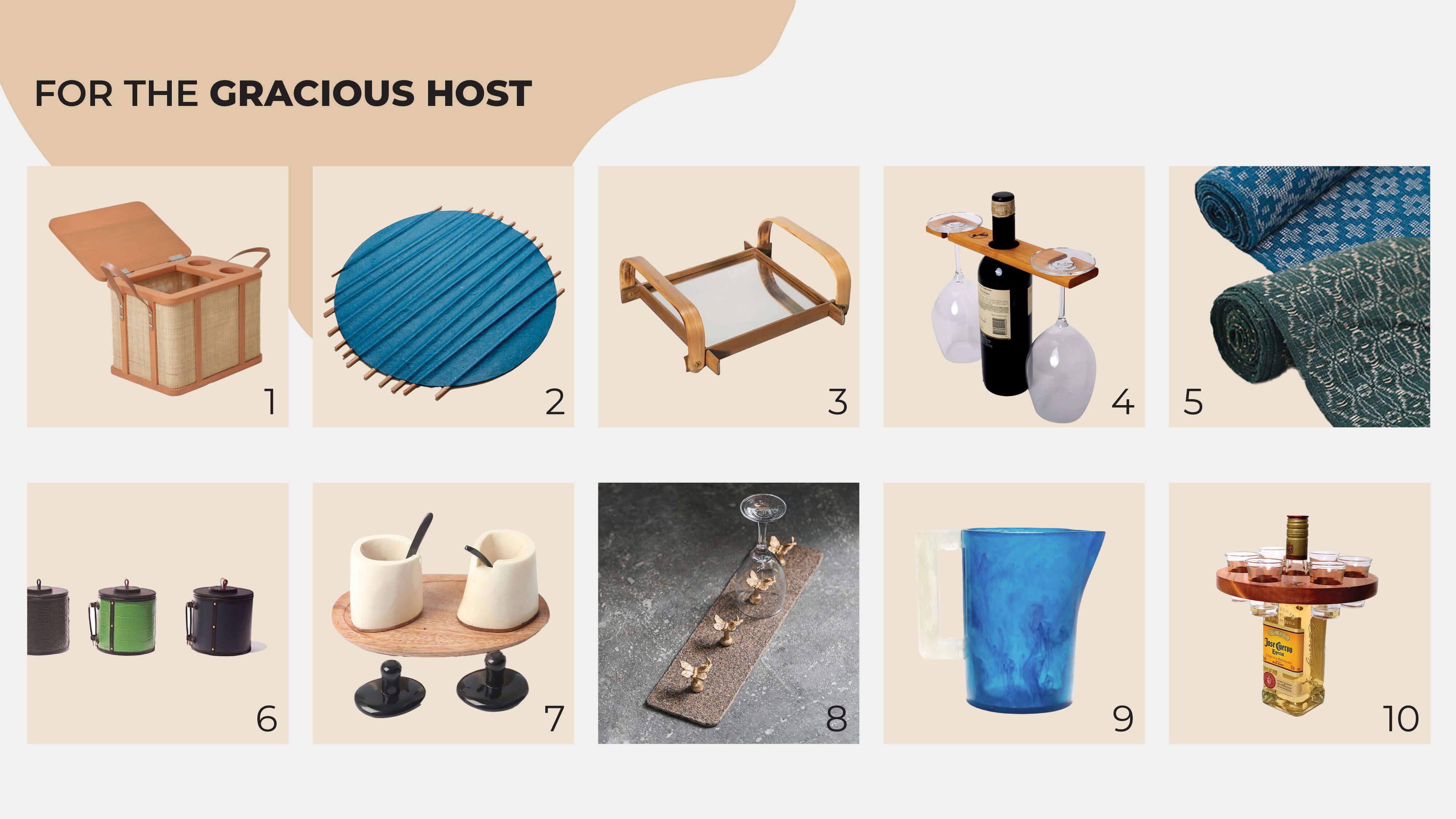 1) Araw Picnic Basket, TAHANAN FURNITURE 2) Washable Paper Placemats Plain Round, INDIGENOUS 3) Bamboo Mirror Tray, E. MURIO 4) Wine Hat, SUSTAINABLYMADE – MARSSE 5) Dahon Table Runner, Puso Table Runner; CREATIVE DEFINITIONS 6) Ice Bucket, PRIZMIC & BRILL 7) Salt & Pepper Set (White), ELM'S ACCESORIA DE CASA 8) Wine Glass Ornament, FLOREIA – HOME & FASHION 9) Pitcher Marmorcast, NATURE'S LEGACY 10) Shots Sombrero, SUSTAINABLYMADE – MARSSE
FOR THE PLANT LOVER
For those who have magically transformed their homes into indoor jungles, here are a few more extras that they will surely appreciate. These creative planters, vases, and a driftwood pot perfect for propagating their plant babies will definitely elevate their green spaces. And here's a tip: present these pieces with actual plants in them and there won't be a need for wasteful gift wrapping.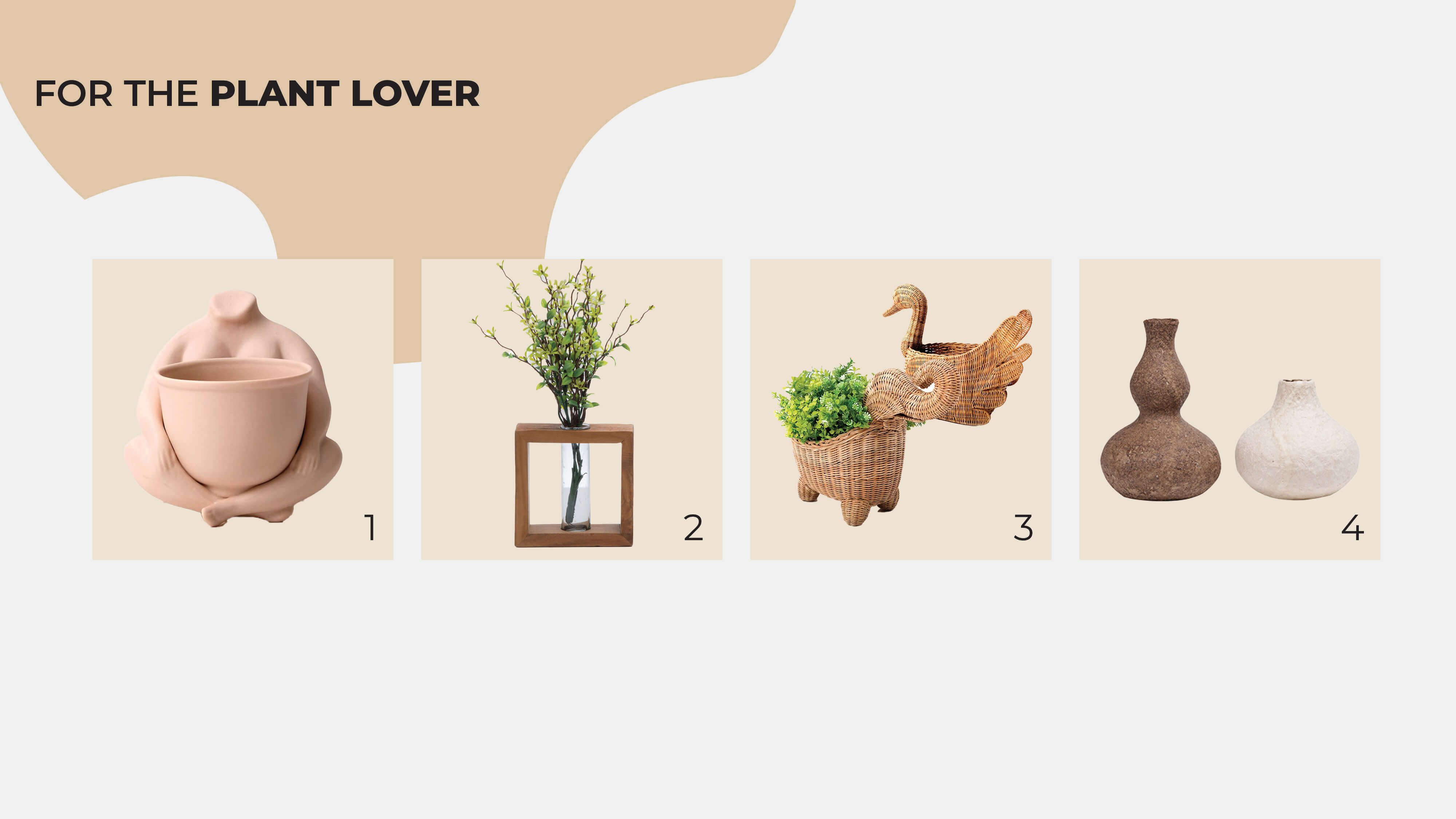 1) Sitting Burlesk with Pot on Lap, CSM PHILIPPINES INC. 2) Driftwood Flower Pot (NA 398), DIERDE DESIGNS 3) Swan Planter, Elephant Planter; ORIENT MEADOW 4) Mia, Vega; LIJA BY THAT ONE PIECE
SOME SPECIAL EXTRAS
Not sure what to get? Gift cards and wine (especially for a Christmas dinner party) are always welcome—and these money envelopes and wine caddy are fancier options for presenting these gifts. And a gift clutch for textile presents—scarves, shirts, hand towels, and the like—is creative, chic, and more eco-conscious.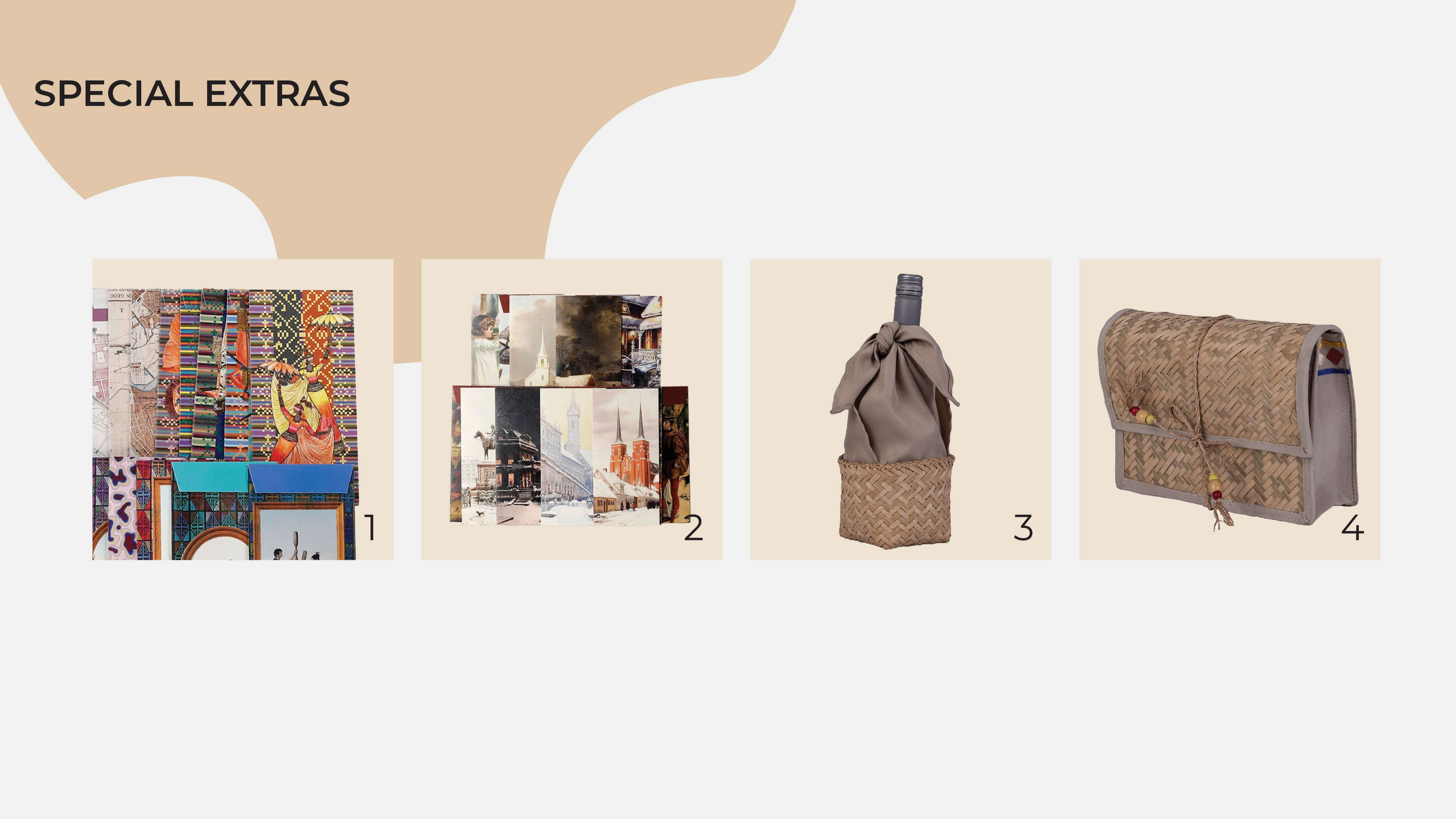 1) Angbao Filipino Theme (Indio), 2) Angbao Holiday Design (Vintage Christmas); PAPERBOUND 3) Binhi Wine Caddie, GREAT GIFTS 4) Tribu Bamboo Gift Clutch, GREAT GIFTS