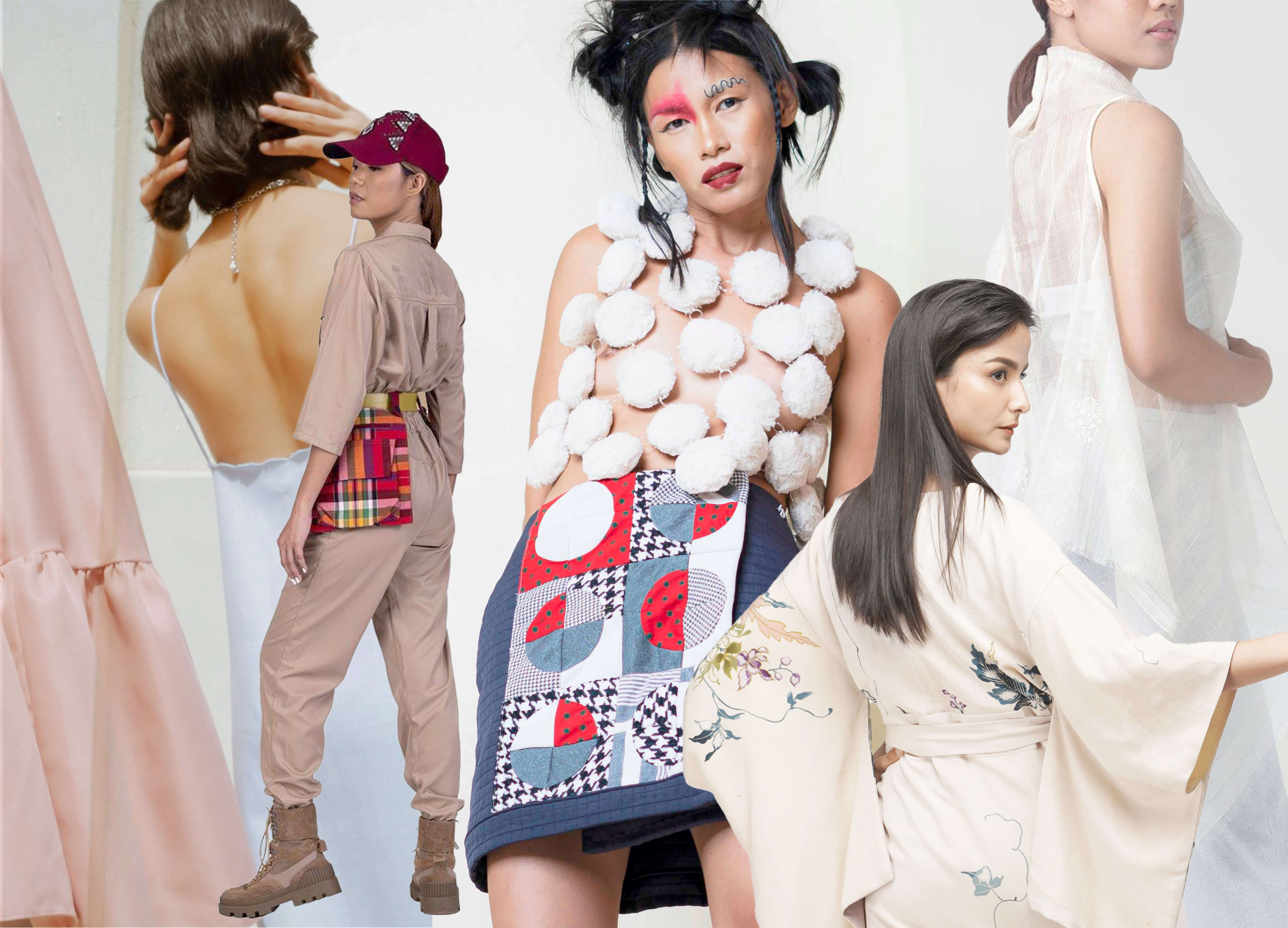 Key Trends for Womenswear in 2022
Elevated functionality and comfort are key elements for the new year's fashion
by Vicky Montenegro

New York-based trend forecasting agency Fashion Snoops has shared a series of shared their Fall-Winter 2022/2023 Trend Immersion sessions for accessories, menswear, womenswear, and the home, all of which discuss how these trends can guide designers on product conceptualization and development and consumers on what to cherry-pick for this year.
This time, we zero in on womenswear. And for 2022, we're seeing a lot of elevated functionality and pieces that still satiate our cravings for comfort and ease. "Design is getting pared back and simple," Melissa Moylan, Fashion Snoops VP of Womenswear, explains. "Consumer mindset is that people are more conscious of what they're buying. So it's not as trend-driven per se. It's not your fashion item that's just a one-time-use wear. We will ultimately get back into that flow… to minimalism and kind of investing in your wardrobe. So that might be a simpler, pared-back shape—but how do we elevate it? So we're using a various amount of details or materials or colors to just heighten the sense of minimalism."
But there's also a desire to go back to the joy of dressing up and glamming it up—especially after more than a year of not dressing up for anywhere or anything. But 2022's version of glam is more joyful, escapist, and quirky—dopamine dressing, as they call it.
Here, a list of what to look forward to in womenswear in 2022 and some key pieces from the FAME+ Catalog for inspiration.

INTEGRATED UTILITY/FUNCTIONALITY
As we slowly move on from pandemic life, quite understandably, exploration, travel, and just being "out there" are priorities for many. We will all proceed with caution still, of course, and we are looking at clothing for that added armor. We want clothes that will "protect and prepare" us for any unforeseen challenges. And so heightened functionality and integrated utility are key: convertible pieces that provide protective extensions; zipper closures and hardware functionality; multiple compartments; quilting and insulation (for applicable weather); and adaptive layers that allow us to remove and/or add on.
People have discovered the ease and perks of a transient lifestyle—at least in an environment that's still not fully stabilized—and they are looking for adaptive clothes that will move with them comfortably and, of course, stylishly.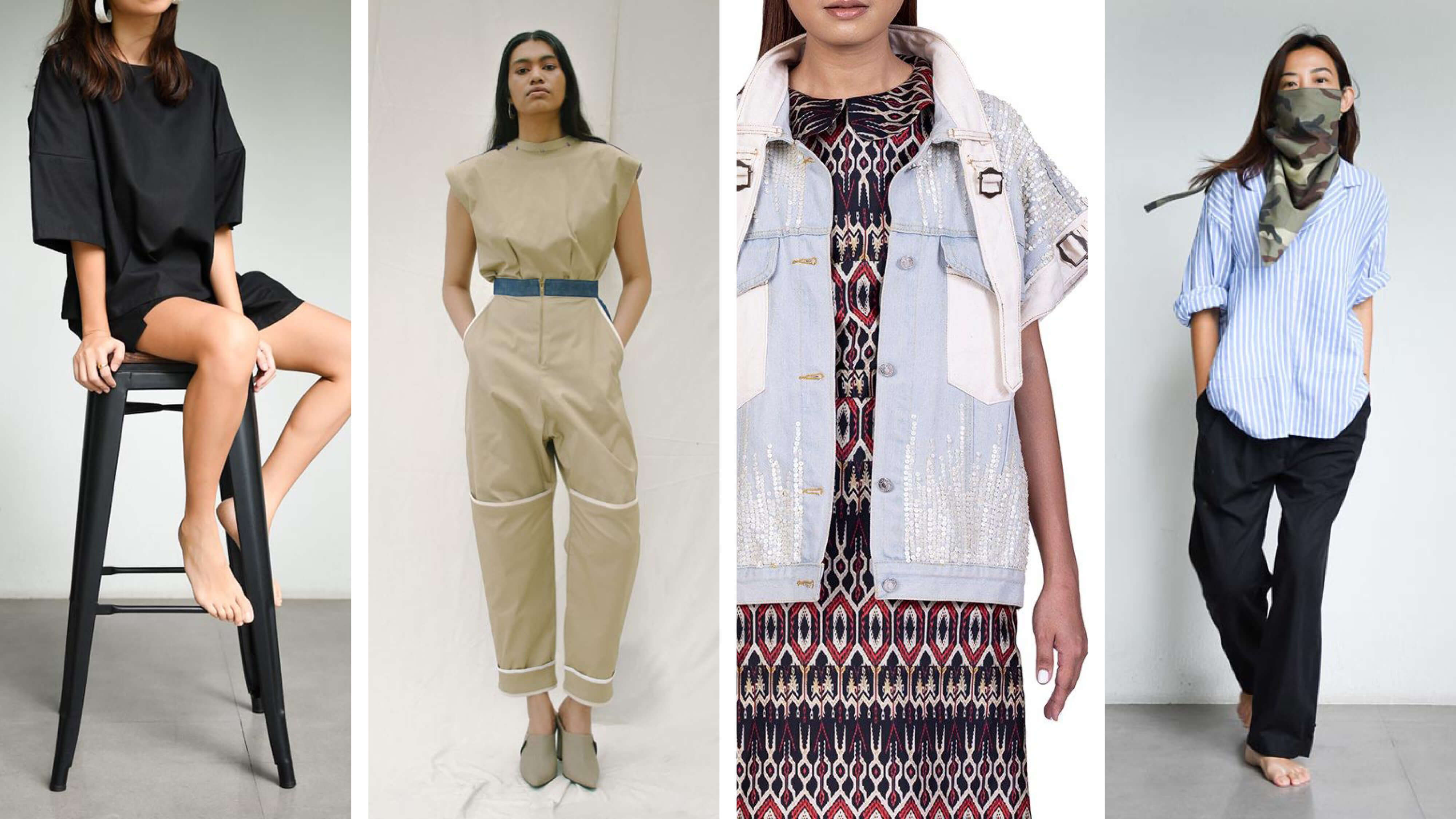 (from L-R) Reverse the front with the back for two necklines, and roll up the oversized sleeves or leave them down for a different look each time, Casa 2-Way Top, UNIFORM. The definition of chic utilitarian, Box S/L Tee & Peanut Crop Pants, BAGASÁO. Deconstructed jacket with faux mother of pearl beading, UP-2, EDGAR BUYAN. With its attached 3-ply cotton mask, you can wear the non-medical grade mask for more coverage or tuck it in under the scarf, Kelly 2-Way Scarf, UNIFORM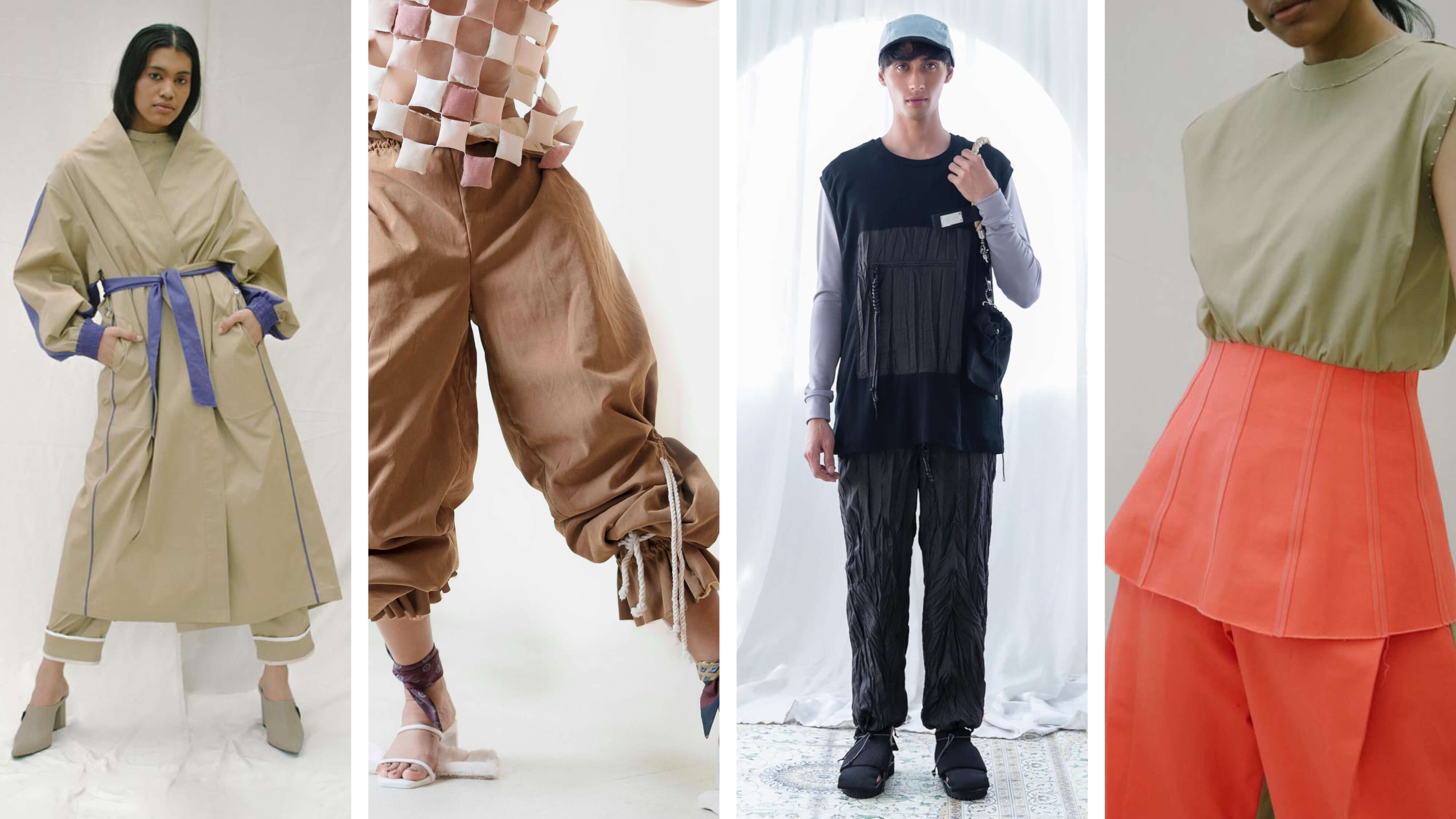 (from L-R) A dressier take on weather-proof clothing, Kimono Robe Coat, BAGASÁO. The vest is a chic, quirky closet addition while the drawstring trousers, which gather at the waist, knees, and ankles, are made for anything, Pillow Vest and Drawstring Trousers, STEPH VERANO. Sleeveless shirt with front pocket, LSS22010, LORICO. Mix and match corset top and shorts for WFH, Corset S/L Shirt & TL Shorts, BAGASÁO

HAPPY STATEMENT FASHION
This year, we will all be gladly wearing our hearts on our sleeves and dress up to bespeak joy and optimism. We are going for a happy fashion statement: choosing mood-boosting colors; embracing our inner child with dollhouse kitsch (think ruffles, oversized collars, and puff sleeves) and graphic, colorful illustrations with positive messages; mixing clashing patterns; and reliving the joy of dressing up, but this time with extravagant, frilly details—a return to (a more jovial) glam.
After more than a year of being cooped up, we're all eager to spread our stylish wings and embrace a vividly ecstatic way of dressing.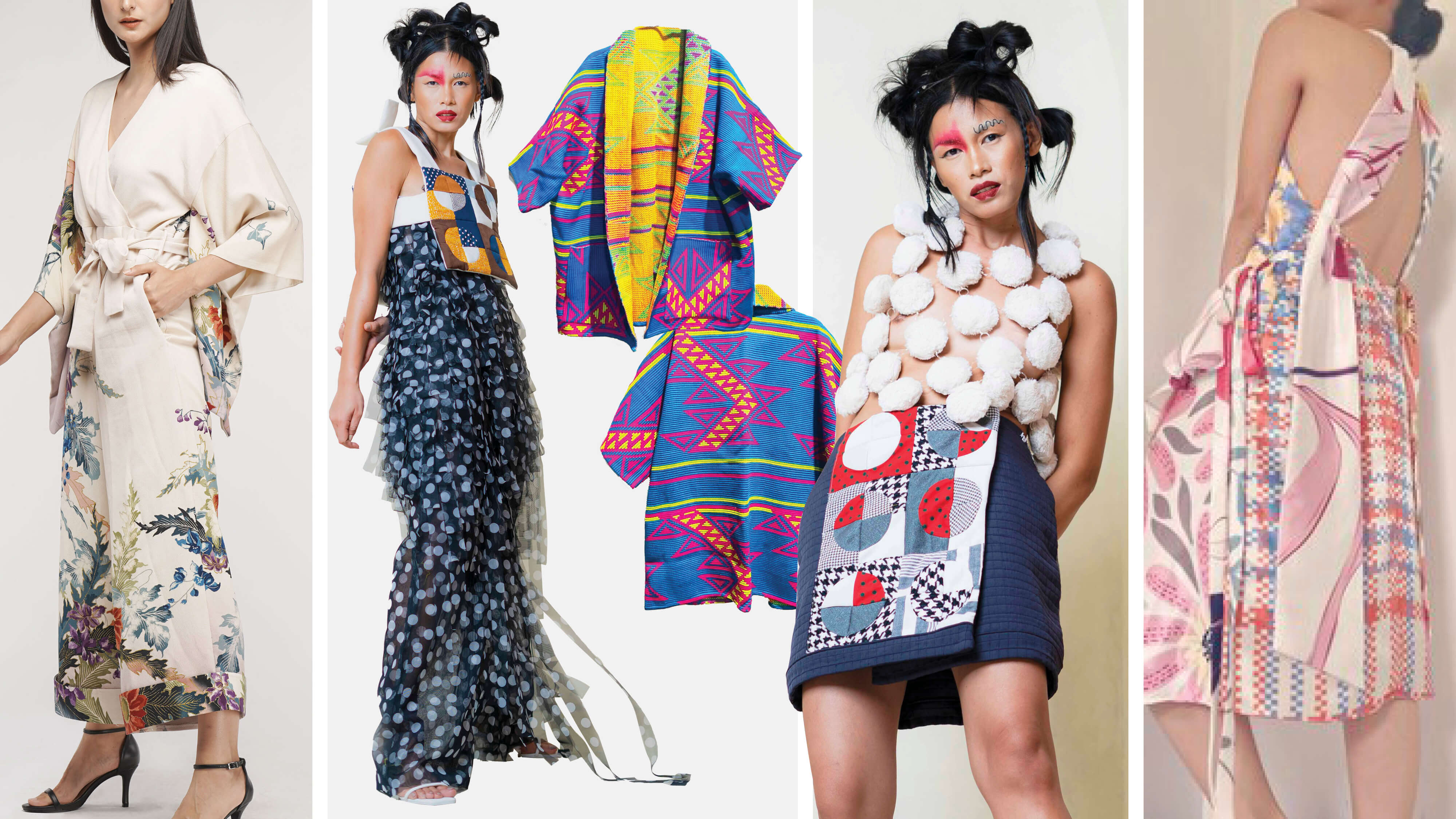 (from L-R) Glam, yet fun, Flowers Kimono Jumpsuit, EDYA1929. Sleeveless jumpsuit in polka-dot tulle with a playful quilted vest, Polka Jumpsuit and Play Vest, STEPH VERANO. This kimono-inspired jacket in handwoven fabric is reversible and double the fun, Samu Jacket, ETHNIQUE. Marshmallow-inspired top and wrap skirt scream vintage kitsch, Mallo Top and Peggy Wrap Skirt, STEPH VERANO. Wrap dress with multiway straps, Margaux Dress, TA LOULOU.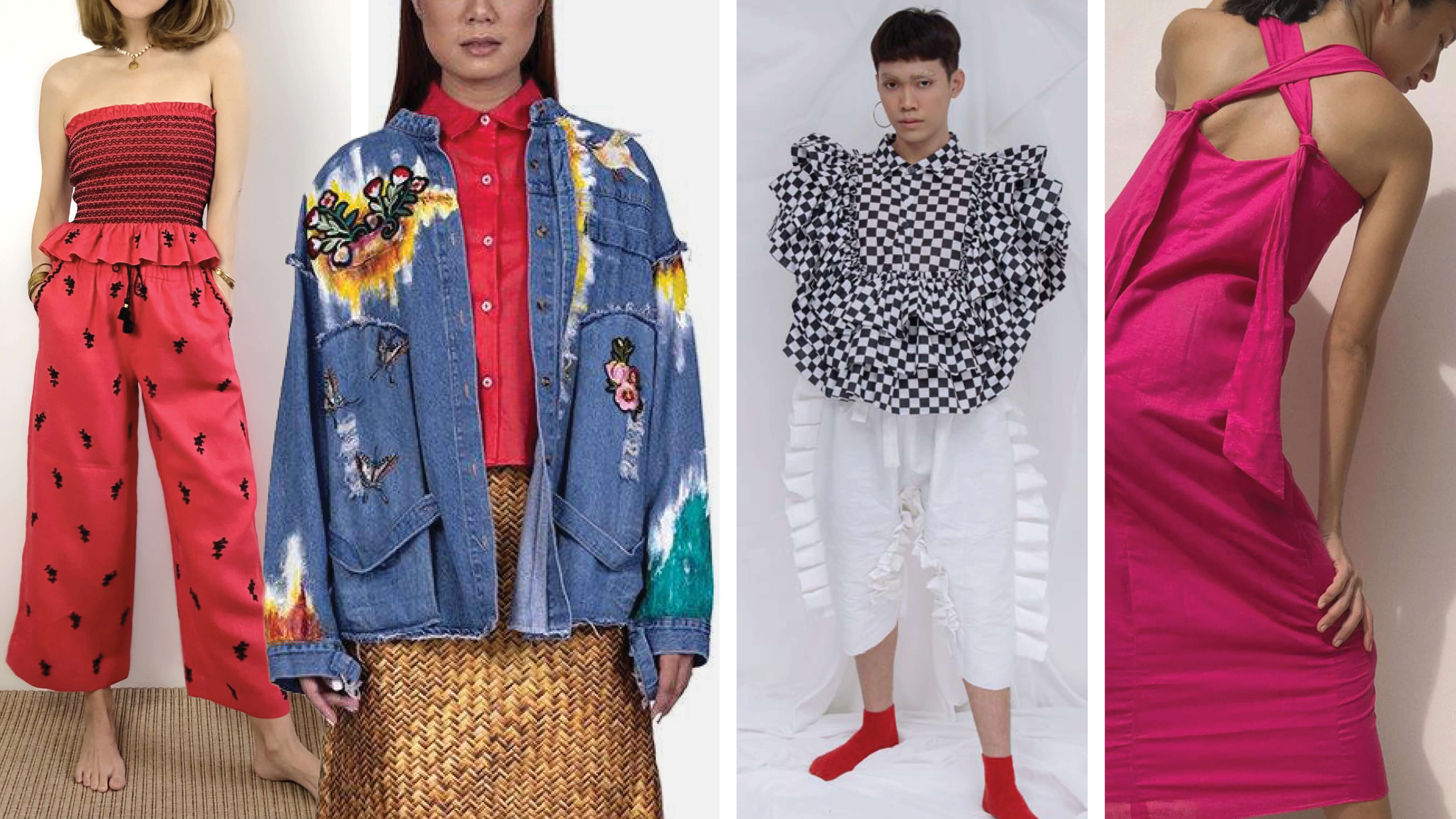 (from L-R) Hand-embroidered cropped pants with tassel cord drawstring, Jess Crop Pants (Red), AMARIE. Hand paint and patchwork embroidery on this denim jacket add youthful cheer, Fire Denim Jacket, EDGAR BUYAN. This is peak frilly, festive fashion, Racegurl Ruffled Top, HA.MÜ. Halter midi dress in vibrant magenta, Marley Midi Dress (Magenta), ANIKA

ELEVATED OUTDOORS
Travel and exploration also inspire this trend. With people revisiting nature and adventure, it only makes sense that nature-inspired basics are getting a makeover. We're looking at "hunting layer"— a.k.a. the plaid shirt, vest, and camo separates; quilted motifs and romanticized floral prints and patterns on athleisure pieces; and outdoor clothing with a softer, more loungier feel to them.
After living in indoor loungewear, we're migrating to the outdoors with the familiar sense of comfort and style.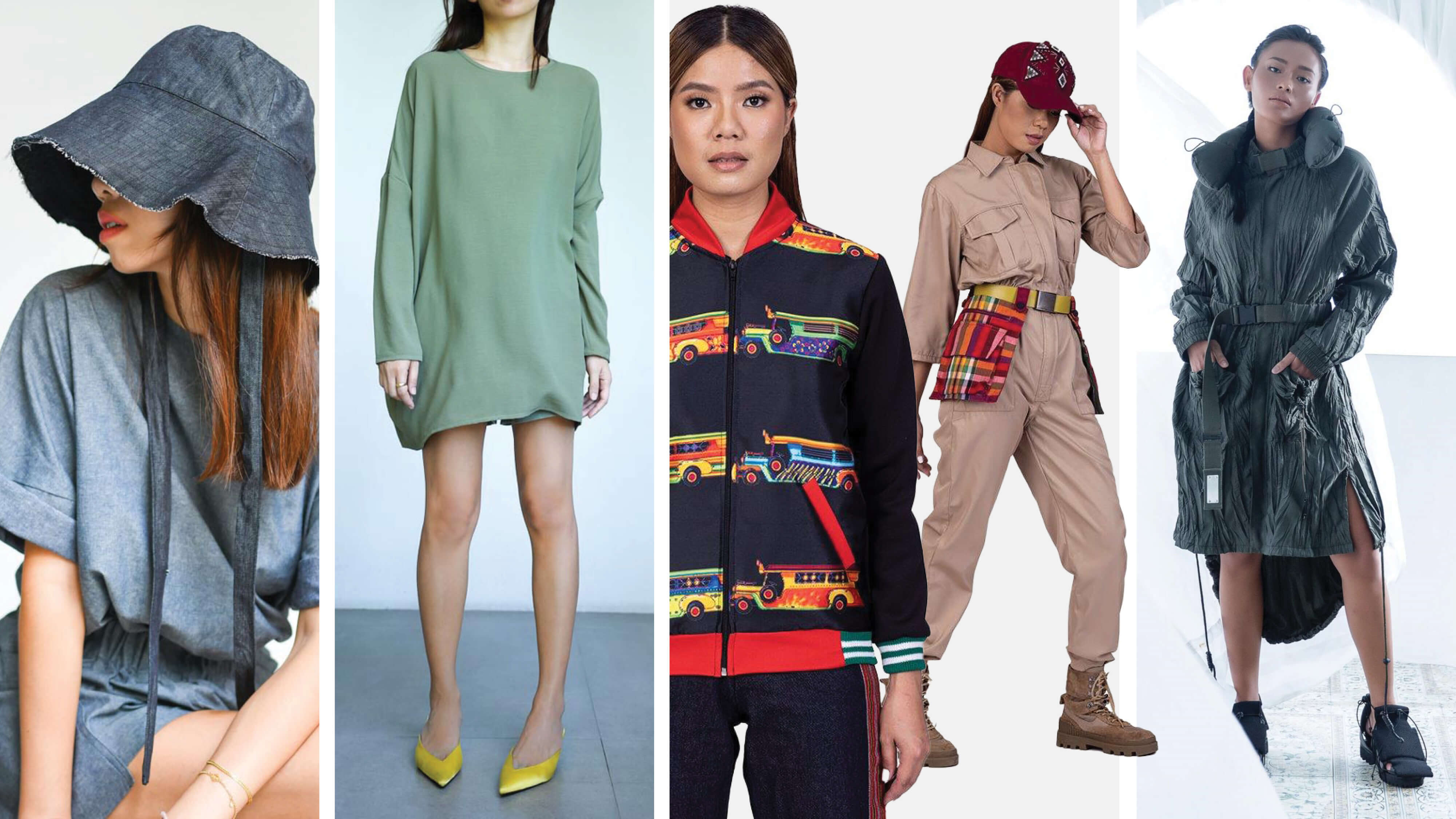 (from L-R) Raw-edged bucket hat perfect for any outdoor activity, Denim Hat, UNIFORM. Loose bodice and slim-cut sleeves that's great for lounging, Easy Long Top, UNIFORM. Jeepney digi-prints add local flair to this Mikado silk and neoprene jacket, Francisco, EDGAR BUYAN. It's a jumpsuit for work and play, Sidney Jumpsuit, STEFFY DE MYLO. Parachute trench parka with neck pillow, LSS22011, LORICO

CHIC COCOON
We're all creatures of comfort and we like our clothing to have the same enveloping feel to them. So how does this year's fashion add to our comfort zone? Volume and exaggerated shapes and silhouettes will look and feel easy breezy but also dressier and even couture-like. Draped styling; cape and poncho shapes; soft, quilted elements; luxurious finishes; and cozy tailoring also add to our comfort level.
Clothing from the concept of comfort will always be a "trend." After all, we always strive to not only look good but also feel good.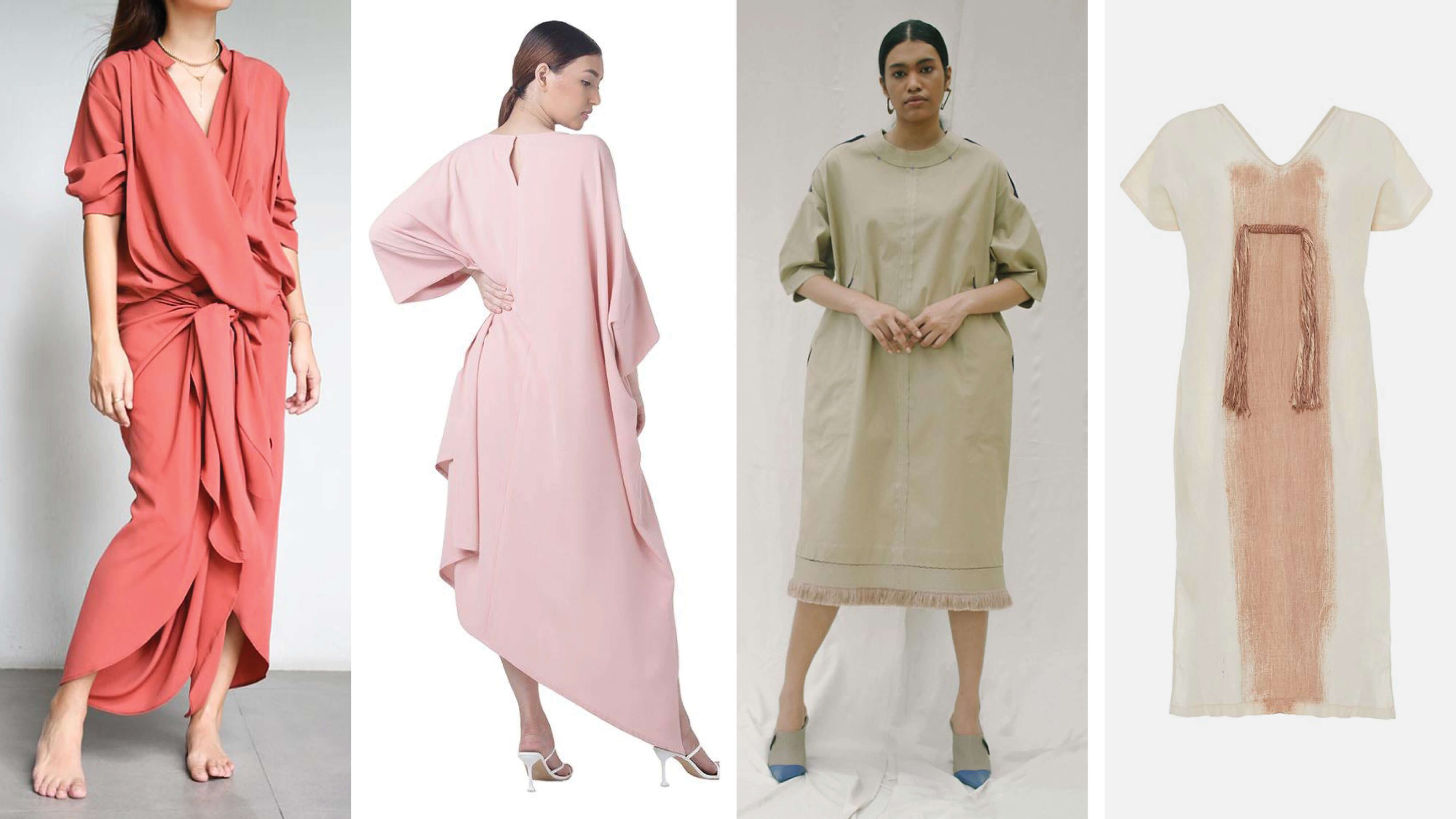 (from L-R) Satin sarong pants that can be worn two ways: tied around the hips or untied for a more ethereal feel, Sarong Pants, UNIFORM. Features a dropped shoulder sleeve and asymmetric hem, Ain Dress, HOUSE OF LAUREL. Roomy, comfy, casual, yet chic, Box Fringe Dress, BAGASÁO. Hand-dyed and handcrafted in pineapple and cotton textile, Frida Dress, MAISON METISSE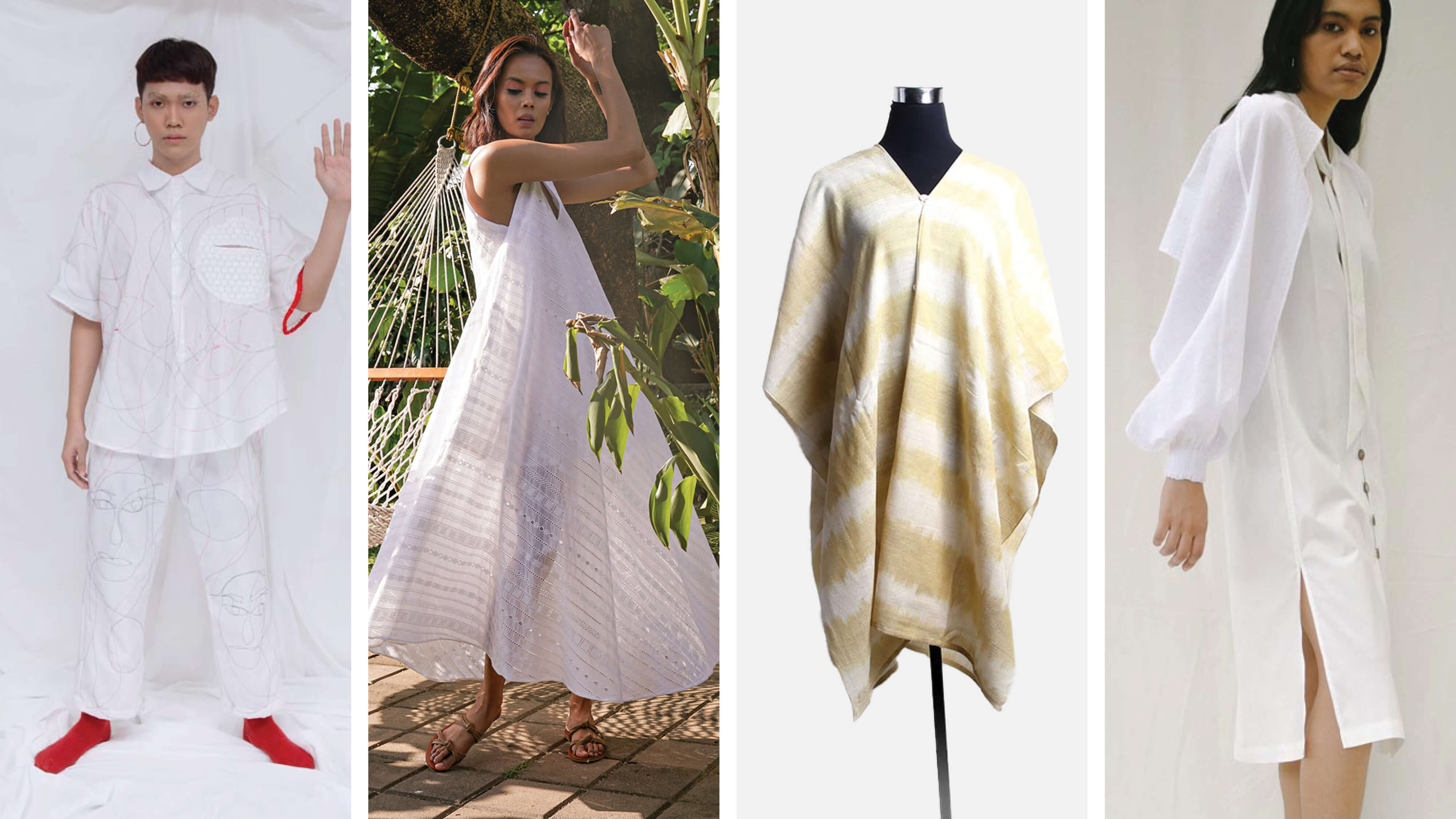 (from L-R) Another option for cozy yet stylish uniform dressing, Doodletime Buttondown Shirt-Pants, HA.MÜ. Roomy silhouette allows for ease and comfort, Diwata Trapeze Dress, JILL LAO. Wear it as a shawl or top, TWS/TWSN, NARDA'S HANDWOVEN ARTS AND CRAFTS, INC. Exaggerated sleeves for a dressier take on the classic button-down, A Sleep Shirt, BAGASÁO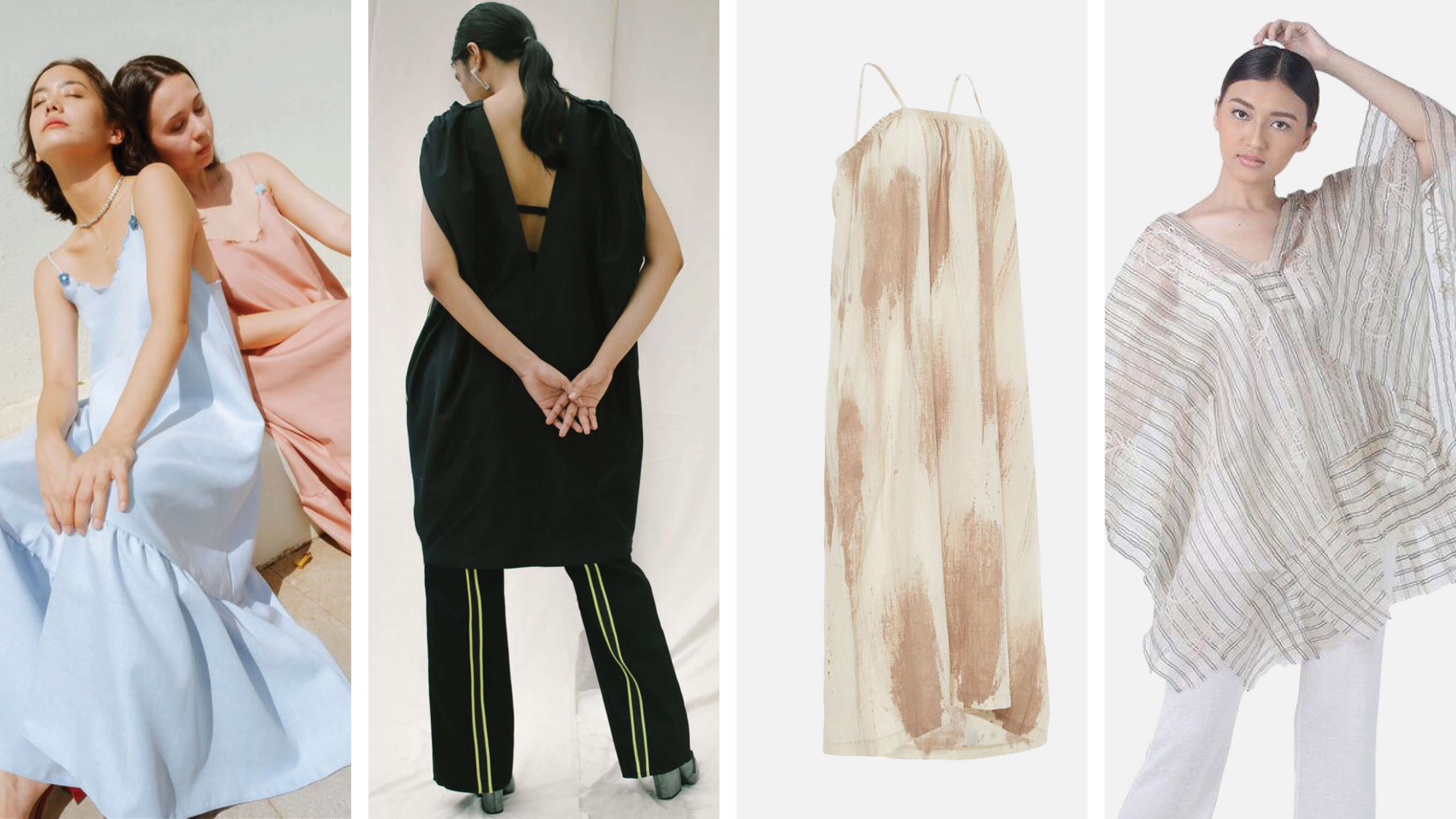 (from L-R) A lightweight, billowy dress with scallop trim and flower cutouts, Dahlia Dress (with Option for Interchangeable Straps), TA LOULOU. The perfect work uniform, SL Duster & Column Pants, BAGASÁO. Hand-painted with natural dye in pineapple and cotton textile, Poupette Dress, MAISON METISSE. Embroidered striped piña caftan feels comfy and looks luxe at the same time, Resort Piña Caftan – Trellis, TAN-GAN

RAW PERFECTION
Perfect imperfection will always have its appeal. We constantly find beauty in things that are slightly undone, feel a bit unfinished, and look one of a kind. Inspired by the wabi sabi Japanese aesthetic—one that embraces imperfection and raw beauty—fashion is also favoring primitive textures, warped hems, contrast stitching, and ruching to mimic worn and weathered material. There's a nod to unfinished refinement with hyper textures incorporated into sleek silhouettes and sophisticated tailoring. There's also a new take on marble prints where earthen patterns are stitched and patched together—or collaged.
You can call it chic craft fashion—clothing that combines style with soul.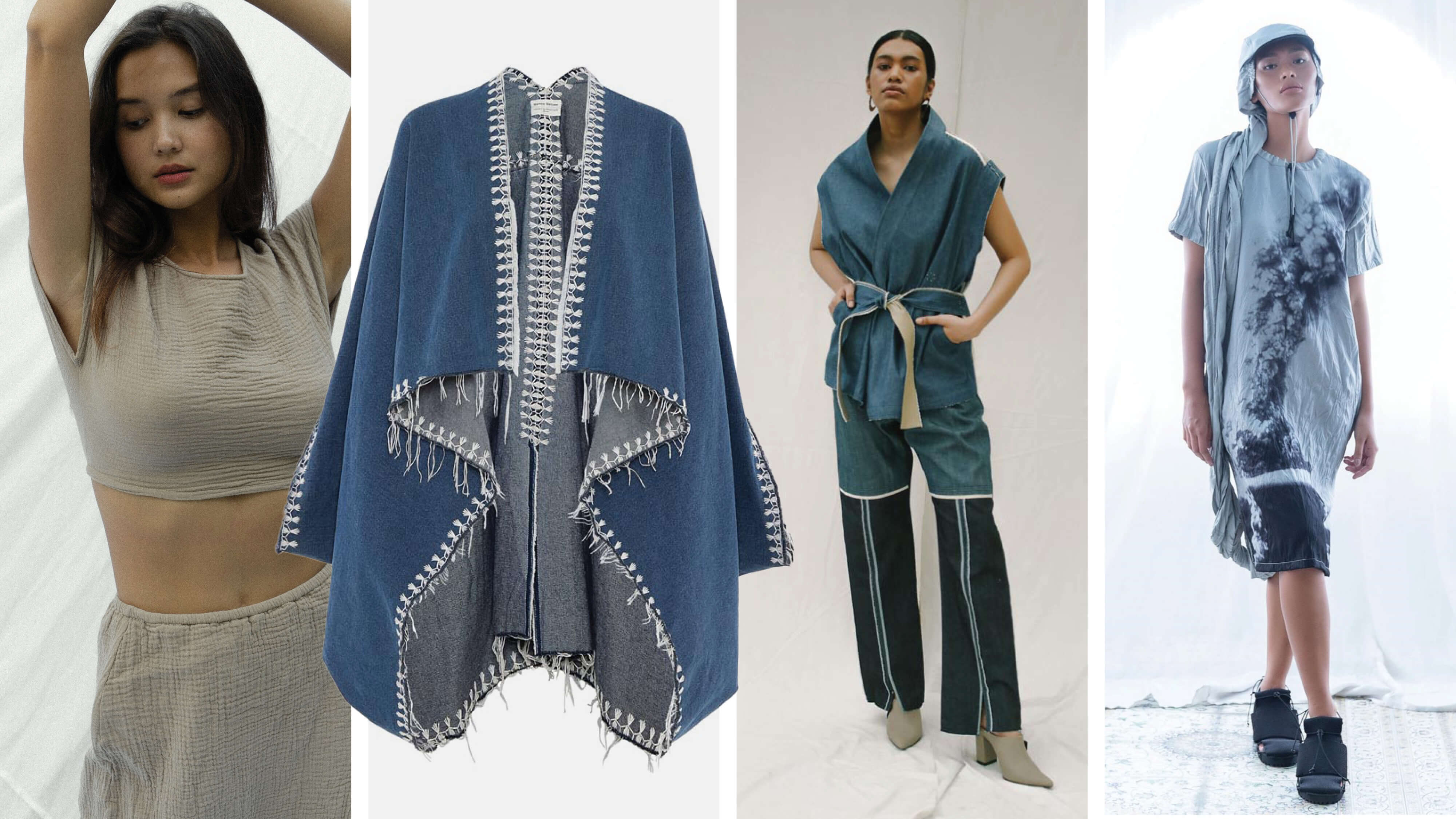 (from L-R) Wear alone or over another top, The Corbata Top in Dune, A LAS SIESTA. Upcycled denim features hand embroidery by the Itneg Tribe, Zoe Denim Coat, MAISON METISSE. 100% Japanese cotton denim fashioned in the traditional kimono style, Kimono Waist Vest, BAGASÁO. Printed shirt with a draped bandana, LSS22019, LORICO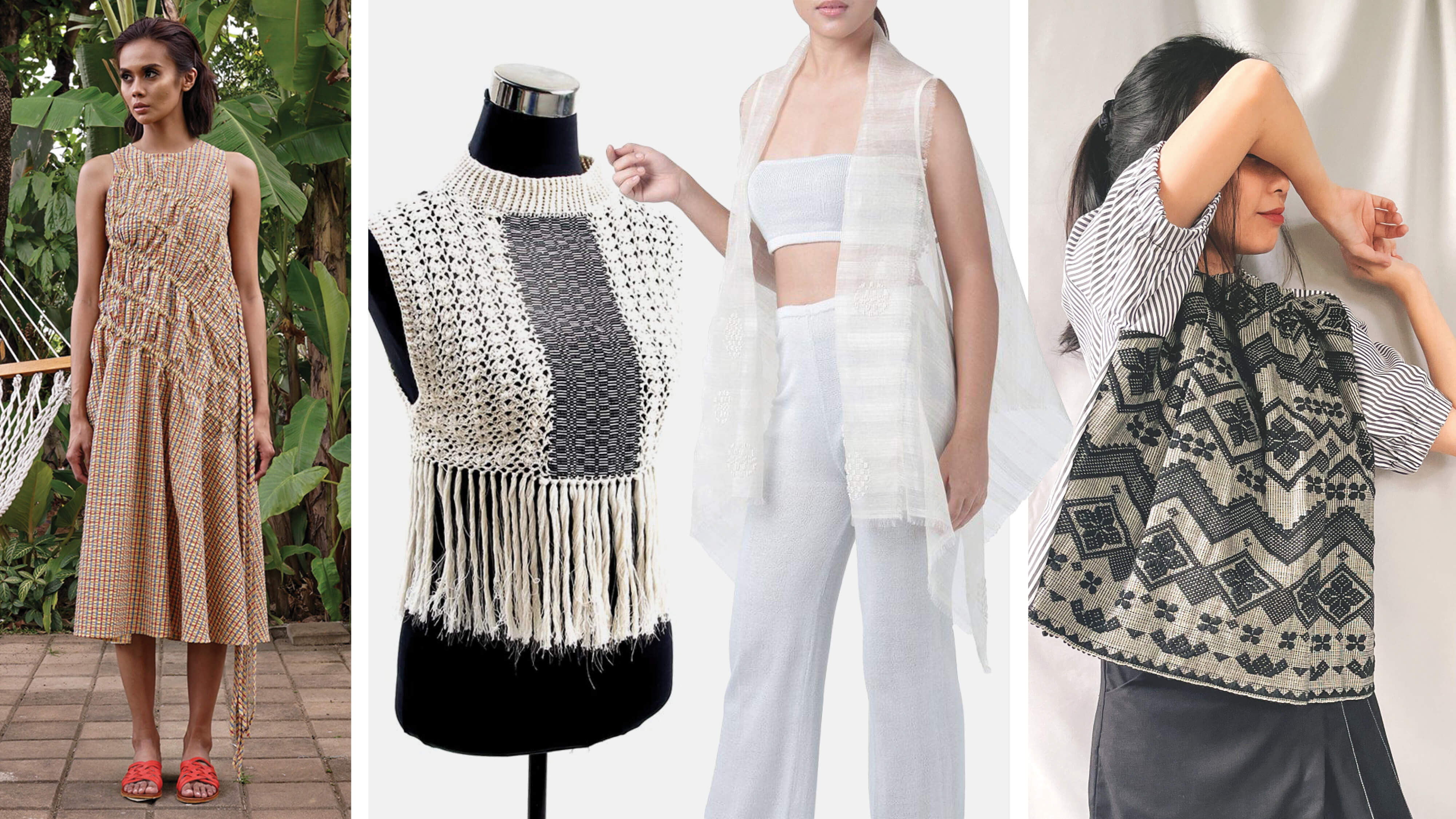 (from L-R) Scrunch it up or wear it loose, it's a versatile dress for many occasions, Darla Drawstring Dress, JILL LAO. Crocheted clothing done right, Philippine Cotton Crochet Mix with Abra Inabel Textile, TWINKLE FERRAREN. Hand-beaded vest/wrap in piña fabric, Resort Piña Vest - Inabel, TAN-GAN. Striped cotton fabric perfectly matches with an indigenous handwoven fabric, Tanghali Top, R2R

Photos courtesy of brands