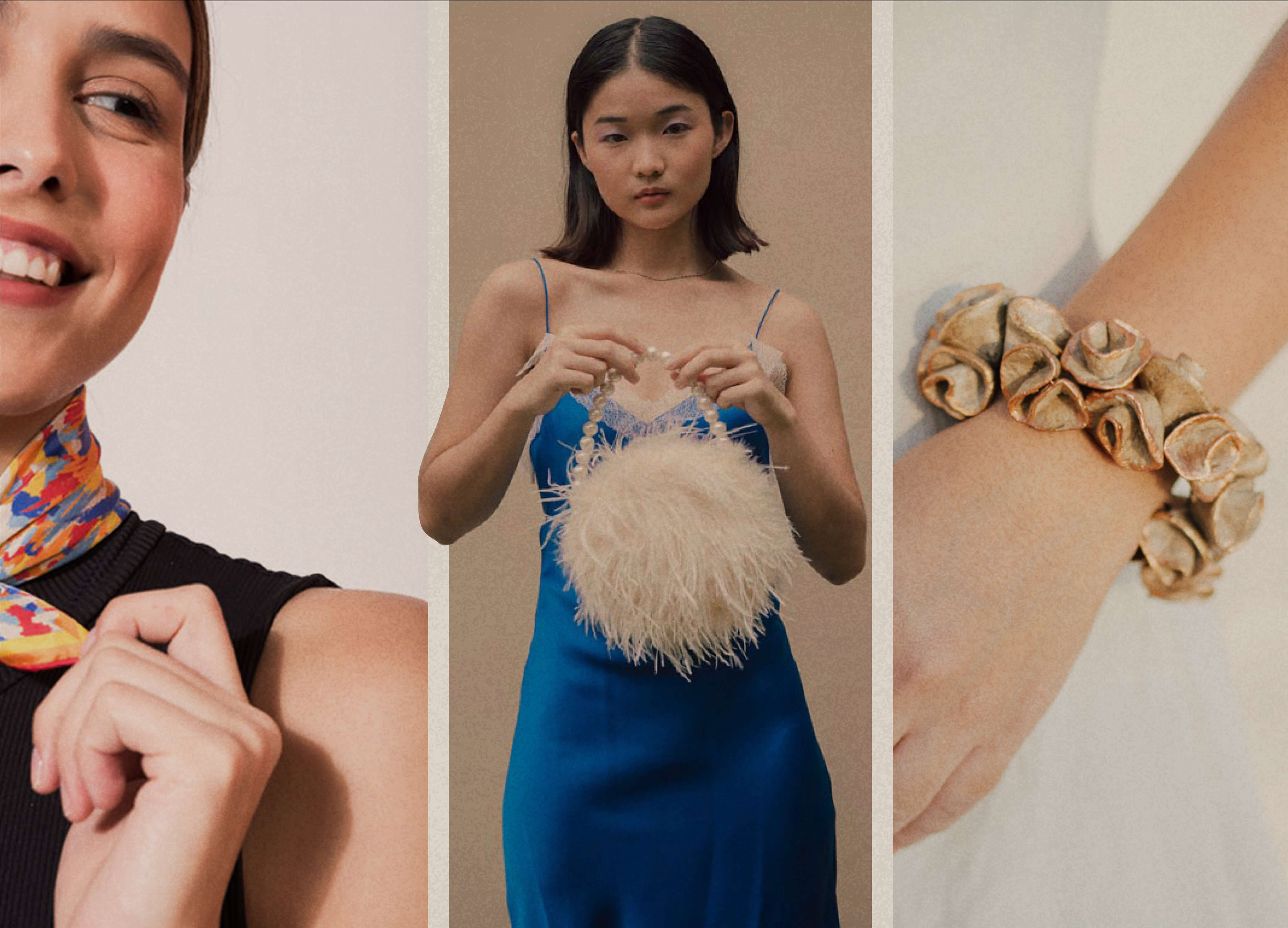 Key Trends for Fashion Accessories in 2022
The shifts in trends is all about going back to our instincts. We crave comfort and what satisfies our basic needs, but also need joy and glee and color to indulge in our love for dressing up
by Patti Sunio

From hybrid shows to season-less clothes, the pandemic has introduced many shifts into the fashion industry. In the accessories department, for instance, New York-based trend forecasting agency Fashion Snoops shares what designers are coming out with, and what consumers are responding to, given how we've spent the majority of our days cooped up and only virtually meeting.
What can we expect in Fall-Winter 2022/2023? Fashion Snoops identifies five major product shifts, and how these have been translated into accessory designs that are comfortable and familiar to unexpected ones that dare to ask 'why not?'.

PRIMAL COMFORT
"As we emerge and come out on the other side of the pandemic, consumers are going to continue to value comfort and protection in a way that is reminiscent of earliest primitive needs," begins Hallie Spradlin, Director for Accessories. Think of pieces lined with the comfiest, cushy, and cozy material, so it feels like living from home still.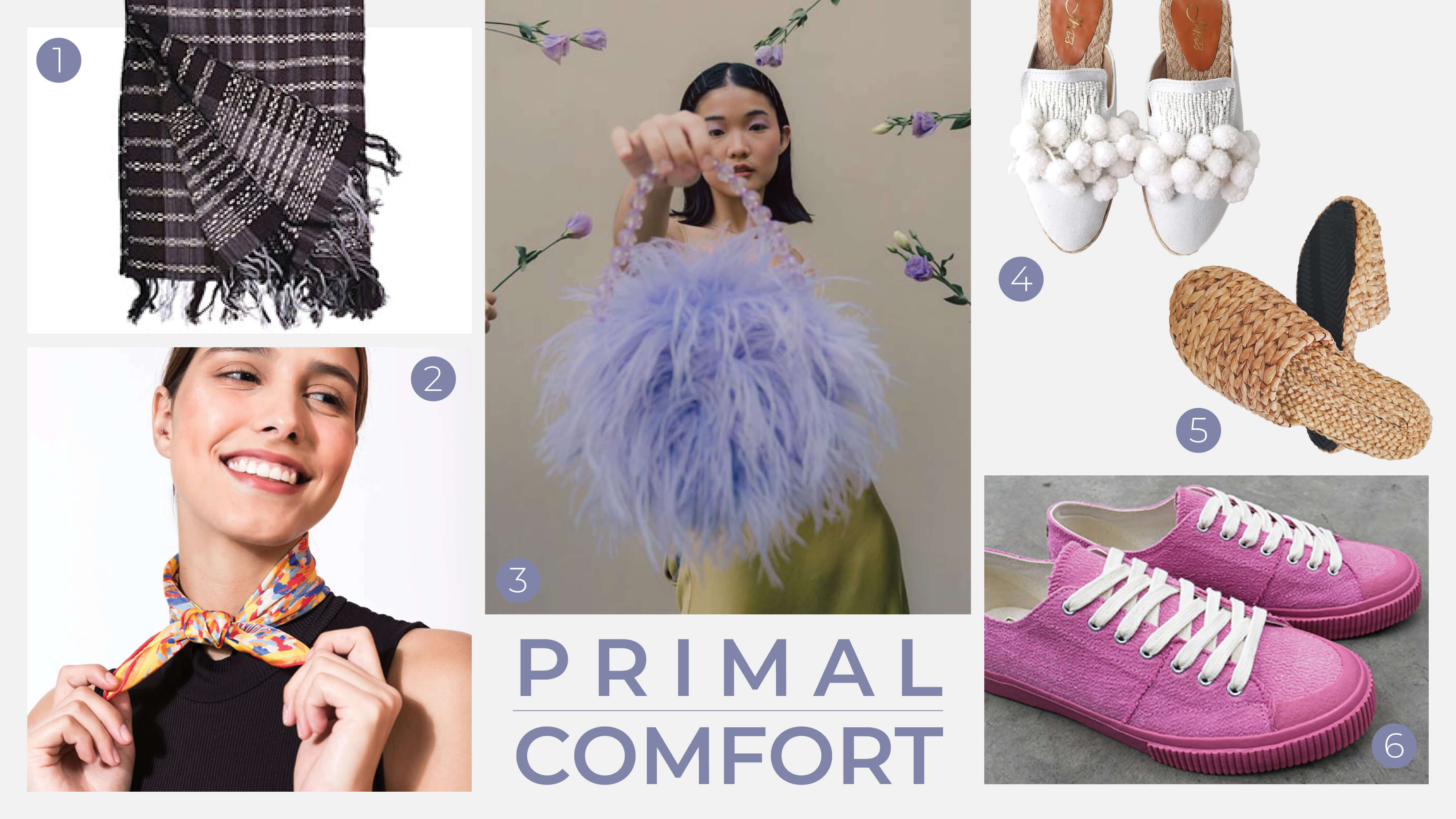 Going back to the very purpose of why we clothe ourselves, this shift is all about self protection from the harsh elements of the outside world—in comfort style
1) AMION cotton shawl, CREATIVE DEFINITIONS; 2) Lion's Roar Silk Pocket Square/Scarf, JIM WEAVER DESIGNS; 3) The Dandelion, BONDI STUDIOS; 4) Jute Handmade (Jhaz - 13), JHAZ; 5) Kirsten, NAKEDTOES.MNL; 6) LAKAT SUSTAINABLE SNEAKERS - Pink Low Cut, CREATIVE DEFINITIONS

WORK IN PROGRESS
"The rise of DIY has inspired new, sustainable solutions for fabric waste with innovative upcycling processes," says Amelia Ansink, Senior Strategist for Accessories. Using organic material, upcycling waste, or re-working deadstock fabric, patchwork and handiwork are interwoven into color blocks and are given a sophisticated appeal, creating a look that "feels ever-evolving." In a way, this shift is another expression of our "optimism in the future"—a collective feeling that we all so long for.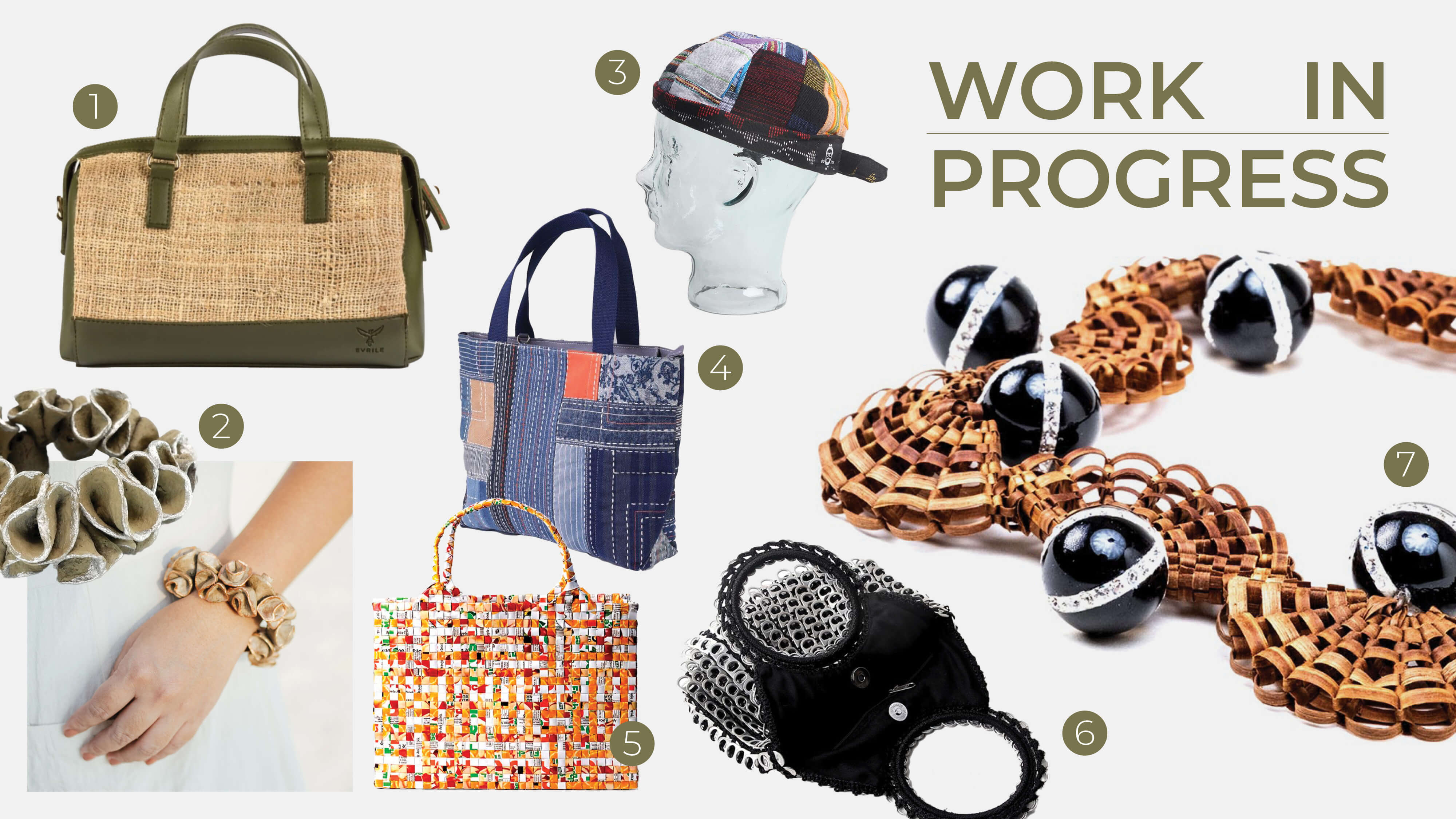 With the pandemic being a harsh reminder that the way we treat our planet earth has a direct cause and effect to all humankind, we've come to rethink the materials we consume and find appeal in fashion accessories that give second life to what was supposed to be waste
1) Evelyn Doctor's Bag, EVRILE; 2) Floreia Bracelets, FLOREIA HOME & FASHION; 3) Buhi Skullcaps, MACO CUSTODIO; 4) Large Boro Tote, ADANTE LEYESA; 5) Medium Woven Square Tote (WV10-06-19), KILUS FOUNDATION; 6) Handbag Round, MACO CUSTODIO; 7) LUCHIA Choker Necklace, AGSAM FERN

COMPOSED SERENITY
"During chaotic and unprecedented times, consumers crave a sense of calm to restore balance," points out Spradlin. And so we turn to shapes and silhouettes that are, in a way, simple, pleasing, and familiar, and they work in perfect harmony when juxtaposed together: "linear construction, circular motifs, subtle mathematical elements, and thoughtful modularity that appear in expandable pleats or 2-in-1 shapes."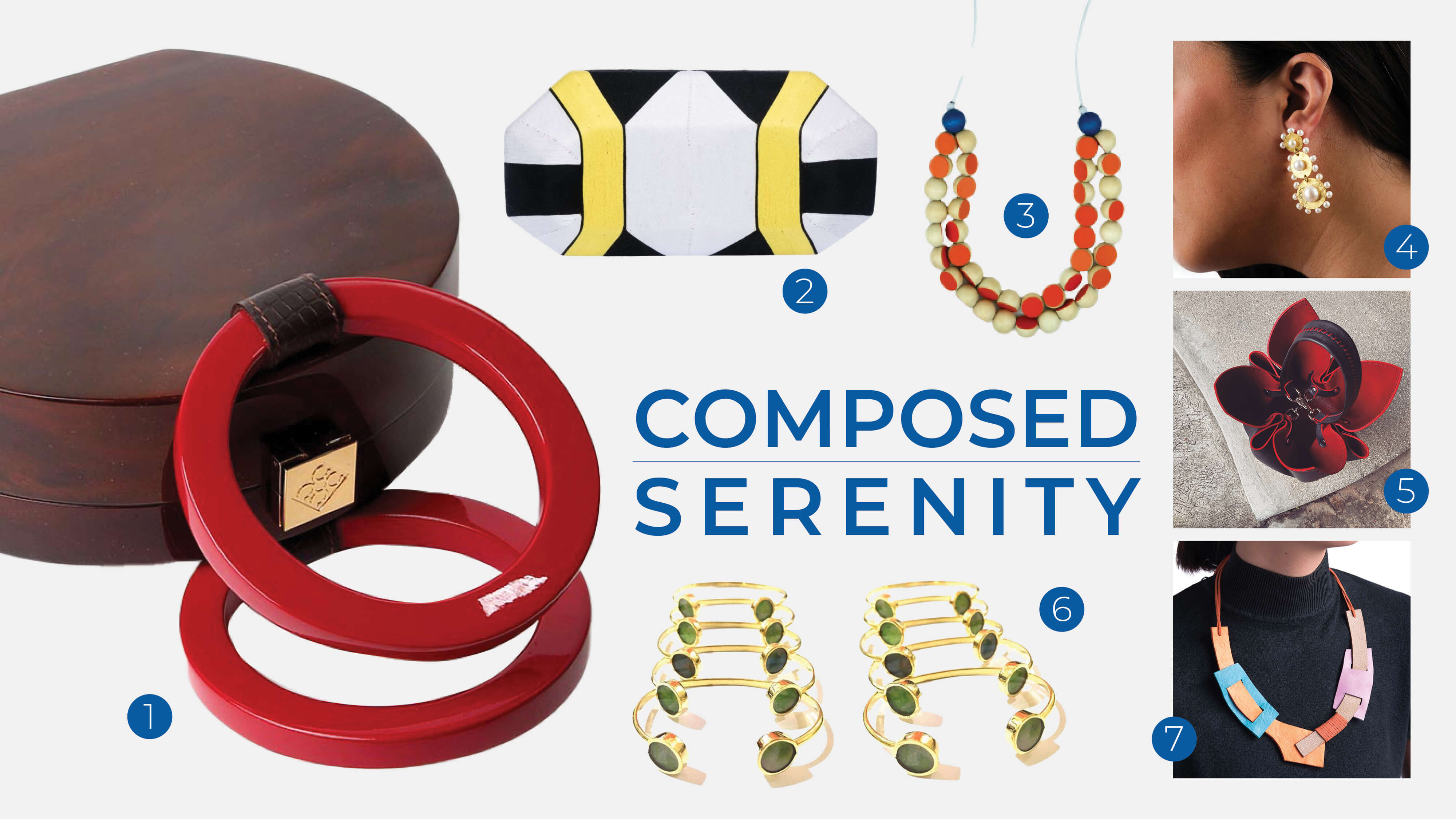 There's comfort in the predictable and familiar, and it shows in our preference for fashion accessories that come in shapes and silhouettes that are exact, balanced, and exude a sense of stability
1) Ashley Handbag, CALLI; 2) Cameron Clutch Bag in Amber, BEATRIZ ACCESSORIES; 3) Necklace 04, MOY; 4) Earrings4, ARNEL PAPA; 5) Sacchetti Architectural Bucket Bag, QUIDDITY; 6) Sola Bangles, VIRTUCIO; 7) "Jiyu" In Royal Orange Leather Statement Neckpiece, O'EL DESIGNS

URBAN OUTDOORS
From revisiting sports to bringing the outdoors in, the pandemic has certainly brought about a curiosity for the world outside the four walls of our homes. Ansink explores the ways this is expressed in fashion accessories. "Technical performance pieces meet everyday wear. Bold patterns and colors are lifted from nature's most vibrant occurrences," she notes. Function, utility, a hyper focus on vivid colors, bold graphics, and adventure-ready styles are top of mind.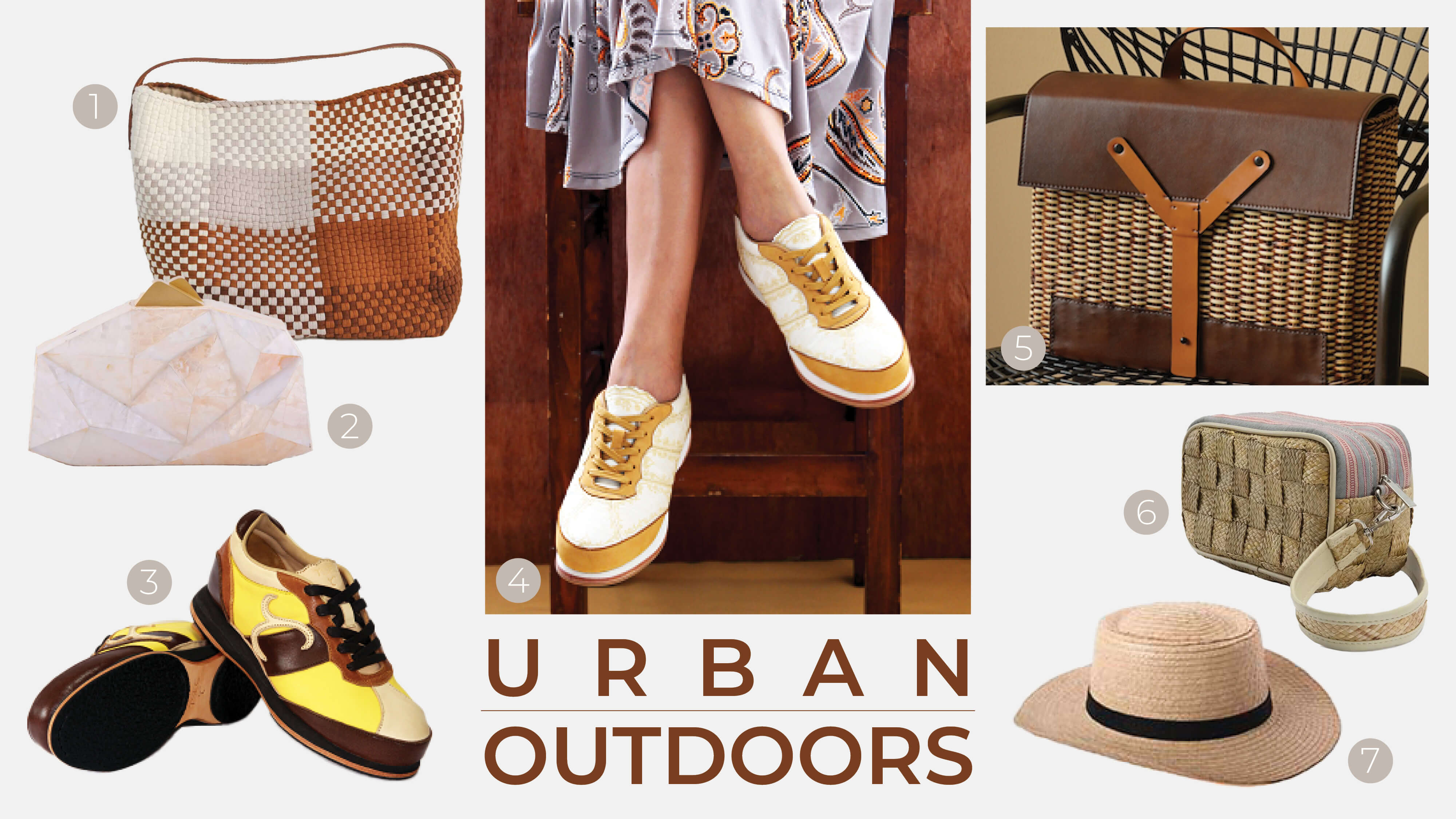 Our relationship with the great outdoors has been rekindled. Here, a mix of earthy accessories for when we can't get enough of nature's natural beauty
1) Buslo Midsize Block Sunrise, R2R; 2) EVA KIM, MELE + MARIE; 3) Filipinian Leather Multi Color, TSEC; 4) Filipinian OG, TSEC; 5) Ammo Tote, ZACARIAS 1925; 6) Tessa (Natural), LARA; 7) HAT (S-2661), SOMBRERO DE MANILA, INC

PLAYFUL INDULGENCE
"People are ready to feel hope and optimism again," says Spradlin. And this can be expressed in designs that are "exaggerated and dramatic," at times even with "surrealist undertones" that offer us a temporary escape or fantasy from a chaotic reality. From bold colors to quirky and playful renditions of luxe materials, we're after celebrating our indulgence to dress up. "It's the perfect time to ask: 'why not?' Go for it. Be dramatic."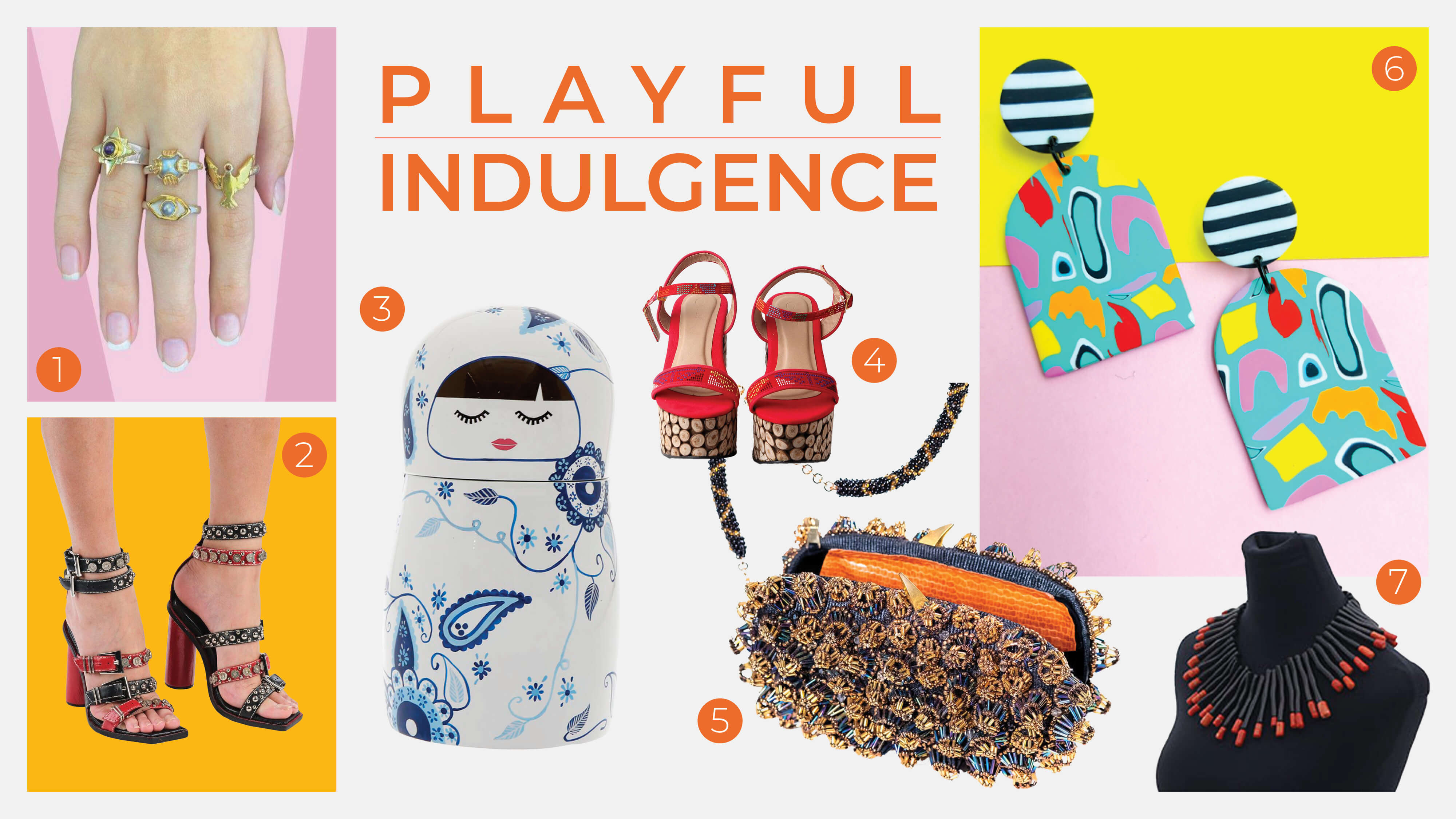 In the upcoming season, we're heading towards bright colors, quirky designs, and pieces we're drawn to just because. There's no limit to how bravely and boldly one can express oneself in these pieces
1) Stellar, Floret, Wedjat and Ava Rings, J MAKITALO JEWELRY; 2) SARSI, THIAN RODRIGUEZ MANILA; 3) Presley Sling Bag, JOANIQUE; 4) Jute Handmade (Jhaz -30), JHAZ; 5) D-11 Beaded Clutch, CRYSTAL SEAS; 6) Cane Play Tomb Dangles, PICKLES & POPPIES; 7) Necklace #4, ARNEL PAPA

To guide you in product development and design, as well as give you insight on market preference, you can revisit Fashion Snoops' Fall-Winter 2022/2023 Trend Forecast and its series of Fall-Winter 2022/2023 Trend Immersion sessions, as presented at FAME+ Market Days. Visit the events page for the full list of talks on FAME+ Market Days.