They are Going with the Flow
For surfer architects Nikki Dela Paz-Libarnes and Buji Libarnes, responding to the many changes in life—from moving out of the city to starting a family—means keeping things simple, cutting through the noise, and making space for what matters
by Patti Sunio

Surfer architects Nikki Dela Paz-Libarnes and Buji Libarnes like to keep things simple. Settling down in La Union, away from the hustling and bustling, crazy city that is Manila, the move has allowed the couple to build a simple life, in constant commune with nature connected to the great outdoors, and with lots and lots of quality time with family.
"My parents are a really big influence on me. They taught us to value experiences—and they did this by example," begins Dela Paz-Libarnes. The surfing champ recalls going on countless trips, exploring the outdoors and camping, as well as just spending time with the family watching movies in the living room. "It didn't need to be fancy," she points out. "And I believe this subconsciously led me to appreciate a simpler way of living."
"Our lifestyle translates into our design," adds Dela Paz-Libarnes. "Buji is my number one inspiration and he taught me that simple and clean design is timeless."
"Since I was a young boy, I remember being really fond of the music my parents and uncles would listen to during lazy Sunday afternoons, the old cars we rode in, our old house in UP Village, our old furniture, the T.V., radio, stand fans, and all the other lovely things that were part of my childhood," shares Libarnes. "I guess that's why my design is somewhat nostalgic, reminding me of bright delightful times and of happy times spent with family."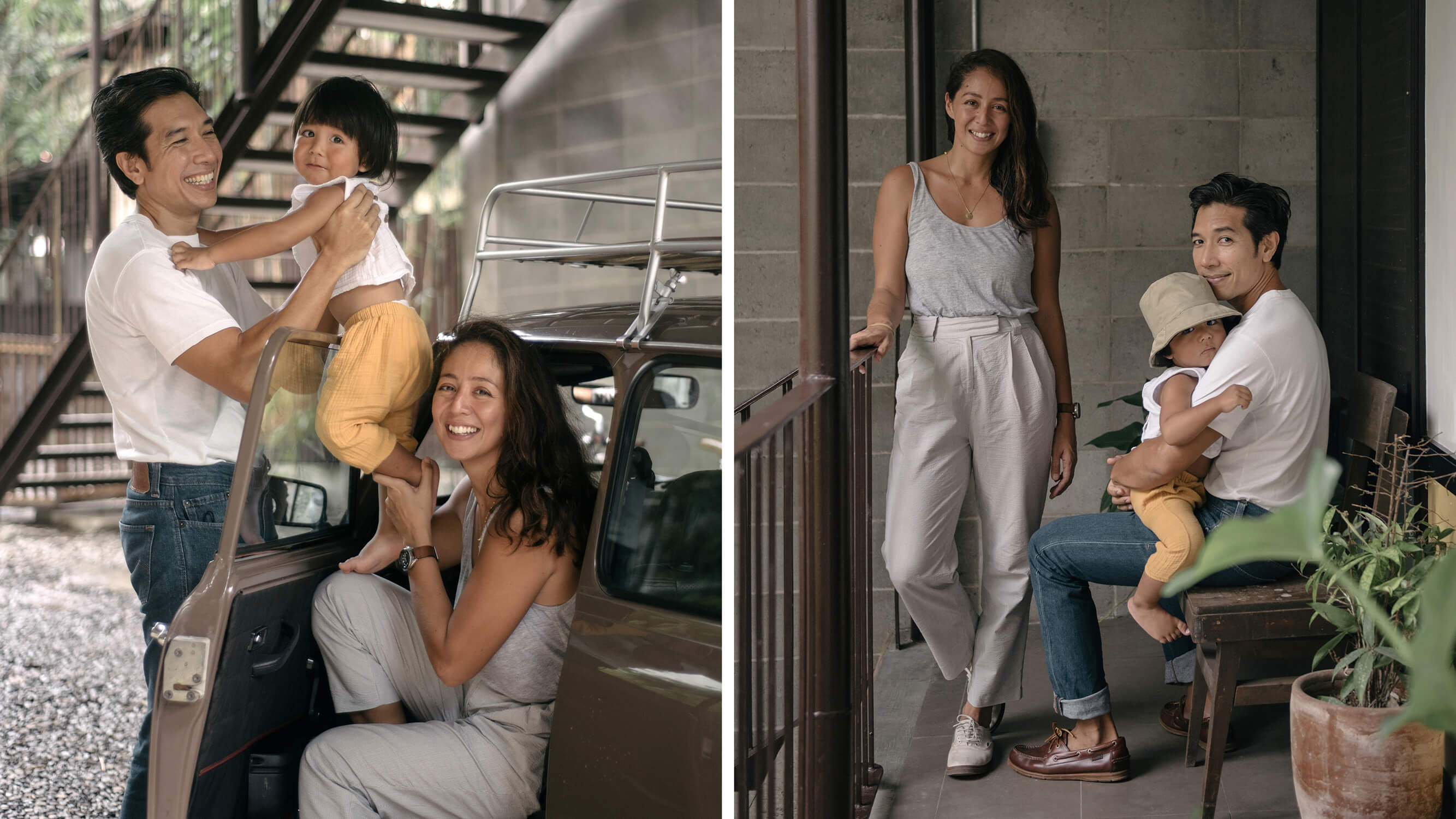 "One of the best decisions we've made is to move to La Union," says Buji Libarnes, in photo with wife Nikki and their son Pancho. "Despite how hectic our day can be sometimes, now that Pancho is in the picture, we make it a point to bring him to the beach every day and enjoy the sunset with a cold beer," adds Nikki Dela Paz-Libarnes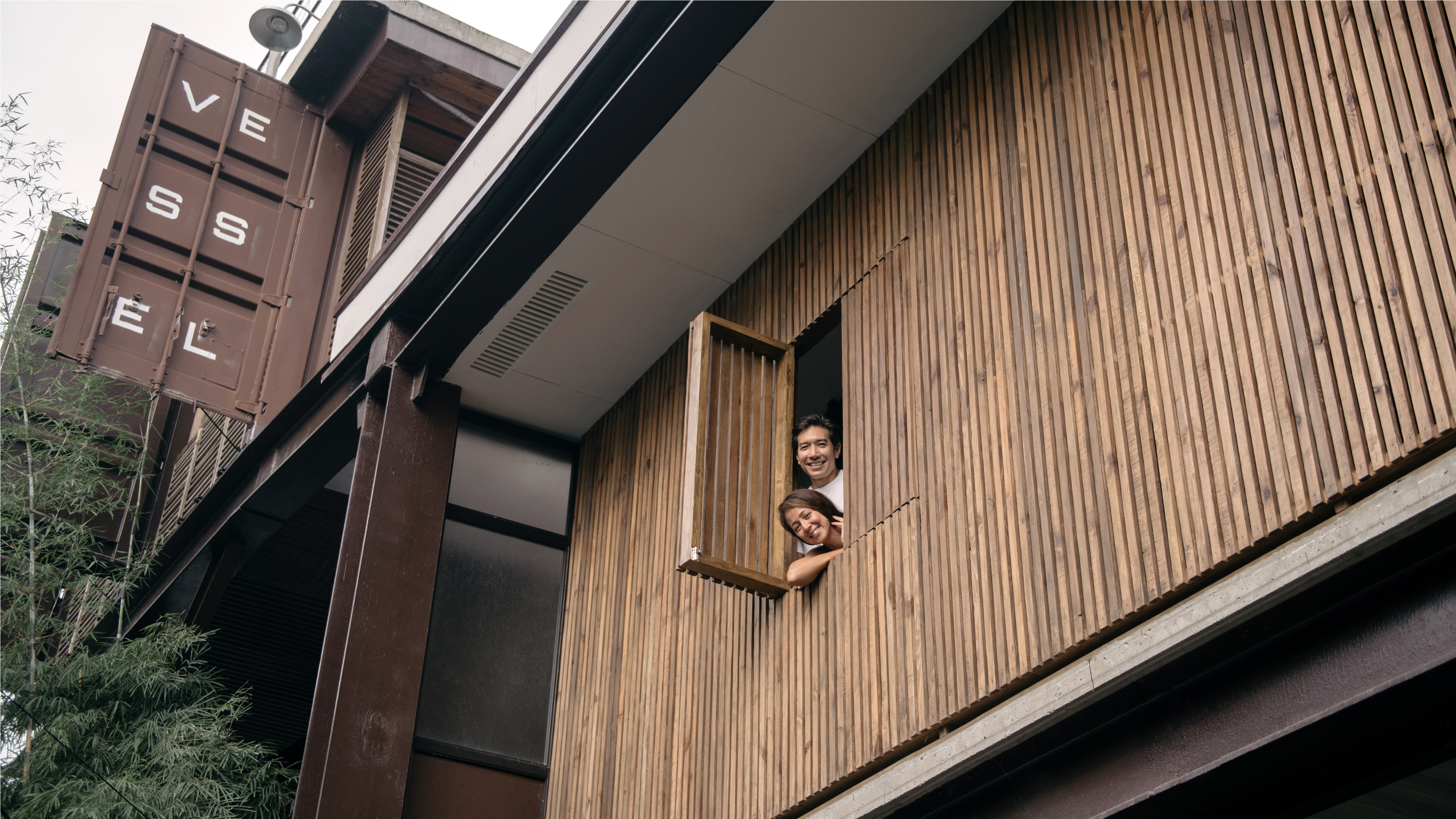 In surfing, design, and life, Buji Libarnes lives by this guiding principle: "If you love and enjoy what you do, there's a big chance you'll be good at it." Nikki Dela Paz-Libarnes adds: "I am still learning this—but in all three, just try and go with the flow."

The decision to move into one of the Philippines' prime surfing spots, is thanks in large part to the sport that the pair both fell in love with during the early 2000s. "After graduating from UP Architecture in 2000, I discovered surfing in La Union and knew right away that it was going to be part of my life," says Libarnes.
"I have always loved being in the ocean as a kid, and I have always loved sports," Dela Paz-Libarnes adds. "My parents always encouraged us to be outdoors and to play, and they themselves were cyclists and windsurfers. So when I discovered surfing when I was in college, I fell in love with it instantly!"
And it gave them quite a ride: surfing led them to each other, to meeting like-minded folks they would eventually design spaces for, and to the very place they now call their hometown. More than pursuing the sport they love, surfing ushered them into the lifestyle they were both bound to live.
A few months right before Metro Manila went on lockdown, the Libarneses recently welcomed their new and most precious family member: their son Pancho. "Being able to live here [in La Union] and raise a child here is such a blessing," muses Dela Paz-Libarnes.
"Being in La Union allows us to enjoy nature every day whether by the sea, by the river, or in Elyu's scenic hill sides, things we won't be able to do in the city," adds Libarnes. "I remember how much we hated wasting hours each day being stuck in Manila traffic. The time we would be throwing away in our daily city commute is precious time we could be spending on the beach or playing with Pancho."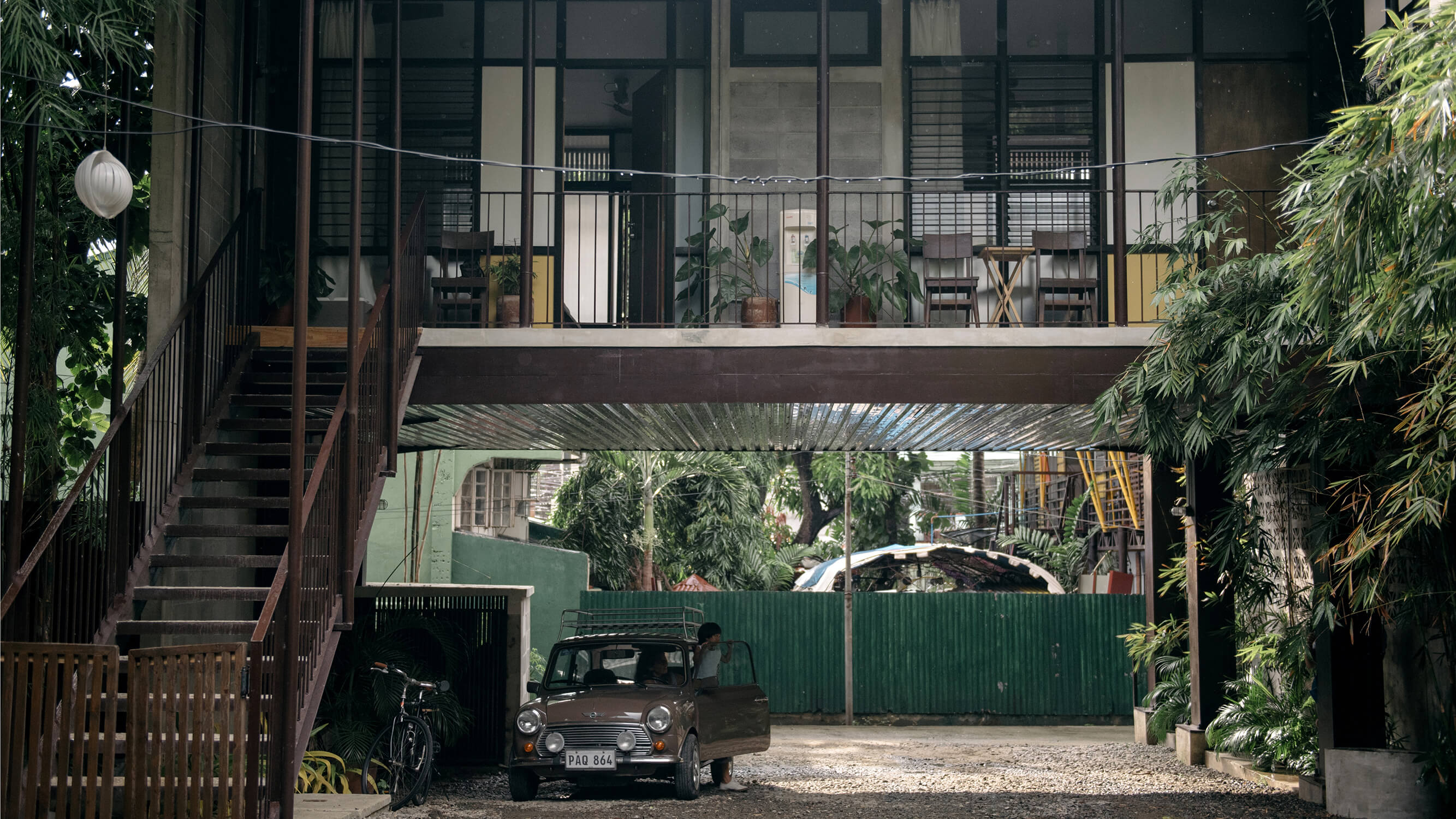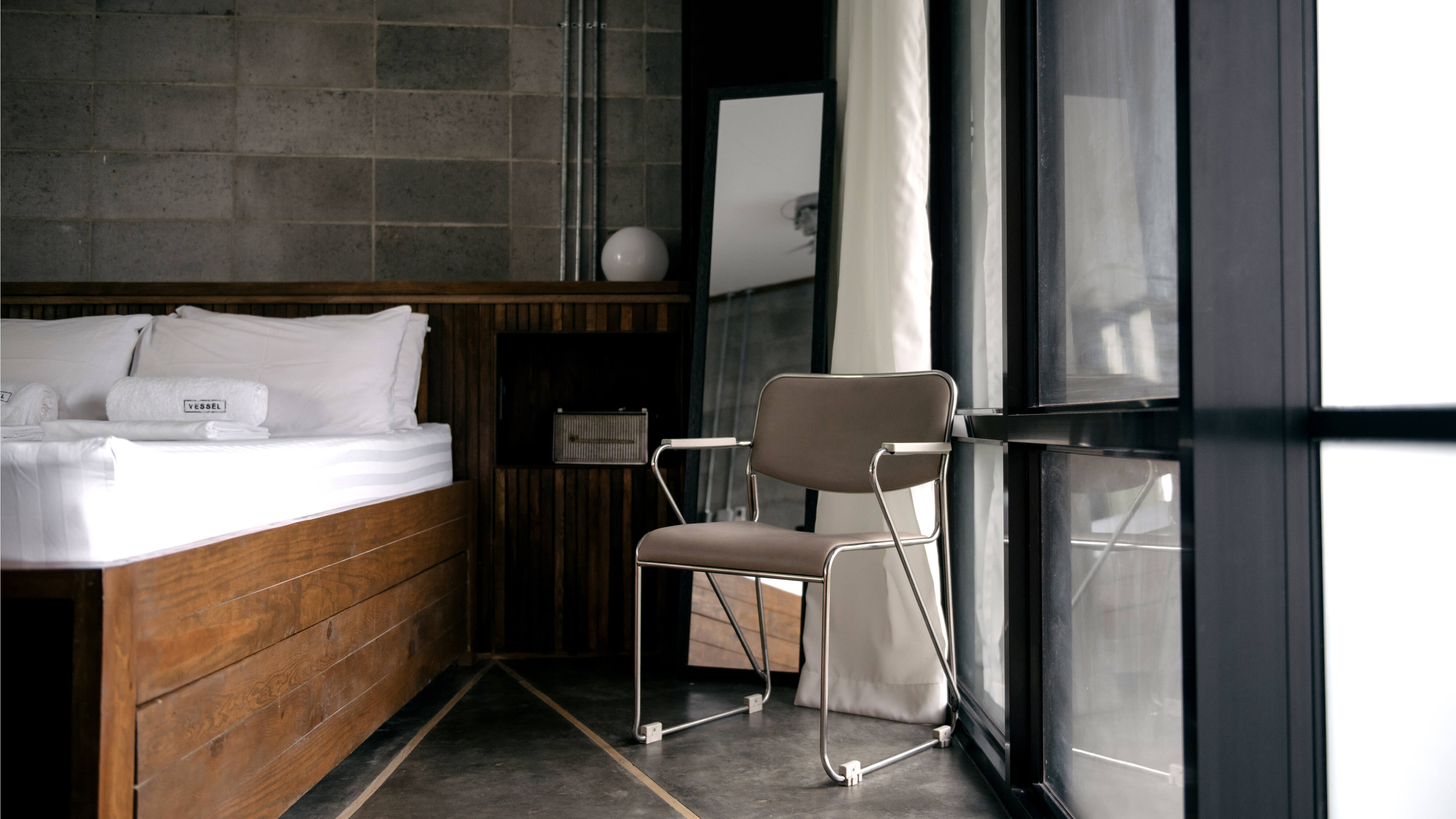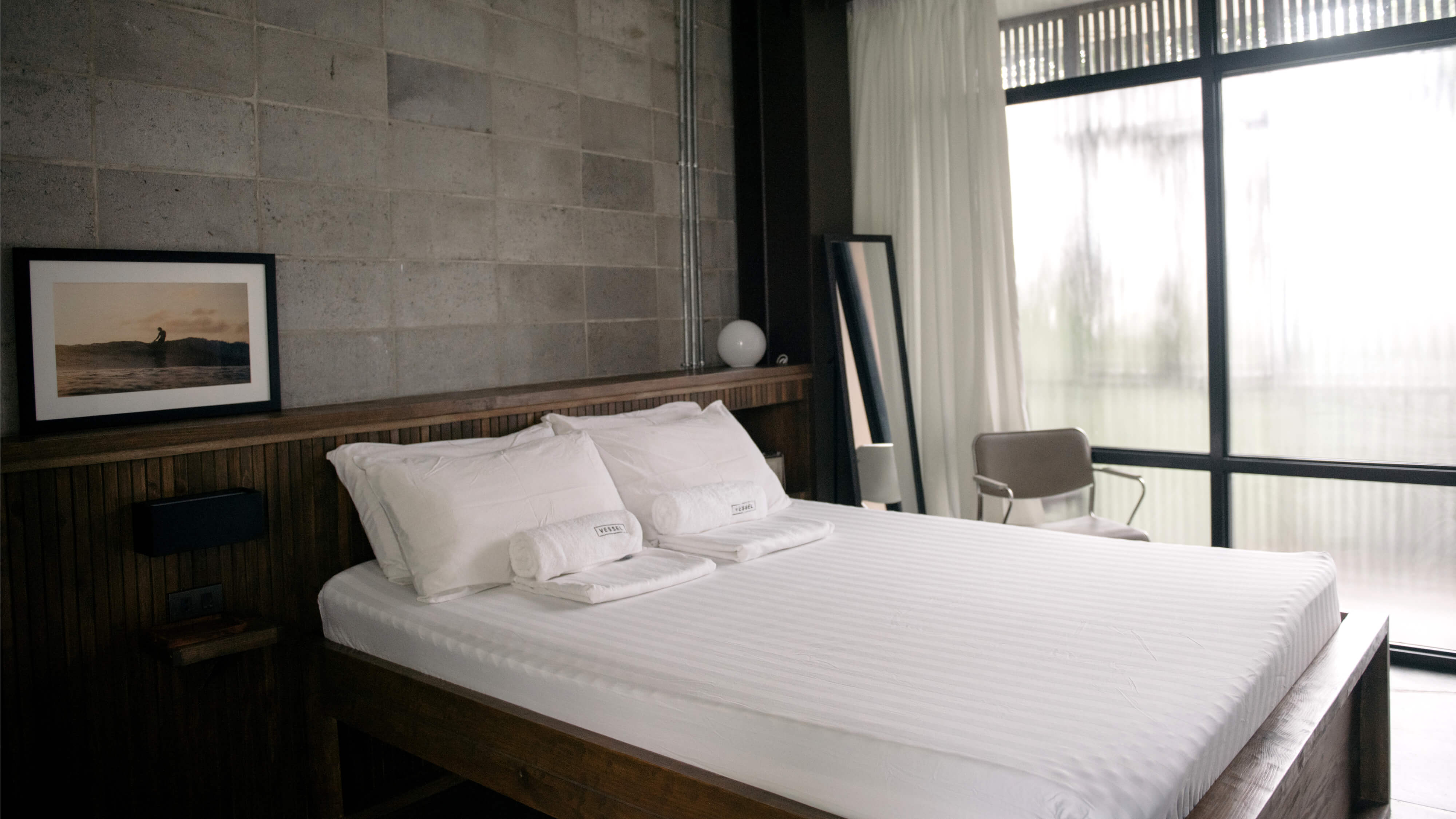 A site to see. Vessel Hostel in La Union is a testament to what the Libarneses stand for: thoughtful design that serves its main purpose—to provide a cozy accommodation that connects guests to the natural beauty of the outdoors, decorated with memories of the good times and the fine things in life

COMING TOGETHER
Moving away from the city, essentially, was a paring down of their lives. It was breaking away from the noise and traffic, the unnecessary chaos and clutter that consumed their time, energy, and mind. The couple knew from the get-go the kind of quiet life they wanted, and decided to build it together from the ground-up, literally and figuratively.
The couple's iconic Vessel Hostel in La Union solidifies their key aesthetic as designers, boasting a mod and sleek vibe that pays homage to all the things they fancy—from the mid-century interiors to their savvy collection of vintage pieces. The four-level accommodation is thoughtful in design, constructed from repurposed shipping containers stacked on top of each other.
What makes the structure all the more quaint is the couple's nest located right below. Their humble home is likewise a testament to their design and life principle: simple, cozy, and in an aesthetic that nods to the endearing '60s nostalgia.
"Our architecture practice began with projects commissioned by good friends who became close to us because of surfing," reveals Libarnes. "Surfing definitely has been such a huge blessing to me and I will always be grateful for discovering it and the freedom to immerse myself entirely into this culture."
"Perhaps this is why our design tenets have been about simplicity, being grounded, down-to-earth, laid-back and relaxed, and appreciative of nature, sunlight, the wind, water, the views—and how the different architectural features of our design respond to these elements," he muses. "We always start off with a simple, uncomplicated plan and layout. To us, the simpler the better."
A quick Instagram search of the couple's project hashtag, #spacesbythebrownlegs, reveals attractive spaces that are modest and unobtrusive, with cozy corners, rooms that are warm and inviting, natural material that blend in with its surroundings, and indoor areas generously bathed in sunlight.
"Nikki and I really enjoy working on residential projects and designing beautiful homes for families that make their daily life more pleasant and bright," explains Buji Libarnes. "We like working with simple, inexpensive materials. A house doesn't always need to have pricey tiles or expensive countertops and the like to be a beautiful home. If you put enough thought and love into it, you can create a warm and delightful home that enhances the lives of its owners."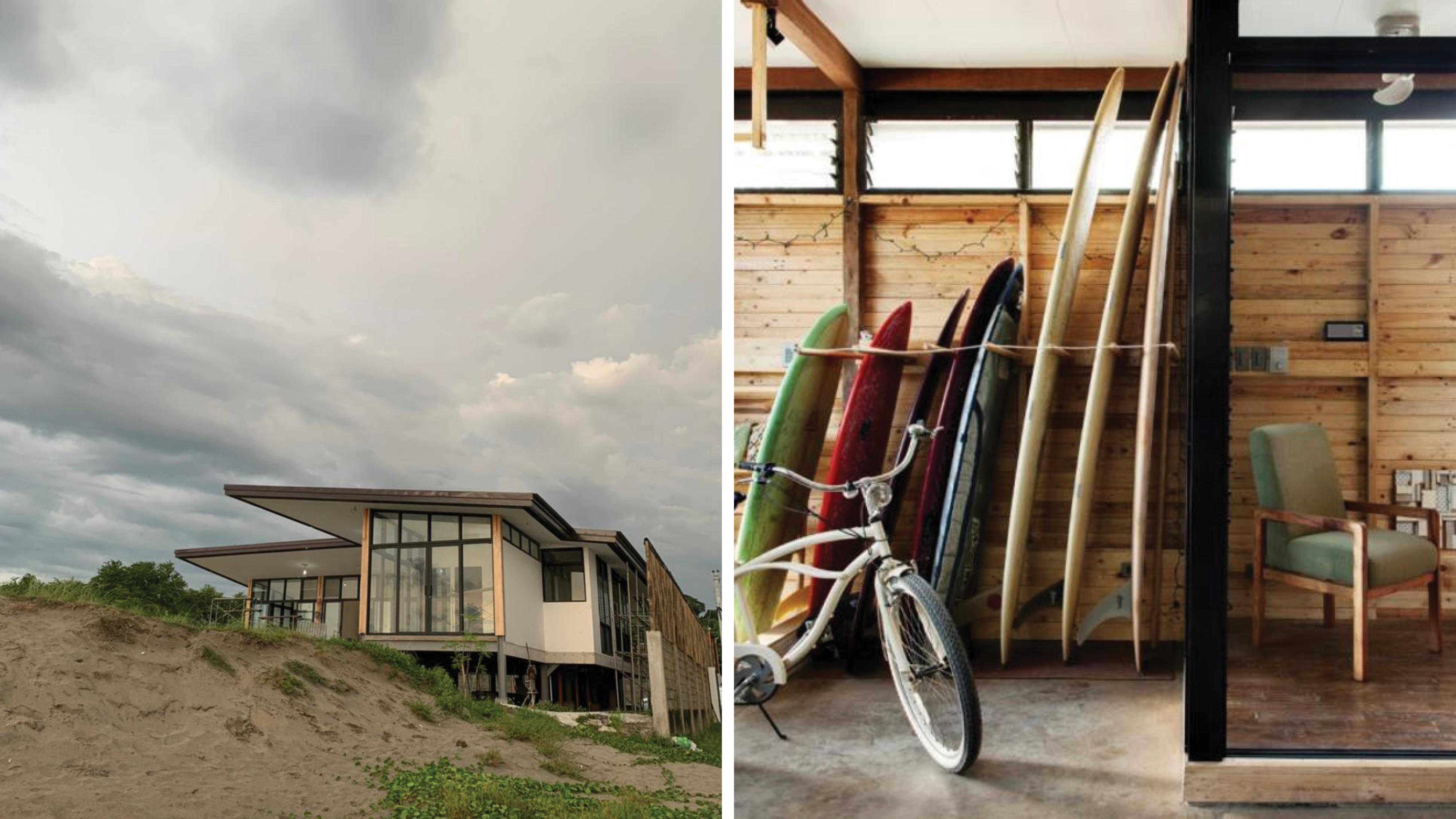 The surfer architects continue to design spaces that fit to the feel and vibe of surftown, La Union. (Left) A residential project for a friend, also in LU; (right) a glimpse of couple's cozy space right below the hostel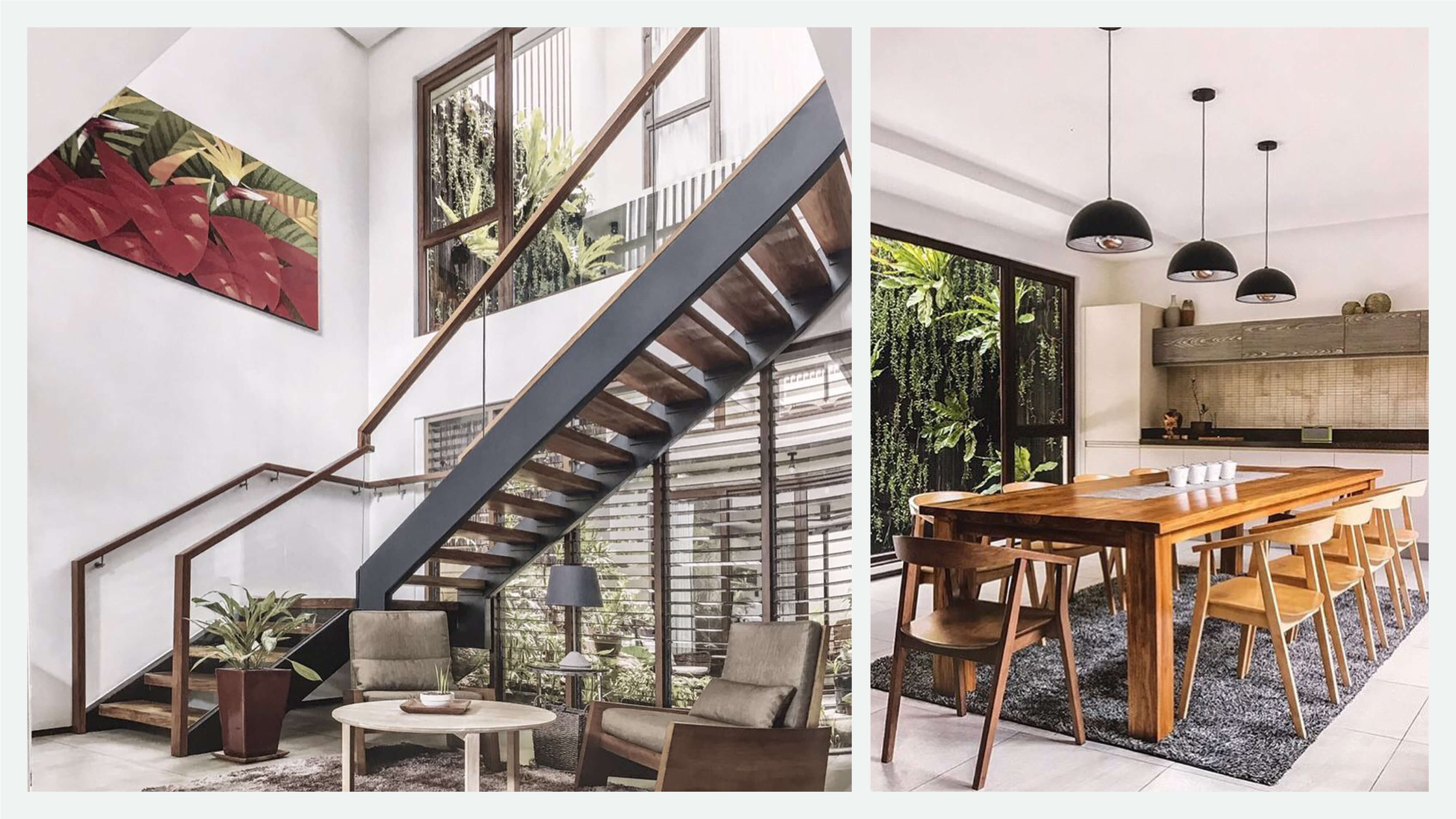 Simple and grounded: Surfing has played a major role in the lives of the Libarneses and continues to do so. Surfing has led them to La Union as well as meeting like-minded people they would design spaces for. In photo: spaces from the couple's Lattice House Project

SMOOTH TRANSITIONS
From surfer architects to entrepreneurs and now new parents, the Libarneses—as they always do—transition into this new chapter in their lives guided by the principles they live by.
Juggling tasks with their newborn in the picture can be challenging, the couple admits, but likewise "easy" when they know that, at the end of the day, it's always about making time for what truly matters.
"Pancho is our priority and our life now revolves around spending as much quality time with him," says Dela Paz-Libarnes. "We schedule our day so that we have time for work and time for Pancho. We take turns in taking care of our son, sitting in front of the computer to do some drafting and design, going to job sites, and still have personal time to exercise, do some yoga, go for a bicycle ride, and surf when the waves are good."
These days, the couple finds themselves happily busy with one of their most important residential projects: the new, more family-friendly Libarnes home. "Our tiny bungalow now, which we love, shares a small property with Vessel Hostel. We had to design it in such a way that it looks inward to allow privacy," begins Libarnes.
"We're really thankful for the opportunity to build a new home in-land, set in an old mango orchard next to rice fields and a beautiful river," he adds. "Having more open space, our new elevated bungalow, however still relatively small, can now look outward into nature and take in the beautiful views while having design features that allow us to embrace privacy and provide a protective environment for Pancho and our family."
FAME+ SELECTIONS BY NIKKI DELA PAZ-LIBARNES AND BUJI LIBARNES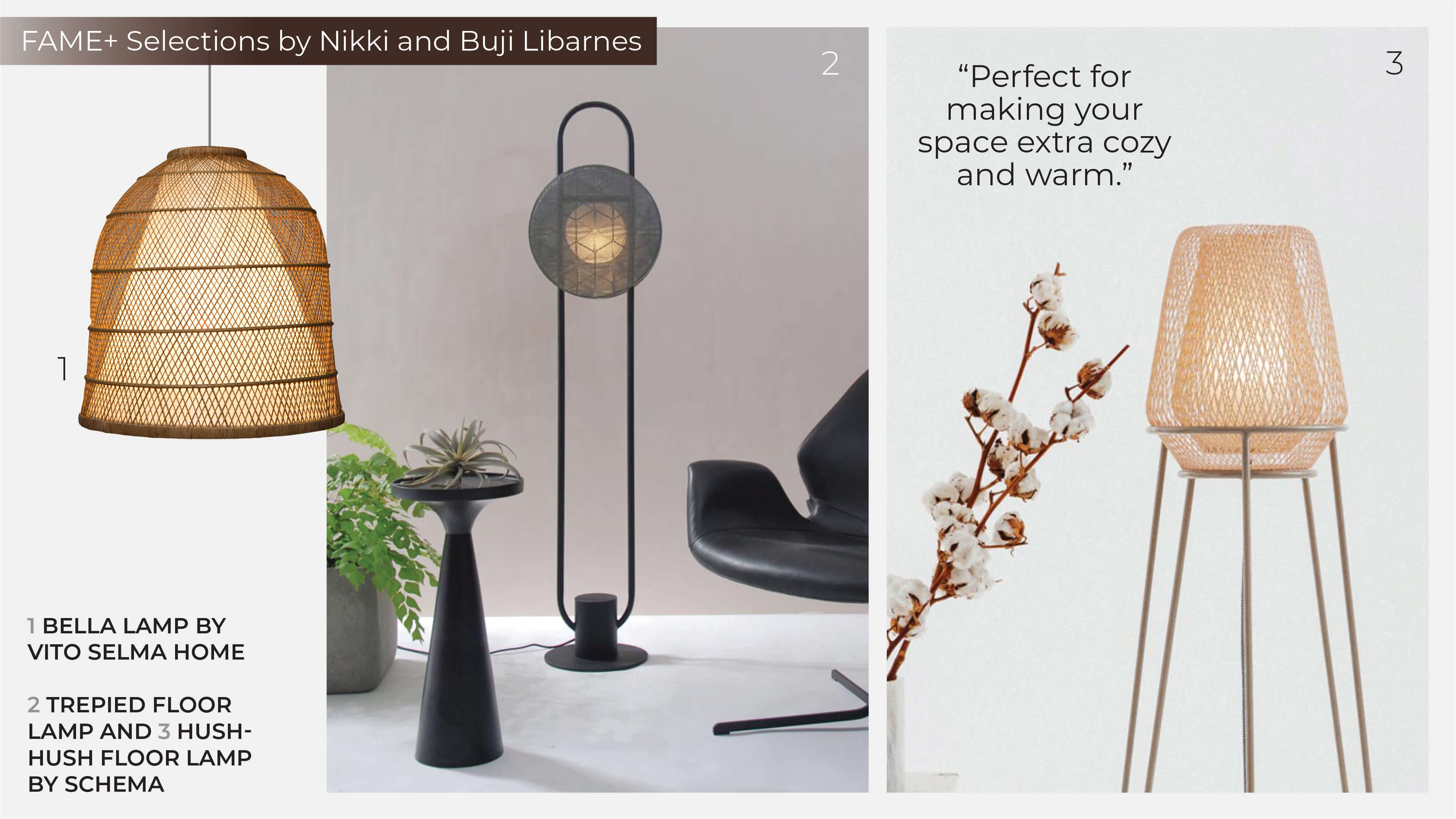 Bella Lamp, VITO SELMA HOME; Hush-Hush Floor Lamp and Trepied Floor Lamp, both SCHEMA: "We like how these lamps have a very earthy feel, especially with its intricate weaves, while maintaining a very modern and sleek design. These are definitely perfect for making your space extra cozy and warm!"

Bakawan or Mangrove by Juvenal Sanso, GALERIA DE LAS ISLAS: "As architects, we really appreciate pen and ink drawings and art. In this piece, we love the amber color and how it gives a very warm, relaxing feel."
Palay Series, TRANSWING ART GALLERY: "We like the play and the burst of colors in this piece and how it still has order and geometry."
Three Women Cooking by Anita Magsaysay-Ho, GALERIA DE LAS ISLAS: "We love how clean the piece looks and the use of white and negative space juxtaposed with the monochrome color theme."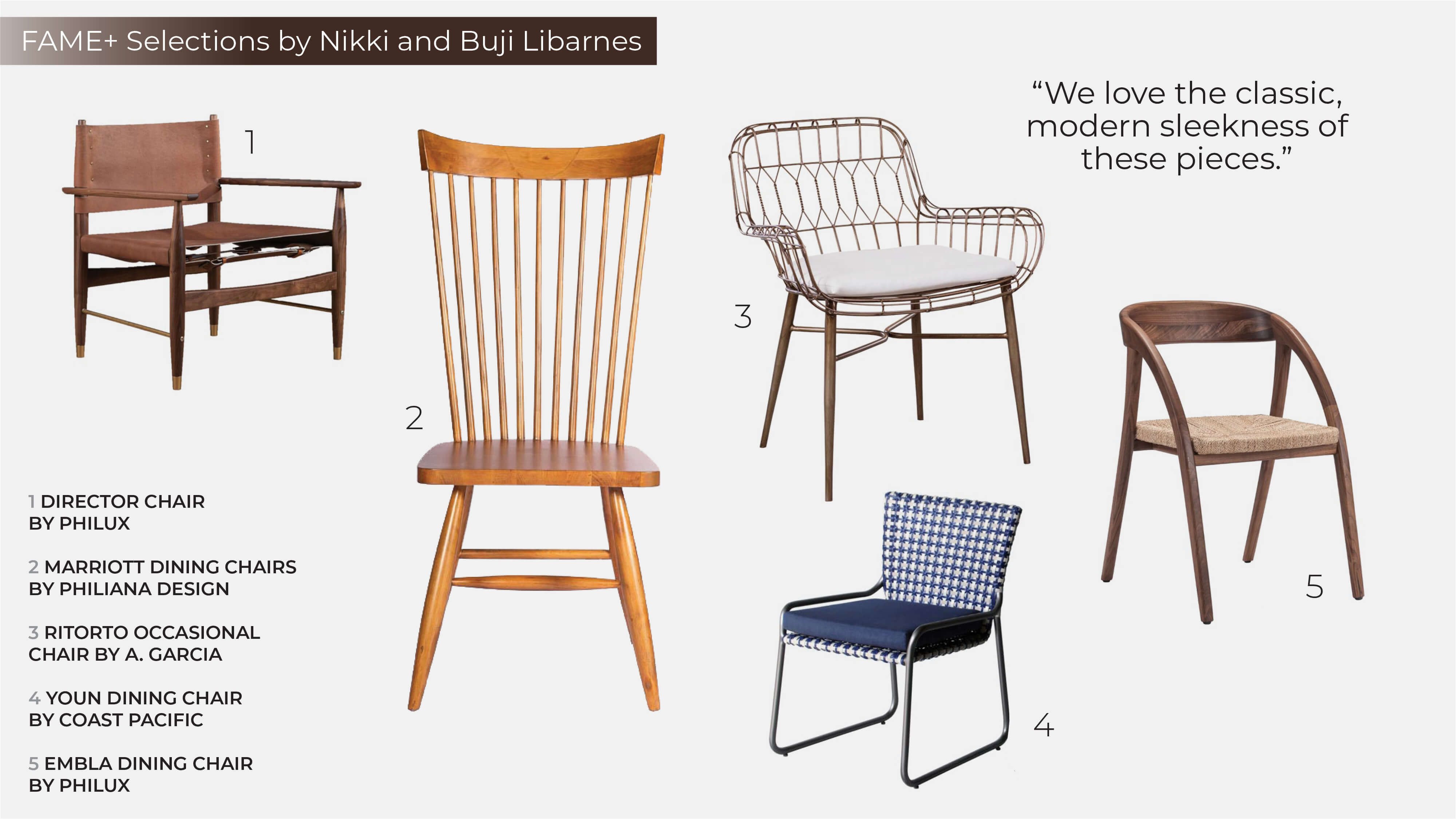 Director Chair, PHILUX; Marriott Dining Chairs, PHILIANA DESIGN; Ritorto Occasional Chair, A. GARCIA; Youn Dining Chair, COAST PACIFIC; Embla Dining Chair, PHILUX: True to their personal design aesthetic, Nikki and Buji Libarnes are drawn to the classic, modern sleekness of these chairs, not to mention that "they look like they're really comfortable chairs to sit on!"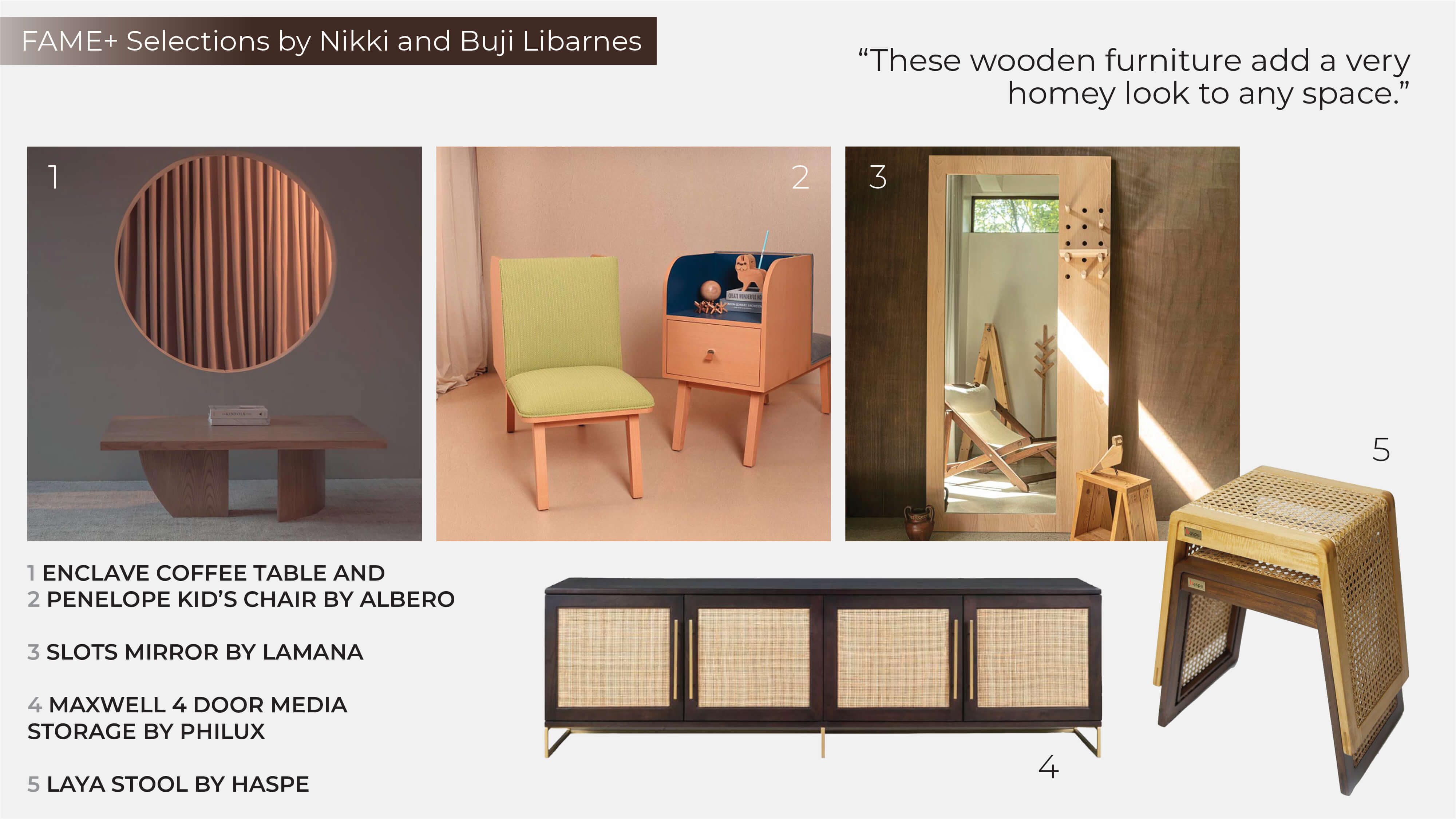 Enclave Coffee Table and Penelope Kid's Chair, both ALBERO; Slots Mirror, LAMANA; Maxwell 4 Door Media Storage, PHILUX; Laya Stool, HASPE DESIGN STUDIO: "We are drawn to the use of traditional solihiya and weaves on contemporary furniture, such as in these pieces." Matching the interiors of their own homes, this selection of wooden furniture show how the use of simple, modern lines can add a quiet, homey look to any space.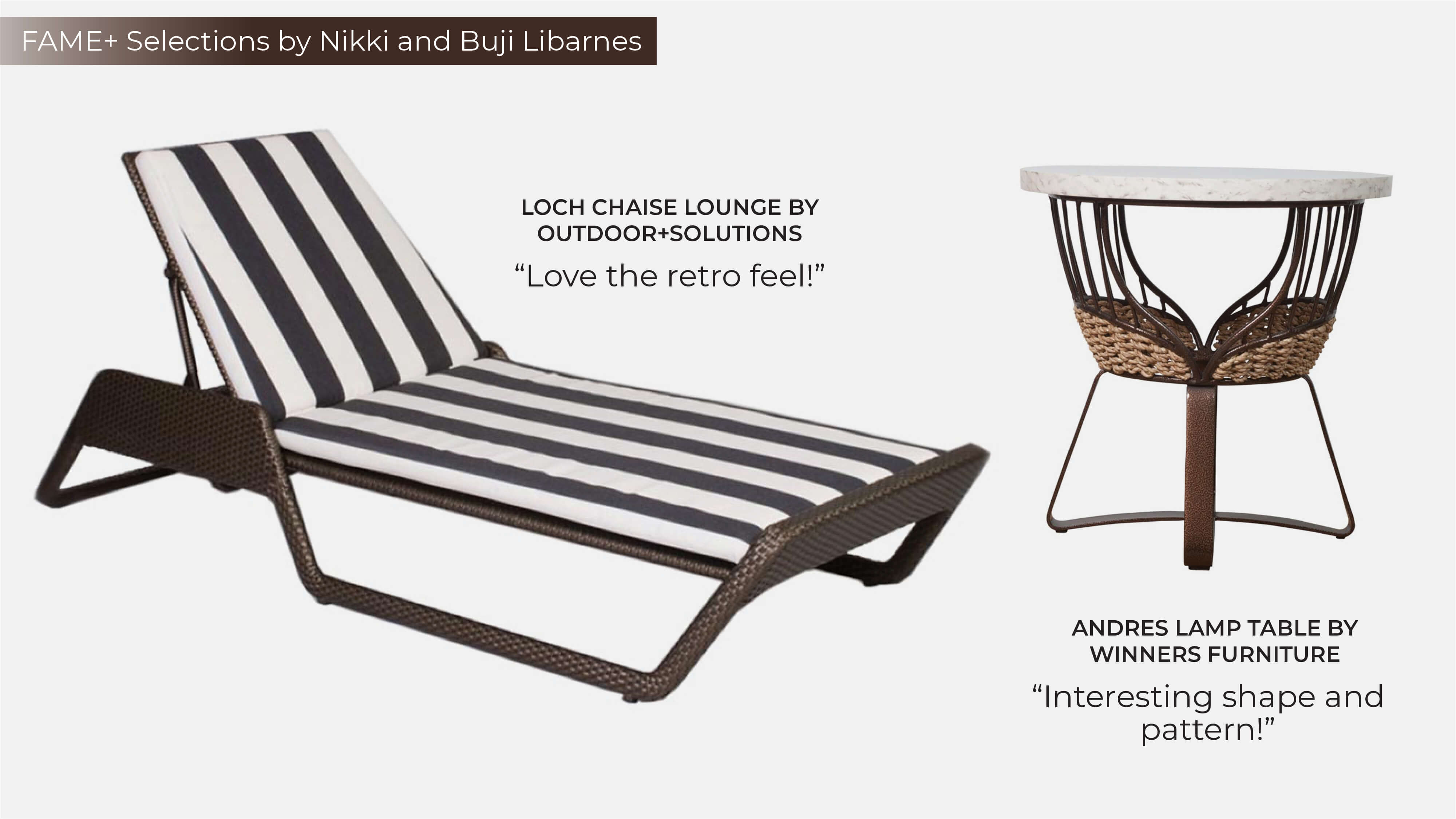 Loch Chaise Lounge, OUTDOOR+SOLUTIONS and Andres Lamp Table, WINNERS FURNITURE: The surfer architects choose pieces that are functional and stylish and can withstand outdoor elements.

Photography Tarish Zamora
Assisted by Rico Dumaguin