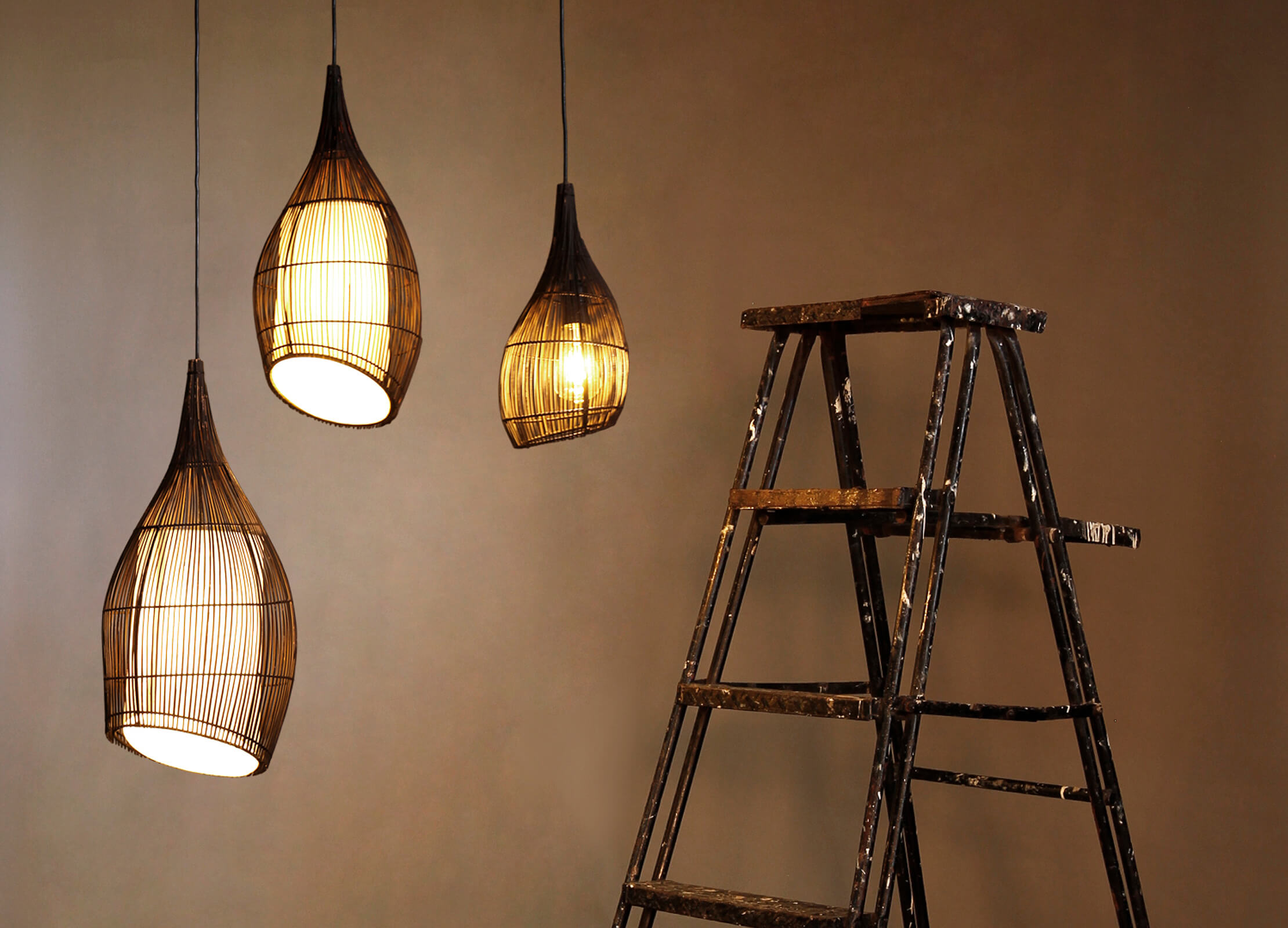 Designing Products for Today's Home
For 13 brands participating in NY Now Digital Market, Rachelle Dagñalan helped design products for creating sanctuary spaces at home—for living, work, recreation, and rest
by Vicky Montenegro

Twenty local brands are participating in NY Now Digital Market—and proudly highlighting Filipino world-class craftsmanship, artistry, and design culture. The 20 brands fall in different categories, namely: furniture (Triboa Bay, Cebu Homecraft, Casa Selma), home decor (Artisana, Bon-Ace, Calfurn, TWWA, LIJA by That One Piece, Tadeco, Nature's Legacy, Indigenous, Nature's Legacy, Celestial Arts), fashion (R2R, Island Girl, MOY, Virtucio, Jhaz Footwear, SC Vizcarra), and holiday decor (Klassy Collections).
"NY Now being an accessories show, we picked companies who can represent us well in each of the categories," product designer Rachelle Dagñalan says. "Each brand has distinct materials and unique stories." Thirteen of these brands underwent product development with Dagñalan and the seven others, also participants in Maison & Object and More (MOM), the famed French trade fair's digital showroom, worked with Rita Nazareno and Gabby Lichauco. (Read about the seven brands here.)
"The entire product development with the 13 companies took only about two months," Dagñalan shares. She joined the companies' coaching sessions with ByHand Consulting, who was tasked to provide assistance on the areas of product development, merchandising, and sales and marketing, "to better understand the companies' market profiles, directions, and goals—and translate these into the design collections."
"We have been working with Rachelle through CITEM for several years now," Julie Sarmiento, VP for Marketing & Sales for Pampanga-based furniture manufacturer Calfurn, says. "The collaboration with Rachelle was easy because she knows our capacity and capability, and she captured these in the designs. The results are products that are new, stylish, contemporary, unique, and essential for today's home and office work setup."
Lighting and furniture brand LIJA by That One Piece admits to "tons of trial and error on our part" but says that Dagñalan was patient and helpful from start to finish. "She clearly explains her concepts and designs so we are able to understand them clearly and execute properly," proprietor Rowena de Jesus explains. "She takes time to create mock-ups for us, which we found very helpful since consultations are done virtually."
"Rachelle also noticed that our most recent product line is very linear and pointed, so she recommended that we go the opposite direction this time," de Jesus adds. "Inspired by the much-loved Slinky toy, the lamp designs she gave us are more rounded and hoop-like."
Chris Cera, designer for social enterprise brand R2R (Rags to Riches), says that the whole exercise helped up their global marketing game. "Although there were practices that we were already doing in the company in terms of design and marketing," he says, "it was very informative to know more about what makes the US market tick. The NY Now Digital Market site is a very exciting channel and learning about how to make it effective and attractive really made us more conscious about the littlest details. Product photos need to be great and show accurate colors, the use of searchable buzz words, even how the photos are arranged on the site. The insights were truly invaluable."
This only strengthens the brand's resolve to penetrate the international market. "Market expansion is the direct way for us to also expand the positive impact we have on our communities," Reese Fernandez-Ruiz, President and founding partner of R2R, notes. "Growth of our export market is our goal and the reason behind that is still very much rooted in our purpose. We have many things lined up for the year and the next few years! We are exploring new techniques, new materials, and even new business models that will allow us to provide more opportunities for our artisans and beyond."
Lighting and home décor brand Native Crafts and Arts also welcomes the opportunities that the NY Now Digital Market participation affords them. "We hope that our participation in NY Now DIgital Market will open new windows of opportunities to further our brand and establish new relationships along the way," General Manager Nap Chan says. "We will continue to strive and develop our range of lighting products. We also look forward to future collaboration with designers and the continued support of CITEM, which are all very much appreciated."
"We expect to capture new buyers and have our regular buyers see that we can do more in terms of designs using our own indigenous materials," Sarmiento adds. "We plan to expand the designs for other categories and promote further on our own social media sites, crediting CITEM, NY Now Digital Market, Rachelle, and ByHand for the collaboration. As a company, we have a pool of people at our R&D department doing samples every day. We want to develop more products and gain more customers and bring these clients to the Philippines—we have a lot to offer them!"
And if there's one other thing the whole experience has really ingrained in the participants' minds, it's that digital is the way forward. "What we have come to realize is that there is clearly no going back to the physical or on-site trade show, and quite certainly the only way to go is digital," de Jesus points out. "To create an online presence that creates impact is an imperative. We used to have designs kept in 'secret' and revealed only in trade shows, but this time—and this culture—now demands that everything is 'posted online.' It takes a lot of getting used to, as it lessens, in a way, creative control, but it is definitely a brave, new, highly competitive online world and we just have to live with it. Rachelle, ByHand, and CITEM definitely helped us in the transition."

CREATIVE COMMUNE: DEVELOPING THE PRODUCTS
Working with 13 different brands—with different personalities, aesthetics, and creative and business directions—is no easy task. "Although each brand has very distinct aesthetics, having a binding overall concept sets the tone and direction for the flow of the product development," Dagñalan points out. "One has to visualize the bigger picture first so it would be easier going into the details."
Dagñalan explains that the creative direction for the collections of the 13 brands—Artisana Island Crafts, Bon-ace, Calfurn, Island Girl, Jhaz, Klassy Collections, LIJA by That One Piece, Moy, Native Crafts and Arts, Triboa Bay Living, TWWA Tagolwanen Handwoven, R2R, and Virtucio—was based on emerging market trends: sustainability, home comforts, flexible designs, plant care, and painterly patterns. "We based concepts with these in mind," she says. "Since the buyers for this edition are buying for Autumn/Winter 2021 to Spring/Summer 2022-2023, the color selections were curated based on advance color trends that stood out for these incoming seasons, with the classic neutrals still a constant."
Here, Dagñalan explains the thought process behind the product designs of these 13 homegrown labels.

Artisana Island Crafts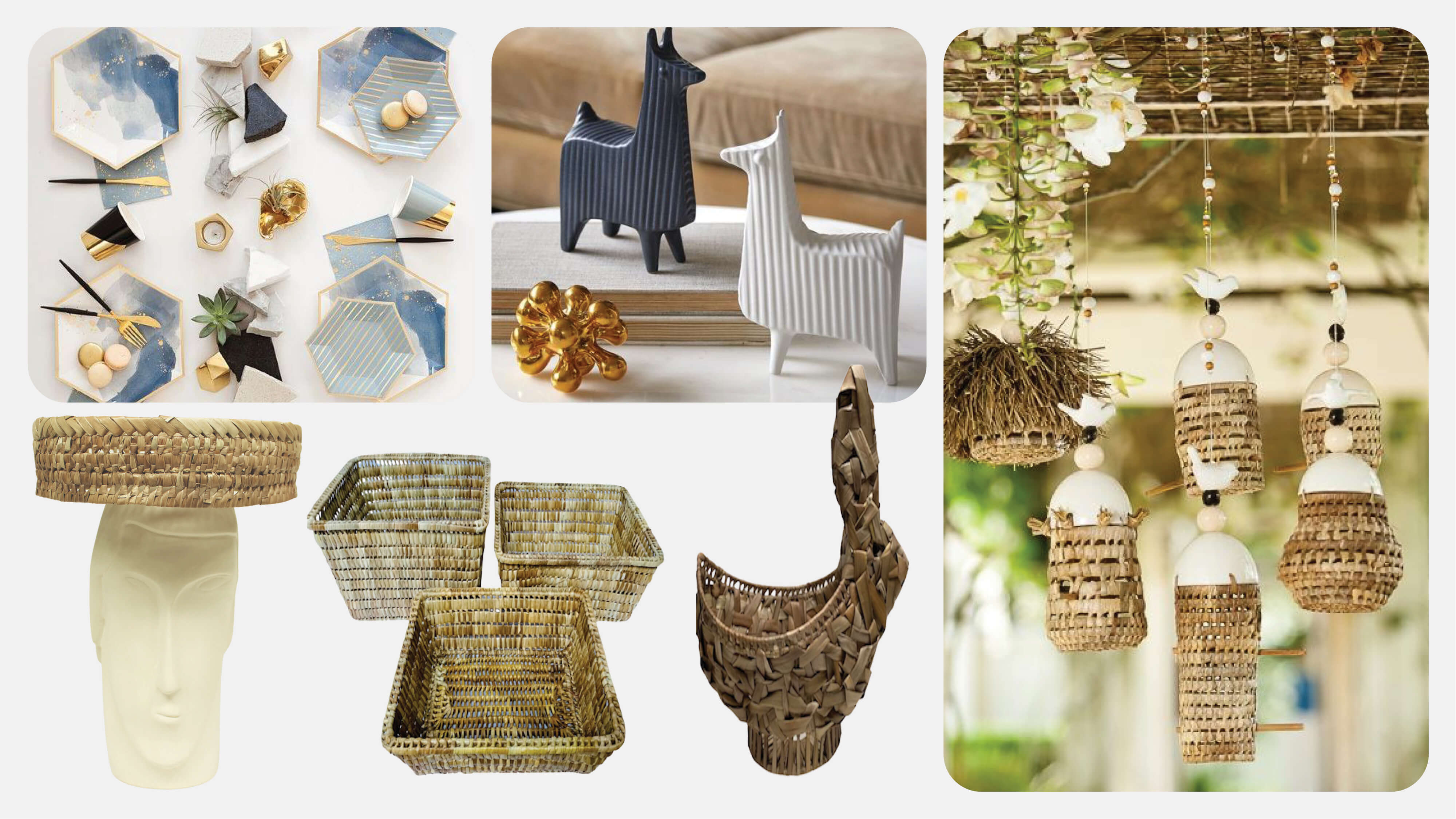 "Artisana works with woven natural materials and ceramics. We wanted to create a tropical dining experience from the collection of dining wares, kitchen accessories, and wall decor, with birds and fishes as the key elements. I also developed products with Artisana last October for Design Commune, so we expanded the collection from there. They are good with hand-painted glazing technique so we highlighted this in the collection, and went for painterly, and washed finishes."
Bon-ace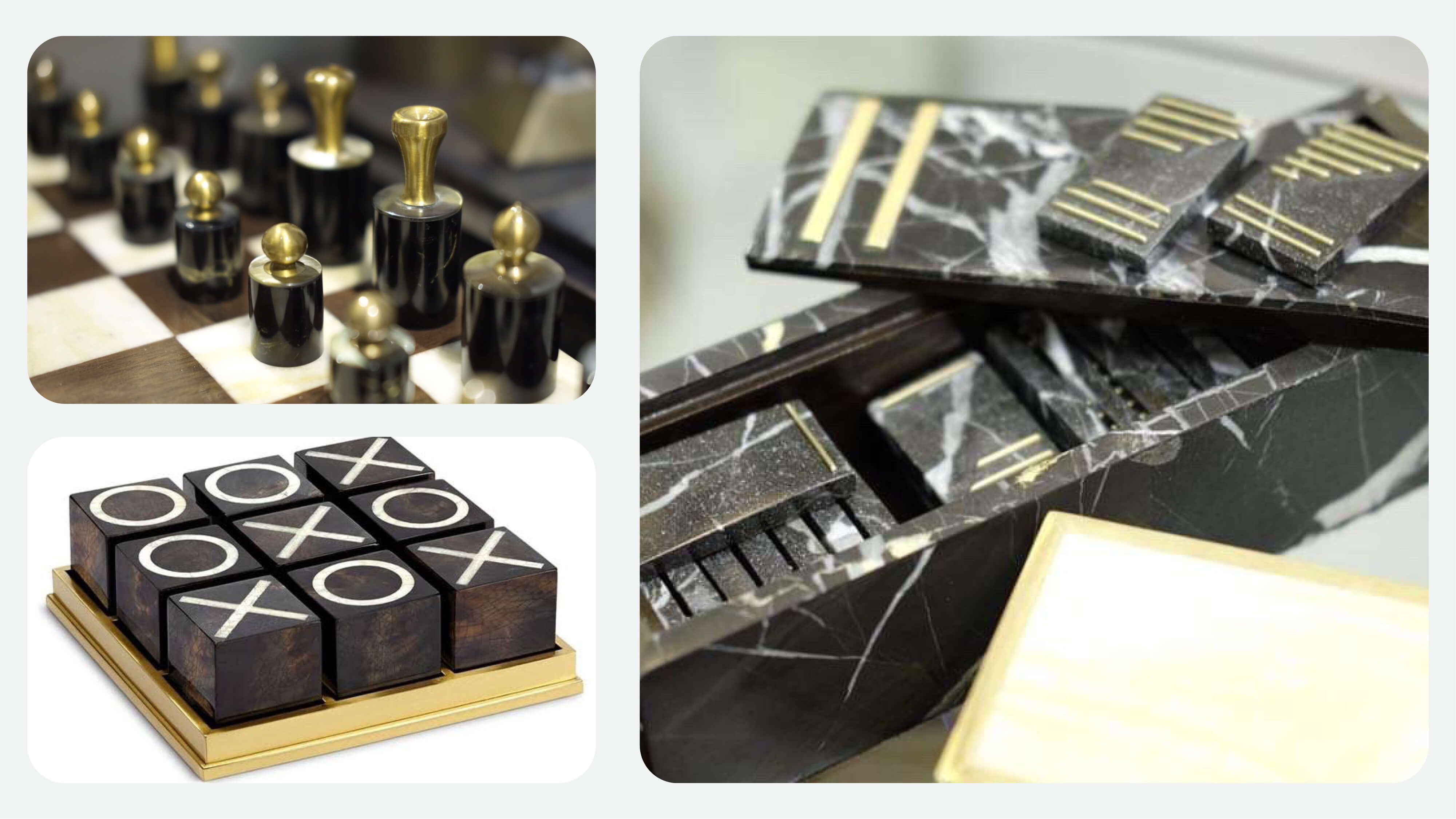 "Bon-ace is known for their shell inlay techniques, and luxury fashion and home accessories. During the pandemic, they had a demand for board games. Work-from-home accessories and products for recreation and relaxation are some of the key products that will be in demand for the coming season, as most people are still staying home. We designed sculptural bookends, 2-in-1 board games that also double as work desks, tic-tac-toe wall hooks, and sculptural stools. We also wanted to showcase their capabilities as a furniture manufacturer through the sculptural stools, which were inspired by the texture of a clam shell, and details from the metal structure of the San Sebastian Cathedral. The products are a combination of wood and shell inlay, with brass details."
Calfurn

"Calfurn has over 40 years of portfolio and supplies to notable US and European brands. They specialize in woven furniture and home accessories, and we wanted to highlight their various materials and capabilities through the pieces. For NY Now Digital Market, we designed for them a folding desk, table lamp, some desk accessories, hanging planters, and catch-all storage baskets in various weaving styles and finishes. Calfurn has a workaround for each and every detail including special mechanisms, backed by a dedicated team for product development."
Island Girl

"Island Girl is a fashion brand known for their tropical style and resort-vibe fashion accessories. Since their production was restricted during the pandemic, we focused on pieces that were workable within the timeline given, by accessorizing their existing woven bags and utilizing their wide selection of beaded necklaces as straps for the bags. The solihiya and pandan bags were accentuated with oversized tassels, beaded/embroidered insects, and floral elements."
Jhaz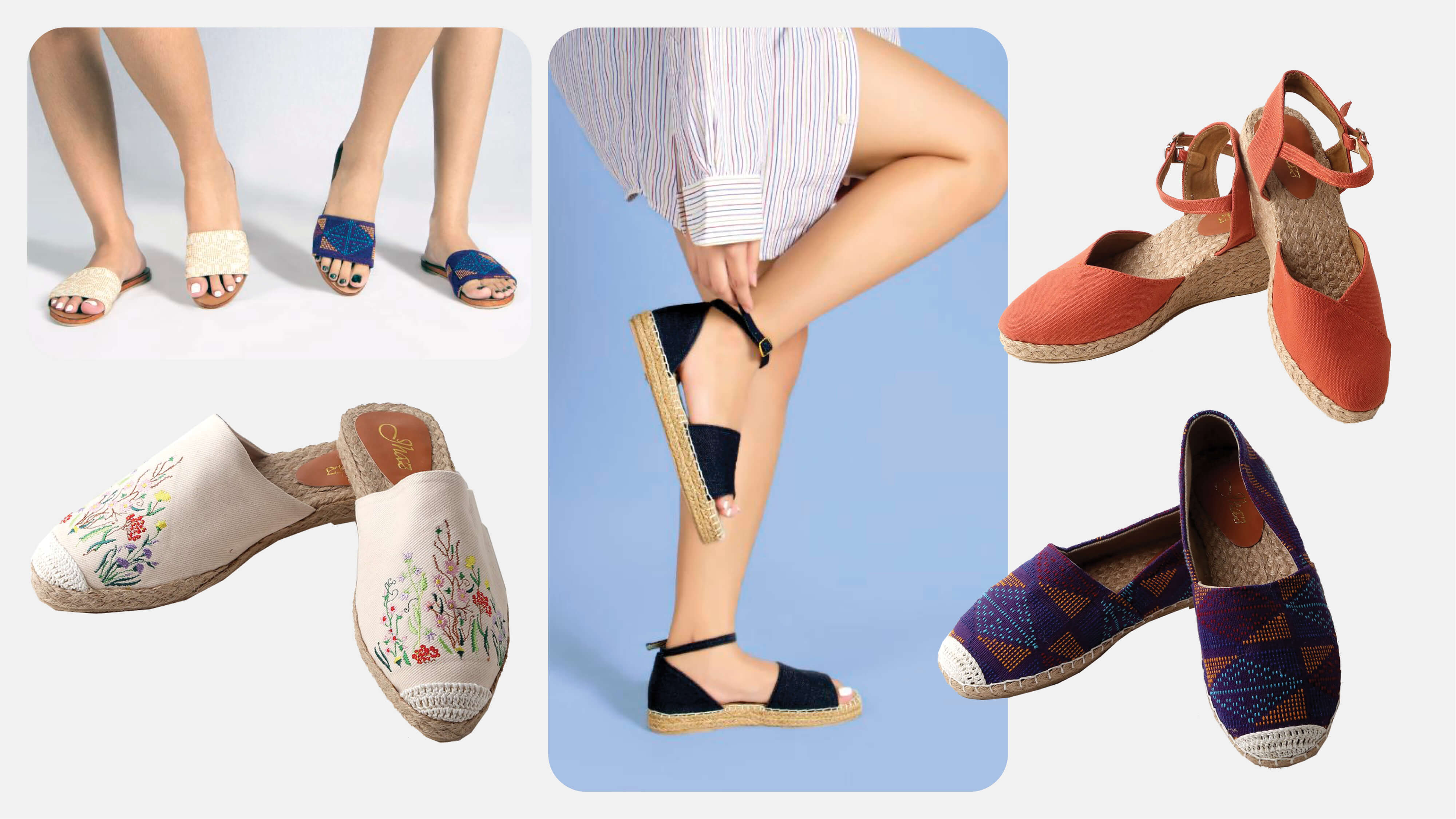 "Jhaz is a homegrown footwear brand from Liliw, Laguna. Liliw shoemakers are known for their espadrille-type soles. We wanted Jhaz to try out new shoe types for casual wear, home slippers, and platform slip-ons. Fashion brands were also gravely impacted by the pandemic. As many people are still staying home, we opted for footwear styles that may be comfortably worn at home and for short travels."
Klassy Collections and Designs Co.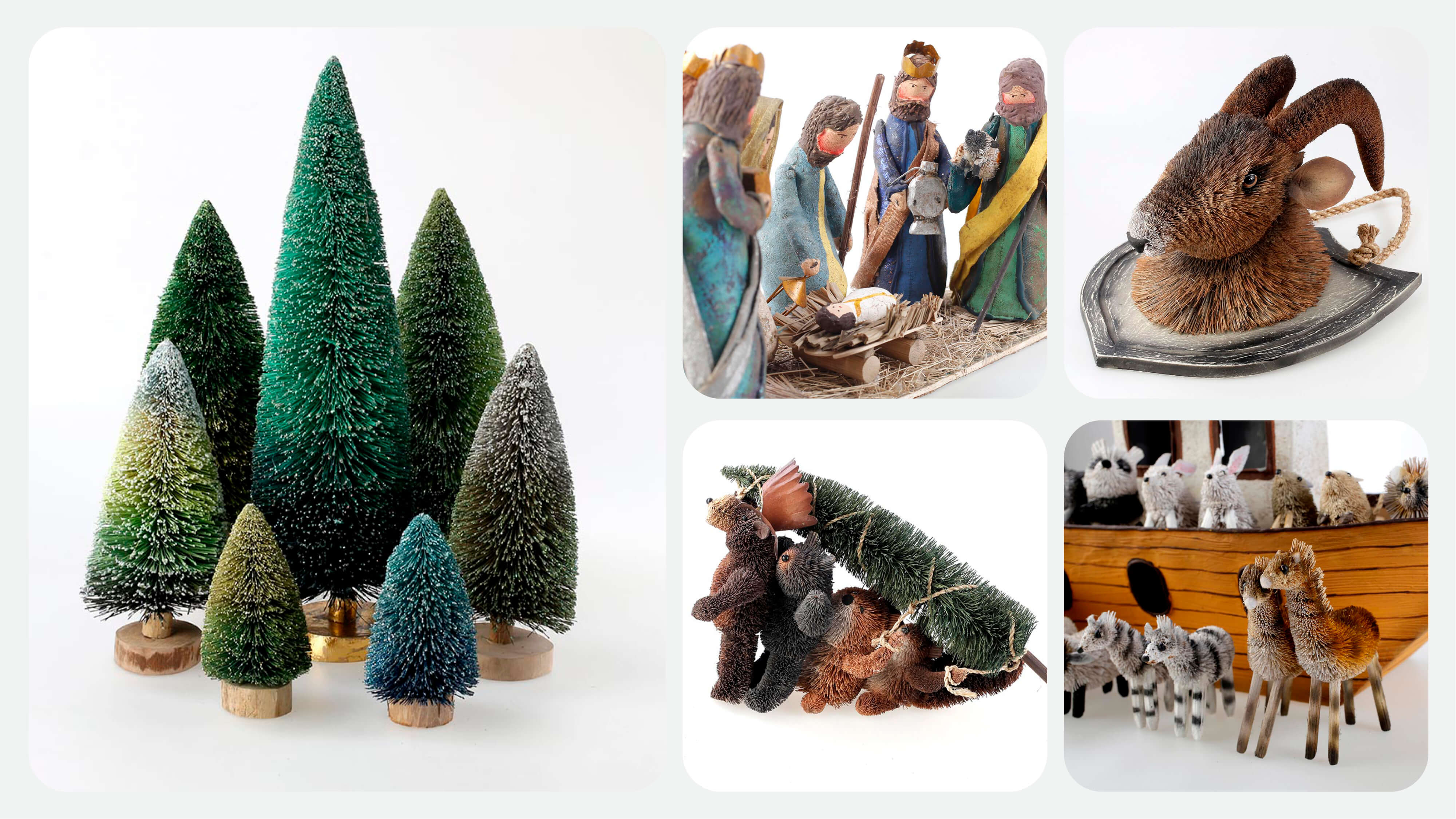 "Klassy Collections is one of the most versatile holiday decor manufacturers. They have a wide array of materials they work with and they also used to export garden accessories out of stone, pumice, and tin. They specialize in buri brush holiday décor and ombre finishes. We curated a set of Christmas trees in curated color combinations, in various sizes. We also updated their woodland animal decors, by stylizing the characters with scarves and coats to add more charm and whimsy to the animals."
LIJA by That One Piece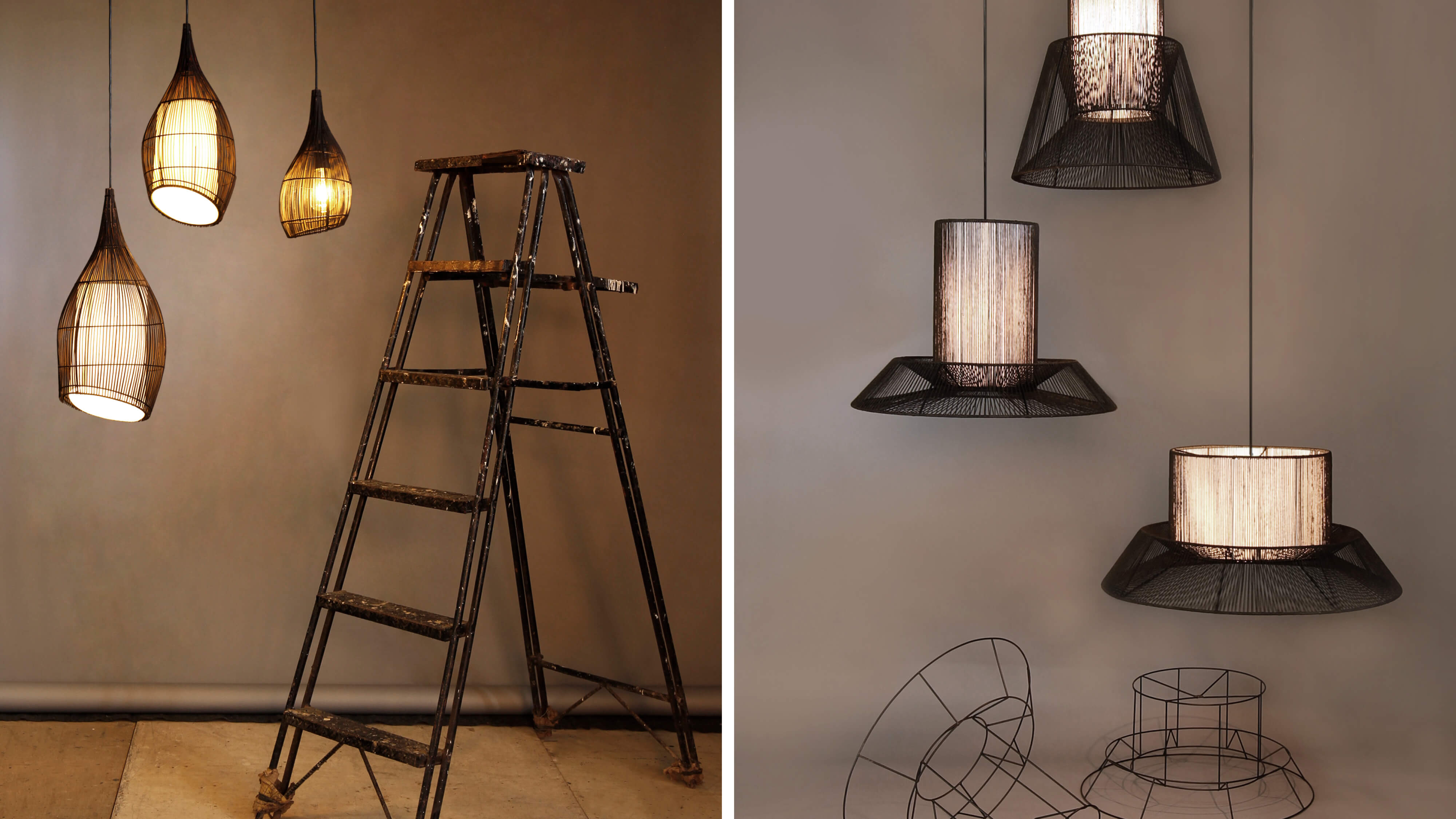 "LIJA by That One Piece is a lighting brand known for their exquisite use of paper twine as their main material. They also work with raffia, wicker, and woven traditional textiles as raw materials. We introduced a new technique to utilize their paper twine, different from their usual edgy, linear silhouettes. The collection is inspired by the spring toy, to create more organic forms for desk and lighting accessories."
Moy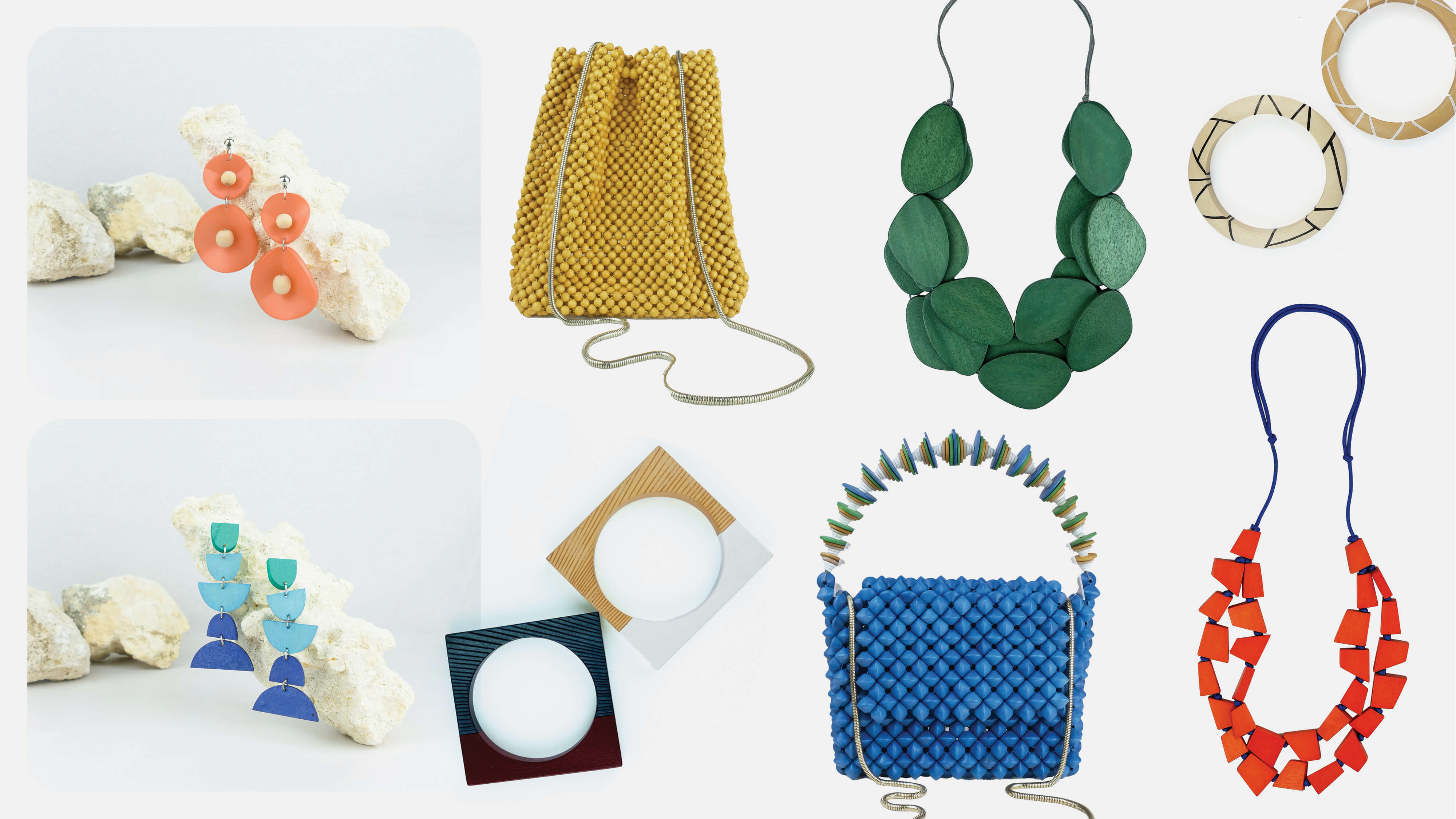 "Moy is a fashion accessories brand with a distinct style of using colorful wooden beads as their main material for bags and accessories. Their style is very minimalist but chic. Their buyer profiles are both for retail and wholesale. Moy is very design-forward and produces two new collections every year. We introduced patterns applied on their usually color-blocked bags. The patterns are inspired by ethnic and graphic patterns."
Native Crafts and Arts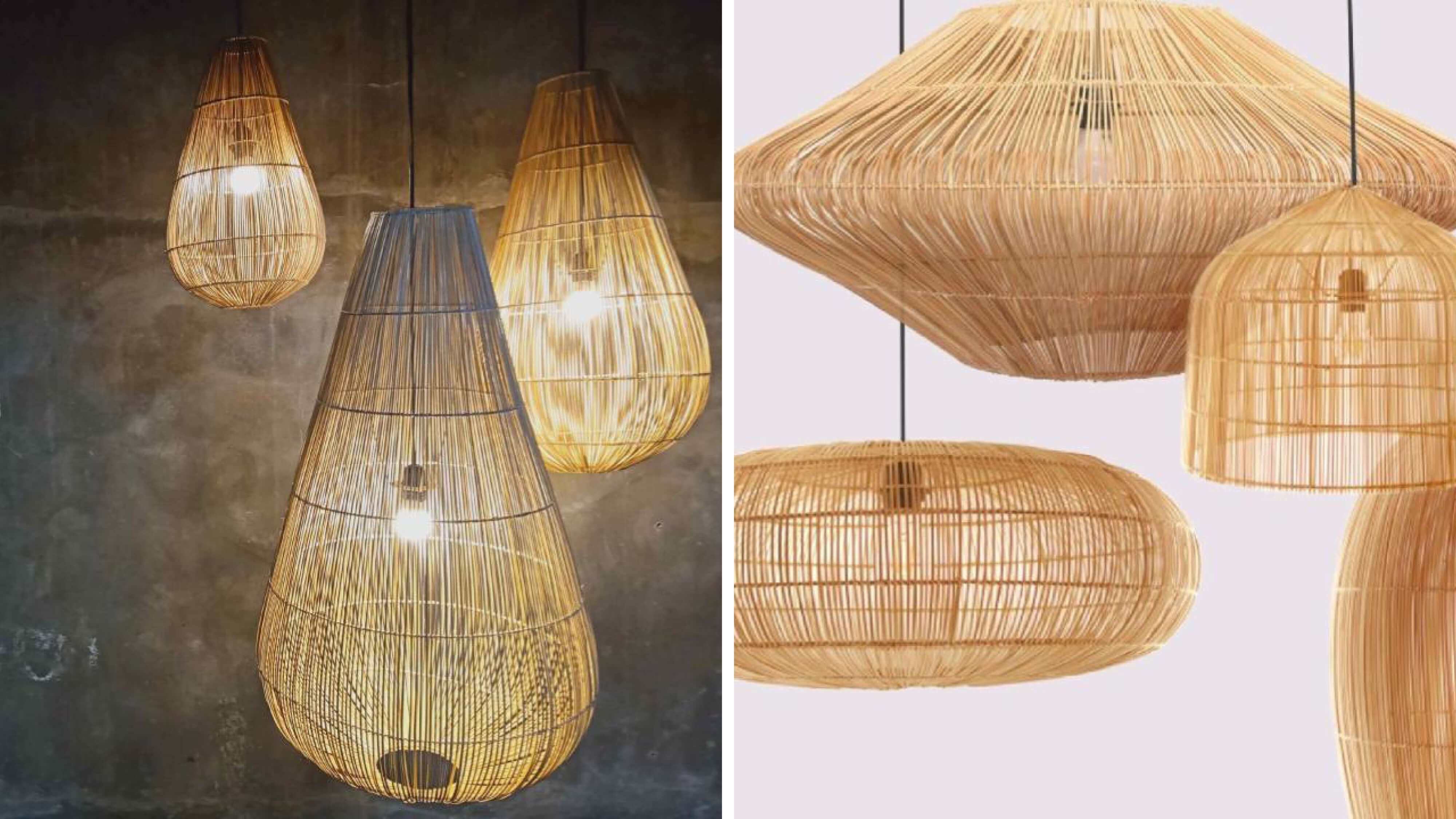 "Native Crafts and Arts is a lighting and home decor brand with over 40 years of export experience. They specialize in woven natural materials. Their clientele are mostly wholesalers and private labels. For NY Now Digital Market, NCA wanted to focus on lighting and create an identity distinctive to the brand. We focused on wicker—it being their most dominant material for lighting—and introduced modern silhouettes and color palettes that will appeal to the contemporary market."
Triboa Bay Living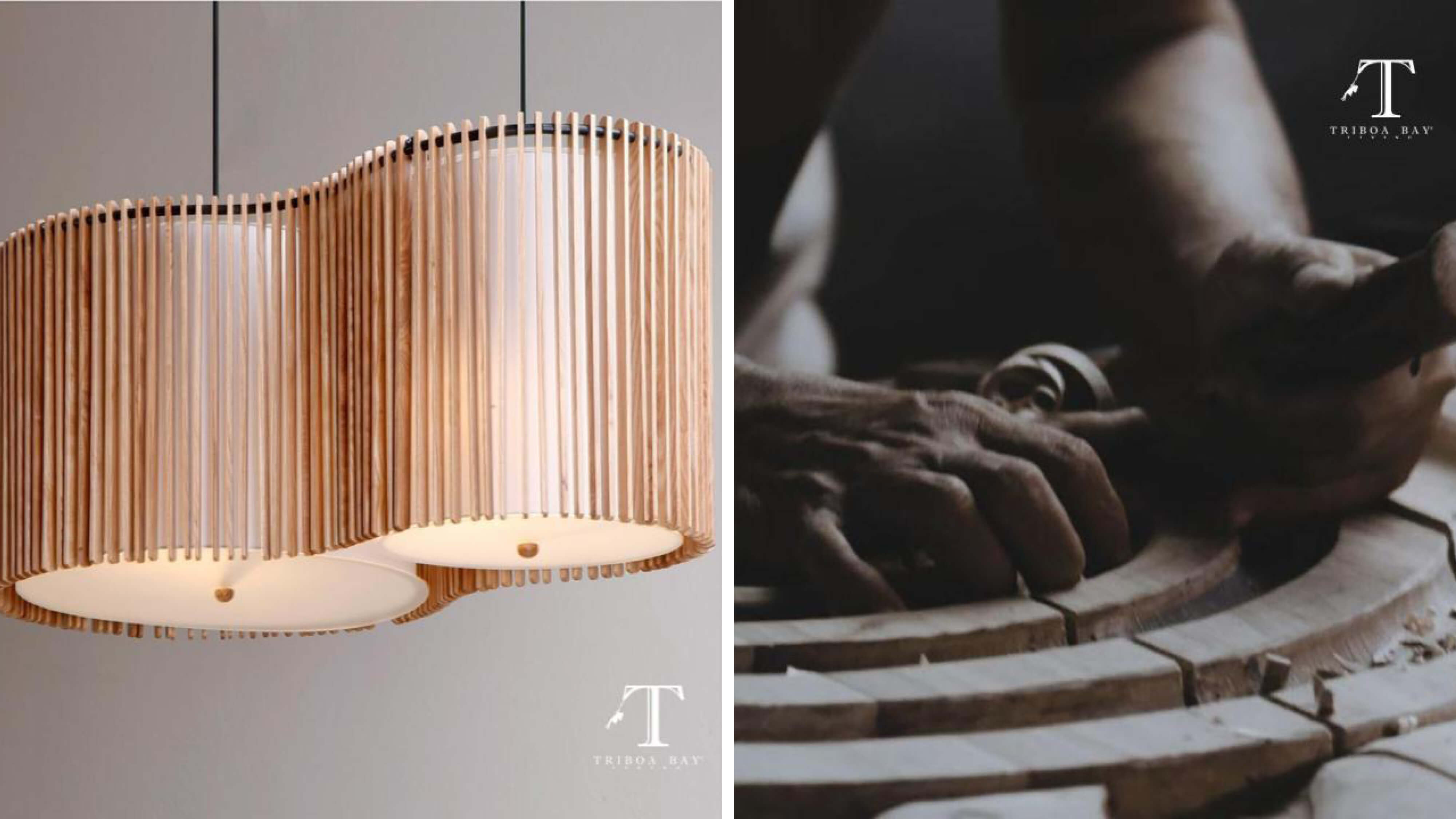 "Triboa Bay Living has a distinct style fit for the contemporary high-end market. They use wood, veneer, and metal as their primary materials. NY Now Digital Market being an accessories show, we focused on smaller pieces of furniture and lighting pieces. The coffee and end tables are flat-pack furniture, with a sculptural table base, inspired by the curvy and slim silhouette of the Indian fig cactus. The same cactus-inspired form is applied onto a lighting collection, with intersecting wooden pegs as the main material, while the stools and table lamps are reminiscent of sculptural clay forms."
TWWA Tagolwanen Handwoven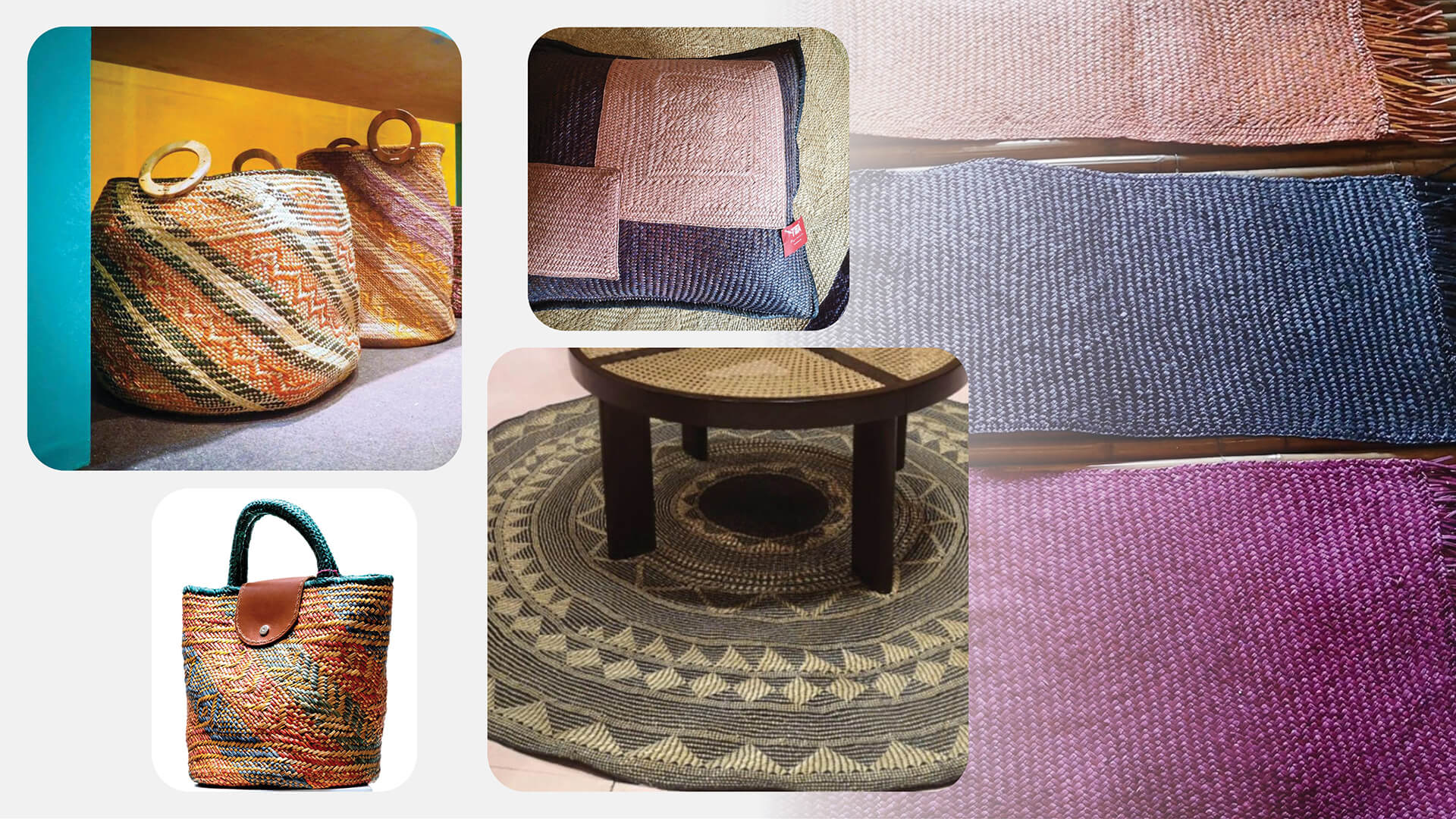 "TWWA (Tagolwanen Women Weavers Association) is known for their traditional banig or woven mats made by the Tagolwanen Tribe from Malaybalay, Bukidnon. We expanded the collections we made for TWWA in October for Design Commune and introduced a new color palette applied on to their traditional weaving patterns, made into area rugs, placemats, throw pillows, planters, bags, and hats."
R2R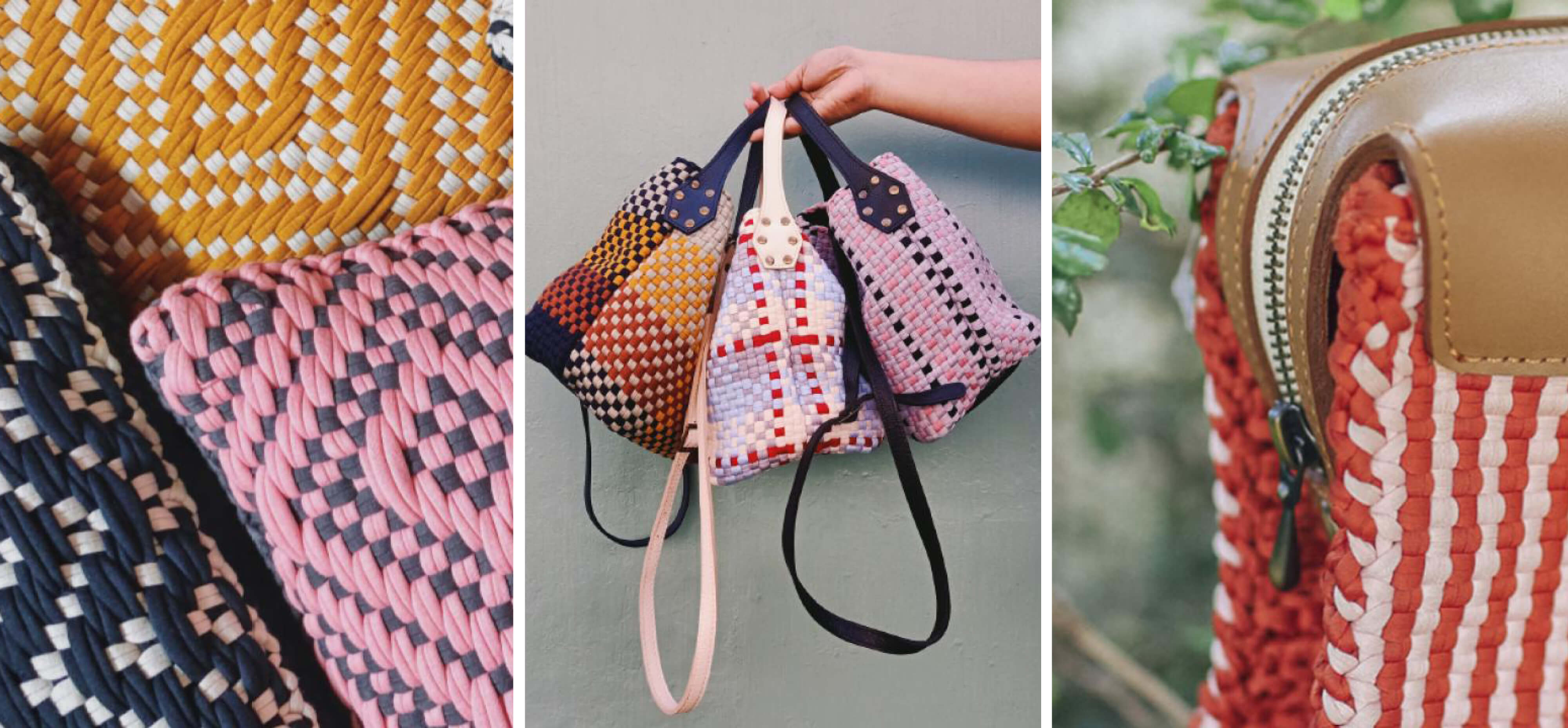 "R2R (Rags to Riches) is known for their exquisitely woven bags and soft furnishings made of upcycled textiles. We wanted to introduce a new collection of woven rugs in bigger sizes fit for living and bedroom spaces. Since the pieces are to be made by different artisans, we rethought how we can make production easier and more manageable. We called the collection Pixel and Facet rugs. From their names, the rugs are made of pixels and facets pieced together to create larger rugs. Each pixel and facet may be customized to create graphic patterns and mosaics."
Virtucio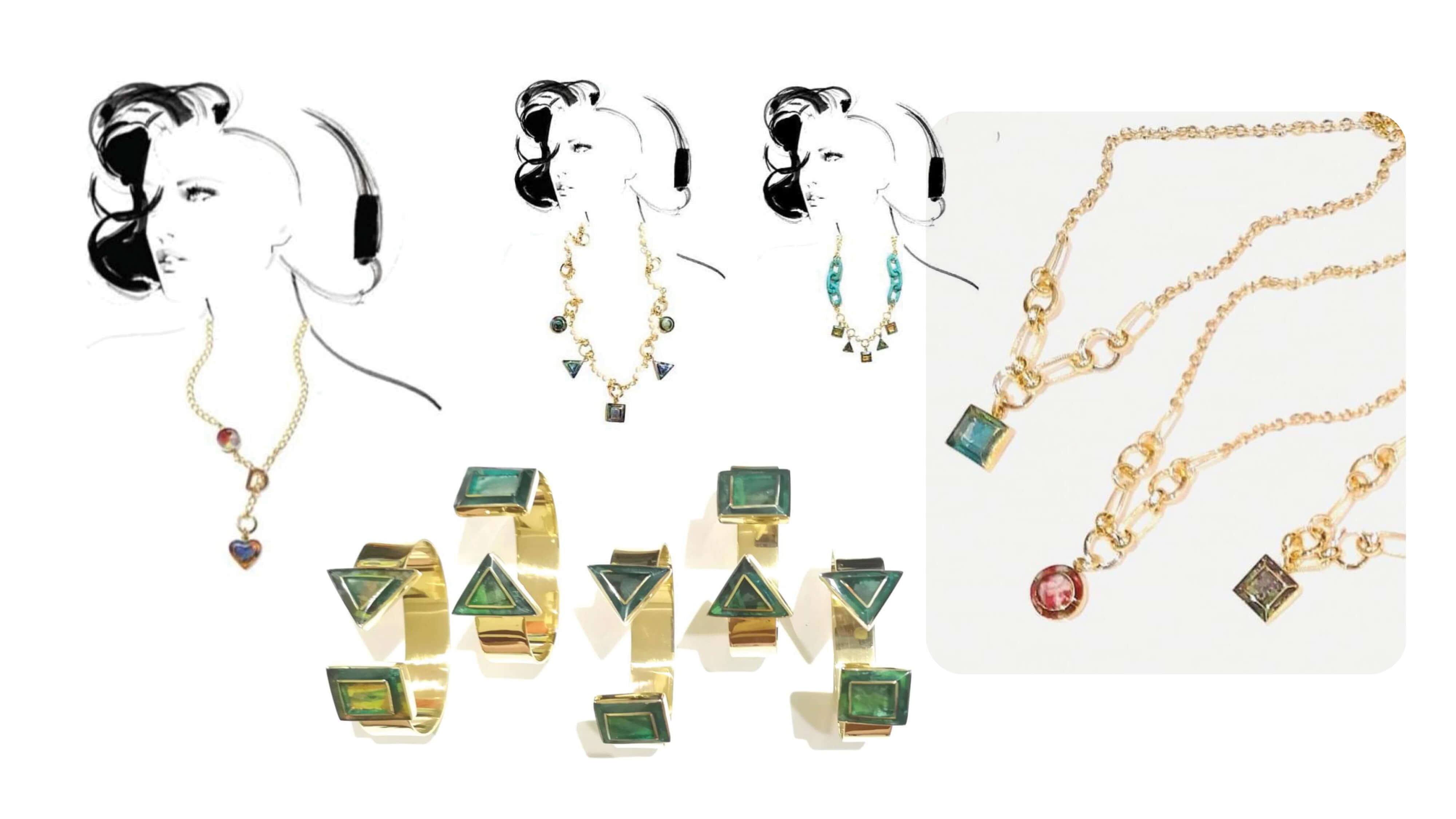 "Virtucio is a fashion accessories brand from Bohol with a distinct style of using upcycled plastic sheets to turn into high-end bags and jewelry. We wanted to expand their product lines and introduce a desk accessory line to show other feasible uses of their plastic sheets and highlight raffia as their new material."