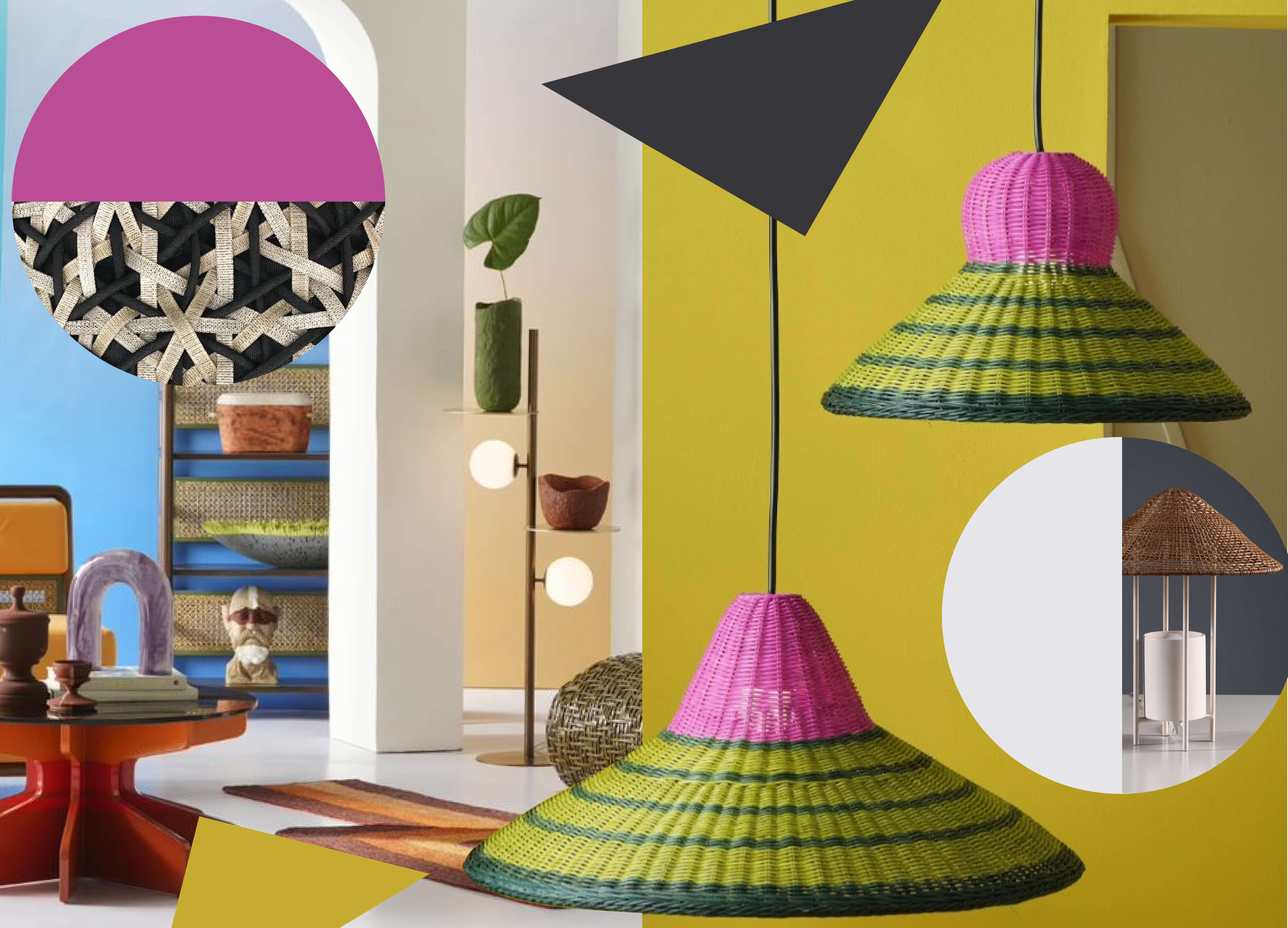 Celebrating Filipino in Any Kind of Place
Rita Nazareno and Gabby Lichauco collaborate with seven homegrown brands for NY Now Digital Market, creating a collection that shows an infusion of local culture and aesthetics, a contemporary thrust for traditional materials, and "new ways of living"
by Ning Nuñez

Showcasing products to a wider audience of design tastemakers, CITEM brings together the best Philippine brands over to NY Now, a curated digital market that showcases key home and design accessories from standout brands from all over the world. Transcending the limitations of the pandemic, it is through digital markets such as NY Now that the buyers, curators, retailers, and the makers are able to "meet" despite the circumstances.
In this edition of NY Now, design consultants Rita Nazareno and Gabby Lichauco closely collaborated with some of the Philippine brands in participation, creating products that make a perfect fit for the global audience. Under their guidance, Cebu Homecraft, Celestial Arts, Nature's Legacy, S.C. Vizcarra, Tadeco Home, Casa Selma, and Indigenous each produced products that highlight their capabilities and strong Filipino narratives. (Thirteen other brands are also participating in NY Now Digital Market. Read about them here.)

BRINGING PHILIPPINE BRANDS FROM PARIS TO NEW YORK
"It has been more than a year for us with regards to the work we have done for CITEM since March 2020," Nazareno shares. "Compared to MOM (Maison & Objet and More) in Paris, New York is a different market and aesthetic, so we tweaked them a bit for NY Now," Lichauco adds.
For the MOM exhibition, one of the much-awaited French trade fairs on design and lifestyle, Nazareno and Lichauco worked with 25 companies in total, and seven of the brands under their helm were also handpicked for NY Now. Although they collaborated mainly through digital platforms, Nazareno and Lichauco managed to spend a lot of time with the companies. "From our experiences in the past year, we learned how to work around things in the pandemic," points out Nazareno. "Half of them we had known already and there were also new brands we got to work with. We learned about the different factories and their materials."
"Thank goodness for technology!" she quips. "What we missed in the online meetings is getting to see the actual materials and looking at the process. It was very limiting, but we had to get as much info as possible. To make this work, we asked them to give their strengths and limitations as well as their main materials."

CONNECTIONS AND CONVERSATIONS THROUGH DESIGN
For NY Now, Nazareno and Lichauco decided on the theme "In Any Kind of Place," taken from a series of poems called "Tender Buttons" by American poet, modernist writer, and art collector Gertrude Stein. Each poem explores a different way of looking at a familiar object. "It speaks about new ways of living. It's the spirit of what we wanted to come up with," Nazareno explains.
"We were also looking at past events, such as the different decades of the previous century. These significant events from decades past have led to a new creative life. It was a time where people in the creative industry reinvented themselves. We believe it's a good reference," adds Lichauco.
Other than referencing the key eras of the past, Nazareno and Lichauco also wanted "Future Nostalgia" as a key element that would inspire their designs for NY Now. "To further explain Future Nostalgia, we wanted a contemporary thrust for traditional materials," says Nazareno.
The design duo takes on a forward-thinking approach that pays homage to the past and breaks free from time-limiting trends. "We don't really follow trends," Nazareno points out. "What we do know is that there is an intense appreciation for handcrafted pieces. We do realize that and we do know that our local designers and manufacturers understand that as well."
"In this pandemic, there has been a bigger appreciation for natural materials. That is our strength as Filipino companies," adds Lichauco. "Although there are other Asian countries that use the same materials, it's the aesthetic that will differentiate our companies from the rest. We like to tap into nostalgic memories through the different objects we create. We can't follow trends. For us, it's not something we do. For our pieces, we want to talk about our culture. We want to push for the infusion of local culture and aesthetics."
Telling stories through design creates a connection between the Filipino makers and the buyers that find meaning in the craft. In a way, it allows for a bridge across cultures and countries despite the distance and the pandemic. For Nazareno and Lichauco, the designs ultimately ought to extend the conversation, sparking an interest in the narrative behind the design.
Here are the brands who have worked together with Nazareno and Lichauco, currently exhibiting at NY Now:

TADECO HOME
With the goal to work together with and help local communities, Tadeco Home was initiated as a social enterprise by Philippine banana exporter, Tagum Agricultural Development Corporation (TADECO). True to their practice of sustainability, Tadeco Home sources most of their material from their own plantation.
Their production process begins with the careful work of its artisans. "We distribute the components of each product to the community of artisans we work with," shares Maricris Floirendo Brias, Tadeco Home creative director. "They prepare the components by covering the metal wires with banana fibers and form them to look like the Sea Fan Coral or the Mangrove Candelabra, for example. When these components are formed into small parts of the product, they are then delivered directly to the factory for assembly and to make them as big whole lamps or a candelabra."
The challenge in making the products is in the precision and eye for detail that each artisan must demonstrate. All the components are made by hand, giving each product a unique touch. "No two products are alike. With the lamps and candelabras, for example, the components are manually twisted and formed," Brias explains. "Each part of every component has its unique thickness and size, and the accuracy of duplicating the exact measurements in manufacturing can be quite a challenge. The same goes for the cushions. Weaving the fabric takes 2 to 3 months. Meanwhile, a single lamp would take 80 days for the artisans to complete it."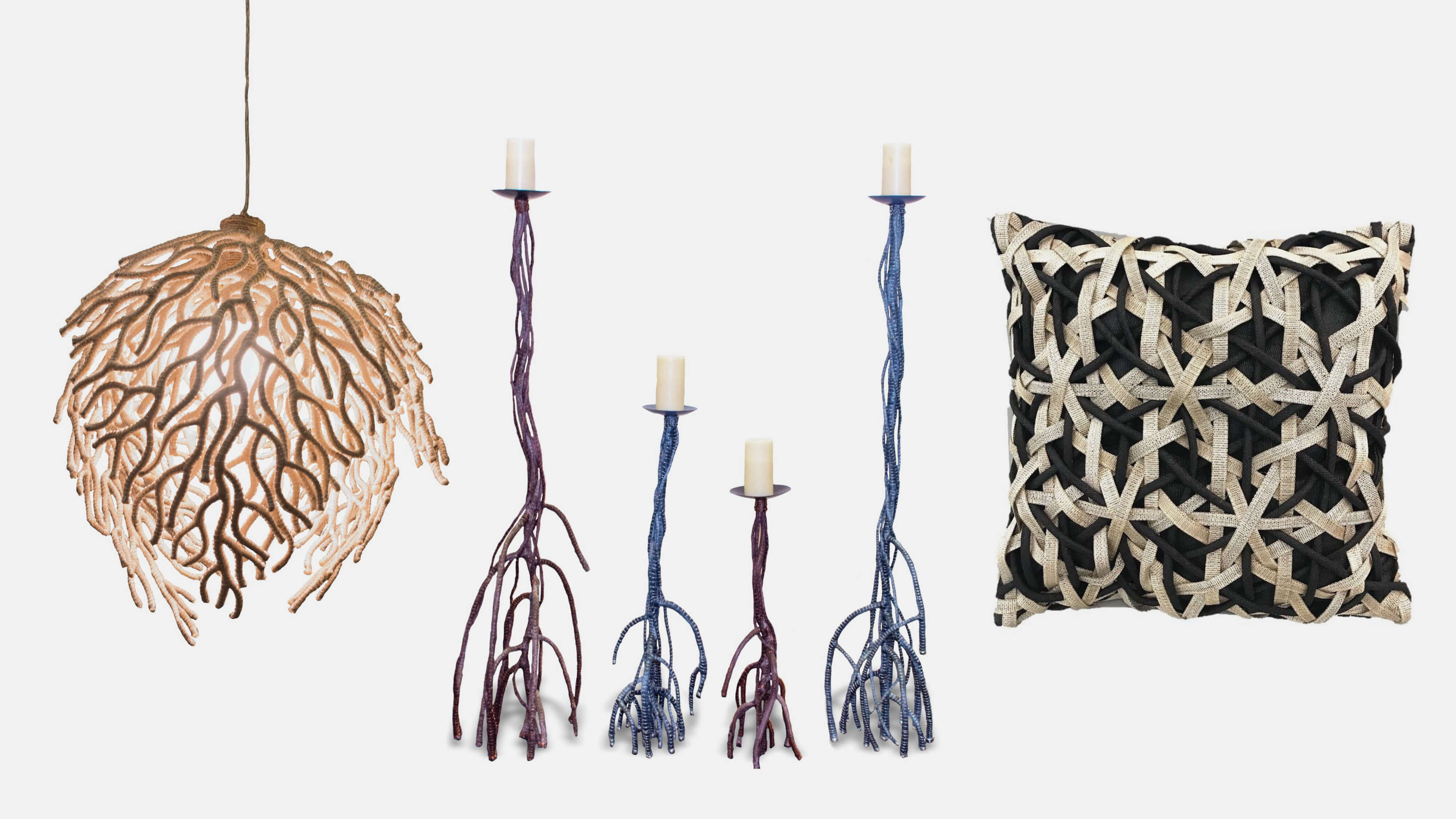 The materials used to make the Sea Fan Coral Hanging Lamp (left) come from the waste and discards from the company's banana plantation, and all are organic and entirely hand-crafted. The Mangrove Candelabra (center), inspired by the mangrove trees found in the shoreline, are made from abaca fibers intricately coiled with aluminum wires by skilled artisans in Mindanao. The Cushion Ikat Beaded Coco (right) are made from t'nalak, where the fabrics are cut into panels and distributed to the community. The panels are meticulously beaded by hand with coconut beads. Once done, another community will sew the panels and turn them into cushions

S.C. VIZCARRA
S.C. Vizcarra, founded by Segundina Cornejo Vizcarra, has been producing intricate handwoven bags and accessories, proudly handwoven by Philippine artisans, since 1925. Daughter Vicky Vizcarra Amalingan-Sales continues the family tradition of producing finely crafted and handmade objects together with its team of makers.
"We at S.C. Vizcarra are excited to be part of NY Now, which has been made possible thanks to CITEM," begins Mutya Reyes, General Manager of S.C. Vizcarra. "Joining NY Now is an opportunity to showcase our unique products. We have a new collection of baskets and pendant lamps called the Pakwan ('watermelon'), which we are looking forward to showing. The special weave pattern consisting of wicker in two shades of green and red shows the weaving expertise of the S.C.Vizcarra workshop," she adds.
As with every collection and for their recent work for NY Now, S.C.Vizcarra always tries "to push ourselves in coming up with challenging weaves and shapes but also look forward to showcasing our classic pieces," Reyes explains.
S.C.Vizcarra has been collaborating with Rita and Gabby for many years now. "These two young designers are well-honed and are veterans when it comes to design," Reyes adds. "Rita has always championed for us since she came back to the family business about a decade ago to help her mom, Vicky. We always enjoy having Sir Gabby work with us, too. Our weavers always enjoy seeing the pieces that he and Rita come up with. They are always fun and playful with their designs and they are the same personally, too."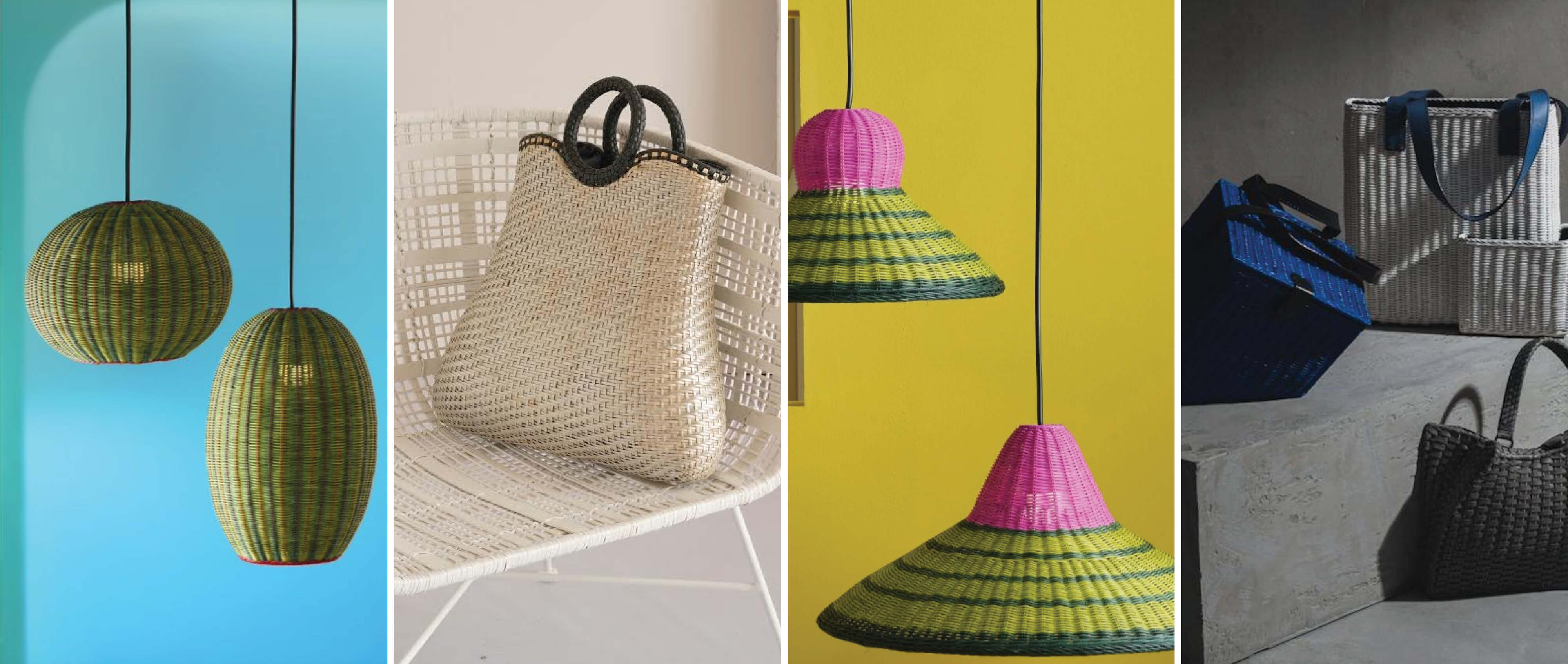 (from left) Pendant lamps from the new Pakwan collection, which showcase a special weave pattern; the handwoven Camison tote bag; the Candle Lamps, which come in a very playful design and color scheme; and the Bilbao Bags, perfect accessories for the home, the beach, and even the market

NATURE'S LEGACY
Nature's Legacy has been known for their use of patented techniques that transform natural and recycled materials into statement home decor and accessories. They carry a wide range of products that include home furnishings, garden pieces, architectural components, lighting, trays, gift boxes, and more.
Having worked with global designers and distributors previously, Nature's Legacy is no stranger to the international design scene. "Our brand has always had a good following due to consistency in quality," says Pete Delanter, Nature's Legacy CEO. "With the NY Now participation, our presence will be greatly felt by buyers worldwide, sourcing our products through this hybrid exhibition."
Creating for the NY Now market, the brand also worked closely with Nazareno and Lichauco. "Rita and Gabby are easy to work with. They're always providing directions and ideas that challenge our creative and innovative nature."
Deltanter mentions a focus on "the new normal in people's lifestyles" in the brand's collection for NY Now. "Consumers are wanting to have products that are good alternatives to materials such as marble, which is difficult to source due to many logistical problems," he reveals. "The process of making these faux marbleized objects, such as in the Bird Houses, uses highly artisan-based techniques combined with science and engineering. It cannot be dependent on the traditional knowledge of masonry, but should be reinforced with science to create the right effect and finish. The engineering that comes with the process allows the finished products to be durable as well."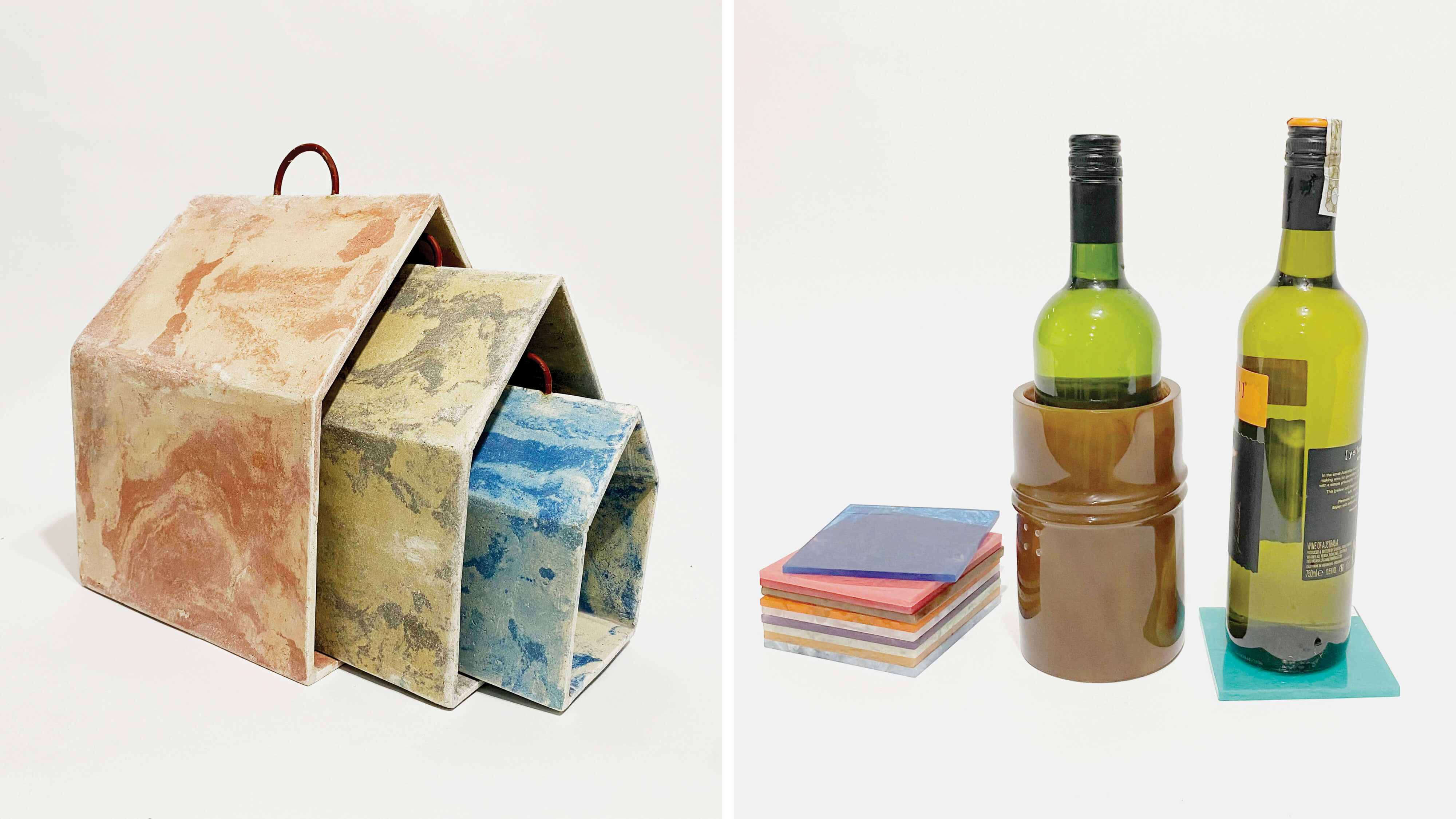 Nature's Legacy introduces items for the new normal: Bird Houses Made of Faux Marble (left) in stonecast material are a lot lighter in weight than real marble, yet sturdy enough for outdoor use; Wine Chillers and Coasters that are likewise highly durable

INDIGENOUS
Fourteen years ago, from what began as a kitchen experiment with a blender, Indigenous (formerly Cagayan de Oro Handmade Paper Crafts) has since transformed into the leading exporter of eco-friendly paper, made of 100% tree-less handmade paper and paper-based products. Creating products made from natural fiber, Indigenous takes pride in its sustainable designs and manufacturing processes.
"We have introduced our innovation on paper clay, as it is used in making planters or storage containers," founder Lolita Cabanlet says. "Our paper clay is 100% biodegradable. Only abaca fibers and plant-based natural adhesives are used in the mixture. It is also eco-friendly because we do green practices such as using solar energy instead of firewood and rain water instead of drinking water. The maximum production lead time is two days for every pot, from mixing to drying."
For Cabanlet, working with Nazareno and Lichauco always brings forth creativity and innovation. "It's always an exciting process for us when we see the same paper clay take on another function or role," she muses. "The greatest number of inquiries we received is on our paper clay products. We even got to book orders on flower bottles and planters bound for Europe."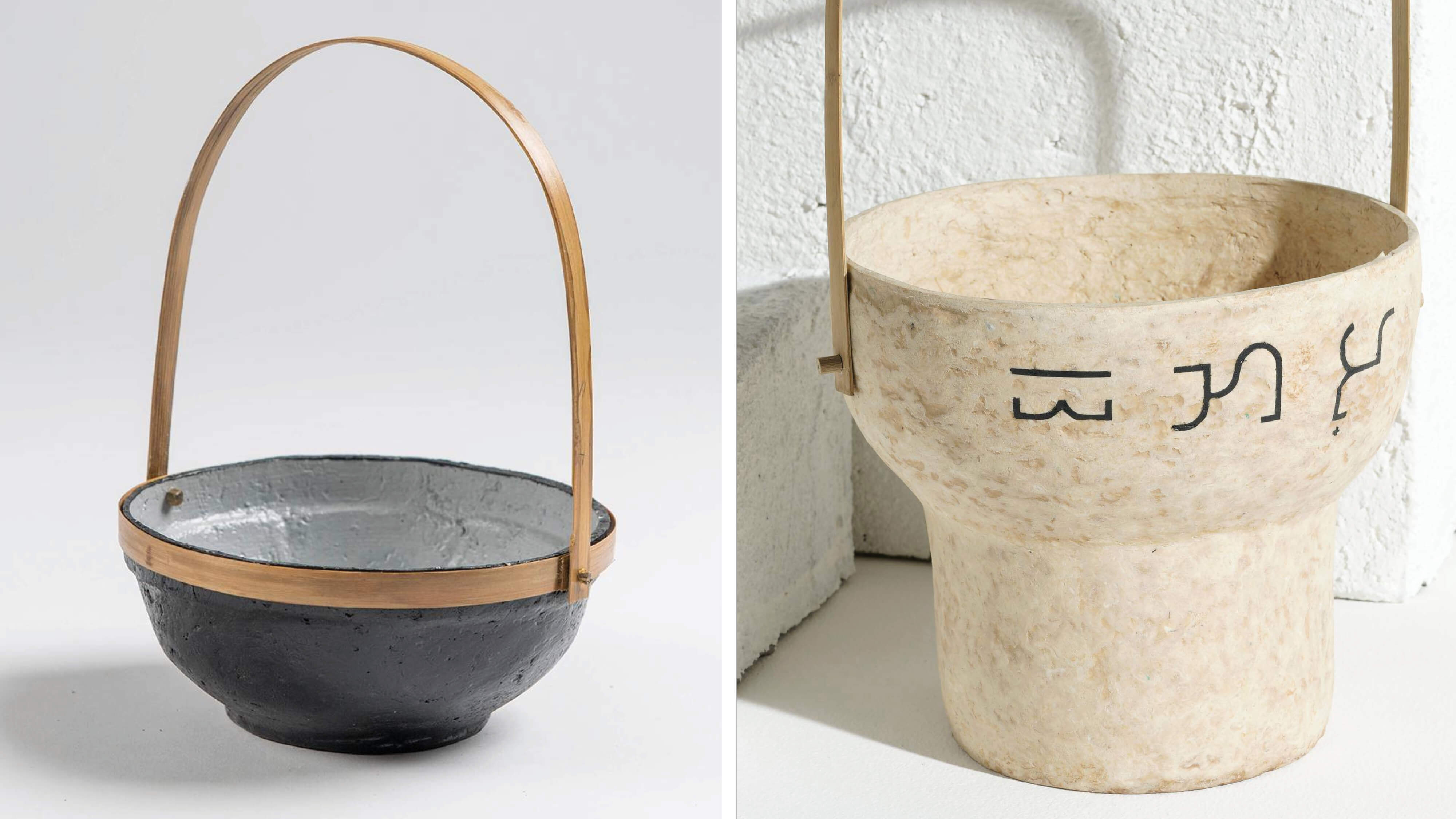 The Paper Clay Bowl (left) makes use of an innovative play of abaca and cogon grass pulp with natural starch that create a solid, yet very lightweight material, and dyed in light grey. This variation of the Paper Clay Vase is hand-painted with the word, ingat or 'take care' in Baybayin, the pre-colonial ancient writing script of the Philippines

CEBU HOMECRAFT
With an insatiable appetite for exploring and mastering new processes and materials, Cebu Homecraft designs and assembles fine furniture and lighting from natural and recycled materials. The goal is to offer a small batch production of high-quality products that are not found anywhere else. With a team of 30 skilled artisans, the company devotes time and effort to develop an array of diverse exquisite pieces.
"We have made two collections of conceptual table art: our Ikebana range and our Rig range," James Doran-Webb, owner and designer of Cebu Homecraft shares. "Each piece is an exploration of our relationship with nature. A wonderfully shaped remnant of driftwood meets the smooth sides of a perfectly symmetrical cement form seamlessly. Together, these two diametrically opposed, contrasting materials become one, as if they were made for one another."

Working with design consultants Nazareno and Lichauco, he adds, always brings into the picture inspired ideas and conversations that expand to exciting tangents and concepts. "Our third collection was inspired by Rita and Gabby's retro pouf concepts. Instead of taking a traditional plywood and wood approach to their making, we wanted to stick to our creed of utilizing as much second life material as possible," explains Doran-Webb.
"The NY Now participation and collaboration with CITEM on this latest digital marketing opportunity has helped us to grow in the digital arena. Through this platform, we're able to connect with buyers who are interested in what we do. As of the moment, we have around 140 visits and have received numbers of contacts we can reach. We are grateful and excited to experience more as we continue participating in this digital exhibit."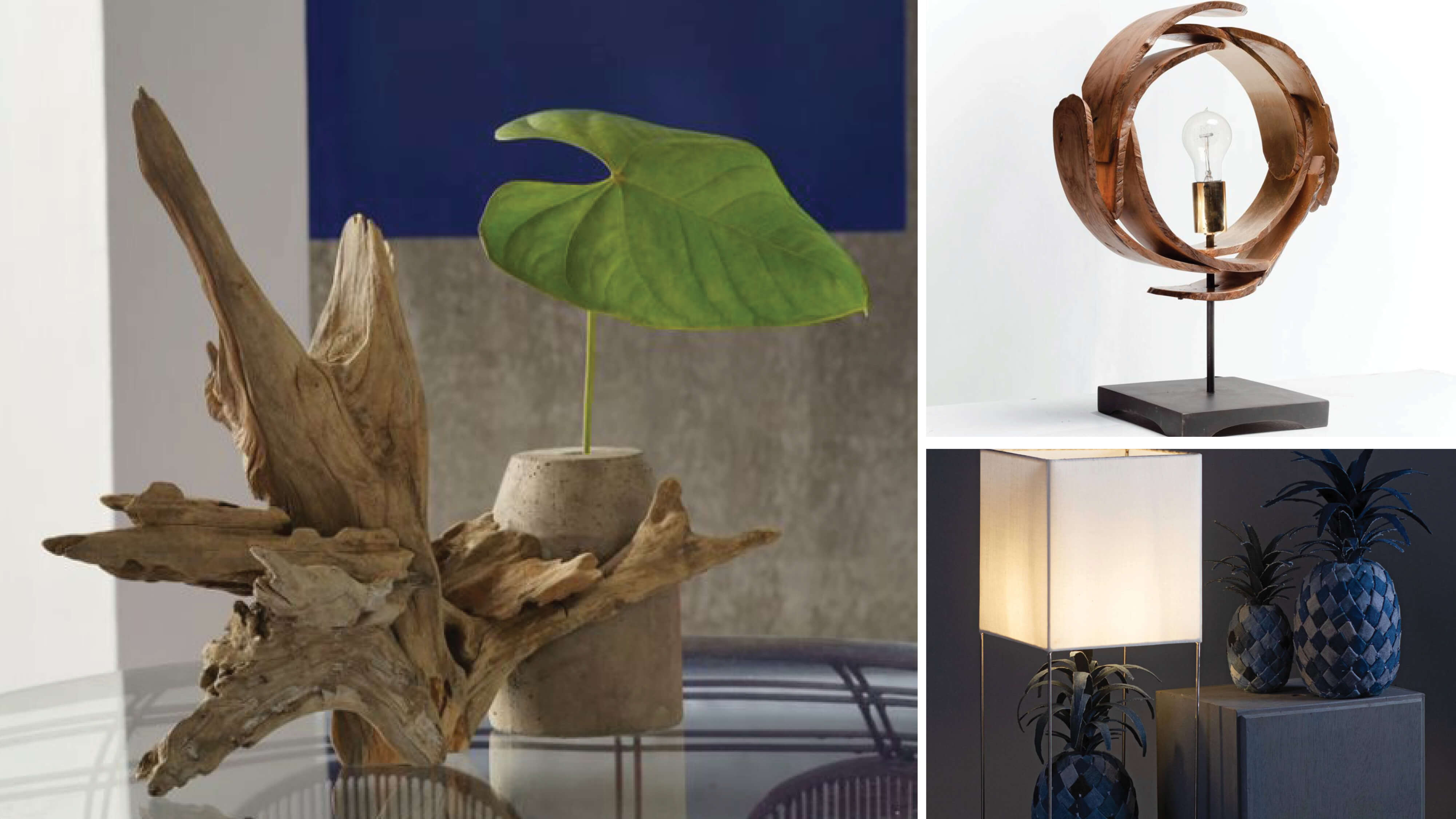 Cebu Homecraft has worked on a conceptual table art series, called the Ikebana range and the Rig range (left); the Slice Driftwood Table Light (top) and the Pineapple Display are made from second life material, and assembled by partner women communities in Bantayan Island

CELESTIAL ARTS
For about 30 years and counting, founder Esperanza Hilado and her team have consistently produced and exported finely crafted home accessories. Celestial Arts is known for its masterful use of hardwood, such as acacia and mango, mixed with metal and other natural materials. To date, the brand has grown into a leading and trusted exporter catering to major buyers from around the globe, thanks to its commitment to working at the highest level of service and craftsmanship and showcasing Filipino artistry at its core.
Celestial Arts keeps true to this design ethos for its presentation at NY Now. "For our products, we have the Hairline Mini Bowl and the Live Edge Chopping Board as our highlight pieces," shares Lorna Baterina, Senior Merchandiser of Celestial Arts. "These are purely made of mango wood. The Hairline series highlights a special process that we do in-house, while the Live Edge Chopping Board in natural finish, is also made of mango wood that we re-shaped into its design. To get the natural finish, we sand it and top-coat it with natural varnish."
Baterina reveals that Celestial Arts' complete manufacturing process remains a secret. "The wood processing part such as shaping and sanding is no secret, but as for the actual process of coloring and burning—it's something we cannot reveal," she says. "From raw materials acquisition to finishing, our lead time is 90 to 120 days. The cutting, shaping, and drying take some time."
NY Now has truly been beneficial to the local participants and Celestial Arts is no exception. "For our NY Now participation, we have been receiving inquiries and we are now exposed to new clients and buyers," reveals Baterina. Nazareno and Lichauco have also been very supportive in the collaboration. "They shared with us designs that they believe would highlight our strengths."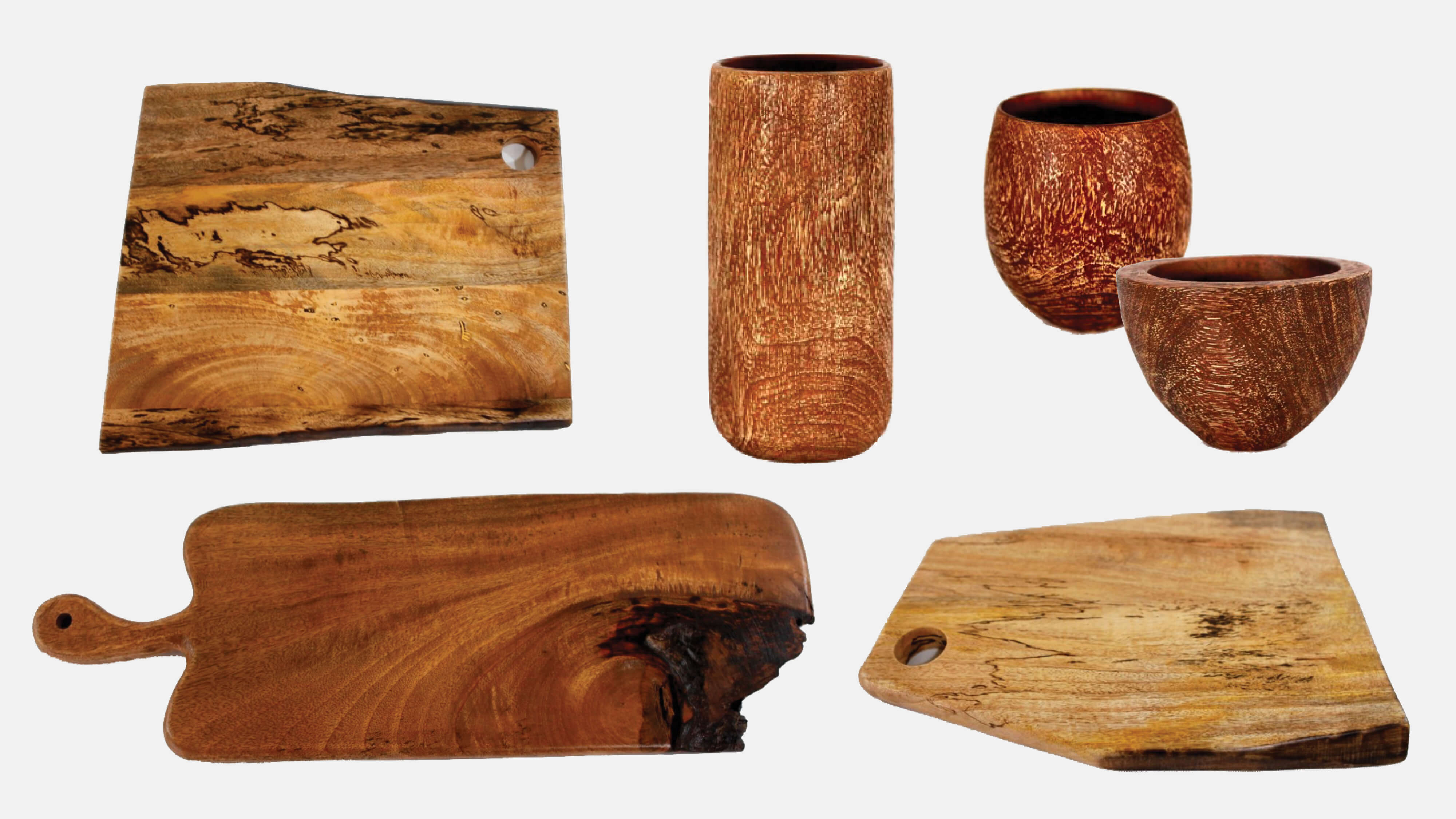 Celestial Arts' highlight pieces: the Live Edge Chopping Board, perfect for kitchens with a rustic touch and can be both functional and decorative, used for chopping or as an accent to your kitchen; and the Hairline Mini Bowl, a very finely crafted bowl with numerous purposes, as it can be used as a food bowl or even a tabletop centerpiece

CASA SELMA
Cebu-based Casa Selma is founded by Vito Selma, who hails from the third generation of a family of furniture makers. "The collection we're featuring in NY Now is actually the first collection of our new brand, Casa Selma," begins Selma. "We called it 'Understated Tropical,' because the main inspiration for this collection was our own home, the Philippines."

While Selma's team was unable to collaborate with Nazareno and Lichauco, Casa Selma continued to work towards completing their first series. "Our design process isn't exactly set in stone. Rather, when we see a story we want to share, things kick off from there until we come up with a design we're happy with," Selma reveals. "We love exploring materials and techniques, and our first collection shows it—from the intricate weaves to the innovative use of rice husk. There were countless challenges along the way, such as issues with prototypes, difficult consultants, etc. However, after almost a year of designing, manufacturing, and perfecting, we are very proud to introduce to you Casa Selma and its first collection, 'Understated Tropical,' and at NY Now, no less."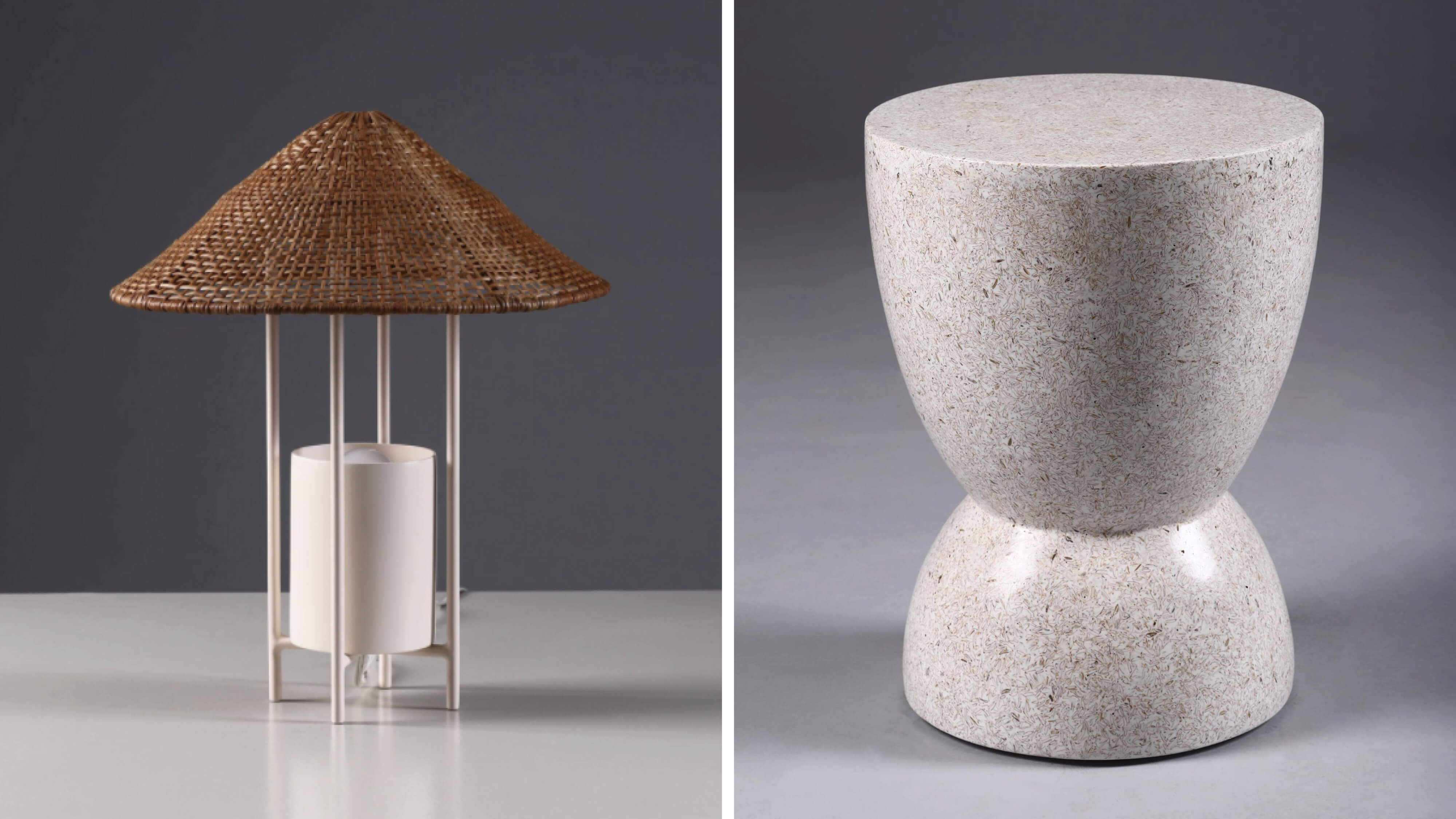 Vito Selma calls some of their pieces "overtly Filipino" such as their Sassa Lamps (left), which feature lamp shades inspired by the shape of the 'salakot,' or the cone- or dome-shaped native hats woven from natural material; while some he deems as "subtly Filipino," such as the Don Juan End Table, which is made of rice husk