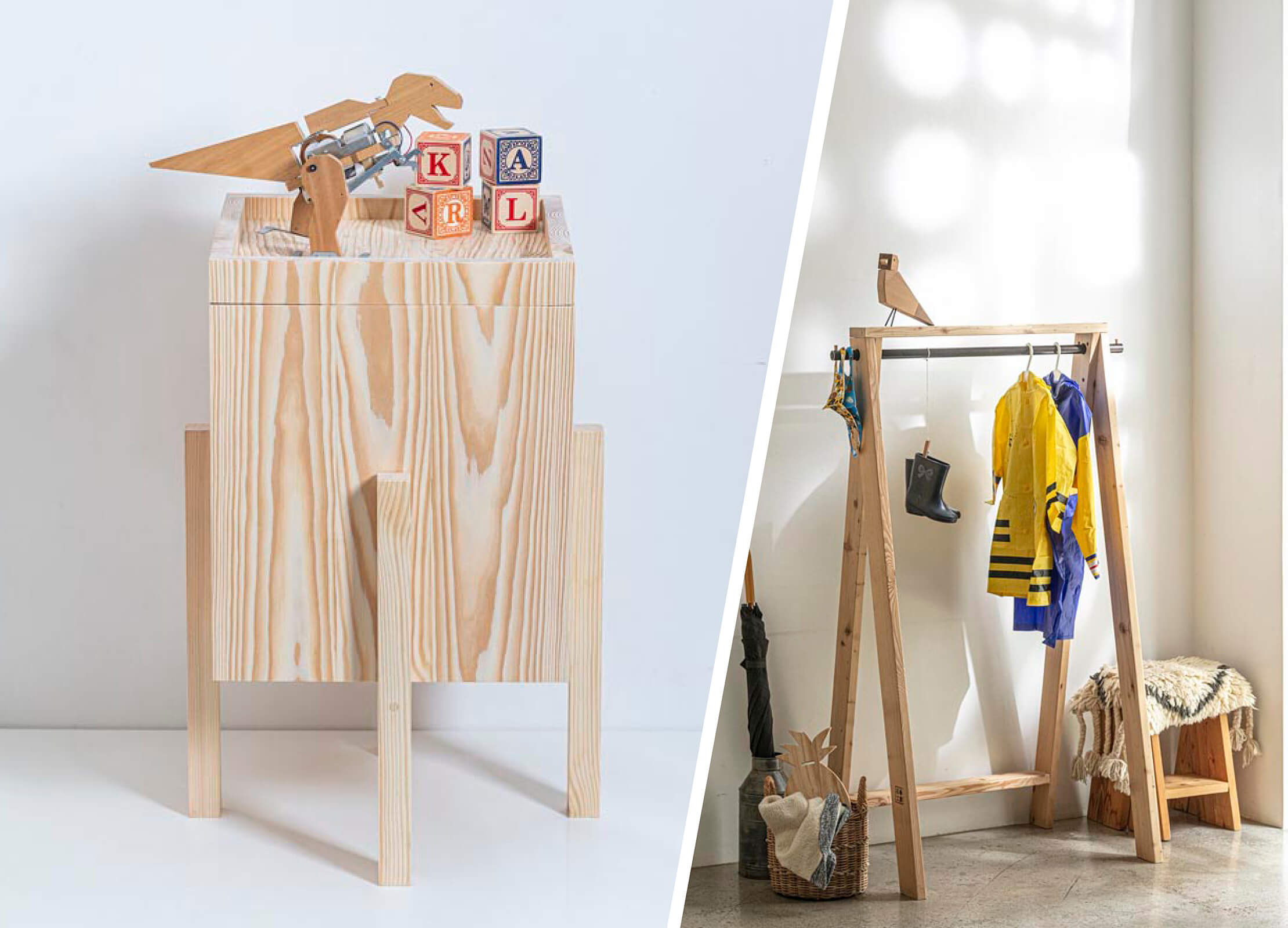 Creating a Space for Children in Our Homes
Distance learning essentials and go-and-grow pieces for your little ones
by Vicky Montenegro
Your kids are spending more time than ever in their rooms these days and you may want to re-assess if their existing ones are built for work, play, and rest.
It can be a challenge: for one, you'll have to negotiate with your kids who will most definitely have an opinion on what things will go and not go into their rooms. But with the right—and patient—approach, the whole decorating (or re-decorating) exercise can be fun and a bonding opportunity.
Whether you're starting with a clean slate or updating an old room, here are five things you must keep in mind when carving out a space for your child in your home.

CHOOSE PIECES THAT CAN GROW WITH THEM
This may be one of the very first things you must keep in mind—for practicality and aesthetic reasons. You can always run a theme in a room, but take note that kids change their minds pretty easily. It may be fireman trucks today and dinosaurs tomorrow, or pastel pink now and sunny yellow in a few months.
Simple can work in a kid's room: a neutral canvas is a great way to layer textures, mix various patterns, and introduce pops of color. You want a room that will look good today and—with just a few, quick updates—a few years from now. Invest in the "building blocks" furniture (bed, desk, chair, cabinet) that can work in any décor, for any age. The interest-specific pieces can be introduced via small pieces: throw pillows, décor items, and toys, of course.
Aesthetics cannot be ignored in children's rooms. We want to make sure that our kids' rooms will match their personalities and interests, and we can do that and still keep everything beautiful and adorable but timeless.

Simple but so smart: it's a stool, a desk chair, or even a bedside table (gap in the seat can be used as cable space), Tripodal Stool (1), LAMANA. The very streamlined silhouette can work in any space—kid's or adult's. Desk has interior storage divided into two parts, Prompt Desk (2), LAMANA. Wood planks create a simple, sturdy frame; high-quality cushions turn it into a comfy reading chair, Plank Lounge Chair (3), LAMANA. Another desk that's great for any room, its clean and geometric lines are inspired by Picasso's concept of Cubism, Picasso Desk (4), ALBERO. Wood and rattan solihiya combine to form a contemporary take on the classic rocking chair, Tumba Tumba Rocking Chair (5), HASPE DESIGN STUDIO. It's a clothes rack that can also be used to hang bags, toys, and other knick-knacks; an additional ledge at the bottom can hold shoes, AA Hanger (6), LAMANA.

GIVE THEM A SANCTUARY
Children need to feel safe in their own space, so design a space that's not only cozy and comfortable, but feels like their very own sanctuary. It should be a space where they can relax, read a book, imagine, daydream, and get lost in their own thoughts. If adults need some alone time, kids do, too.
There are many ways to create your own cocoon, and these tricks are all applicable to children's rooms as well. Look for pieces that have curvy silhouettes; feel plush (read: deep cushions and soft textures); and are in soothing, neutral tones. Yes, kids' furniture don't always have to be in rainbow colors.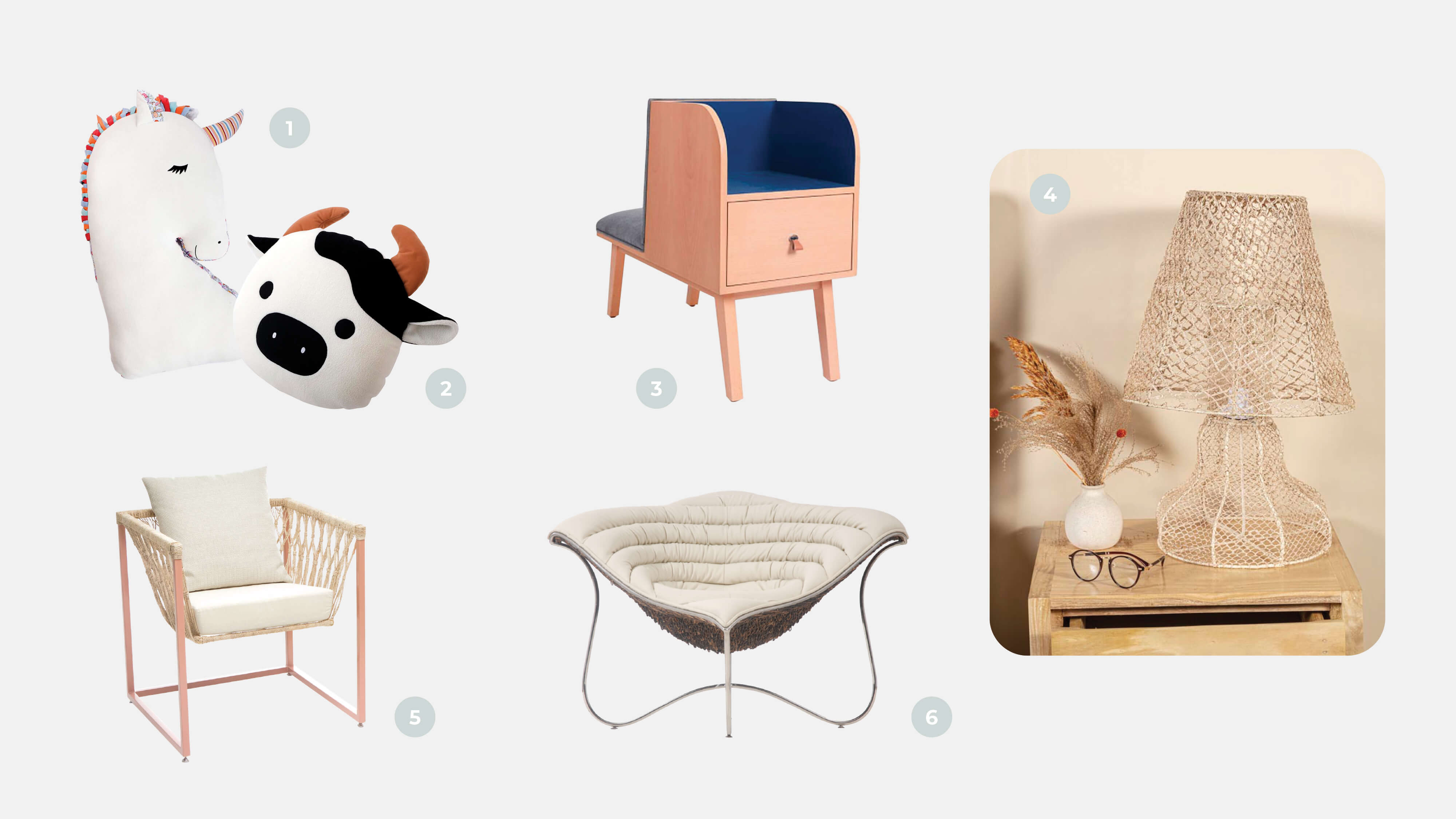 Plush pillows and floor cushions are the easiest way to cozy up a space, Unicorn Large Floor Pillow (1) and Cow Pillow (2), both BENJOY INC. A dual-purpose piece: store your books on one side, and sit and read on the other, Penelope Kid's Chair (3), ALBERO. Lamps lend a warm feeling to any room; this one is by weavers from Bicol, Abaca Table Lamp (4), TAHANAN FURNITURE. A reading chair is a must for a kid's room, but not just any will do. The Alegra Lowback Chair (5) is your kid's very own swing in a room, while the Paisley Lounge Chair (6) is the perfect cocooning chair, VITO SELMA HOME.

THINK DOUBLE-DUTY
The pandemic has forced us to maximize the use of every corner of our room, and with distance/online learning, children's rooms are not spared. While a bedroom must always feel like a child's refuge, you can always find a spot for studying and practical work.
You will want pieces that are hardworking—those that can serve more than one purpose—when setting up this functional corner. Storage, for one, will always be a must for any kid's space. You will need to corral their many tools, toys, and little gadgets and whatnots, so look for furniture that can help double up on storage.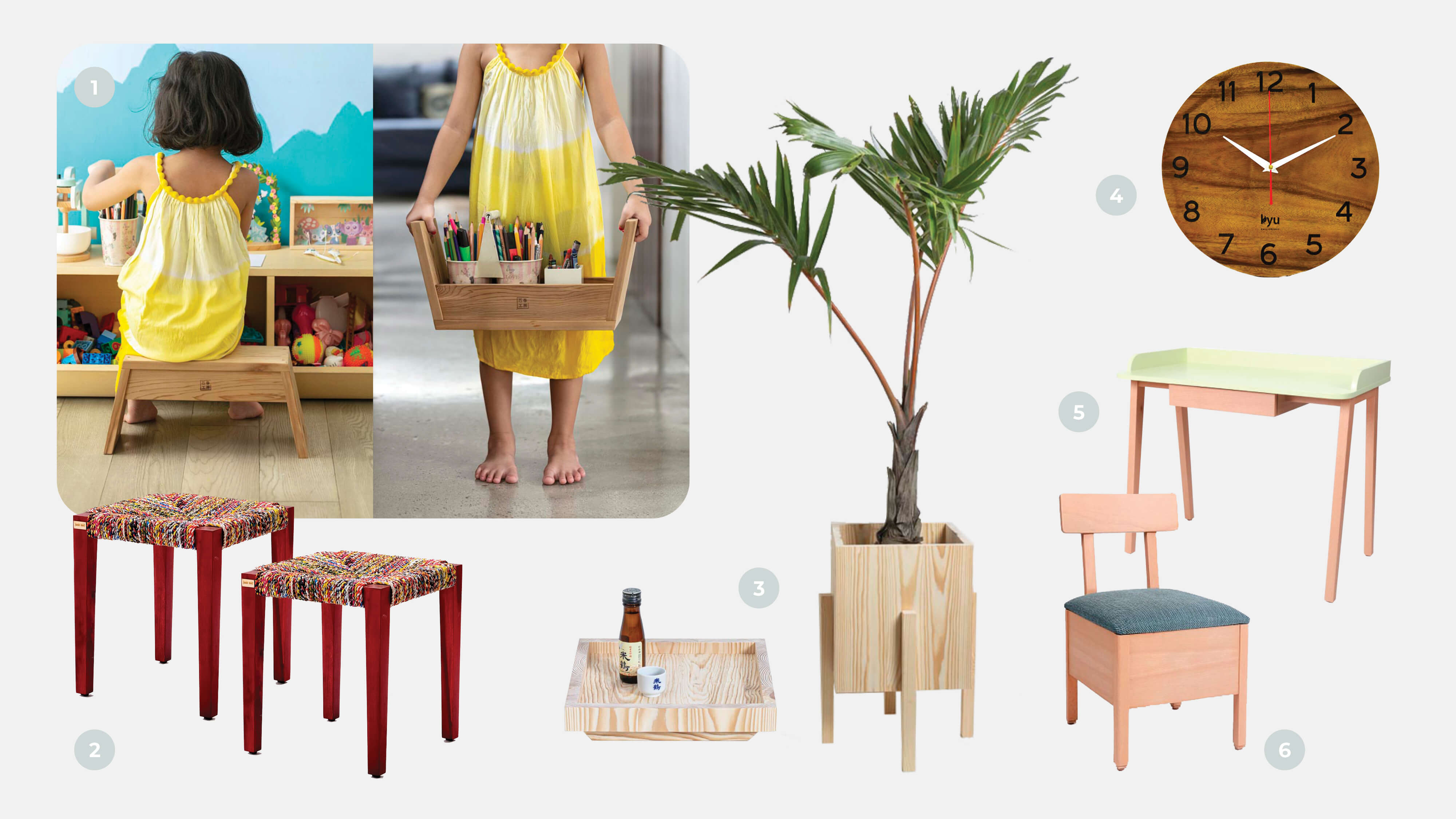 This is a small stool that also works as a tray or storage when turned upside down, Carry Stool (1), LAMANA. Made of reclaimed wood and the brand's trademark plastic waste material, this stool is a fun and functional lesson on sustainability for kids, Stackable Stools (2), JUNK NOT. Use as a side table, storage unit, planter, or a platform tray, Bin Form (3), LAMANA. Analog time telling looks cooler with this, Wall Clock 13 Inches Design WC16 (4), MANILA CANVAS. The streamlined silhouette and pastel colors will work in any space, Ziggy and Zara Kid's Desk (5), ALBERO. It's a desk or reading chair with a drawer for school supplies and books, Harper Kid's Chair (6), ALBERO.

KEEP IT FUN AND KID-FRIENDLY
In a kid's room, FUN should still go with functionality. While we do want a space that allows for some work to be done, we can't forget play. After all, that's what all kids love!
Accessories and décor items are the easiest ways to add personality to your kid's room: fun animal-shaped pieces and toys pretty enough to be decorative are universal favorites and fail-safe options. Better yet, let your kids participate in choosing the pieces that will add fun and excitement and whimsy and magic to their rooms.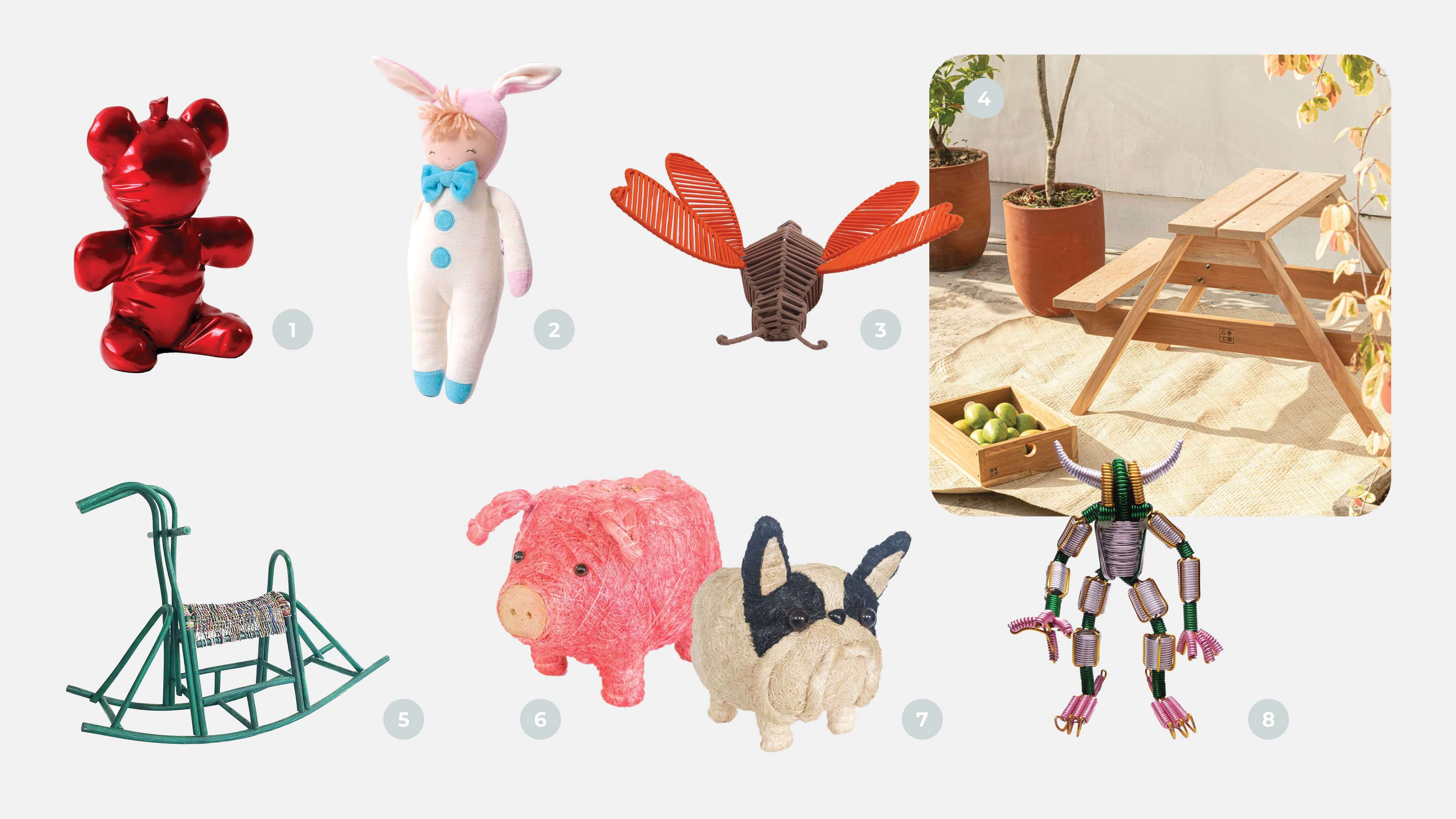 Hand-casted in fiber resin, this high-gloss teddy is the perfect pop of color in a room, New Balloon Series – 4 (1), ART MEETS CRAFT INC. Made of hypoallergenic fabric and yarn, this adorable doll is available in different sizes, Alexa Bunny Doll (2), BENJOY INC. Made of rattan, this fun bumblebee is both décor and art, Bumblebee (3), LIJA BY THAT ONE PIECE. What kid will not adore a little picnic table in the room? It's a unique piece that can be used for schoolwork, arts and crafts, and creative play, Little Picnic Table (4), LAMANA. It's an imaginative and eco-friendly take on the traditional rocking horse: rattan frame can be customized in different colors and plastic waste material is woven for the seat, Rocking Horse (5), JUNK NOT. Ennoble has a whole collection of abaca baskets inspired by animals: there's a pig, a whale, and different kinds of dogs. Use them as catchalls, planters, or just as adorable décor, Chibi Pig (6) and Chibi Frenchie (7), both ENNOBLE. Handmade using aluminum wires, it's a cool action figure that functions as a toy and as a fun and creative decorative piece, Robot Bendable Action Figure (8), LIMAN GLASS HANDCRAFTED.

ALLOW THEM TO THRIVE
Kids are easily bored so make sure that their little nook is creative, imaginative, and stimulating. Kids need to thrive in their environment.
Decorate with intention: that tabletop décor can be a learning toy. Have a dedicated area for creative and experiential learning and incorporate items that will keep your little ones' curious minds active and their hands busy.

Kids will get busy and creative with this paper art set: available in 20 different designs, a complete set includes a wood board, built-in frame, eight colors, and two sticks, Master Kit (1), KLAYPEL. These are cozy, plush-material toys that encourage learning, Colorful Caterpillar (2) and Soft Cubes with Number (3), both BENJOY INC. These wallpaper designs can start a conversation on local animals and even culture and history: Bulol (4) shows illustrations of the Ifugaos' local rice god, Islaw (5) features species of land animals unique to the Philippines, and Hernando (6) is inspired by the works of Hernando Ocampo, a Filipino national artist, all PAPERBOUND.