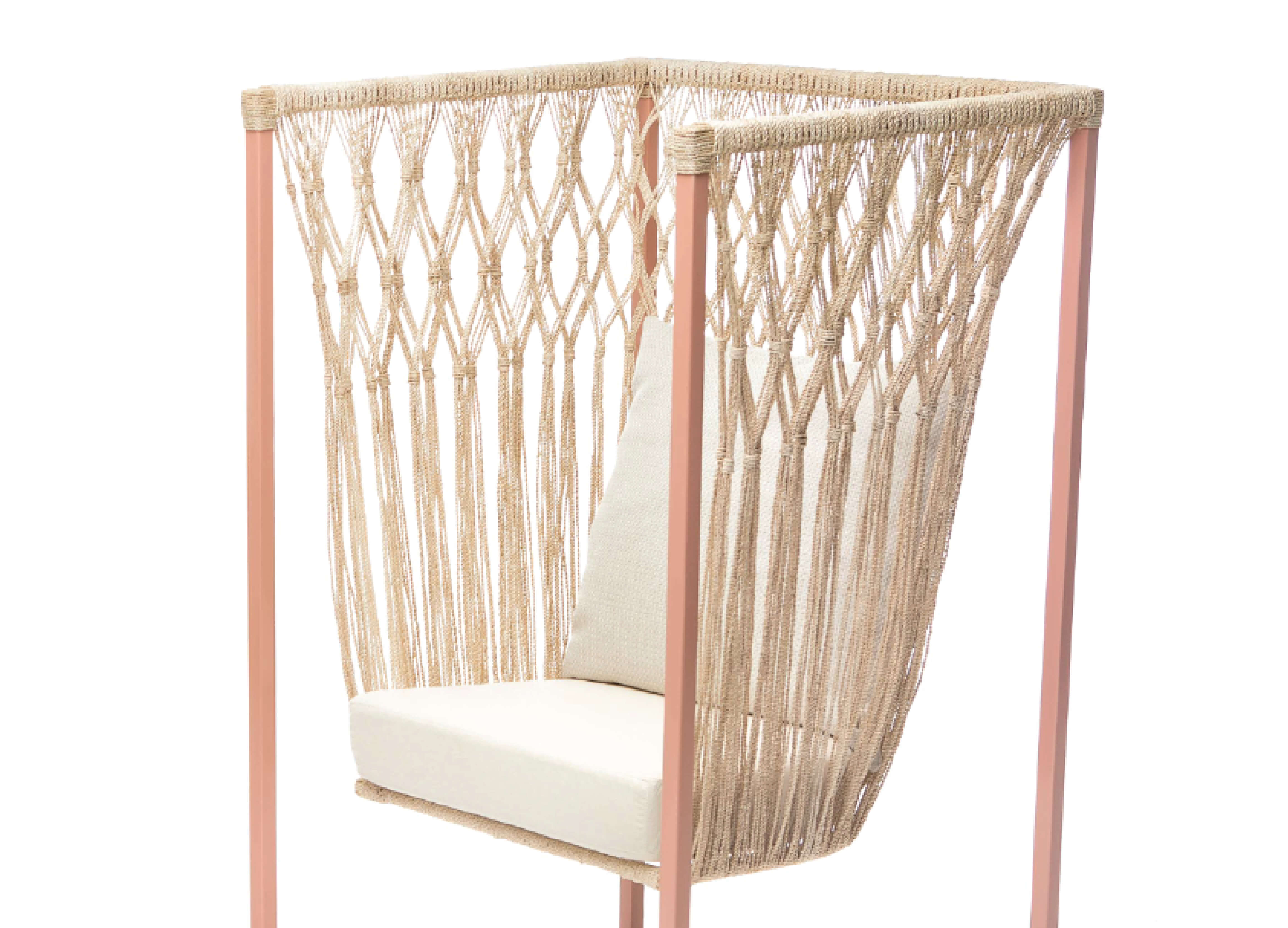 Create Your Own Cocoon
These little extras will make your home really feel like one
by Vicky Montenegro
We've talked many times about creating a home that's your personal sanctuary and why it's great for health and wellness. Self-care sentiments have seen an upward shift lately—a welcome silver lining to the ongoing global pandemic—and it's a "trend" that we hope to see more of.
The home is, of course, the crux in all the self-care talk; it's become our most important ally. And while home design concepts like colors, cottagecore, and tactility are great additions to your space, creating a home that screams comfort and coziness—in other words, a home that truly feels like one—will always outlast any trend.
The core idea behind it is cocooning. To "cocoon" means to "envelop in a protective or comforting way," which we think is how all homes should feel.
There are key design ideas to watch out for when building your homey nest: curvy silhouettes (the absence of angles suggests coziness) and cocoon-like shapes; plush, deep cushions; soft textures; and soothing, neutral tones. The idea is to calm the mind and uplift the spirit—and whatever that means for you design-wise, then that's how you cocoon.
Here are some pieces from the FAME+ catalogue to inspire you.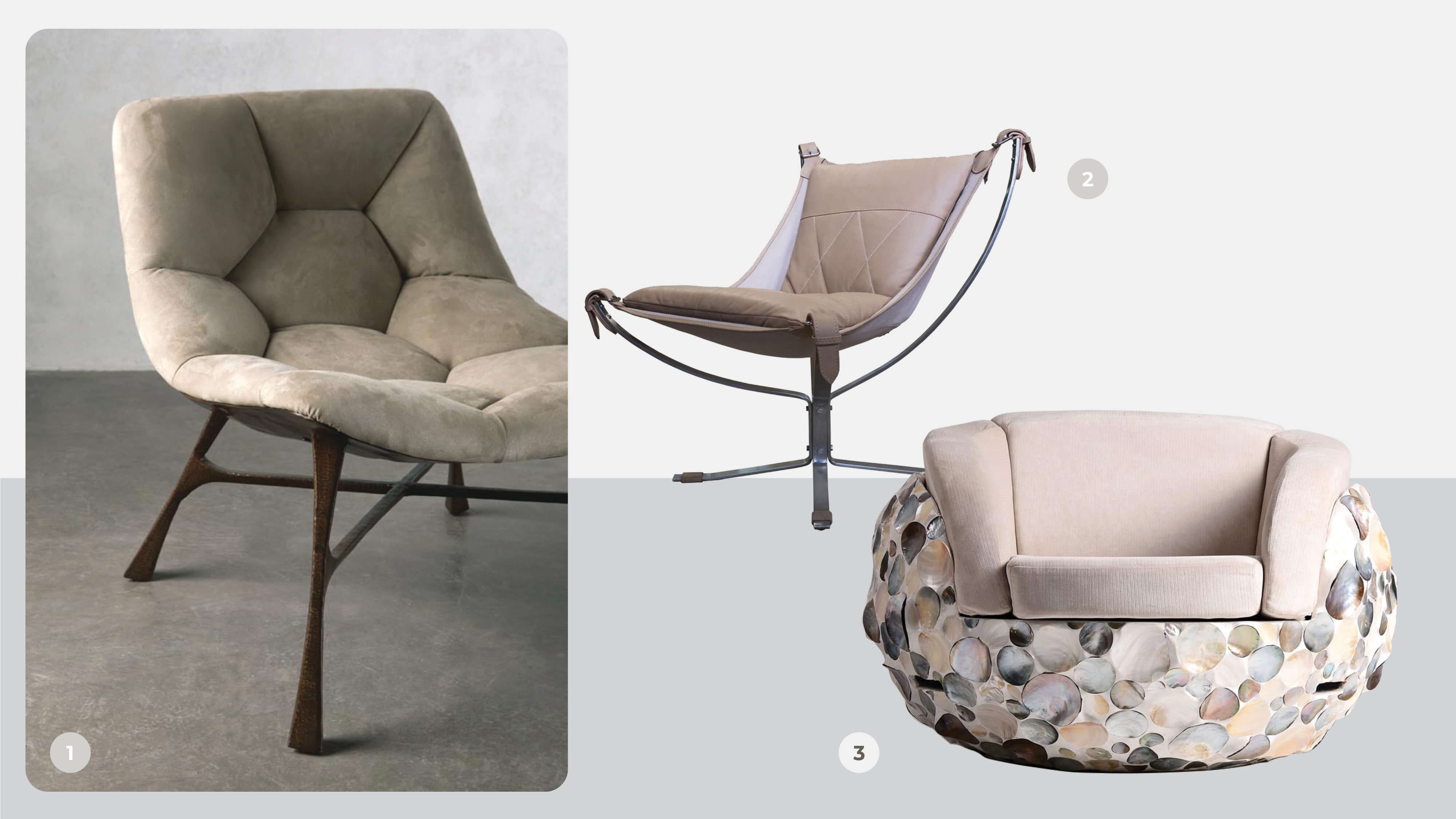 CHAIR
(1) Maybe it's the seat's curved shape, which seems to hug your bum, or the honeycomb-pattern tufting—this chair is equal parts luxe and comfy. Bordeaux Chair, INDUSTRIA EDITION. (2) Brushed stainless steel frame, seat in camel leather and beige canvas, and a slightly reclining silhouette—it's the perfect chair for reading or snoozing. D'cloud Chair, PRIZMIC & BRILL. (3) Thick wraparound cushions in a round shell-encrusted "case" make this a great lounge chair for a beachside summer home. HD13778, BON ACE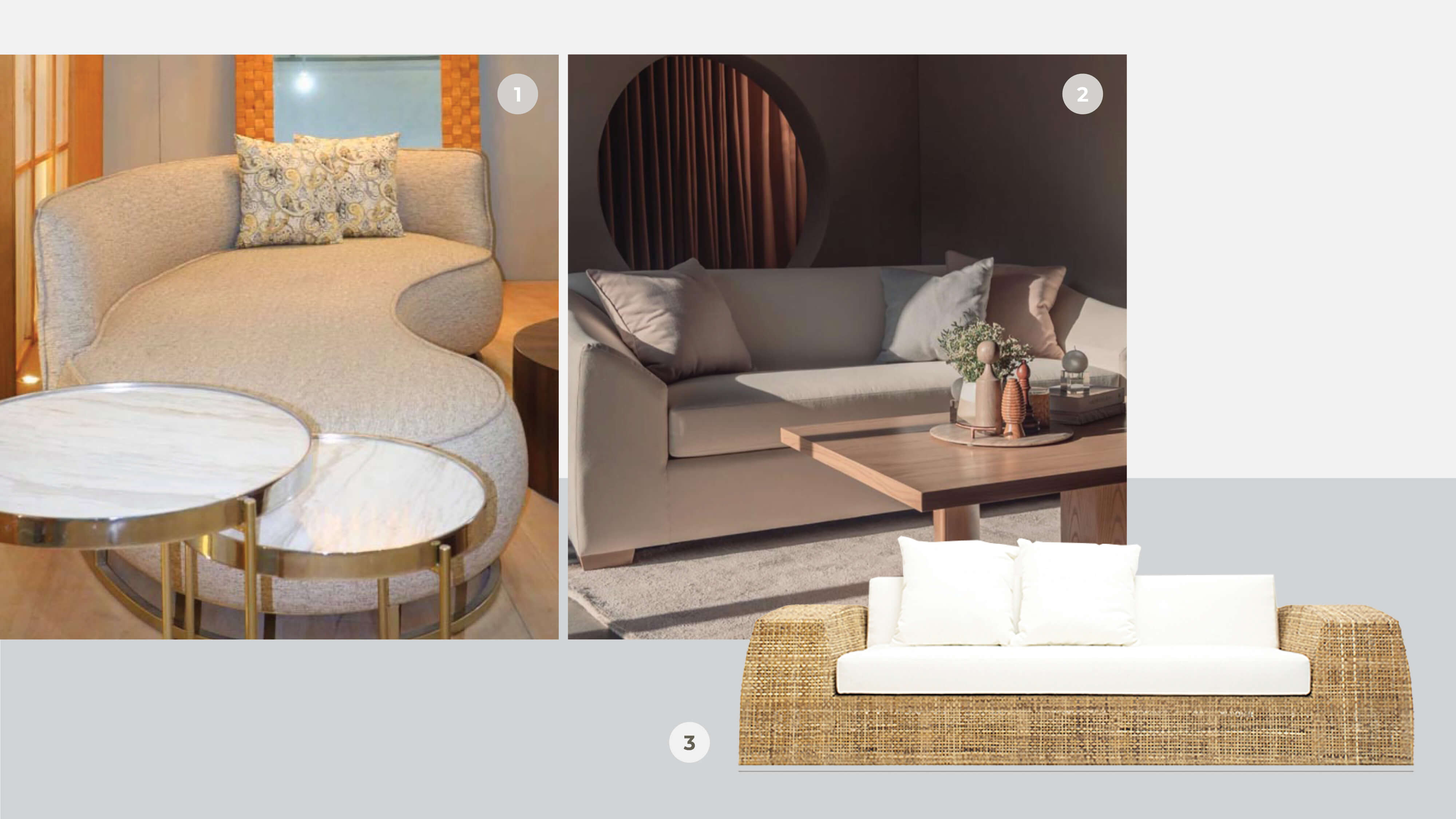 SOFA
(1) The kidney bean shape is not only beautiful, it's also ideal for lazy weekends. Bean Sofa, PHILIANA DESIGN. (2) From their Hygge—described as the "inexplicable feeling of contentment derived from a warm and cozy mood and atmosphere"—collection comes this sofa with an imposing and highly inviting structure and shape. Amelie Sofa, ALBERO. (3) Bigger is better, especially if it's by Milo Naval. Oversized, loose seat cushions on a frame of woven split rattan and solid wood envelop feel snug and comfy. La Sola Three-Seater Sofa, OMO FURNITURE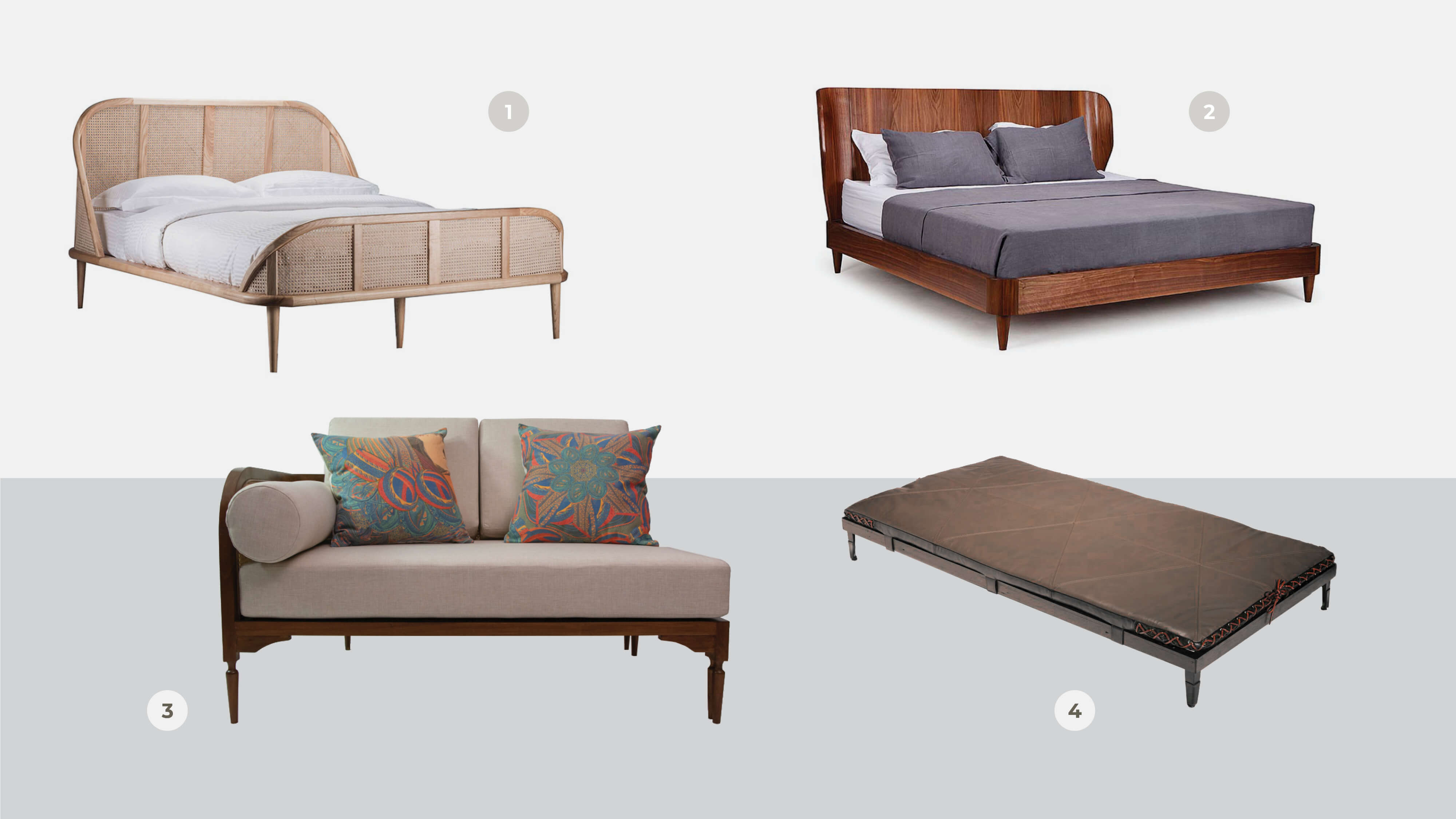 BED
Soft-curved headboards and armrests are a running theme in beds, daybeds, and chaises. Add the natural warmth of wood and you've got yourself a winning piece for a cozy nook. (1) Stockholm Bed, PHILUX; (2) Peyton Bed, TRIBOA BAY LIVING; (3) Leonor Daybed, MEJORE. (4) Use it for meditating or napping, this cot—with its solid wood frame, black iron legs, and leather cushion with black leather trim and red burma leather laces—is a handsome addition to your nest. Meditation Cot, PRIZMIC & BRILL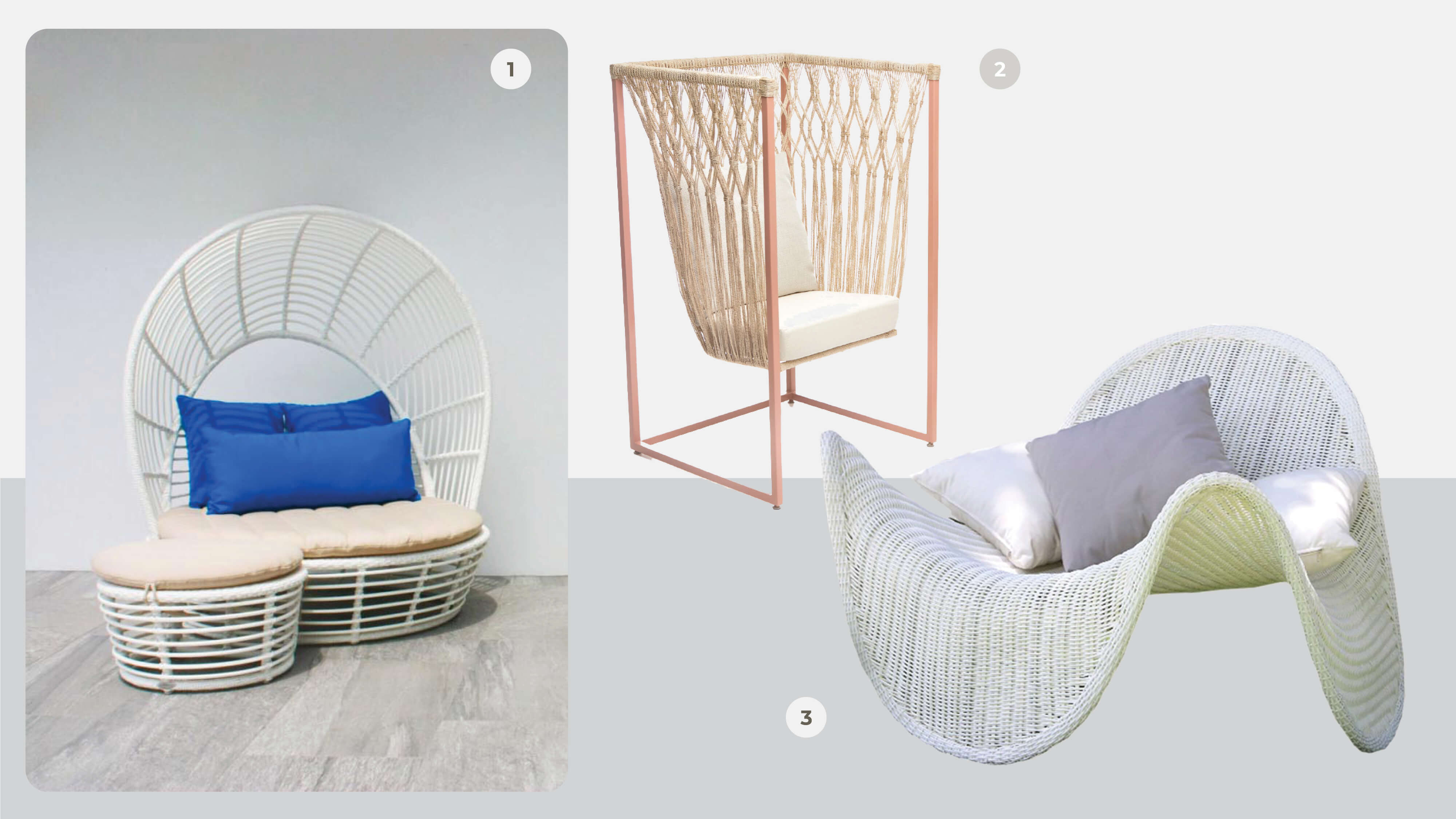 FOR THE OUTDOORS
(1) A daybed for two, with an ottoman for your refreshments and lazing-around essentials. Divalla Daybed, Ottoman, OUTDOOR + SOLUTIONS. (2) Abaca and metal combine to create a fanciful take on a childhood favorite: the swing. Alegra Highback Chair, VITO SELMA HOME. (3) A leisurely day outdoors requires a chair that feels like a warm hug. Felicia Lounge Chair, OUTDOOR + SOLUTIONS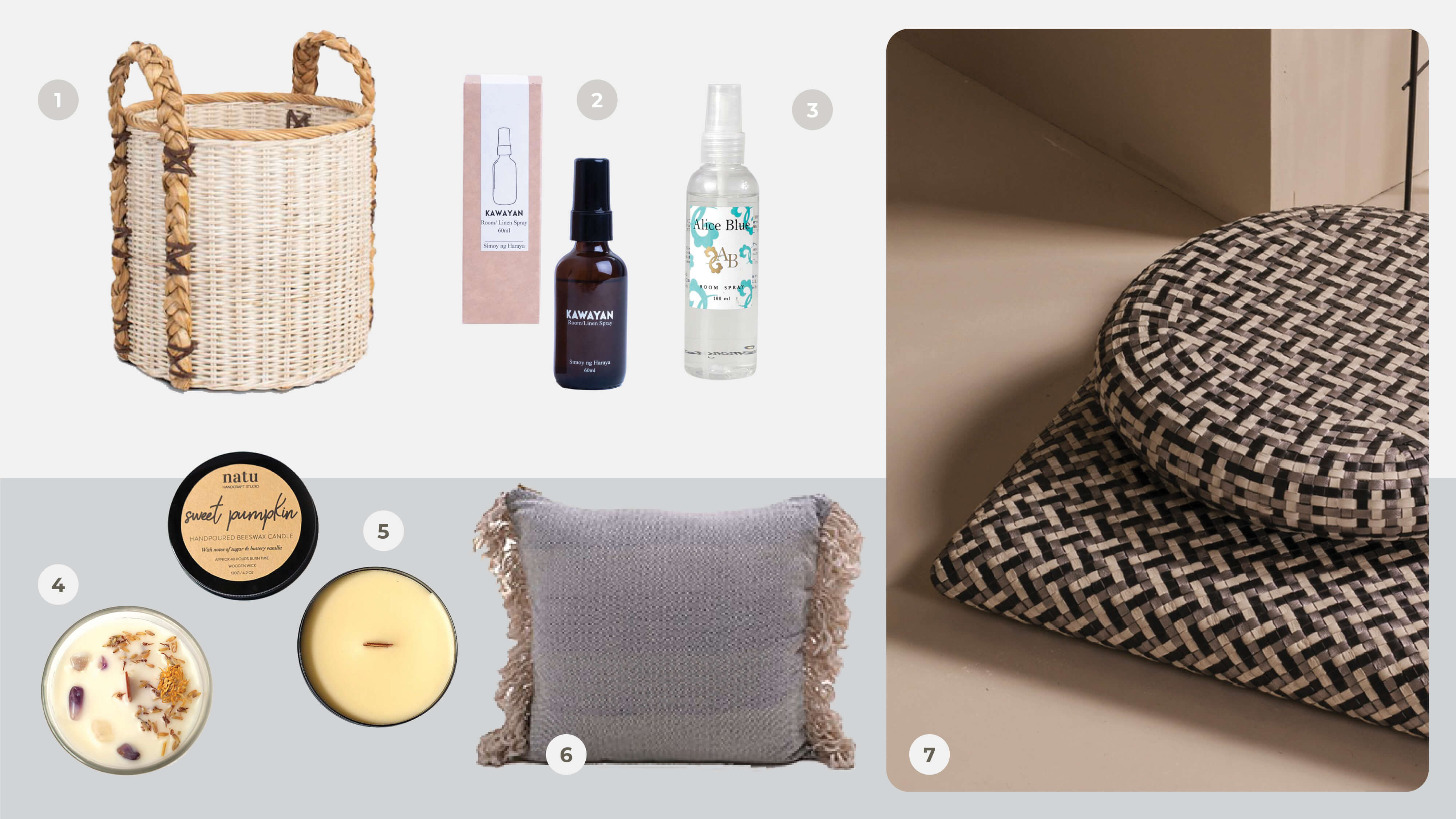 ACCESSORIES
(1) Handwoven from sustainable natural fiber, this basket can store pillows, blankets, and other cocooning essentials. White Basket, CALFURN. Scents, especially those that soothe the senses, are a must for your haven. Spritz them on linens or in the room. (2) Kawayan Room/Linen Spray, SIMOY NG HIRAYA; (3) 100ml Room Spray; ABLU304 ENTERPRISES. Melt those anxieties away with sweet-smelling relaxation candles. A bonus: beeswax works as an air purifier. (4) Peace Soy Candle and (5) Sweet Pumpkin Beeswax Candle, both NATU HANDCRAFT STUDIO. (6) Soft cotton, handwoven by the Negros 9 Kabankalan weavers, fringe details, and neutral colors make this pillow cover a welcome addition to any room. Emma Cushion Cover, CREATIVE DEFINITIONS. (7) Stack on these handwoven leather cushions and easily convert any area of your home into a zone for spacing out. Leather Cushions, SC VIZCARRA