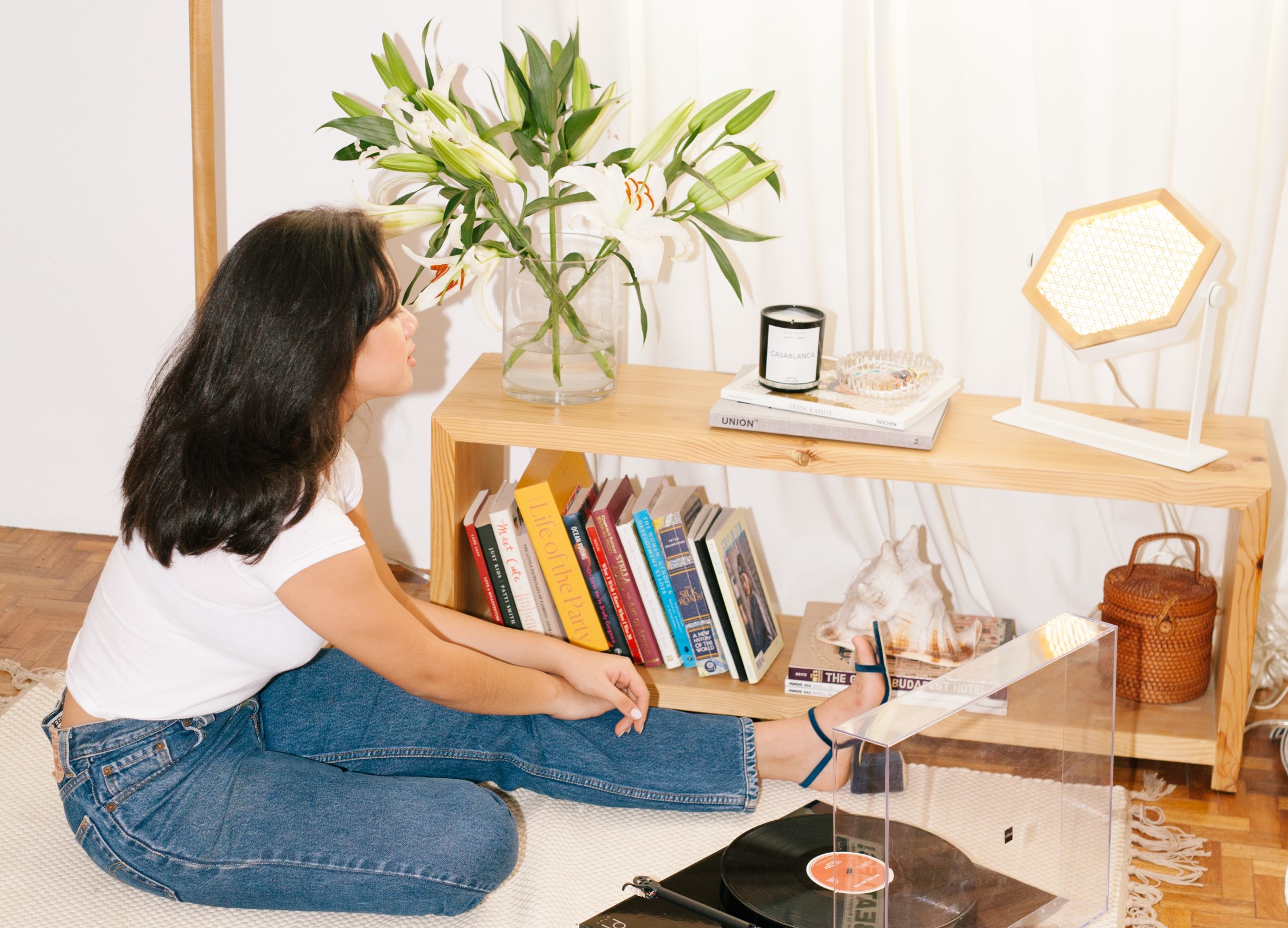 Light of the Home
What better way to present your lighting collection than in your own house? The Venzons give us a home tour

When you are faced with a pandemic-caused lockdown but you need to showcase a new collection, what do you do? The Venzons created the best solution: style and photograph the products in the safety and comfort of their own home.
The end result is less homespun and more cozy-stylish, as befitting the designer lamps and fine home décor of Venzon Lighting and Objects. It was a family affair, as owners Cris and Jackie Venzon, along with their children and a growing brood of pets, virtually opened their doors to give clients a feel of how their lighting line would look in an actual house.
Fresh from digitally presenting at Maison et Objet and More (MOM), and at the ASEAN Furniture and Furnishings Show (AIFFS), Venzon Lighting's creative director Jackie shares their very personal experience in presenting their products, literally, in a brand-new light.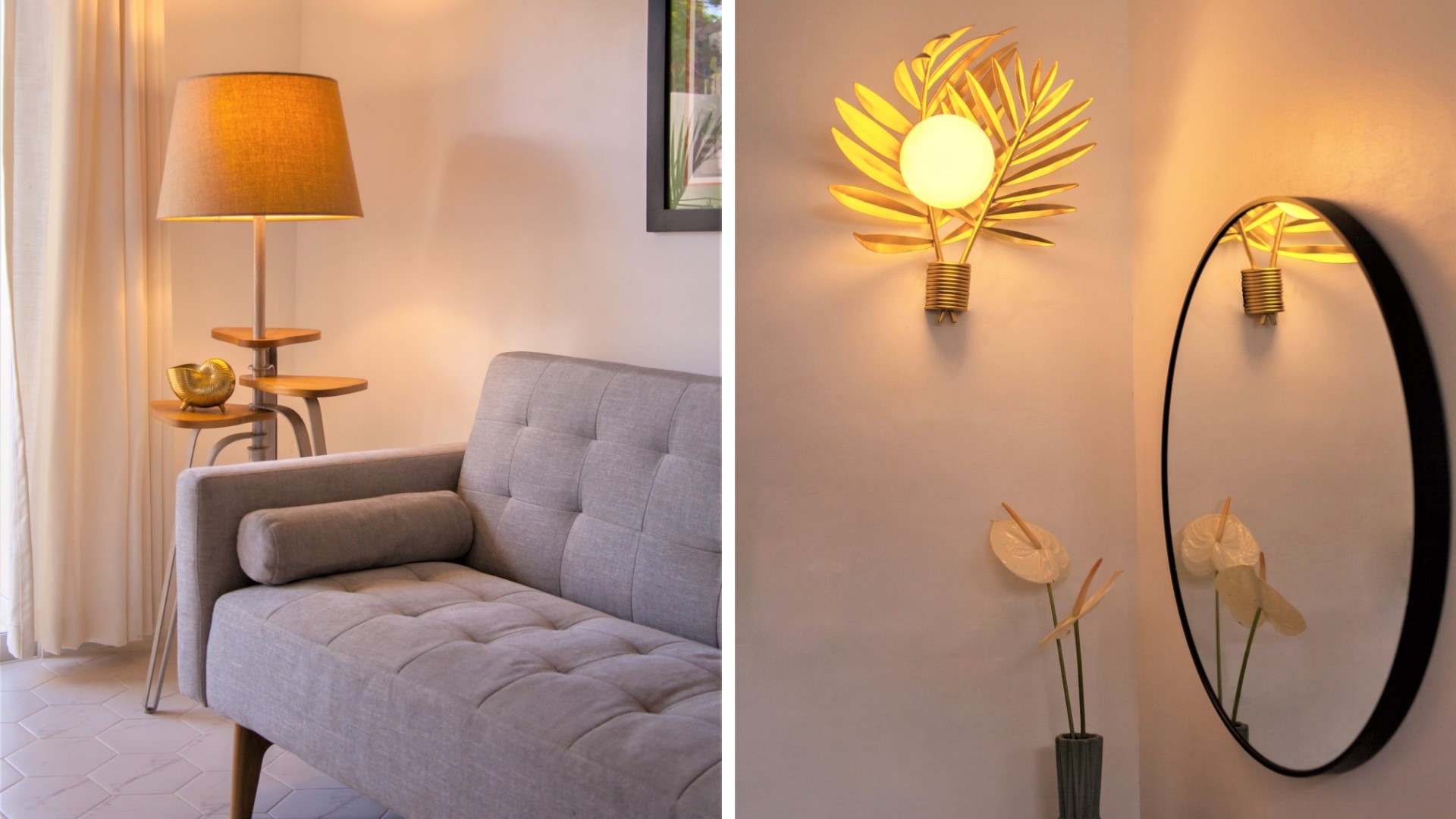 In the Venzons' living area (left), a Palermo Tripod Lamp serves two purposes: as ambient light, and as three-tiered side table. The glamourous Le Palm Wall Sconce (right) is the perfect addition to a mirror by the entry foyer, or inside a powder room.
Touchpoint: What gave you the wonderful idea of shooting the Venzon Lighting collection in your own home?
Jackie Venzon: "When we were conceptualizing the shoot for this new collection, we wanted to give our clientele an idea of what the pieces would really look like in a lived in setting as opposed to the usual studio look that is ultra-polished, but makes it hard to really visualize the pieces. So, we used our own spaces that are much more personal and dynamic."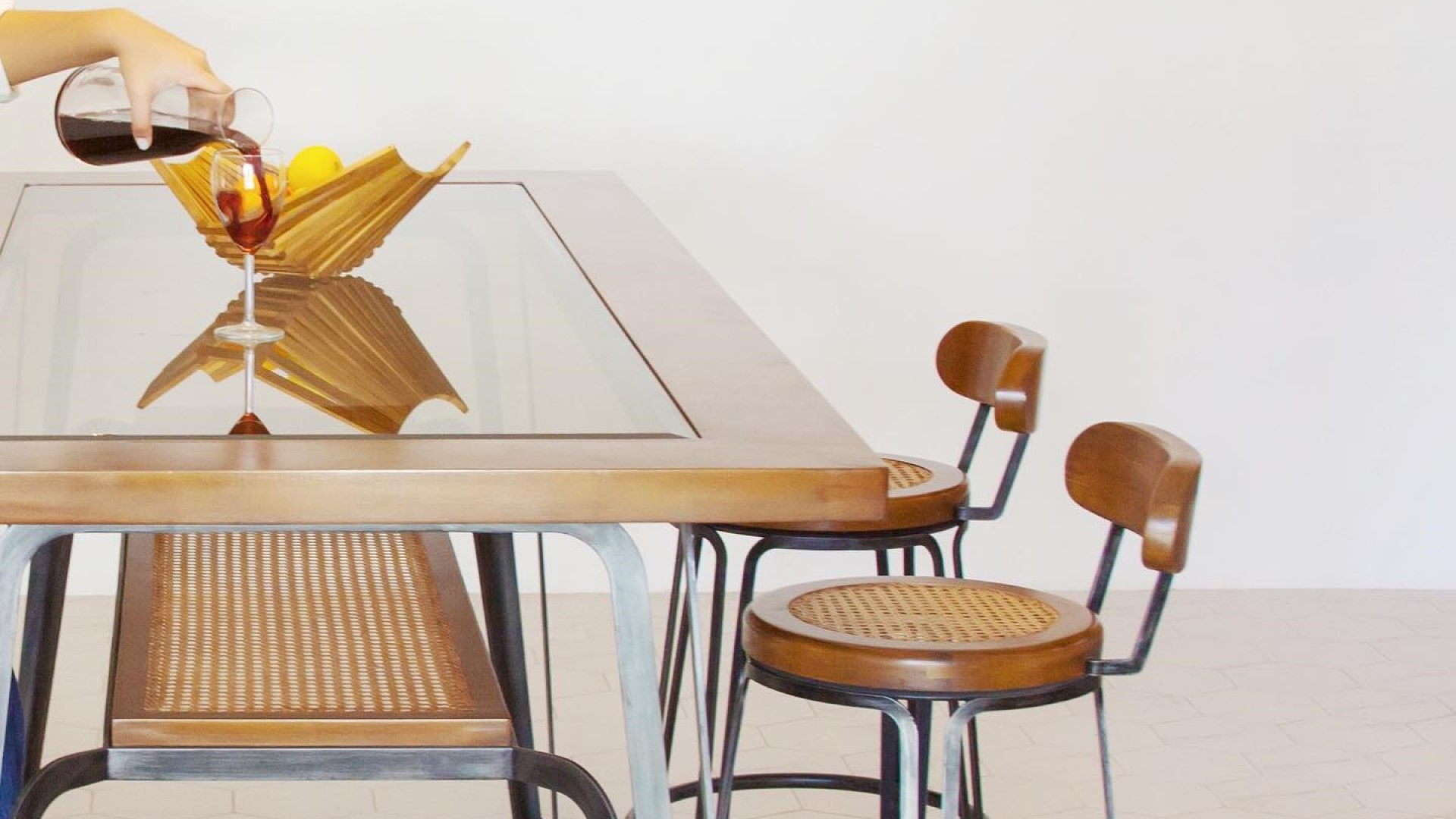 The all-white dining room gets a rustic accent from the Porto Alegre Collection, made of wood with wrought iron base and solihiya accents.
TP: How did you choose the pieces to fit each room in the house?
JV: "When we chose the pieces for each space, we really based the decision off of what we would like to see in our actual spaces. As opposed to molding the space to the piece, we did the opposite, and chose where the pieces could accentuate the room along with its existing decor.
As much as possible, we didn't want to purchase new items, or change the existing layouts of our rooms in the house for the photo shoot because we wanted the shoot to reflect our personal style as a family and how that informs the way our pieces are designed to seamlessly fit into very intimate spaces."

A pair of Santorini pendant lamps (left) fit into the breakfast counter at the family kitchen. MOM favorite Cherry Blossom Light in capiz hangs like a cloud in the dining room.
TP: Who styled and photographed it?
JV: "It was my daughter Alexis who styled the entire shoot, from the moodboards to the actual flower arrangements. We hired Ralph Mendoza to shoot the collection because we wanted to try out a fresher, more natural look which we saw in a lot of his editorial work for many young magazines based in Manila."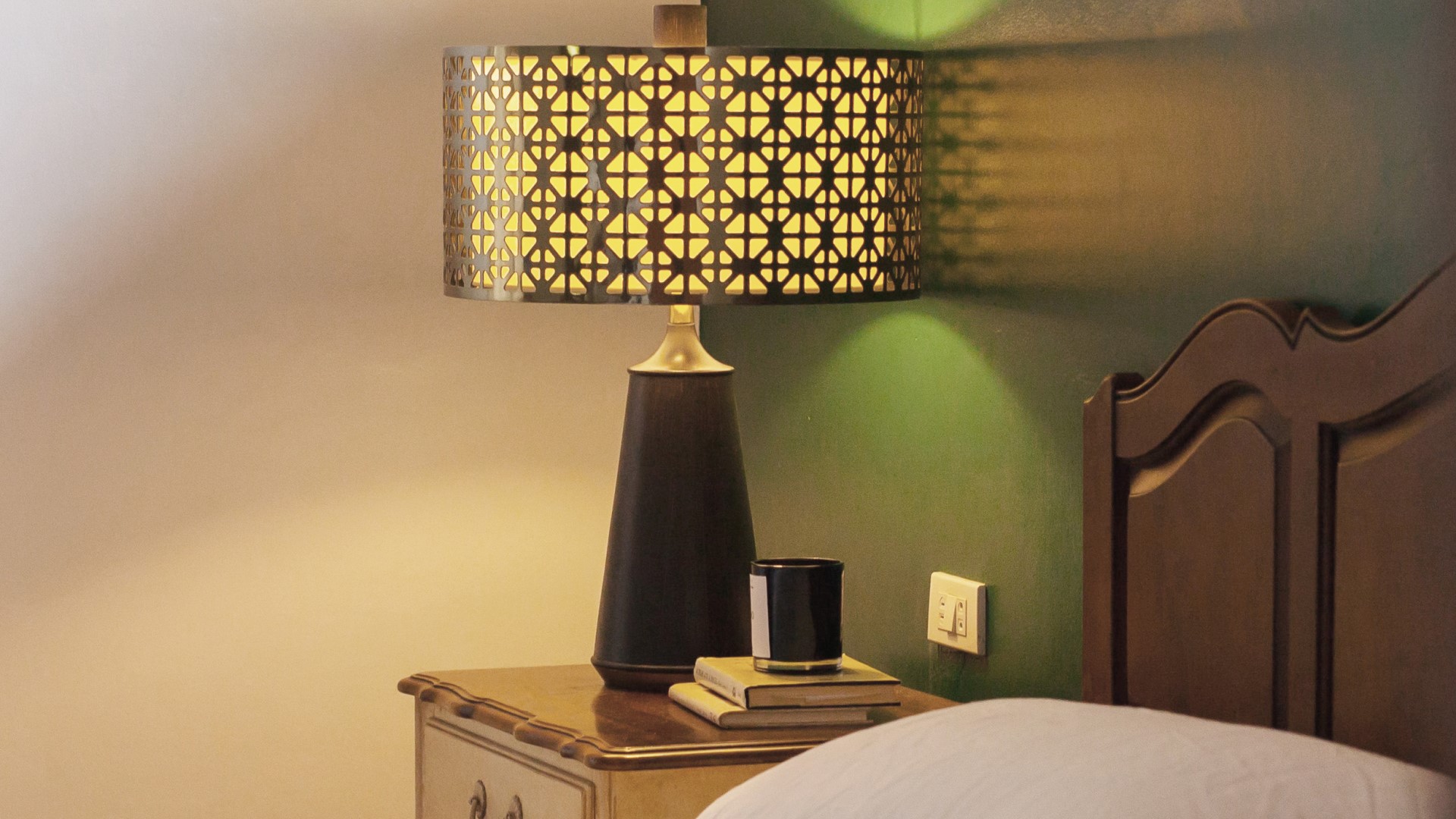 The Rumi Table Lamp's delicate latticed shade casts dramatic shadows in the master bedroom.
TP: Tell me about Venzon Lighting's ultra-glamorous Le Palm collection.
JV: "Our Le Palm collection was designed by me, and it was inspired by the vintage palm chandeliers I came across on my recent travels through Europe in 2019, right before the pandemic hit.
I immediately fell in love with the idea of making our very own Le Palm—when I think of real-life palms—I feel relaxed and transported to an exotic beautiful island, so I started to sketch it, but I gave it a modernized aesthetic in a gold finish to evoke luxury. And in my mind, I envisioned a design that can also add a touch of whimsy and luxe glam to any space.
All of our designs are inspired by very personal experiences that my husband and I come across in our travels, childhoods, or even in everyday living. The Le Palm collection is my personal ode to the travels I was blessed enough to take before we transitioned to the lockdown."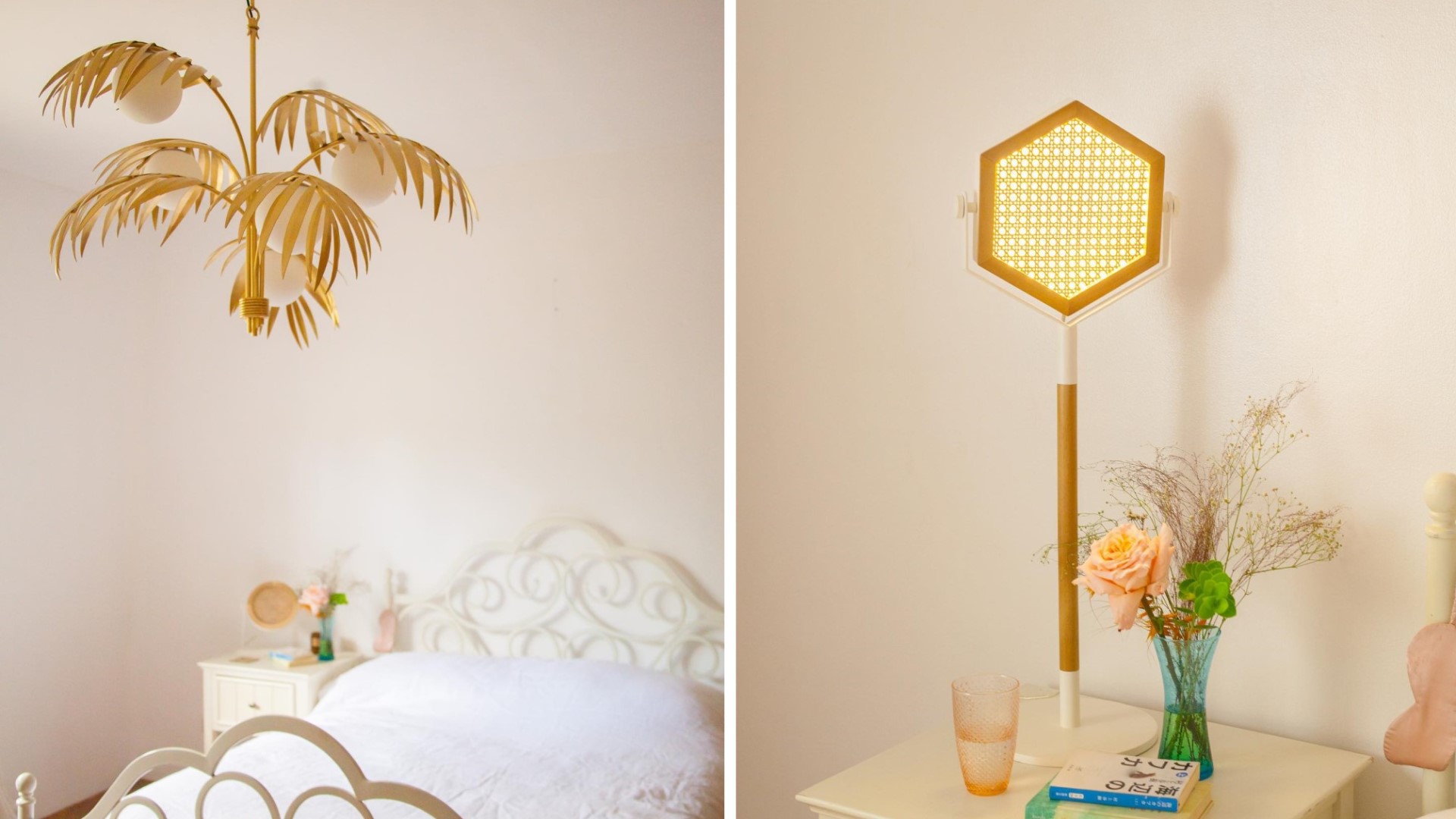 Venzon's new Le Palm chandelier (left) would look gorgeous in both a girl's room or in a grown-up boudoir. Stanley Ruiz's Venzon collaboration, the Hex Benjamin Lamp, makes for a good, warm-modern night table lamp.
TP: How did your family spend time in lockdown at home?
JV: "As a family, we spent lockdown watching a lot of movies, having outdoor dinners in our garden, raising our three new lockdown puppies, and riding our horses in a nearby farm. Definitely never a boring moment with our big family of pets."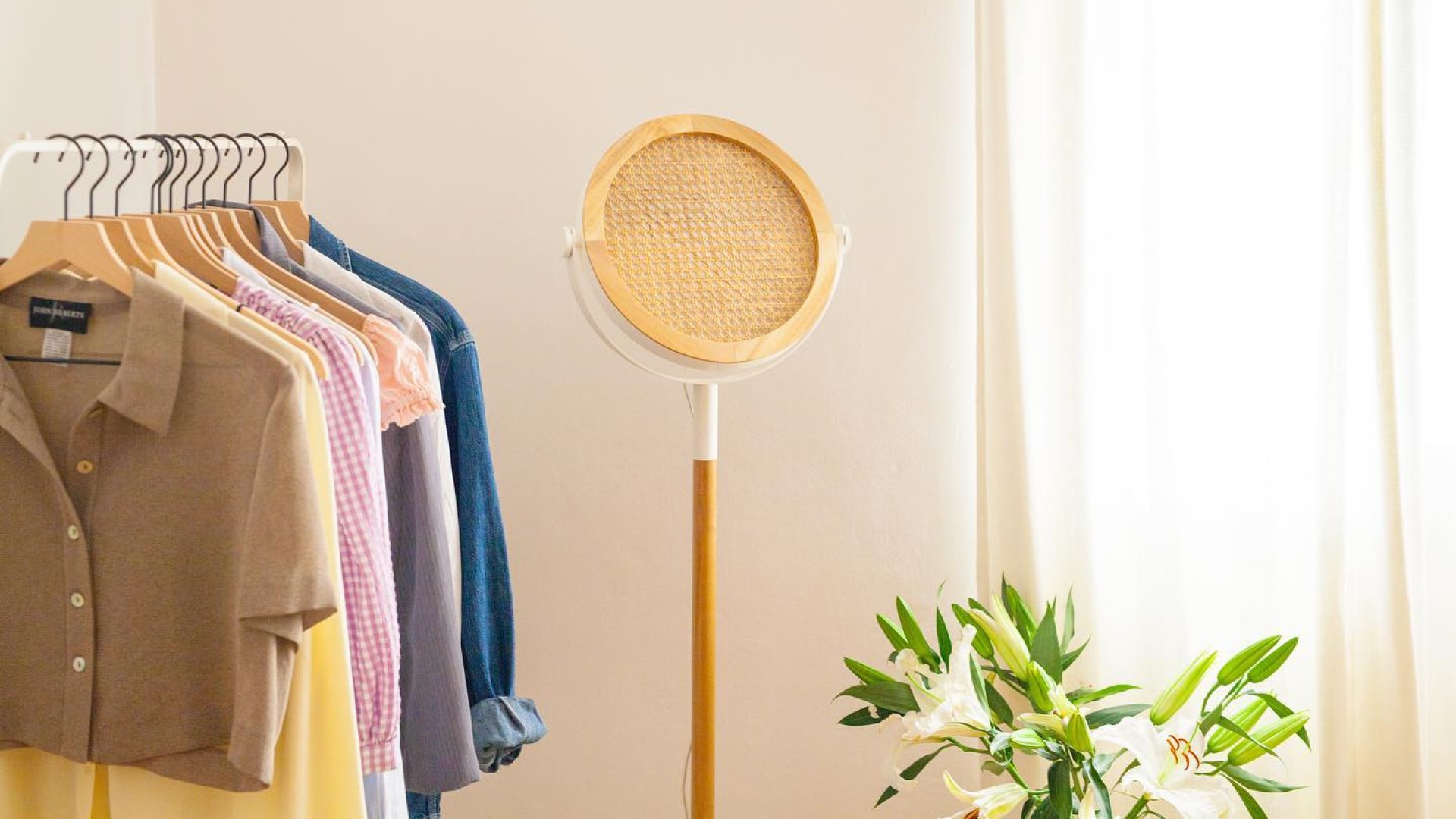 The Benjamin Floor Lamp Round, along with all its other iterations, has been a constant hit in almost every international design show the Venzons have participated in.
TP: Tell us about your new VLO (Venzon Lighting and Objects) Workshop in San Fernando, Pampanga.
JV: "Our new Studio + Workshop highlights our commitment to collaborating with our clients in creating bespoke lighting and furniture objects. We envision this new space as a place where our partners can see the complete design and manufacturing process, from concept to the finished piece.
It is important of us that our artisans are equipped with modern equipment so that they can focus their energy on creative tasks, and not on traditional manual tasks like measuring, cutting and grinding. By combining these traditional and modern capabilities with our technical expertise from over 30 years of training and experience, our partners are afforded virtually unlimited options to personalize their lighting and decor projects."
Photography by Ralph Mendoza, courtesy of the brand.