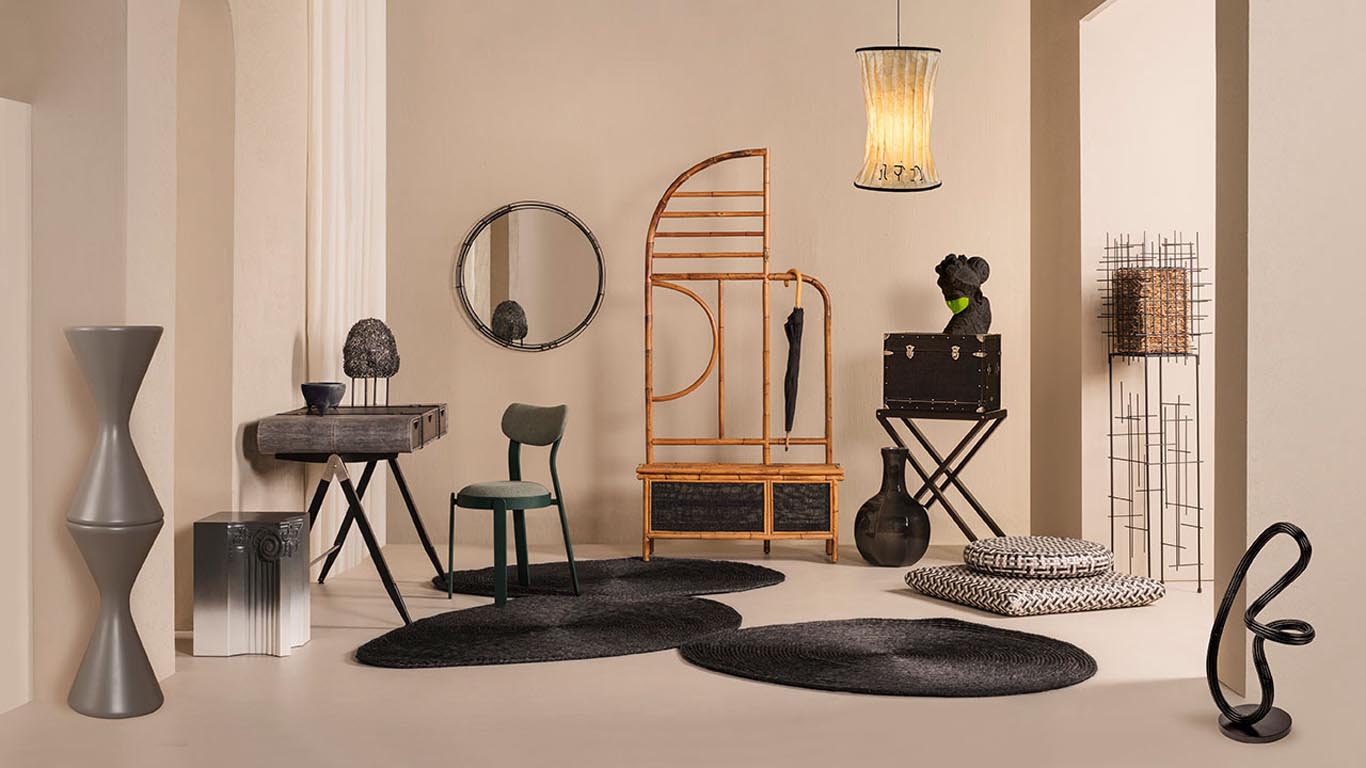 The PH Design Community's Unyielding Team Spirit
In this Together: The PH Design Community's Unyielding Team Spirit
The early months of the mandated community quarantine due to COVID-19 were disheartening, to say the least, as projects were put on hold and businesses had to temporarily shut down or work with hampered logistics and minimal manpower. However, with international trade fairs, like the renowned Maison et Objet, which moved to a digital space for their September 2020 show, CITEM (Center for International Trade Expositions and Missions), along with the Philippine participation's curators Rita Nazareno and Gabby Lichauco, worked relentlessly in fast-tracking preparations for the 13 homegrown design and manufacturing companies to take part in the event for its online edition.

Gathered under the theme Bubble Living by Kindred Design Collective, a shift from the original concept to reflect the signs of the times, 113 fresh and redesigned pieces were developed and produced for the M&O digital presentation despite the short time frame and conceptual changes. "I was unsure that we were going to be able to produce the new designs on time, since the theme, with people rethinking their indoor spaces, really forced us to review the functionality of our pieces. But because we were not so busy with other things, we actually had more time to focus on the details of the new designs and even had the chance to make revisions," shared Cris Venzon of Venzon Lighting & Objects. "For the amount of time we all had to come up with this presentation, the results were extraordinary. Kudos to everyone working behind the scenes coordinating everything to put this together. It was a big collaborative effort."

To keep things going, Nazareno and Lichauco made sure the work never stopped and rallied behind each of this year's participants even if it meant spending hours on video calls or styling photoshoots remotely. Bong Salazar of Cebu-based furniture enterprise FINALI shared, "By force of circumstance, we had to brainstorm thru virtual meetings and telephone calls. It actually made us work harder and stayed focused." Matthew Brill of P&B Valises echoed this sentiment saying, "Working with the CITEM team was encouraging. The energy and enthusiasm for the project could not have been any more inspiring. They were able to coordinate efforts that resulted in a fusion of amazing craft and product."

Producing exceptional pieces despite limited resources and a skeletal workforce was what inspired abaca weave specialist Ann Hernandez from Weavemanila, Inc. "This particular edition of M&O was something the whole Weavemanila team was looking forward to and working with Gabby and Rita's dynamic and unconventional approach was like a silver lining to an otherwise dreary situation," Hernandez shared. "We had to think of ways to innovate in order to bring the designs to life, all while keeping our artisans safe. If there was one word to encapsulate every single thing about this collaboration for M&O, it's 'wow'! Starting from the CITEM team who pushed to make this possible and gathering all of us together as one team."

The team spirit, openness to new ideas, and motivation for bringing Filipino design talent to the international market was palpable—even in the midst of a global crisis. "We wouldn't have been able to complete 13 companies [for the collective participation in M&O's Digital Fair], doing R&D on a weekly basis if the participants themselves had lost their spirit to do the work," shared Lichauco. "It's not just about showing the products, it's also about the whole team pulling this off together during this very challenging time."

The Road to FAME+

The success and positive reception of the Philippines' participation in the recently concluded Maison&Objet and More (MOM) Digital Fair proper, which wrapped up last 18 September 2020, serves as the ideal jumping-off point for the upcoming launch of FAME+, Manila FAME's new digital community platform for the home, fashion and lifestyle industries.
Aside from fashion, accessories, and home and lifestyle products, the FAME+ website itself is a display of Filipino creativity, having been designed by local developers. Its potential to showcase the best of Philippine design to a wider audience is underscored by the country's performance during the MOM Digital Trade Fair. The 13 Philippine brands presented over 250 collections for the event which garnered more than 660 thousand impressions and generated multiple business leads with countries like Australia, Belgium, Brazil and the UK through the MOM platform.
Catch the works and collections from the exhibitor brands and the tireless team behind the Philippine participation in Maison et Objet's Digital Fair accessible online through September 2021 on MOM (Maison&Objet and More) via mom.maison-objet.com, and on Manila FAME's digital platform, FAME+, at fameplus.com beginning on 22 October 2020.