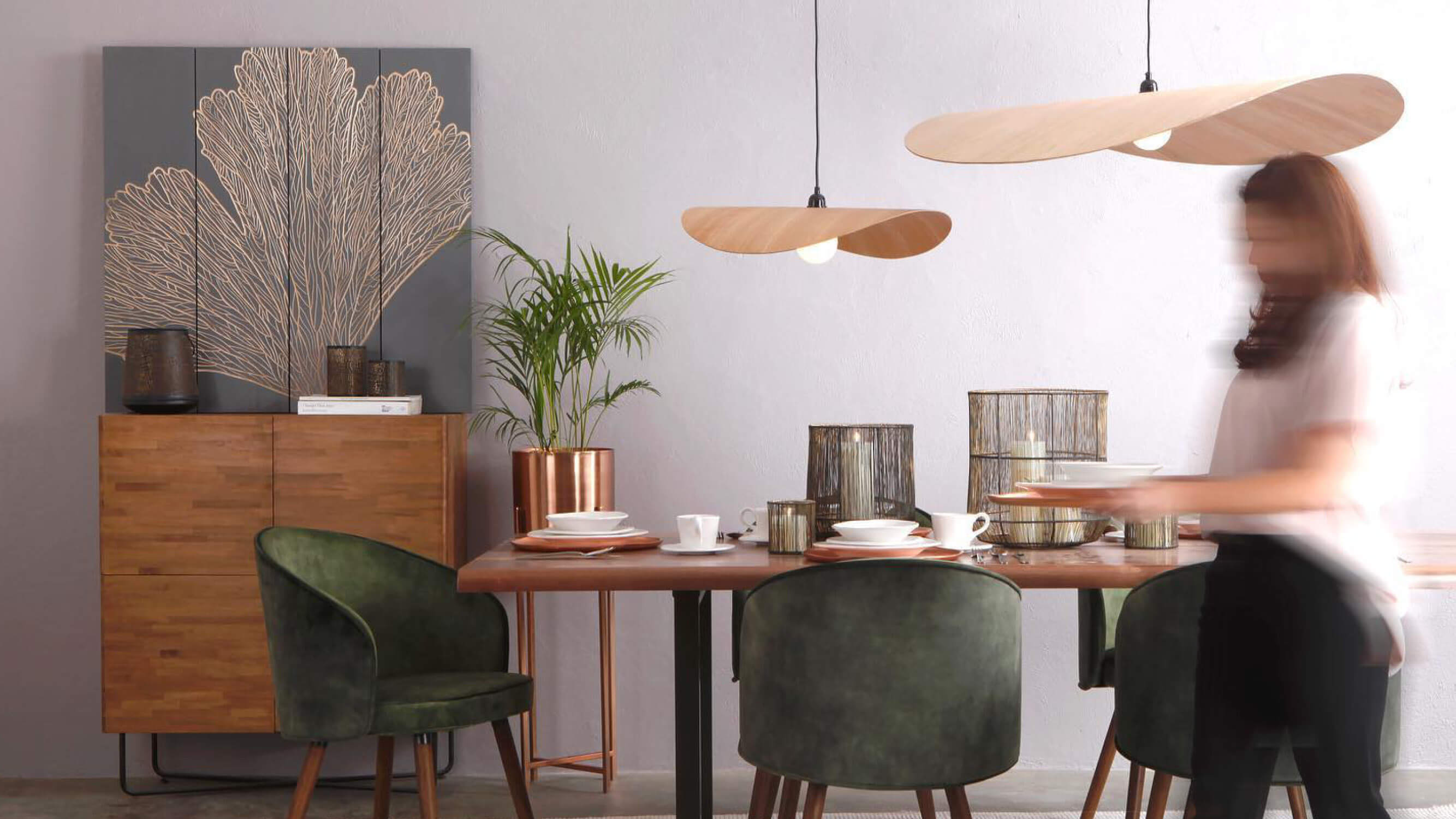 Channeling Positivity, Tranquility, and Balance in the Filipino Home
Design experts say these themes and trends bring a refreshing and more hopeful way of living
by Joy Celine Asto
For many of us, there has never been a more important time for a home to look and feel like one. We only need to look at the great deal of time, effort, and resources we've spent to make our homes safer and more comfortable to live in, more so in the past one and a half years. And as we remain mostly homebound, we will most likely continue to either renew or revitalize our spaces with these goals in mind.

Of course, no two homes are the same. Still, design experts see three main themes that are central to Filipino homes today: balance, positivity, and bringing in the concept of maaliwalas or the Filipino term that means 'a good flow of light and air.' These three are essential to a harmonious home, especially at a time when setting boundaries between work and rest have become paramount.
The concept is becoming increasingly popular these days, and for FAME+ Market Days happening from October 20 to 22, industry experts will take a deep dive into the topic with the Design Commune session, "Light the Way: Designing for a Refreshed, More Hopeful Way of Living." Designers Aya Maceda of ALAO Design, Nicole Tan of Boon, and Stenie Coyiuto Tay of Casa Bella will show curated spaces that demonstrate balance and the concept of maaliwalas. Meanwhile, Design Commune's very own, product designers and creative directors Stanley Ruiz of Estudio Ruiz, Rachelle Dagñalan of RADA Collab, and Rita Nazareno and Gabby Lichauco of Nazareno/Lichauco, will participate in a roundtable discussion on how Filipino design is lighting the way in exemplifying the concepts of positivity and hope. The Design Commune session will take place on the first day (October 20) of the three-day event.
Ahead of this FAME+ Market Days session, we searched through our catalogue to find pieces that evoke these infinitely inspired—and inspiring—themes.

BALANCE IN DESIGN AND CONCEPTS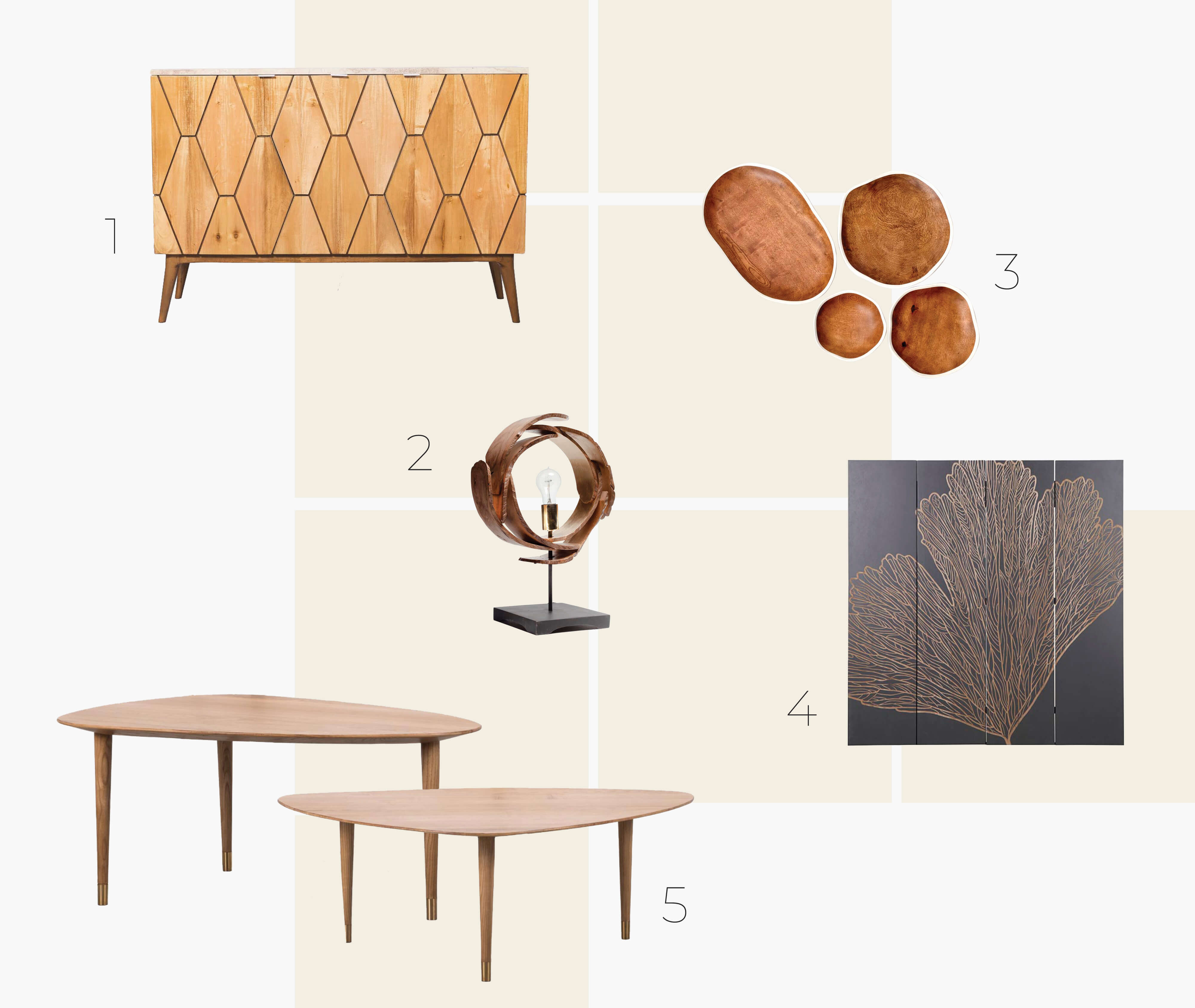 Don't be afraid to be experimental in the look and feel of your home. It could very well be just what you need to breathe new life into your space. However, everything must still be balanced, especially when combining seemingly contrasting concepts. Look for timeless pieces complemented by a modern design—or soften industrial lines and silhouettes with natural elements and organic pieces.
1. Hexa Buffet Table, PHILIANA DESIGN
Looking for an elegant wooden piece to complement the metal surfaces of your industrial interiors? This stylish buffet table boasts of a contemporary design that will add a polished look to your space.
2. Pacific Nesting Coffee Tables, PHILUX
Another way to add a modern touch to any interior style is to experiment with different shapes or color combinations. These nesting tables bring a playful mood to any space, not only because of their shape but also in the way you can position them to extend the space.
3. Slice Desk Lamp, CEBU HOMECRAFT
This unique desk lamp is a perfect addition to an industrial-styled workspace, and any room that needs a touch of art—or some bright ideas.
4. Fyllo Square Wall Art, TRIBOA BAY LIVING
Have a bare wall begging to be decorated with art? Skip the framed artworks and go for this beautifully intricate masterpiece instead.
5. Organic Round and Oval Platter, Natural, CELESTIAL ARTS
Is your space mostly made of metal elements, polished concrete, and boxy features? You can balance it out with pieces made of natural elements or have organically irregular shapes and features. These wooden platters make perfect catch-alls for the living room or lounge areas.

POSITIVITY FOR THE HOME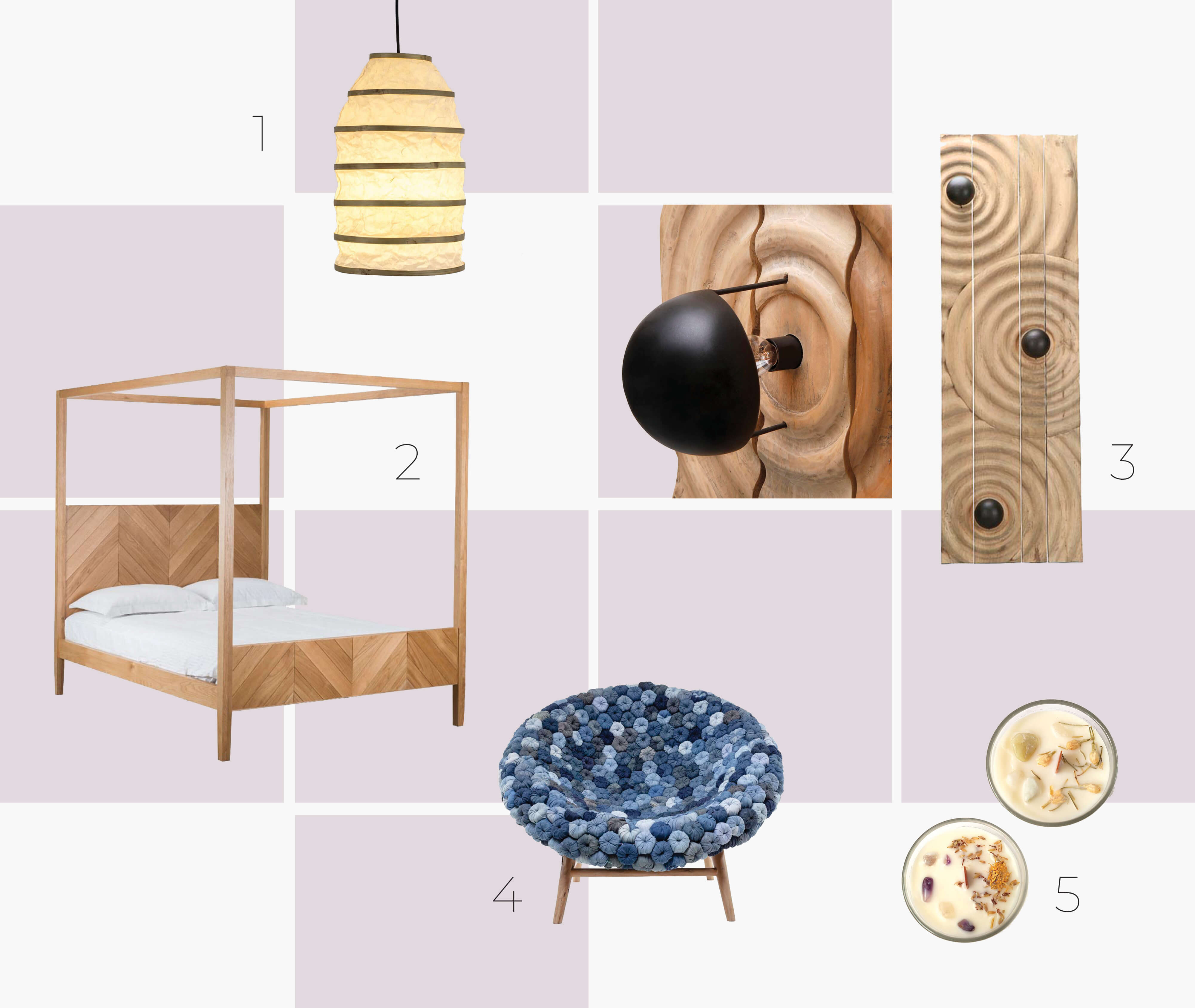 The mere mention of "home" evokes feelings of calmness, happiness, and peace. Now, more than ever, the home needs to be a place where we can both recharge and draw positivity from. A great way to achieve this is through pieces that can either energize a space or make it more relaxing.
1. Blue Coral Tub Chair, CEBU HOMECRAFT
Sit back, unwind, and make your breaks count in this unique and comfy seating. The calming blue hues of its denim cushion attachments make this tub chair a functional and relaxing home piece.
2. Zen Washable Paper Lamps, INDIGENOUS
As its name suggests, this lamp's design instantly adds a calming simplicity to the home. The muted light glowing through the handmade abaca paper also lends an elegant look to any space.
3. Ripples 3 Rectangular Wall Art, TRIBOA BAY LIVING
A dramatic wall art that doubles as a warm ambient light source, this carefully hand-carved decor effortlessly transforms any room into a Zen space. Add unique statement pieces like these to workspaces, living rooms, or anywhere that needs a creative touch.
4. Oslo 4-Poster Bed, PHILUX
This modern take on the four-poster bed allows you to get creative with draperies, if you're in the mood for it. Whether you dress it up or down, you'll make it both a beautiful and relaxing space for rest.
5. Abundance Soy Candle and Peace Soy Candle, NATU HANDCRAFT STUDIO
Elevate the mood and light up your spaces with either an invigorating scent in the morning, or a relaxing one at night—or one for work and another for winding down, if you prefer.

MAALIWALAS: BRIGHT AND AIRY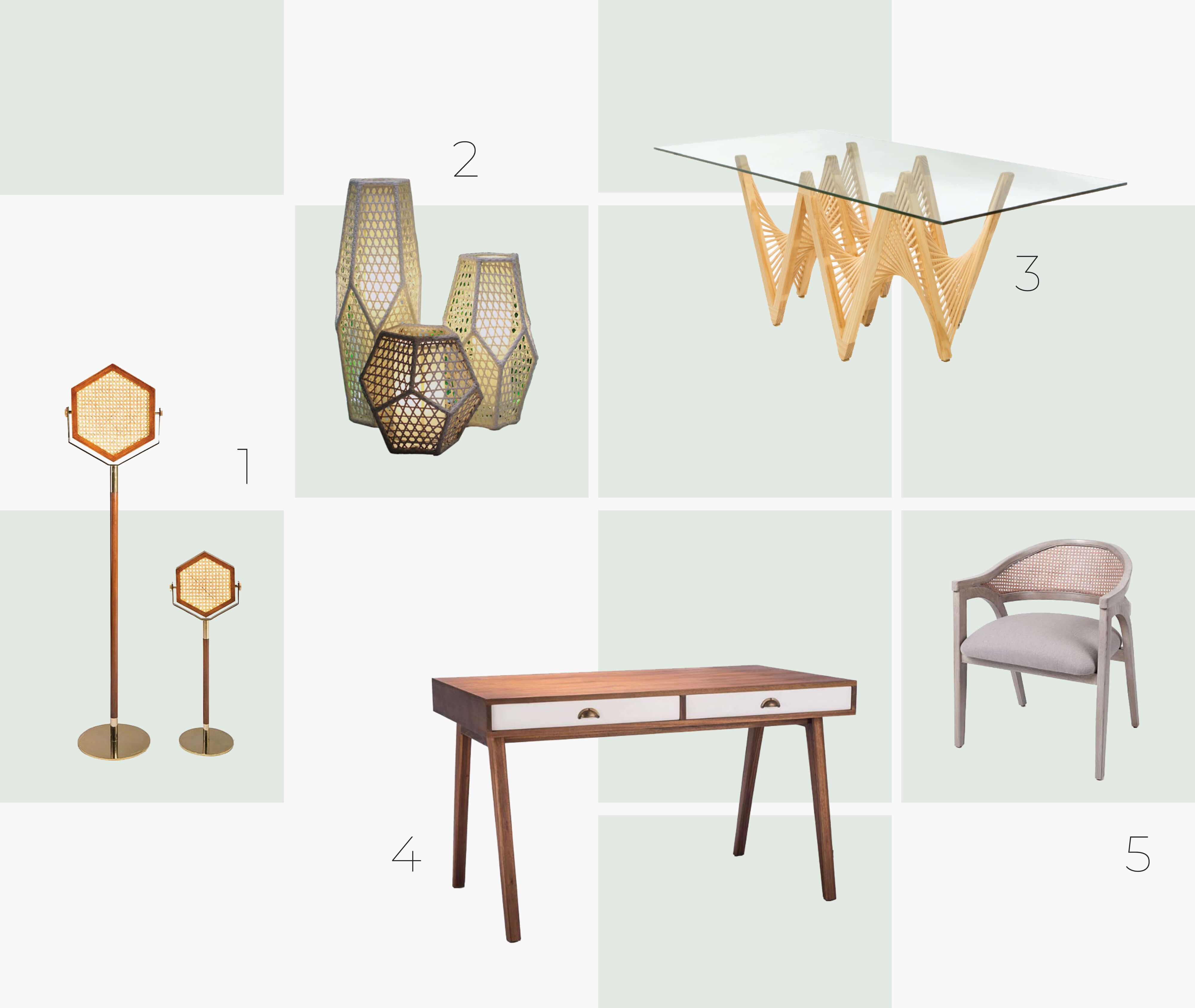 Simplicity is key to the aesthetic that Filipinos refer to as maaliwalas. The home needs to be uncluttered, bright, and airy, in order to create a feeling of ample breathing space. Sleek silhouettes, minimalist designs, and natural color schemes are among the features that make a space feel and look maaliwalas.
1. Copen Desk, PHILUX
A dedicated desk that is both functional and elegant will definitely make you productive despite working from home. This simple yet gorgeous desk is available in different woods and wood finishes, and can be fitted with a hutch for extra storage space.
2. Alyssa Floor Lamp, OUTDOOR+SOLUTIONS
Have rooms that look too bare or could use some extra illumination? These floor lamps are eye-catching as accent pieces, but also minimalist enough to maintain a clean look for any space.
3. Benjamin Lamp - Hexa, VENZON LIGHTING
Another beautiful light fixture, this unique floor lamp inspired by the shape of the beehive easily makes for a standout piece anywhere in the home. It combines the elegance of wood finish and the classic beauty of solihiya weaving to create a pleasantly diffused light.
4. Agatha Solihiya Chair, ALBERO
Keeping up with the solihiya aesthetic, this gorgeous chair combines Scandinavian design with natural Philippine weaving. This modern minimalist piece is perfect both for workspaces and dining areas.
5. Geo Dining Table, VITO SELMA HOME
A minimalist piece embellished with intricate elements, this is perhaps one of the most extraordinary tables you can adorn a dining area with. Striking in design and form, it's easy to think of it as a functional art piece.
FAME+ Market Days happens online from October 20 to 22, 2021 at HopIn! Philippine design marks its second year online with this immersive digital expo, showcasing more than 200 storefronts and thousands of the finest home, fashion, and lifestyle products.
Don't miss the talks on the future of design, Philippine fashion, brand storytelling, and marketing by local and international thought-leaders. Grab the opportunity to connect with buyers, exhibitors, industry professionals all in one digital marketplace. To register for the FAME+ Market Days event, visit the HopIn Market Days registration page. Visit fameplus.com or follow FAME+ on Instagram and Facebook.