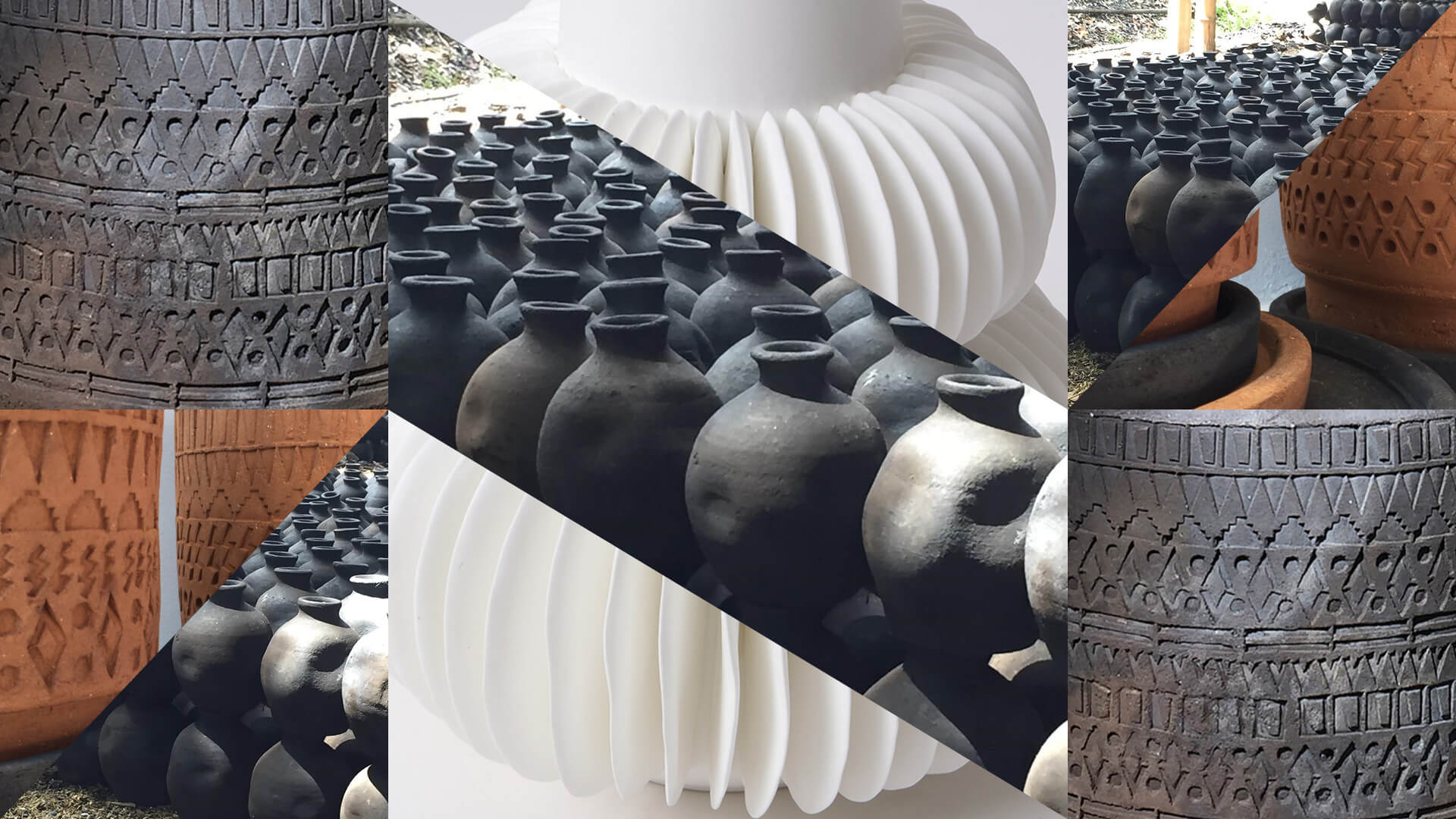 Beyond the Glaze: Pottery Trends for 2021
Pottery and ceramics go beyond the primitive, and into the avant-garde
Many would argue that painting is the oldest of art forms, but possibly one of the most ancient is pottery. Originating in prehistory, and with 20,000-year-old remnants of a clay food vessel from an ancient kitchen in China as proof, pottery is an art form that transcends purpose and time.
There is now a resurgence of modern pottery artists in the Philippines, creating pieces of functional art. But the history of Philippine pottery in general has a rather checkered past, as noted by pottery artist Joey de Castro, who was a featured artist in the 2021 Art in the Park, and who recently collaborated with Ito Kish for the LAMPARA Table Lamp.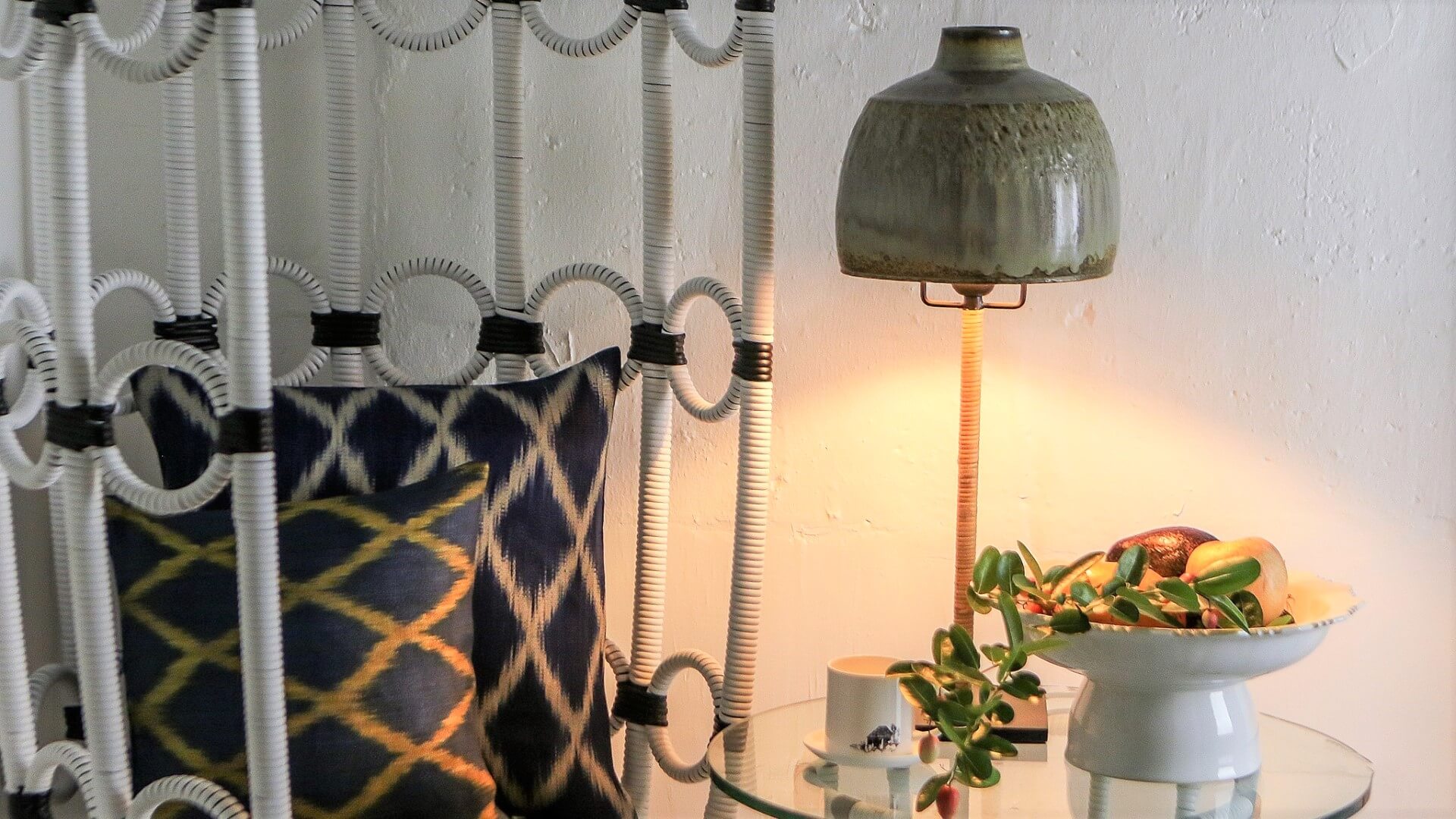 Joey de Castro's recent collaboration with Ito Kish resulted in the LAMPARA Table Lamp, which featured in the designer's' Retail Season 2 launch in 2020.
A stunted past, and a trending future
"While other Asian countries around us developed their ceramics—literally, thousands of years of production—our pottery development suddenly stopped centuries ago," says Castro, who has taught pottery at the University of the Philippines for nine years. "In the Philippines, we were colonized, and this stopped our pottery art at the terracotta stage, with manununggul jars, burnay and palayok (cooking vessels), paso (pots), and so forth. We never had a history of wheel-made pieces, or glazes, until fairly recently."
"Every Asian country around us, China, Korea, Japan, has continued their pottery throughout, made ceramics, and they teach it in their school as part of their curriculum…it's very much a part of their culture," Castro continues. "Our pottery culture only picked up as an art form in the '70s…but now it's gaining ground in popularity. When I was teaching pottery back then, very few students would show up. Now, classes are usually full!"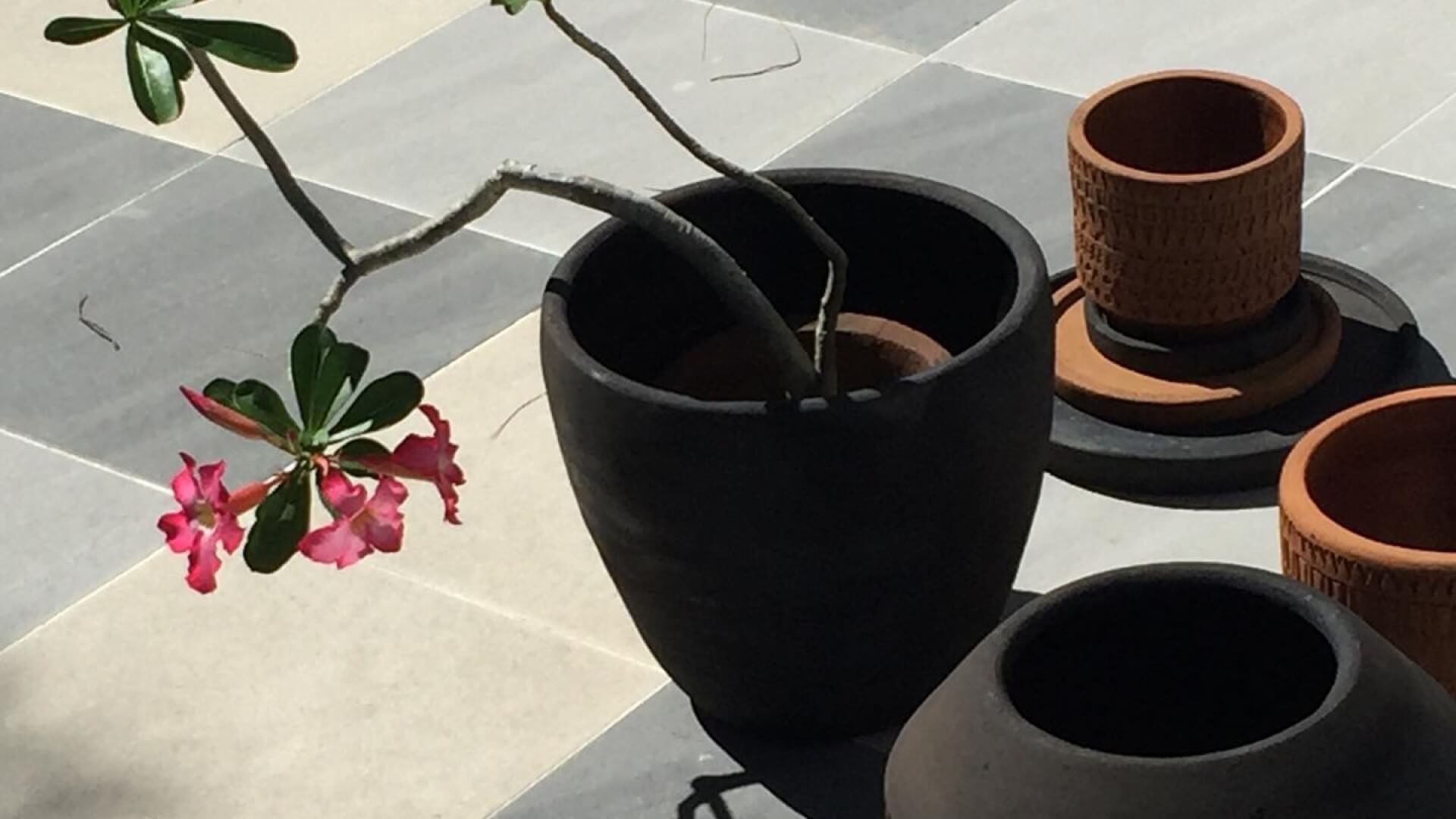 Eric Sanchez's pieces for Red Slab Pottery combine contemporary lines with Ethno-Bauhaus patterns. The designer-artist won a Katha Award in 2018.
Rediscovering ancient patterns
With a newfound interest in pottery and ceramics, there are some artists who look to the past for inspiration. Red Slab Pottery's Eric Sanchez shares that his pieces, which feature Ethno-Bauhaus patterns that are mix of the modern and the primitive, have intricate, handmade markings that reference pottery's ancient roots.
"The marks of tools were all translated into the pottery; there are two histories of pottery that used to be like this—from Kalinga, and Subanen. But the shape was different, globular, palayok-style. But the craftsmen back then, they really used to do the engraving," says Sanchez, referring to the inspiration behind the ethnic markings seen on his pottery pieces. "But they stopped doing this sometime in the 1970s and '60s. But if you check out the museums in the area, they still have all of those old artifacts."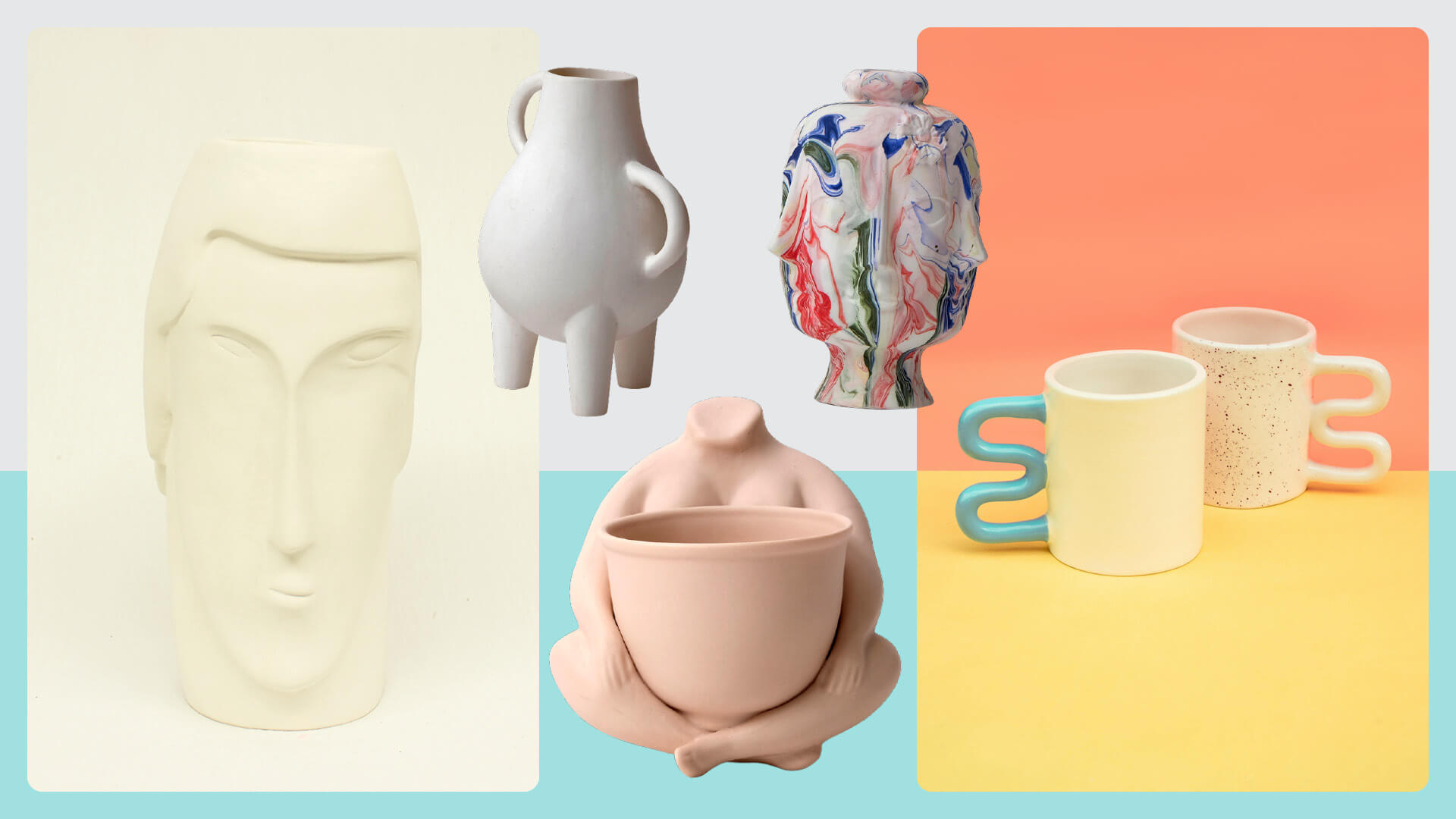 Shapely forms and faces are now popular in pottery and ceramics. (From left): Manuel Vase by Artisana; Baby Potts, Sitting Burlesk with Pot on Lap, and Aurora Cubism Lovers Vase all by CSM; Memphis-style The Squiggle Mugs by Bondi Studios.
New trends: Faces and Figures
But how do you "modernize" pottery and ceramics? It is comforting to know that in spite of its ancient roots, new iterations of the medium are in fanciful forms and popular colors. There are many vessels that err on the minimalist side, but some brands now, such as CSM and Artisana, favor the human figure as a form for their vessels.
Faces cast in bone china, voluptuous torsos molded in terracotta, and pottery faces painted with multi-colored glazes can add a fresh accent to contemporary spaces. Another ceramics trend that we see growing is the Memphis Revival, a 21st-century take on a 1980s movement created by Ettore Sottsass. The movement's playful pastel tints, squiggly shapes, and undulating curves are seen in ceramic pieces by Bondi and other brands.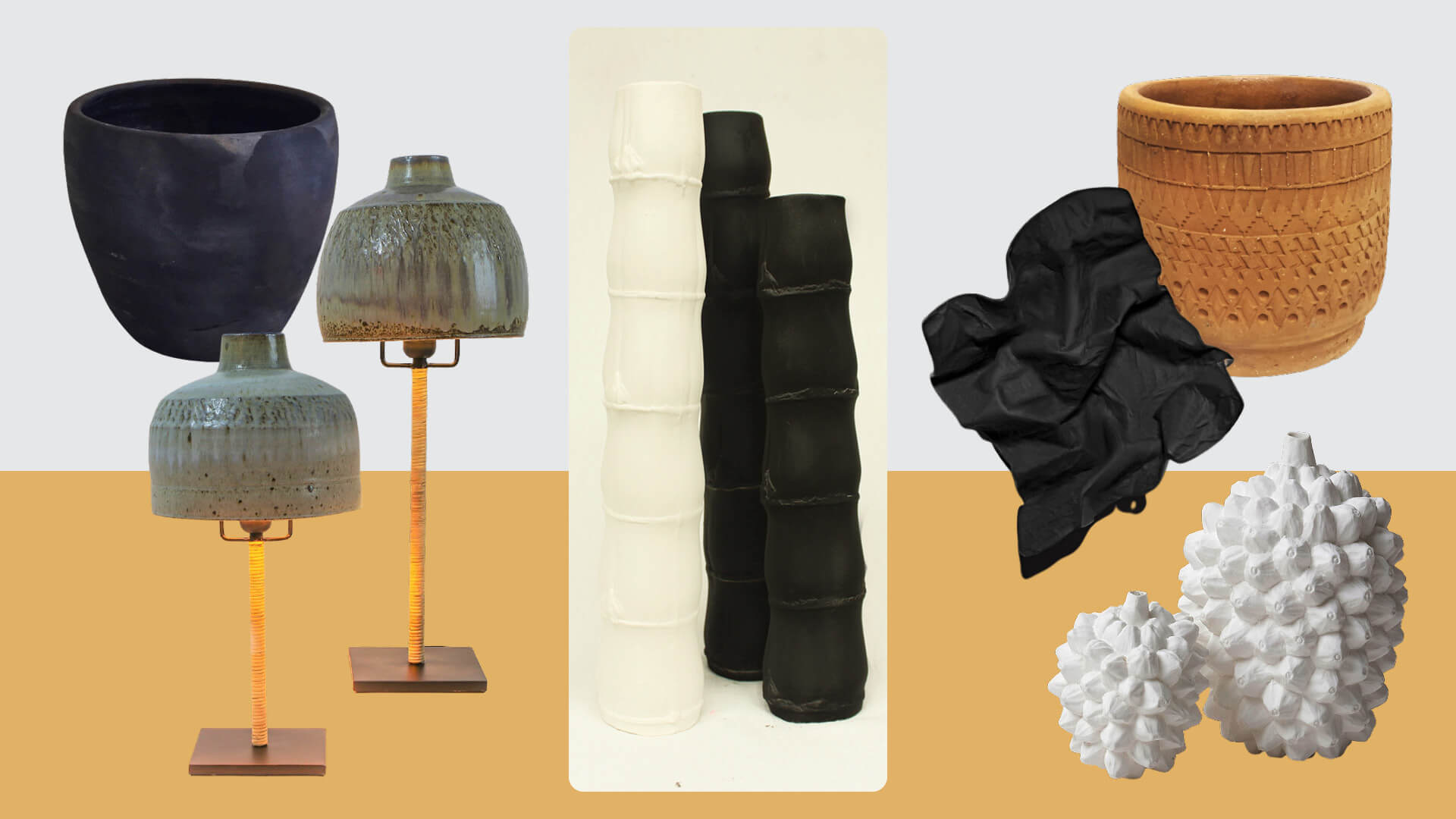 Earthy neutrals. (From left): Big Curvy Planter, Red Slab Pottery; LAMPARA Table Lamps by Joey de Castro x Ito Kish; Kawayan Vases by Artisana; Wall ornament for ITIM exhibit and Pandanus Fruit Small and Large by CSM; Cylinder Small Terracotta Planter by Red Slab Pottery.
Neutral trends: Earthy and Organic
On the other end of the pottery spectrum, there are creators who love to make pieces that respect the medium's roots. The aesthetic of raw surfaces, speckled glazes, and natural, earthy tones feature in the hefty pots of Red Slab Pottery and Joey de Castro's ingenious pottery lamps for Ito Kish. Organic shapes and forms that stem from nature have always been a crowd favorite in design fairs, and CSM never fails to disappoint in that aspect. Their delicate Pandanus, Pod, and Pleat vases are inspired by natural forms of fruit, seed pods, anemone, and shells.
But regardless of trends, De Castro adds that pottery as an art form can move forward if there is no discrimination between its functionality and art. "In our community, we don't distinguish plates and vases from sculptures…for us, it is just one and same, it is just that—it's art."
Photos courtesy of the brands