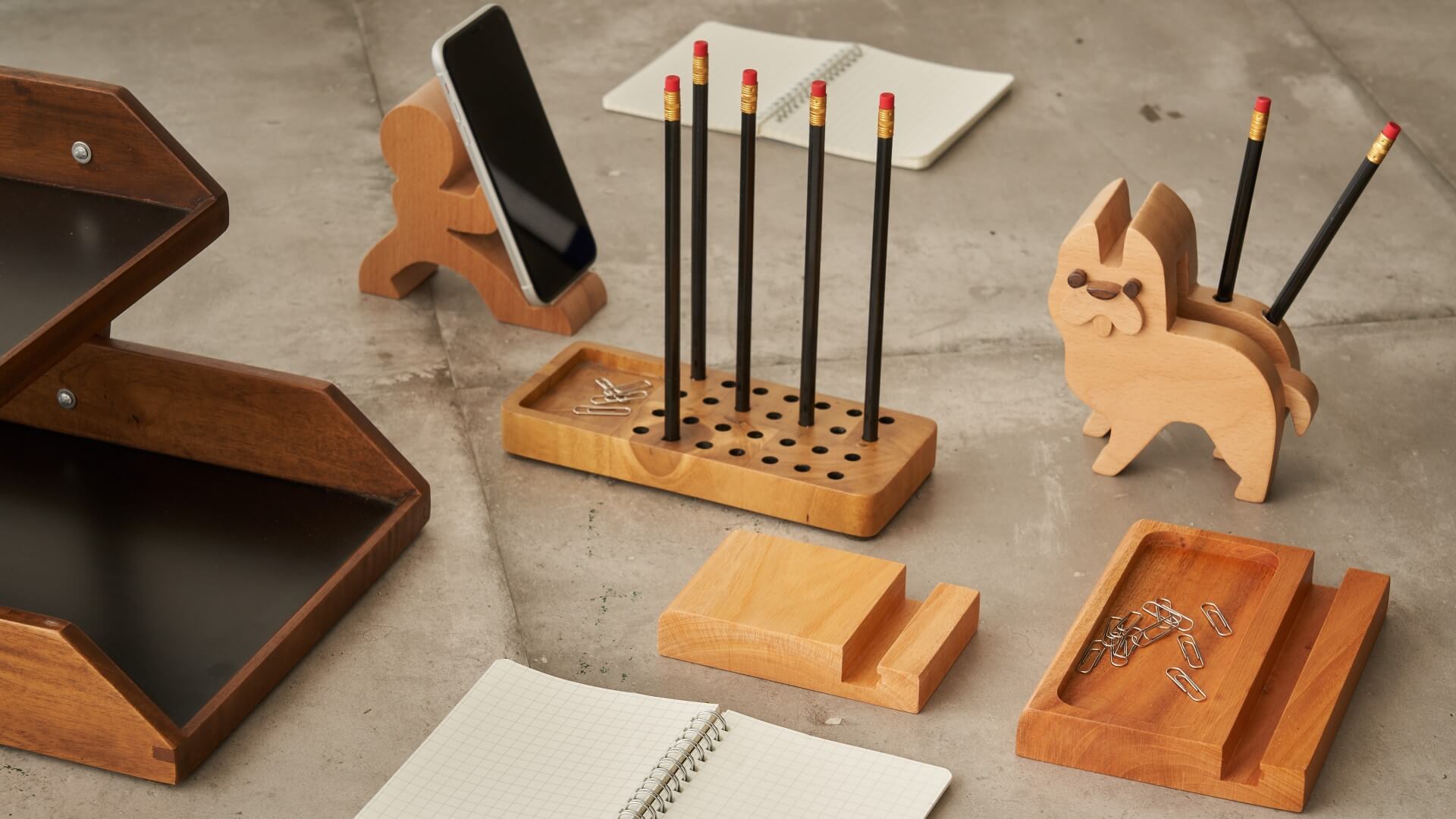 Desktop Accessories for WFH Ease
Simplicity, form, and function go hand-in-hand with these home office organizers and essentials
With the inevitability of all of us working-from-home for the long run, the necessity of setting up a permanent workspace cannot be denied. What used to be a luxury meant for larger, upscale homes is now a requirement for almost every employee or business owner.
Living a nomadic WFH life—shifting from one living area to another—is not the most productive setup. According to a CNN Business article: "It's Been a Year—Here's What Your Home Office Should Look Like," moving between different workspaces within the home coupled with being disorganized not only zaps your productivity, but also your health.
So, choose a permanent remote working space, be it in a spare room or in your bedroom, get a proper desk, and don't forget to organize it with these accessories.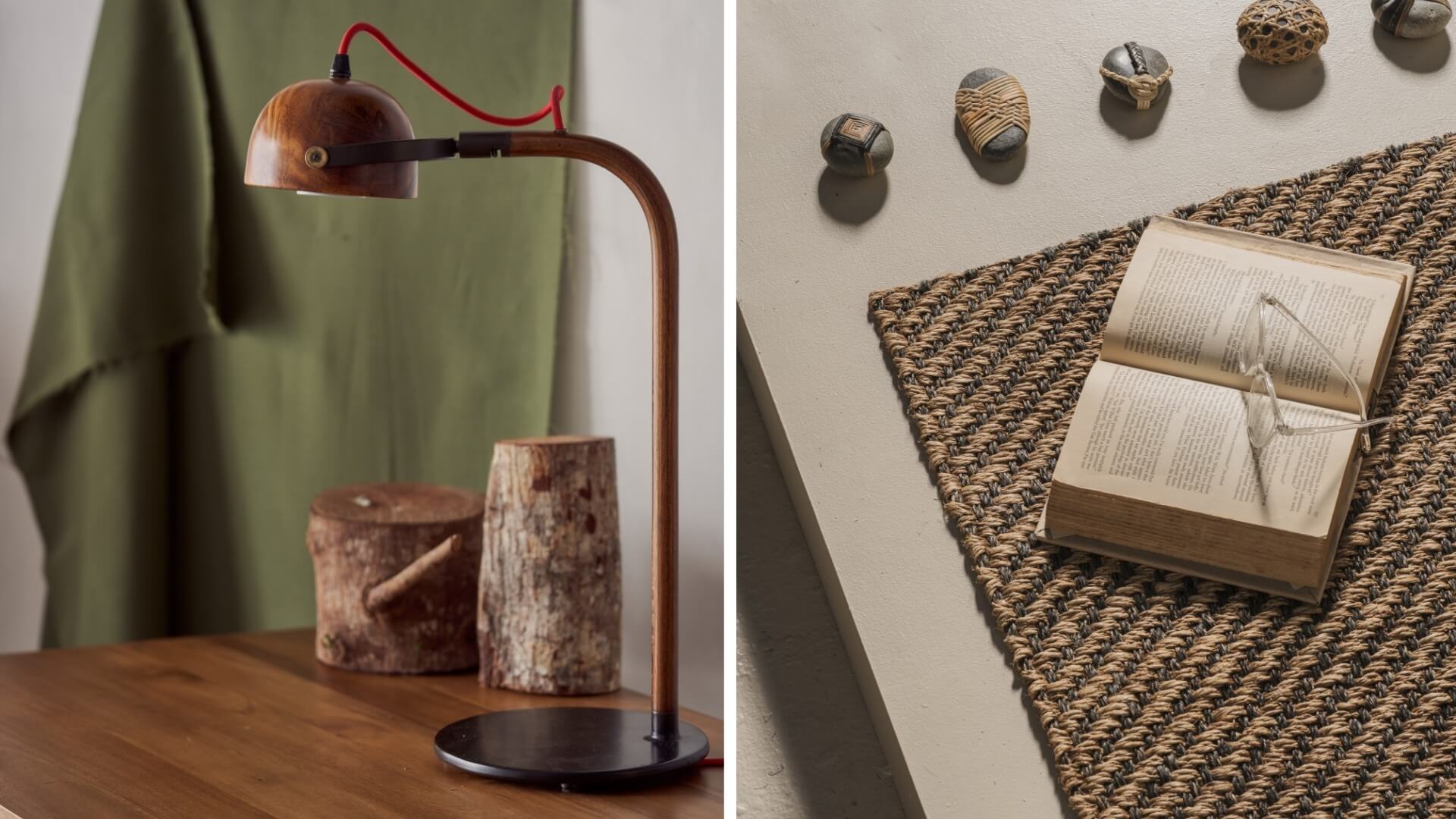 Wooden Vasco Table Lamp by Triboa Bay Living (left); Woven Stones by SC Vizcarra (right).
Be light-weight
Don't go with the available light in the room; task lighting is key to staying focused. Get a proper desk lamp—preferably with ana adjustable neck or head—and check the bulb to see if it isn't glaring. The Vasco Table Lamp by Triboa Bay Living has an industrial-rustic look about it but with an adjustable head that makes it perfect for both study or side table. These Woven Stones (cane-wrapped natural stones) by SC Vizcarra serve not only as decorative objects but as paperweights, as well.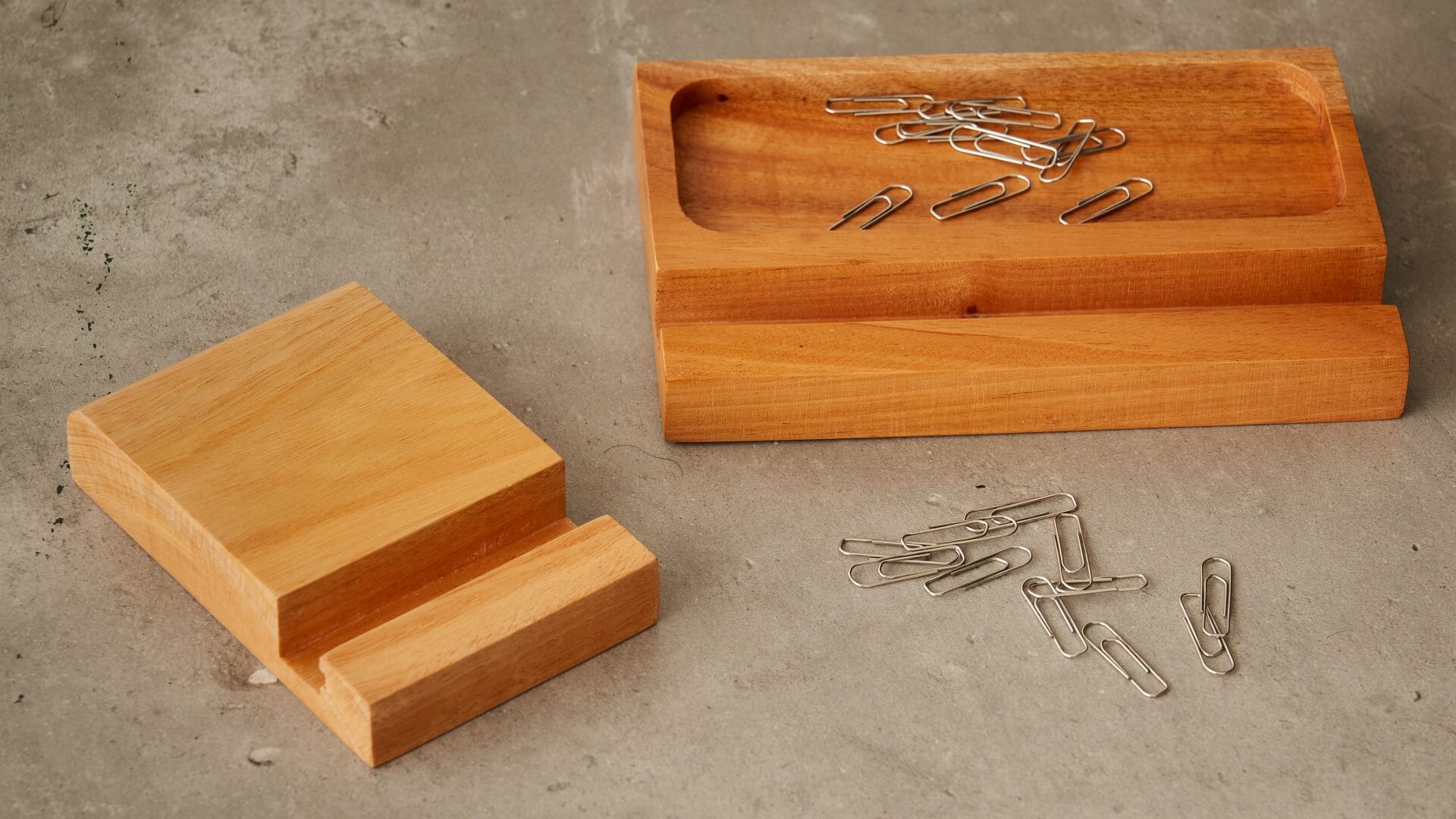 Gadget and Tablet Stands (with paperclip and notepad receptacle) by Sustainablymade – Marsse.
Make a stand
Gadget stands, which were once just a novelty seen on Instagram, are now desk essentials, as a quick vid-conference can sometimes be more easily done on the phone than on your laptop. These Gadget Stands by Sustainablymade – Marsse are made from sustainably farmed wood from MARSSE Tropical Timber's own tree farm. Tabletop products like these are made from wood offcuts, so that nothing is wasted.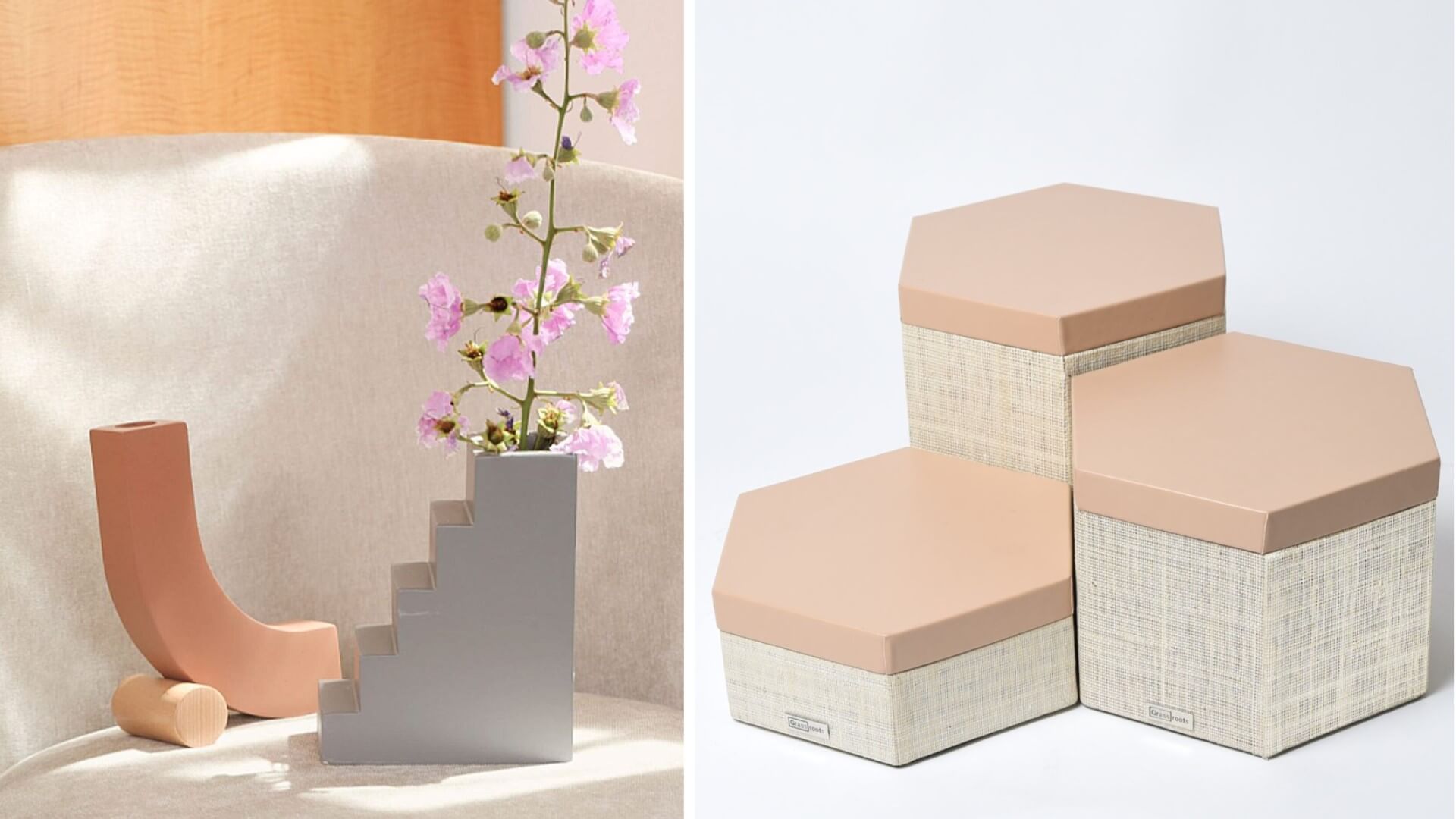 The delicate forms of Albero's Jay and Staircase Vases (left) can be used as bookends, too. Spencer Hexagonal Boxes (right) by Artisan Craftmill Corp.
Catchalls for clutter
Nothing zaps productivity faster than a messy desk. Organize your files and references with bookends or bookcase files. Utilize trays and catchalls to corral your notepads, paperclips, and other tchotchkes. Artisan Craftmill has a good selection of boxes, trays, and pen holders in natural raffia finishes and soothing colors.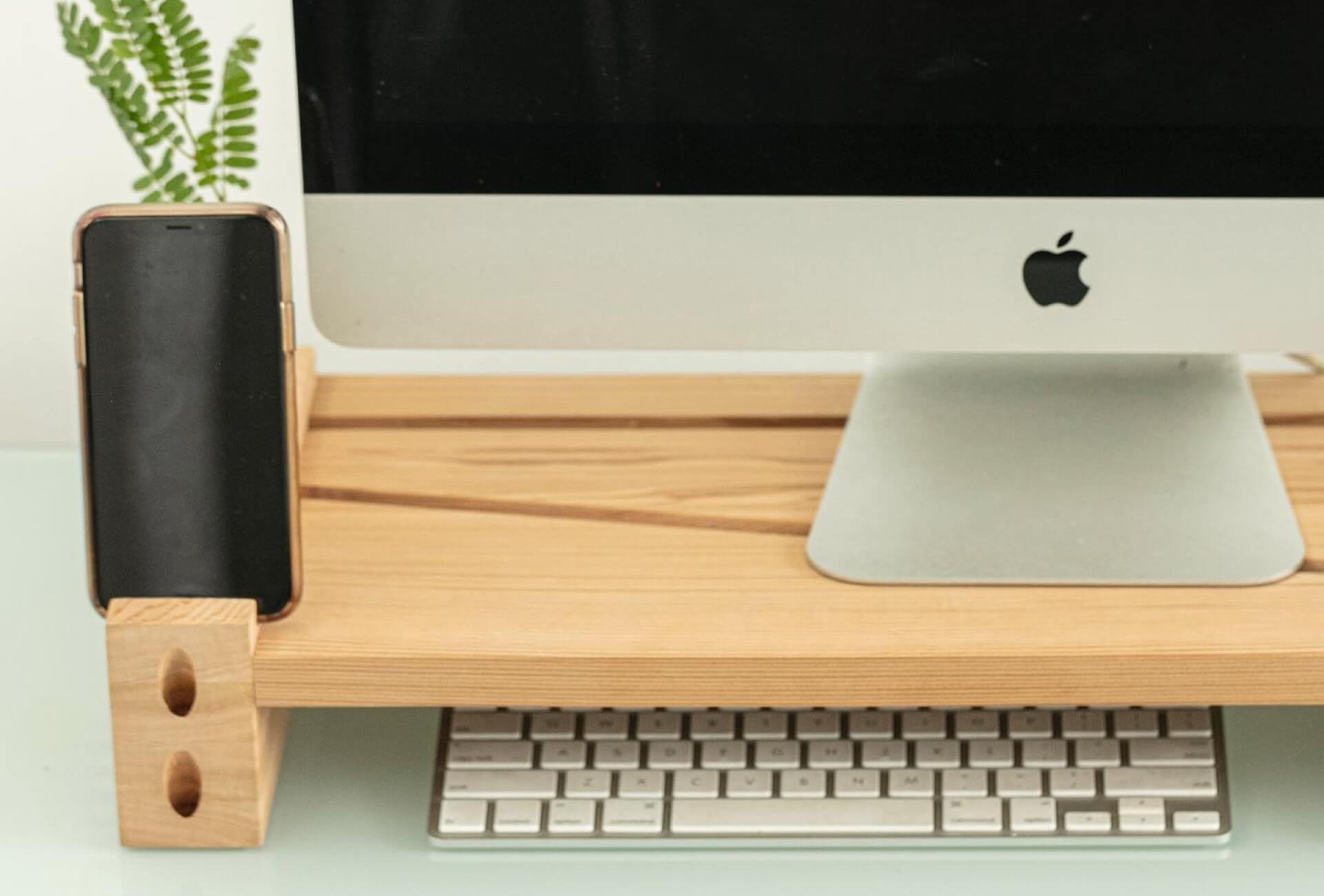 The Opus by Makerspace Manila for Lamana, made as part of their Lamana Originals collection.
Elevate it
Getting a laptop or desktop computer stand or riser will help prevent neck and head strain, as it minimize bending or twisting of your neck, since the screen would be elevated directly to your line of sight. Homegrown wood furniture brand Lamana collaborated with Makerspace Manila to create The Opus, a wooden, multitasking computer stand that also has a gadget stand and slots for pencils (or a plant or two).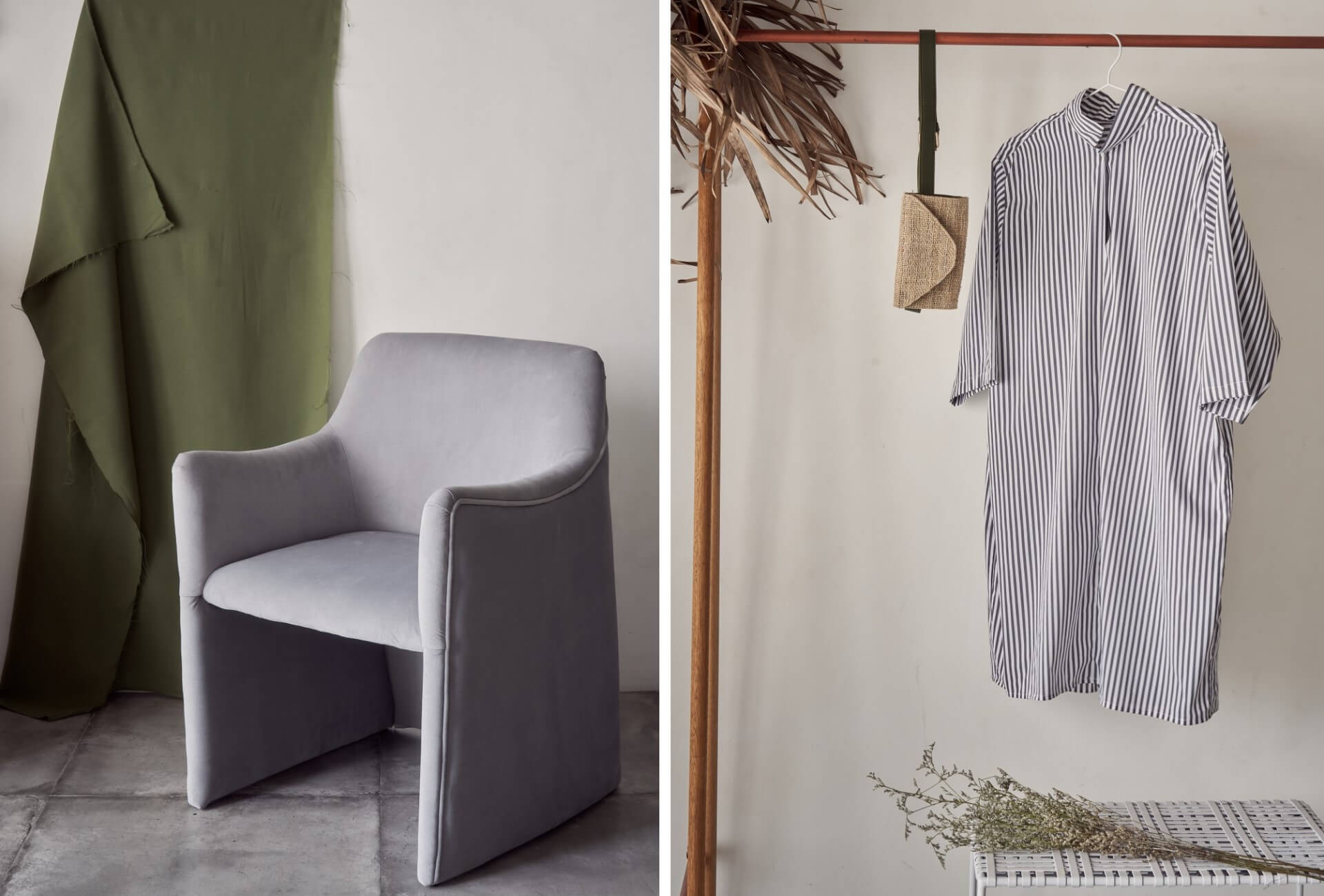 S19 61 FU-AC Upholstered Chair by Southsea Veneer (left); the Zoom-ready Dani Shirt Dress (right) by Unif0rm; HR Belt bag by Evril; Side Table by Zarate.
Lounge about
Don't forget to work in comfort. If the usual office chair doesn't cut it style-wise, get a cozy side chair with armrests, an upholstered back, and seat. The best part is that once you're done working, you can transform it into a guest chair. And if you're the type who goes on Zoom frequently, don a shirtdress (like Unif0rm's Dani Shirt Dress) that looks crisp, but breezy.
--------------------------
Top photo products (left to right): Ron Desktop Tray by Triboa Bay Living; Uomo Phone Holder and Gaston the French Bulldog Pencil Holder by Albero; Gadget and Tablet Stands by Sustainablymade – Marsse. Triboa Bay, South Sea Veneer, Marsse, and Unif0rm product photos by Dairy Darilag, styled by Dagny Madamba and Tala Singson. Other images from the brands.