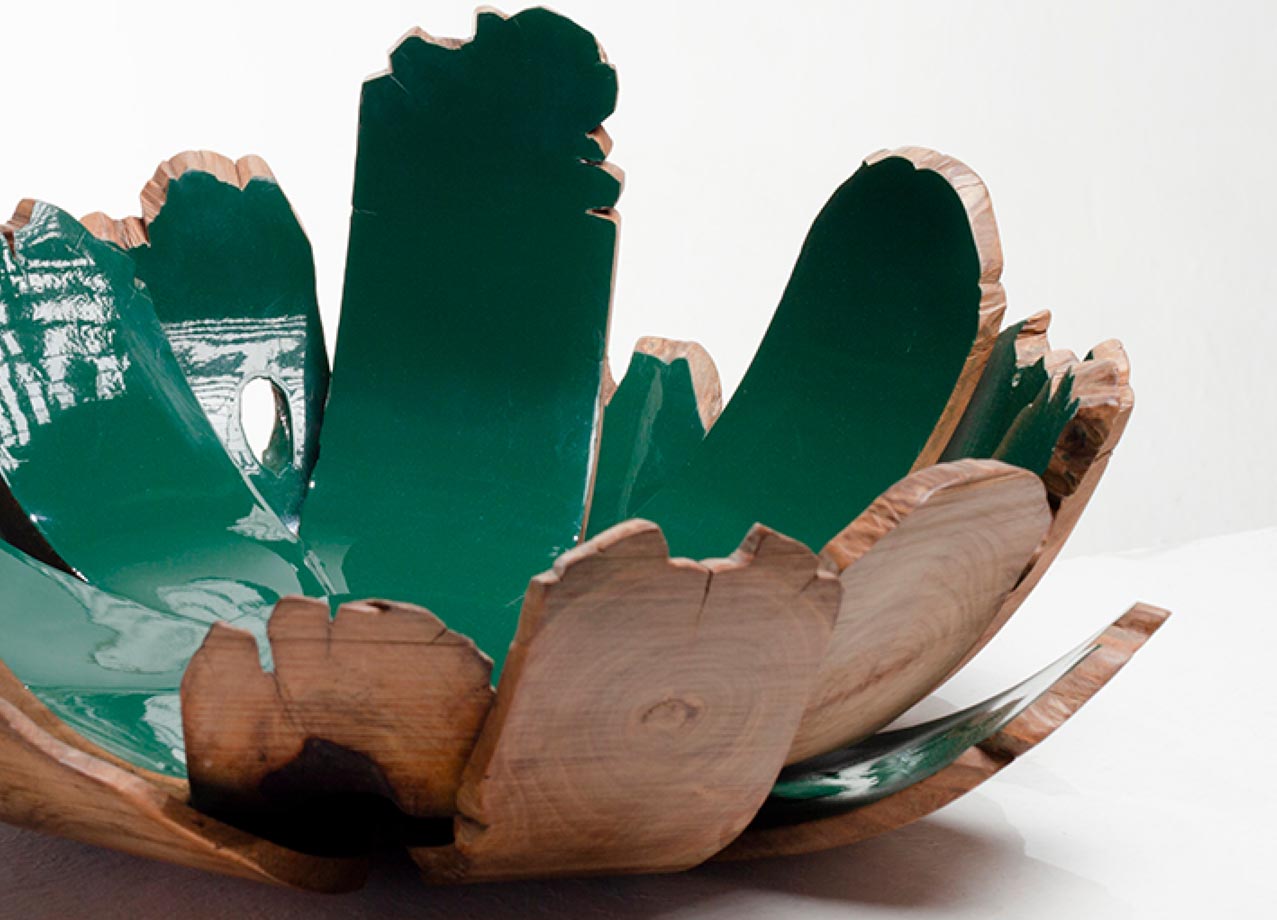 The Art of Outdoor Living
Furniture and decorative accessories to cultivate an outdoor escape in your home


by Patti Sunio

With the lockdown keeping us cooped up at home for months, the nearest outdoor escape—the porch, the garden, or the yard—becomes our new favorite place. Having a welcoming outdoor area is essential in times like these, as spending time with nature (and off one's phone and gadgets) can boost one's mood, health, and mental wellness.
Aside from the outdoors being a safer space to hang out in, a lot of other benefits come to mind: fresh air, a full view of the sky, the openness of a space encouraging outdoor activities, sunshine, and simply being still with nature.
Outdoor Living is this week's theme on Maison & Objet and More (MOM)'s Digital Days, an online event that explores the best in design.
Are the beauty of the outdoors calling to you? Whether you're decorating your home's open areas or are thinking of creative ways to bring nature inside, TouchPoint rounds up an outdoor selection to give you some bright ideas: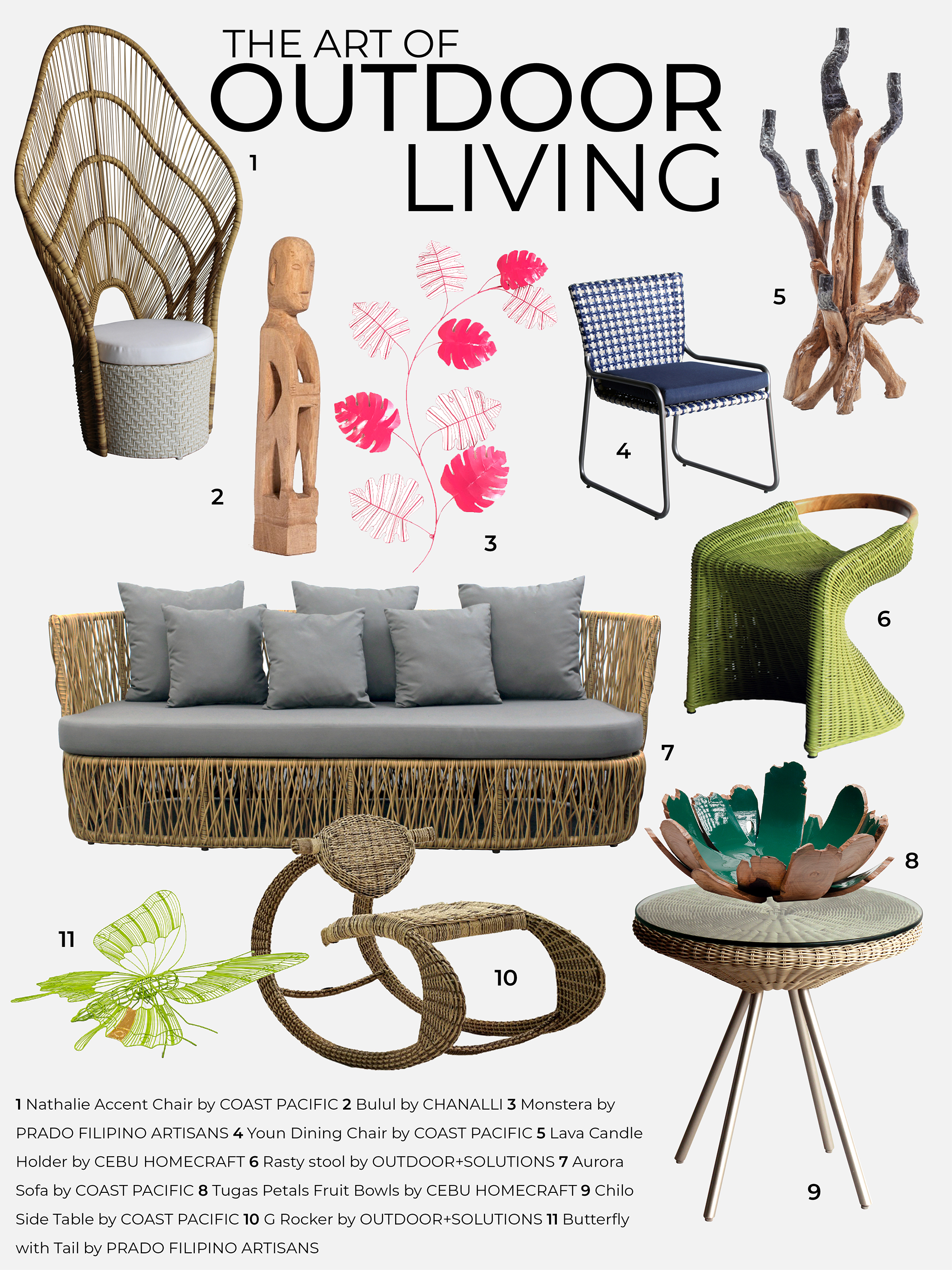 1. Nathalie Accent Chair, COAST PACIFIC
Keeping cozy never looked this chic. This accent chair, which can be placed at your outdoor lounge area, is made of aluminum frame and Greeco, a synthetic fiber developed and produced in Cebu.
2. Bulul, CHANALLI
A traditional wooden figure, the bulul is known as the rice god of the Ifugao who guards the crop. A great way to add a touch of nature and culture into the home, this piece is made of mango wood in a natural finish; sizes can also be customized.
3. Monstera, PRADO FILIPINO ARTISANS
Handmade using galvanized iron wires and metal sheets, this quirky monstera wall decor can liven up any space. Available in customizable design, colors, and sizes.
4. Youn Dining Chair, COAST PACIFIC
Take celebrations outdoors, whether by the poolside or at the barbecue area. These dining chairs are made of an aluminum frame and woven Greeco synthetic fiber.
5. Lava Candle Holder, CEBU HOMECRAFT
A conversation piece made of driftwood and metal, this candle holder adds a natural vibe to any space.
6. Rasty Stool, OUTDOOR+SOLUTIONS
Versatile accent pieces you can bring from one room to another. These can be placed indoors or outdoors, and can be custom-made, too.
7. Aurora Sofa, COAST PACIFIC
The gray cushions make a great contrast to its natural-looking Greeco synthetic fiber. Comfy and spacious, this sofa makes you want to indulge in a quick siesta, or invite family members to sit outside and watch the sunset.
8. Tugas Petals Fruit Bowls, CEBU HOMECRAFT
Sometimes, all you need is a small accessory to change things up. Made of driftwood, this fruit bowl can be painted in different colors to match your tablescape.
9. Chilo Side Table, COAST PACIFIC
Perfect for the outdoors, this side table makes it convenient for you to indulge in easy reads or a hearty snack.
10. G Rocker, OUTDOOR+SOLUTIONS
Here's a little something to keep the kids busy. This customizable rocker is made of synthetic fiber and aluminum.
11. Butterfly with Tail, PRADO FILIPINO ARTISANS
A beautiful accessory to decorate any wall, this colored butterfly is made of galvanized iron and wire metal sheets.
Explore more furniture and decor for outdoor living on MOM (Maison&Objet and More) at mom.maison-objet.com or browse through our catalogue.