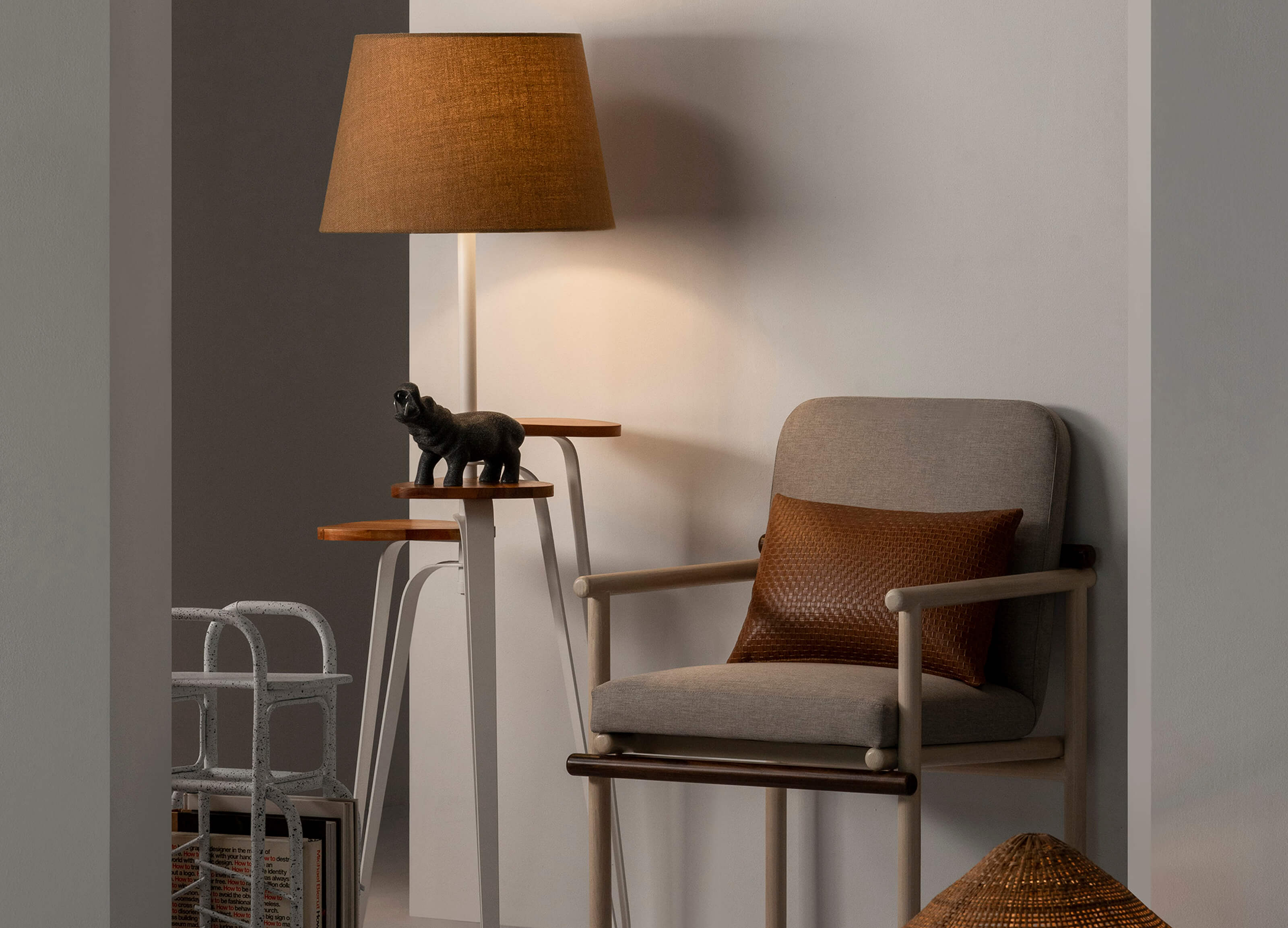 Taking Philippine Design A Step Further
Under the umbrella Design Philippines, local home and furniture brands showcase a must-see online collective at Maison & Objet and More

by Ning Nuñez
As hindrances put physical trade events on hold, Filipino craftsmen venture out to the digital sphere, keen to showcase the best of Filipino craftsmanship to a bigger audience, such as in Maison & Objet and More (MOM).
MOM is the digital platform of Maison & Objet, a major French fair trade for art, home, interiors, decor, and design, that aims to exhibit products from all over the world, all year round. With online showrooms to fill, Filipino designers, together with CITEM, have banded together to present their best works through the Design Philippines Collective at MOM.
The collective features two categories: Design Philippines Home, which includes Tadeco Home, Vito Selma, and Hacienda Crafts; and Design Philippines Furniture, which features Triboa Bay, A. Garcia, and Omo Furniture.
The new online format has truly been favorable for all brands. "Our participation has truly been beneficial since we have been getting new sales leads. The collaboration helped promote our products despite the lack of physical trade shows," attests Andy Garcia, marketing lead of A. Garcia. Vito Selma also points out the broader reach an online trade show can give. "It has brought our brand to a new stage and given us access to new clientele. We are excited by the constant development of new products with CITEM."
Triboa Bay recognizes how digital platforms like MOM have helped brands present products and connect with different buyers remotely. "As of the moment, we have received 17 inquiries from individual interior designers and are still waiting for these to materialize. We are also expecting inquiries for small and large retailers."
The MOM participation coincides with Hacienda Crafts' objective to reach new customers and markets as well. "CITEM has been especially valuable, supporting us by producing content that is attractive and interesting to the readers. Also, the product development component has been fun and inspiring," says Christina Gaston, who heads the brand's design direction.
Post-pandemic, it does seem likely that this kind of trade format will continue. Milo Naval of Omo Furniture shares, "Of course, we're open to projects like this to broaden and enhance our presence in the market. It is good that this is done digitally. This is how and where the buyers can find us easily, wherever they are in any part of the world."
Here are the brands, under Design Philippines Collective, currently exhibiting at MOM:

TADECO HOME
Tadeco Livelihood Training Center (TLTC), now Tadeco Home, was created to provide livelihood for the wives and dependents of the plantation workers employed by the Tagum Agricultural Development Corporation (TADECO), a family corporation that operates banana plantations in Mindanao, Philippines. "From the waste and discards of the plantation, Tadeco Home produces handmade paper from banana, pineapple, and abaca fibers which are converted into stationery, gift boxes, gift wrappers, hanging lanterns, and numerous novelty items," explains Maricris Floirendo Brias, Tadeco Home creative director.
Working closely with the local communities and indigenous tribes, Tadeco Home continues the art of ethnic weaving material such as the t'nalak of the T'bolis in South Cotabato and the dagmay (handwoven textile made from abaca) of the Mandayas in Davao region. Not only do they promote indigenous arts, Tadeco Home also empowers the women behind the craft. "Most of the female participants are able to work at home, allowing them to continually take care of their children and households while working," Brias shares.
Among Tadeco Home's offerings are their unique wall panels, such as the Brain Coral Panel and the Sea Fan Coral Panel, which are versatile and can be used as a curtain, a room partition, or a decorative object as it stands out as a key piece. "The making of the panels requires a high level of precision and a trained eye for its dimensions," says Brias. "Everything is handmade and no two panels are exactly alike. A single panel can take 720 hours for the artisans to produce."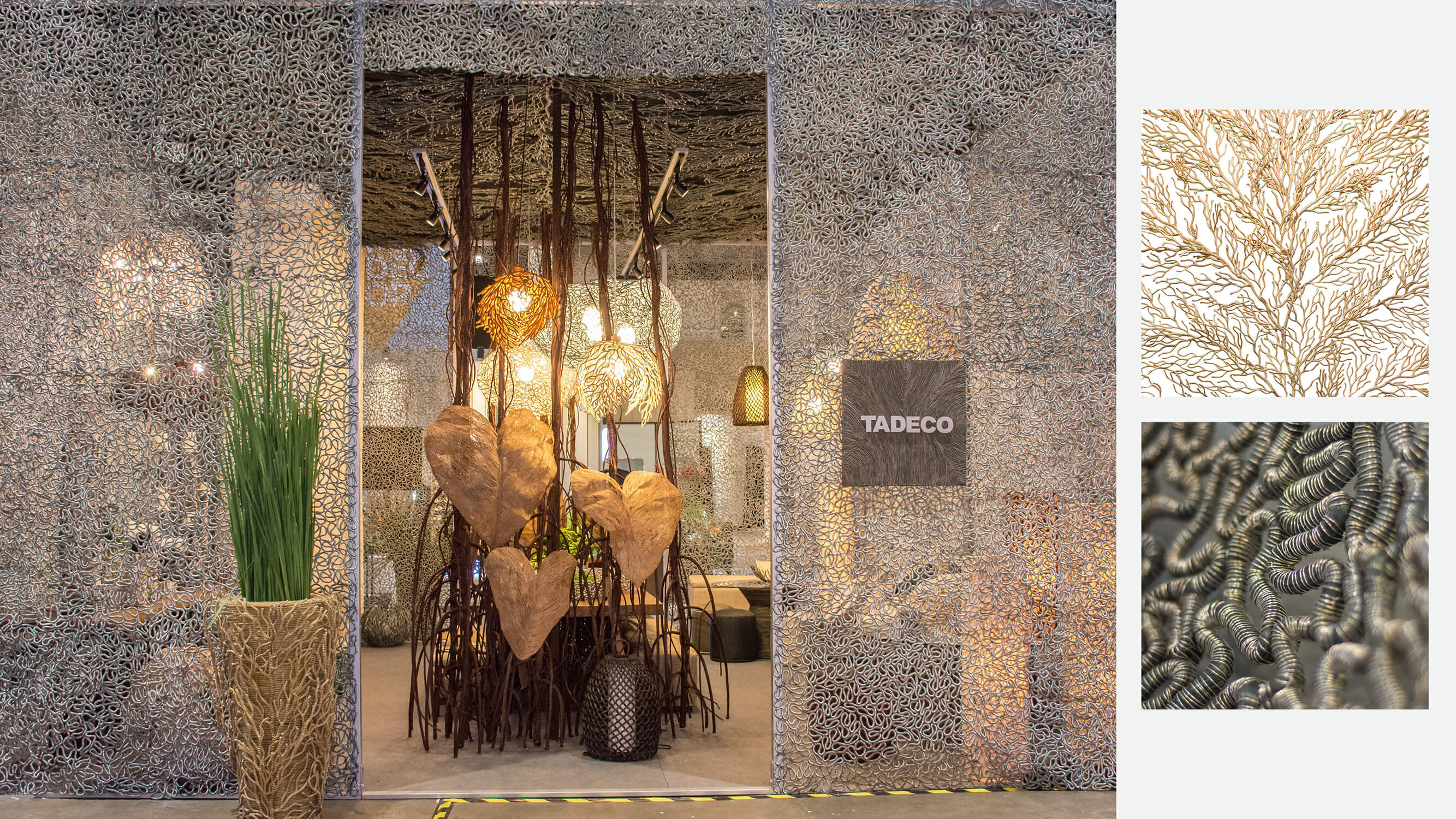 The Brain Coral Panel and the Sea Fan Coral Panels by Tadeco Home
The meticulous work behind the making of Tadeco Home's intricate panels

VITO SELMA
Founder Vito Selma grew up in the furniture capital of the Philippines, Cebu. He hails from the third generation of a family of furniture makers, spending his childhood immersed in creative processes that led him to cultivate a keen attention to detail and an appreciation for thoughtful design at an early age. He eventually established his own company, Casa Selma, a Filipino-owned brand also based in the island of Cebu. "We are a team of creatives who are closely involved in the entire design process. From our factory to your space, we develop and create pieces that embody our main principle: thoughtfulness," says Selma.
Highlights from Vito Selma's collection at MOM are the Sassa lamp series, "a direct ode to our farmers and their familiar woven conical hat," and the Do Re Mi stools, which are made from rice husk and "another subtle nod to our agricultural roots," he points out.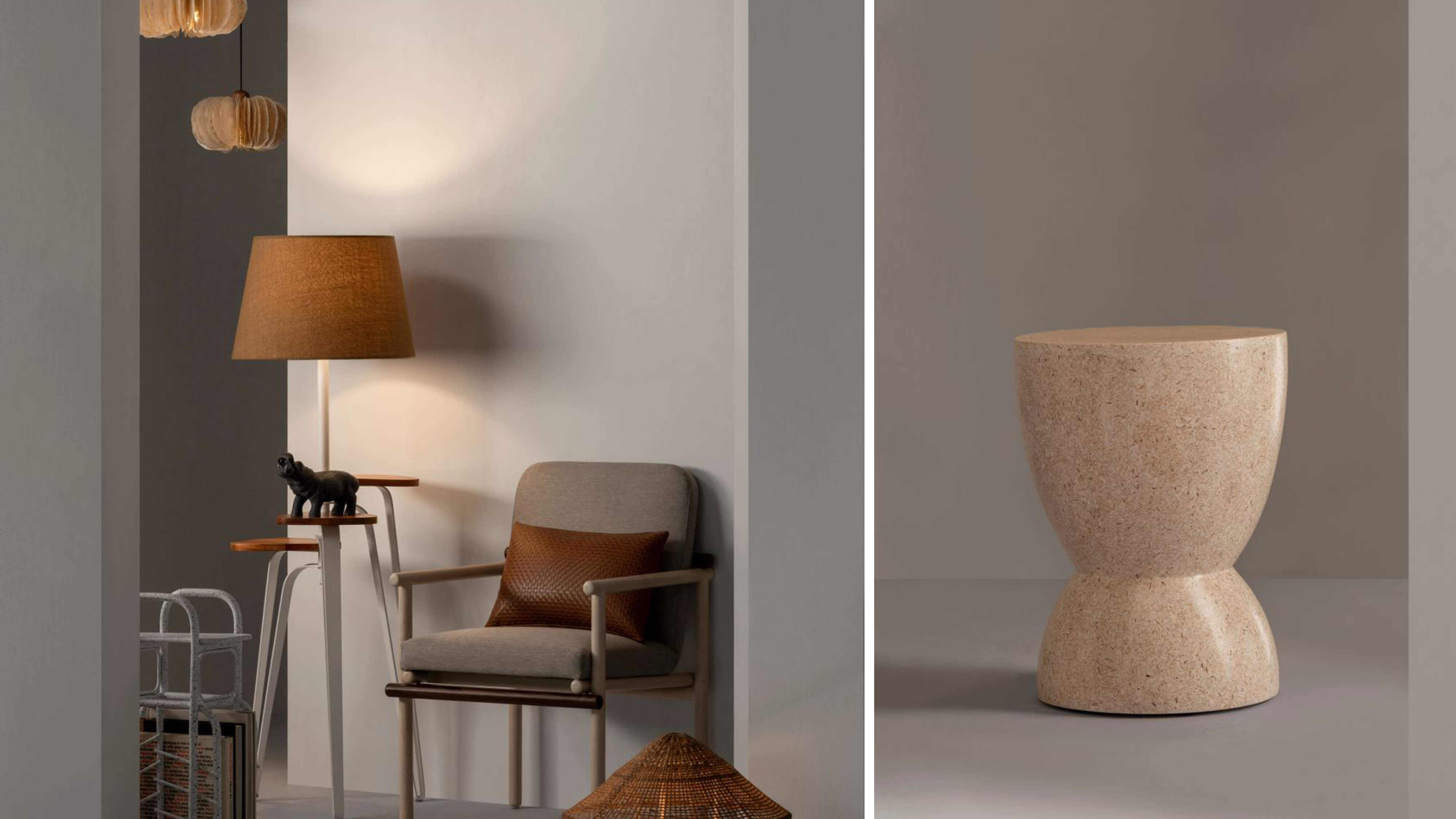 Vito Selma's Sassa Lamp series (left) and Do Re Mi stools

HACIENDA CRAFTS
Situated in Hacienda Santa Rosalia, Manapla, in Negros Occidental, Hacienda Crafts Company, Inc. was founded in the early '90s to provide alternative livelihood opportunities for sugar farm workers. Gaston shares how the company ensures to employ in their processes sustainable practices, the use of indigenous natural materials, as well as preserving the communities' traditions and skills passed on through generations. Materials such as buri midrib, coconut twigs, arurog vine, and abaca are harvested by hand, gathered and sorted then transformed into products. These are made mostly by women weavers who are able to work from their homes, providing a second income for their family.
"Stories about rural life on the farm, flora and fauna, and Philippine culture and traditions inspire our works. It is the lifestyle of slower days and value for time, comfort in 'family' connections, and the energy of nature that we hope to share with our customers," Gaston says. "Our design aesthetic is contemporary and timeless. Nature is our inspiration and it provides a boundless source of creativity."
Layag Pendant Lamp, for instance, tells the story of the men and women fisherfolk from the villages of Manapla who learn to weave fishnets at an early age, taught by their elders. "Concentric rattan rings, bound together with cotton cord, remind us of the relationships we must foster and the care we must give to people and Mother Earth."
The Hazel Tube Pendant Lamp is named after Hazel, the wife of Danilo, one of Hacienda Crafts' key artisans. After working in the fields, Danilo weaves bamboo baskets into the intricate patterns he is most adept at. "We honor the work of the artisans through the products we make."
The main component of the lamp—bamboo splits woven together—is made by upland farmers, who've also learned the craft from generations before them. It is hemmed with the t'nalak fabric, handwoven by the T'boli tribe of South Cotabato. "Through this design, we share our heritage and culture with the world."
"Skill of movement is what creates beautiful calligraphy and tracing this flow is what inspired the wispy, criss-crossing weave style of the Calligraphy Hanging Lamp made from buri midribs," shares Gaston. "The Calligraphy 1.0 Pendant Lamp evokes the origin of the ink, a full bottle of possibilities, in black-finished buri."
She explains that at the hacienda, the north and south winds blow through the fields in different directions depending on the time of the year, and this occurrence is captured in the buri brush strokes, "telling the collective stories that make us our community."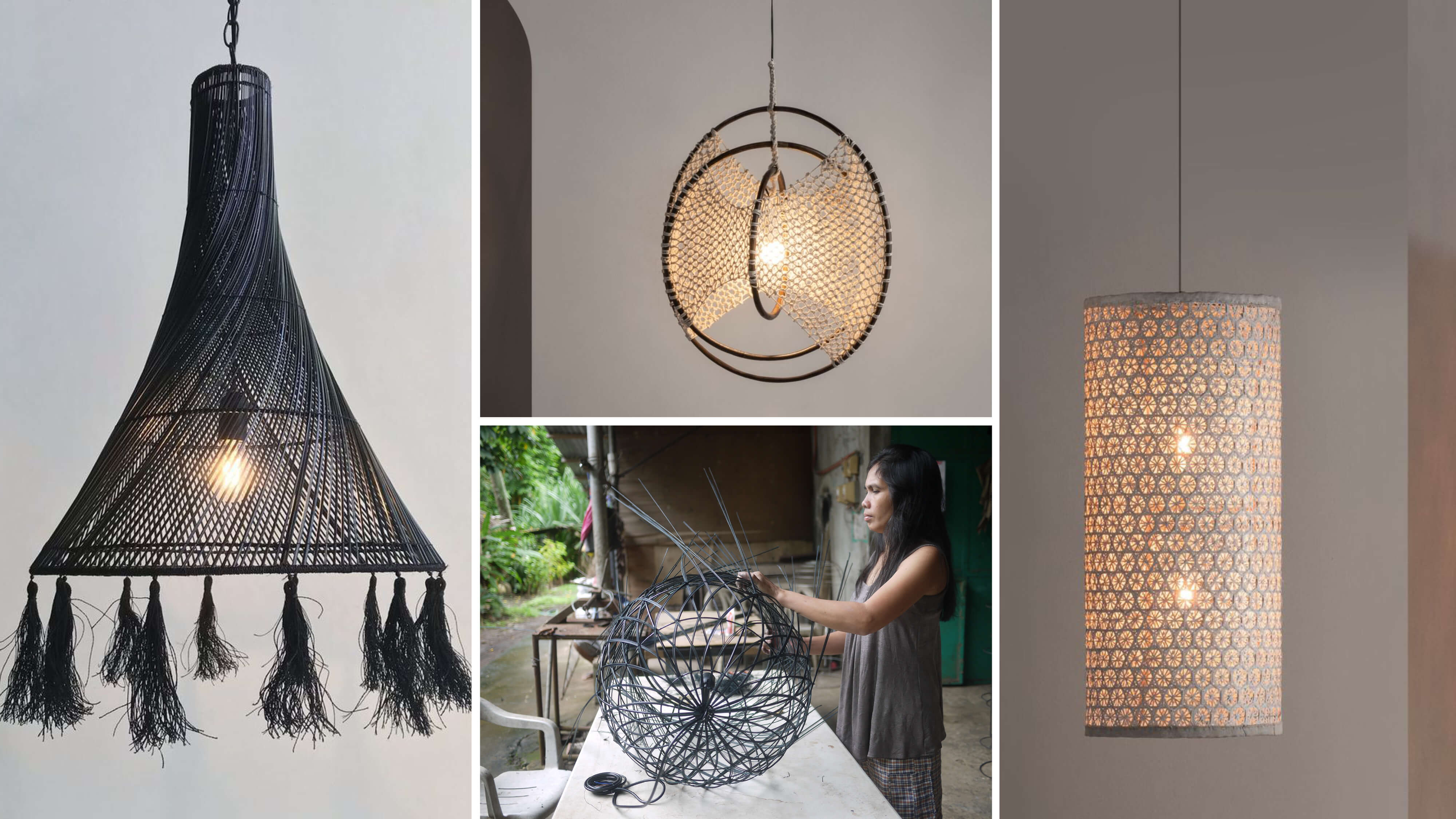 Calligraphy Hanging Lamp (left), Layag Pendant Lamp (center), and Hazel Tube Pendant Lamp (rightmost) by Hacienda Crafts

TRIBOA BAY
Inspired by the paradise cove in Zambales and by the Vienna Chair by Michael Thonet, Triboa Bay Living was crafted as a lifestyle brand synonymous to sophisticated simplicity, calm, and relaxation. Triboa Bay's primary material, wood, at times counterpointed with steel components, is crafted into furniture, lighting, and objects designed by their in-house design team. Classical influences are married with a pared-down contemporary sensibility which gives birth to transitional pieces that bear a casual, laid-back sophistication—a true Triboa Bay Living signature.
Included in the Design Philippines collective at MOM are key pieces from their The New Solace Collection. This is Triboa Bay's response to the new way in which we've regarded our homes in the past months: "We now give as much importance to living and breathing spaces as we do to our home offices and working corners. With this in mind, pieces were designed with organic forms and cocooning features that give a feeling of being connected to the outdoors, yet cocooned with the safety of the indoors."
The Folded Linens Cabinet employs a hatching technique that mimics graceful curves as seen in folded linens. The Ilya Chandelier is made of thin strips of white Ashwood dangled on a metal 'figure eight,' giving an interesting play of light as it passes through the slats.
Made for lounging, the Sienna Accent Chair has a padded seat cushion in genuine leather or fabric, wide and flat armrests, and a curved back angled at a gentle recline. The Demir Coffee Table is a simple statement piece that evokes warmth through a blend of metal and wood. The Calista Desk and Bedside Table maintains a traditional look with an all-wood construction, timeless finish, and slender legs.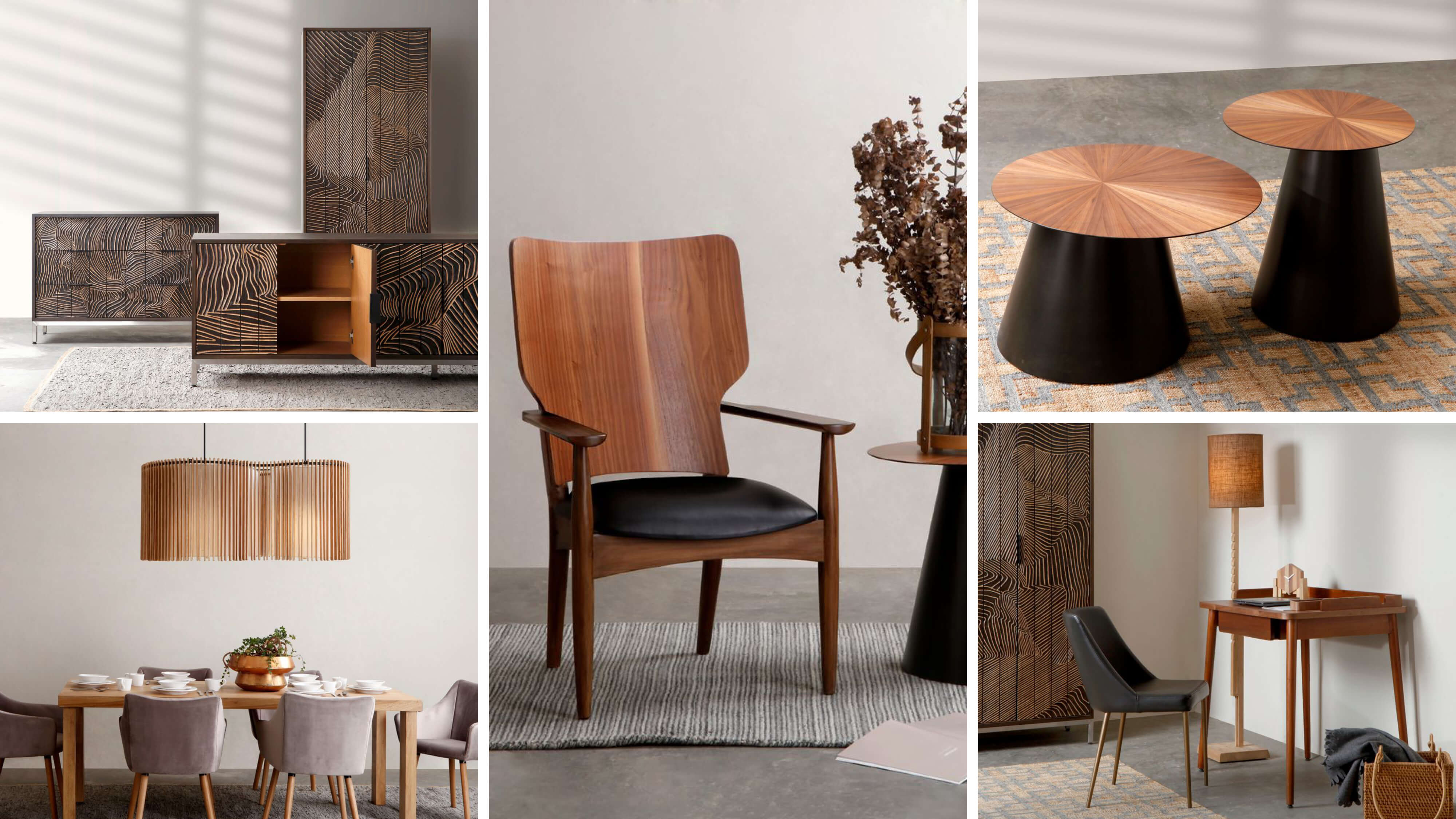 Folded Linens Cabinet and Sideboards, Ilya Chandelier, Sienna Accent Chair, Demir Coffee Table, Calista Desk and Bedside Table by Triboa Bay
A. GARCIA
"We started as small-scale outdoor furniture makers with a focus on the craftsmanship of the people within our locality," says Garcia. As for their main materials, they make use of a variety of sustainable and eco-friendly options such as polyethylene (PE) plastic, polyolefin rope, teak, and oakwood. Located in Santo Tomas, Pampanga, A. Garcia creates outdoor and indoor furniture that promote the dedication and craftsmanship of the Kapampangans.
Featured on Design Philippines are their Aluminum Collection, the Wire (Steel) Collection, and their most recent offering, the Rope Collection, all featuring aesthetically creative furniture for indoor and outdoor use. The first collection explores the use of powder coated aluminum as the main material, handcrafted by local artisans, from framing, to the wire patterns, to the finishing. Products are lightweight and made for small spaces. The next collection is likewise handcrafted throughout the entire process, this time, with powder coated steel used as the primary material.
The latest collection, which is also A. Garcia's premium line, centers on the use of polyolefin ropes. "The concept was to use this modern material with traditional weaving techniques and develop products that can be used indoors and outdoors," explains Garcia. "Polyolefin (Italian) rope is used instead of plastic, which gives a more high-end look for every piece. This material is durable, heat resistant, fast drying and can withstand outdoor elements."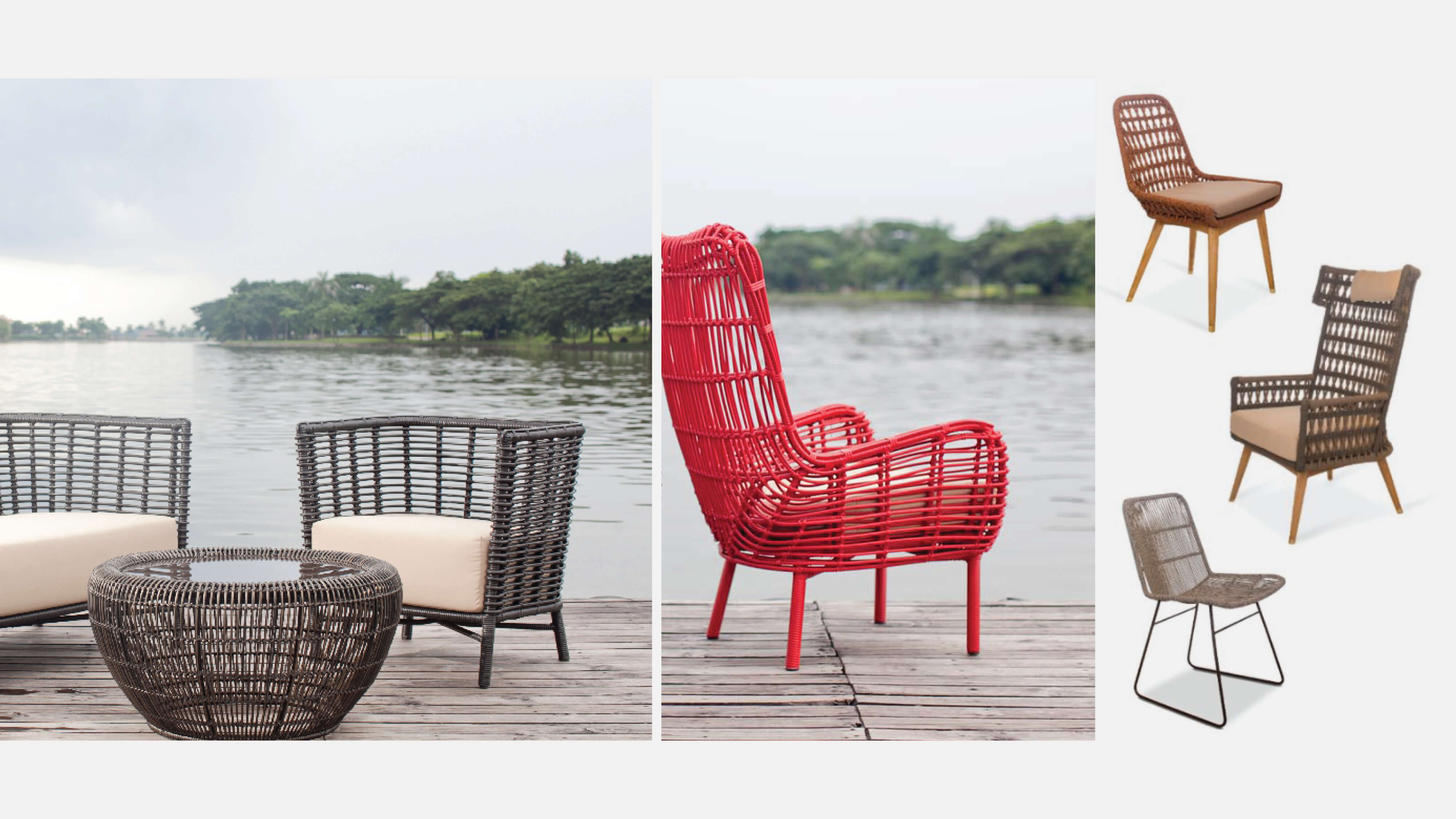 Furniture for indoor and outdoor use from A. Garcia's Rope and Aluminum collections

OMO FURNITURE
Starting out as an interior designer, Milo Naval, owner and designer for Omo Furniture decided to create his own pieces. He joined the Manila FAME trade shows and became part of the Movement Eight, a group of designers and manufacturers whose prime purpose was to promote and sell Philippine furniture and designs to the global market. "It was so successful that in every show we go to, be it in Spain or America, we get many buyers," Naval reveals.
Based in Biñan Laguna, Omo Furniture focuses on local and indigenous materials with a touch of mixed media. Naval shares, "I combine wood, metal, and glass. As for our aesthetic, our dominant style is Asian, which is how I represent myself in foreign shows." Philippine craftsmanship and materials are at the core of Omo Furniture's designs, and this is what the brand wants to continue to highlight in their dedicated collection for the Design Philippines Collective at MOM.
Naval's Araw Chair is an easy chair that can double as a dining or a lounge chair, with a metal frame and a woven body made of rattan. The Capiz Lamps are chic, decorative fixtures that can brighten up any space, based on a concept that intends to mimic the pages of a book, and one of a flower.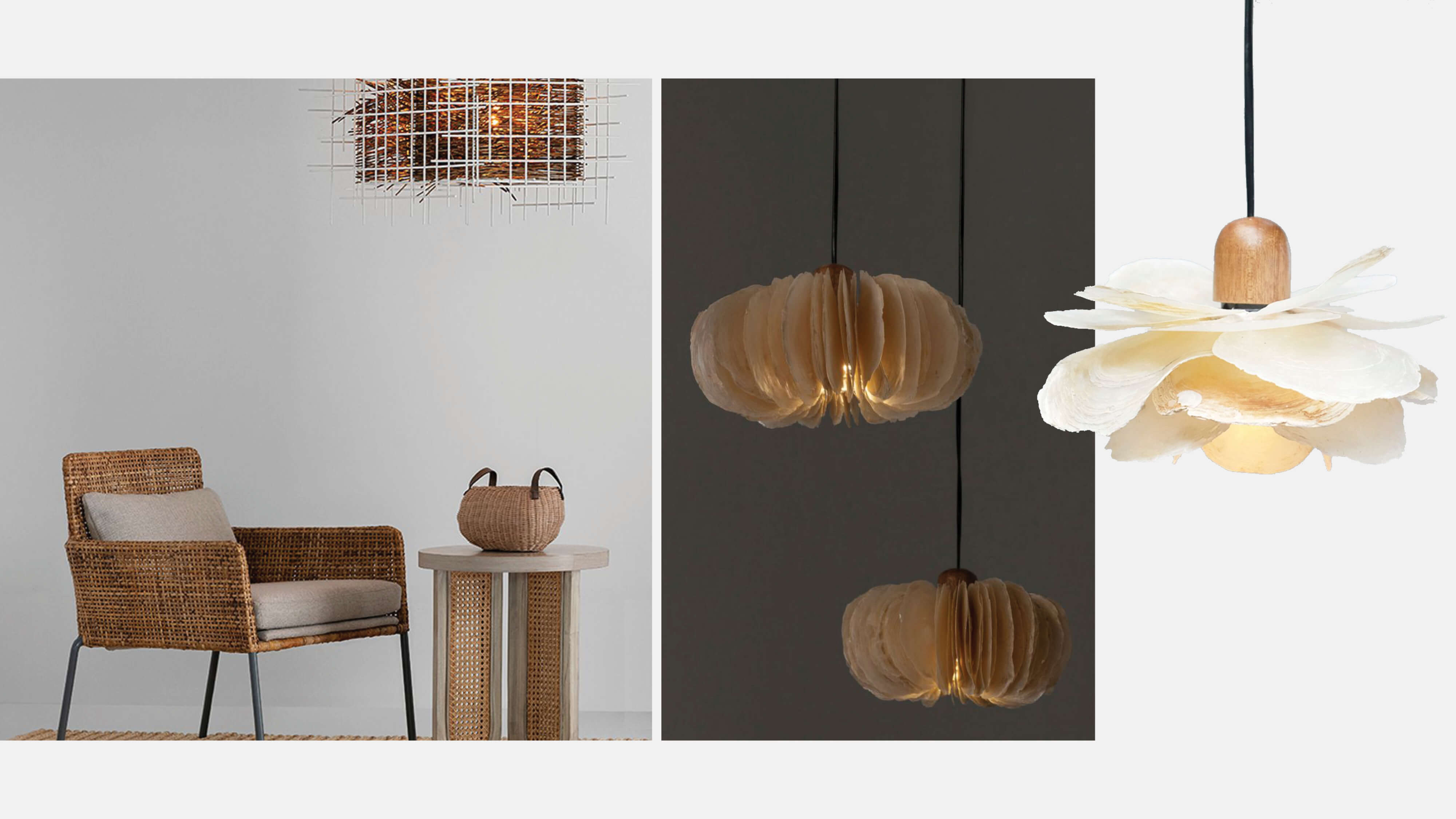 The Araw Chair (left) and Capiz Lamps by Omo Furniture

Director: Kit Singson
Video Producers: Luke Miraflor and Victor Elijah Gador
Shooting Assistant: Bryce Dela Cruz
HMUA: Don De Jesus
Video Editor: Cary Ganado
Production Manager: Sheryl Anne Abrera
Special Thanks: A. Garcia LRI Design Plaza
Photography: CoStudio