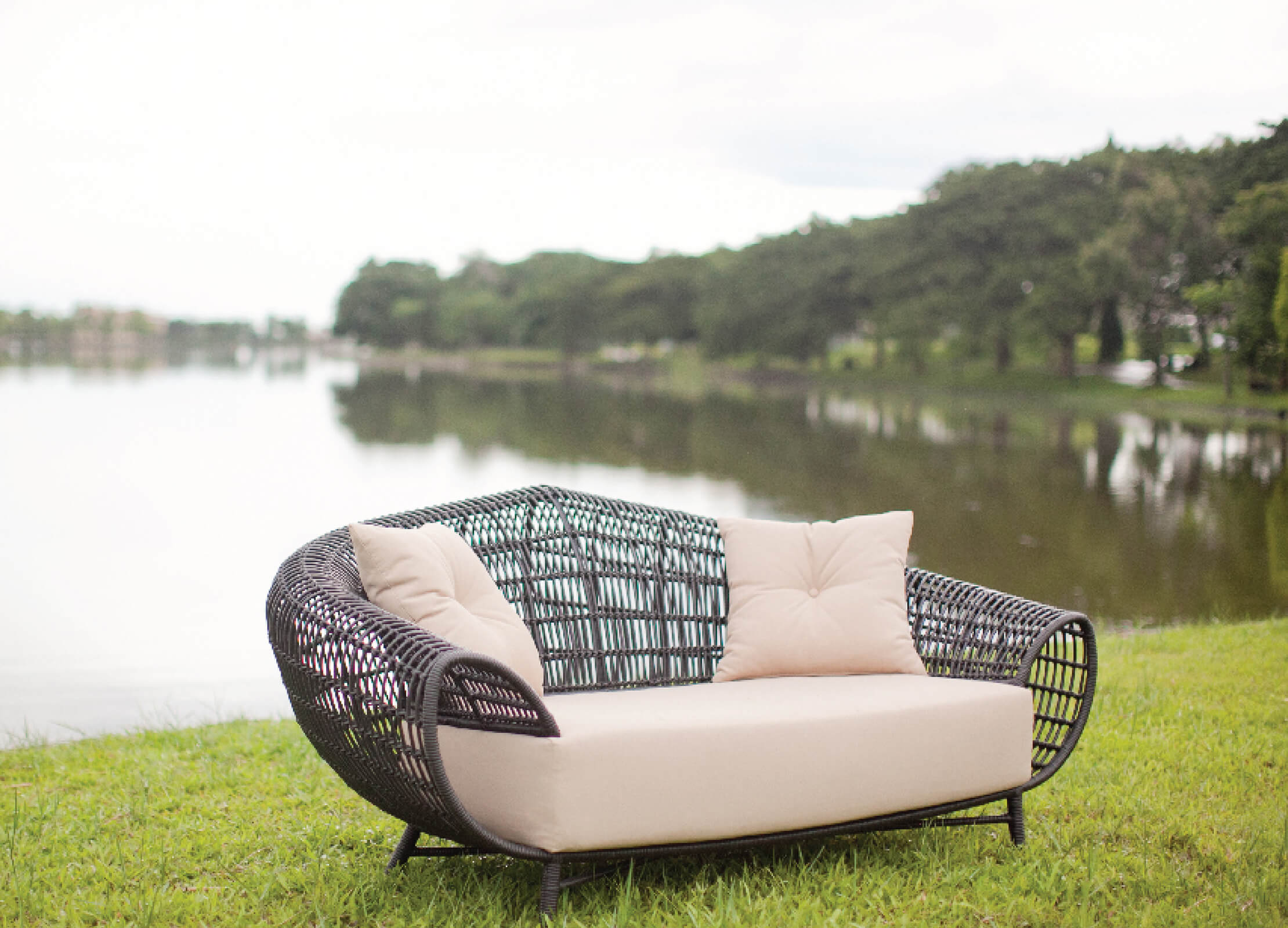 Learning the Ropes of a New Wonder Material
A weatherproof material that can withstand the elements, A. Garcia Crafts' polyolefin rope elevates both outdoor and indoor living spaces with its form, function, and flair
by Danna Peña
An expert in juxtaposing traditional and modern elements, A. Garcia Crafts has been manufacturing and exporting residential and contract furniture since 1995. "We started as small-scale outdoor furniture makers with a focus on the craftsmanship of the people within our locality," marketing director Andy Garcia shares. Based in their factory in Santo Tomas, Pampanga with 50 employees, the furniture and furnishings brand showcases works of highly skilled Kapampangan artisans with decades of experience in their craft.
"Our designs mainly focus on the classic contemporary," Garcia says. "Through our creative director and skilled craftsmen, we can develop a simple metal rod, wood, and ropes with our signature silhouette that's unique from the rest." Through this, A. Garcia Crafts yields a fresh, interesting, and creative approach to modern luxury living.
A. Garcia's keen eye for iconic designs and drive for continuous product innovation led to the making of the brand's famed Pamela Wire Chair, a stackable outdoor chair made of powder coated steel. The piece comes from A. Garcia Crafts' earlier collections developed with design director Dem Bitantes, and was first released in 2006. "It remains one of our most recognizable products to date."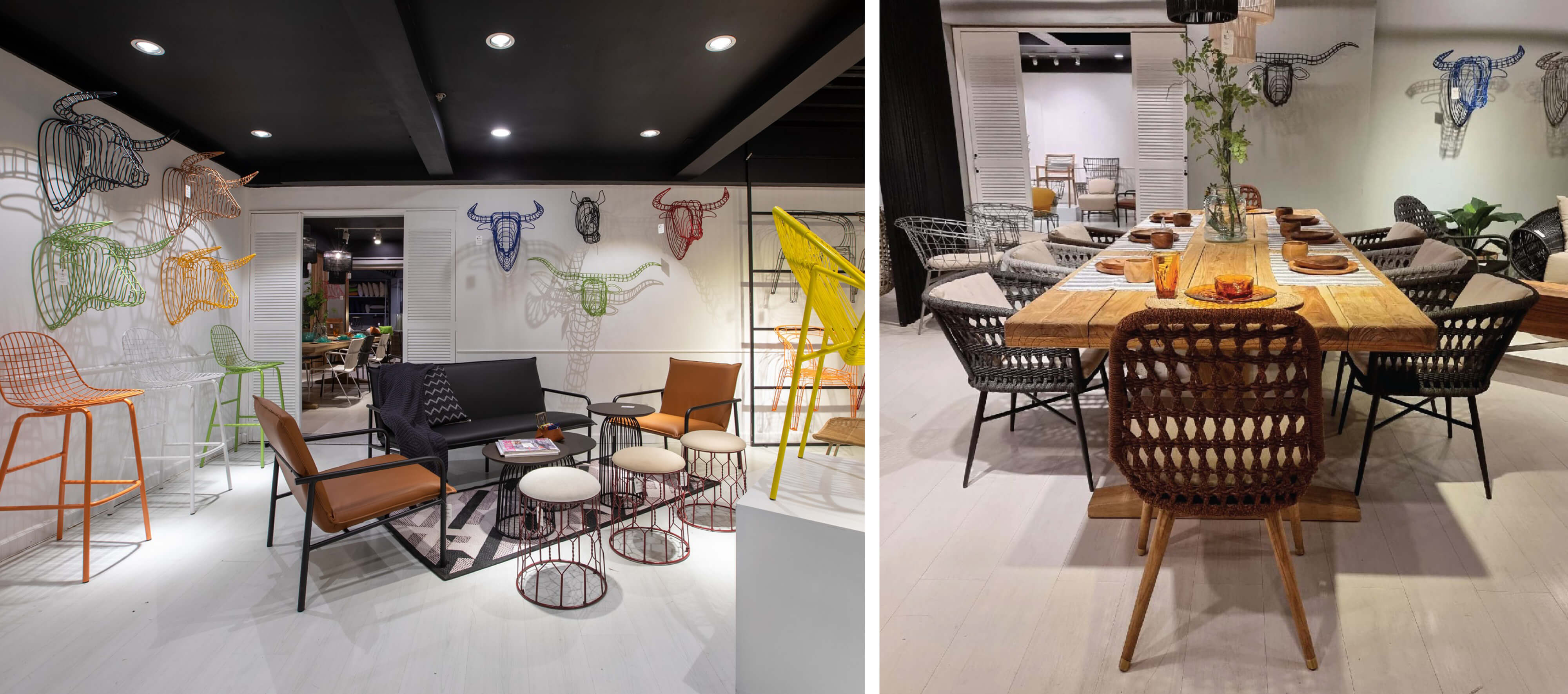 A. Garcia Crafts offers a vast range of colors, shapes, and materials in their collections, combining timeless silhouettes with modern and eclectic twists that are perfect for those seeking an updated look in their homes while still retaining a connection to the past

The proudly Filipino brand also highlights sustainable and eco-friendly materials in their product line, as well as highly durable and versatile materials that can stand the test of time. These can range from rattan and polyethylene plastic to stainless steel, to high-grade wood like oak, mahogany, acacia, and teak, as well as marble and powder-coated mild steel and aluminum. The result is an impressive mix of furniture pieces that promise durability, style, and function.
"In order for us to produce quality and sustainable products, we always try to source the best raw materials. We do not look for the cheapest materials available," points out Garcia. "We rely on this with our suppliers, we trust them by sourcing sustainable raw materials that have a less harmful impact on our environment."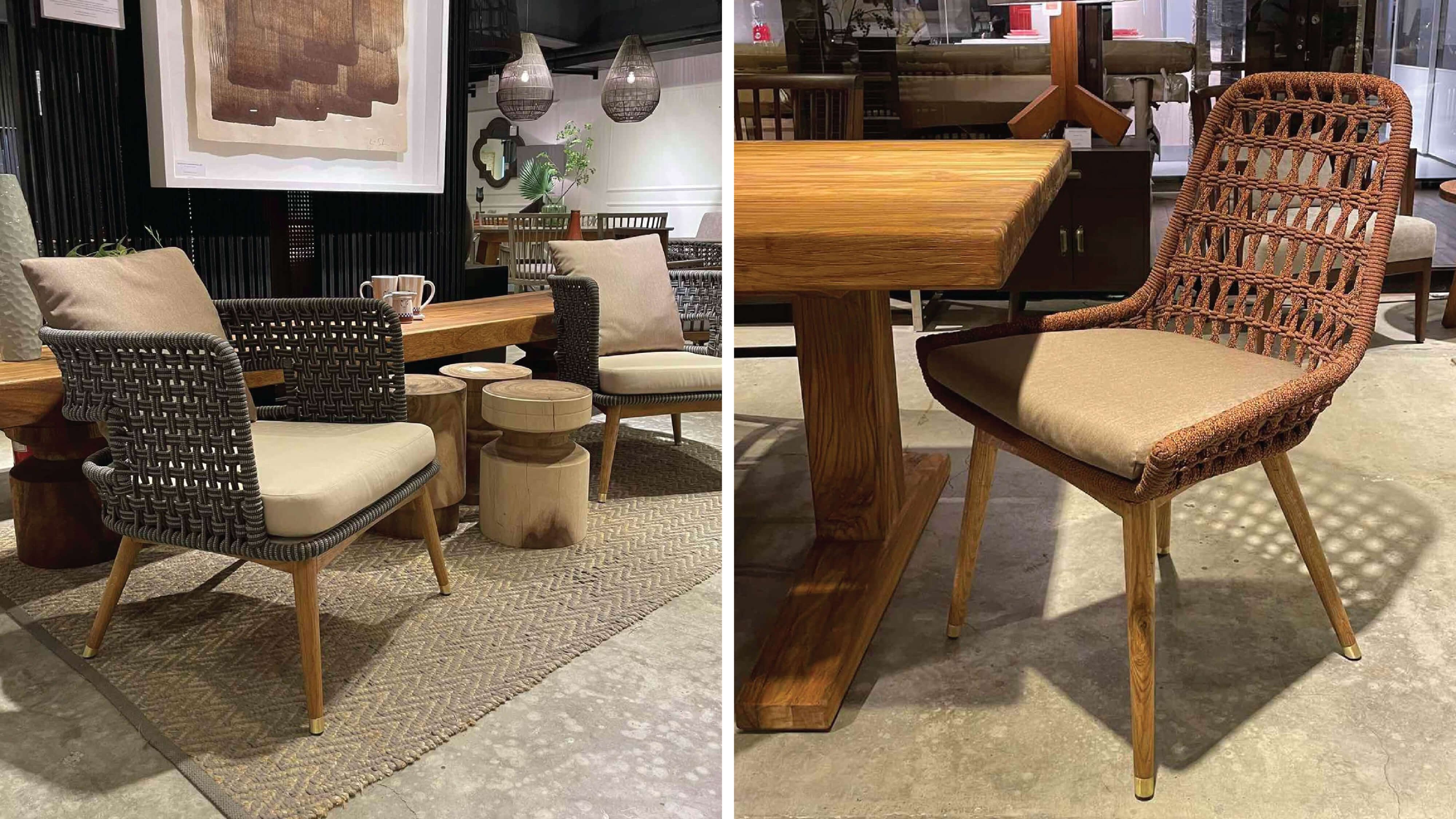 The Tycen Lounge Chair with pebble rope and natural oak wood finish (left) and the Jagger Dining Chair with terracotta rope and natural oak wood (right) feature a modern contemporary look, showcasing a relaxed yet sophisticated aesthetic with its organic nature

POLYOLEFIN ROPE
"Our product development starts by identifying the raw materials we will use together with a design concept in mind," begins Garcia. A. Garcia Crafts has recently introduced its Rope Collection, a beautiful selection of outdoor and indoor furniture with polyolefin rope as its key element.
"It is a special rope made from polyolefin," he explains. "This material has been in the market for several years but is still fairly new to the local market. We had a chance encounter with a group of suppliers years ago, from there we had a concept in mind and decided to introduce it to our new collection."
A lightweight and durable fiber featuring high-insulation characteristics, polyolefin is produced from natural polyolefin resins and is one of the most versatile materials used today. While the polyolefin rope is highly durable and resistant to stains, static, sunlight, odor, and rot, the wonder material is known to be lightweight—a quality that makes its use prevalent in various industries. It is due to these characteristics that polyolefin ropes are popularly used in fishing, where they can be regularly soaked and exposed to harsh weather conditions.
Likewise, polyolefin ropes are also a common material in high-performance activewear and apparel for backpacking, canoeing, and mountain climbing, as well as in furniture, upholstery, indoor and outdoor carpets, and carpet backing.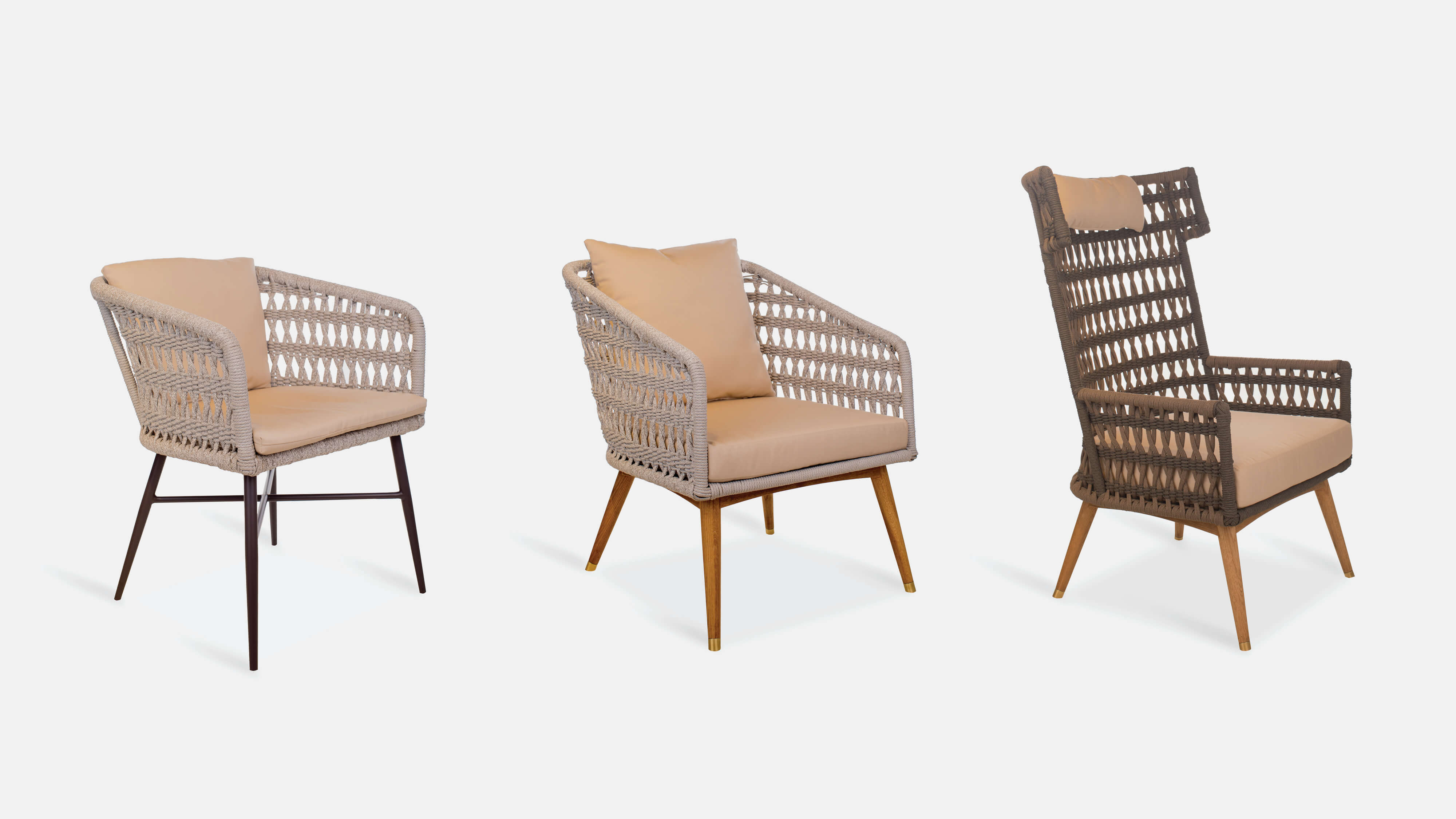 (From left) The Umbria Dining Chair with aluminium and salt rope, the Umbria Lounge Chair with oak legs and salt rope, and the Umbria Wing Chair with oak legs and charcoal and pepper rope. With the use of polyolefin rope, these chairs are able to withstand outdoor elements and are suitable for both indoor and outdoor use

A. Garcia Crafts, meanwhile, opted to use the wonder material in crafting sturdy, long-lasting, and stylish furniture pieces. "As this is a new material for us, there were a lot of challenges during the product development stage," Garcia says. "We had to rethink how we can manipulate this material with the given skill set of our weavers."
While the incorporation of a new material didn't come without challenges, the team's passion, perseverance, and commitment to designing high-quality furniture pieces pulled through. The result can be seen in A. Garcia's Rope Collection, which features several chairs made for days lounging in style, whether indoors or outdoors. The polyolefin rope chairs are made in variants of terracotta, salt, and charcoal, all exuding a special kind of warmth that's reminiscent of the natural environment.
"We are eager to understand the other uses we can produce with it," adds Garcia, looking forward to exploring the possibilities with polyolefin rope in future collections.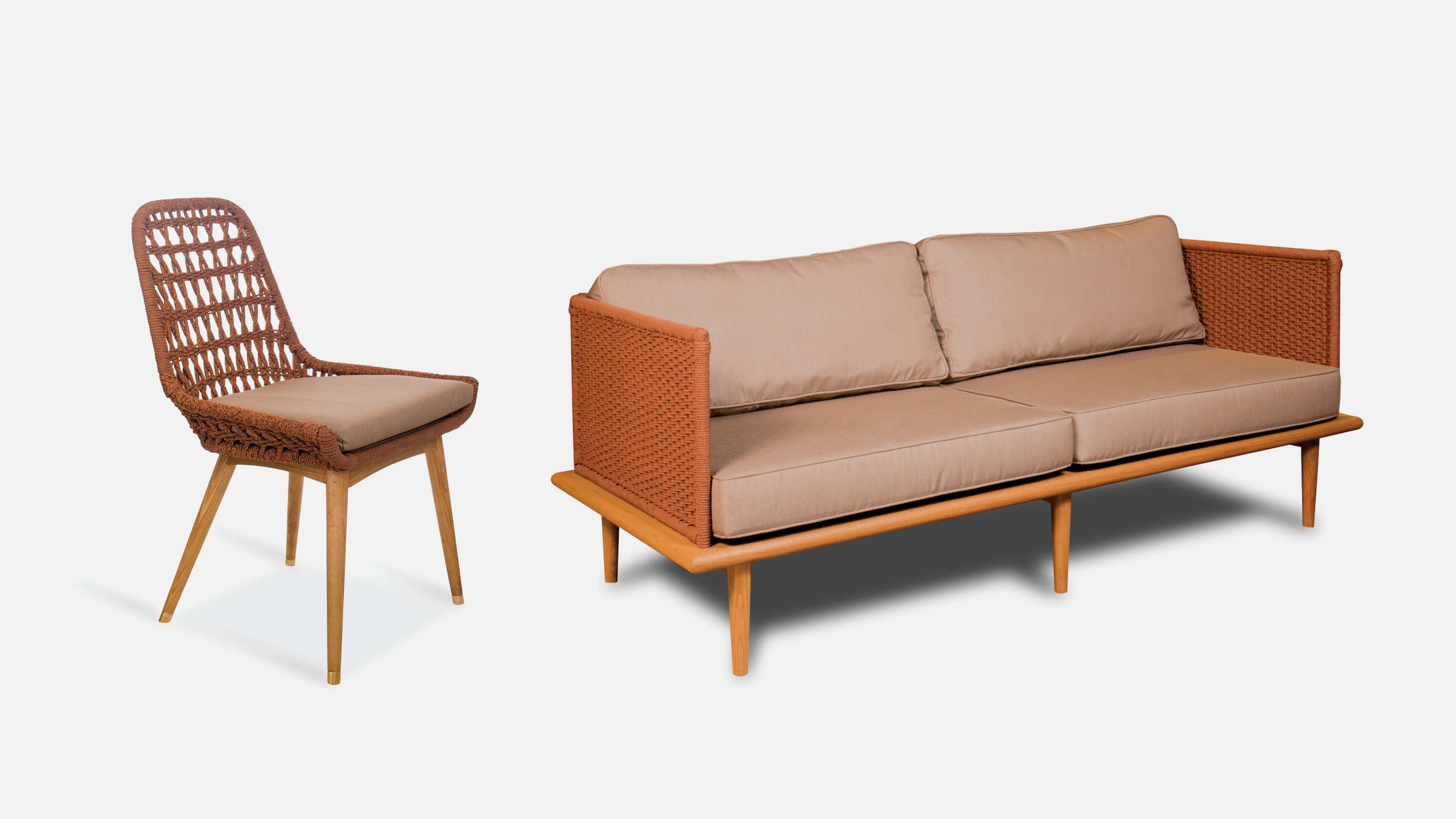 The Jagger Dining Chair with oak legs and terracotta rope (left) and the Bologna Settee with oak legs and terracotta rope (right) are impeccably crafted by seasoned Kapampangan artisans with decades' worth of experience up their sleeves

Exporting to the United States, Europe, Africa, and Asia, the brand has cemented its reputation of good design, superior quality, and competitive pricing. Currently, the ratio of the business in terms of volume or quantity is at 70% for export and 30% for the local market.
More than 20 years in the business, A. Garcia Crafts continues to innovate with the times, anchored on the craft and the passion that drives them: "We love the process and making things simple."
One look at A. Garcia Crafts' catalogue and it's easy to see how its creations stand out from the rest—pops of color, geometric silhouettes, and ingenious designs of woven and upholstered pieces have become signature styles of the brand.
Their wide range of indoor and outdoor furniture, primarily made of natural materials, is laid-back yet effortlessly sophisticated and exudes warmth and coziness, adding to an inviting atmosphere. Whether housed in a living room or a dining room, or set in a sunny lanai or garden, their handcrafted furniture pieces exhibit style and utility in all kinds of spaces.

Photos courtesy of A. Garcia Crafts