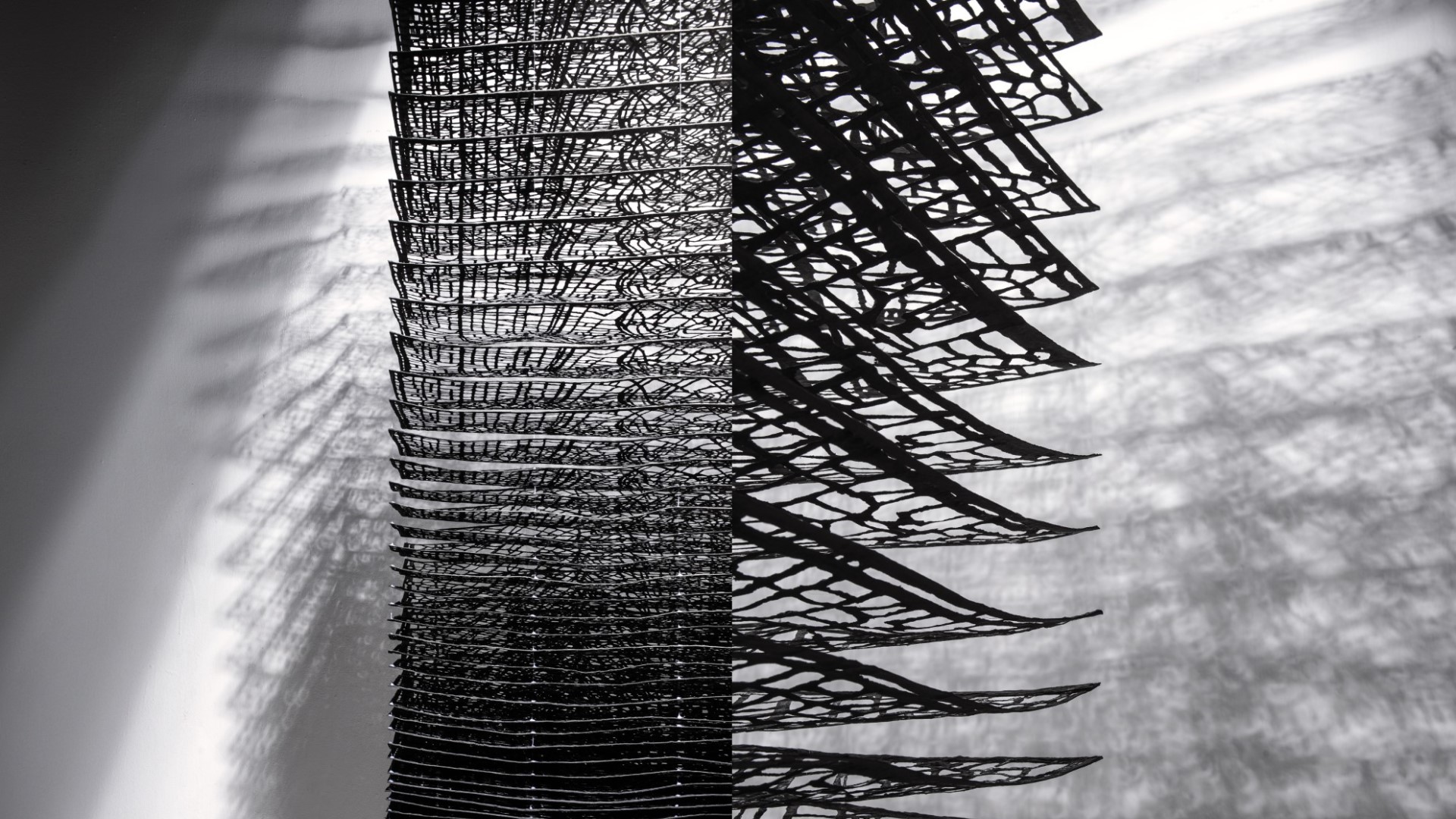 Squeezing the Pulp: New Forms of Paper
From lamps and bowls to packaging and speakers, paper has transcended its traditional purpose into fully sustainable designs
The usual notion that recycled or upcycled paper can only be used again for paper is quite outdated. Paper itself, which has been around for millennia, deserves a second look.
The material has since been developed into recycled paper pulp, which gives the end design a pottery-like finish, or created from indigenous fibers and all-natural byproducts. And more than just for producing wallpaper, or traditional writing or printing sheets, designers and manufacturers have pushed the sustainable envelope by creating unexpected accessories and forms out of it.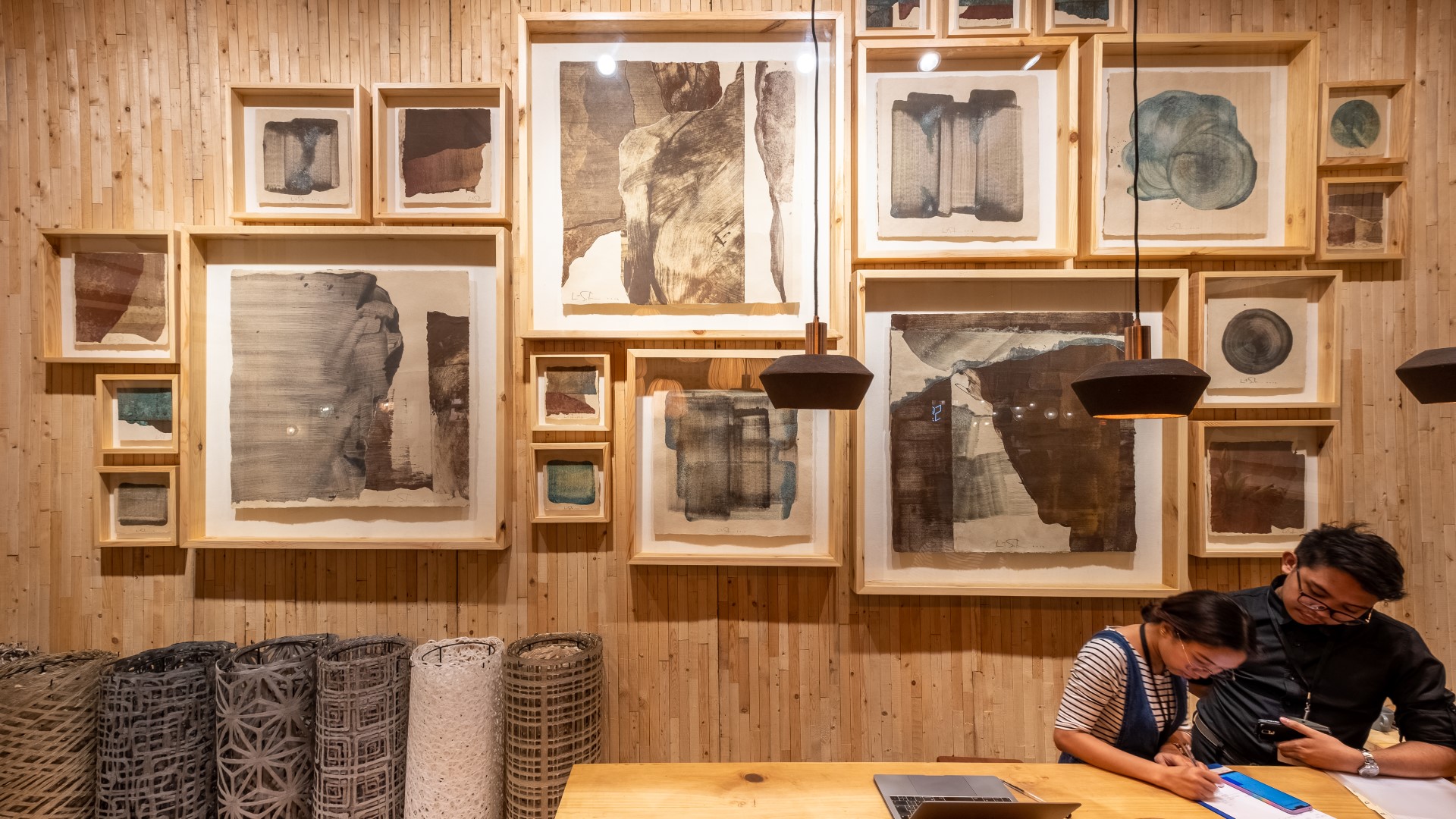 Founded in 2002 and propelled into its future by designer Wataru Sakuma, who went on to create sustainable designs by himself and by collaborating with other industrial designers and artists. Here, we can see Sakuma's artwork on salago paper.
Masaeco is a name that immediately comes to mind when talking about paper. "[Our market] is now mostly international export, which they use for home accessories, and lighting," says Sakuma. "Our main products are wallpaper…we have very good wallpaper companies in Europe and the US, [and we] exclusive design each client's wallpaper."
Sakuma, who started out as Masaeco's designer in 2004, not only creates his own designs for the paper brand, but also collaborates with other designers such as Jinggoy Buensuceso, Liliana Manahan, Nelson Sepulveda, and Stanley Ruiz.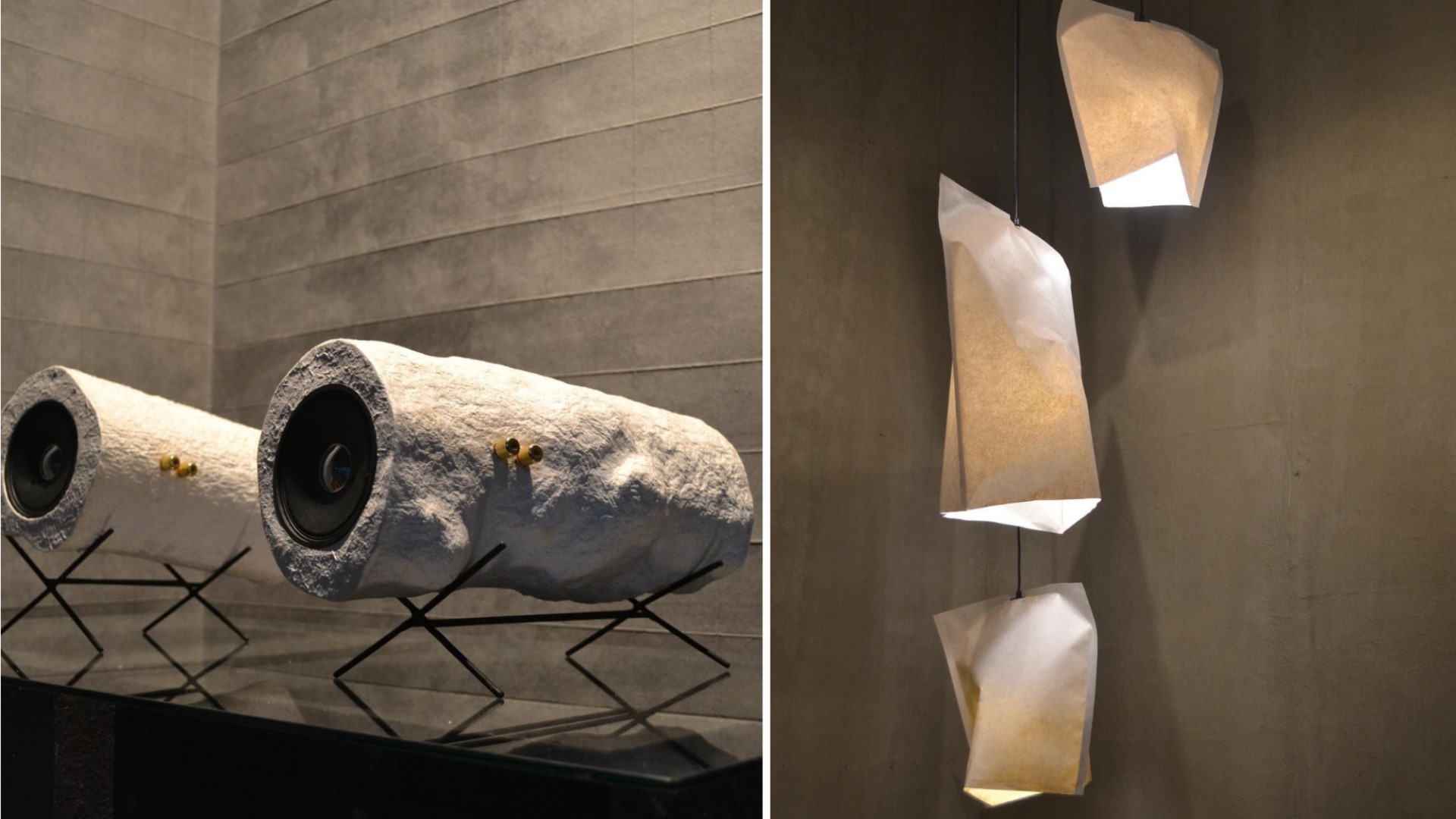 Pushing paper's design boundaries. Industrial designer creates lightweight "paper speakers" out of abaca and salago pulp (left), while Paris-based designer Nelson Sepulveda looks to everyday tea bags as inspiration for his Paper Bag Collection of lights (right); both for Masaeco.
Aside from the sustainable materials such as the indigenous fibers and recycled paper pulp, what makes Masaeco stand out are its stark, modern-minimalist designs derived from natural or urban inspirations. In last year's ITIM exhibit curated by Gabriel Lichauco and Rita Nazareno, they featured Sakuma's map series, where each street is represented in its intricate web. And then Stanley Ruiz created his Symbiosis series of paper-clad speakers. Ruiz married his love for audio and industrial design to create lightweight, sculptural speakers made out of abaca pulp and salago for a raw, rock-like finish.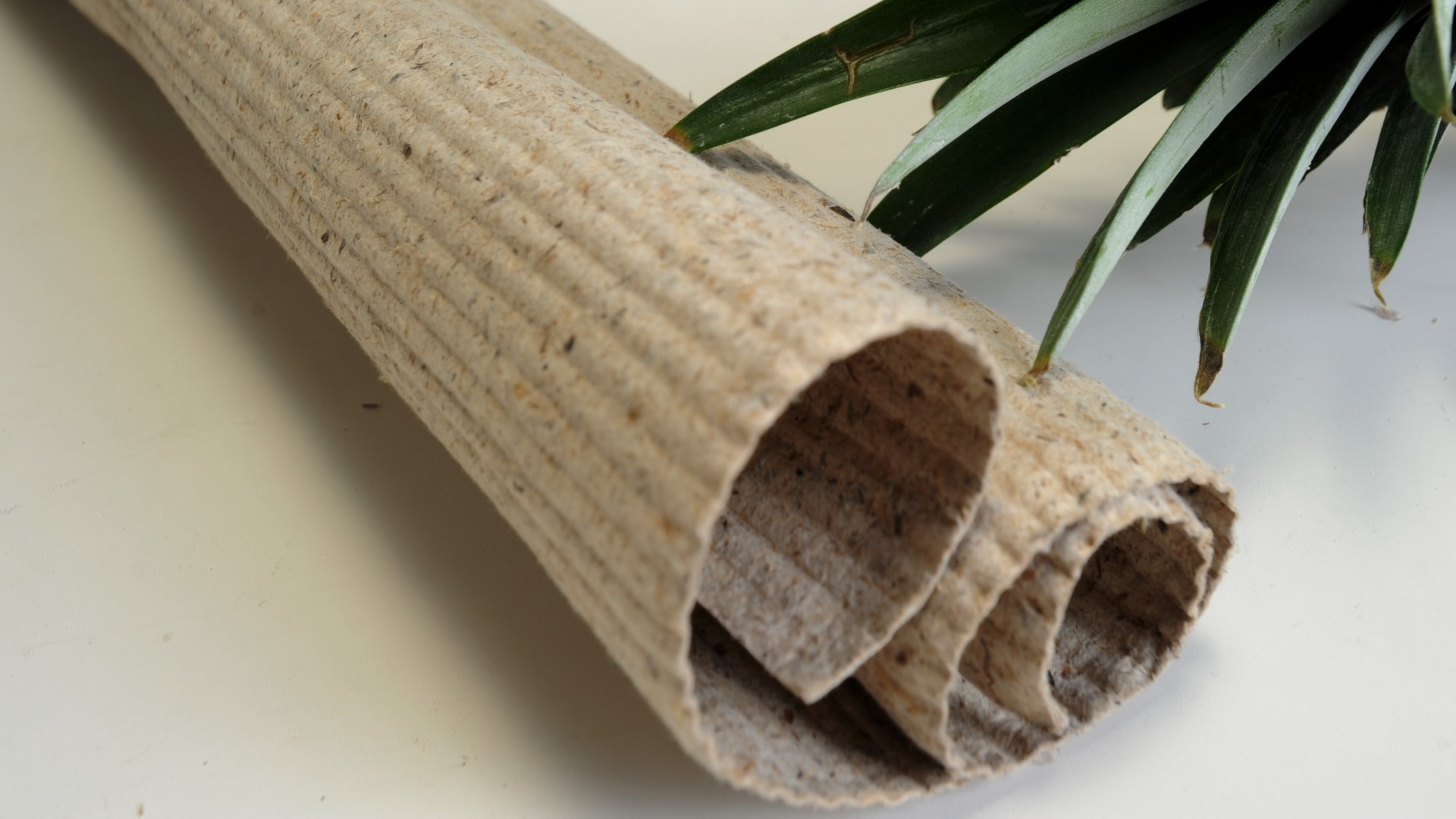 Pinyapel, made out of the waste of discarded pineapple leaves, paved the way for sustainable paper material and packaging products in 2019, when it won the D&AD Future Impact award.
According to Andrew Dent of Material Connexion in his talk last December 2020 for the Design Center of the Philippines (DCP), one of the best examples of a fully sustainable, biodegradable material that can be used for packaging was the Pinyapel, a specialty paper made out of the waste of discarded pineapple leaves. Reinforcing solutions are used to improve the mechanical properties of the paper, and is then used for cardboard and packaging applications.
CDO Handmade Paper (now known as INDIGENOUS) handled the processing of Pinyapel, while Ideatechs manufactured the packaging. "This project was a collaboration with the Design Center of the Philippines," says CDO's Lolita Cabanlet. "These pineapple leaves, they were totally recyclable—all-natural. The pineapple growers where the leaves come from will go to us, and then we'd process these at our paper factory."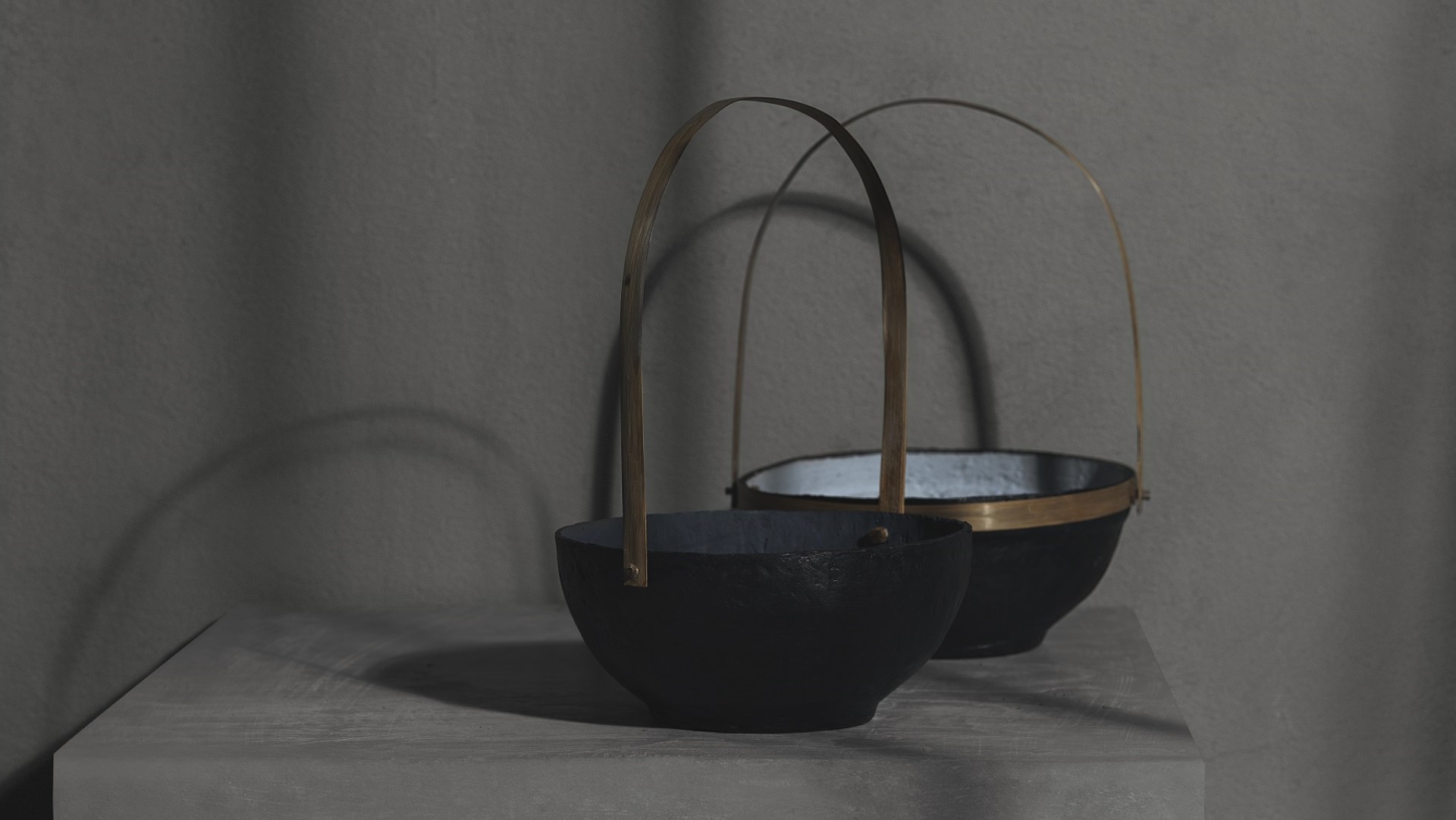 Paper Clay Bowl by Indigenous featured heavily in Maison et Objet Digital Show. All sustainable materials at play here: abaca and cogon grass pulp, finished off with a sleek bamboo handle.
Paper Clay is another sustainable material that grew from the factory of INDIGENOUS (formerly CDO Handmade Paper) and went on to be exhibited at Maison et Objet. Their Paper Clay vases and bowls, made out of abaca, cogon grass pulp, and natural adhesives, have a stoneware or cement-like quality to its surface that can be painted in different earthy tones or various finishes.
Masaeco Booth photo by Michael Angelo Chua. Other images from the brands.