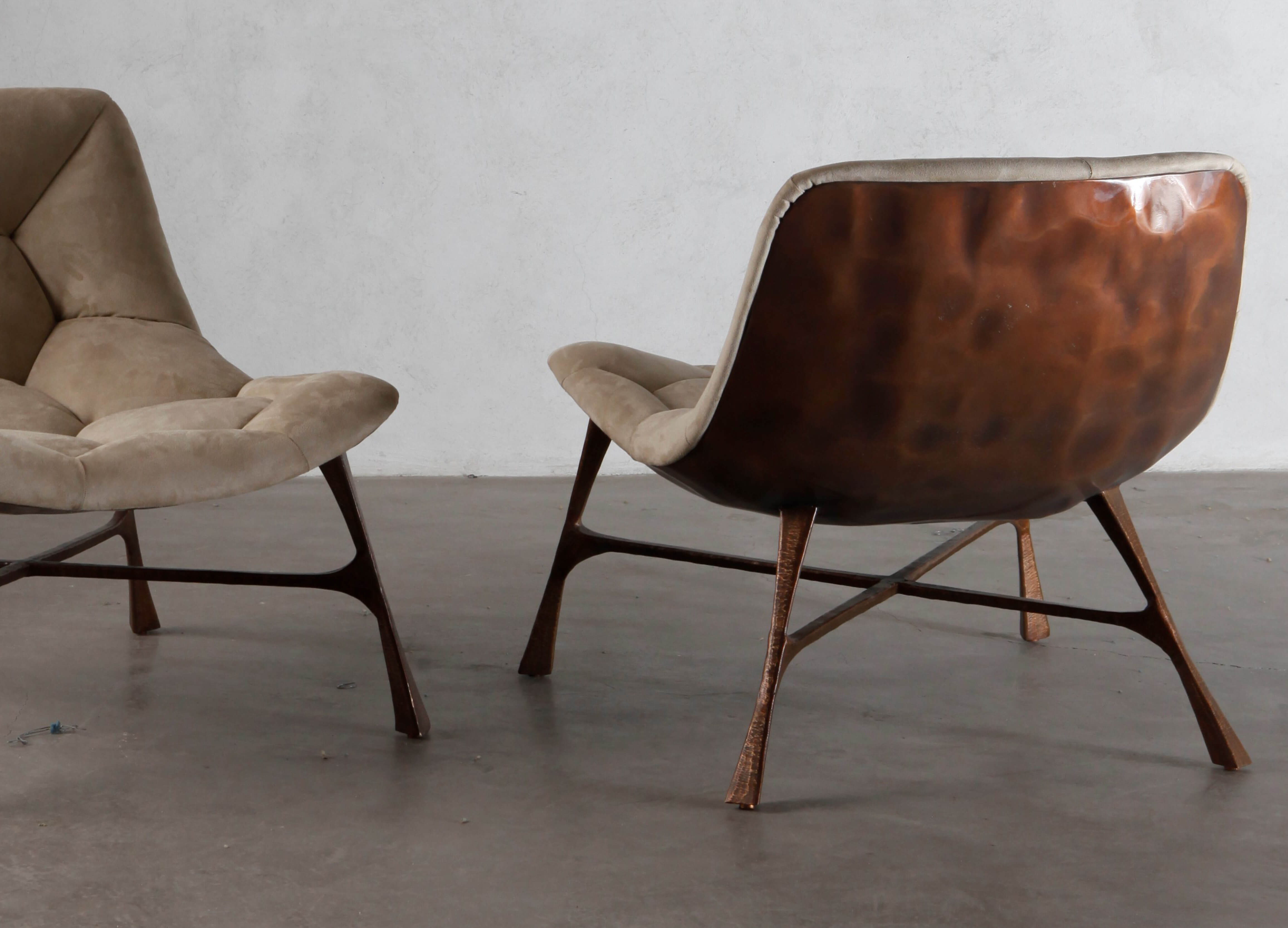 They Dream in Metal
These Philippine furniture and décor brands transform cold, hard, and heavy metal into warm, sensual, and uplifting art
by Cheekie Albay

A grasshopper perched on an invisible leaf. A supernova explosion frozen in time. A taho vendor standing tall even as he balances two heavy buckets on a long pole on one shoulder. Imagine these scenes immortalized in metal—in colors that pop with life, in finishes that glimmer with nostalgia, in polishes that shimmer and catch light.
While wood and plant materials reign supreme in the Filipino furniture and décor space, some local brands challenge the status quo by using metal as their primary material. Among them are Arden Classic, a Cebu-based manufacturer well-known for their lifelike brass decorations modeled after natural elements, whimsical scenes, and mythical creatures; Industria Edition, a company that has garnered acclaim for turning mild steel into sophisticated statement pieces in furniture, lighting, and decor; and Prado Filipino Artisans, recognized for their intricate, large-scale décor, lighting, and furniture pieces handcrafted from metal wires and sheets.
The fascinating works of these three brands just go to show how far metal can go, once in the hands of a gifted artist and a skillful artisan.


These pieces showcase the impressive artistry and technique local furniture and décor brands have drawn upon in working with metal: Arden Classic's The Call of Life; Prado Filipino Artisans' Grasshopper tabletop decor, as displayed in the Maison et Objet Digital Fair; and Industria Edition's Starburst Pendant Lights
THE MAGIC OF METAL
The creative minds behind all three brands agree: metal is priceless for its durability and malleability—durability brings strength, malleability gives endless possibilities.
Arden Siarot, president and chief designer of Arden Classic, appreciates that brass, his material of choice, is more malleable than gold or zinc. Furthermore, it looks like gold when polished, and can be electroplated with gold, nickel, or silver to produce a variety of sheens.
Working with brass has allowed Siarot to get creative by incorporating natural elements such as seashells, coconut shells, ostrich egg shells, animal and fish skins, stones, and other indigenous materials into his designs. Arden Classic's creations bear a signature look: ornate brass sculptures fused with iridescent shells or other organic materials—a showcase of both masterful metalwork and nature's magnificence.
For Prado Filipino Artisans, galvanized iron (GI) and black iron (BI) wire are their materials of choice because of their malleability. They sometimes combine wire with glass, mirror, wood, resin, indigenous fibers, fabric, or other natural and man-made materials to add interesting details to their metalcrafts.
"I chose to use metal as the primary material in creating our products because I find it very challenging, since it is hard and cold," explains Miguel Prado, Jr., president and CEO of Prado Filipino Artisans. "To make handcrafted products out of it and make them look warm, light, and airy but at the same time edgy, dreamy, appealing, and creative is quite a great challenge."
Industria Edition also uses predominantly metal in their products, with around 80% of the materials used being mild steel and the rest consisting of upholstery, wood, leather, natural fibers, plastic, or glass. In their pieces, they strive to let the natural patina of steel shine through to produce that sensual, sophisticated, and vintage feel—a striking difference from the shiny, geometric, modern look that characterizes most industrial furniture.
For Industria Edition part-owner and head creative designer Jude Tiotuico, another thing that draws him to metal is its unpredictability. "Hammer it and hammer it, forge it and forge it, and you might sometimes get a different result from what you were expecting," he says. "It could sometimes go the wrong way, or it could sometimes go a better-looking way." This unpredictability, to him, has become a source of amazement and excitement.


These award-winning pieces bear Industria Edition's brand of sculptural yet practical, forward-thinking yet nostalgia-inducing design: the Bordeaux chair, a cozy chair with plush honeycomb-pattern tufting; the Flutty Candylights, thin filament lights encased in metal cages in the shape of candy wrappers; and the Loopy chair, a hammock-like seat held in place by a frame that recalls tree branches

DREAMING IN METAL
Inspired by visions of nature and emboldened by metal's possibilities, these designers are able to turn unwieldy wires, blocks, and sheets into whimsical shapes and wondrous forms—even without any formal education in art or design.
Tiotuico of Industria Edition studied business administration and worked in banking and in an ironworks business before trying his hand at designing in the '90s. But what he lacks in formal education, he makes up for in inspiration. He often looks to natural phenomena in conceptualizing his designs, and refines the idea by combining it with art and furniture inspirations he's encountered from experiences and travels. For instance, the Starburst pendant lights are inspired by the supernova—that powerful explosion a massive star goes through when it is on its last legs. Trees, twigs, and plants also find their way into his creations, such as the Loopy lounge chair, the hammock-like seat of which is held in place by twisting metal limbs that bring to mind the branches of a tree.
Similarly, Prado of Prado Filipino Artisans is an economics graduate who was unwittingly led down the design path in the '90s while working as a merchandiser seeking products for export from Philippine suppliers. "Whatever creative talents I am endowed with, they are God's blessings to me," he says.
As someone who enjoys traveling and makes it a point to go where nature is, Prado is able to draw inspiration from the beauty of nature wherever he ends up. It is no wonder then that his ideas have bloomed into the shapes of flowers, leaves, and trees, while butterflies, dragonflies, and bees have also found their way into his portfolio. Even when he is not capturing the distinct forms of natural creatures, he remains inspired by nature. In his abstract collection called Ripples, he suggests the delicate circles and parallel waves of water through lines of cold, hard wire.
It is only Arden Siarot, the son of sought-after sculptor Agustin Siarot, who was exposed to the industry from his youth. He later clocked in years of relevant experience by fabricating industrial machinery and crafting jewelry for an Italian firm before establishing Arden Classic with wife Jen Elizabeth in 1993. Surprisingly, however, he was a reluctant artist in the early years of the business.
"When we were just starting our export journey, I really wished to hire a design artist who would help me conceptualize all the ideas I have in mind," Siarot recalls. "But since it's a bit expensive to employ one, I tried and pressured myself to do it alone."
Today, most designs are made by Siarot, but the company also has an in-house designer, and he continues to train his staff. "I am proud of my people as they become artists, too," he says.


Arden Classic's characteristic combination of brass and shell is apparent in works such as this magnificent eagle, wings spread high above a body of Nautilus shell; Luksong Baka, which depicts two young girls in the midst of playing a Filipino children's game; and the Sto. Niño, an opulent tribute to the Child Jesus

THE MAKING OF A METAL MASTERPIECE
The making of a masterpiece takes time—even more so the making of one out of metal.
One look at Arden Classic's exquisite sculptures already gives one an impression of the painstaking effort that must have gone into each work of art. Once Siarot has examined the raw seashell and settled on a design that would do it justice, a wax model is created through hand carving, encased in a mold of plaster of Paris, then passed through fire so the wax burns out and liquid metal can be poured in. Once the metal has cooled, the mold is broken. The brass parts that remain are then refined, put together, and embellished with seashells to form the final captivating whole.
While each product in their catalogue bears the Arden Classic signature of brass and shell, one product that gives Siarot particular pride is the Sto. Niño, an ornate homage depicting the Child Jesus draped in golden finery and a majestic red cape. "Some might say that it's just an image of the Child Jesus, but for us at Arden Classic, it is truly a miraculous one," Siarot confides. "In every difficult situation that we encountered especially during these unprecedented times, the sales that were generated from this particular image are indeed an answered prayer."
Speaking for Industria Edition, Tiotuico cites the initial market research as particularly important in their process. This step is vital as they want each piece to not just look good on its own, but also fit well with whatever space it ends up in, whatever furniture it ends up next to. After doing their research, Tiotuico then looks to inspirations and ideas he's collected, and melds what he knows from research with these creative influences. From there, he creates the prototype. The whole creative process up to prototyping can take as short as two weeks to as long as six months.
This research-heavy process has allowed Industria Edition to produce standout pieces that are sculptural yet practical, forward-thinking yet nostalgia-inducing. Case in point: the hammock-like, tree branch-recalling Loopy lounge chair, which Tiotuico points to as the piece that captures their brand the most. "It has all the factors: form, sophistication, sensuality, natural inspiration, and it also gives off a nostalgic feel," he says.
For Prado Filipino Artisans, who are known for filigree-like, labor-intensive, meticulously handcrafted wall décor, wall art installations, lighting, and accent furniture, the devil is truly in the details.
Once Prado completes the designs, he closely supervises the work of his artisans, from cutting to welding to finishing. While some of his smaller designs like the insects can take three to four days to make, bigger items like wall décor can take weeks to complete. "There are so many parts involved," Prado explains. "You have to weld every piece, even the tiny pieces. It has to be done properly and finished nicely."
Such meticulous craftsmanship shines through in pieces such as the Golden Harvest wall décor, an intricate tableau of a rice field complete with grasshoppers perched on palay leaves (the Filipino term that refers to rice grains that have not yet been husked), birds in flight up above, and a sun shining down on the entire scene.


Designs like these highlight the intricate detail and impeccable artisanship Prado Filipino Artisans upholds: the Prosperity Tree wall decor with branches and leaves stretching out in a fiery arch; the Golden Harvest wall décor depicting a rice field illuminated by the sun; and the Ripples accent table smartly equipped with a planter holder in the center

ALL THAT GLITTERS ISN'T GOLD
Despite the many awards and recognitions their brands have received and the many buyers they've attracted across the globe, these artists and entrepreneurs agree that working with metal brings a unique set of challenges.
For Prado, the challenge comes from having very few sources of the materials they need locally. As they are not a big company, they don't have the capacity to import materials and have to rely on local sources instead. The pandemic has also not been kind, as it brought price increases and higher costs of transport and shipping, along with lower supply of raw materials and finishing and packaging essentials.
Speaking for Arden Classic, Siarot reveals that virgin or pure brass ingot is quite expensive, leading them to settle for processed scrap brass ingot instead. This often results in a high percentage of rejection during casting. Besides difficulties in obtaining premium brass, sourcing seashells locally also poses a challenge as these are becoming scarce due to bulk exporting to other countries.
For Industria Edition, Tiotuico identifies metal's weight as a challenge. "When we create pieces, sometimes it looks good on paper, but after we're done, let's say it's just a typical chair, it's too heavy to carry," he shares. This challenge has prompted them to experiment with ways to make their products lightweight enough for a home, but still durable as one would expect metal to be.

A WORLD OF PURE IMAGINATION
Metal may not be the material of choice among most Philippine furniture makers, but with a little imagination and a lot of determination, one can make a warm, sensual, and uplifting piece out of the material's cold, hard, and heavy make.
"There's a very small market of steel furniture buyers out there because no homeowner would furnish their home with 100% steel; it's more like 100% wood and upholstery," Tiotuico admits. But this is precisely what motivated his team to get creative with steel in the first place. "We wanted to show organic forms or undulating patterns, but made of steel instead of the soft wood or rattan. We wanted to show them that we could do that with steel."
It's worth remembering that these creative minds were able to imagine magnificent metal forms into being because they had nature—its beauty, bounty, and harmony—as their muse.
Perhaps a perfect analogy for how cold, hard metal can nurture natural inspiration can be found in the metal sculptures of Arden Classic. In Siarot's exquisite creations, solid metallic structures delicately embrace fragile, luminous shells, as if to show anyone who happens to lay eyes on their union that, yes, they can belong together.

Photos courtesy of brands