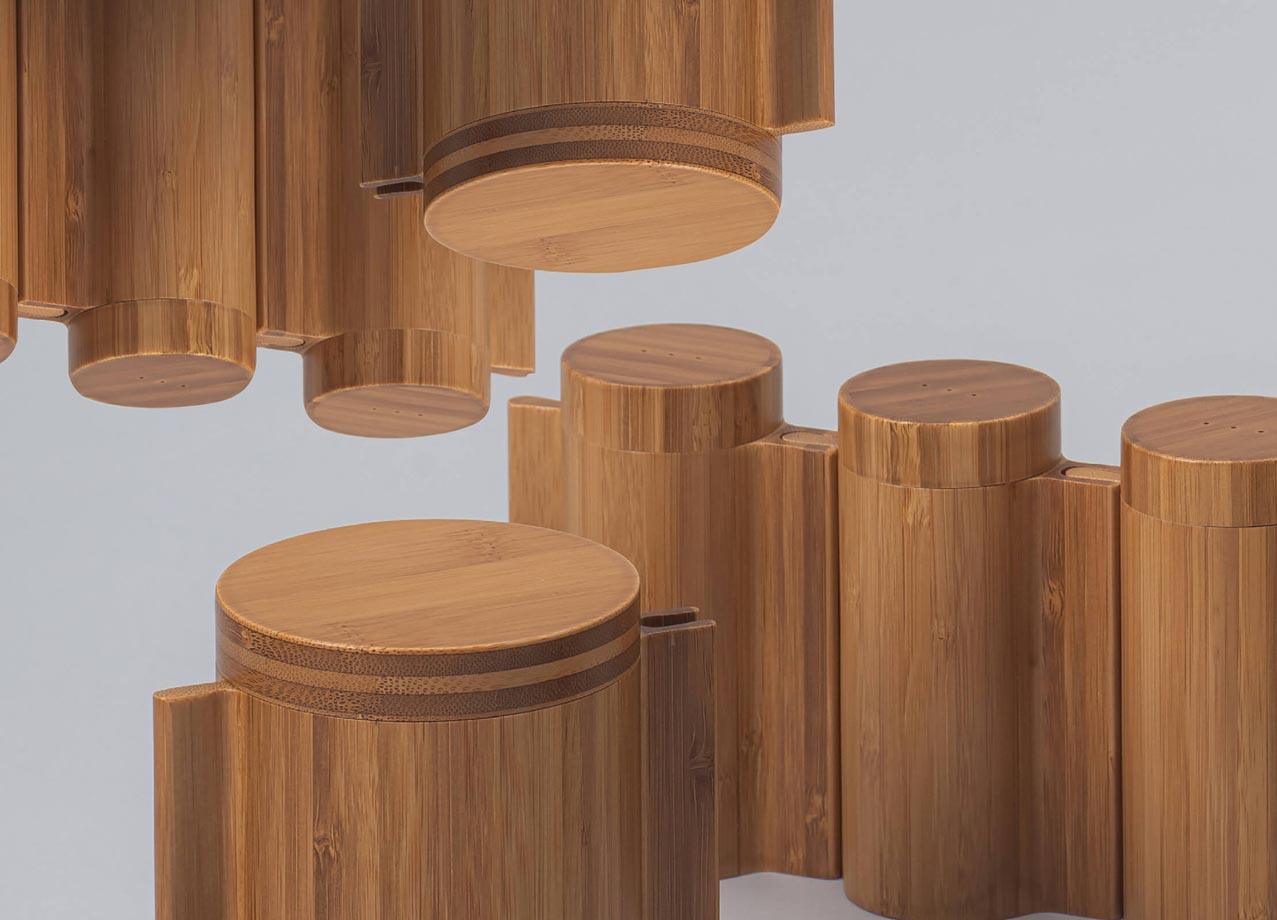 Bamboo Magic
Miguel Antonio Rosales and Rachelle Dagñalan work their magic on bamboo, together with master craftsmen from Taiwan

by Ning Nuñez

Bamboo is the fastest growing gramineous or grass-like plant on the planet. This plant grows so fast in the field that one can harvest its materials in only four years. This makes it the most sustainable and environmentally friendly raw material for all sorts of purposes. No matter how simple and common bamboo is, its value has not been overlooked by designers and manufacturers.
On a visit to Taiwan, esteemed designers from the Philippines have seen how marketable bamboo can be. Bamboo products in Taiwan are unique in such a way that they are developed with brand new technology, while also retaining and applying years-old traditions they've learned and inherited.
Drawn by the versatility and beauty of bamboo, key Filipino designers, Miguel Antonio Rosales, Creative Director of Caramel Creative Consultancy Phils. Inc, and Rachelle Dagñalan, General Manager and Creative Director of RADA Collab, have collaborated with Taiwanese bamboo manufacturers Lin Cha-Han of Evergreen Bamboo, under Brilliant Bamboo Craft Co. Ltd., and Larry Liu of Bamboola to create innovative, collaborative designs as part of the Taiwan-Philippines Craft Cooperation Project.
Made possible by CITEM, together with the National Taiwan Crafts Research Institute (NTCRI), the exchange program teams together designers and manufacturers from both countries, taking part in a joint product development process. The items yielded from this exchange are to be exhibited at the Creative EXPO Taiwan (CET) from April 21 to 25 at the Songshan Cultural and Creative Park.
THE FILIPINO DESIGNERS
Art advisor and creative consultant Rosales grew up in Washington D.C., wherein weekend trips to various museums, such as the Smithsonian, were a regular family affair, and so was traveling to different states. This ignited a love for art and design for Rosales early on. "I think my design aesthetic evolves. There is a love of the past that inspires it, but it's firmly in the present."
Currently, his company Caramel Creative Consultancy Phils. Inc heads several projects, including an art and accessories program for a new hotel, an office tower, a luxury condominium, as well as other residential projects. On top of that, Rosales is currently preparing with an international team for an exhibition abroad.
Product designer Dagñalan's background in industrial design makes her naturally inclined to exploring materials and techniques as well as developing products. "My training with Philippine design icons such as Budji Layug and Kenneth Cobonpue has greatly impacted my approach to design development."
She is now working on new collections for Manila FAME's in-house product development program, Design Commune, as well as working alongside 20 Filipino manufacturers for the Philippines' participation in the NY Now Digital Platform. "I draw inspiration from everyday sights and objects with interesting forms," she says. "My design aesthetic is simple, with a touch of whimsy."
THE TAIWANESE MANUFACTURERS
Bamboola and Evergreen Bamboo are both experts at bamboo, but what makes them distinct are their specializations. Master Lin Cha-Han of Brilliant Bamboo Craft Co. Ltd., best known for their visual brand, Evergreen Bamboo, shares, "Our company strives to create creative designs while managing to retain the original style and look of bamboo. We also pride ourselves on our advanced bamboo technologies."
Master Larry Liu of Bamboola is known for innovating the development of bamboo materials, while applying traditional Chinese mortise and tenon practices, an ancient woodworking technique that joins two separate materials through the mortise hole and the tenon joint. According to Dagñalan, "Master Liu has mastered the art and engineering of bamboo and could make just about anything, even the tiniest screws and bolts that make up the mechanical parts!"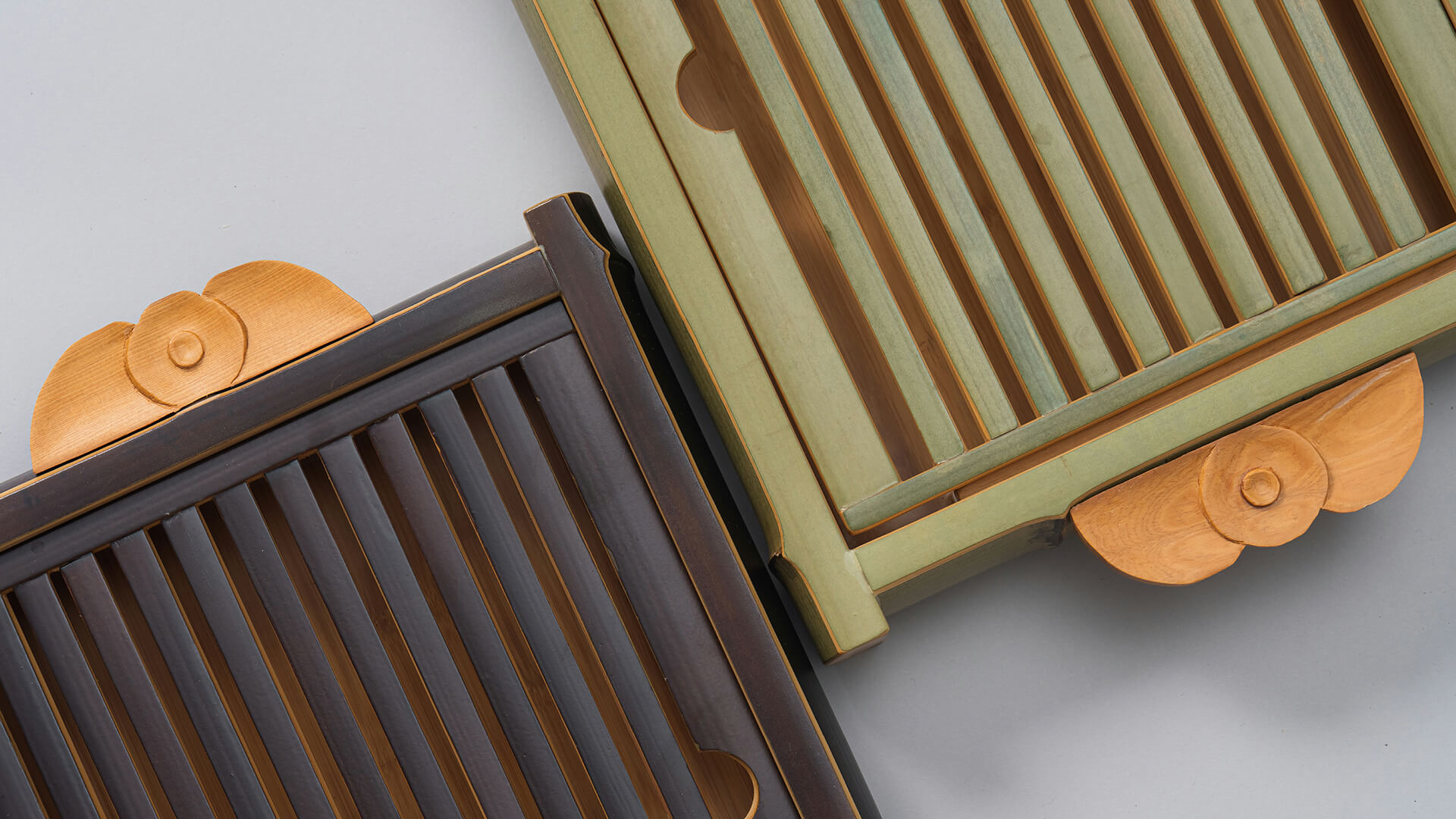 Captivated by the by Ancient Jade wing at the National Palace Museum, Rosales came up with these jade carving-inspired handles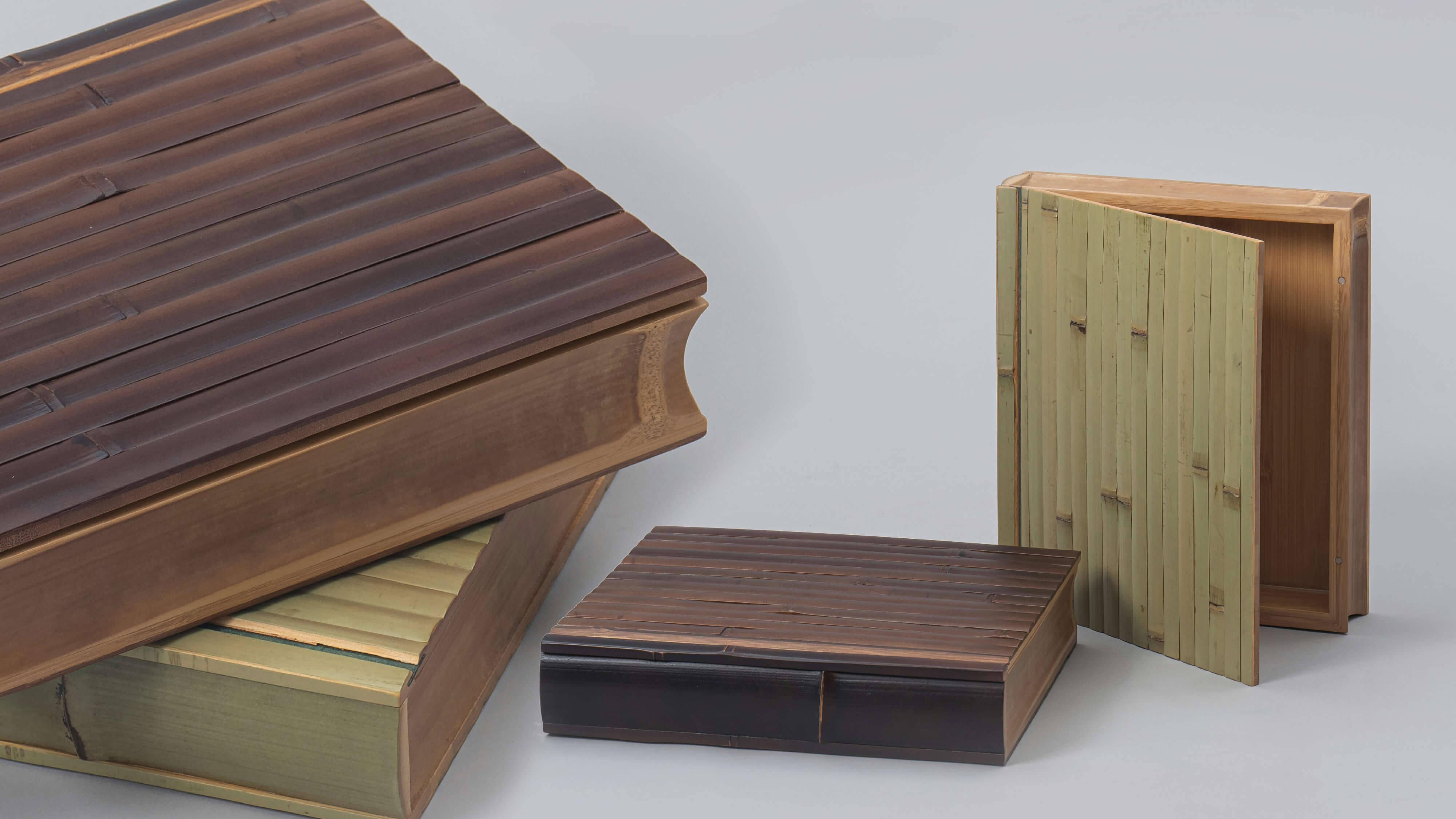 Book boxes or the "Bambook" designed by Miguel Rosales and produced by Lin Cha-Han of Evergreen Bamboo

BAMBOO, THE CHOSEN MATERIAL
Bamboo is significant then and now to Taiwan because bamboo was used for everything, from household items to large building materials. Although bamboo can grow in almost any climate, the subtropical environment in Taiwan makes it the most suitable for bamboo growth.
Masters Lin Cha-Han of Brilliant Bamboo Craft Co. Ltd. and Evergreen Bamboo as well as Larry Liu of Bamboola have observed that when the Filipino designers came to visit their company in Taiwan, they saw that the bamboo materials were so diverse and sustainable. These characteristics make bamboo very marketable, thus encouraging the designers to work with bamboo as their main material.
"When we had gone around the factories in Taiwan, we met with Taiwanese master craftsmen who were experts in bamboo, ceramics, metal, and woodcraft. We were particularly drawn to bamboo because of their distinct craftsmanship that is enhanced by technologies that are not yet available in the Philippines," Dagñalan shares.
Rosales was drawn to bamboo for a couple of things. First, he has not designed any bamboo accessories before, and second, because it is a sustainable material. "I love that it is both beautiful and strong at the same time. Being used to the bamboo products and designs here in the Philippines, I was blown away by the bamboo products in Taiwan. There was so much variety and designs I had not known possible."
PROCESSING BAMBOO
Taiwan has farmers to grow bamboo exclusively for commercial purposes. "After buying the bamboo materials that I need, it usually needs to be processed to remove impurities and wax on the surface," Lin shares. "The material is then subjected to various processes such as greening and smoking."
According to Master Lin, there are two types of bamboo that are commonly used in Taiwan: makino and moso bamboo. Makino bamboo is easier to process and is used in home decorations and tube furniture, while moso bamboo, because of its dense make and durability, is used in laminated bamboo furniture, tea sets, and flooring.
Bamboo is a natural material that can regulate temperature and humidity. For example, it has a warming effect in winter and a cooling effect in summer. Despite all that, since it is all natural, bamboo is susceptible to insects, cracks, and molds. It is also why there are special techniques to processing and handling bamboo when making products.
Although bamboo is easy to acquire, processing it to create a long-lasting product can get very extensive. Master Lin shares some of the main processes: First, it is processed into products such as bamboo strips, slices, bars, sticks, and chopsticks. Next, an anti-corrosion and mothproof treatment is applied. Since bamboo fiber contains high starch and it is a favorite food for insects, bamboo must be mothproofed before use. This includes greasing, drying, bleaching, fire prevention, and painting.
Lastly, the product is dyed and colored using one of these treatments: green treatment, scraping treatment, smoking treatment, carbonized coloring, burnt coloring, and dye coloring.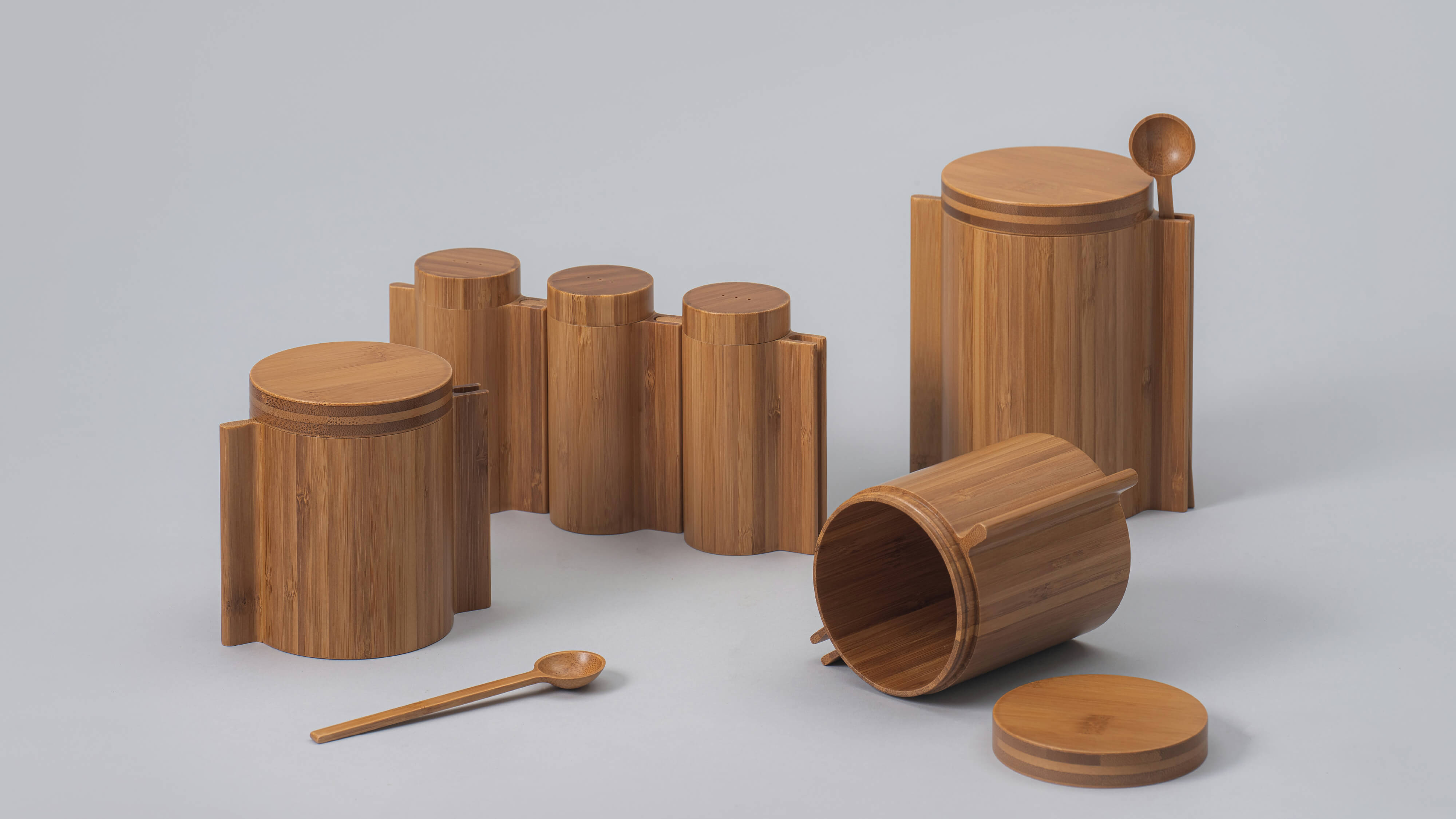 Dagñalan shares that these bamboo canisters can be used to contain varieties of tea leaves, but may also be used as a coffee, sugar, or creamer holder in other parts of the world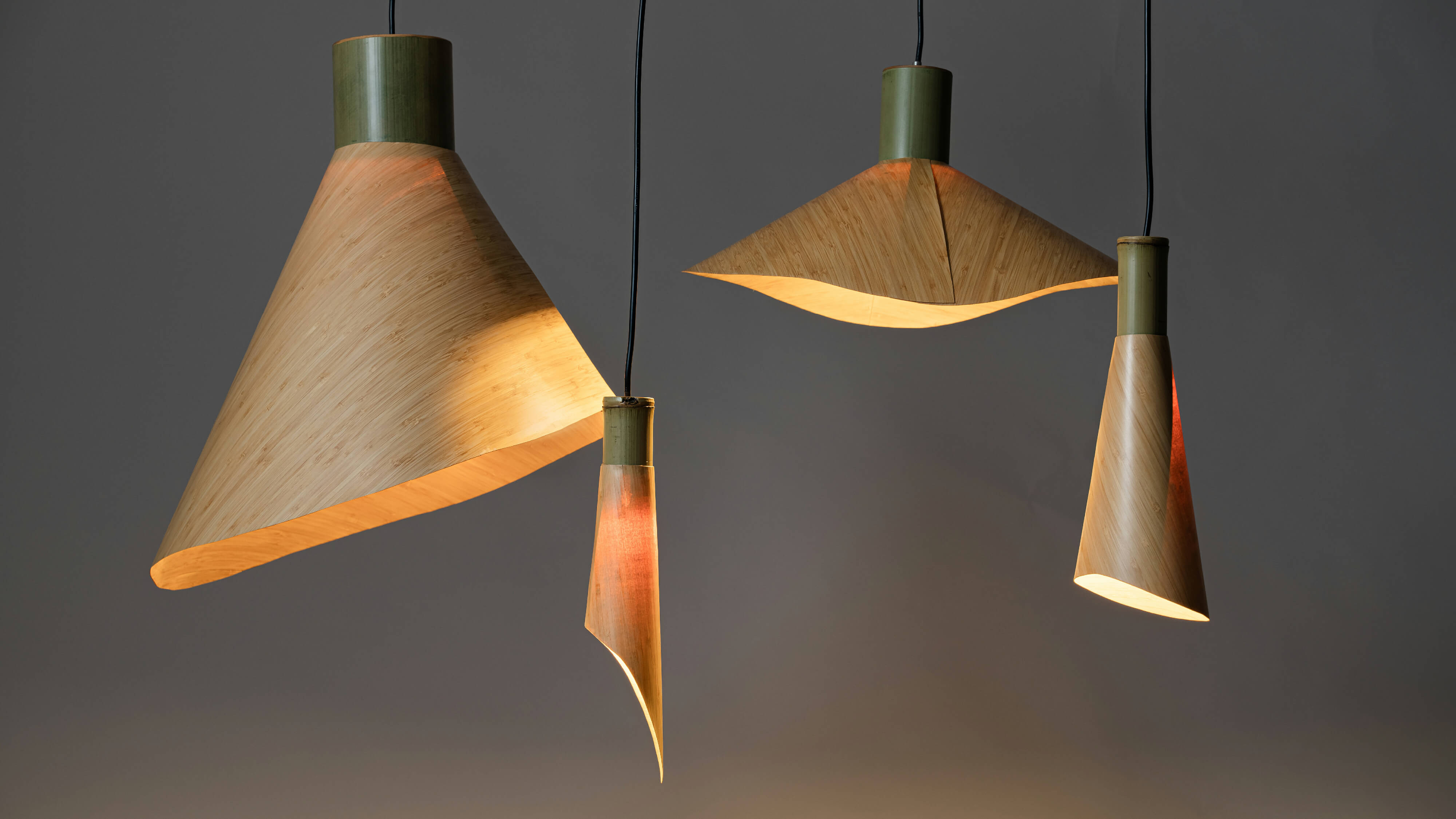 Dagñalan is fond of working with paper, and replicates a 3D paper construction in this series of lighting fixtures

DESIGNING WITH BAMBOO
Since tea-drinking is a relaxed and social affair in Taiwan, both Rosales and Dagñalan were inspired by this part of their culture.
After a visit to the National Palace Museum and finding himself lingering in the Ancient Jade section, Rosales grew inspired by the carved jade that he saw and thought that the design could be used as handles for the tea trays. In Taiwan, Rosales shares how they offer tea on beautiful bamboo trays. Keeping that in mind, he found a way to enhance the tea tray. "I love the idea of taking tradition into the contemporary. Taking some reference, adding some attitude, and coming up with something new."
Also drawing from Taiwan's tea culture, Dagñalan designed bamboo canisters that can be used for tea leaves. "I came up with containers and tabletops that are tasteful for the Taiwan market, but at the same time, also have a global appeal to cater to the western market."
The tricky thing about the bamboo canisters by Dagñalan is that the bamboo lids are fastened by rotation, and so the details should be highly accurate. Master Liu overcame this challenge with his design experience and craftsmanship. It took him a month to complete this work.
It is no secret that Taiwan is a hub for cool and creative concept stores and restaurants. To complement their modern interiors, Dagñalan also thought of designing bamboo lighting.
"The bamboo lighting collection is an interesting one," Dagñalan mentions. "I especially love working with paper also as a medium, and the lamps were designed to resemble 3D paper construction. The lamps are made of thin sheets of bamboo veneer folded around Evergreen's signature green bamboo poles."
For another of Rosales' designs, he designed a book box or what he fondly calls the "Bambook," an elegantly designed piece made for book lovers. This design was inspired by a bamboo box he saw behind Master Lin's desk. Rosales looked through the raw bamboo samples and figured that he could turn its natural shape and ridges into the spine of a book and then combine it with a box. Rosales explains, "You can imagine the 'Bambook' lined up on a shelf or even stacked up like books. Being boxes, they're also very functional for other uses."
The design and finished product itself are successful while it did come with some challenges. Master Lin shares, "Based on my long-term experience in making bamboo crafts, I know that there might be a problem with the bamboo skin." With that in mind, Master Lin spent about two weeks researching the thickness of the bamboo, letting the skinned bamboo and the laminated bamboo stick together to reduce deformation and warpage. Just like that, the master craftsman solved the minor issue.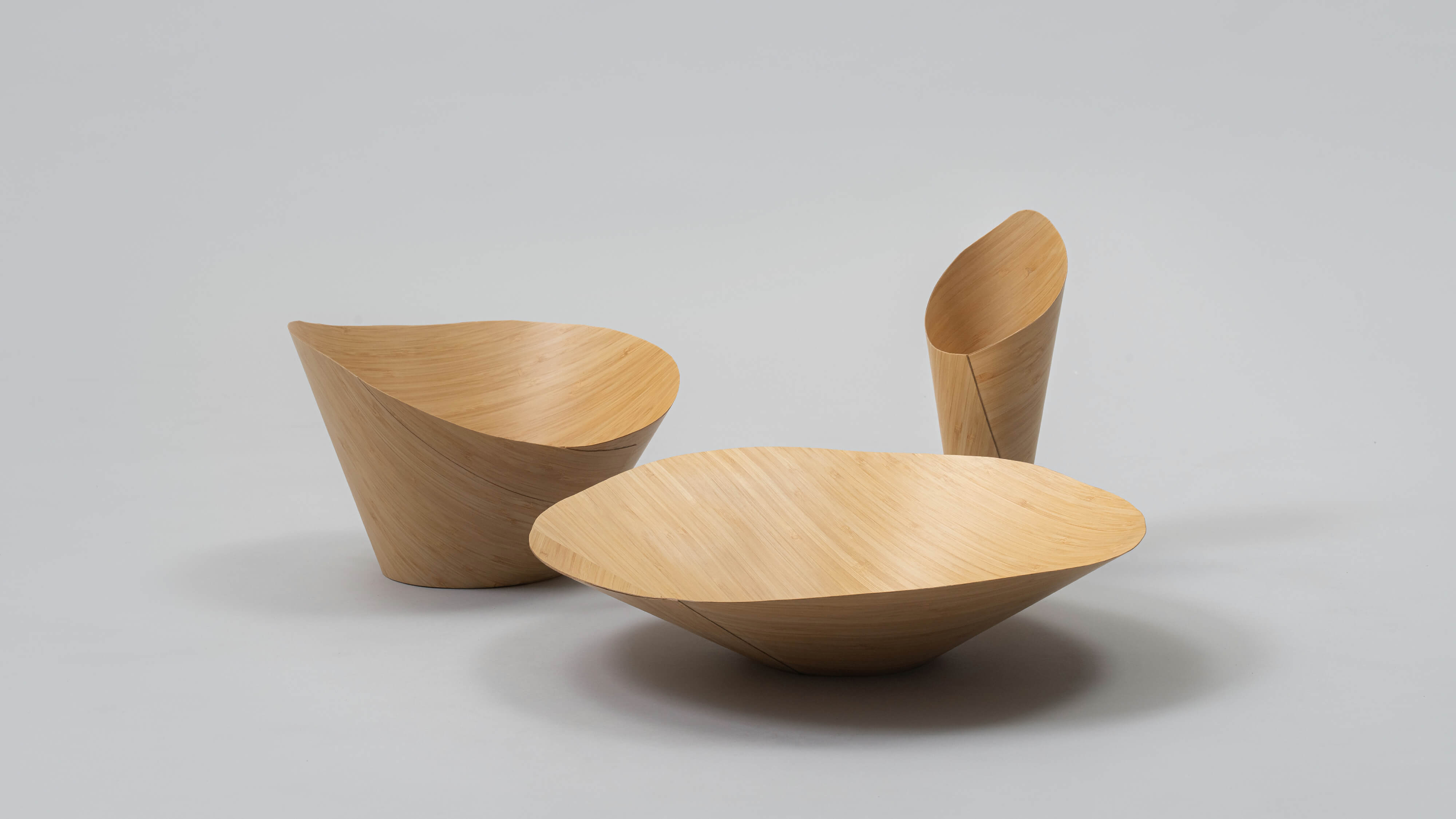 These are the same truncated shapes from the bamboo lighting that were interpreted into serve wares to complete a dining experience. Produced by Rachelle Dagñalan and Lin Cha-Han of Evergreen Bamboo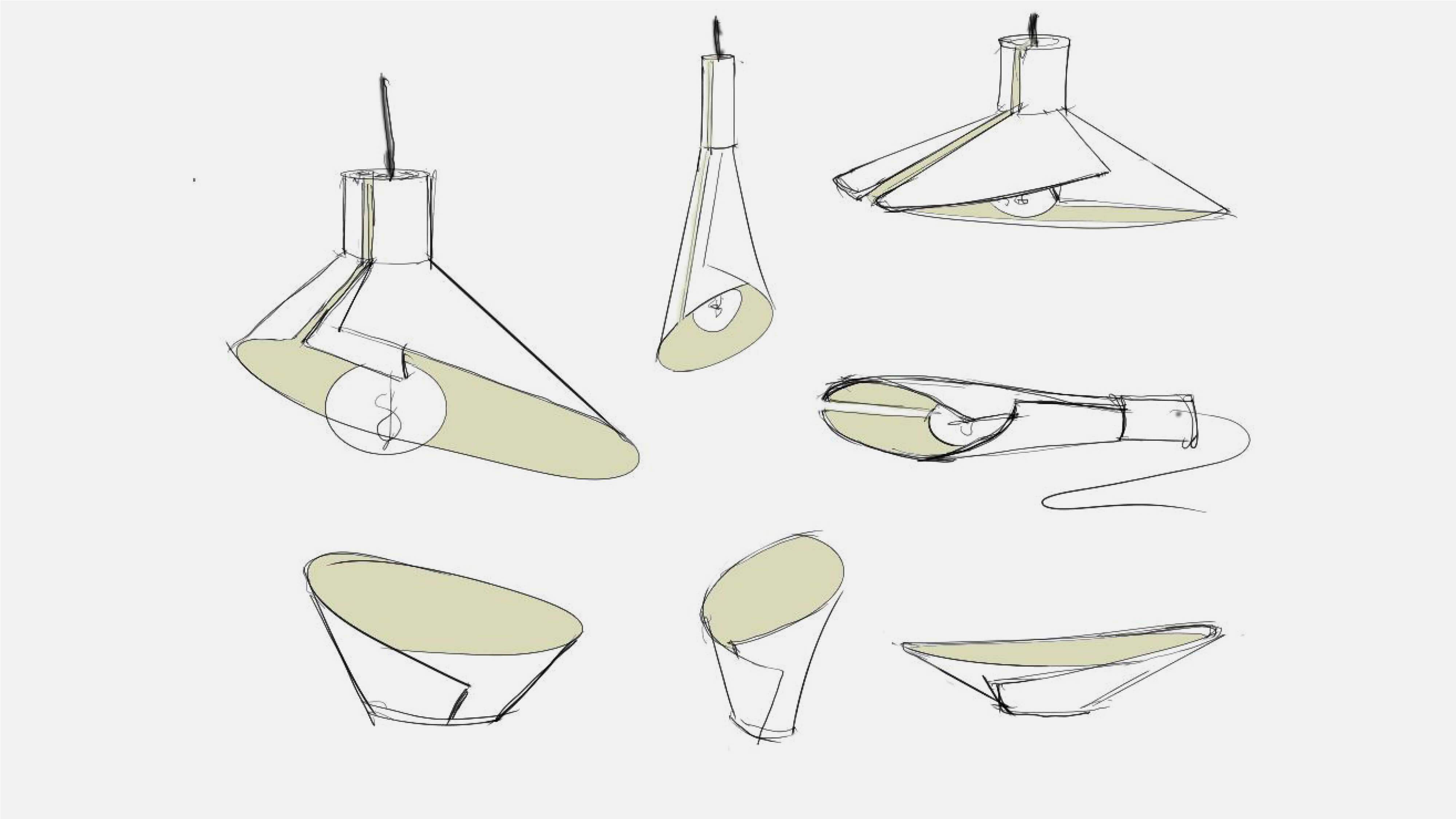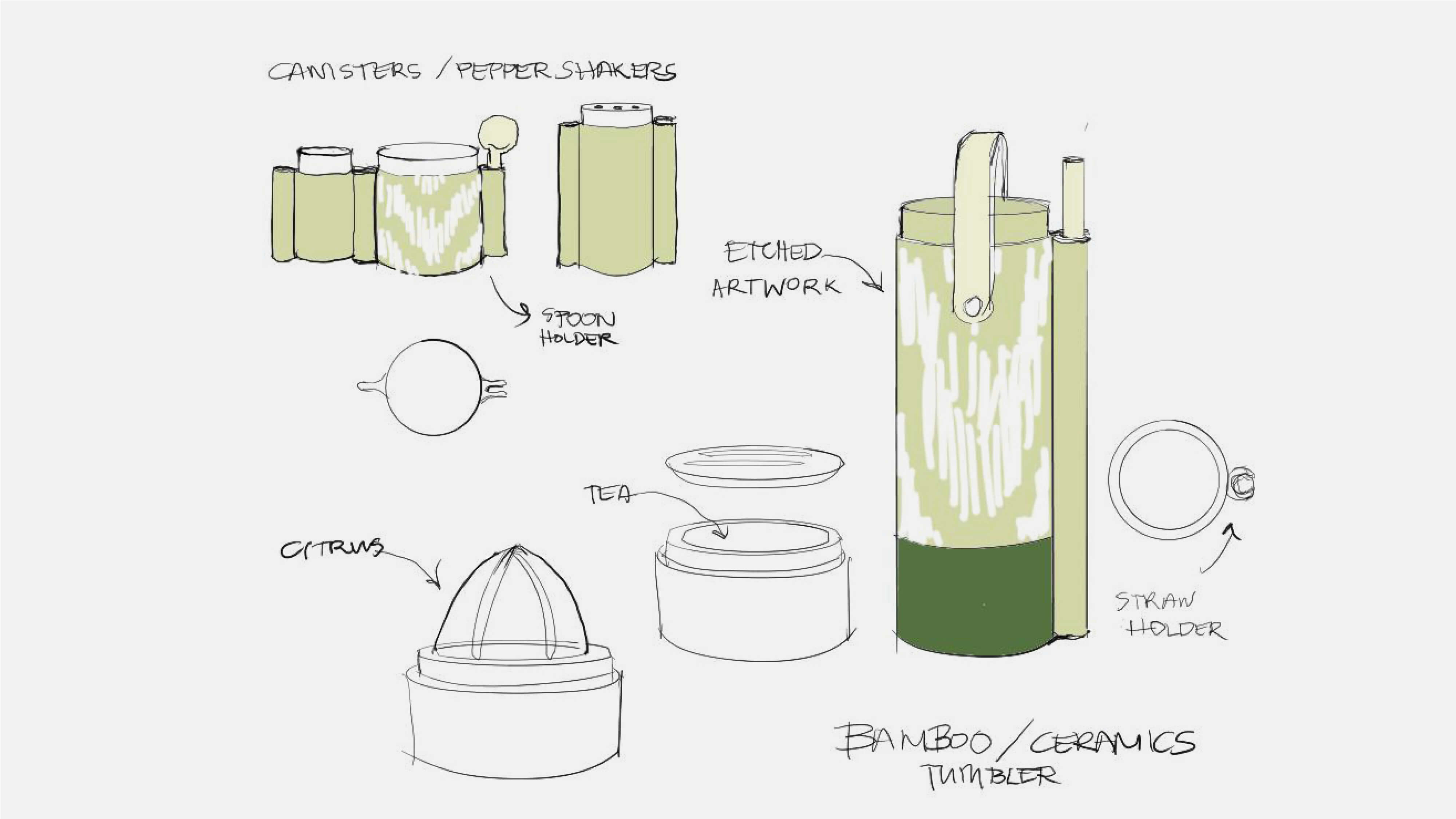 For Evergreen Bamboo and Bamboola, Dagñalan made scaled prototypes in paper as a tool to explain the design concept

INFINITE POTENTIALS WITH BAMBOO
According to Dagñalan, the timeline for the collaborations goes all the way back to 2019 wherein they discussed prototyping. With the rising threats of Covid-19, the designs were discussed only online. With the help of NTCRI's Annie Chen, they were successfully able to interpret their designs to the master craftsmen.
With the ingenious creativity of the Filipino designers infused into bamboo works, its use is certain to inspire curiosity in the craft and in the wonders this natural material can do. Hopefully, it will also encourage deeper explorations on its eco-friendliness and sustainability for future designs.
To know more about the Taiwan-Philippines Craft Cooperation Project, visit Creative Expo Taiwan.
Sketch photos courtesy of Rachelle Dagñalan