How One Local Brand Brings Stones to Life
Pumice proves that what was once lifeless can be given a transformative new spin

by Danna Peña

There is beauty to be discovered in the aftermath. This can be said for all kinds of endings, including the cataclysmic outcome of Mt. Pinatubo's eruption in 1991. When destruction occurs, remains are either left to decay or salvaged—to breathe new life to what it once was. True to its company tagline, "We bring stones to life," Pumice Unlimited Ventures fosters the latter, specializing in items made of pumice stone, one of the products of the Mt. Pinatubo eruption.
"Back when Mt. Pinatubo erupted, pumice stone was treated like a plague, especially after having witnessed how it has affected the stricken areas. The stones looked lifeless," begins Randell Joseph Zupancic of Pumice Unlimited Ventures. "By recreating pumice stones, we wanted to make something positive out of the negative."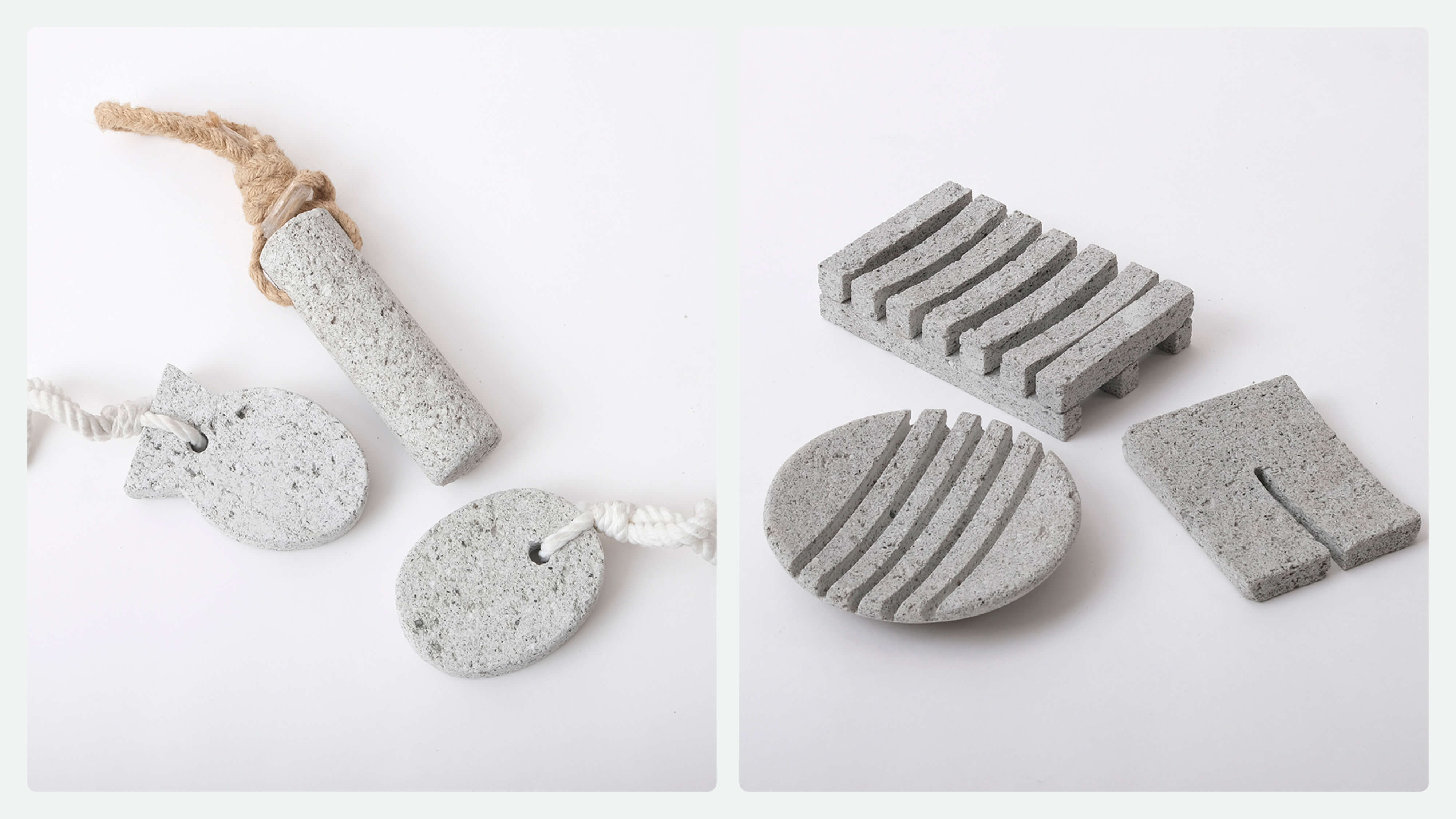 Pumice Unlimited Ventures uses pumice stone, a by-product of the Mt. Pinatubo eruption, as the raw material for all its products. One of the most common uses of pumice stone is for scrubbing the body, due to its light yet abrasive texture
A spongy and soft stone with tiny bubbles of gas, pumice is a volcanic rock that's easy to cut and mold. Produced when lava with high water and gas content is spurted from a volcano, it's a light yet abrasive stone that can be used to soften calloused skin or exfoliate dead skin cells. After Mt. Pinatubo erupted, Zupancic and his mother, who operates the business, had the idea that pumice stone would be a great material for body scrubs, such as loofahs. They created a few samples and brought them to trade fairs in Hong Kong, where they received favorable feedback from buyers.
Traction for the business piqued, as buyers gained an interest in the other kinds of products that can be made from the same material. Aside from selling body scrubs, the business evolved into offering pottery, flower vases, tabletop pieces, and even industrial products. "We always utilized our raw materials to create what we can," recalls Zupancic. "Back then, it was bath items, Christmas decors… We left the loofah business and eventually rebranded the company to Pumice Unlimited Ventures, offering products all made of pumice stone."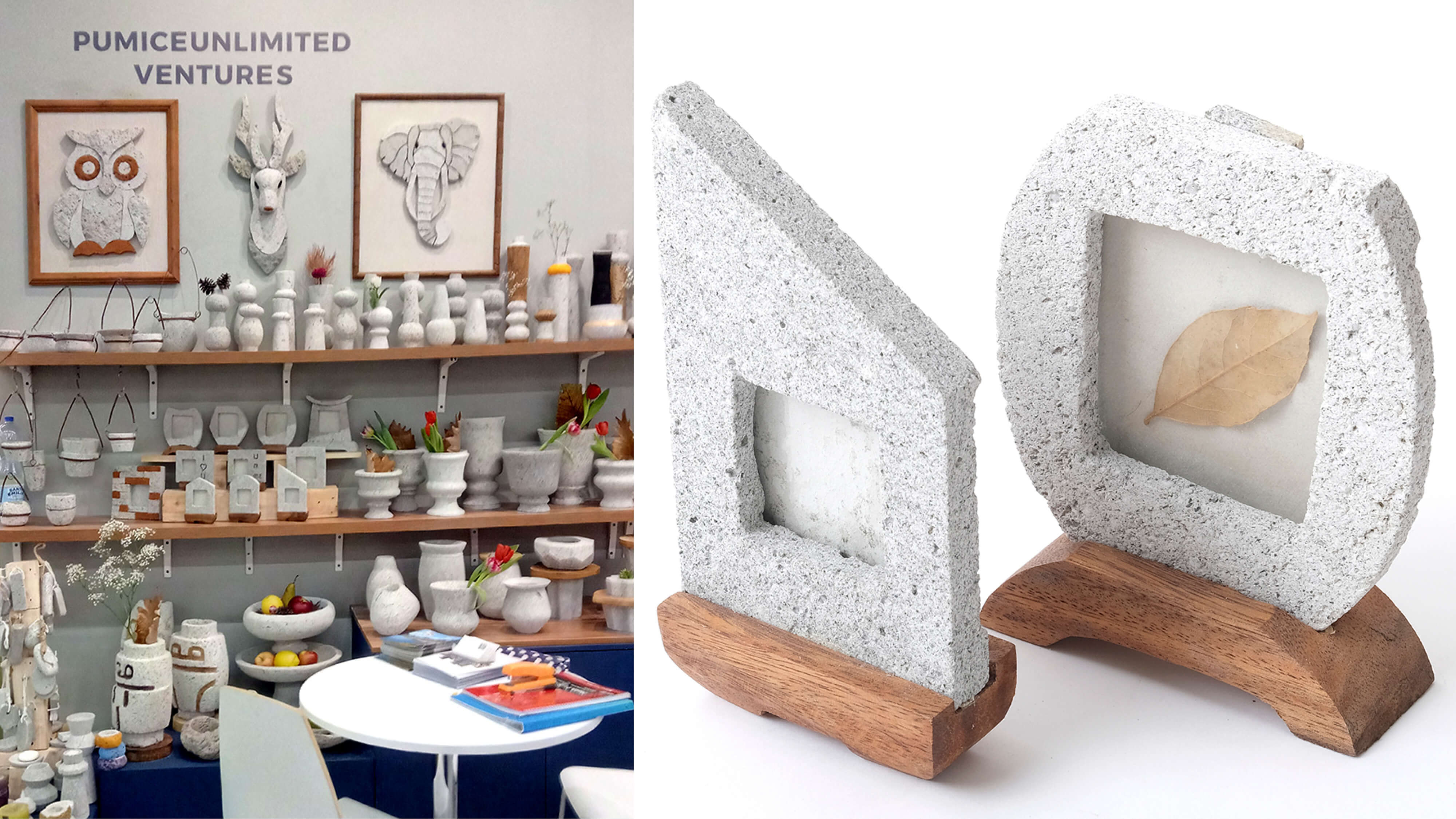 Pumice Unlimited Ventures has expanded its product line to offer not only body scrub products, but pottery, flower vases, tabletop pieces, and industrial products as well
Incorporated in 1992, Pumice Unlimited Ventures is currently based in Tarlac, and has since become an export-led business. While it previously targeted on penetrating only the US and European markets, it now has an impressive roster of international clients all over Asia, Europe, and the United States, and is recognized as the leading and sole manufacturer of pumice stone products in the Philippines today.
REIMAGINING THE POSSIBILITIES OF STONE
"From bath products, we evolved to create what the market wanted," says Zupancic. Pumice holds endless possibilities—this can be said for both the material and the business—as both can flexibly offer a wide range of products for various markets. Zupancic recounted how a client in Germany opted for more Scandinavian designs, while smaller items in original designs that retained its natural finish were more sought-after in Japan. "Designs would differ per country and per market," he says, "and we would have the latest trends in mind when it came to our product offerings." The United States, for example, has a market for larger-sized items made for landscaping in the suburbs.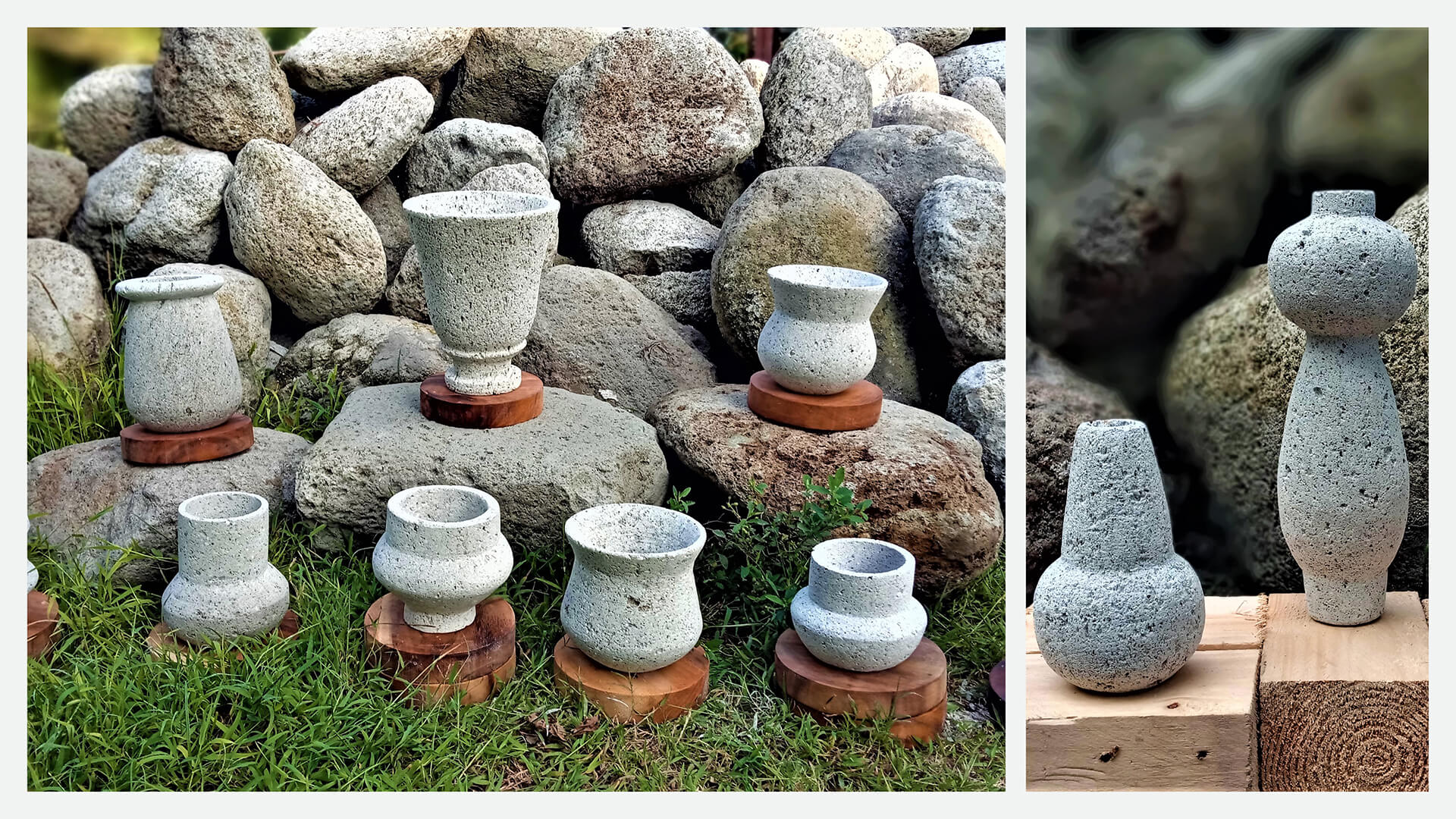 Majority of Pumice's products are custom-made, but still showcases its signature "soft and rustic" aesthetic
When it comes to the aesthetic of Pumice's product line, Zupancic thinks that "soft and rustic" is the best phrase to describe it. By rustic, he means that whatever it is that you see and feel from the raw material is what you get. "We want to show the world that we can give you the best products in its 'natural' form," he explains. All products are made without chemicals and hazardous materials, so customers can be assured of its safe use.
Sixty percent of Pumice's customers ask for custom-made designs. "I'm always interested in bridging cultures," Zupancic shares. In a way, Pumice's products marry Filipino culture with the various cultures of their clients, and vice versa. By combining design trends specific per location and preference for quality craftsmanship and locally sourced materials, Pumice utilizes the best of both worlds in the making of its products.
Yet however up-to-date and customizable their products are, Pumice still keeps the traditional design that most clients prefer—which is pumice stone being the signature highlight, as seen and felt through each item. Showcasing various shapes and incorporating other materials like wood and metal, Pumice's product line encapsulates the flourishing creativity of local artisans.

PREMIUM CRAFTSMANSHIP OF FILIPINOS
"We have always liked to showcase the talent of the Filipino makers," Zupancic reveals. Every single product that Pumice produces has a skilled person behind it—from design and sourcing to creation, and everything in between. While the production is machine-assisted, each product is meticulously handcrafted with quality in mind.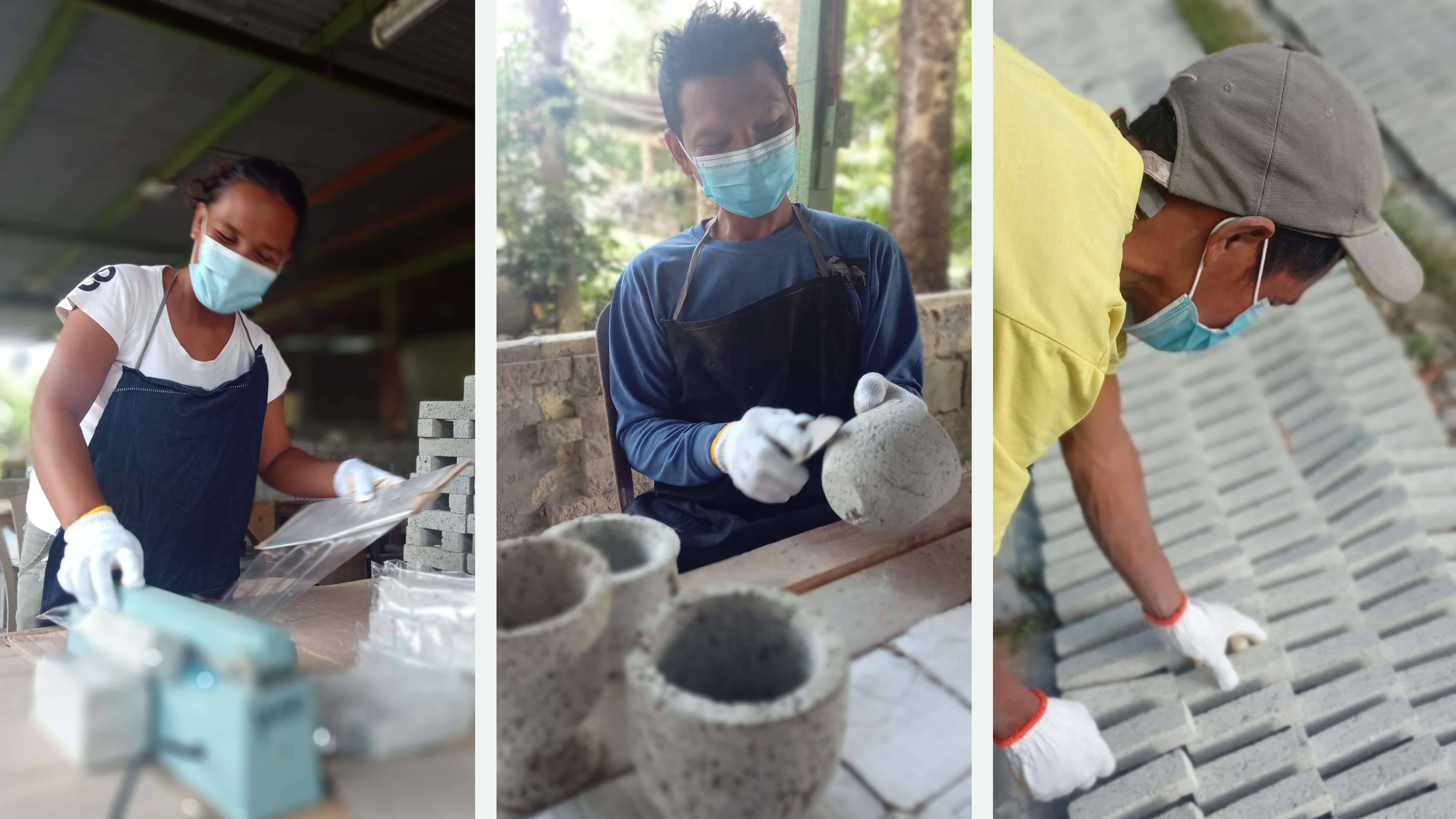 Each product of Pumice Unlimited Ventures undergoes a thorough process by a team of skilled workers
Pumice's team creates hand-drawn designs and adjusts the dimensions of a piece depending on the client's request. Upon finalizing the dimensions, prototypes between three to four sizes are usually made. Each product begins with the gathering of stones from lahar-infested areas with the help of carabaos; it's important to note that none of the rocks they source are mined. After gathering, the stones are cut into cubes or bricks, using a process called "bricking." Next comes the shaping process, in which the skilled workers give form to the pumice stone according to the design. The final shape takes form during the drying process, which is followed by incorporating add-ons, such as wood or metal, into the stone.
With this thoughtful and thorough process, Pumice creates products that boast style, functionality, and longevity. Not only is the business able to offer world-class and high-quality pumice products, but it is also able to provide a steady stream of livelihood to local workers (especially in the ash-stricken areas) and a platform that fosters Filipino creativity and ingenuity.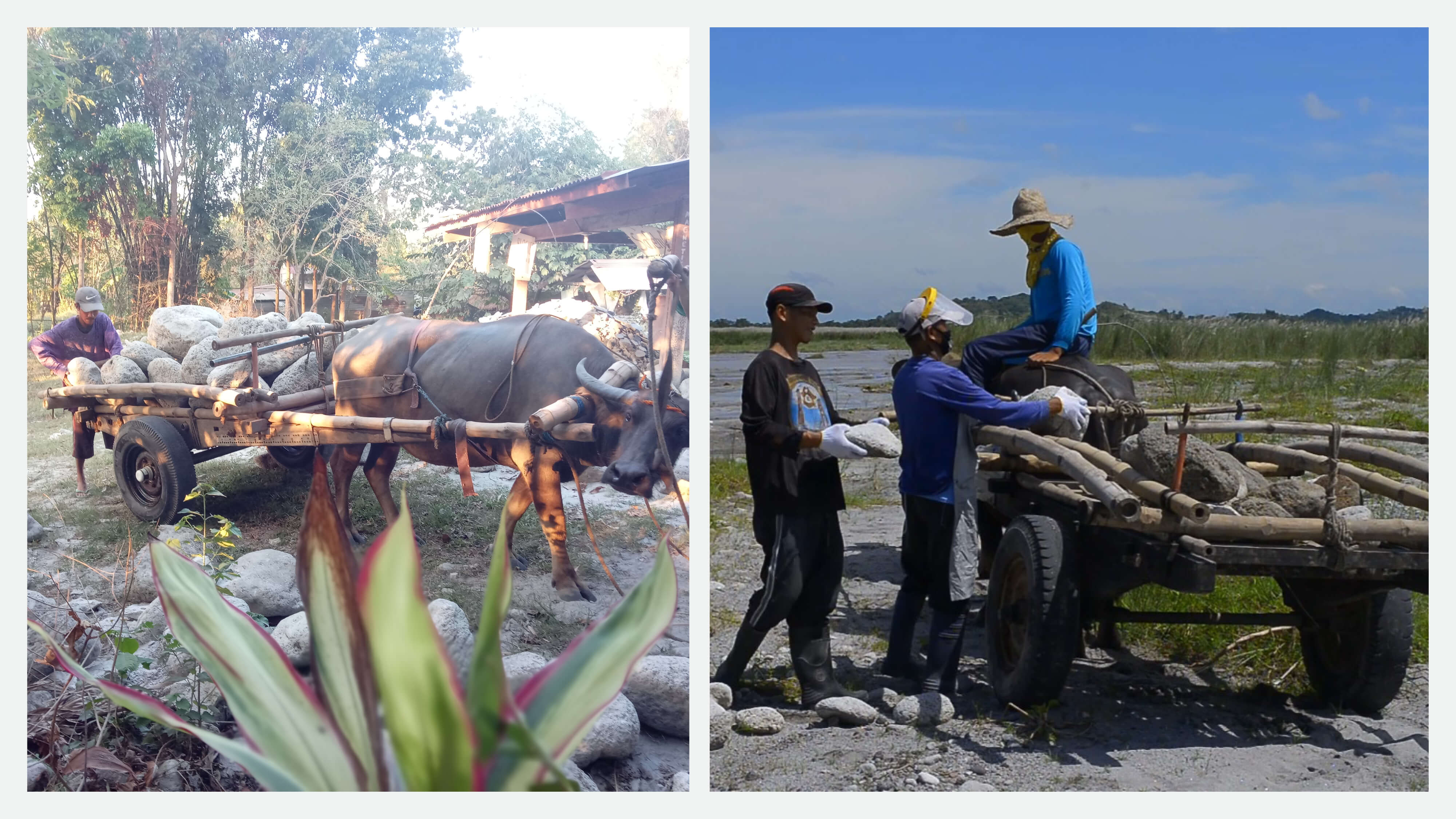 Stones are gathered from lahar-infested areas with the help of carabaos
What comes next for Pumice is nothing short of compelling, especially for today's responsible consumer. With sustainability and eco-friendliness at the customer's top of mind, Pumice is in the works to delve into industrial products that will help lessen the carbon footprint of customers. "Our product is so green that when you throw it away, it will go back into nature and your soil will even get richer," Zupancic explains.
Just as it's true for pumice stones, the possibilities for Pumice Unlimited Ventures remains boundless—teaching us a lesson or two in creating tremendous value from what others may consider worthless.

Photos courtesy of Pumice