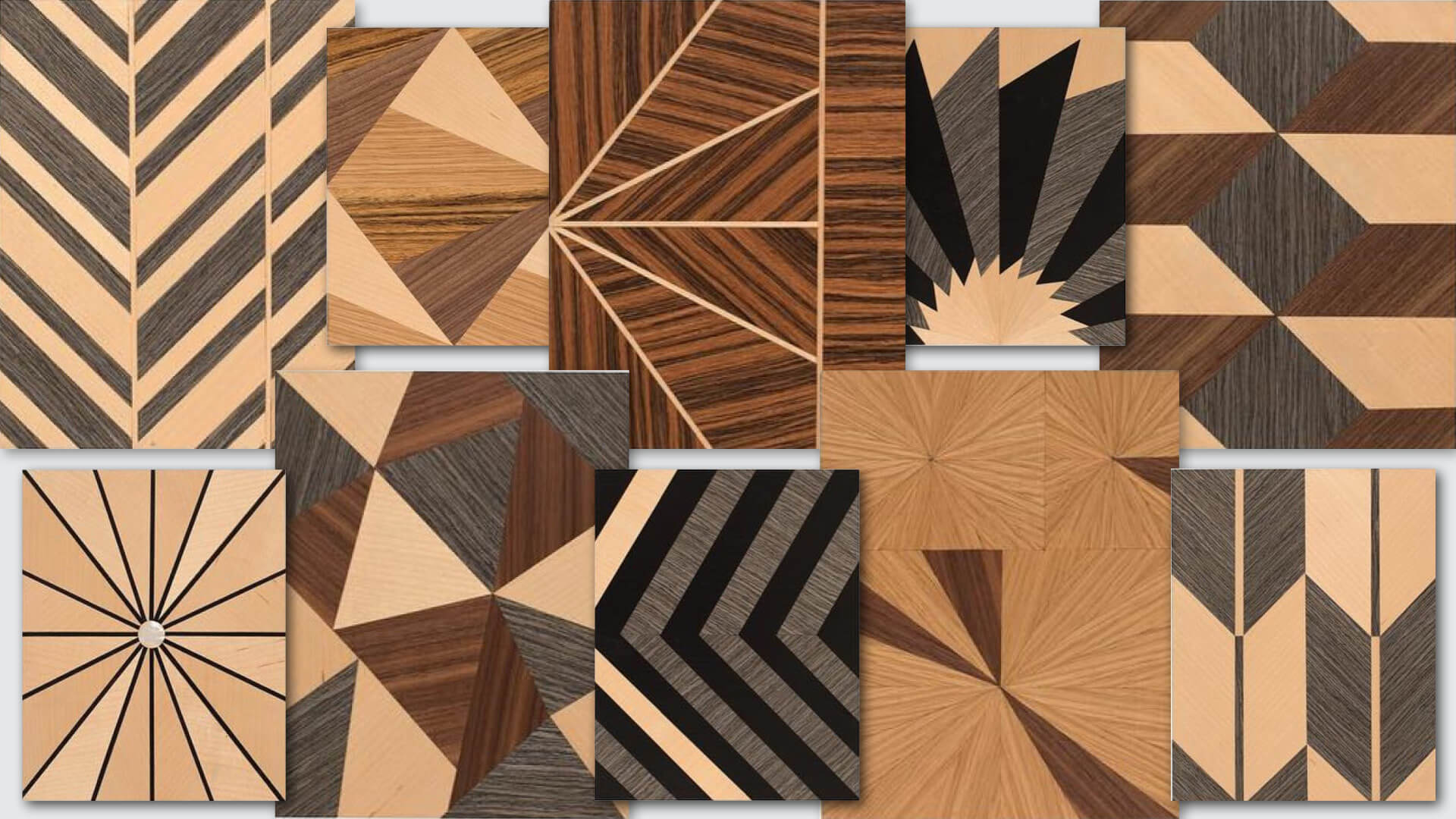 Seeing Patterns: Modern Style for Traditional Veneer
South Sea Veneer, the marquetry mavens from Pampanga, show different approaches for this centuries-old craft
The art of marquetry is so old that if a European gentleman from the 16th century time-traveled to the present and saw a modern-day example of this particular craft, he would immediately recognize it.
Marquetry, which is the process of creating designs on furniture by inlaying thinly cut pieces of exotic wood and other materials, has been around for ages—as far back as early Egypt, when they used intarsia on their caskets. But the craft became highly popular in France in the 17th and 18th centuries, with the most ornate example being Boulle marquetry on tables and desks, which featured dizzyingly intricate arabesques inlaid with tortoiseshell and brass.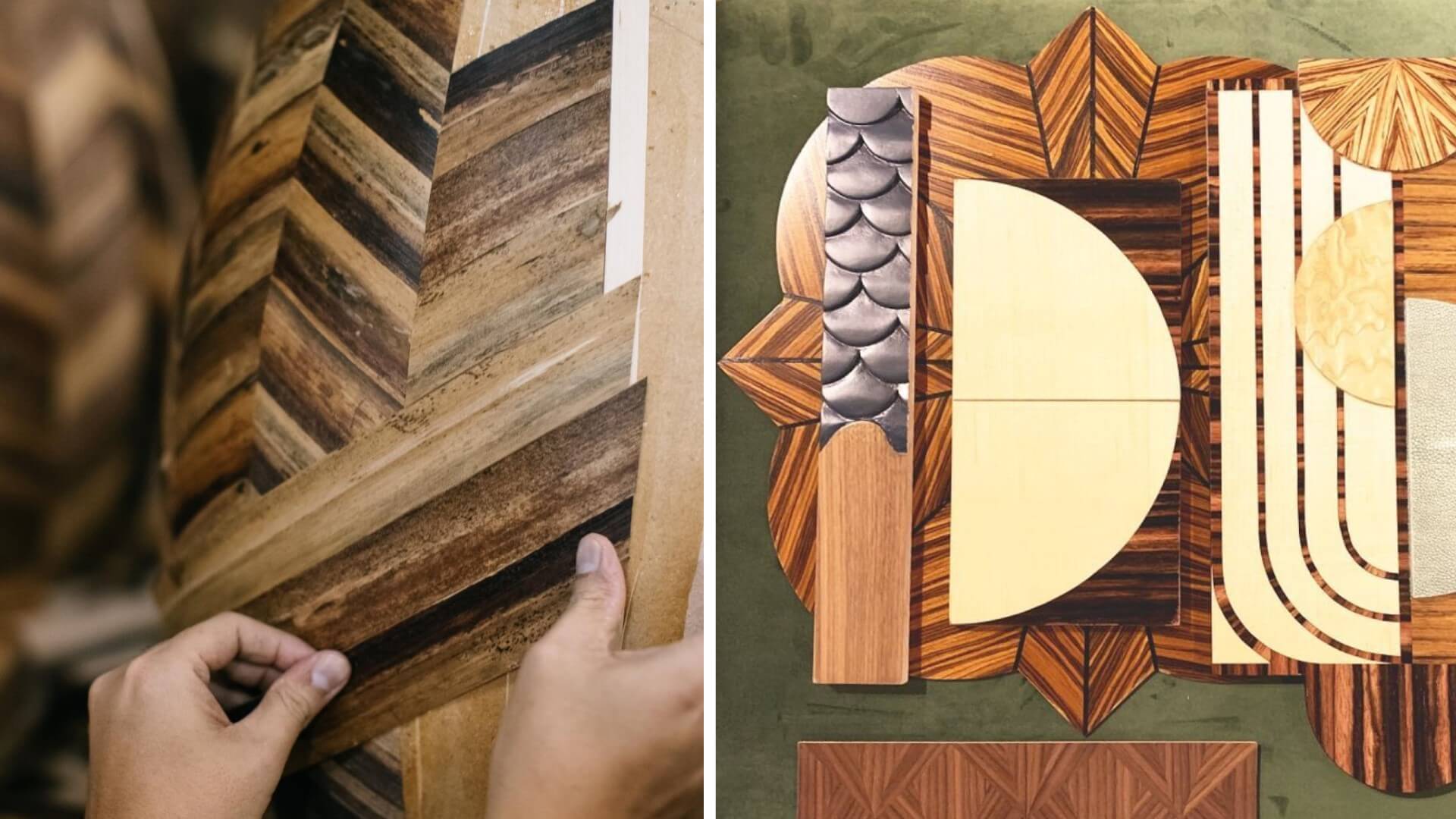 Each South Sea Veneer piece is inlaid and meticulously crafted by hand (left). A moodboard of the veneer types and marquetry patterns used in their recent collections show a nostalgic, Art Deco-themed vibe.
An intricate art form
Marquetry is definitely a time-consuming art, with each tiny piece of wood, shell, bone, or semi-precious stone needed to be applied and inlaid by hand by a maker with a high skill level. This makes it a rare technique to use in present-day commercial furniture-making, which is mostly automated.
But this particular technique was embraced by South Sea Veneer, the Pampanga-based sister company of JB Woodcraft, Betis Crafts, and More Than a Chair, which are all owned by the Bituin family. Starting out as a subcontractor for wood panel laminations, the company grew to be the industry expert in creating wood veneer designs. Coupled with regular artist and designer collaborations with the likes of Nix Alañon, Garapata, and Gabriel Lichauco, South Sea Veneer made this centuries-old art into future-forward creations.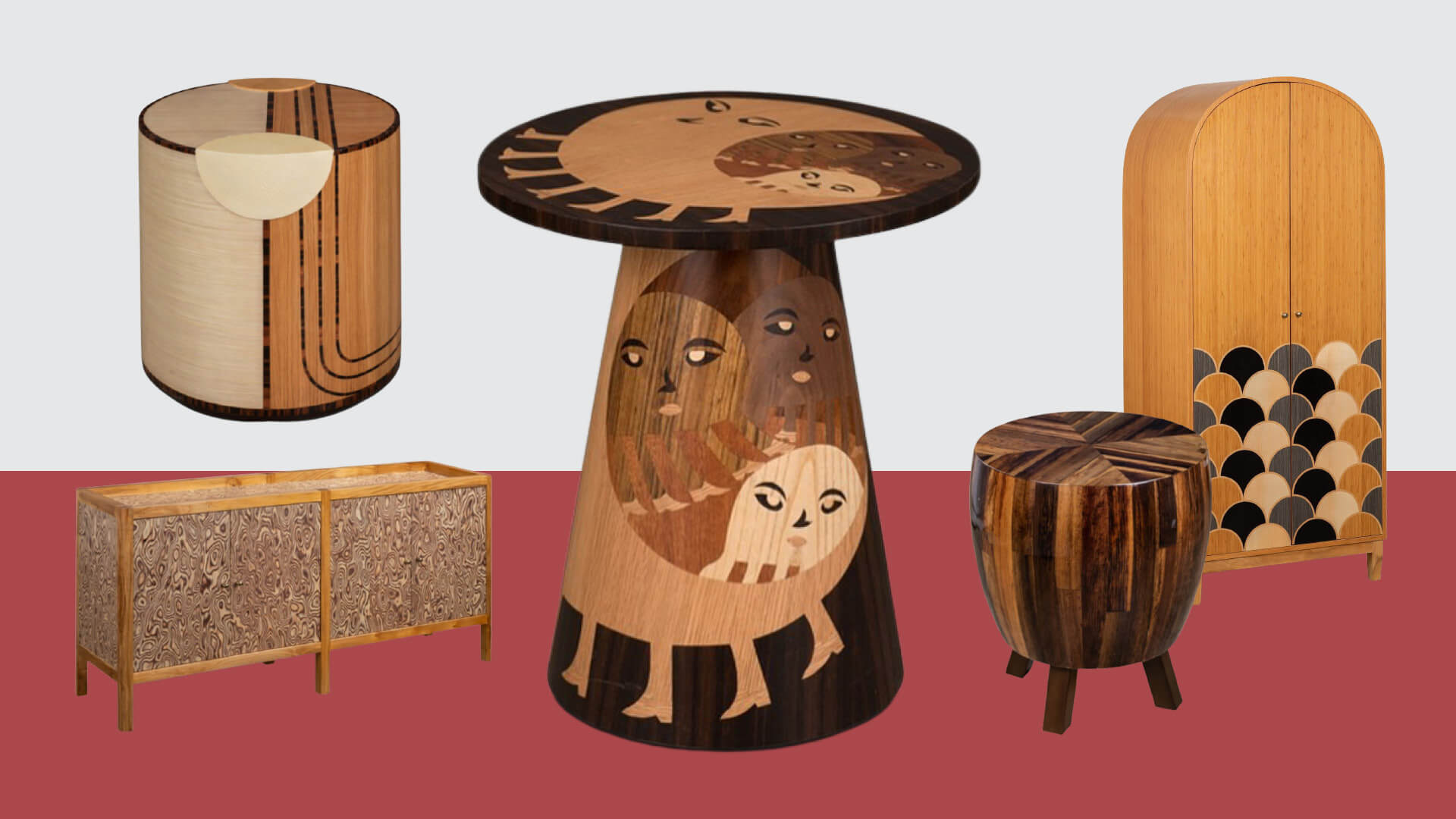 Understated elegance x intricate themes (Clockwise from bottom left): Retro Buffet Cabinet; the Art Deco-inspired Pale Jorge Drum Accent Table; the quirky Gara-Veneer Side Table in collaboration with Dex Fernandez and Newfolk; Polilio Accent Table; Bishop Cabinet with marquetry in Recon Black, Gray and Maple, all by South Sea Veneer.
A multitude of wood types
Different styles and patterns can be seen in South Sea Veneer's pieces, but you could see that some of the collections lean toward understated, timeless, and nostalgic pieces, while the experimental collections break free from traditional marquetry patterns.
All of the pieces play on the physical attributes and colors of each wood type that they use (there is a "studio" of wood veneer types on their website). There is the knotty, bird's eye maple or olive ash burl veneer used on their sleek buffet cabinets and bureaus. Or the stripey, dark ebony macassar on drum stools and tables; and the simple, linear pale oak veneer combined with shagreen and woven chaircane (solihiya) on tall cabinets.
Dynamic ornamentation
Some of South Sea's more recent pieces harken back to the Jazz age with Art Deco, streamlined moderne patterns of sunrays and ocean liner stripes, half-moons, and contrasting woods. The other pieces look to geometric, Escher-like grids for inspiration, classical trefoil patterns, or to scalloped designs that provide an accent to a dramatically large piece, like a cabinet or dining table.
The overall effect is unexpected and fresh, updated, but crafted with the utmost refinement and quality, which are all proof that the art of marquetry will continue well into the future.