Milo Naval's Good Intentions
The highly esteemed artist talks about the true power and purpose of good design

by Vicky Montenegro

In quiet Sorsogon, the award-winning interior and furniture designer Milo Naval has found respite from the hustle and bustle of Manila. "It's nice; it's probinsiya (province)," he shares in a phone call. "It's good for people my age, but, really, I think it's good for everybody. It's quieter, slower."
Naval's work pace though is far from being quieter and slower. While the pandemic has definitely slowed down some aspects of his furniture manufacturing business, Naval is still busy doing what he does best: designing spaces and furniture. He also tends to Siama Hotel, his boutique hotel nestled right in the heart of the city, and a testament to Naval's genius. Every corner of the beautiful resort hotel has Naval's signature "no-fuss, excellent craftsmanship, and modern Filipino" style.
Before he established Evolve Designs Inc., his furniture manufacturing company, and later on, OMO Furniture, which he considers as his creative outlet, Naval was working as an interior designer. "In my interior projects, I wanted to design the furniture since I just found it easier to create something specific to how I want it, and to do it on my own," he shares. "Mas na-dedetalye ko. [The work comes out more detailed.] That's how my furniture design work and manufacturing company started."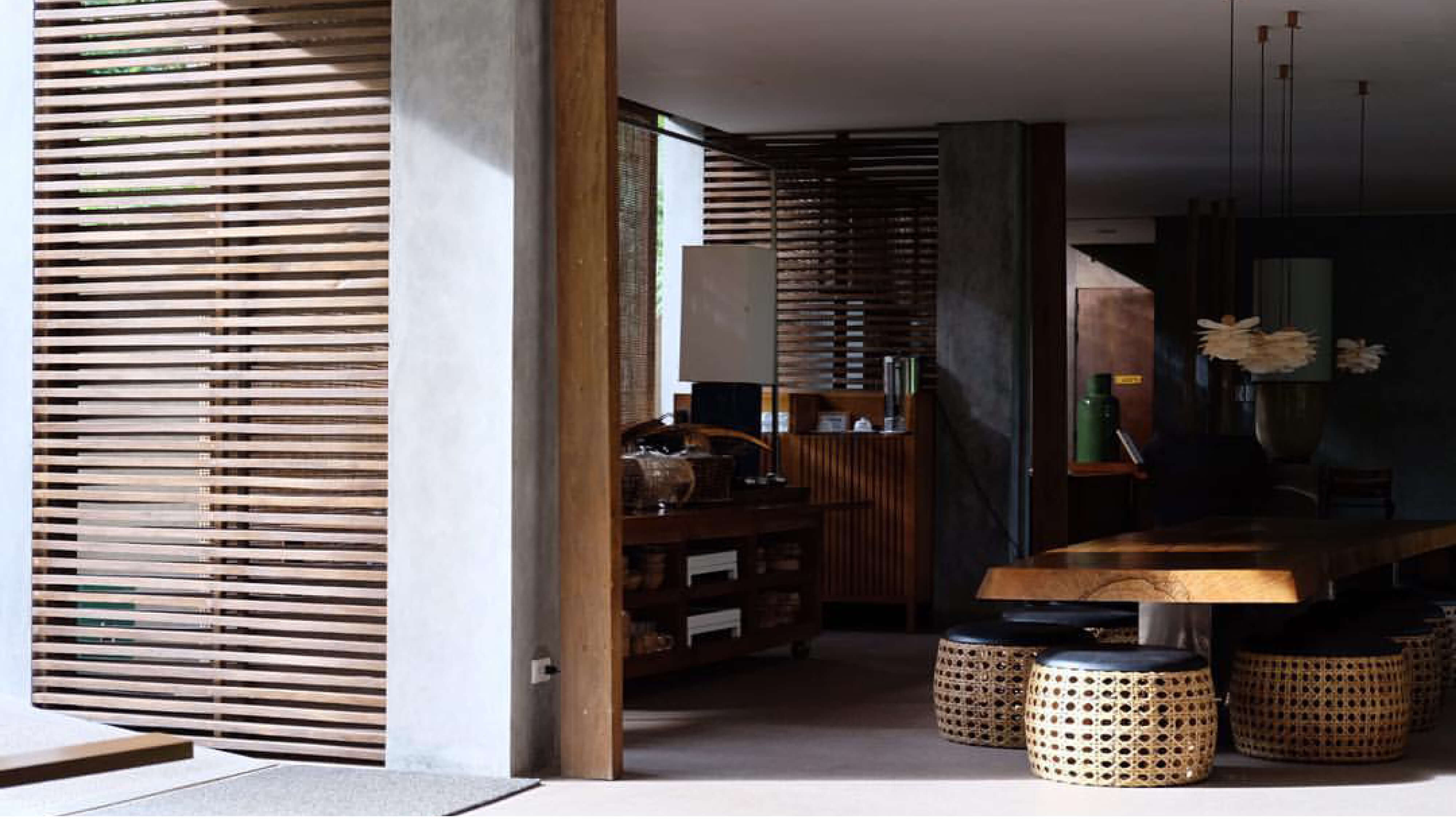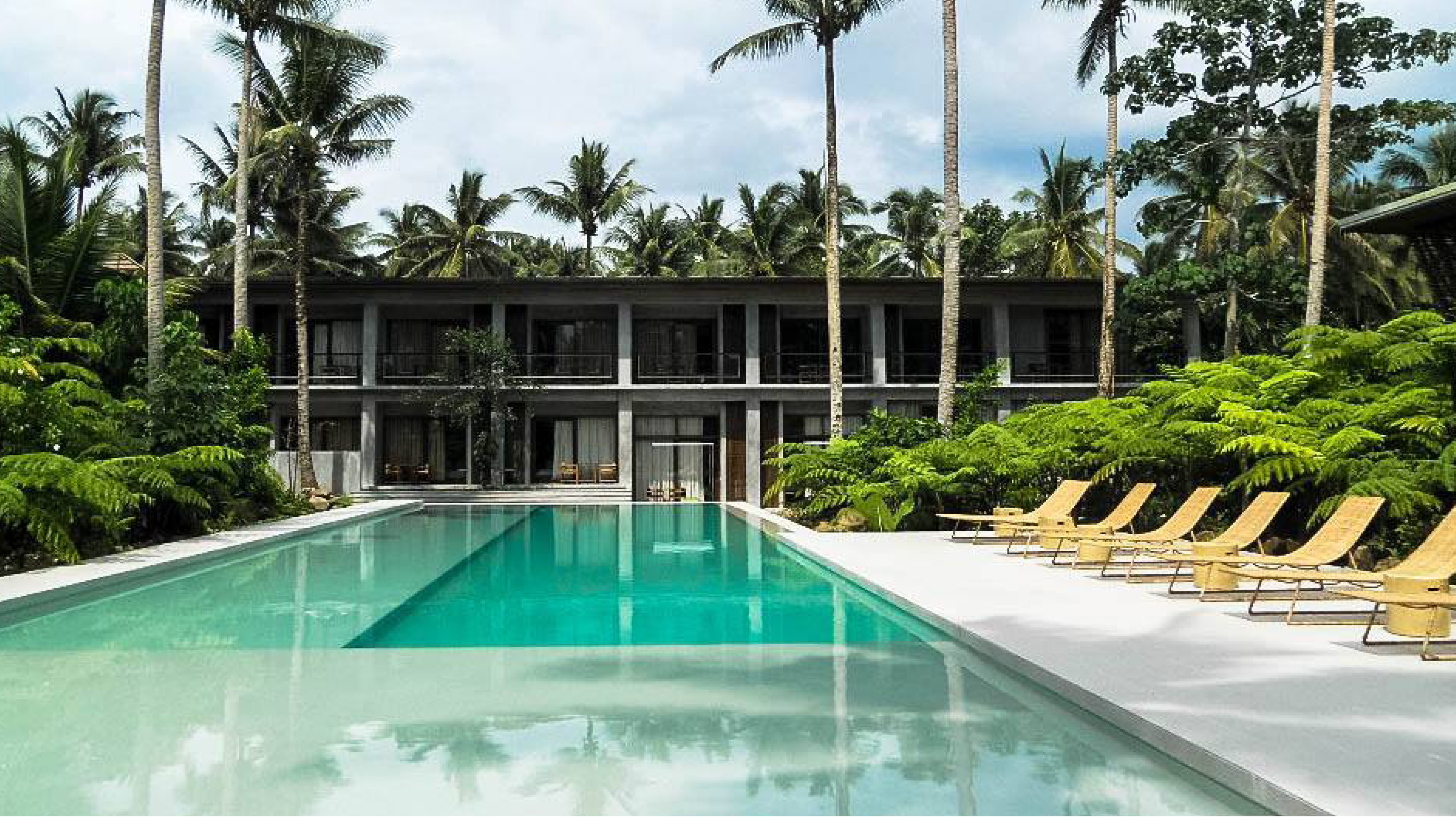 Milo Naval's Siama Hotel is a resort boutique hotel that showcases his trademark modern Filipino aesthetic
That's also how he started joining CITEM trade shows and exhibitions. "I have been joining CITEM for almost 30 years already," he says. "I remember my first group show with Movement 8." Movement 8, a group formed by former CITEM executive director Ely Pinto-Mansor and Budji Layug (who also served as curator), was composed of Kenneth Cobonpue, Ann Pamintuan, Tony Gonzales, Tes Pasola, Al Caronan, Luisa Robinson, Renato Vidal, Carlo Cordaro, and Naval. "Our booth was located in one of the halls in PICC, and the location was—we were facing a wall—in an area where it would be difficult for people to find you," he laughs. "We were late applicants at the time, and so there were very few slots available when we signed up. In that show, we had a 3x3 booth and it was a good thing na may nakapansin sa amin [some people noticed us]. In this, our first show, we won best product design in houseware, and we also won best booth."
The group moved to joining international shows next. "Among ourselves, it was clear that what we wanted to show the world was modern Filipino design," Naval explains. "When we were first introduced in Valencia, Spain, the reception was great. So we were happy about that—it was our first trip as a group. And then from there, other international shows followed. So wherever we go… let's say, we go to Spain or Europe or the US, in the next CITEM show in Manila, designers and buyers from Spain, Europe, or the US would attend. And that was what we wanted to do: bring the buyers to the country."
In this Creative Dialogue with TouchPoint, Naval talks about purposeful design, the value of creating a style and sensibility that's strictly your own and, more importantly, setting it apart from everybody else's.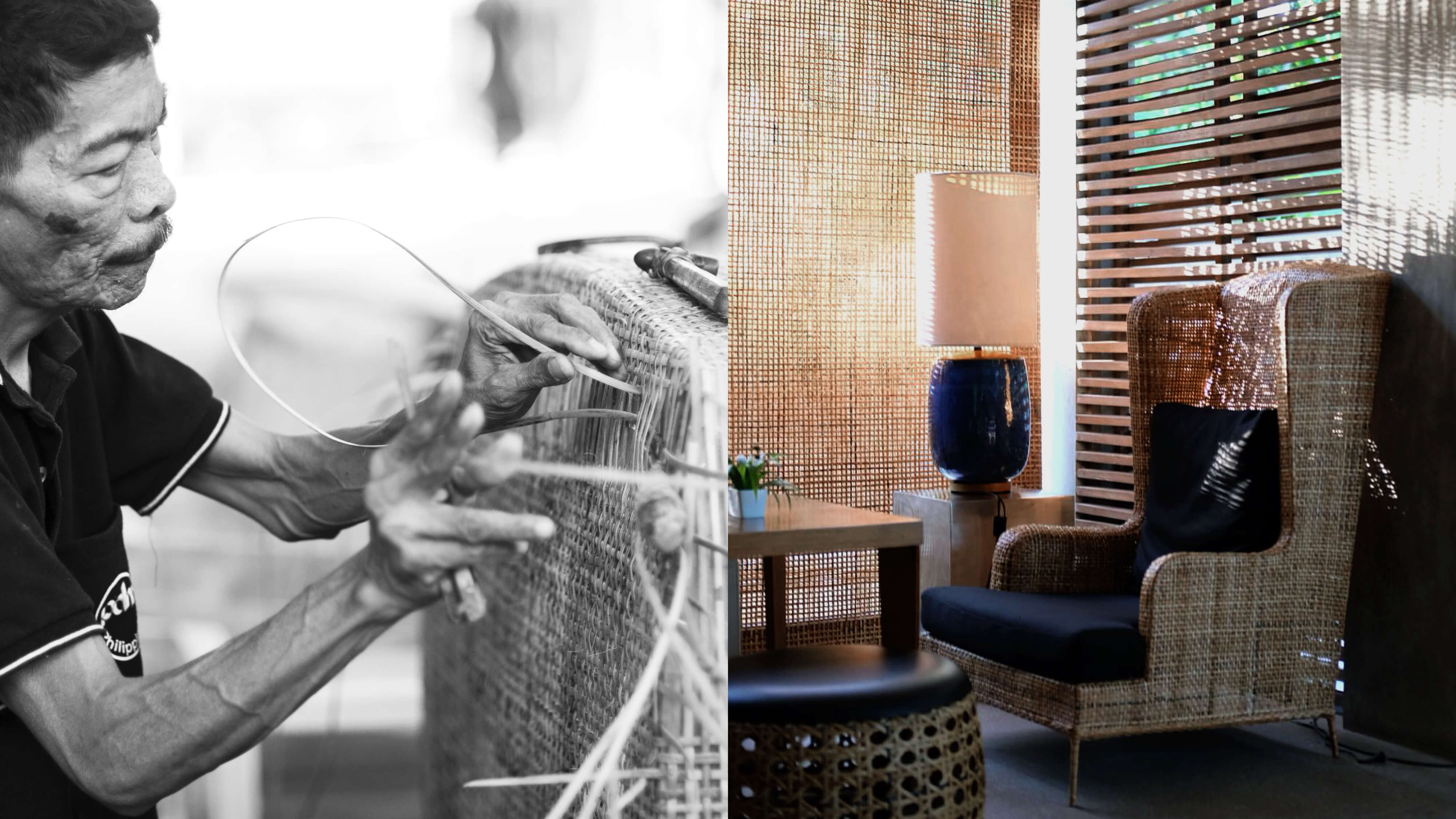 Filipino craftsmanship is the best in our region, Naval boasts. (right) His Wing Chair for OMO Furniture
TouchPoint: Do you feel like your work has evolved over the years?
Milo Naval: Whether it's interior design or the furniture I create, I more or less have developed a style that is consistently present in all my projects to this day. I was able to develop the style that I like.
TP: What is that style?
MN: From the very beginning, I've always been a minimalist. So my approach to everything, whether it's interiors or furniture, has always been very minimalist—in the detailing and the design itself. Even with the proportions of the furniture and the areas that I do, everything is consistent.
TP: And you do have a preference for large proportions.
MN: Yes, probably because, well, for one, I started designing spaces, and mostly big residential places. So medyo nahasa ako sa ganon [I was well-trained in designing for large spaces]. And personally, that's also what I like: large-scale furniture.
TP: Where do you always find the inspiration for your design?
MN: Everywhere. I deal with what is on hand in the situation. When it comes to interiors, I deal with the area that I have to work with. In furniture design, I deal with the client, the market. For the design, per se, as I've said, I have developed a certain style, so I just make sure to apply that style. A lot of people have told me, when they see a piece of furniture, they can tell if it's a Milo Naval. They can tell if it's a Kenneth [Cobonpue]. They can tell because, I guess, we have really developed a style of our own and stayed consistent.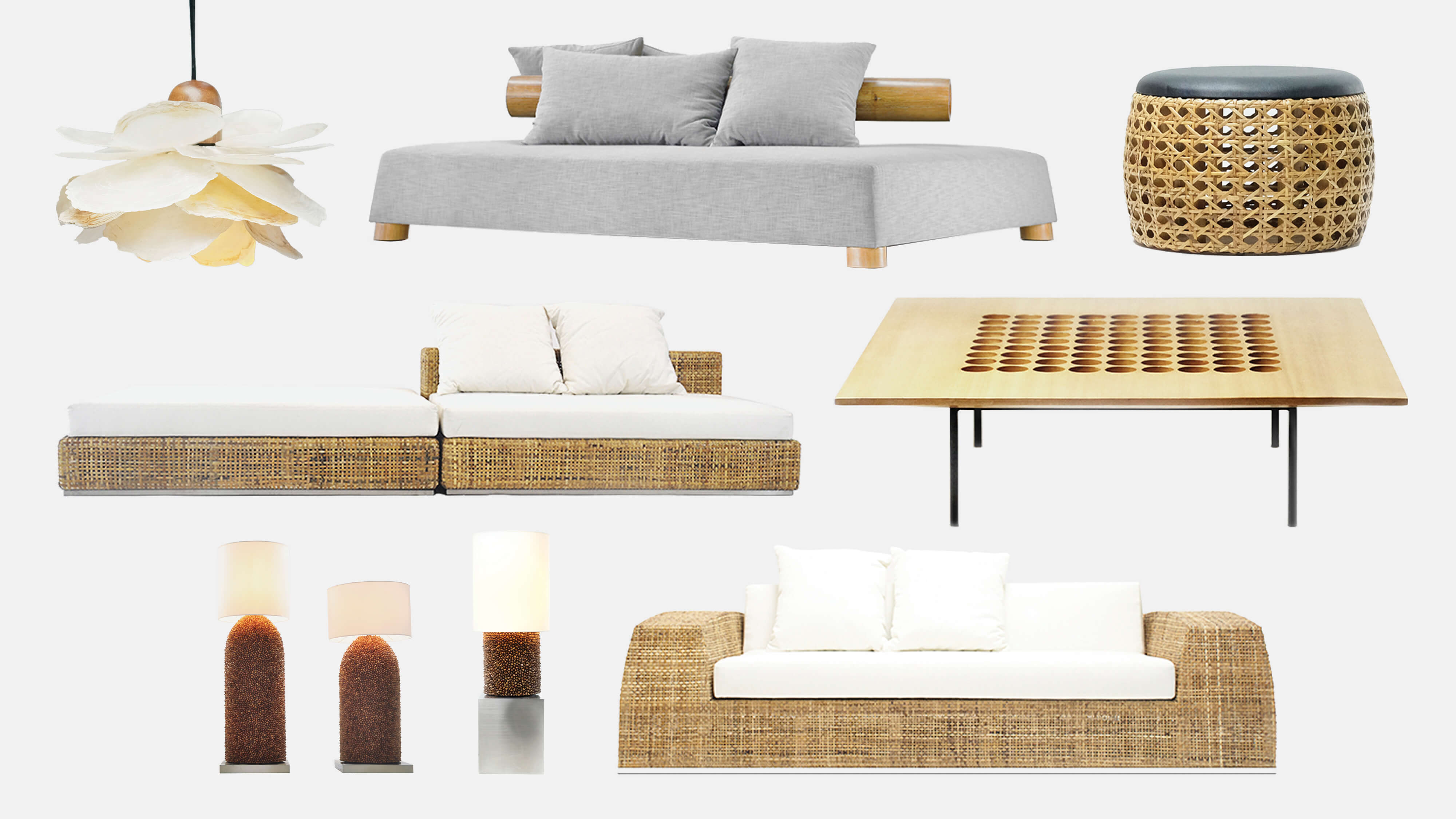 (clockwise from top) Bamboo Island Sofa, Zircon Pouf Big, Solid Wood Coffee Table with Holes, La Sola 3-Seater Sofa, Pili Lamp Set, Samba Sofa Set, and Alessa Drop Lamp, all OMO Furniture
When I started joining CITEM, the direction was different especially since I dealt more with foreign clients. In export furniture, you have a bigger stage and it is the world that you will be dealing with. And every market has different needs and likes. What you show in Japan, for example, will be slightly different from what you show in Europe. But you still have to stay focused on what you want to do, what you want to show—in the style that you want, in a style that's yours. For me, I've always wanted to show that I am from an Asian country, that I am a Filipino.
TP: You've also always been known as an environmentalist, and you have been mindful of sustainability for a long time.
MN: I had a solo show two decades ago. I did recycling, upcycling—I used a lot of discarded materials, like tubes of tires, for the furniture. I did that because I wanted to show how it could be done. The sustainability practice in furniture design has evolved already—from using recycled materials, now, there's also the practice of managing your material sourcing, like the farming of the wood to using certain ethically produced materials only. I guess now everybody has an understanding already of how to go about sustainability in design, and that's good.
TP: What else, aside from sustainability, do you keep in mind when designing?
MN: Designing is problem solving. That's how I see it. I design based on the challenge—or problem that I have to solve for a certain project. So different challenges mean different questions, which means different kinds of approach. How you approach solving the problem through the design is key.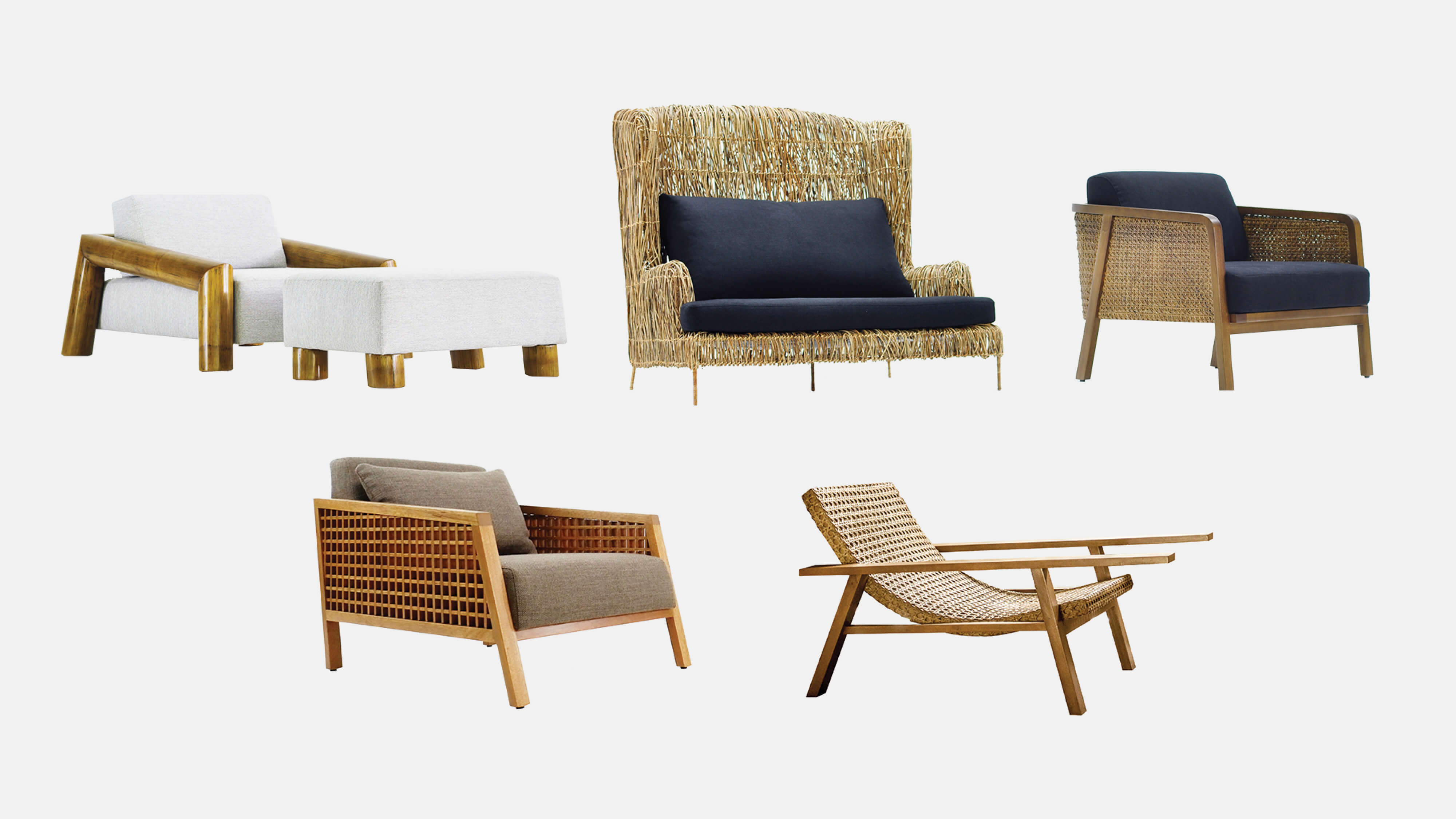 (clockwise from top) Wing 2-Seater Chair, Rattan Accent Chair, Bahia Lounge Chair, Bulan Accent Chair, and Bamboo Chair with Ottoman, all OMO Furniture
TP: How would you describe Philippine design and craftsmanship? What sets us apart from other countries?
MN: Number one, I believe we're coming in very strong with our designs when it comes to furniture. And, of course, the craftsmanship. I would say we are not just at par. We are, among our Asian counterparts, the best.
TP: The market is seeing new faces, new talent. What would you advise the new breed of local designers?
MN: I would tell them to be different. Try to show a style that is your own. Designing is like selling yourself—"this is my style; this is what I do." Being different—people will see that in your work. And be the best of what you can be in what you're doing.
TP: So what's next for Milo Naval?
MN: Wow! (laughs) Well, like the pandemic, we didn't expect it to come, but we had to adapt. With any situation, you have to learn how to adapt. So what's next for me? What I will be doing next will depend on what will happen tomorrow.

Photos courtesy of Milo Naval