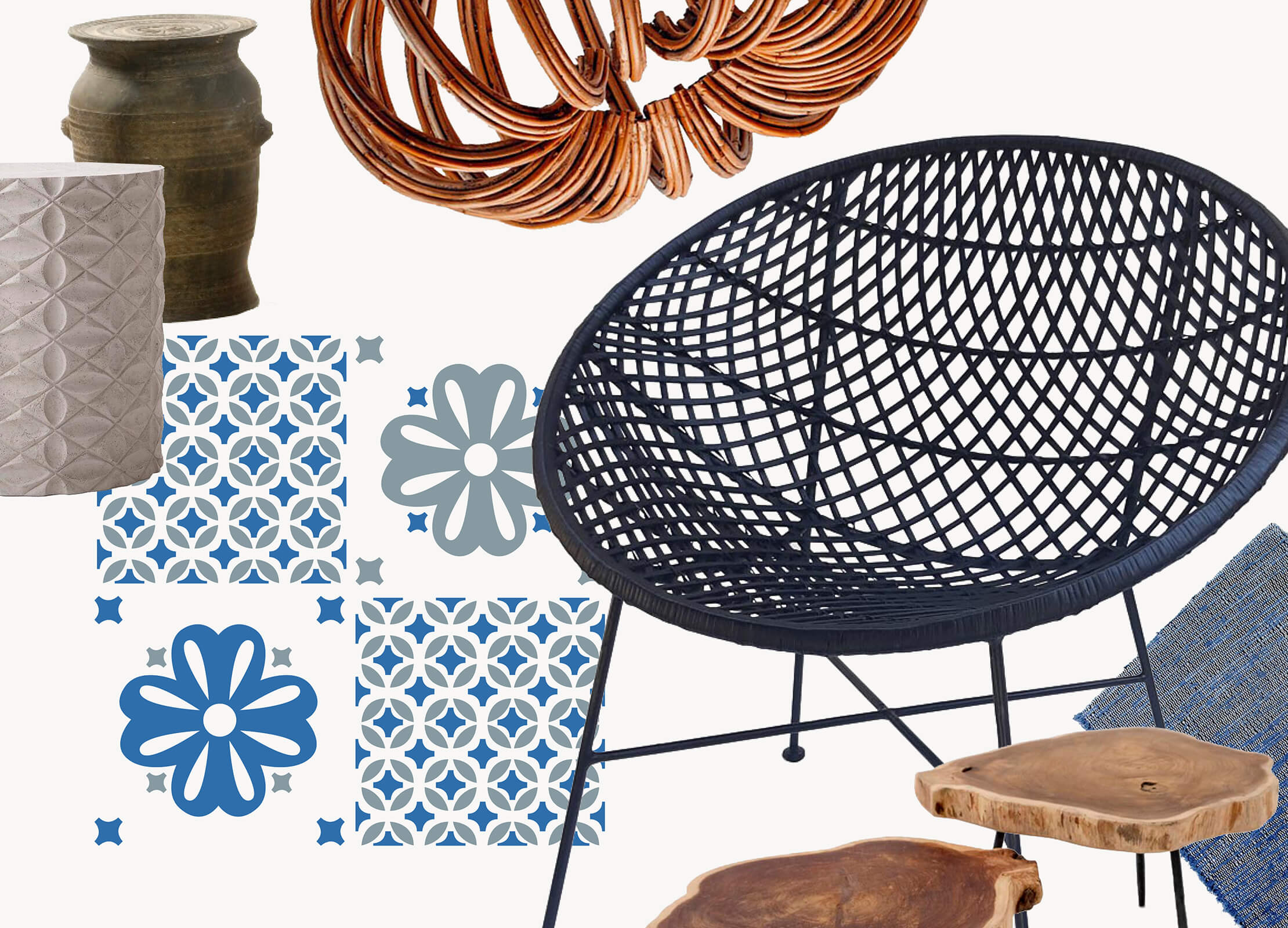 Welcome the New Mediterranean
A more modern take on this classic home design forgoes the columns and heavily carved doors—and favors elevated indoor-outdoor living
by Vicky Montenegro

When you hear Mediterranean home, you probably think of stucco walls, wrought iron, warm woods, and a tiled roof. And while these elements remain Mediterranean-style home staples, the classic home design theme has since been updated for dwellers leaning toward a more modern aesthetic.
Still influenced by both Spanish and Italian architecture, the New Mediterranean style has everything we love—archways, terracotta, metalwork, and loads of texture—but with modern twists. Mediterranean style has also always embraced indoor-outdoor living and so it is no surprise that it has seen an increase in popularity in the last year.
"Indeed Modern Mediterranean homes are getting more popular these days," says interior designer Mark Perez of Empire Designs (Anonuevo.Perez.Arcega.Mangio). "It's primarily because people want something more romantic when it comes to materials, textures, and silhouettes compared to the very straight and angular—and at times somewhat cold—lines of the really modern contemporary houses in the past ten years. People also want a break and have a different take when it comes to modern upscale resort and suburban living, a kind of lifestyle the modern Mediterranean homes also offer, which is very much cozy, relaxed, rich yet less formal."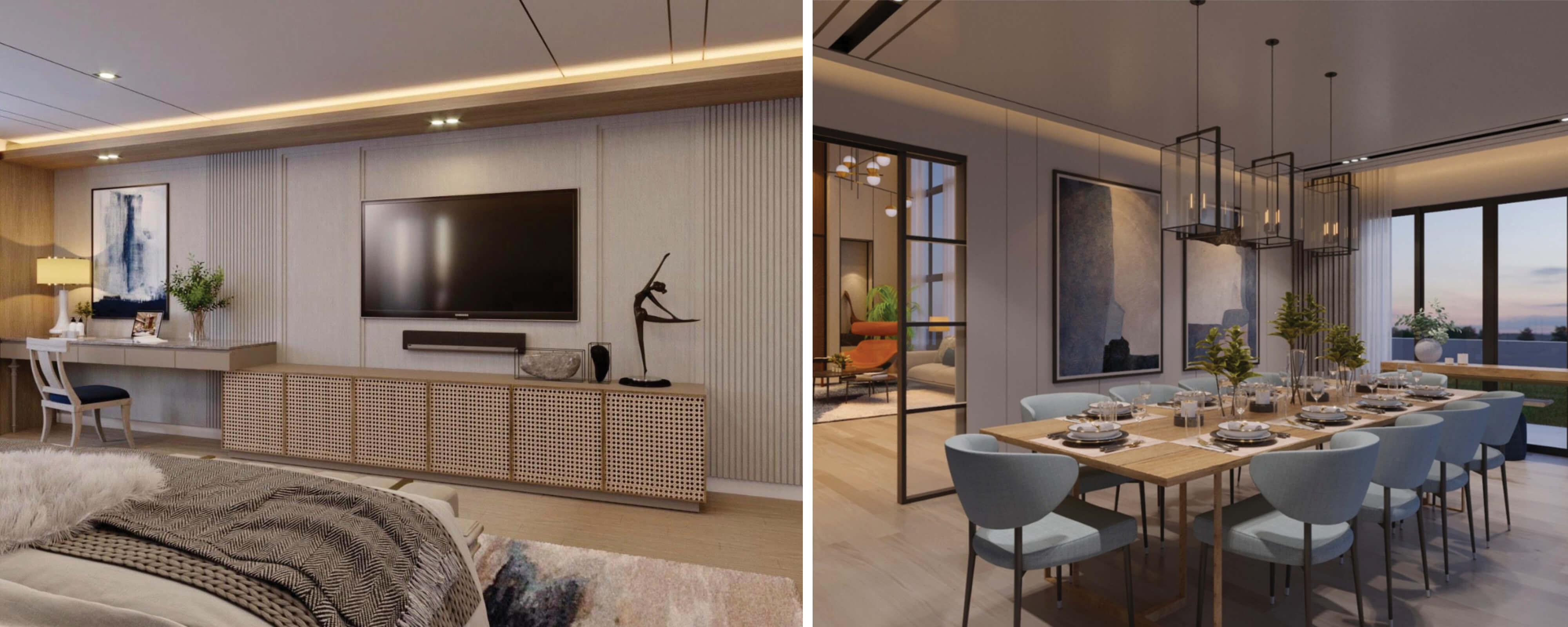 Open spaces for dining, entertaining, and lounging; more natural light and air; neutral colors; warm wood and lots of textures; the outdoors; and more modern details and finishes are essential for the New Mediterranean. (Images courtesy of Empire Designs)

Mediterranean style is nothing new to Filipinos. Before Asian Modern or Modern Tropical style homes, Mediterranean style was the default design of model homes in the metro's exclusive subdivisions. The look is familiar, so updating to the New Mediterranean should come easy to most. "Having more open spaces for dining, entertaining, or just lounging has become more of a need nowadays, trying to bring more of the outdoors in," Perez points out. "This means allowing more natural air and light into your home. Verandas and courtyards, which are typically Spanish, and bigger glass doors and windows really do the trick."
"However, to have a modern take on Mediterranean interiors, one should have less of the heavy and rustic wall and column claddings," he adds. "It's also essential to keep the key Mediterranean elements such as accent raw and rustic wood elements; patterned tiles as flooring; and molded walls, doorways, and architraves. Color schemes for all permanent elements—walls, floors, and ceiling—should be very light and airy. Although you may add subtle wall textures by having accent Venetian plastered wall finishes painted in white, or light gray or beige color."
Perez says that Modern Mediterranean homes are "characterized by its architectural details and layout more than its décor" but that doesn't mean that you can't incorporate the theme into your home with just a few key pieces. "When it comes to furniture pieces, you may experiment and mix around modern accent pieces with classic ones refurbished or updated to match your more modern Mediterranean look," Perez says. "Having modern wrought iron details on certain furniture, decorative lighting, and on stair or hallway railings will definitely give a new, romantic Mediterranean feel to your home. Just always try to remember to keep everything light and airy."

STONE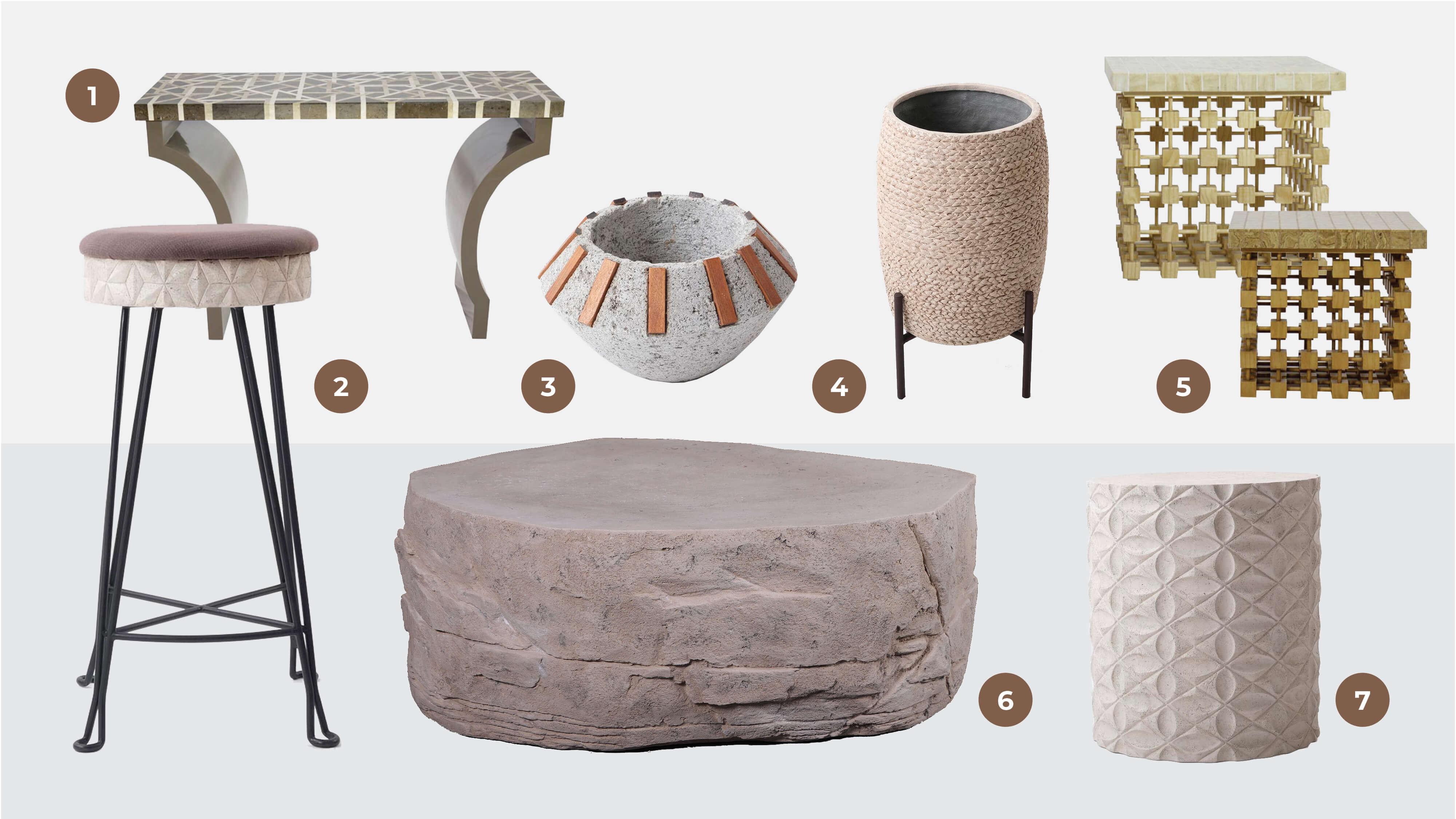 White-washed walls, plaster, stucco, bricks… these are hallmarks of Mediterranean style. While we all can't afford a redo of our interior and exterior walls, you can introduce these perfectly imperfect finishes via furniture and décor pieces made of stone.
1) Fossilized stone creates the beautiful pattern on this console. Forsythia Console Table, STONESETS 2) You can't get more classic Mediterranean than wrought iron and stone. Old Manila Bar Stool, SOUTHEAST METRO ARTS INC. 3) Made of natural pumice stone with wood accents, this handcrafted plant pot is beautiful enough to be a standalone décor piece on your tables. 2508 – Bowl, PUMICEUNLIMITED VENTURES 4) Don't be fooled by this beautiful macramé knotted pattern, this planter is made of Mt. Pinatubo volcanic ash and stone. Macrame Planter, SOUTHEAST METRO ARTS INC. 5) Woodstone fossilized stone sits on wood cubes creatively assembled to form the base. Cube Accent Table, STONESETS 6) Cement is made to look like real stone—this table is perfect for indoors and outdoors. Grand Canyon Coffee Table, HEINIMEX CORPORATION 7) Pretty scallop details soften the stone exterior. Scalloped Side Table, SOUTHEAST METRO ARTS INC.

METAL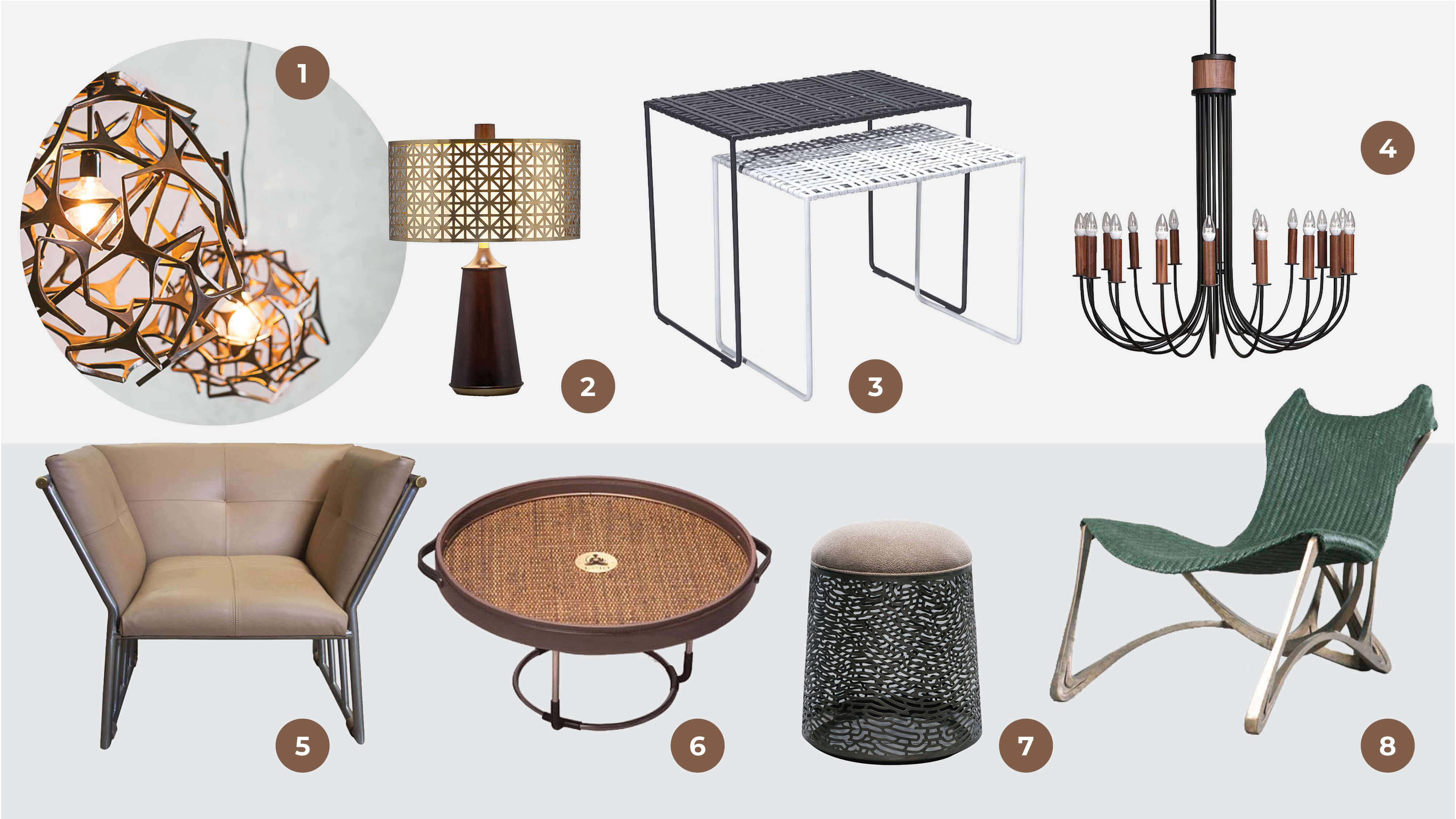 This much beloved Mediterranean-style material is here to stay, but with more modern detailing work. Introduce metal or wrought iron in your seating, tables, light fixtures, and the little décor extras.
1) It's a constellation of (metal) stars for your living or dining area. Starburst Pendant Light, INDUSTRIA EDITION 2) Stainless steel in a quintessential Mediterranean-style geometric pattern. Rumi Table Lamp, VENZON LIGHTING 3) The powder-coated steel's cheque pattern lends a more modern metalwork detail. Cheque Nesting Tables, ZARATE MANILA 4) Sleek iron and warm wood combine for an industrial take on a classic chandelier silhouette. Elio Chandelier, Triboa Bay Living 5) The monochromatic combination of stainless steel, camel leather, and brass details will look good in any setting. Raffles Arm Chair, PRIZMIC & BRILL 6) Black iron legs, brown-wash rattan, black croc leather, and brass details make this a handsome and functional piece—fold this table to serve many different purposes. Bamboo Folding Round Coffee Table, PRIZMIC & BRILL 7) This stool is all about the intricate details on its steel frame. Montemar Stool, VENZON LIGHTING 8) The metal frame of this chair is a work of art that deserves a spot in your space. Loopy Lounge Chair, INDUSTRIA EDITION

BLUES AND GRAYS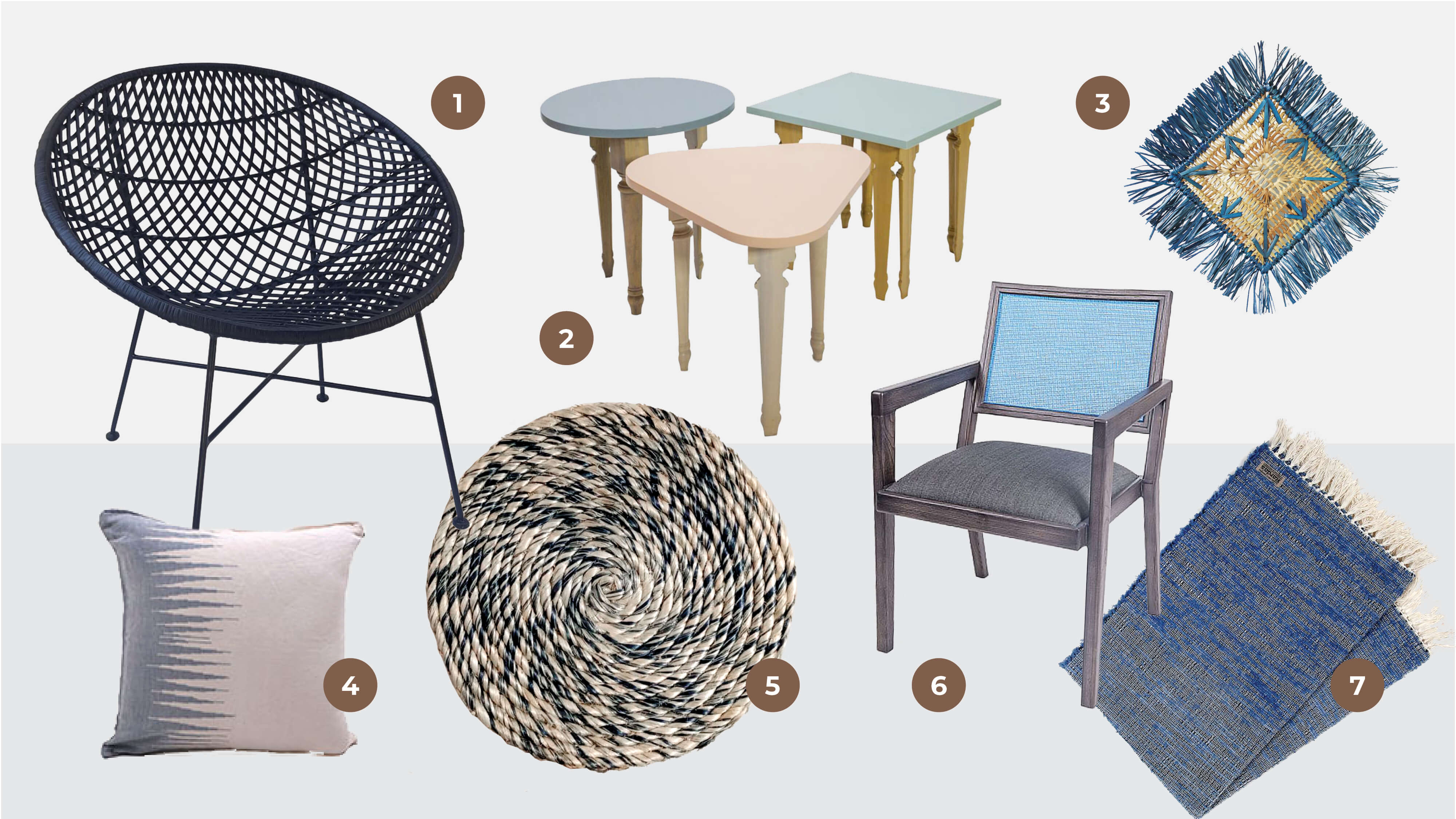 We can't forget this color—and all its beautiful shades—when we talk about Mediterranean style. In this modern take, the vibrant blues are tempered by neutral colors: grays, soft browns, creams, and whites. The mix of colors lends a dose of patterns in your Mediterranean setup.
1) This round-shaped rattan chair is perfect for lounging in your indoor-outdoor setup. Amelia Chair, HOME EDITION 2) Pastel shades of blue (and others) in these accent tables are made to look more grown up with stately legs. Quessa Accent Tables, STONESETS 3) Mediterranean and the tropics collide in this festive fringed charger. Azul Square Fringed Charger, ARTISANA 4) Blue ikat pattern on one side of a gray cotton canvas feels effortlessly cool. Sophia Ikat Cushion Cover, CREATIVE DEFINITIONS 5) This 100% abaca rug is perfect for your foyer—and helps set the mood. New Danglayan, SAMOYA 6) The sleek silhouette is the modern twist you need for your New Mediterranean. Jean Chair, ALBERO 7) It's a cotton-and-polyester rug that will elevate any hallway. Rug, NARDA'S HANDWOVEN ARTS AND CRAFTS INC.

TERRACOTTA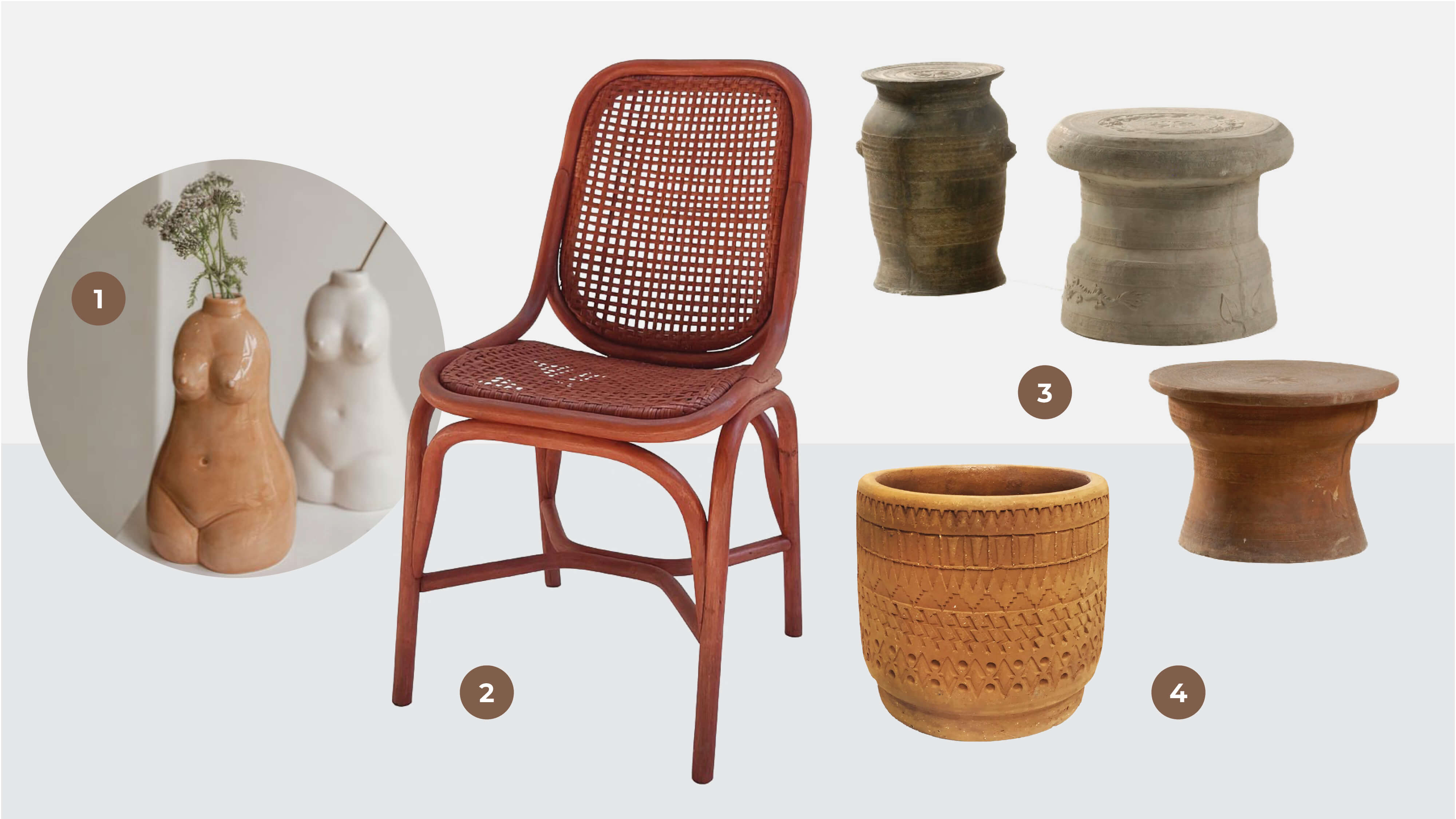 You can't do Mediterranean without terracotta—the clay-based ceramic and the color. An outdoor setting peppered with terracotta pots is the obvious choice, but you can also enjoy this Mediterranean staple indoors.
1) Cheeky, fresh, and fun, this vase deserves a spot in your home. The Body Vase, BONDI STUDIOS 2) Hand-woven rattan in a terracotta shade feels earthy and cozy. Santa Chair, HOME EDITION 3) Use these rain drums made of reconstituted stone as stools, side or accent tables. Rain Drums, AEROSTONE INC. 4) Filipino tribal ethnic patterns elevate the look of this planter in a natural terracotta finish. Cylinder Short Medium Terracotta Planter, RED SLAB POTTERY

WARM WOOD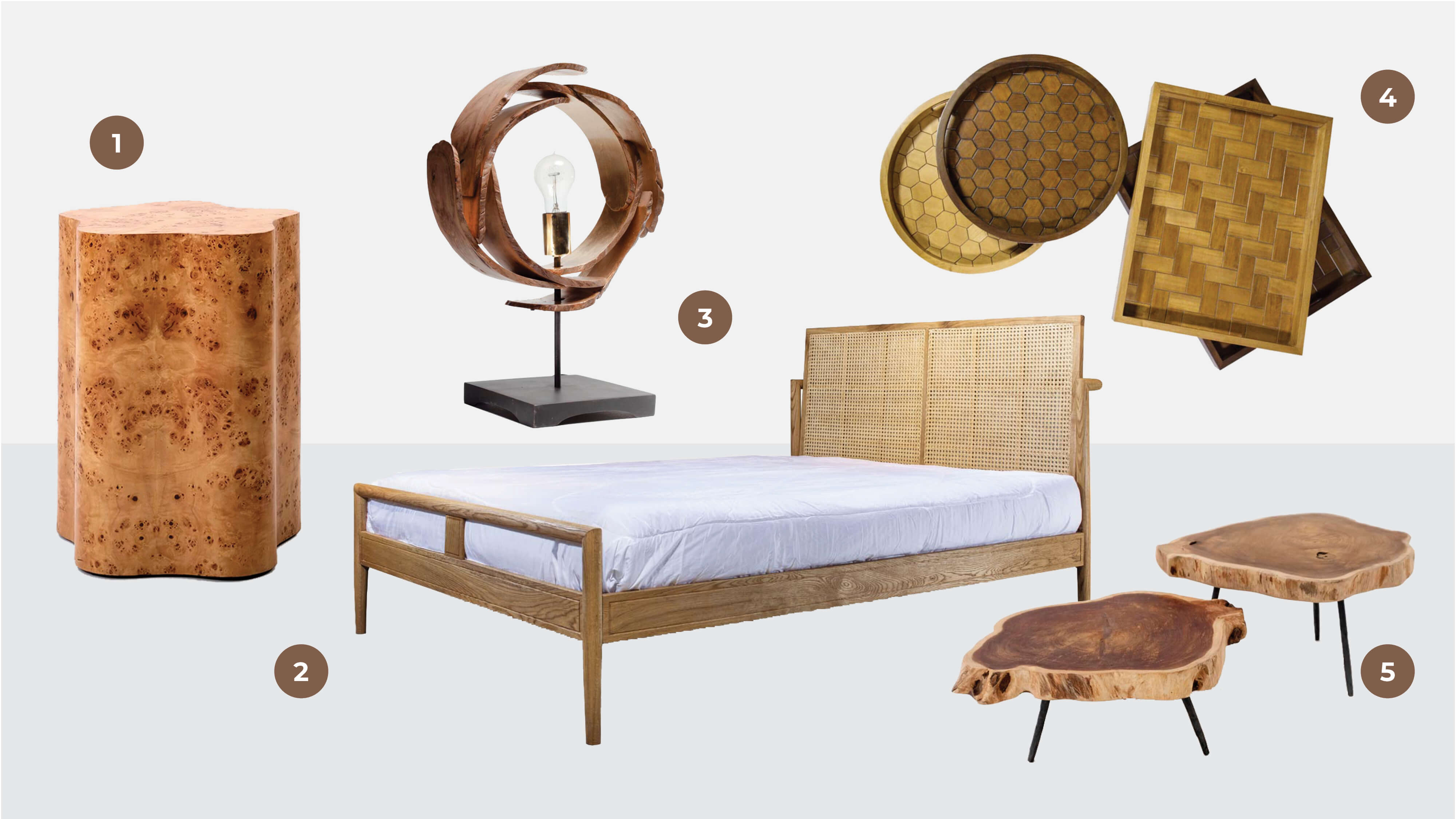 Wood helps warm up the predominantly white interiors of the New Mediterranean. Aside from plants, having wood pieces in the home is also the easiest way to bring the outdoors in. For this fresh take on Mediterranean, look for burl, live edge, even driftwood to create a relaxed, modern vibe.
1) This side table in mappa burl veneer has an organic form that mimics real-deal wood. Epic Side Table – Mappa, SOUTH SEA 2) A headboard in solihiya weave adds textural detail and visual interest in an otherwise simple yet sophisticated frame. Morrison Bed Frame, A. GARCIA 3) Driftwood is transformed into a sculptural table lamp. Slice Desk Lamp, CEBU HOMECRAFT 4) Wood trays with honeycomb and herringbone patterns for your coffee tablescapes. Reiko Tray, STONESETS 5) These live edge wood pedestals are hand-carved using natural madre de cacao wood. Pedestal (BNW-F2001), BASKET AND WEAVES

NATURAL FIBER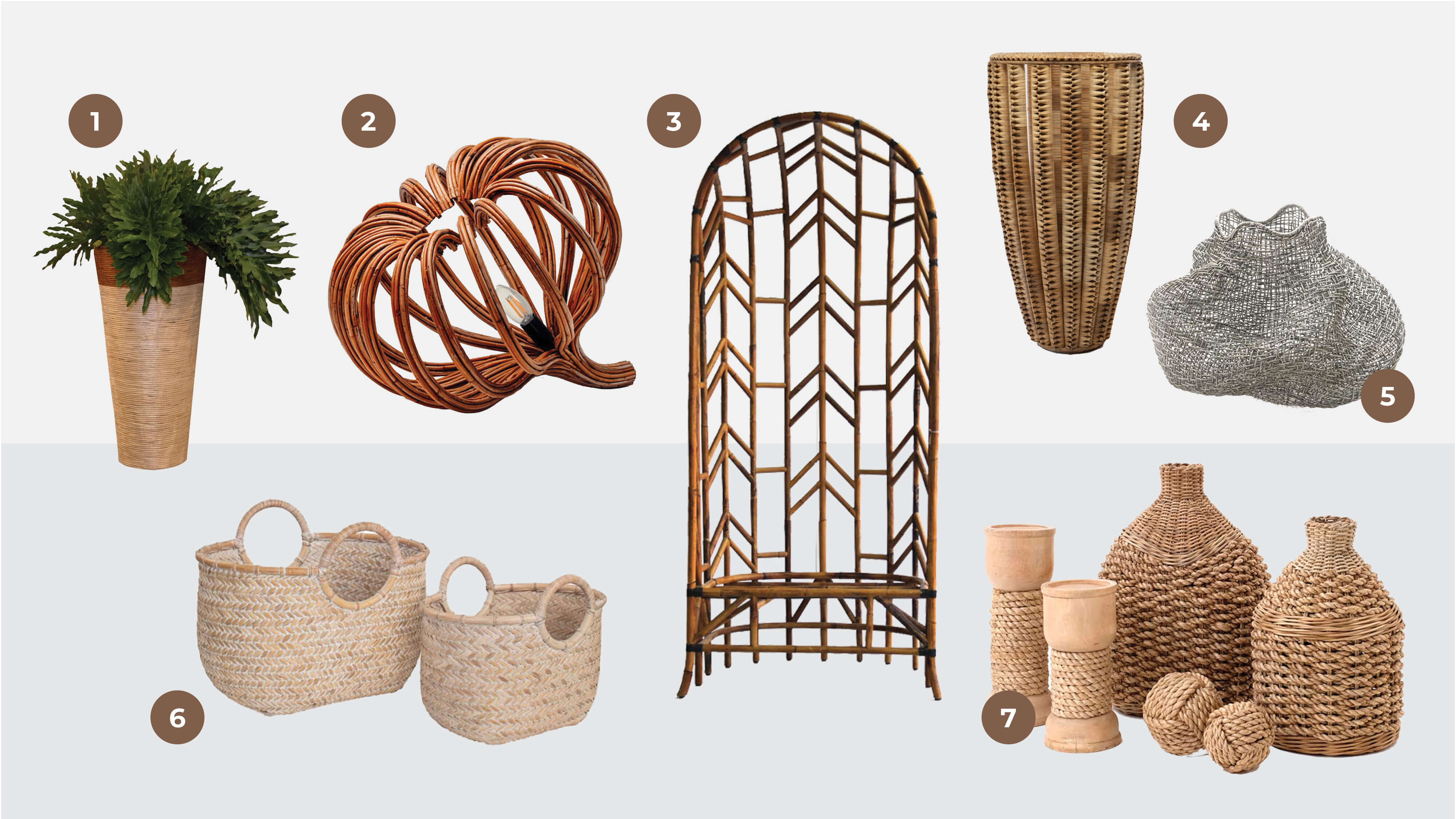 Texture is an essential element in Modern Mediterrranean, and pieces made of rattan, abaca, rope, and almost all kinds of natural plant or fiber will always make the cut—especially in our warm, tropical climate.
1) Made from 100% abaca fibers wrapped with coil wires, this planter is a sturdy home for your greens. Abaca Fully Wired Planter, TADECO HOME 2) Made of rattan, this lamp simulates a fully bloomed flower that has fallen on the ground. Fiori Lamp, FINALI FURNITURE 3) Formed to resemble a bird cage—using rattan and leather binding—this is a statement-making seat, for sure. Bird Cage Chair, E. MURIO 4) Rattan poles and splits are masterfully woven to form this jar. Braided Jar, OBRA CEBUANA 5) Cloud-like wicker weave around a metal frame gives this shape an illusion of softness. Cloud Basket – Gray, OBRA CEBUANA 6) Full rattan weaving in a herringbone pattern is a beautiful design detail in this form-meets-function basket. Oval Herringbone Basket, CALFURN 7) These hand-carved wood and hand-woven rope candle holders come in different shapes and sizes. Candleholders, BASKET AND WEAVES