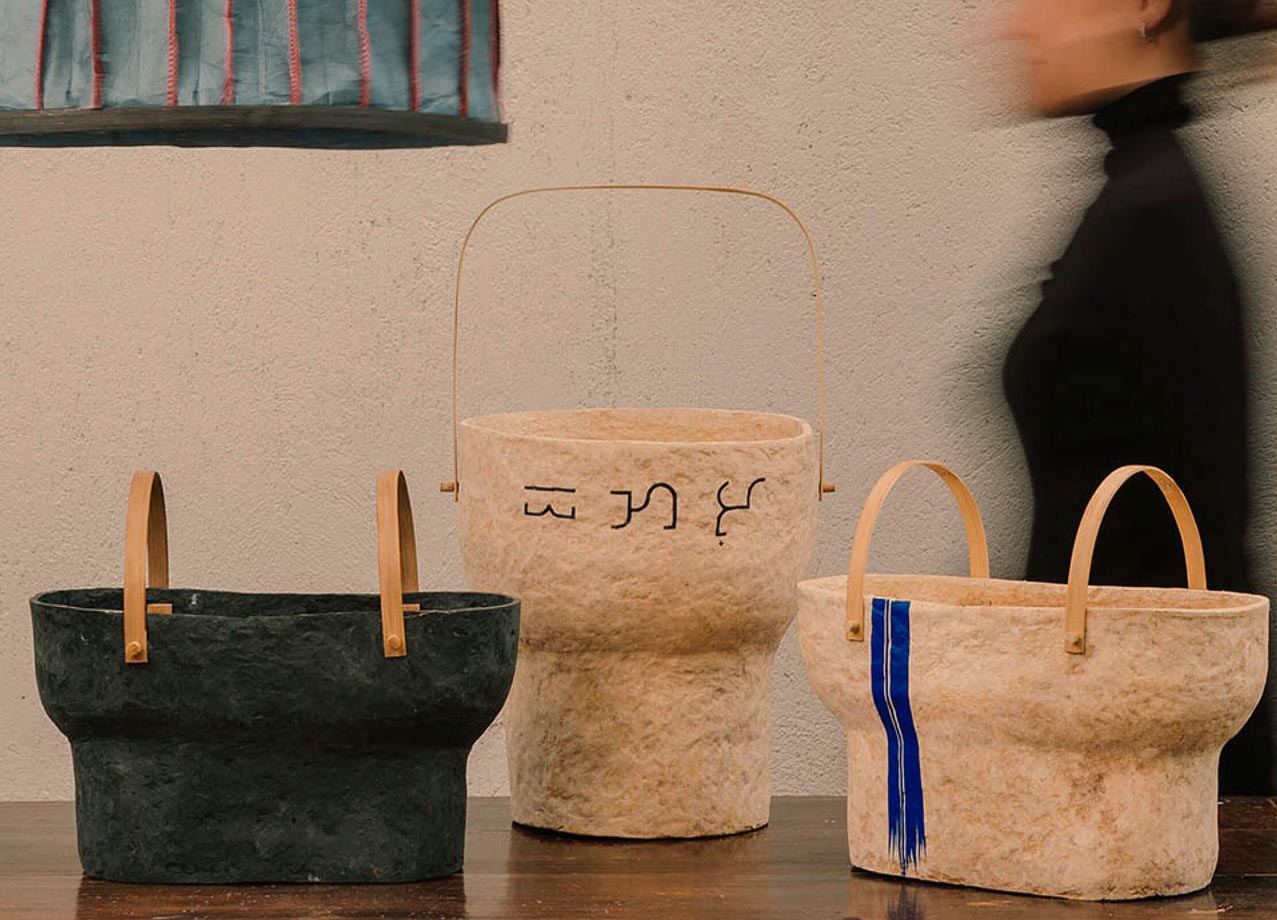 Perfectly Imperfect
Handmade, tactile pieces to add warmth and soul to your home


by Vicky Montenegro

For 2021's design trends, design consultant Josef Crisanto, who participated in "Better Normal by Design," a training-workshop organized by trend forecasting company WGSN, highlighted three: minimalism, or better quality products with durable materials, streamlined profiles, and clear function; quirky designs and bold colors, as a radical reaction to the pervasive global fear brought about by the pandemic; and "a seemingly crude aesthetic."
Of the last, Crisanto explained, "As homes become more and more like sanctuary dwellings, elementary styles will shape product design, with sculptural forms showing marks of tool-work, with a seemingly crude aesthetic. Surfaces, textures, or materials that mimic pebbles and rocks add tactility to basic shapes to elicit warmth, emotion, and a handmade soul."
The handmade aesthetic will always be beloved—it is conscious, considered, even emotional. But this particular trend celebrates handmade imperfections. Crude, tactile, unpolished, raw. These are the keywords in this trend that seeks to highlight pieces in their most rudimentary form.
Handmade pieces are almost always tactile, too. And there is something incredibly gratifying about tactile objects. They evoke warmth and soul; they stimulate the senses—and we all know that the need to engage the senses is something we crave these days.
There is also something about embracing the imperfect—those that are rough around the edges—that's non-intimidating, familiar, and authentic. It all seems so… human. And because we live in such modern, digital times, it makes perfect sense that we embrace all things that run counter to our seemingly automated lives.
Here are some picks to inject this perfectly imperfect aesthetic into your home.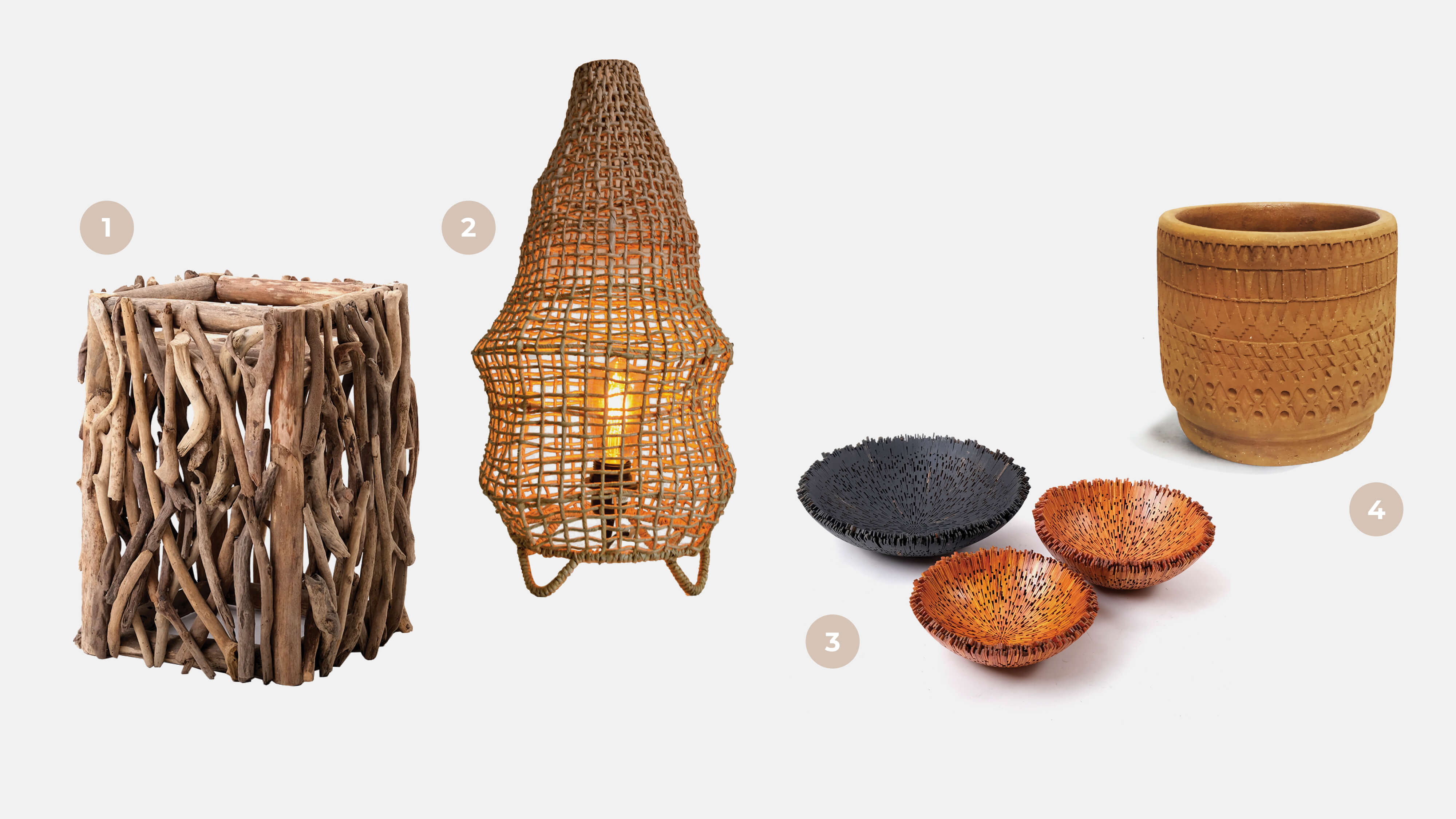 1. This driftwood garden planter makes for a rustic home for your greenery. Add a top to it and it can be converted into a coffee or side table. Large Square Planter, FREDEN EXPORT
2. Handwoven in lampakanay grass, this table lamp shade's organic shape creates a structural statement. Fiona Table Lamp Shade, ARTE CEBUANA
3. Recycled wood chips are painstakingly put together to form these ornamental and functional bowls. Decorative Fruit Bowl, CONTEMPORANEO
4. Tribal ethnic patterns on terracotta clay for boho-chic vibes at home. Cylinder Short Medium Terra Cotta Planter, RED SLAB POTTERY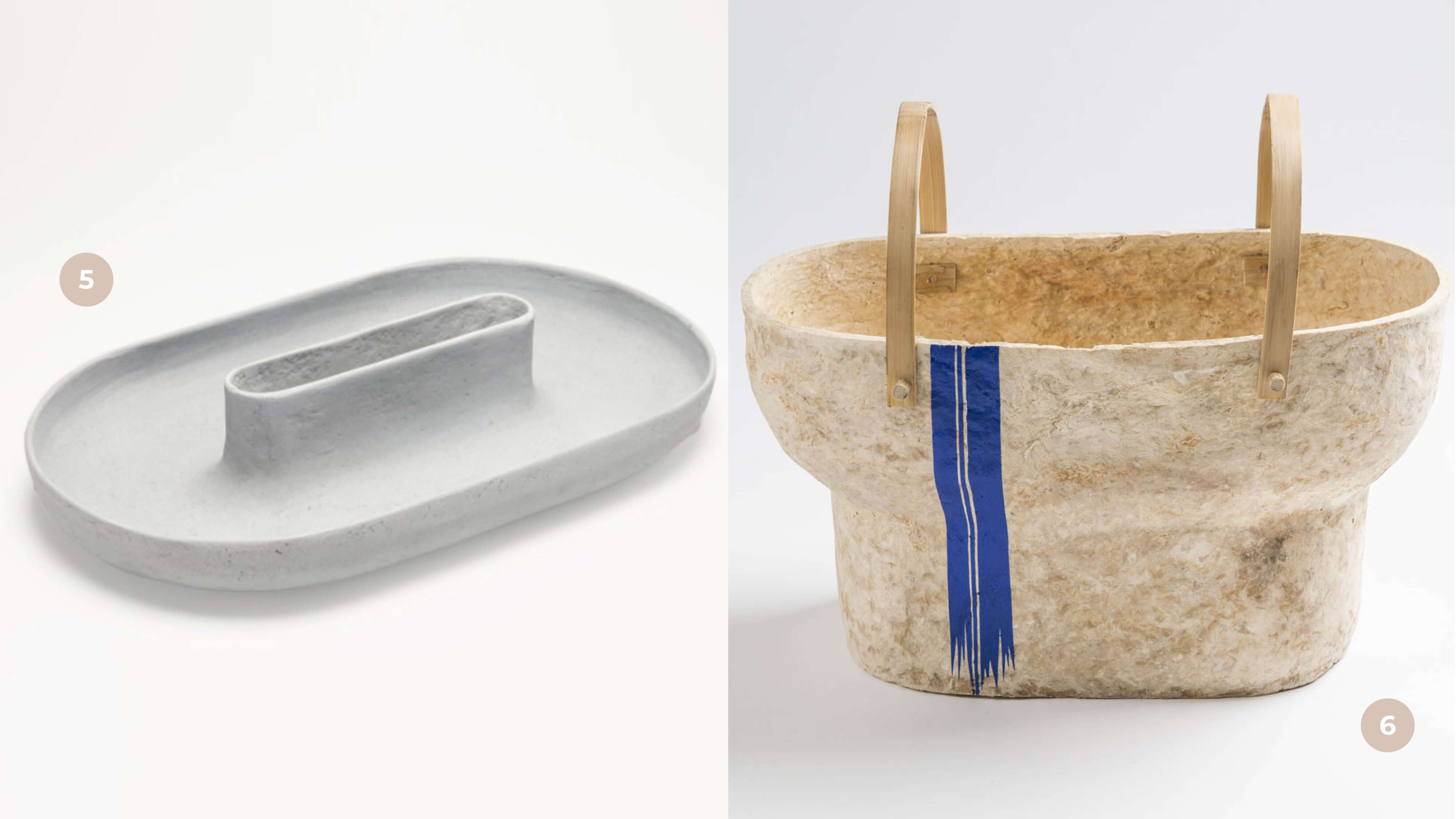 5. This tray is made of a patented recycled paper composite called NUCAST®, archived in Material Connection as one of the most durable materials in the world. It mimics most natural textures but is 100 times lighter, more durable, and recyclable. West Tray, NATURE'S LEGACY
6. Abaca, cogon grass pulp, and bamboo skin with natural starch combine to create a solid yet very lightweight material: paper clay. This vase is hand-painted with tulco ink for accent and features a bamboo strip for its handle. Available in custom shapes and sizes. Paper Clay Vase (Natural with Blue Strip Double), INDIGENOUS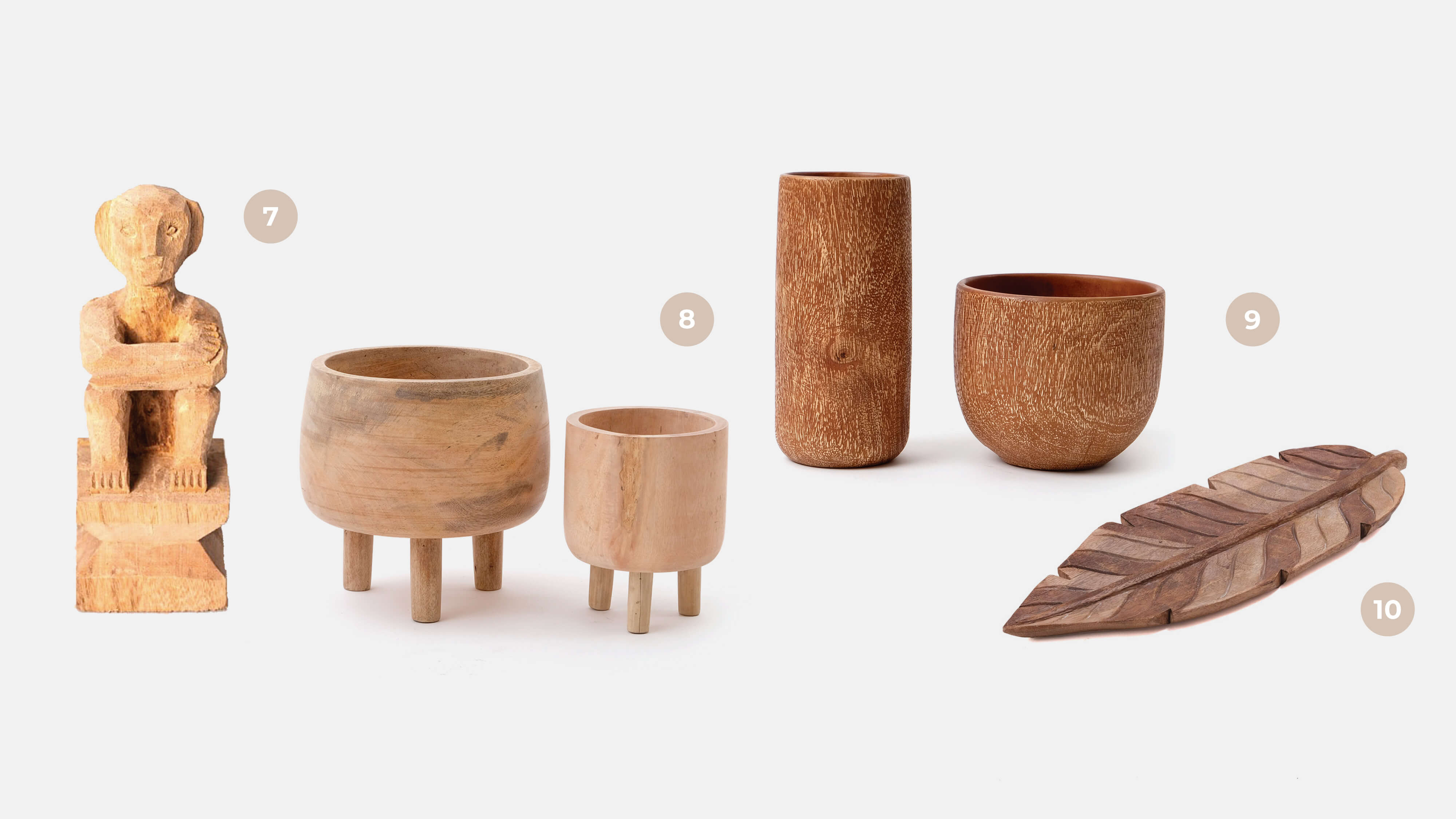 7. A representation of Ifugao ancestors, a bulul is a traditional wooden figure that is said to invoke power and wealth. Hand-carved in mango wood and in natural finish, the size can be fully customizable. Bulul, CHANALLI
8. These hand-turned planters in mango wood are functional pots for plants, but they can also easily beautify any tabletop. Planters (BNW-F2009), BASKET AND WEAVES
9. Hand-carved from acacia, this bowl shows the natural grain and deep brown color of wood. AMB20-001 Round Tall Vase and AMB20-003 Round Hairline Bowl, CELESTIAL ARTS
10. Acacia wood is hand-carved into a shape of a leaf in this decorative and utilitarian catchall. The natural finish shows the beautiful grain and tones of the wood. Wood Leaf Tray, JALIKEE ARTS AND CRAFT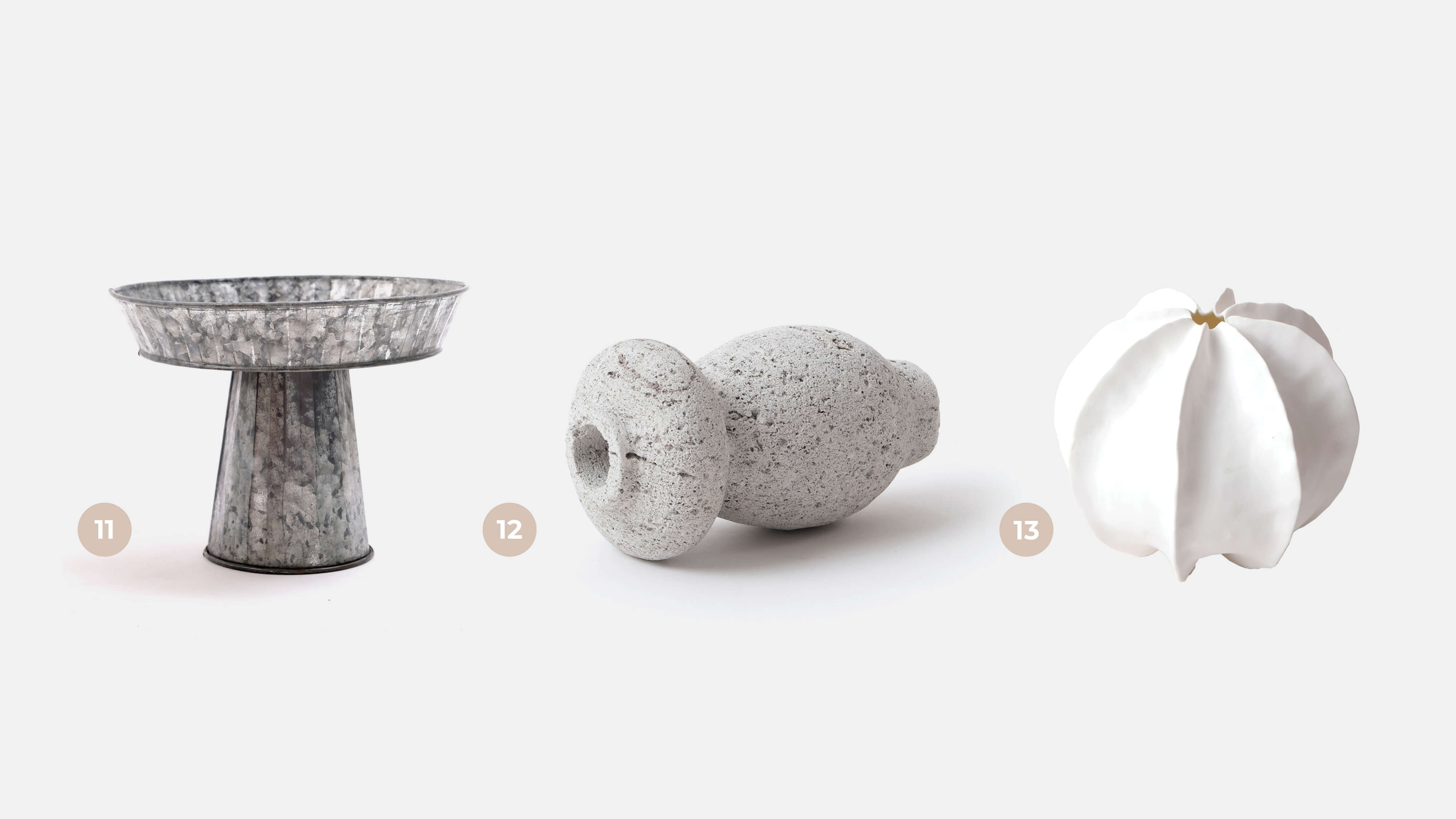 11. Galvanized tins exude a rustic feel and country charm, perfect for a cottagecore home concept. Product 18, BENJAMIN M AQUINO EXPORTS
12. Natural pumice stone is behind the beautiful texture in this handcrafted tabletop flower vase. 2630-A-Tabletop Flower Vase, PUMICE UNLIMITED VENTURES
13. The delicate ribbing in this pod-shaped vase intricately slip-cast in fine bone china creates a gorgeous shape and a beautiful texture. Pod Vase Medium, CSM PHILIPPINES