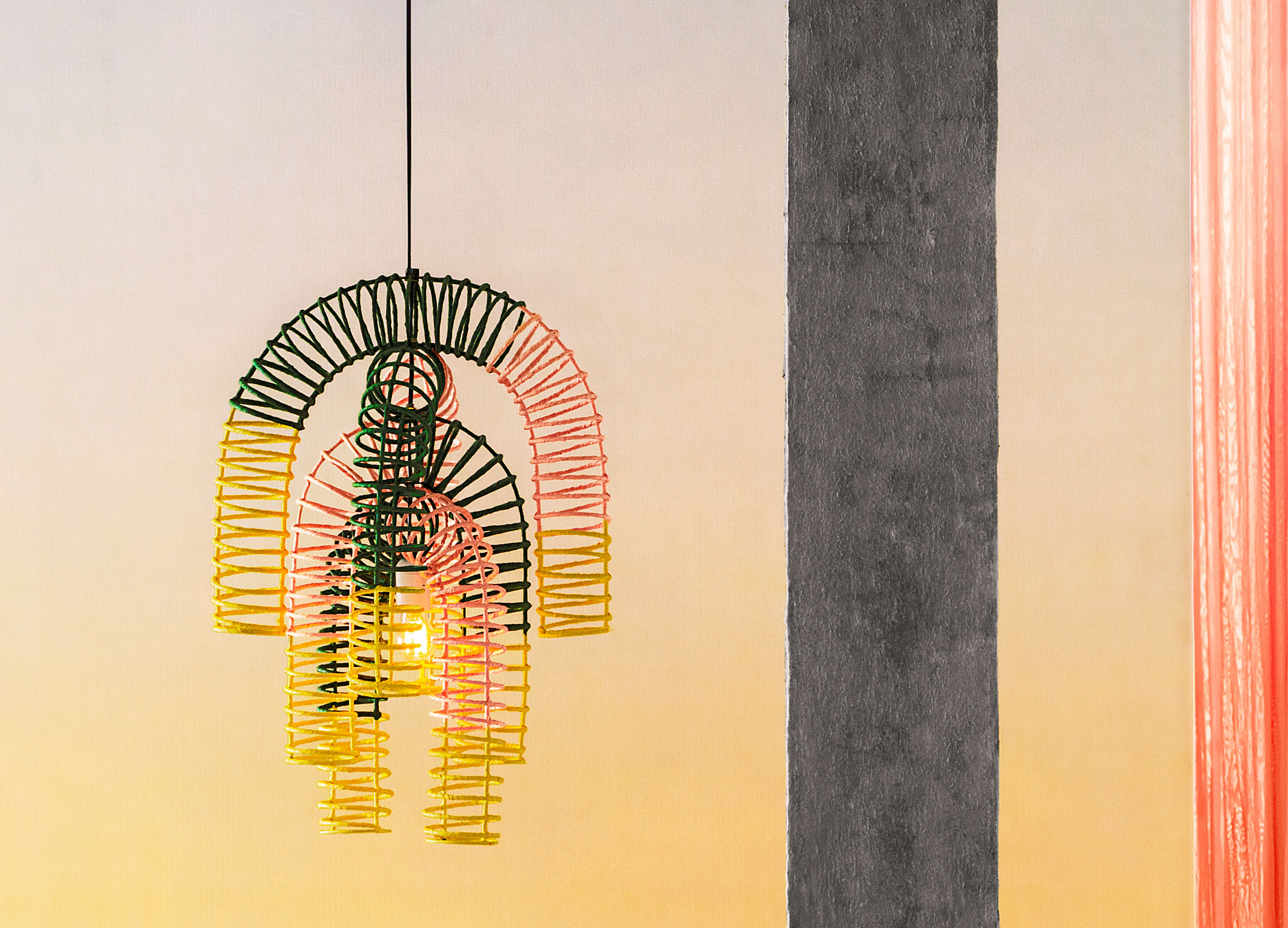 Macaroni Chandelier at Best of MOM Exhibit in Paris
How LIJA by That One Piece's Macaroni Chandelier gives the world a taste of Filipino design
by Micha Tangan

Last year, Filipino designers turned to color, fun, and nostalgia, centering on these key themes in response to the times. The results were key decorative pieces that spark joy, evoke a sense of play, and a throwback to the good old days.

Such home decor is the Macaroni Chandelier by contemporary lighting and furniture brand LIJA by That One Piece. The pendant lamp, designed by product designer Rachelle Dagñalan, is one of the Filipino-made pieces that is set to be shown at the Maison et Objet "Best of MOM (Maison et Objet and More)" fair in Paris, France.

"At the MOM Paris fair, we always set up dedicated, inspirational spaces and select—with the help of trends experts—the remarkable novelties, the colors, the shapes or the materials which are in line with the upcoming trends," begins Caroline Biros, Marketing and Communication Director of MOM.
"Designers are currently deeply inspired by ethnic crafts using traditional weavings or sustainable fabrics made from plant leaves," points out Biros. "These techniques, perfectly mastered by the Filipino manufacturers, are really interesting when they take a strong design bias," she adds.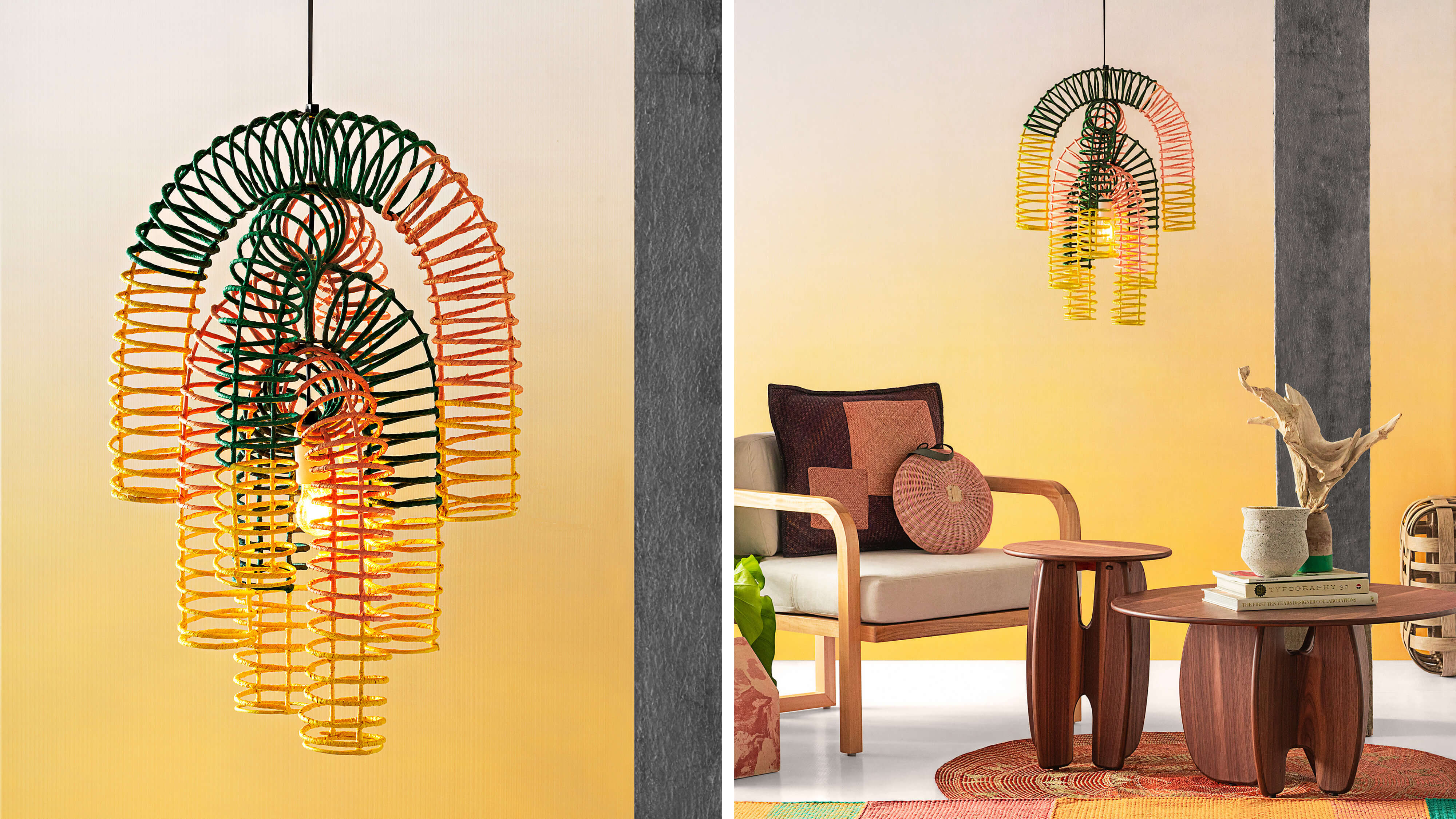 "The Macaroni Chandelier defies expectation," says LIJA by That One Piece founder Rowen de Jesus. "It is seemingly commonplace and too simple, but the simplicity of it all defines the underlying mastery. With its repetitive coiling it may even be hypnotic, and its repetitive, intertwining design appeals to a sense of calm, balance, and tranquility"

MAKING THE MACARONI
From the very beginning, the collaboration between Dagñalan and LIJA by That One Piece was a perfect pairing that was bound to produce something extraordinary.

Dagñalan honed a deep affinity for clay, stone, and woven fibers as she grew up playing around with these materials. LIJA by That One Piece founder Rowen de Jesus, likewise, has a knack for working with natural materials—and crafting unique pieces out of them.
"Rachelle initially wanted a design that deviates from the jagged or pointed or denticulate designs that we have been doing for the past few seasons," explains de Jesus. "[For the Macaroni Chandelier], her design inspirations were the noodle, of course, and the Slinky toy. We both played around with the idea, sort of created a hybrid between the two, and voila—the Macaroni Chandelier was born!"
The collaborators wanted the pendant lamp to fit both grand living and bubble living. "It has the magnificence to stand out in a large space, and can be equally impactful when hung in a one-room apartment," de Jesus points out.
"We both wanted a look that was very natural and organic," she adds. "Rachelle knew that we are good with paper, and the 'binding' technique [that we use when using paper in our works], so we veered towards that—but with a twist, literally, with a twist!"

At the recent FAME+ Market Days, Dagñalan briefly talked about the piece during the Design Commune talk. "I wanted to design pieces that make us remember something from our childhood. Being a playful piece, people get to ask, 'What is this like?' and 'What is this made of?'"
De Jesus recalls how, during the conceptualization phase, Dagñalan was "bursting with new ideas, concepts, and designs" and likewise very receptive to the company's own ideas and kept in mind what they were good at. "Though we have limitations in manufacturing techniques, Rachelle was able to push us to the best of what we can do but at the same time respectful of our limitations," says de Jesus.

BRIGHT IDEAS
In the capable hands of the collaborators, they gave a meaningful and modern spin to the materials and handmade techniques they were both adept at.
"In lighting design, the creation of the illusion of action and perpetual movement is always a sight to behold," explains de Jesus. "But sadly, we do not see many of those. So, we decided to go in that direction. It is critical to present a design or a shape not normally associated with lamp design. A coil or helical-shaped lamp is unique—although not rare, to be fair—and embodies dynamism," she adds.

Dynamism, according to de Jesus, is a concept that's been "overlooked," and, as a response to these pandemic times, "may be crucial to revive." "As more people are staying and working from home, they would need something that suggests movement, especially in a world that has become increasingly stationary," de Jesus notes. "The Macaroni Chandelier is a lamp that definitely has spring in its step."
Maison & Objet and More (MOM) is the premier international trade fair for decoration, design, and lifestyle happening at the Parc des Expositions of Paris-Nord Villepinte. Originally set for January 2022, it has been moved to March 24 to 28 this year due to the recent surge in coronavirus infections.

Video credits
Art Director Kit Singson
Video Editor Karlo Roño
Photos courtesy of brands