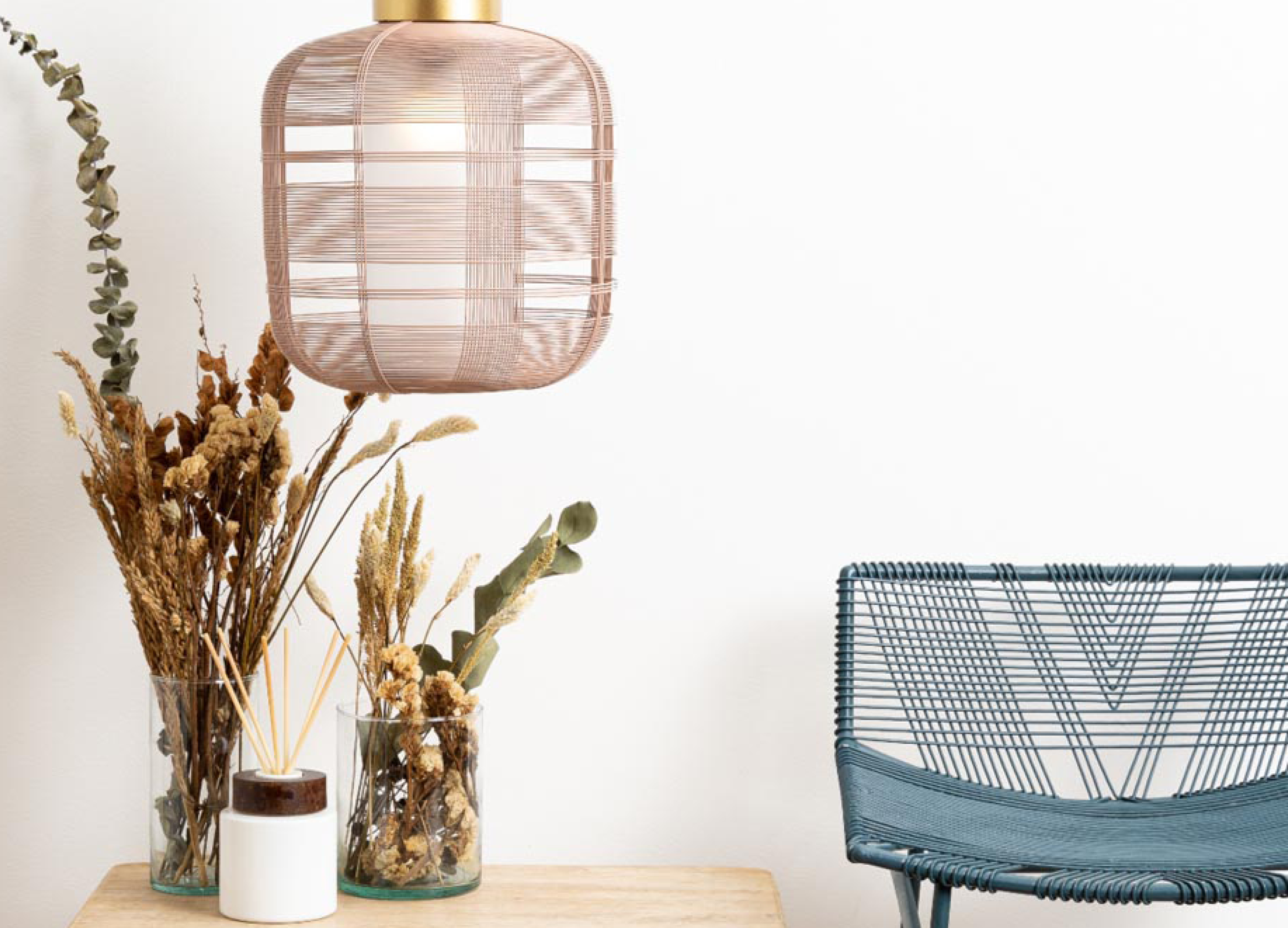 How Design Is Redefining the Future of Shared Spaces
The pandemic may have negatively affected the way we interact with communal spaces, but purposeful design can change all that
by Sunshine Selga Funa

In a bid to contain the spread of COVID-19, countries around the world prohibited people from gathering in one place—a decision that greatly impacts our inherent need to socialize. Coffee shops, malls, and restaurants immediately closed their doors. Suddenly, spots we considered our third place virtually disappeared.
"There's no book that teaches you how to prepare for a pandemic… so the first few months were very confusing because a lot of information was coming in," relates Wilmer Lopez, president of interior design studio Space Encounters. As establishments continue to reel from the economic repercussions of pandemic-imposed limitations, space design became solutions-driven, Lopez observes. Yet with these restrictions comes a valuable lesson: how to rebuild and design shared spaces in a post-pandemic world.

OPEN SPACES AS THE RULE, NOT THE EXCEPTION
The need for open spaces became urgent as news about how the virus spreads indoors made the rounds. An open setup means less surfaces to touch and therefore makes for easy maintenance.
Office spaces, heavily affected by the sudden shift to work-from-home arrangements, have to capitalize on good ventilation and large floor areas. In the office of Jaric Marketing, Inc., one of Space Encounters's projects, acrylic barriers were installed in specific spots. Work desks are also spaced farther apart, allowing employees to consistently observe physical distancing.
The same is true for co-working spaces. "Since COVID-19 started, we've made sure to limit the number of our customers. We allocate six square meters per person," relates Lorraine Sylianteng, owner of First Coworking Community located along Escolta, Manila. The shared workspace temporarily ceased operations last March 2020 and has just recently opened its doors again.
An open space heralds the demise of enclosed areas, which is a common request whenever Space Encounters works on commercial projects. The firm has done interior design for various cafés, restaurants and fast-food chains, bars, salons, offices, and retail stores. "There'll be less walls and no more areas for VIPs," relates Thor Balanon, vice president for branding and marketing. "We're lucky that a lot of our restaurant projects have an open layout, like Nono's, so it was easy for them to adjust," he adds.
Space Encounters Gallery, an off-shoot of Space Encounters, also had to say goodbye to its well-attended exhibit opening nights. The gallery, known for its seamless marriage of art and interior design, had to migrate online. Balanon and Lopez hope to be able to hold face-to-face show openings again when it's finally safe to do so, but with a few tweaks in the gallery's layout. The space, which is usually divided into smaller rooms to allow for a more immersive experience, will be more free-flowing. "So, this will be a more open layout," says Balanon. "There will be no more small rooms… whatever was applied to the design of commercial spaces will also be applied to the gallery." Several HVAC filters are also in place, while visits are strictly by appointment only.
Retail spaces, like clothing stores, also need to consider the same configurations. In particular, spaces above and below fitting room doors should be open to allow for better air circulation.

THE GREAT OUTDOORS
With the temporary closure of malls came the realization that the country needs to have more outdoor spaces. This has never been more evident as cafés and restaurants brought out their chairs and tables. Suddenly, al fresco dining became ubiquitous. Coffee stalls no bigger than 10 sqm popped up in and around Metro Manila; outdoor seating, plush surroundings, and quality beverages more than made up for their modest floor area.
"If there are a few good things we can pick from our time in a pandemic, it's that there is a renewed appreciation for parks, open spaces, slowing down, the contribution of culture, and alternatives to the comforts of the big, air-conditioned malls," states Gabriel Villegas, general manager of The Den Coffee & Lifestyle Co., also located in Escolta. "I think that has been our intent at The Den in recent years—to fight for a culture space as the third place by sneakily disguising ourselves as a coffee shop."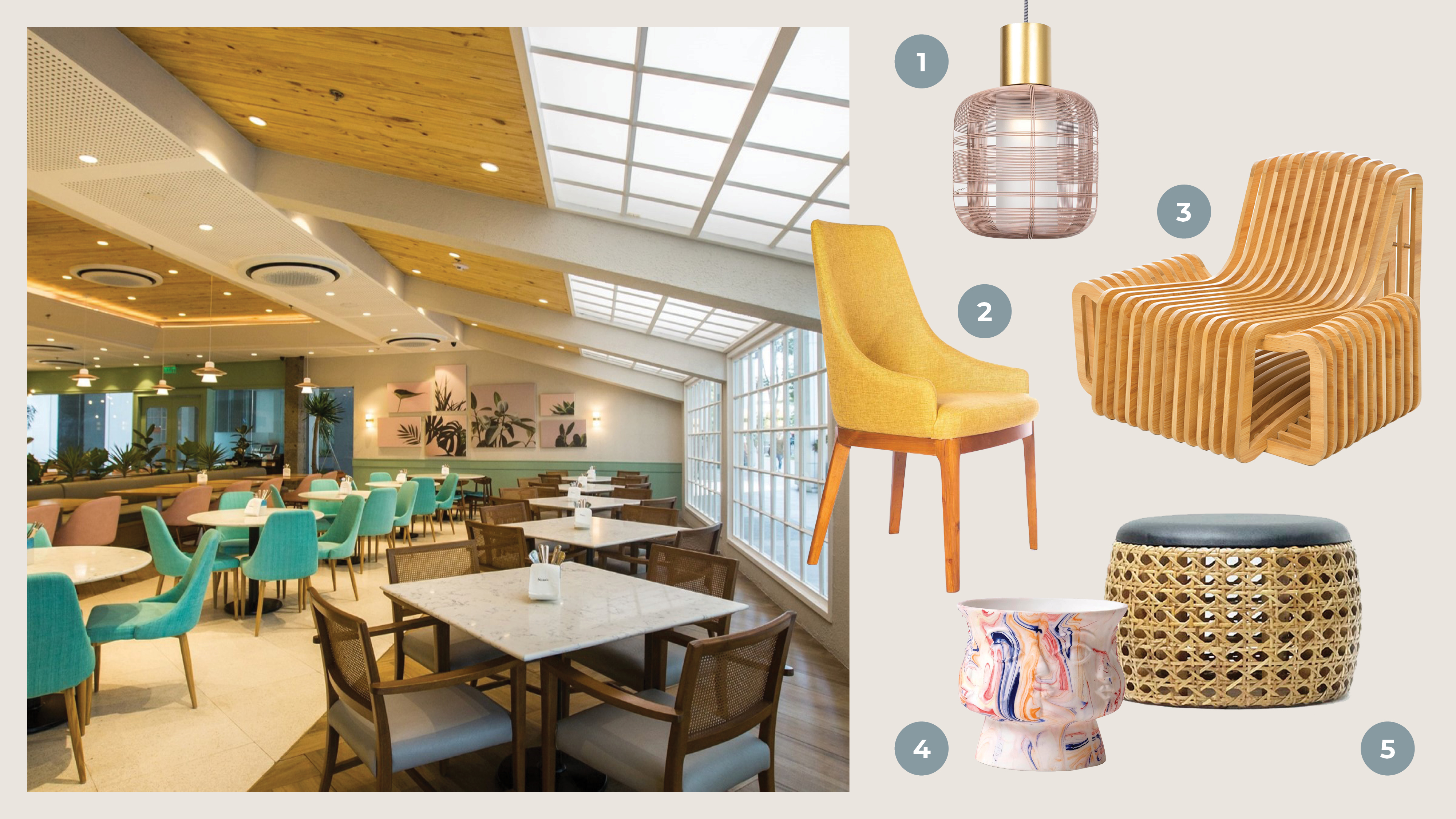 Generous natural light and free-flowing layout give a breezy ambiance to this Nono's branch in Bonifacio Global City, Taguig. The restaurant was designed by Space Encounters.
Other than practical, easy-to-clean surfaces, new normal dining spaces also call for furniture and home decor that are inviting and spark joy. 1) Stout Pendant Lamp by SCHEMA, clean, streamlined, and utilitarian; 2) Cubby High-back Dining Chair by PHILIANA DESIGN, a clean and simple chair in illuminating yellow; 3) Arata Lounge Chair by VITO SELMA HOME, a warm and cozy seat made of wood; 4) AURORA CUBISM PARTY VOTIVE CANDLE HOLDER / PLANTER by CSM PHILIPPINES INC., a quirky tabletop decor inspired by the bursts of lights of the aurora borealis; 5) Zircon Pouf Big by OMO Furniture, made of rattan and in a solihiya weave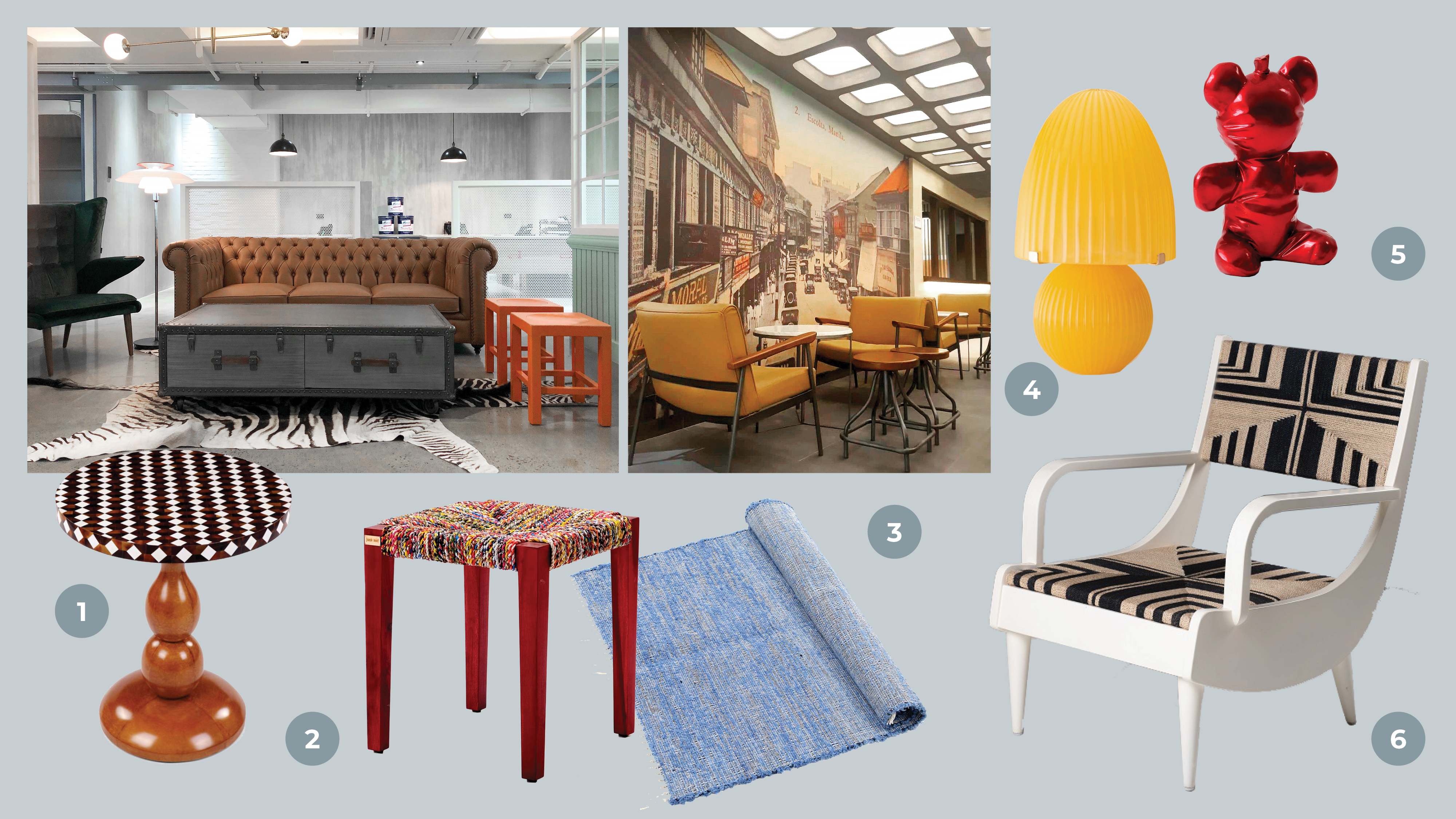 (left) The inviting lounge area of Jaric Marketing, Inc., one of Space Encounters's projects, makes it less daunting to go back to the office. (right) Space Encounters also designed several CBTL branches. In this branch in Bellagio Residences near the University of Santo Tomas, furniture pieces are readily reconfigurable
Use key statement pieces to brighten up spaces: 1) Bone and Tortoise Side Table by LA GALUCHE, an elegant addition to any room; 2) Stackable stools by JUNK NOT, made from plastic waste; 3) Rug by NARDA'S HANDWOVEN ARTS AND CRAFTS, INC. in calming blue; 4) Miggy Table Lamp (MARMORCAST®) by Nature's Legacy, an interesting piece made of high-quality polymer; 5) New Balloon Series - 4 by ART MEETS CRAFT INC., tabletop decor for an element of surprise; 6) Woven Abaca Armchair by Cymru Furniture, an elegant chair that combines natural materials with modern techniques

FLEXIBILITY IS KEY
These days, it's pretty common to see dining establishments cordon or tape off chairs and tables to discourage customers from sitting close together. This is especially true for most fast-food restaurants, whose tables and seats are literally fixed to the flooring. "I think those will disappear—fixed tables," muses Balanon. Communal tables, which were trendy before the pandemic, will also be a thing of the past. "Now, we'll have more seats for individual diners or for smaller groups, and less bigger tables," Balanon adds.
The Den's setup, for instance, can be easily adjusted as needed, thanks to the moveable wood-and-steel furniture that complements the café's industrial interiors. Guests are spaced out according to safety standards. This adaptable setup is ideal since the establishment also hosts cultural events on occasion. "We plan to reconfigure the space to accommodate more exhibitions, pop-ups, and other activities that can straddle the physical and online spaces. We will still continue to limit the people in the space to safe numbers while still wearing protection and spreading them out safely," Villegas relates.
Flexibility, however, doesn't just apply to physical layout; it also pertains to an establishment's capability to adjust to its clientele's ever-changing needs. First Coworking Community, which used to operate only on weekdays from 8AM to 9PM, now accepts customers around the clock. Explains Sylianteng, "We have also opened the space 24/7 to allow co-workers more flexibility and safety to work at different times of the day and night."

A CASE FOR APPOINTED AREAS
Pockets of appointed areas will also find their merit in lieu of communal spaces. The Jaric Marketing's office, for example, has lounges and "isolation" spots. "People can be on their own since another requisite for offices now is that there should be areas where you can be alone so you can bring your laptop and work there," relays Balanon.
Bars and restaurants can best take advantage of appointed seating. Without sacrificing comfort and ambiance, dining establishments can delegate intimate corners for members of the same household, Lopez states.
Sylianteng shares the same idea. While First Coworking did not have to reconfigure its interiors because the space already boasts an open layout, the management makes it a point to practice proper distancing. "But if they're friends and feel safe with each other, we don't stop them from sitting more closely to each other."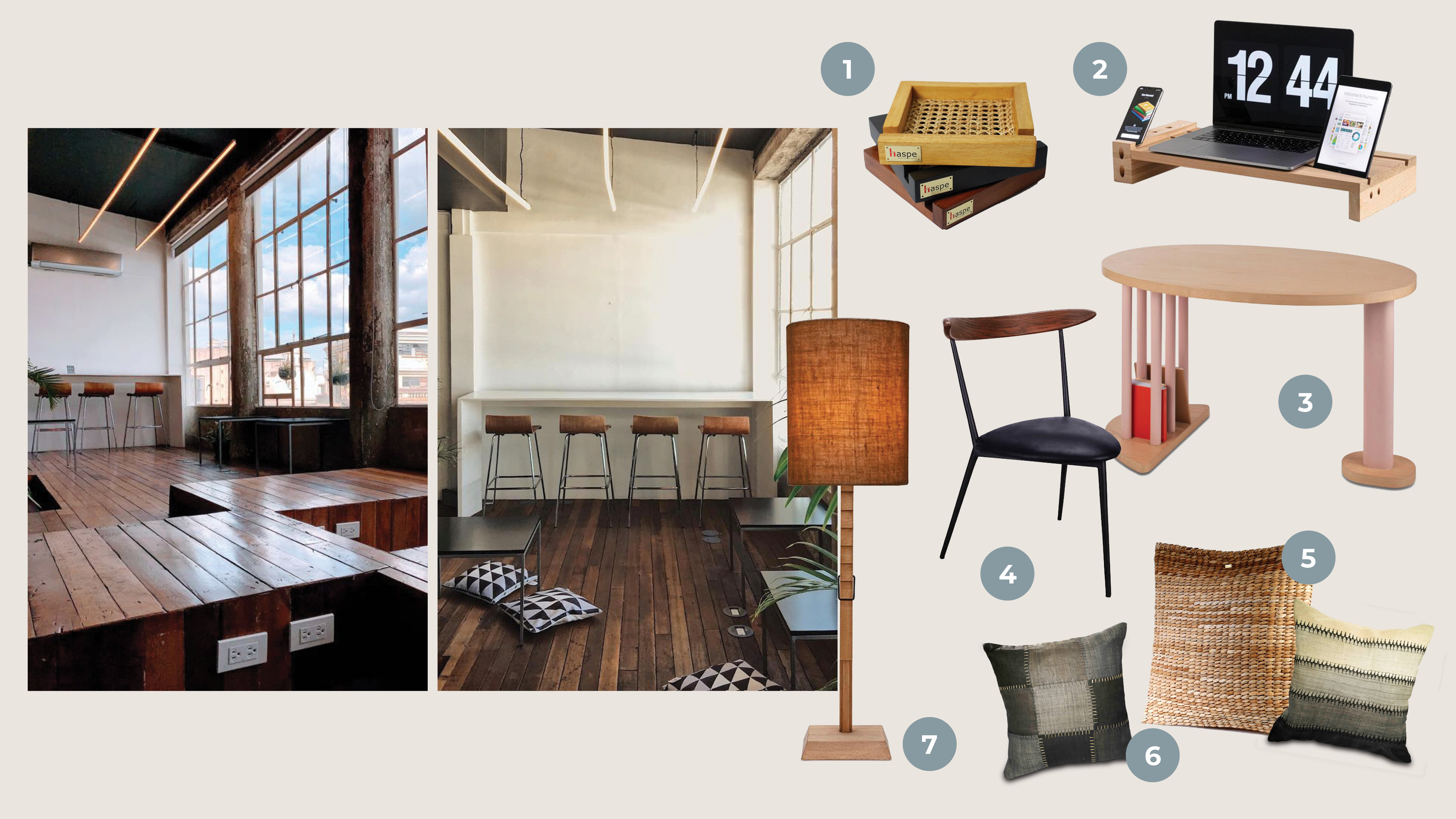 First Coworking Community takes pride in its historic location, Escolta, one of the oldest streets in Manila, which was once a bustling business district during the late 19th century. The space enjoys the luxury of huge windows that lend an airy ambiance to the establishment
Functional, stylish pieces make up an inviting co-working space. 1) Plato Gadget Tray by HASPE DESIGN STUDIO, made of wood and a rattan weave; 2) Opus by Lamana, a simple desk organizer; 3) Montemarte Desk by Albero, a working desk that adds character to a space; 4) Skor Chair by TRIBOA BAY LIVING, a comfy and elegant chair; 5) Seagrass pillow by LARONE, made of 100% biodegradable plant fiber; 6) T'nalak Cushion Cover Woven Strips by TADECO HOME, made of 100% abaca fiber; 7) Joshua Cylindrical Table Lamp by TRIBOA BAY LIVING, a study essential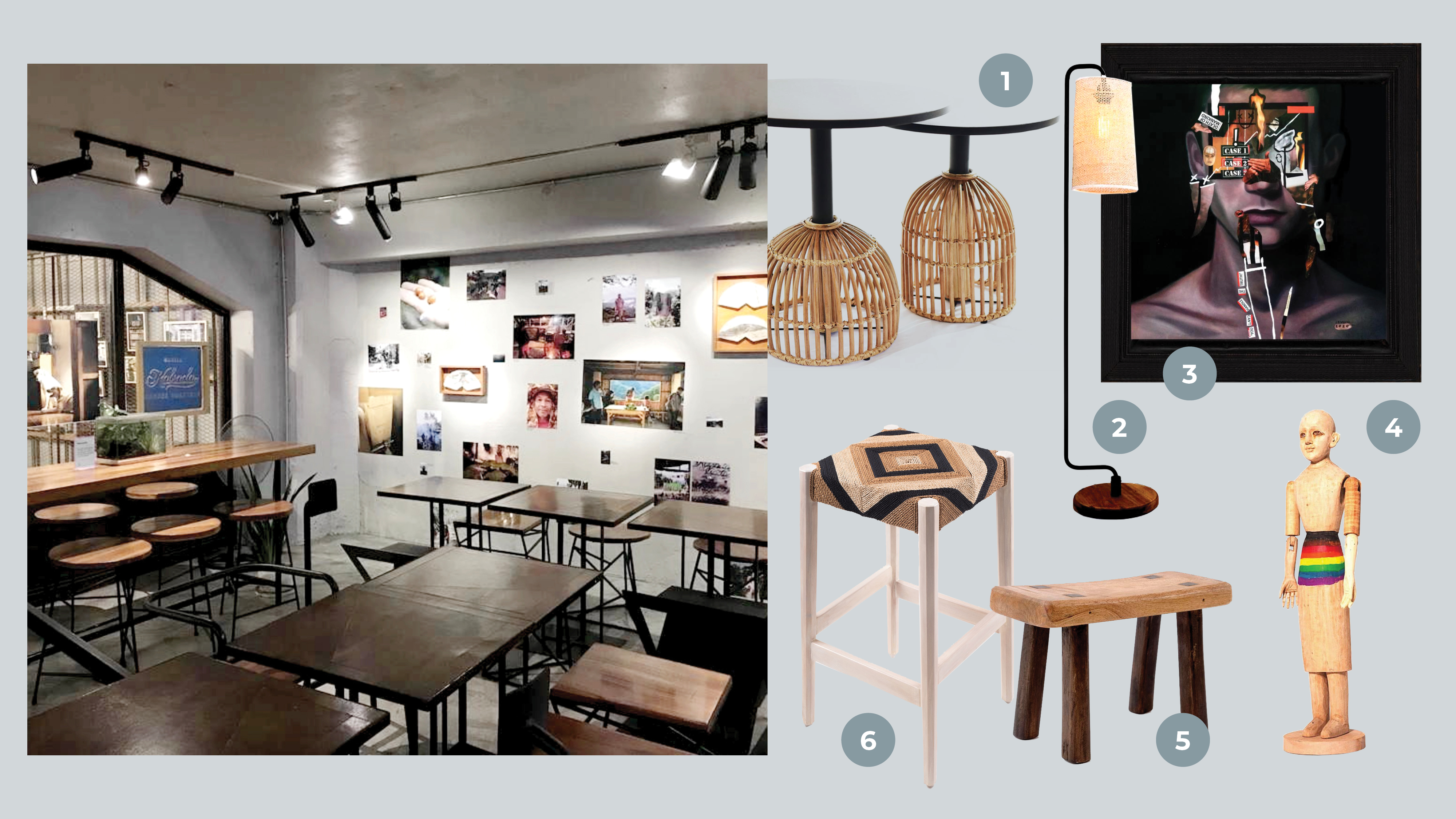 The Den Coffee & Lifestyle Co.'s furniture pieces can be easily moved around to adjust to its multifaceted function: as a café, gallery, and cultural hub
In ever-changing times, versatility, timeless style, and function are key. 1) Bunot (Coconut Husk) Twin Side Table by Jed Yabut Furniture and Design, coffee tables with personality; 2) BEND FLOOR LAMP by AZCOR LIGHTING SYSTEMS, INC., a simple lamp stand for a cozy mood; 3) Lockdown by TRANSWING ART GALLERY; art in response to the pandemic; 4) Pride statuette by Chanalli, hand carved from mango wood; 5) Stool (BNW-F2025) by BASKET AND WEAVES, a multi-purpose stool; 6) Woven Abaca Counter Stool by Cymru Furniture, a statement piece that can be easily moved around, too

A NEW ERA OF INNOVATION
Necessity is the mother of inventions, or in some cases, innovation. Throughout history, major social upheavals and events have given birth to ground-breaking discoveries.
After World War II, the 1950s saw new technology that made materials like fiberglass, bonded wood, and aluminum readily available. This, in turn, made it possible to create molded fiberglass furniture pieces popularized by Ray and Charles Eames. Meanwhile, the debilitating recession in the U.S. in 2008 gave more traction to the tiny house movement. It prompted people to rethink the value of small spaces—that occupying hundreds of square meters is not a prerequisite to a comfortable home life.
It's no different with COVID-19. As the world became collectively conscious about hygiene and safety, biotech companies have started to experiment with antimicrobial materials. Copper became popular for its antiviral properties. Balanon predicts that materials commonly used in the healthcare sector will now be more widely used. "Developers of office buildings could retrofit their lobbies with similar technology. It's all about scientific innovation—still design-driven but more on industrial design," he expounds.

SPOTLIGHT ON SUSTAINABLE AND PRACTICAL MATERIALS
Novel innovations may take a while to reach mainstream applications. In the interim, the design industry can look to existing materials and explore ways to incorporate them within the context of a now hygiene-conscious world.
Materials such as concrete quartz terrazzo is ideal for flooring because it's easier to maintain, relates Lopez and Balanon. When it comes to using ceramic tiles, the bigger the better because this means less grout lines to clean. "Goodbye, subway tiles!" Balanon exclaims.
Outdoor furniture will also see a rise in popularity as the demand for outdoor spaces increases. Lopez believes that Filipino design and furniture—think rattan, wood, and woven pieces—will be sought-after. On this front, the country is at an advantage considering the abundance of organic materials we have. "There are a lot of opportunities for product design [as long as it's executed] wisely—simple, easy-to-clean," he maintains.

PLAY ON PERCEPTION
As restrictions gradually loosen and vaccines become more available, it's expected that people are now more confident to go out. Unfortunately, according to a recent study by data company Kantar, most are still cautious, preferring to visit establishments near their homes, if at all. How can businesses prompt their customers to come back? "Design is psychological as well, so find a solution to gain their trust back," states Lopez.
He suggests using visual cues, like happy colors, to entice customers. Take advantage of natural and organic aesthetics, which can elicit a sense of calm. "Or you can tap nostalgia, good memories. Bring back, say, Art Deco, or play with elements from popular films," adds Lopez. The ultimate goal is to replace fear and anxiety with renewed confidence and a sense of safety. As such, The Den and First Coworking Community are good examples because both are housed in the historic First United Building (formerly known as Perez-Samanillo), a handsome Art Deco structure built in the 1920s.
It may not be easy to feel optimistic about the future of communal spaces. After all, businesses are still reeling from the economic impact of the pandemic. Hence, business owners are keener on finding immediate means to cope. In other words, the current mindset is solutions-driven, but the paradigm is already shifting. Lopez declares, "Design is becoming more human-centric, and designers are more conscious about the important role they play in society. Design is a science—it involves physical, emotional, mental, and economic factors."
This philosophy echoes what American interior designer Albert Hadley once said: "The essence of interior design will always be about people and how they live. It is about the realities of what makes for an attractive, civilized, meaningful environment, not about fashion or what's in or what's out. This is not an easy job." It may be challenging, but as design continues to champion the needs of people, the rebirth of shared spaces doesn't seem like a far-fetched idea.

Location photos courtesy of Space Encounters, First Coworking, and The Den