Premium Craftsmanship, Iconic Design
Exquisite furniture pieces that leave you in awe


by Patti Sunio

Maison & Objet and More (MOM)'s Digital Days is nearing its close, following weeks of celebrating the finest names in art and design from choice makers across the globe. Previous editions included the themes Unexpected Gift, Trendy Déco, Well at Work, Craft Métiers d'art, Outdoor Living, and Sustainable.
On March 10-12, Digital Days reveres premium design: excellent craftsmanship, choice materials, and design ideas that are iconic and one-of-a-kind. Revel in these choice pieces that will leave you in awe.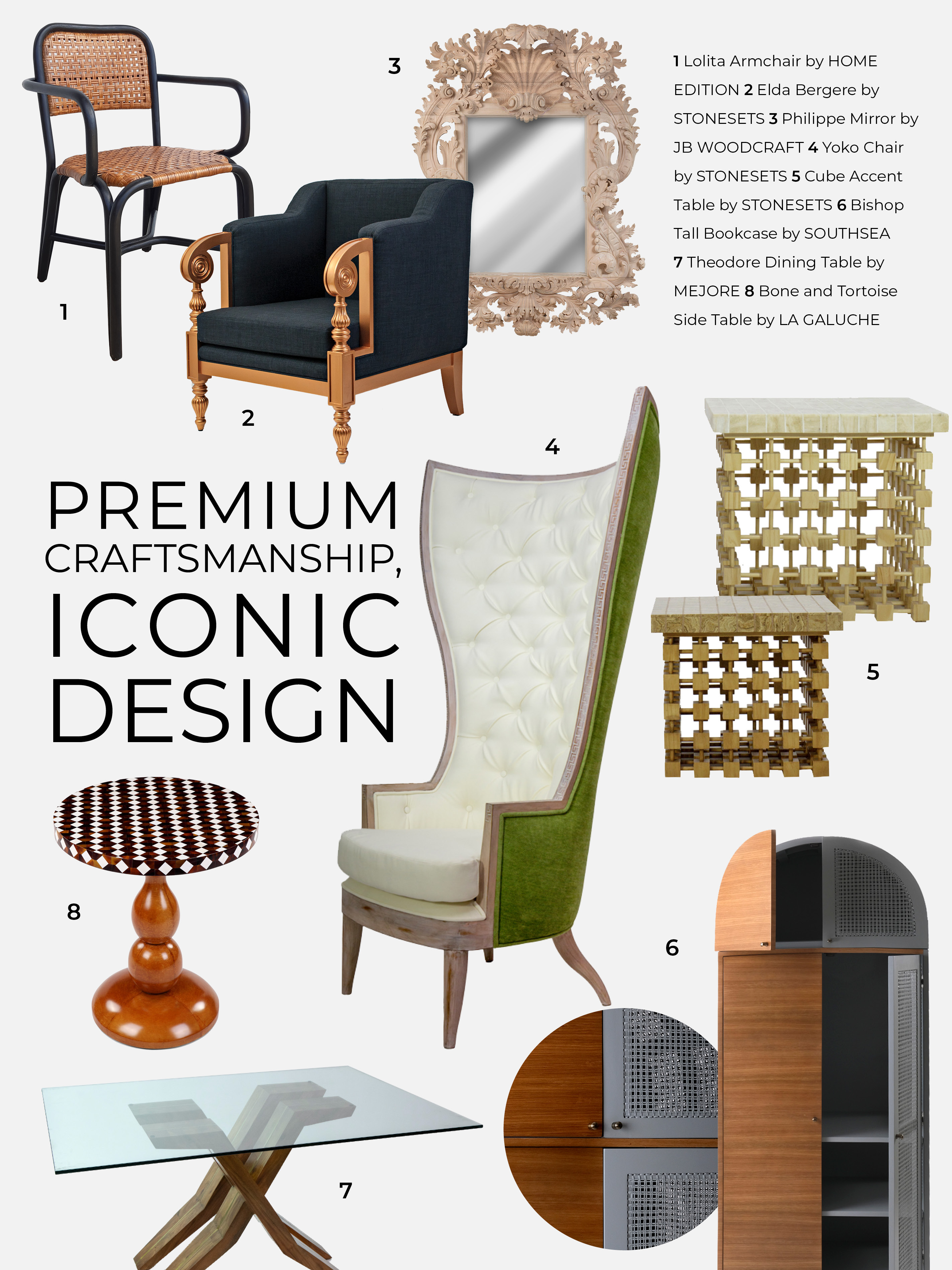 1. Lolita Armchair, HOME EDITION
Transforming natural fibers into modern design, this handwoven chair with a rattan frame is simple and sleek.
2. Elda Bergere Lounge Chair, STONESETS
A lounge chair of elegance and fine craftsmanship. It's a beautiful piece and one that invites you to ease into comfort and indulge in your relaxation time.
3. Philippe Mirror, JB WOODCRAFT
Intricately designed and hand-carved in wood by master craftsmen from Pampanga. Color, finish, and size can be customized.
4. Yoko Chair, STONESETS
Truly a one-of-a-kind piece, this iconic chair easily becomes the main attraction in any room.
5. Cube Accent Table, STONESETS
Made of woodstone fossilized stone tops and assembled wood cubes, these accent tables are a true example of clever design.
6. Bishop Tall Bookcase, SOUTH SEA
Form and function meet in this storage cabinet that's a sight to see.
7. Theodore Dining Table, MEJORE
The Theodore Dining Table, a dramatic blend of glass, metal and wood, is a luxurious dining table for family feasts.
8. Bone and Tortoise Side Table, LA GALUCHE
Luxurious materials such as cow bone, penshell, and parchment make this gorgeous side table. Available for bespoke.
Exquisite finds, premium design, and more on MOM (Maison&Objet and More) at mom.maison-objet.com and our catalogue.