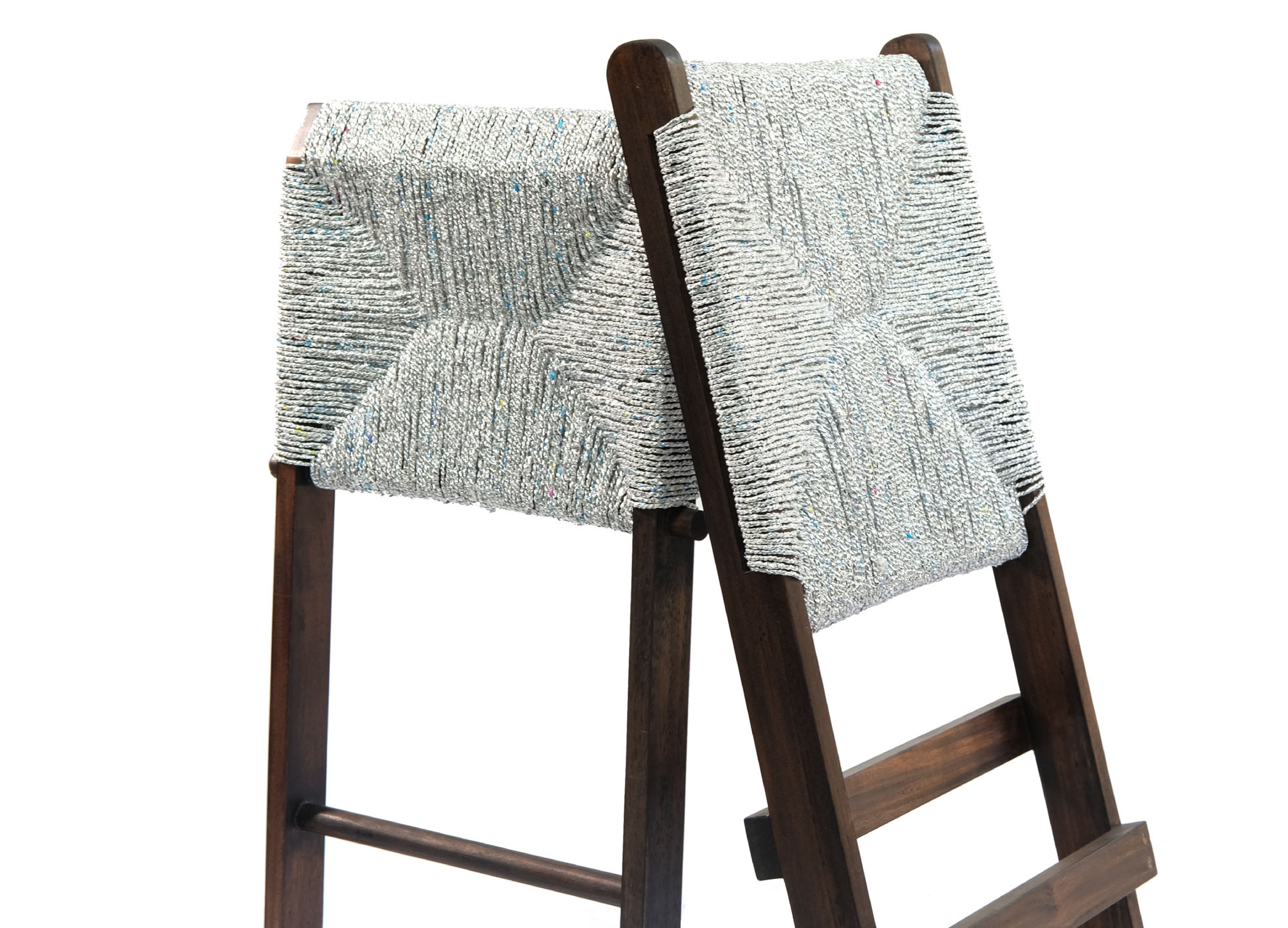 Stylish Sustainability
Eco-friendly finds for your home and wardrobe

By Patti Sunio

Sustainable is this week's focus in Maison & Objet and More (MOM)'s Digital Days, following its previous themes Unexpected Gift, Trendy Déco, Well at Work, Craft Métiers d'art, and Outdoor Living. Digital Days is an online event that highlights innovative designs and clever creations from craftsmen, artisans, and makers from all over the world.
The theme beckons today's generation of conscious consumers who look beyond price points and face value and are curious about the goings-on behind a product's make—from how it is produced to the labor force who puts in the work.
Discover TouchPoint's selection of sustainable finds below: stylish creations that are well-crafted and designed to cause as little to no impact on the environment as possible.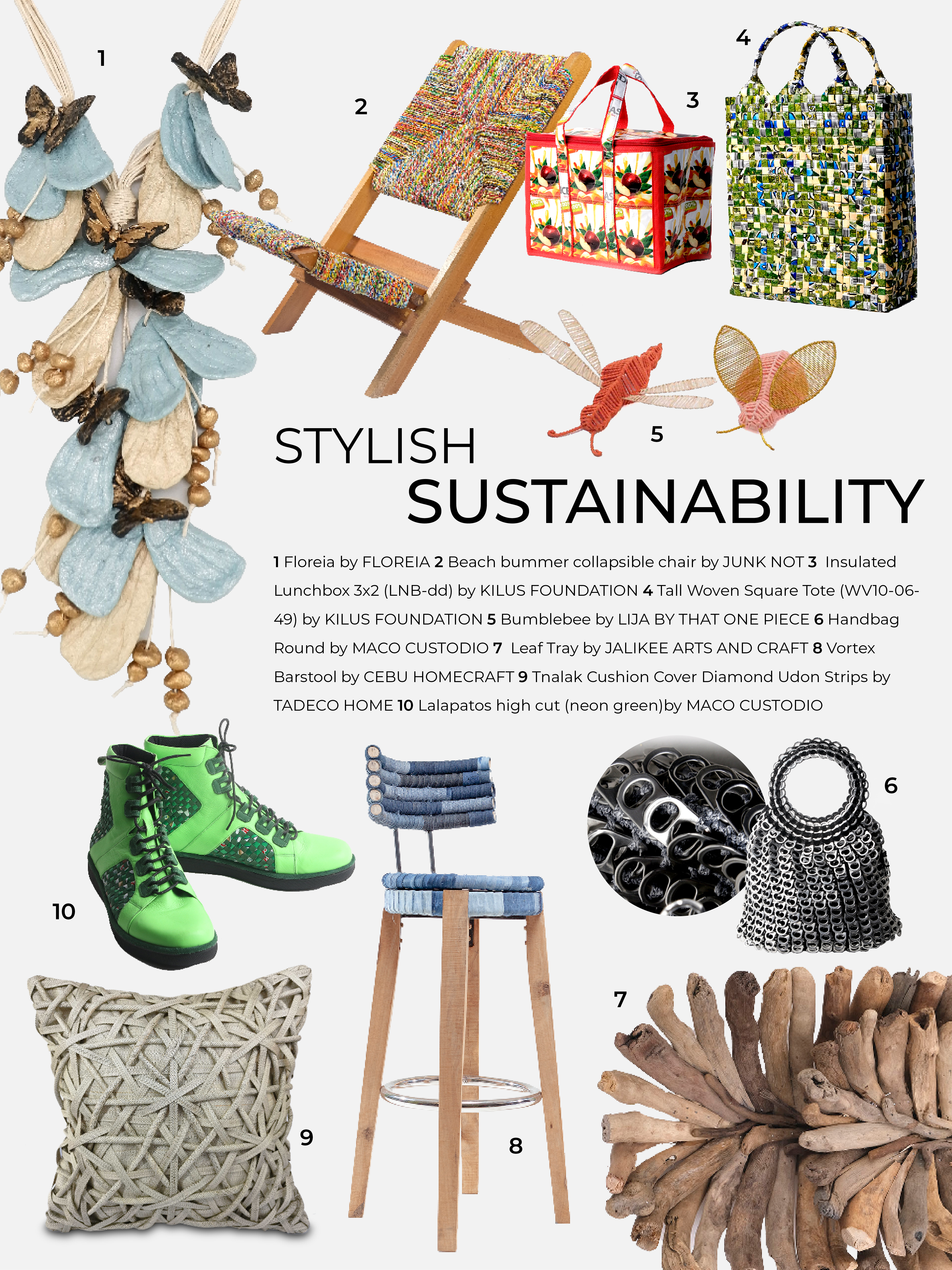 1. Floreia, FLOREIA
At first glance, it's a statement necklace you'll love for its design, but a closer look reveals its charm. True to the brand's "eco-lux" aesthetic, the Floreia is made of composite paper fashioned into a beautiful accessory.
2. Beach bummer collapsible chair, JUNK NOT
This chair is made of reclaimed wood and upcycled roped plastic waste. Plastic collection is done by Junk Not's partner communities, who have been displaced in different areas in Batangas.
3. Insulated Lunchbox 3x2 (LNB-dd), KILUS FOUNDATION
Keep your packed meals warm in this insulated lunchbox made of recycled doypacks.
4. Tall Woven Square Tote (WV10-06-49), KILUS FOUNDATION
Practical, fashionable, and consciously made, this square tote is crafted out of strips of recycled packs, handwoven to make a sturdy tote for work or errand days.
5. Bumblebee, LIJA BY THAT ONE PIECE
This whimsical bumble bee is an accent decor created by LIJA by That One Piece, a brand committed to the use of natural materials, in collaboration with German artist Detlef Klatt.
6. Handbag Round, MACO CUSTODIO
This mini bag is made out of upcycled pull tabs from aluminum beverage cans, which are woven together with crochet threads by the female artisans at Gifts That Give Back in Tondo, Manila.
7. Leaf Tray, JALIKEE ARTS AND CRAFT
Made of driftwood, the Leaf Tray is a decorative piece that adds a touch of nature to your home.
8. Vortex Barstool, CEBU HOMECRAFT
Dine and drink in style with these bar stools, crafted from upcycled denim and driftwood.
9. Tnalak Cushion Cover Diamond Udon Strips, TADECO HOME
Handwoven by artisans in Mindanao, the T'nalak cushion is made of abaca fibers, fashioned into the traditional solihiya pattern.
10. Lalapatos high cut (neon green), MACO CUSTODIO
A shoo-in for style savvants, the Lalapatos carries with it the pride of its craftsmanship story. Made of woven foil scraps, leather, and rubber, the shoe is the result of the collaborative efforts of shoemakers in Marikina, the mother weavers of Pililia, Rizal, and the KABALIKAT community based in Baseco.
Explore more sustainable design ideas on MOM (Maison&Objet and More) at mom.maison-objet.com or browse through our catalogue.