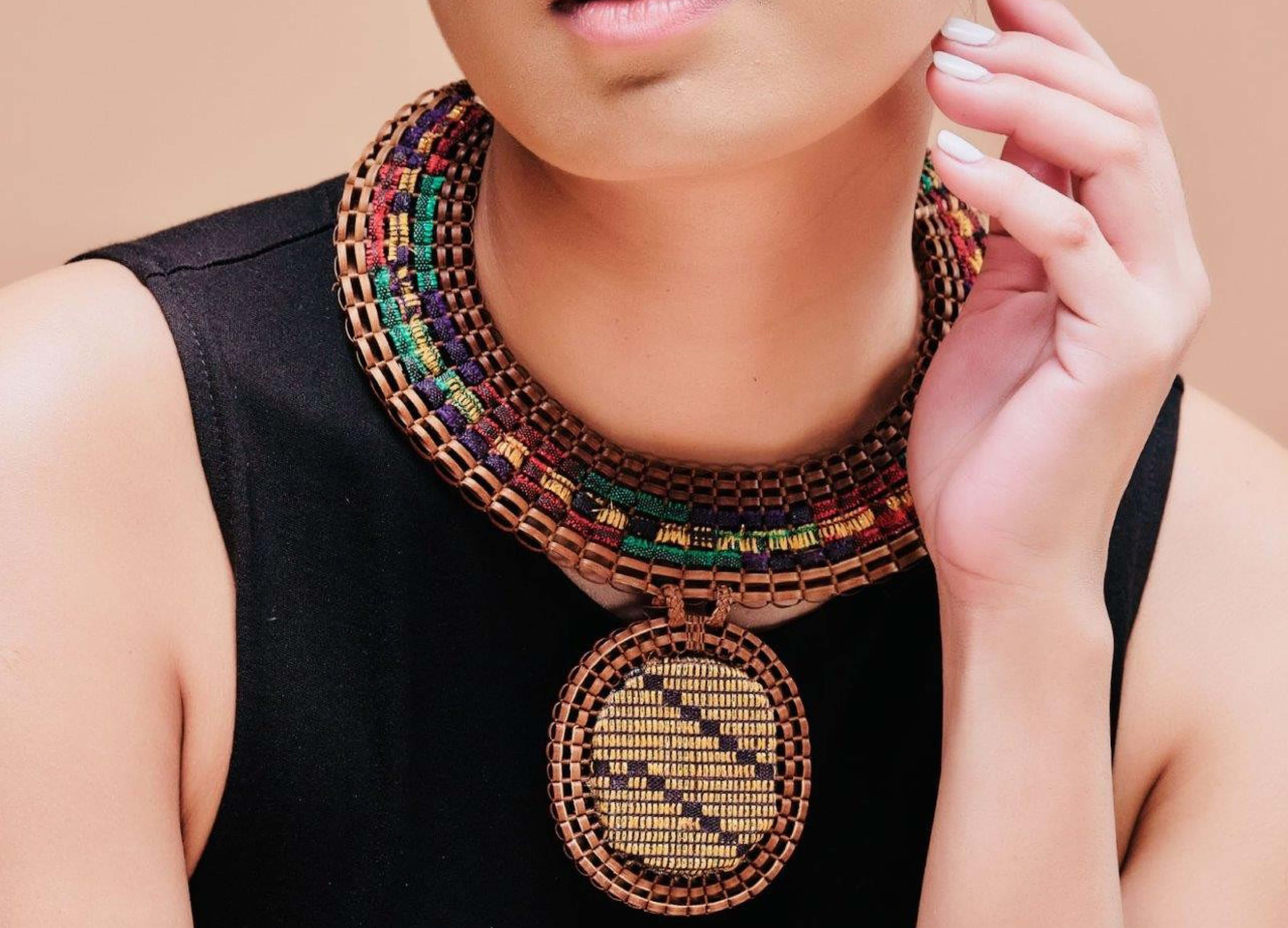 The Handmade Tale
Handwoven fashion accessories have gained cult-like popularity in the past years. These brands promote the charm of hand weaving and the tradition and stories behind the beautiful patterns and craftsmanship
By Vicky Montenegro

Handmade has a special place in our hearts. There is something so beautiful in the thought and care that go into it; the artisanal skill the maker has blessed it with; its authenticity and the story it tells; the beautiful imperfections that make it unique; and, of course, its high-quality craftsmanship. Adding to its charm is the fact that handmade is green and sustainable: smaller production means smaller footprint, and, as a consumer, you are contributing to the local community and, most likely, supporting a region or hometown of artisans.
In the fashion industry, more and more people are recognizing the value of handmade. Fashion comes second only to the oil sector as the world's largest polluter, annually emitting 1.2B tons of greenhouse gases—so many consumers are advised to shun fast fashion and spend their money instead on pieces that are more, well, evergreen (pun intended).
Local brands are also embracing sustainable fashion, and handwoven accessories have gained cult-like popularity in the past years. Creative Definitions is one brand that has embraced the magic and beauty of handwoven. It is a social enterprise that promotes handwoven fabrics and closely collaborates with partner artisans to create handwoven textiles that are modern, innovative, and crafted from sustainable materials. The brand also continues to find and produce natural fabric alternatives like cotton, blended with pineapple fiber, which can be used in making clothing, footwear, and other home accessories. It is likewise exploring the possibility of blending cotton with natural fibers made from banana and bamboo.
There are many other local fashion brands—a lot of them small social enterprises—that have been founded with the same mission of promoting a culture and community. Here, a rundown of some of the FAME+ brands that marry aesthetics with altruism.

AGSAM FERN
The brand is named after the very plant—a wild fern that's abundant in the province of Surigao del Sur, where the enterprise is from—that it uses to create their line of accessories. Owner Gina Nebrida Ty works with the cultural community women in her husband's hometown of Surigao to develop bags, necklaces, and home décor pieces using a 45-year-old weaving technique. Their necklaces are best-selling, and some designs can take as much as at least three days to produce one piece. Their Norma bib necklace—adorned with freshwater pearls and a beautiful, big bow—is a cult fave that amassed thousands of likes and hundreds of shares on social media.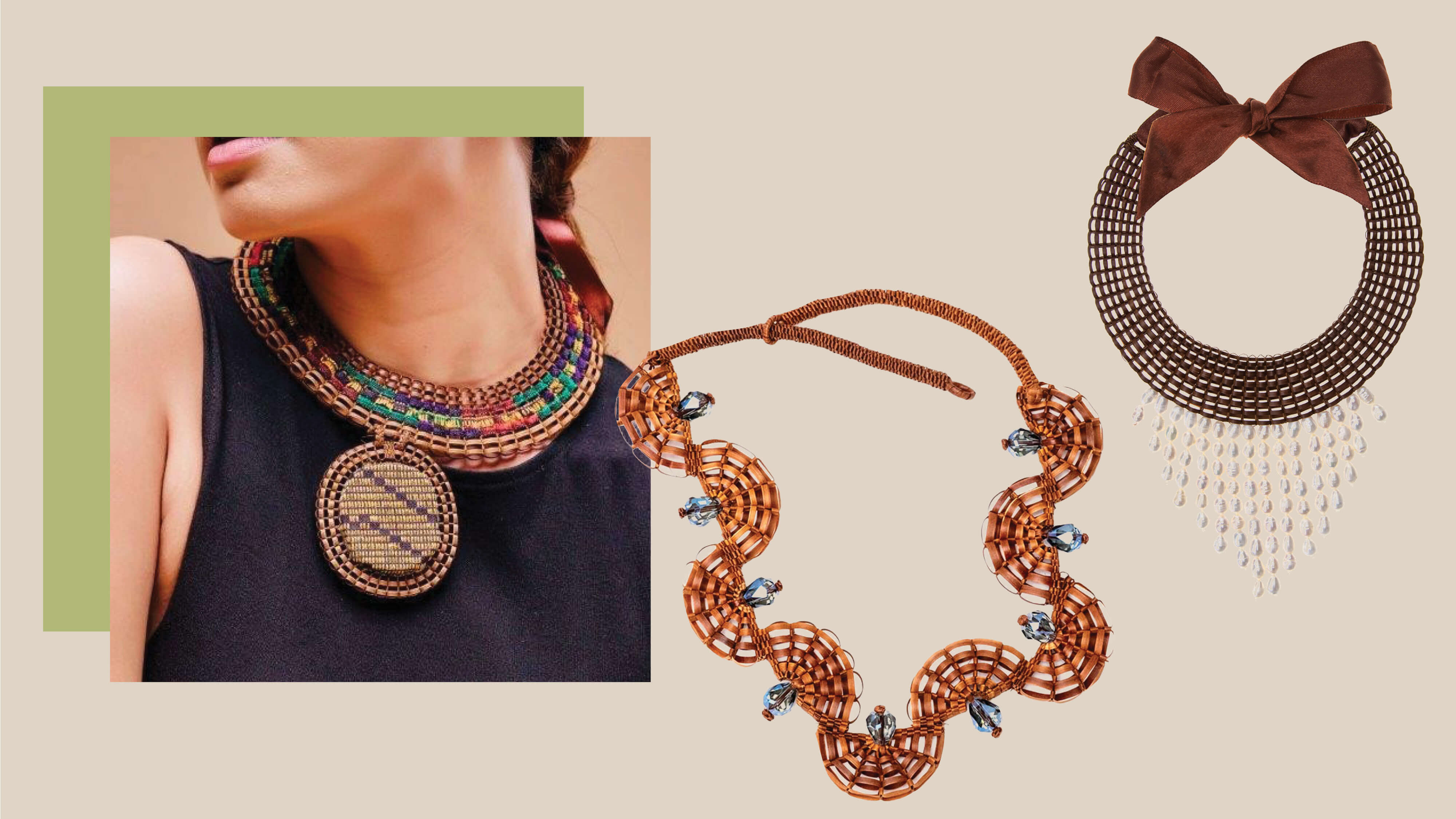 (left to right) Two kinds of fabric combine for the Agsam x Inaul Necklace; hanging diamond-shaped glass beads adorn the Vaso Necklace; the cult fave Norma Necklace

AISHE FASHION
The brand hails from Liliw, Laguna, famed for its footwear industry that is said to rival that of Marikina. Aishe uses abaca, canvas, and yakan cloth to create their shoe designs, and they are most known for their slip-ons and espadrilles.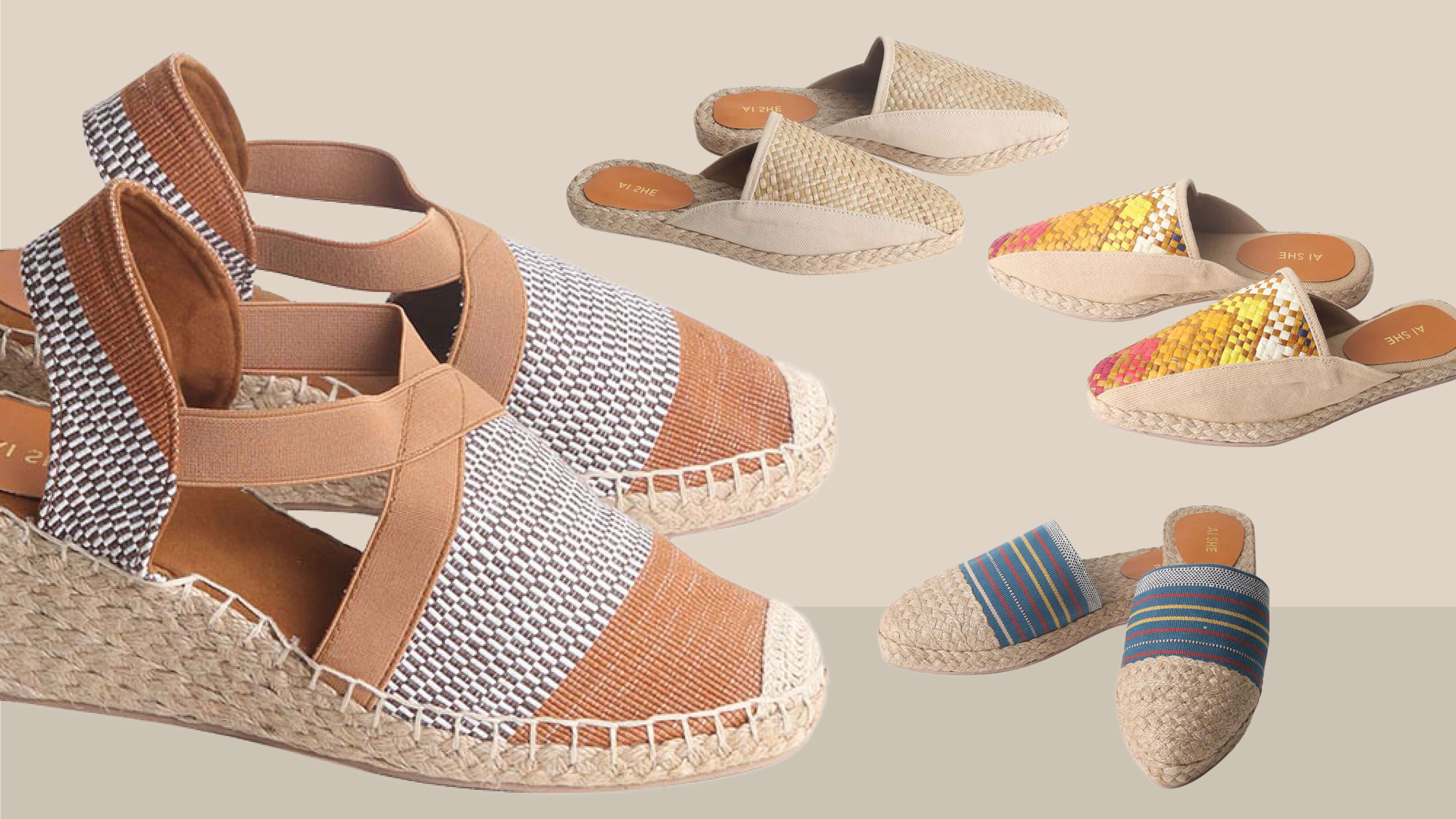 (left to right) the Stephanie Wedge is made of abaca; inabel, and canvas; the Banig Slip-on is made of abaca, canvas, and banig and also comes in a multicolored design; the Kali features Kalinga cloth combined with abaca and canvas

NAKED TOES MNL
Owner Den Sanchez combined her love for fashion and her desire to help the local craftsmen of Uson, Masbate and created Naked Toes MNL, a brand that produces comfortable footwear made of water hyacinths and recycled tires. Sanchez wanted to create a brand that captured the laid-back, beachy aesthetic of the seaside town and likewise pay homage to the time-honored heritage of weaving and braiding, incorporating them with novel materials and techniques to create her brand's designs.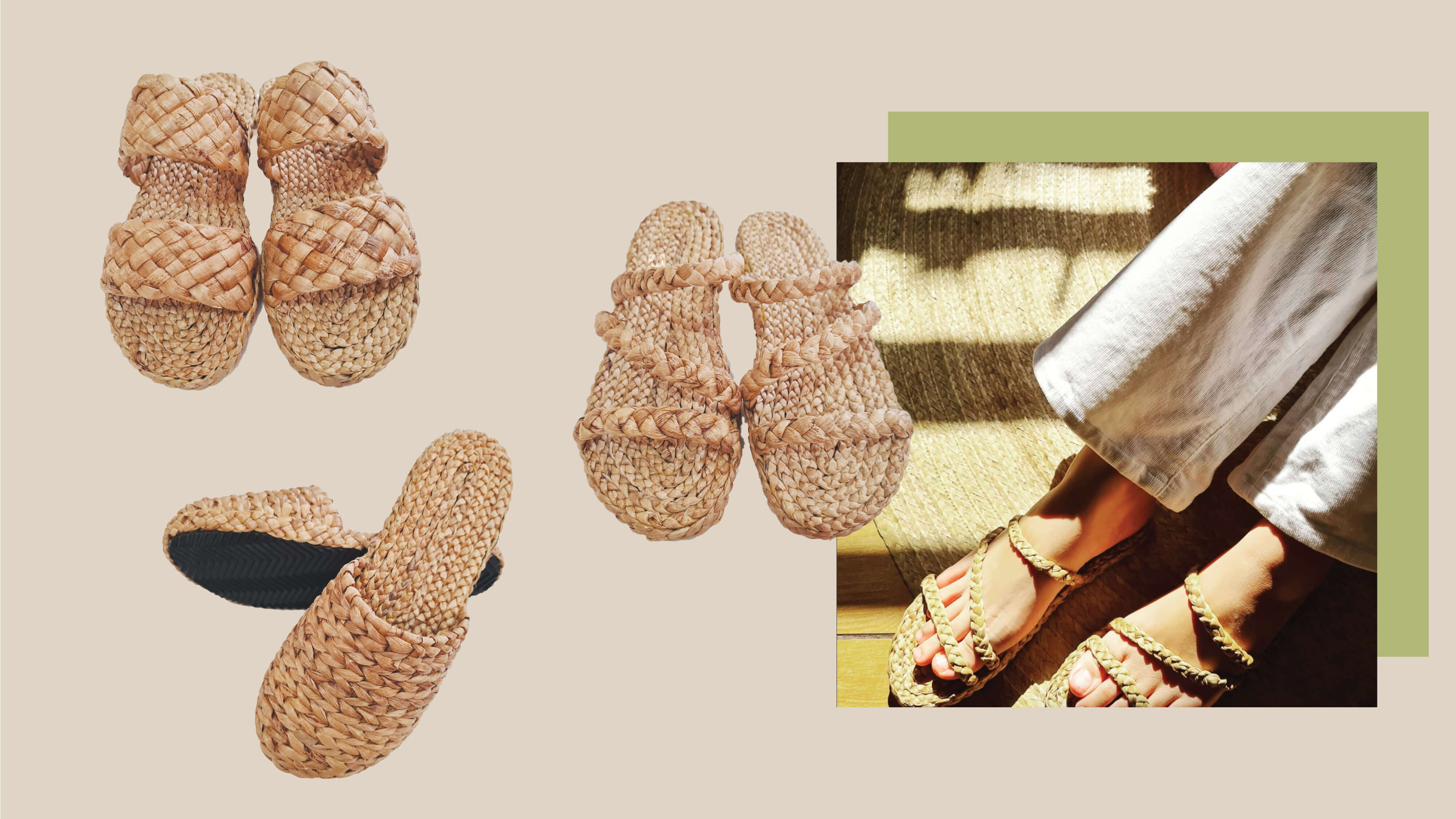 Naked Toes MNL's pieces—(clockwise from top) Adhara, Dasha, and Kirsten—make use of water hyacinth for the fiber and recycled tires for the soles

ORIENT MEADOW
Orient Meadow creates home and fashion accessories from indigenous raw materials that are natural, abundant, and biodegradable, among them, abaca, sinamay, sabutan, buntal, pandan, and buri. Owner Rosario Olego recognized the potential of local talent and natural raw materials when she established the brand in 1987. Today, the company exports worldwide, with a bulk of the orders coming from the UK and France.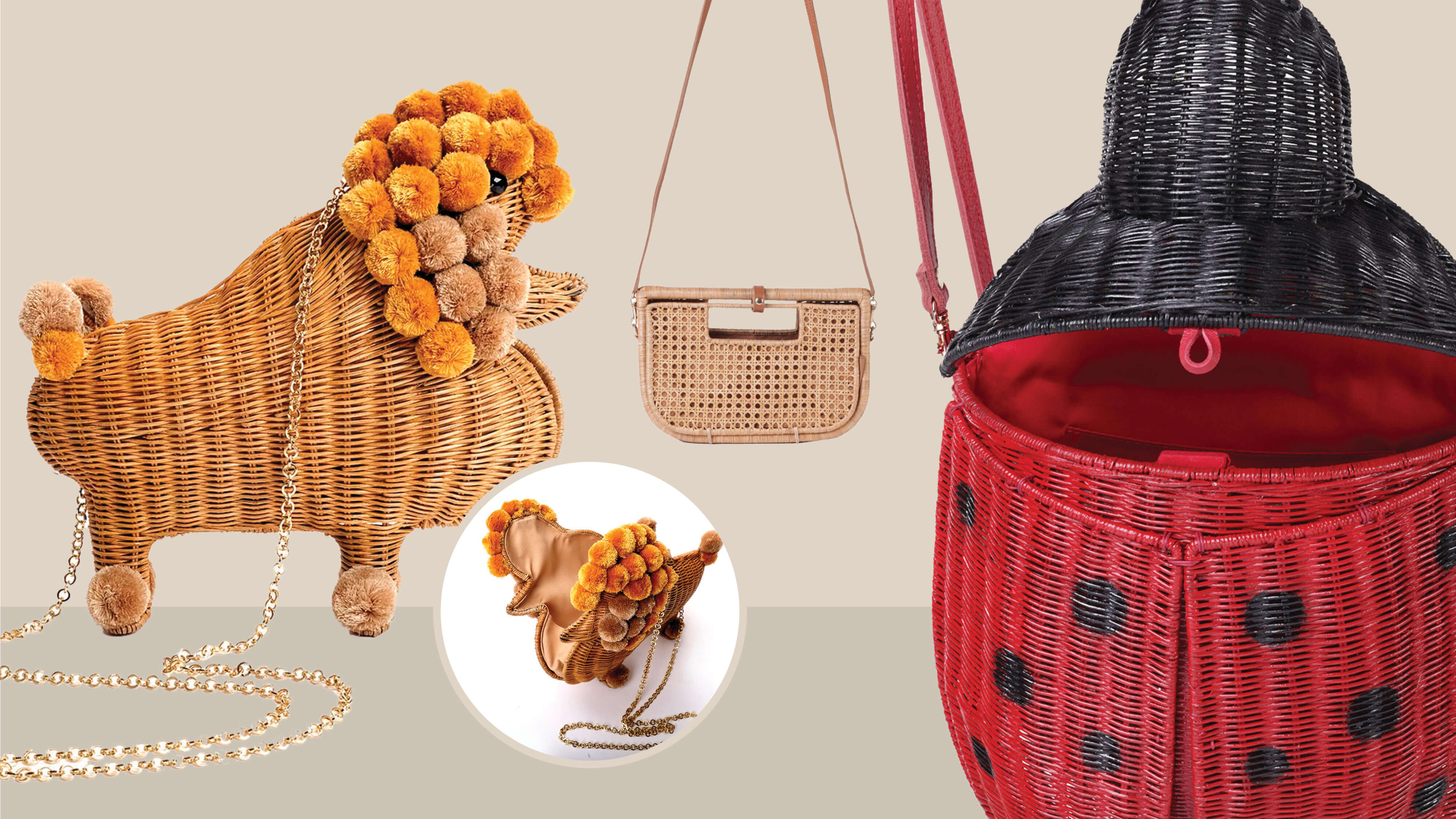 (left to right) Rattan wicker is fashioned into a poodle with the Rattan Poodle Bag, complete with pompoms; a simple, sleek Solihiya Sling Bag for everyday use; the Rattan Ladybug Backpack is a whimsical take on a traditional design

VESTI
Vesti works very closely with the weavers of Mindanao, integrating their artisanal craftsmanship and weaving heritage into the brand's modern-silhouette designs. Founder and designer Martha Rodriguez was born in Mindanao; she pays tribute to her hometown's cultural heritage through Vesti—and elevates its status with the brand's venture into the global market. The dynamic colors and geometric prints of the Mindanao weaves are consistently prominent in Vesti's pieces.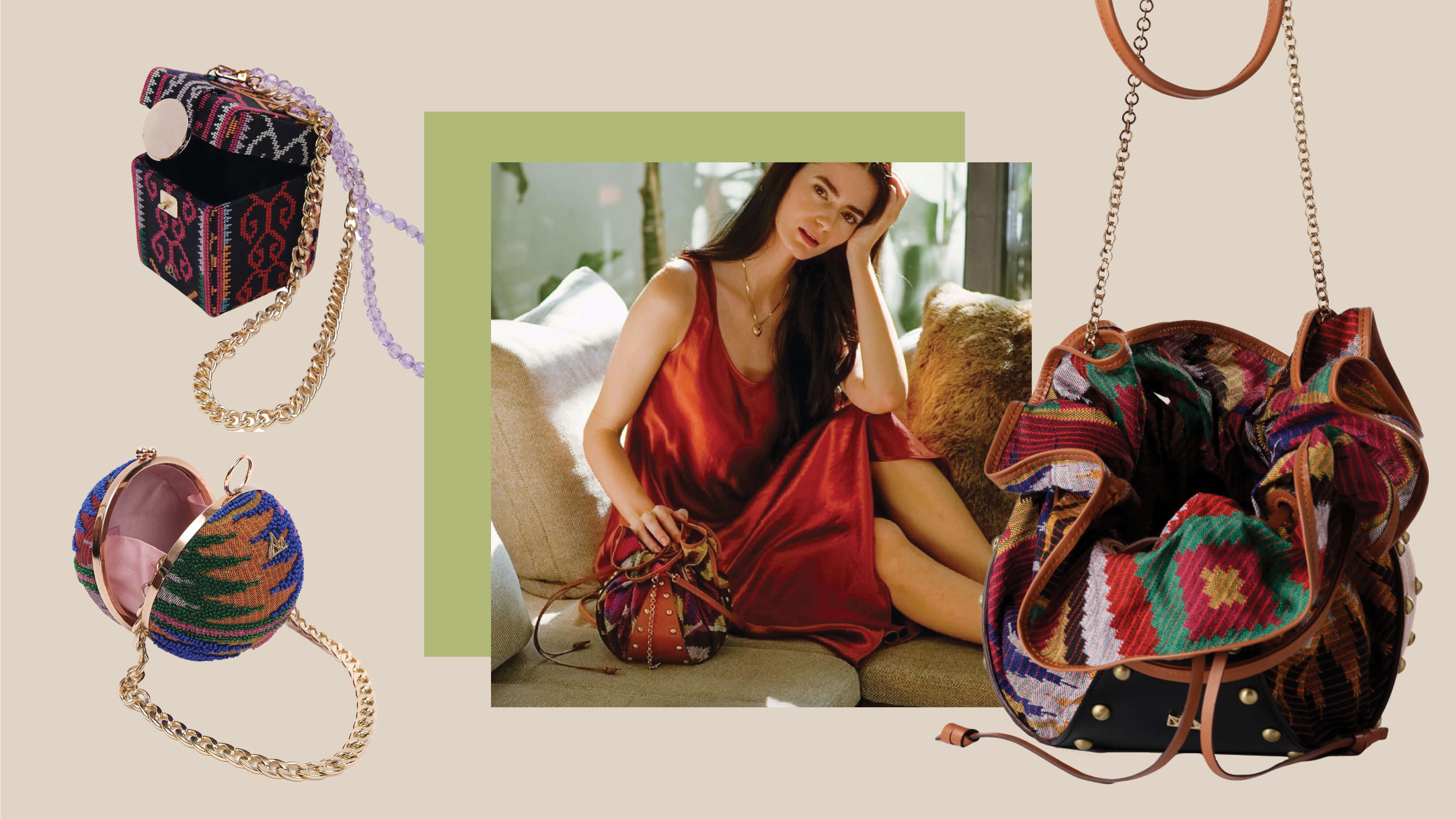 (clockwise from top) Polycotton langkit fabric and crystal-beaded handles for the Iris ("Cube" Collection); for the Chrysanthemum ("Bloom" Collection), Pis Siyabit weaves of the Tausug tribe get a modern update with calfskin leather and a flora-inspired design; Pis Siyabit goes glam with multi-colored beads for the Lucy Disco Mini

YVETTE'S BAGS
Yvette's Bags is most known for their crochet technique—technically different from weaving, but still handmade. The brand also infuses handwoven rattan in several of their designs. Yvette Punzalan founded the Davao City-based social enterprise to give current and former inmates a livelihood, and a new lease on life. Their colorful designs and intricate detailing work have gained fans from both here and abroad.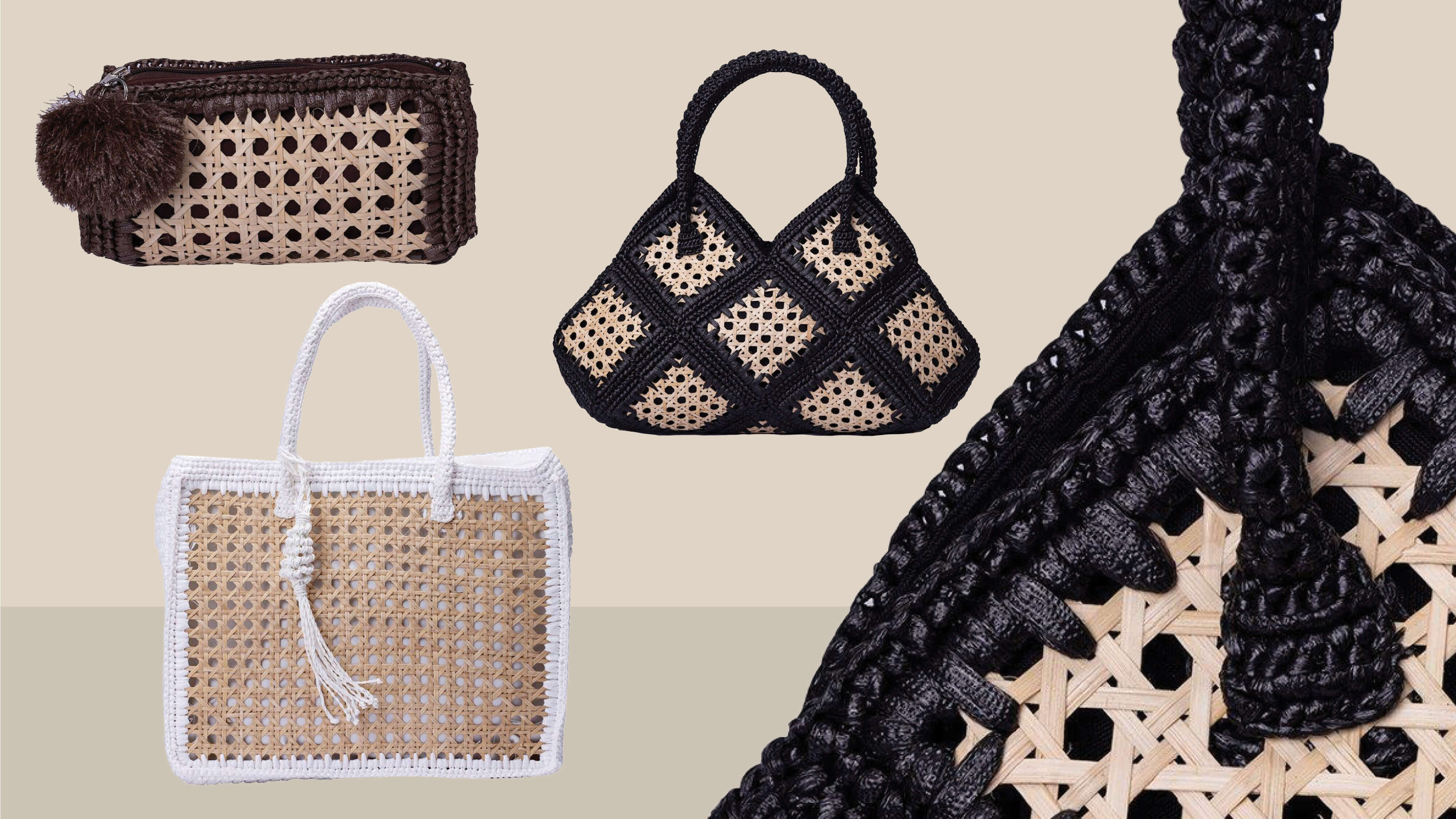 Crocheted plastic straw and rattan solihiya are the main materials for these designs (clockwise from top): Small Straw Purse with Solihiya Design; Straw Handbag with Solihiya Design; and Large Straw Bag with Solihiya Design

Photos courtesy of brands