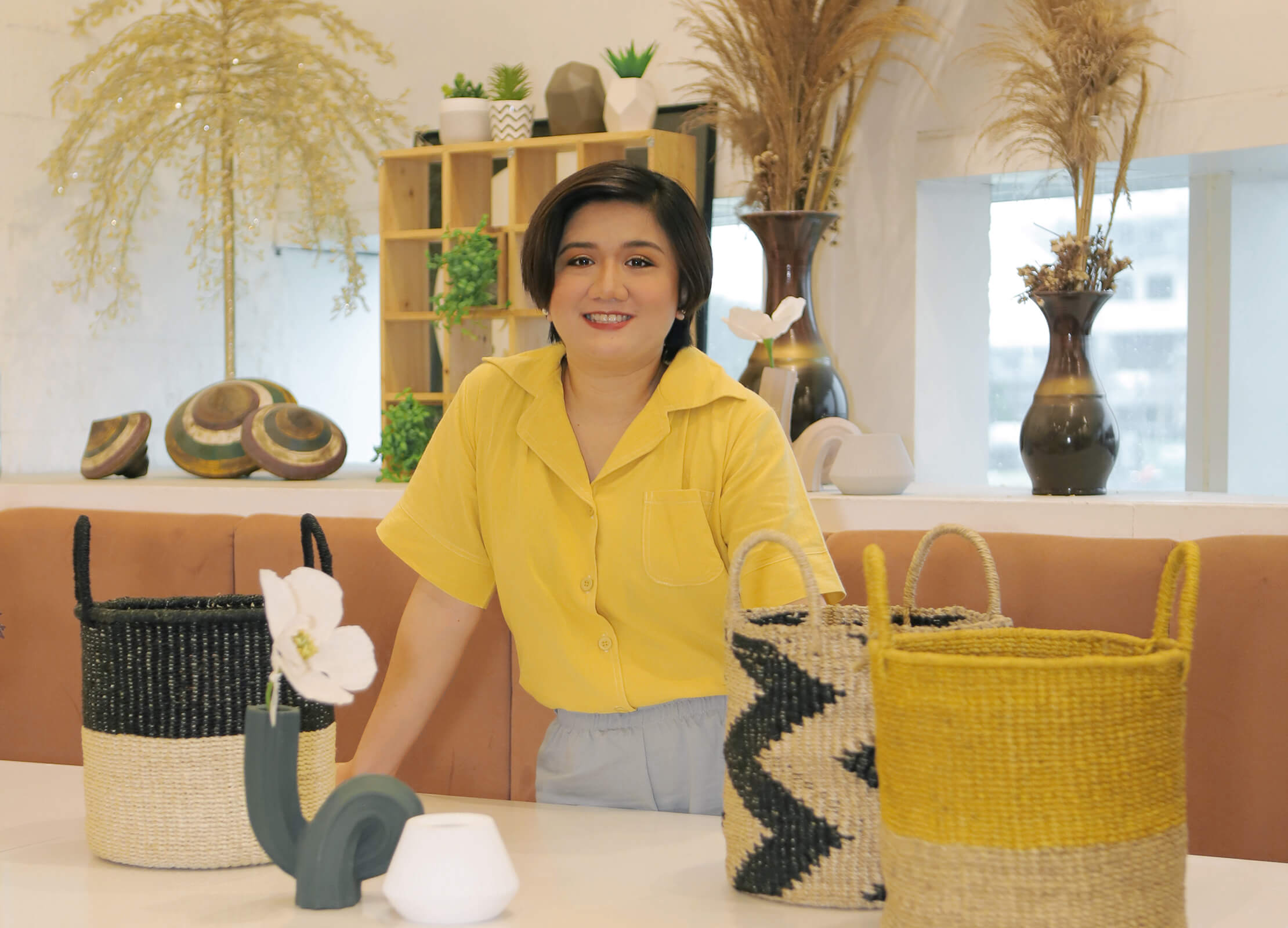 Rachelle Dagñalan on Globalizing Filipino Design
At the age of 20, Rachelle Dagñalan set out to make a mark in the design world. Years later, the product designer has set her sights on something loftier: share her talents with local craftsmen and manufacturers in the hopes of gaining international recognition for homegrown designs
by Vicky Montenegro

"I just realized now that it has been almost a decade!" Rachelle Dagñalan exclaims when asked about the highlights of her career. We can't blame the product designer and design mentor for having lost track of time. Her career, which she started at a ripe age of 20, after graduating with a degree in BFA Industrial Design from the University of Santo Tomas in 2012, has been moving at a steady albeit almost accelerated pace.
Dagñalan started young, and quite literally, too: As a child, her form of play was moulding clay and doing beadwork and paper mache. She was a frequent participant in design competitions in college and won awards in furniture design competitions by the Chamber of Furniture Industries of the Philippines (CFIP) starting in her junior year. "That started my journey in designing furniture," she shares. She started her career as a design assistant to the visual artist Jinggoy Buensuceso while employed with the Design Center of the Philippines (DCP), which exposed her to learning more about the local design scene: the different raw materials and artisans and makers from across the country.
In 2013, Dagñalan was awarded with the Silver A' Design Award for her Musketeer Stools, which then brought her to the Red Box Design Program of CITEM, a program that honed young design talents under the mentorship of Budji Layug. "Since then, I have done eight shows for Manila FAME, in collaboration with different manufacturers, and also as a product design consultant for the Artisans Village, Great Women, and the Department of Trade and Industry's One Town One Product (OTOP) projects," she adds. "I have also been part of the creative team behind DTI's Go Lokal! Flagship Store and other design development works in the provinces."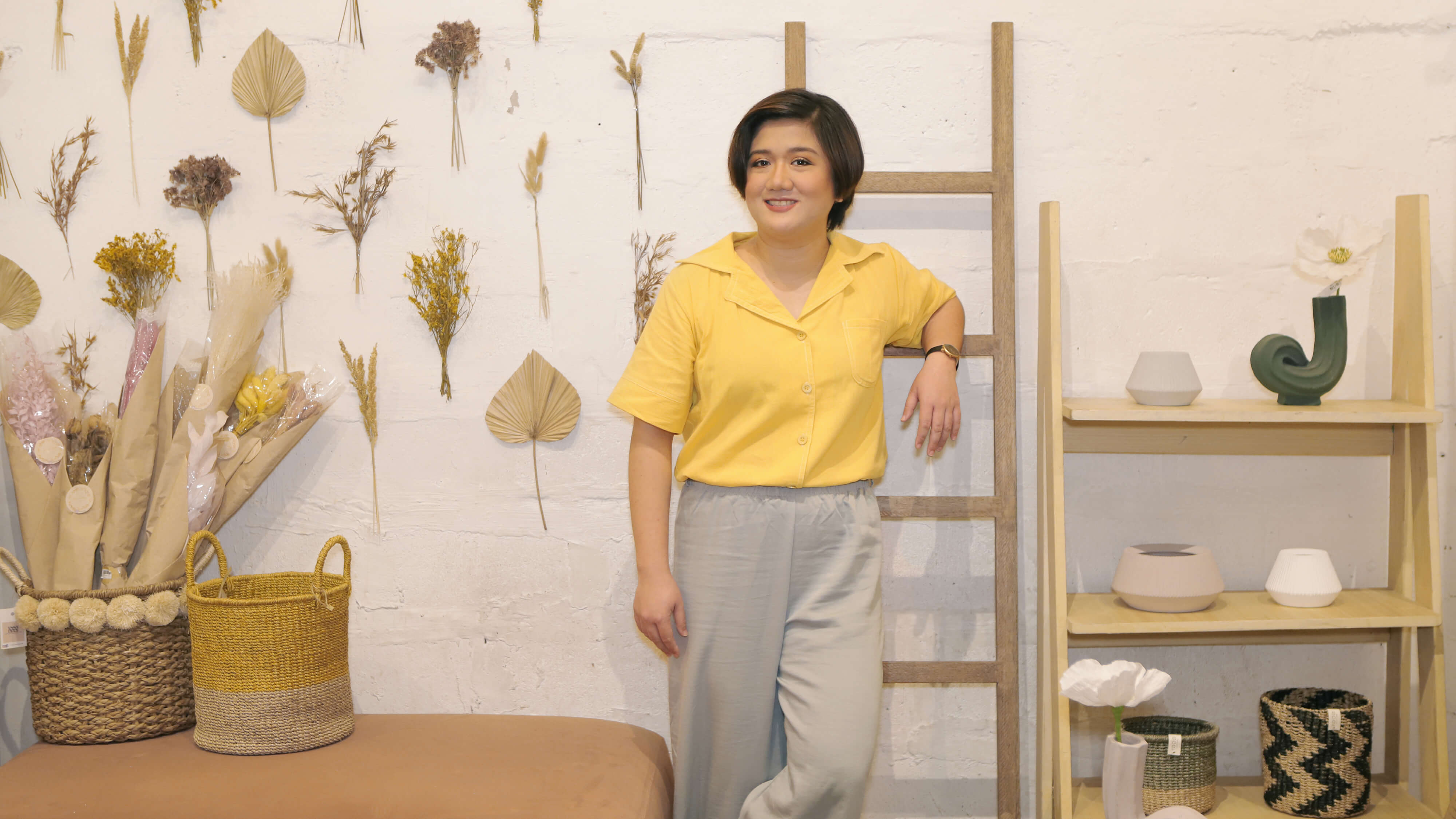 "I am beyond grateful for each and every opportunity that came my way," Rachelle Dagñalan says. "Winning the international award at 21 really launched my career and it has set the bar for myself for the years after." Dagñalan has also exhibited at the world's premier design event in Milan's Salone del Mobile

Today, Dagñalan runs her own company, RADA Collab, which she started to offer her design services but has since grown into "a platform for more creative collaborations" with other designers, craftsmen, and makers. She also most recently completed product design and development consultancy and mentorship for 13 brands participating in NY Now Digital Market. "Together with ByHand Consulting, the marketing consultant of CITEM for the show, we evaluated and identified the roster of brands to represent the Philippines in NY Now," she explains. "I hope that the products developed through this program will open up to more opportunities for our manufacturers and catapult more creative collaborations in our industry."
In this Creative Dialogue with TouchPoint, she shares her design journeys, inspirations, and goals, which include designing "a collection for an international brand with a wide distribution reach." Dagñalan, after all, has her eyes on the prize. "It's my goal to make Filipino design more accessible to Filipinos and to the world."

Who are your heroes, inspirations, and mentors in design and why?
As a young designer, I have always looked up to Sir Kenneth Cobonpue being the most celebrated Filipino industrial designer in our country and the world. Having undergone training with him as a design faculty—when he was our Industrial Design chair at the De La Salle - College of Saint Benilde—made me more adept with how we should look at things from a product designer's perspective. There's always more than meets the eye. It all boils down to the details and perfecting the form, which gives soul to a creation. A well-designed product is one that is well-thought-of, and answers a need or a desire. We get drawn to products not only because we need them, but first and foremost because we are attracted by them.
From Sir Budji Layug, I learned to go out of my way to create not only products, but experiences. He pushed me to go bolder. In a show, for a product to be seen, it has to make a statement. To draw people to look into your work, you should pique their interest. Go bold and create something out of the ordinary. While with Sir Jinggoy Buensuceso, I have learned how to merge art with function. He's a visual artist, and is a master of his own craft. As an artist, establishing an identity is very critical in making a collection. Having learned from both worlds of design and art has influenced and molded me as a designer.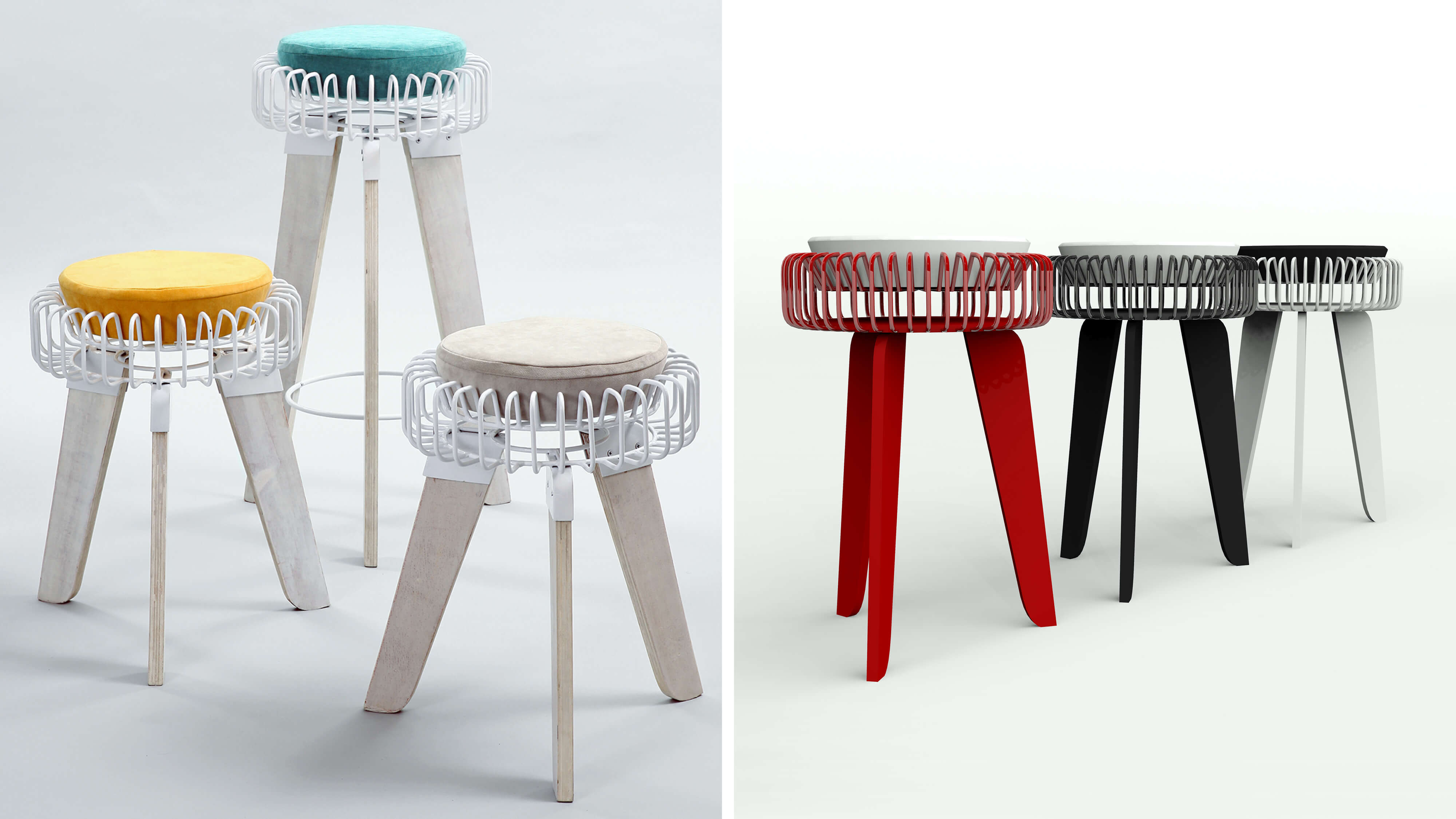 Dagñalan's Musketeer Stools, which won the Silver A' Design Award. The three-legged stools were named after the famed swashbuckling trio

When—and why—did you launch RADA Collab?
It all started after my first show in Manila FAME way back in 2013. After the October show, there were product inquiries. I wasn't in business yet at the time, and to formally introduce myself as a brand, I registered the business in 2014. It started as RADA Industrial Design Studio, which offered design services. Over time, I learned the business side of design. It was harder to offer services if there were no tangible products that people could see to appreciate. People wanted to buy my pieces, but I didn't have my own production yet. They were co-produced or exclusively designed for the manufacturers I worked with. The bigger manufacturers' market access was more for export than local, while the smaller makers still had very limited market access outside the regions.
So RADA COLLAB was born out of the need for a unifying brand to carry the collective of pieces I design with the different manufacturers and as a platform for more creative collaborations. In 2018, as I found more time to focus on growing the brand, I started consigning the products in partner stores to house the pieces, and to make them more accessible for retail. RADA COLLAB's goal is to make well-designed Filipino products and services more accessible to Filipinos and to the world. Since late 2019, I have been working on a new business model for the new direction of the brand, to create a platform for creative collaborations among designers and manufacturers to bridge gaps in the industry.
You offer furniture, product, space, and graphic design. Do you have a group of designers working alongside you?
Industrial Design is a wide spectrum of specializations that delves into product design, space design, packaging design, graphic design, and other subfields. Over the years, with my training and practice, I have gone more into the direction of product design—designing home decor, furniture, accessories—and space design, curating exhibitions and store concepts. It's been a one-man show for years, and I don't really have a full-time in-house team yet. With each project comes different requirements and I would collaborate with different talents and makers to help deliver each project. RADA COLLAB's new direction sets out to offer subscription-based services and provide a marketing platform for the products to be made from the creative collaborations between artists, makers, designers, and manufacturers.
Your more recent collaborations are for NY Now, where you worked with a lot of local brands and manufacturers.
I was assigned 13 brands to work with. We created over 80 new concepts for the show. The NY Now Digital Market is an accessories show, so we picked companies that will represent us in the home and fashion accessories lines very well. The entire product development with all companies took only about two months, so we had to keep up with the pace to make the new collections by July. I joined them in each of their coaching sessions with ByHand Consulting to better understand the companies' market profiles, directions, and goals—and translate these into the design collections. Our engagement was limited to meeting online only and checking samples through chat and video calls. It did help that I am already quite familiar with most of them and the materials they work with, so we got to align concepts that are workable with their given resources and timeline.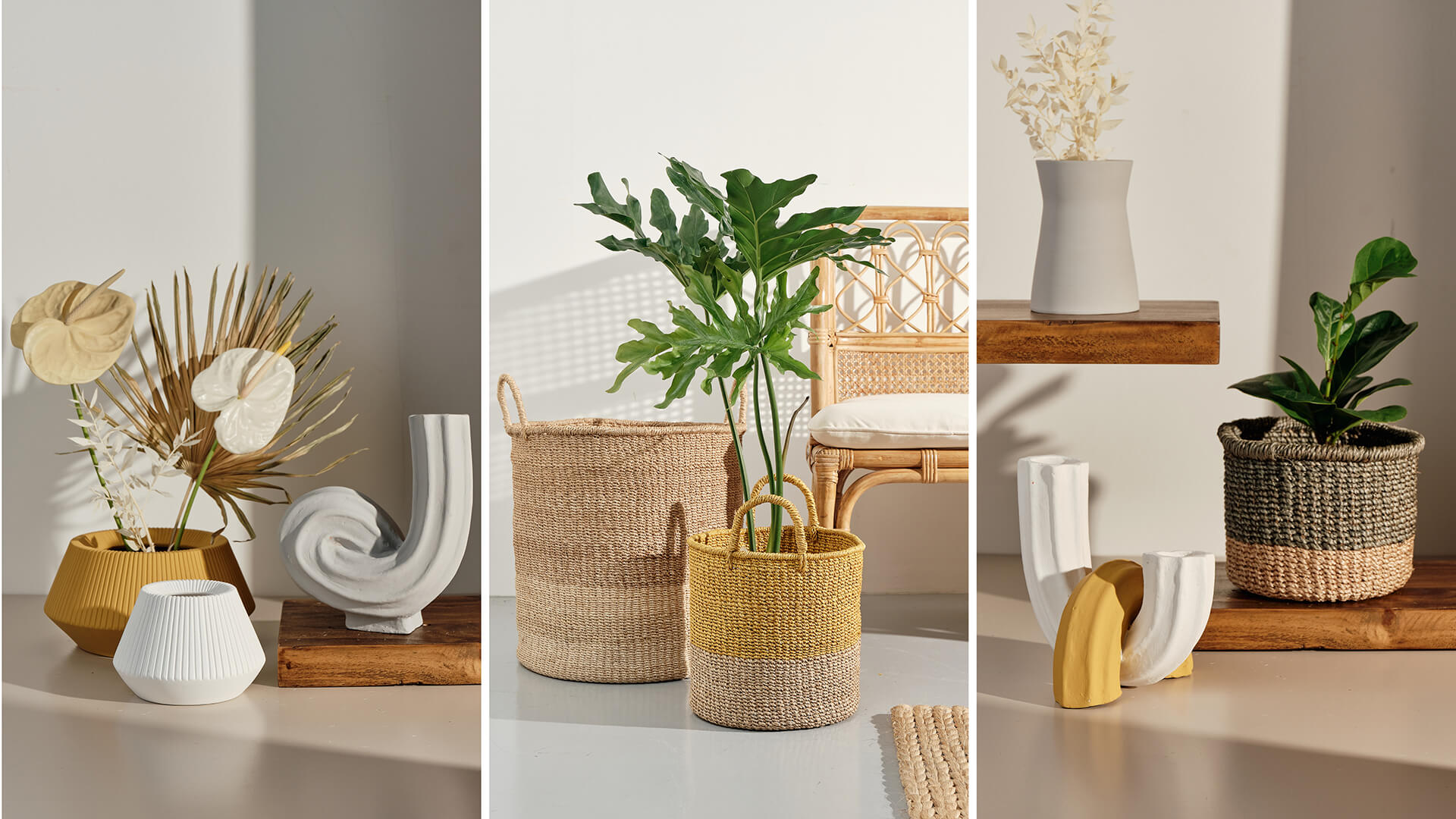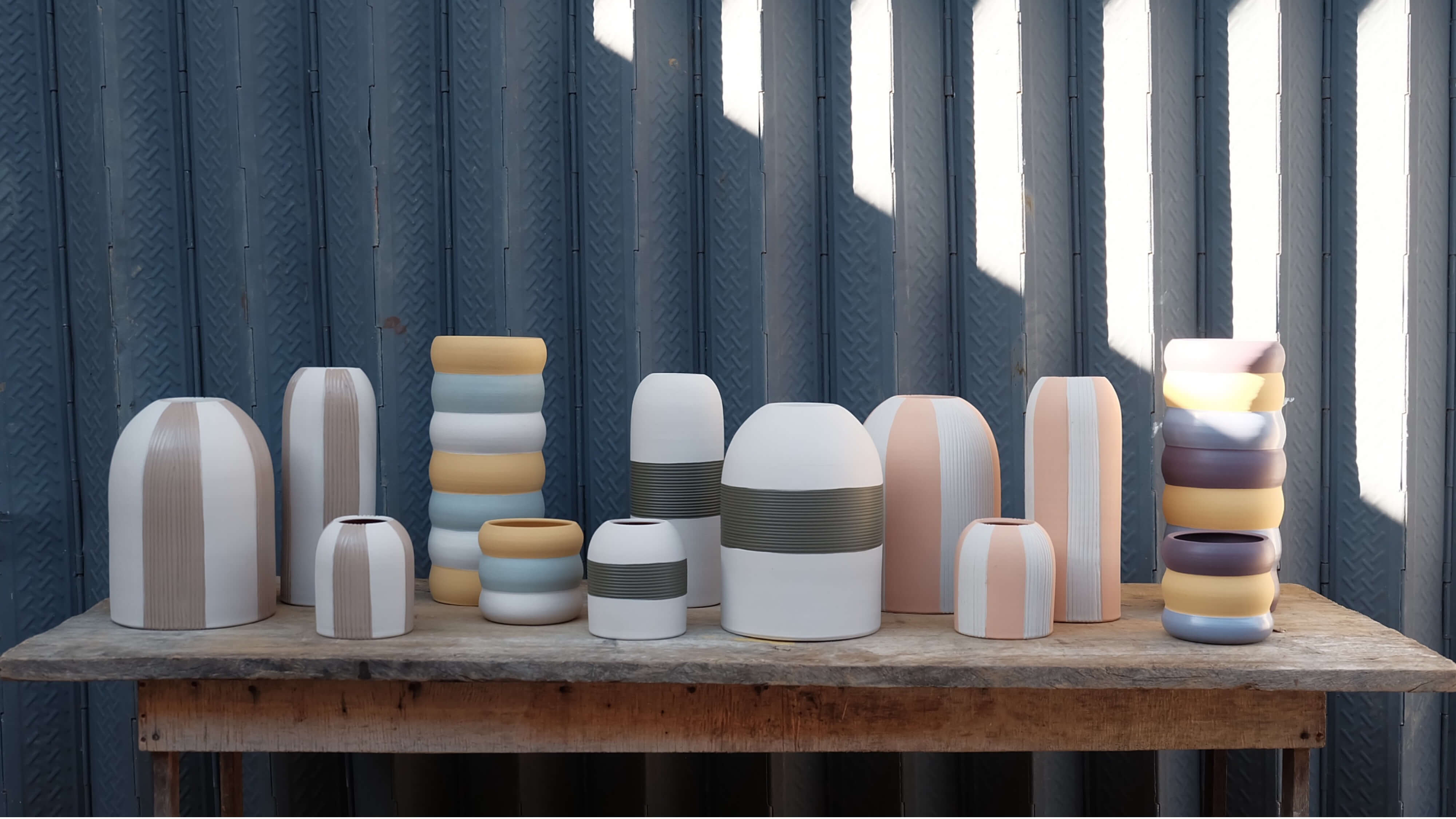 Tiwi Ceramics and Abaca Baskets (top) These are products of collaborations with artisans from Dalagñan's home province of Albay. The baskets were first released in Manila FAME 2015 March edition, and the terracotta ceramics in 2018. (bottom) "These terracotta vessels were a part of the 2018 collection I developed in partnership with the LGU-Tiwi, and DTI-Albay, to promote pottery, as one of the craft industries in Albay," Dagñalan explains

What were the challenges you encountered with designing and developing for different brands with different brand personalities, aesthetics, and creative and business directions?
When designing for different brands, materials, and aesthetics, one has to be highly flexible yet highly focused. Although each brand has very distinct aesthetics, having a binding overall concept sets the tone and direction for the flow of the product development. One has to visualize the bigger picture first so it would be easier going into the details. Most of the challenge was in having to think fast so we can deliver the concepts quickly—because prototyping takes a chunk of the remaining time. With checking prototypes, we had to find ways to effectively communicate with the companies online.
Did you learn anything new from the process?
Having a marketing consultant onboard the process was really helpful, especially while the world is now recovering from the pandemic. ByHand Consulting was able to give us a clearer picture of how the new digital market works and what the markets are currently looking for. It's a more streamlined process of how design development should be, where we get to research and know more about the market first prior to creating the collections to offer for each brand.
What are the most important factors in product design? What is good product design?
Good product design is creating something so simple yet answers a need or desire. There are a lot of factors that go into product design and the most important is understanding the user's needs. We create things out of a necessity. Be it decorative or utilitarian, a product has to meet a need to serve its purpose for people to want it.
The role of a product designer is to create design solutions that translate to sales. We shape what's going to be out there in the market so a designer has to responsibly think of how a product can create value to its user, to the business, and to the society, without compromising the environment.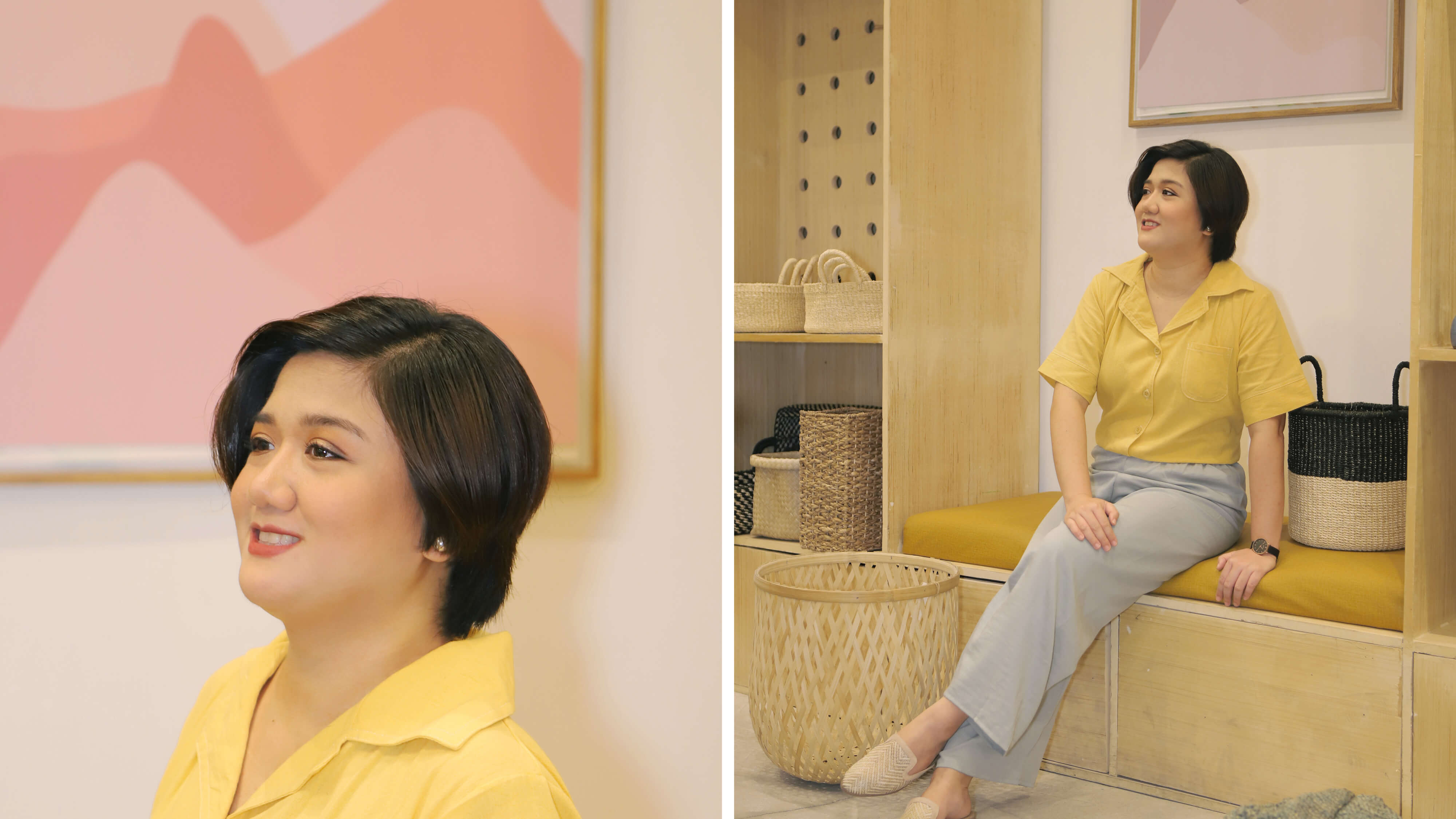 In 2018, Dagñalan took "a two-year break from the mainstream." "It has been fulfilling yet exhausting to have a lot going on in my early years," she shares. "Slowing down taught me to become more intentional with what I do and have a greater appreciation for the creative process that goes behind each product I make."

Can you walk us through your process when designing and developing products?
As a product designer developing products for different brands, my approach varies per client. First in the process is getting to know the brand, the materials they work with, their strengths, and their market profiles. Designing for oneself is very different from designing for others. My approach when designing for others is very market-driven. It's important to know what styles will match their customer profiles—the needs, tastes, and price points.
The job of a designer is to marry this information to create pieces that will match the target markets, while creating something beautiful and new and injecting the identity of the brand. I also check on current market trends to know what the markets may be looking for, how we can stand out, and to make sure we aren't repeating what's already out there. A part of the process is also being knowledgeable with the materials and how the products are made, to effectively communicate our ideas to the makers.
What are your favorite materials to work with and why?
I am fond of working with natural materials, such as natural fibers, clay, marble, wood, but not limited to all-natural. Being acquainted with lots of natural materials made me appreciate how rich the Philippines is with natural resources that not many countries have. It excites me to create something sophisticated out of something so ordinary that others may consider trash. I am also drawn to exploring material combinations and seeing how we can develop a fresh take on common materials we have.
What makes Filipino designs stand out from the rest? What do we offer that others don't?
I think what makes Filipino design stand out is the soul and craftsmanship put into every piece—the same way that you know it's good food when a chef has put his heart into his cooking. From materials harvesting and preparation to hours of crafting an idea and handcrafting the products, each piece is an artisan's labor of love. If you think of highly artisanal, Filipinos surely have something to offer.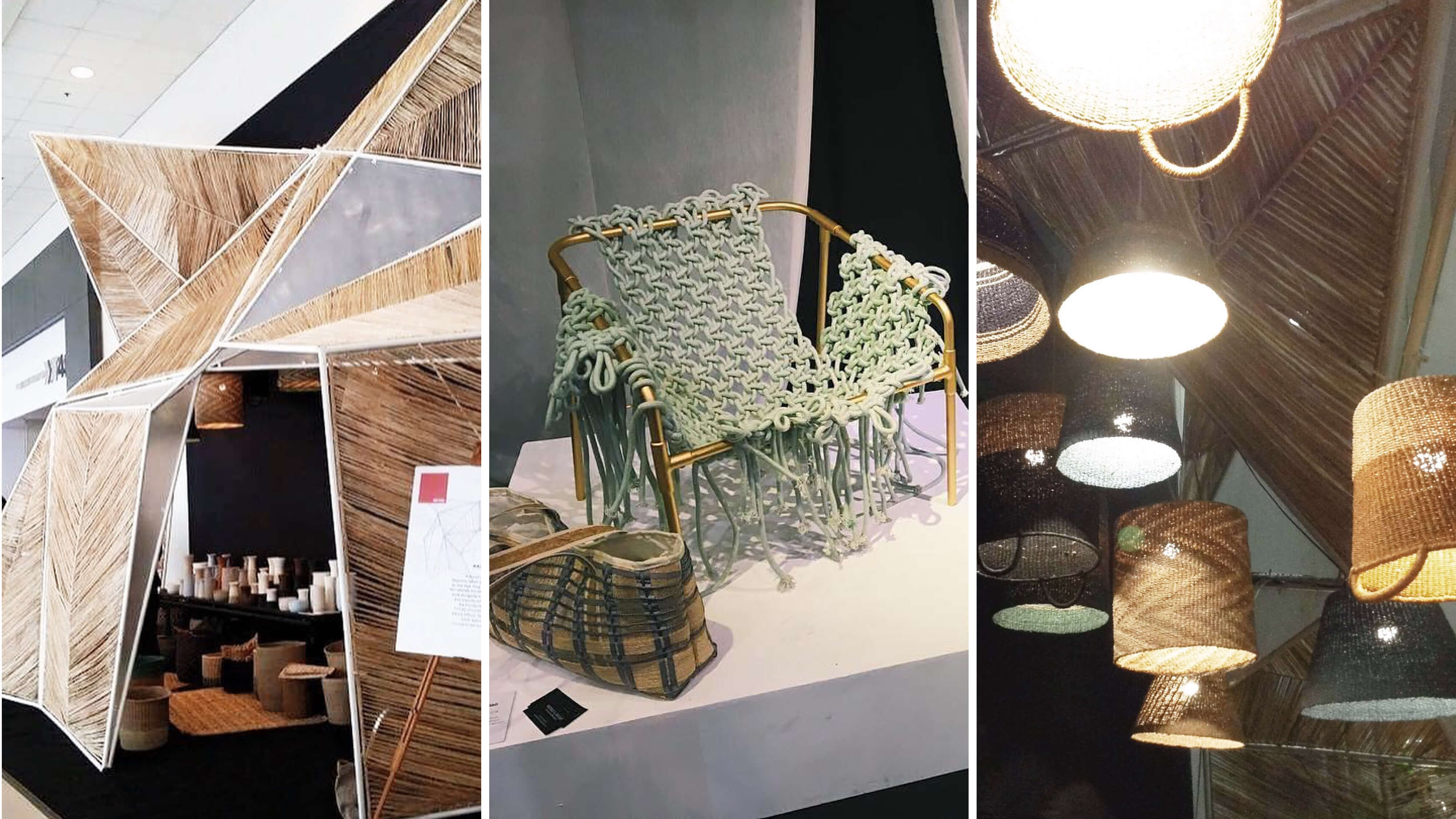 (left to right) The geometric structure housed the first Crafts of Albay setting in Manila FAME in 2015 under RED BOX, where Dagñalan featured the products she developed with the artisans from her hometown. The Knitknock Chair, first seen in 2016 October Manila FAME, which was also brought to Salone del Mobile in Milan in 2017. Abaca baskets turned upside down to create a lighting installation inside the booth of the Crafts of Albay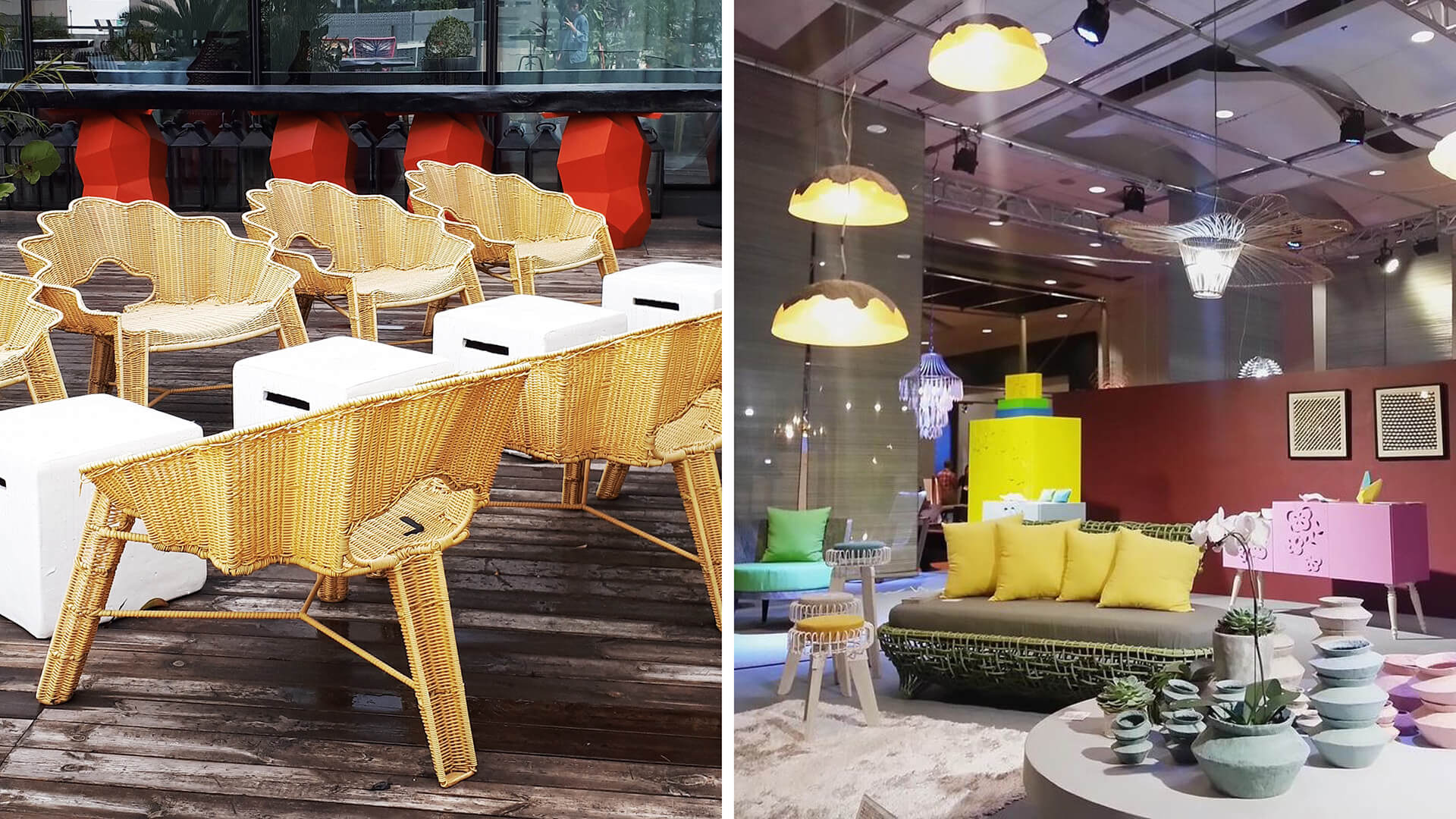 (left) Tart Chair in yellow, as seen in the private membership club Manila House. "The Tart Chair was my first design for Calfurn, which won third place in CFIP's Furniture Design Competition in 2011, awarded a few months before I graduated from university," Dagñalan shares. (right) Pieces Dagñalan designed under the Red Box Program from Manila FAME March 2014, in collaboration with Obra Cebuana (Stud Sofa and Gumamela Lamp), Nature's Legacy (Vulcan Lamps), Masaeco (Paper Pots)

As someone who's been working with different brands and manufacturers and other designers, what have been the constant challenges you've faced in the local design industry?
Many of our manufacturers, especially at the micro level, get so used to the cycle of just joining trade shows and rushing product development, but lack a clear sense of direction for doing so. As a designer, you have to set the direction and, if necessary, give them a new perspective. In my early years of participating in Manila FAME, I would talk with some foreign buyers and ask how they found the show and what they came for to source in the Philippines. Many of them already know what they want and would say that there isn't much new to see. Our prices are also relatively higher compared to other Southeast Asian countries. Many of the big buyers have preferred manufacturers already and would rather go directly to the factories—rather than in the show—to see more, but they are still on the lookout to meet new suppliers.
I think there are gaps between what the buyers are looking for and what our makers bring to the show. This creates dwindling market interest and also impacts our artisans. The challenge for us is to keep the buyers coming back to sustain our crafts and keep traditions going. Bringing the suppliers online through these digital market platforms is the way to go and we need to take in as much feedback from the buyers to continuously improve and create more valuable connections with the market.
What would you like to see more of in the industry?
I'd like to see more manufacturers having their own team for research and development. Our industrial design profession here in the Philippines is very much underutilized. Only a few invest in innovation. There is so much value in constant development to continuously bring businesses forward.
How about the practice of sustainability? What are our thoughts on the feasibility—for both creativity and business—of sustainable design and materials?
Going sustainable is the future. Many of our consumers nowadays have become more concerned about making informed purchases: where the products they buy come from, what they are made of, who makes them, and how they can customize according to their needs. Sustainability goes beyond the materials. There has to be a balance between responsible production, consumption, and continued market growth for a business to be truly sustainable. There is still a lot of untapped potential for our local manufacturing industry to grow. With the right mix of talents, craftsmanship, and tools, we can improve our production capabilities and the Philippines' position in the world market.
Art Direction Kit Singson
Photography Cyrus Panganiban
Hair and Makeup Don de Jesus
Coordination Patti Sunio
Special thanks to Frankie and Friends General Store SM Aura