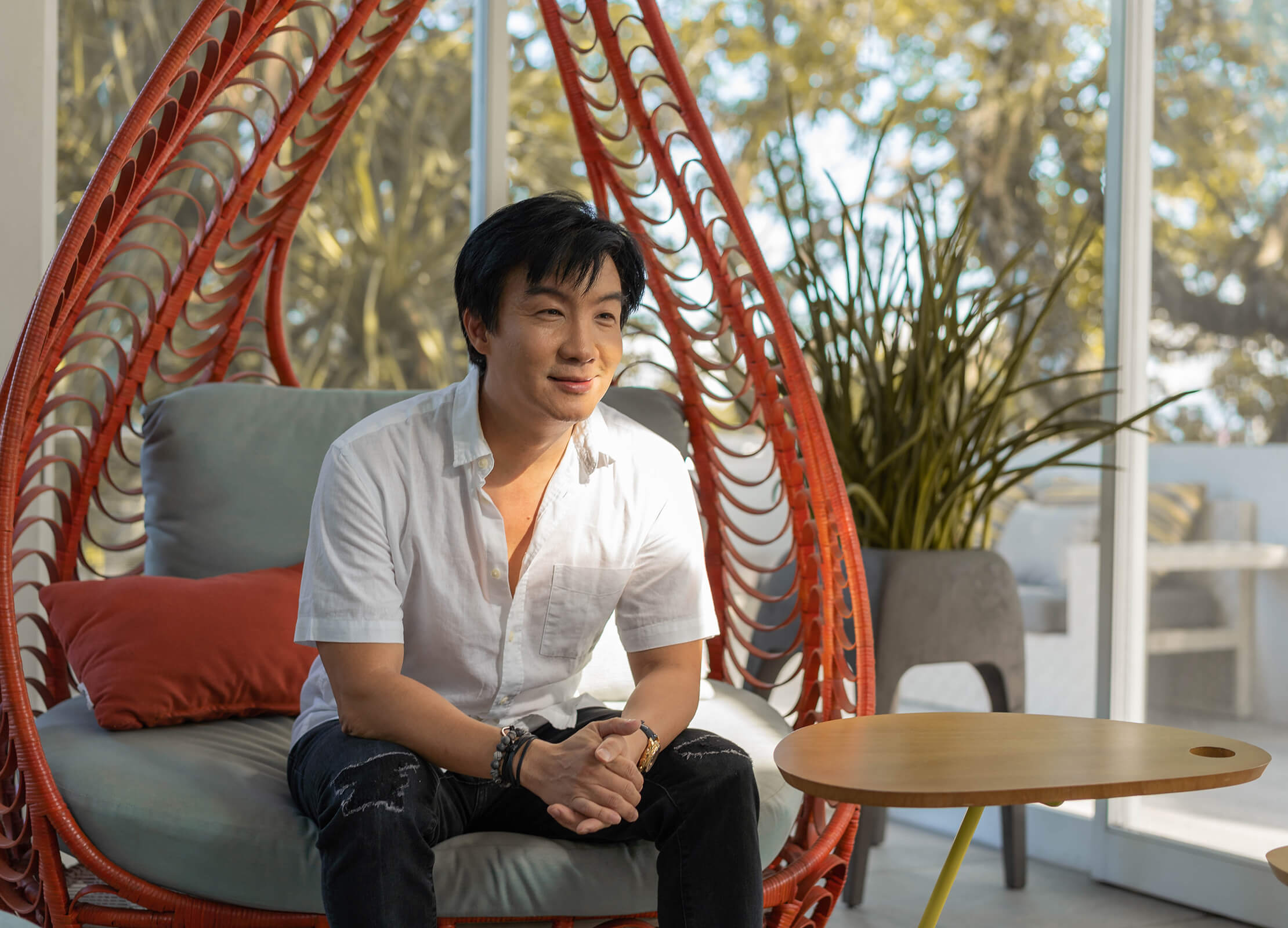 Kenneth Cobonpue on What Matters Most in Design
The world-renowned Filipino designer, recognized as rattan's first virtuoso, talks about what truly makes designs stand the test of time
by Vicky Montenegro
You hear the name Kenneth Cobonpue and you think of many iconic design moments. For me, it will always be the debut of his design of the first bamboo and rattan car, aptly called the Phoenix, in Milan in 2011.
The award-winning designer never slowed down since. Fast forward to 10 years later, Cobonpue is still a force in the industry: winning awards (the most recent one being the 2020 Gawad CCP Para sa Sining Award), gaining more product recognitions, and adding more designs to his groundbreaking portfolio. The global pandemic notwithstanding, he is still busy designing and creating—with new collections coming soon—but not without the challenges. "I realize it's almost impossible to virtually design and create a handmade product," he shares. "We need to hold and experiment with materials, and work with the craftsmen who are making it."
"Not everyone can make the jump from sleep to work in their houses," he adds. "Home is a place for relaxation. You also can't schedule a quick Zoom meeting when inspiration hits you. Working from home may be suitable for other industries, but not for a creative one."
Like many other creatives, the pandemic has given him the opportunity to rest, rethink, and reset. "The pandemic has given me a much needed break from the fast and hectic cycle of releasing new products to attending exhibitions and fairs," he says. "We have been pressured to churn out products without time to think if it's really needed, and it's been the same for every creative industry."
"The pandemic has given us the opportunity to rethink our strategy, map out a new one, and plan how to move forward," he continues. "Although big projects have been put on hold in most parts of the world, spending for individual homes have skyrocketed, and retail has been good. People now realize it's worthwhile investing in the home because travel is limited. Lockdown has forced us, in a good way, to revisit relationships, spend more time with family, and appreciate what we have."
In this Creative Dialogue with TouchPoint, Cobonpue talks about his decades-long prolific career, his hopes for the local industry, his legacy project, and what he believes to be the most important things in design.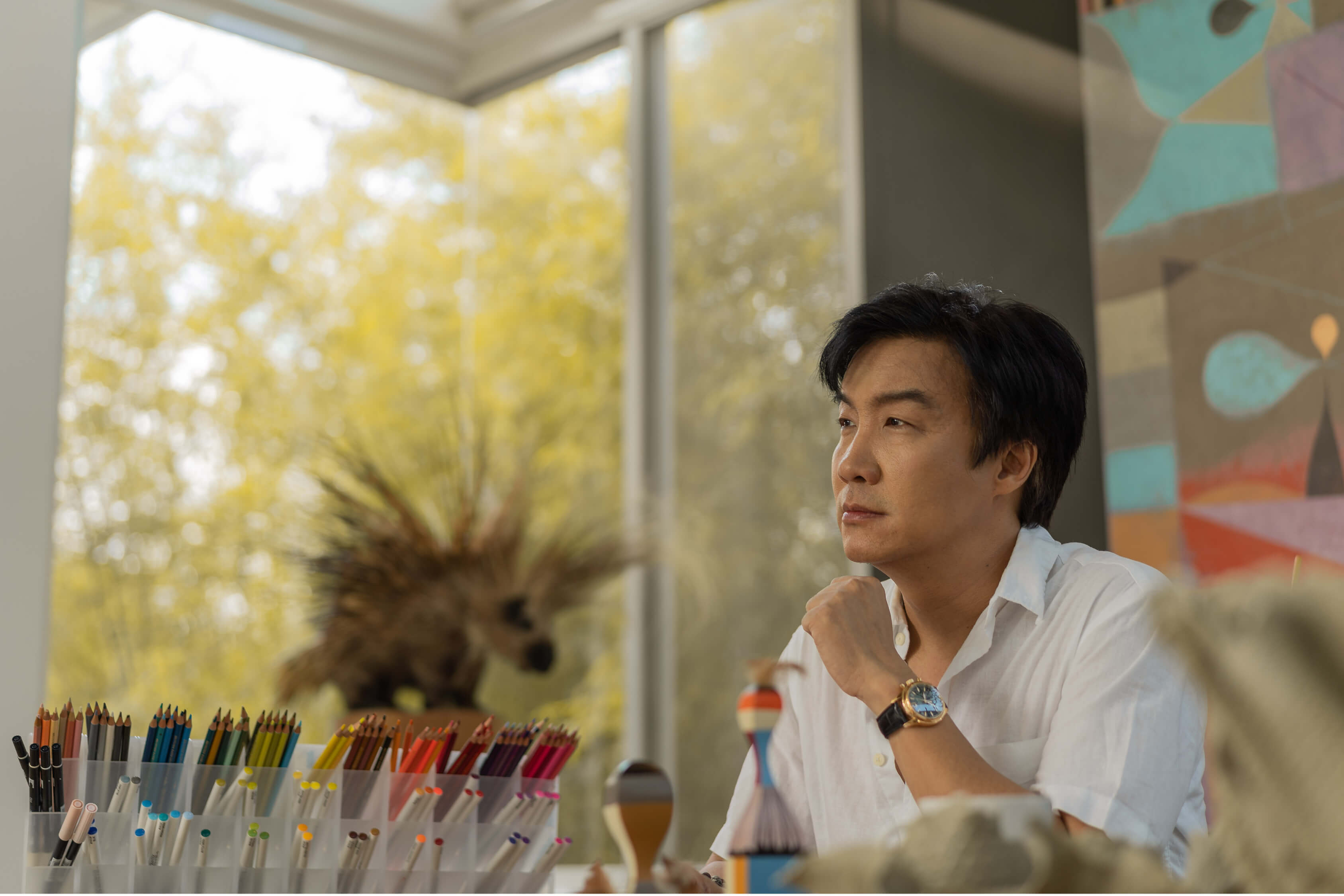 Kenneth Cobonpue, at home in Cebu, has used the time in lockdown to "rethink our strategy, map out a new one, and plan how to move forward."

You received the 2020 Gawad CCP Para sa Sining Award. Congratulations! What does this recognition mean to you?
I am thrilled to receive this award because it's a validation that my work is a source of pride not only for my industry, but also for my country. I am honored to be the first recipient of this prestigious award in the design category, and it encourages me to continue inspiring and mentoring other young designers to carry the torch. Design is a young industry in the Philippines, and it is up to the next generation to continue to define and expand its history and meaning.
How can the next generation carry on this task—continuing to define and expand local design's history and meaning?
The history of Filipino design is not even half a century old; it's relatively young. Design is like a language which evolves over time, and it's up to this and the next generation to add, subtract, and refine the vocabulary by which Filipino design is known in the world. I tell my students that it's up to them to find the distinct forms, materials, and silhouettes that will characterize our country's design identity in the future.
You've also received other recognitions for your designs in the past year—the Limbo Hoop was nominated for Interior Design Magazine's Best of Year Awards 2020 and the Chewie Rocking Stool was added to the V&A Museum's permanent design collection.
Receiving international awards and winning competitions abroad is not something I work for, but it's a happy pill every now and then. The global arena is tough, and winning against your competitors and going up against the best of the best is proof that Filipino design is here to stay. Design is always subjective, however, so I don't take these too seriously, and I don't let it influence any of my career decisions.
What has been the most memorable recognition you've received?
TIME Magazine once called me rattan's first virtuoso. It was the most unexpected, flattering, and, therefore, memorable recognition that I got.
I was watching The Flight Attendant recently and saw some of your pieces. It was unmistakable. What, do you think, makes a Kenneth Cobonpue unmistakably Kenneth Cobonpue?
It used to be easier to recognize a Cobonpue because I was the only one doing open and transparent woven pieces when I started. Today, it has become one of the cornerstone looks of Filipino design, including Southeast Asian. But that's how design evolves. When we think of an Italian or French look in design, we call to mind the pioneers and well-known brands that characterize a national identity. My classics are known the world over, and I will continue to shape my identity using various silhouettes and materials. They will always have that unique, handmade, and, sometimes, wow factor that defines a Cobonpue.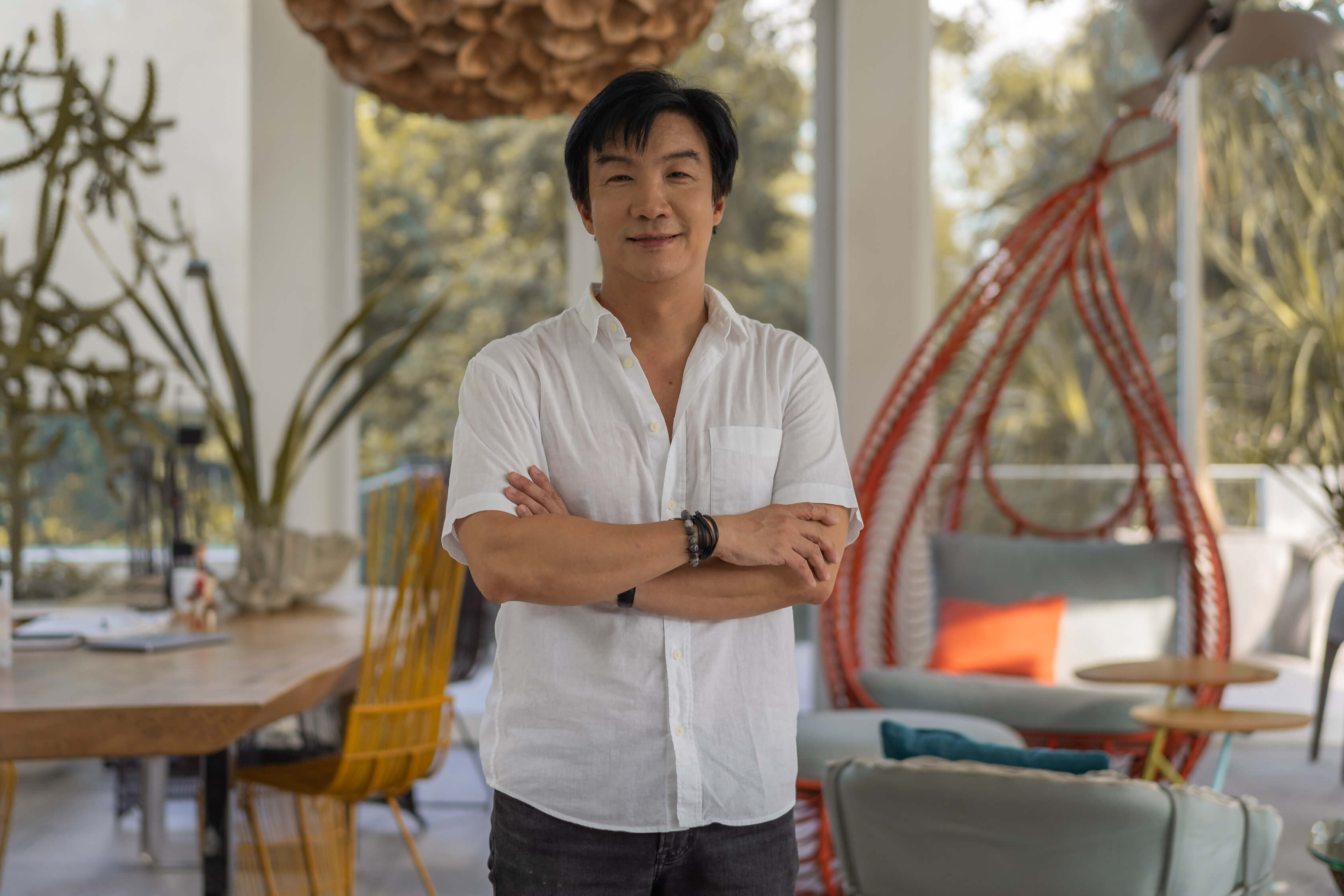 Cobonpue has won the 2020 Gawad CCP Para sa Sining Award and is the first recipient of the prestigious award in the design category

How does it feel that you actually pioneered a design that has now become a central component of Southeast Asian design?
I used to be annoyed at these Cobonpue-inspired designs when I started because most of them were just bad copies. But people started congratulating me after seeing them in TV sitcoms and in different resorts during their vacations, even if they weren't mine. I realized then that the look was synonymous with me. Today, design students all over Southeast Asia study my work and brand, and you would be hard pressed to find a beach resort or hotel in Southeast Asia without Cobonpue-like furniture. But we have to move on and find the next new thing. This is what I mean by Filipino design needing to evolve.
You also most certainly put Cebu on the map in the design industry. What do you think keeps the Cebu design industry thriving? And how can this be replicated in other cities?
The Cebu design industry owes a lot to the manufacturing power that the island has. This is something that the National Capital Region (NCR) or other places do not have. Design is intertwined with the factories and craftsmen who can produce it. We must further expand and develop our manufacturing prowess for design to thrive.
Why does Cebu have such manufacturing prowess?
Cebu doesn't have natural resources or agricultural land like its counterparts in the country, so her people have had to rely on their skills to survive. Being traders all throughout history, Cebuanos have been more open to ideas and other cultures. Foreigners settled on the island and taught them skills like furniture making, basket weaving, and guitar making. These small workshops became big factories over several decades until cheaper Asian competitors separated the strong from the weak. These local companies today, perhaps fewer but stronger, form the backbone of design manufacturing by which Cebu is known.
I know that it's a bit of a challenge to make plans these days, but what's next for you?
I have a lot of new designs with a softer edge using fabric. They provide a perfect balance to our woven core collection over the years. I am also working on public structures with several local municipalities and going into experimental art. My team and I have been very active during the pandemic, and we are excited to release our new collections soon.
What is a dream project for Kenneth Cobonpue?
Design education and mentorship is my passion and advocacy. It is my wish to open a school where artists, designers, and craftsmen can live, work, study, and experiment side by side. Hand skills that are part of our rich Filipino tradition—like weaving, embroidery, metalworking, and carving—are disappearing. The average age of the Filipino weaver and craftsman is 60. It is up to us to make design manufacturing attractive so that younger generations of artisans can continue these traditions and develop them for the future. A school specializing in design and technology for handmade craft and art is a legacy project for me.
KENNETH COBONPUE: WHAT MATTERS MOST IN DESIGN
Photography and Videography: Ted Bermudez
Camera Operator and Gaffer: MJ Polinar
Art Direction: Kit Singson
Grooming: Arnold Echevarria Jr.
Production Assistant: Timothy Bermudez