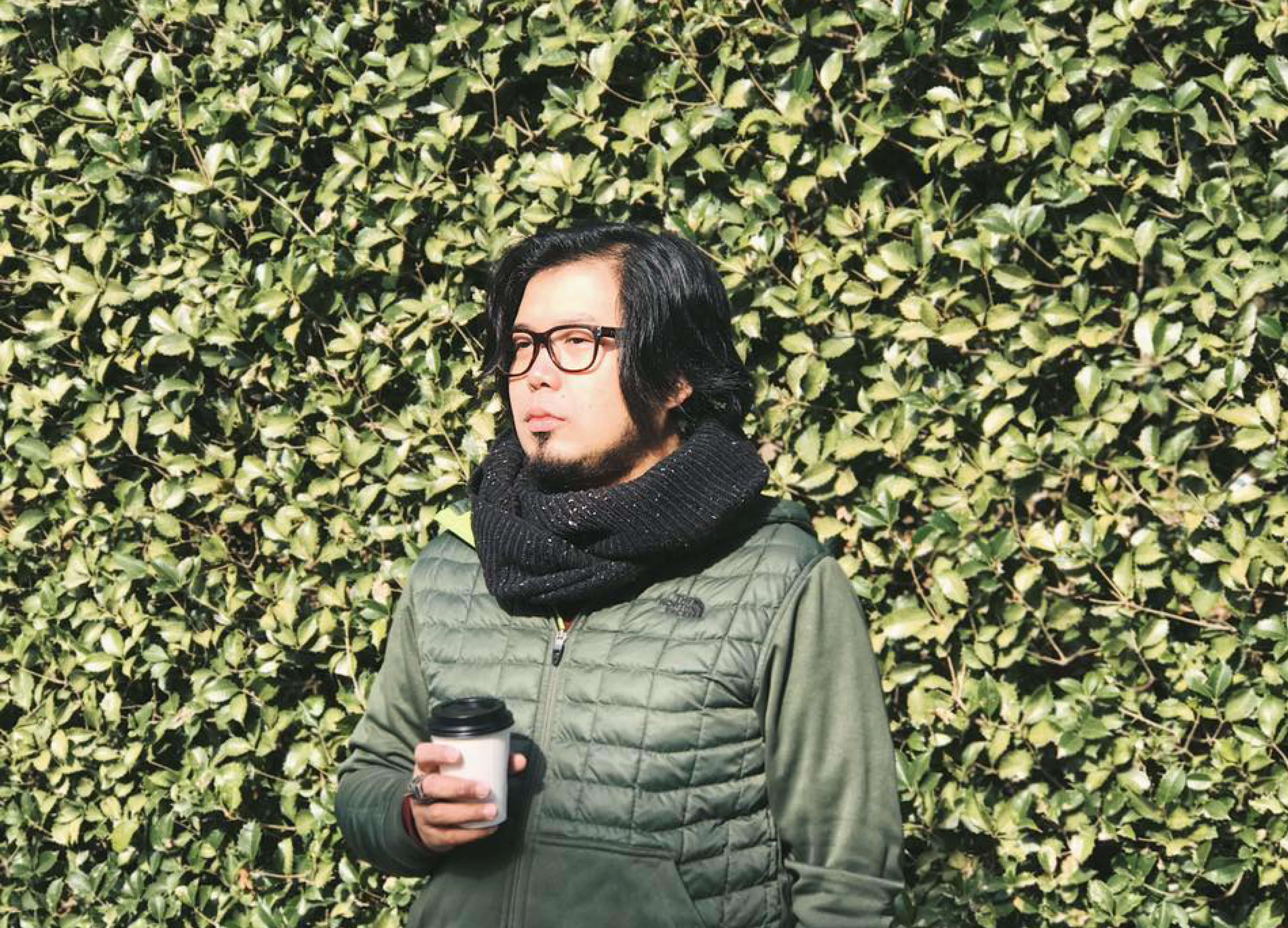 A Mind for Conscious Design
Dan Matutina on his branding and brand design process—and the real value of creative work
by Vicky Montenegro

"I don't know if it's a good thing or bad thing," illustrator, graphic designer, and creative director Dan Matutina says, laughing, "but when I see something that needs some assistance, I offer my help, kahit walang bayad [even without pay]. Mahilig kasi akong makialam! [I like to poke my nose into a lot of things!]"
"Sometimes I give advice—oftentimes unsolicited—or offer to help out in some way," Matutina, founding partner of Plus63 and Hydra Design Group, adds. "I think that's really my weakness—because I really get easily excited by the creative work and the creative possibilities."
But there is a reason that his "help" is always welcomed by his peers and colleagues: Matutina is multi-awarded and highly regarded by the industry. After earning his degree from the College of Fine Arts of the University of the Philippines Diliman in 2003, he worked in Harrison Communications (a subsidiary of McCann Erickson Philippines) for three years. In 2006, Matutina began designing independently and worked with different studios and agencies: Pentagram, Frog Design, CP+B, Wieden+Kennedy, Droga5, Leo Burnett NY, Ogilvy & Mather NY, and Tool of NA. His past projects include work for brands such as Google, Pinterest, Airbnb, Samsung, WIRED Magazine, Fast Co., Wallpaper*, The Guardian, The Wall Street Journal, Coca-Cola, Havaianas, Heineken, and Uniqlo.
More than a decade ago, he formed his creative studio. Since then, Plus63 has been working with homegrown and international businesses, helping to "enrich and strengthen the brand experience."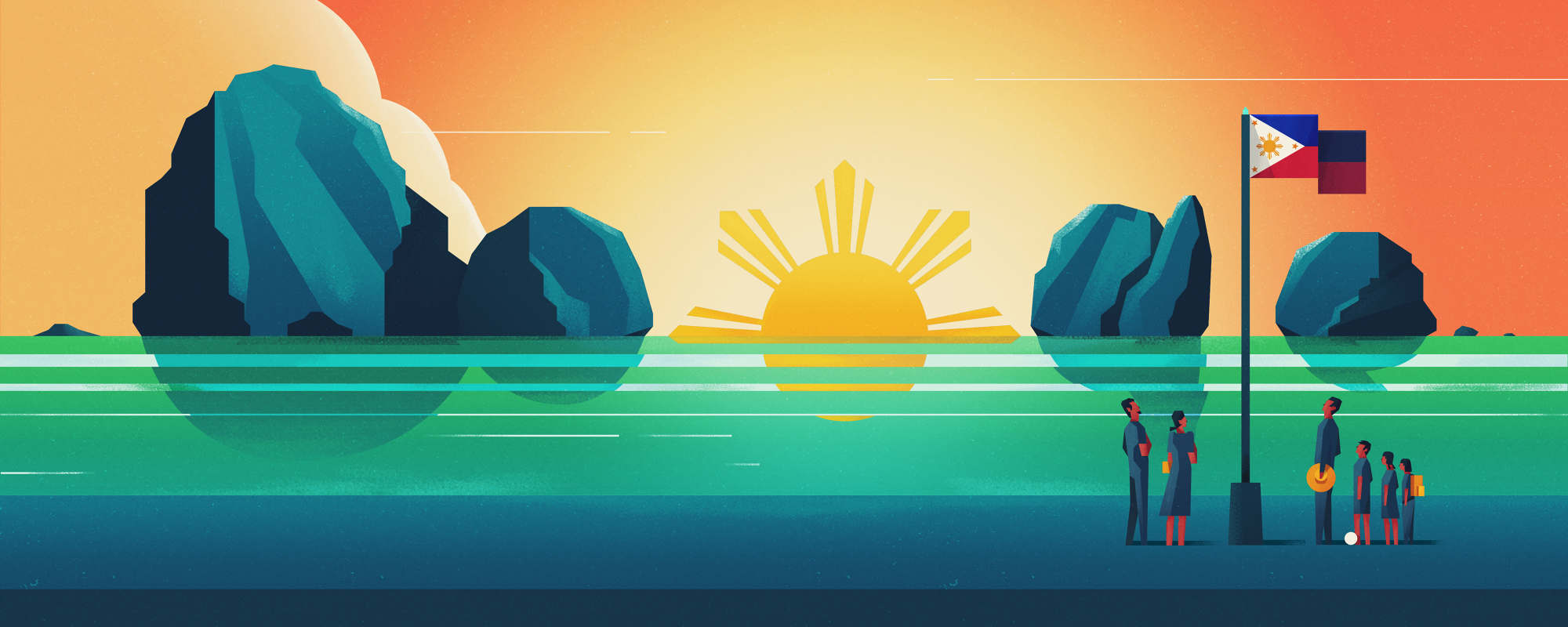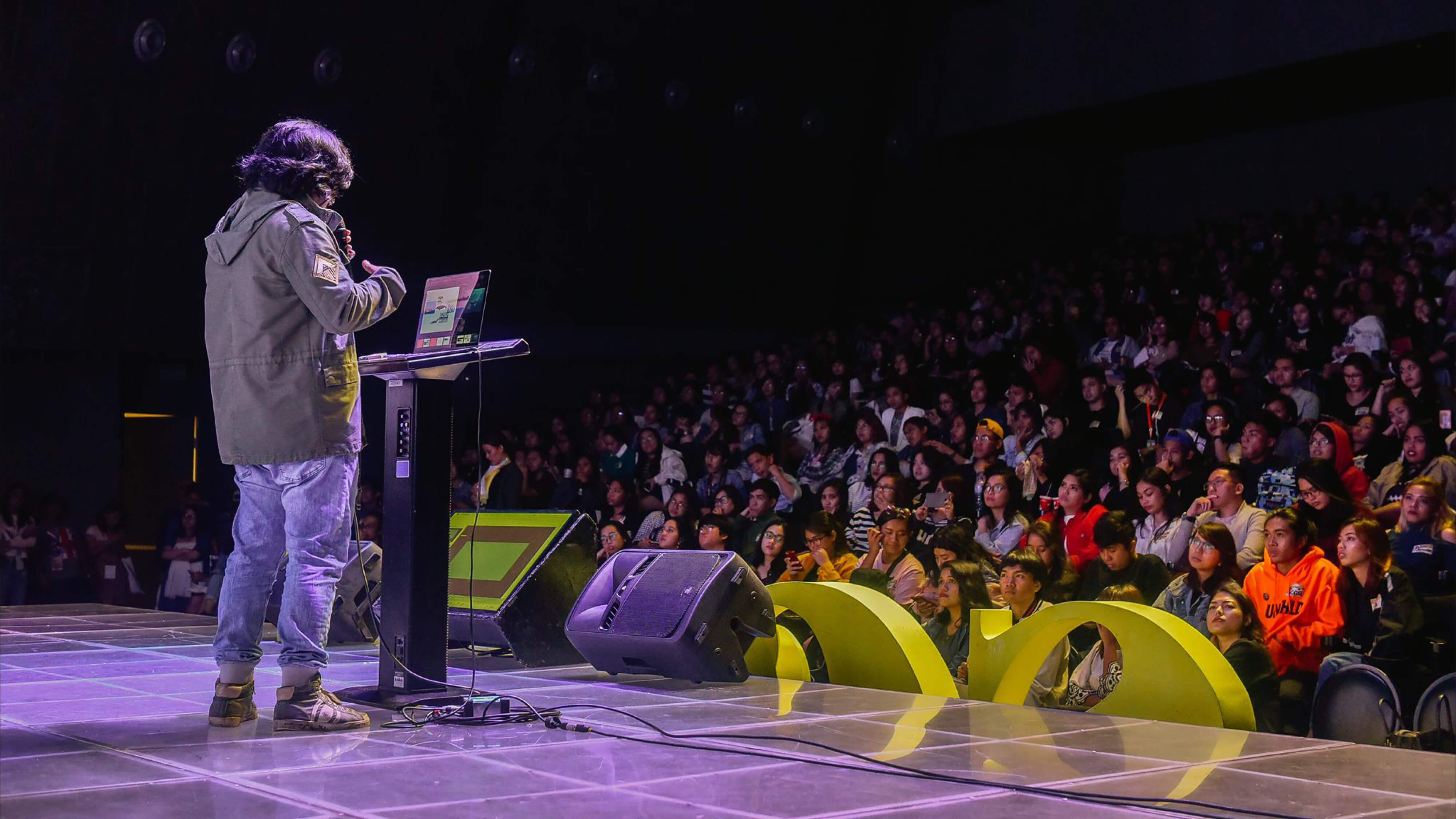 (Top) As an illustrator, Dan Matutina's style has been described as "a combination of angular, graphic shapes layered with hand-painted textures. His illustrations have appeared in print, digital, and animation." (bottom) Matutina takes the podium at the Scout Creative Talks 2017

How does it feel to be someone who's highly valued in the industry? "I really don't know, actually," he laughs again. "Personally, as a designer, I'm just thankful that people like what I and the studio are doing. Especially if it's coming from your peers—it feels different, and it feels good. And to me, it's also motivation to try to do better and be better at what I do."
His inherent need to "help out"—or "make pakialam," as he puts it—also stems from another motivation: to use design for a greater good. Sure, there is the personal need to fulfill an artistic and aesthetic goal, but what seems to really drive Matutina is using design to make something beautiful, yes, but also help make the industry and the community better. When we were about to wrap up our conversation, for example, he says this as his parting shot: "I just want to encourage all the designers to work with micro SMEs (small medium enterprises) or government institutions like CITEM—of course still within the realm of design," he says. "Marami talagang maibibigay ang mga designers eh. [Designers can contribute a lot of things.] Designers should also interact with other designers from the provinces and help them or refer clients to them. Because the ecosystem of design should thrive in their own localities—that's how you uplift and improve the design economy."
In this Creative Dialogue with TouchPoint, Matutina talks about his brand design process, the perceived value of creative work, and his overarching goal for everything he does.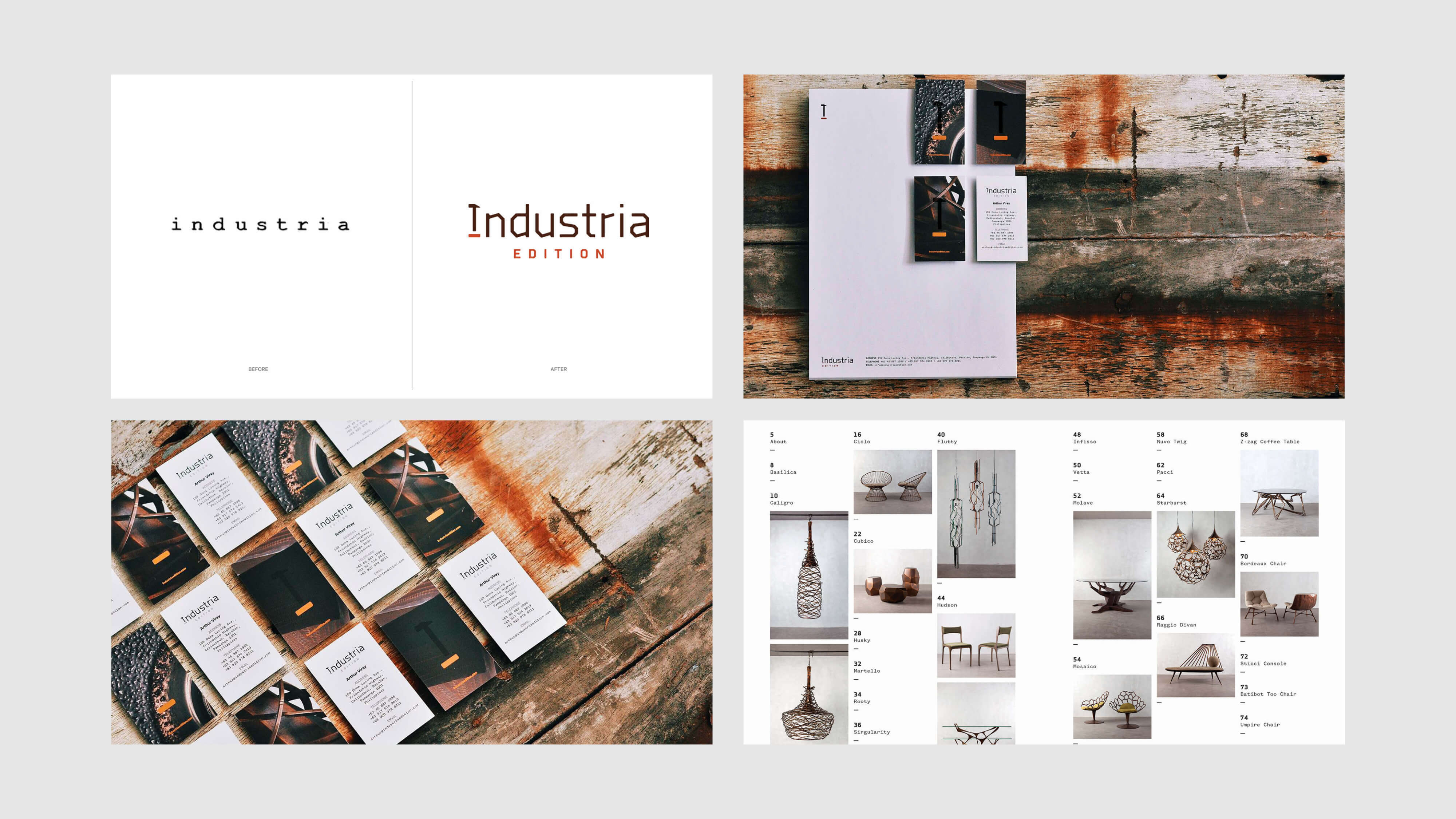 Brand design for Industria Edition: "We developed the branding," Matutina explains. "The design of the space also reflected the brand identity and personality we designed. Even if we haven't worked with them consistently for succeeding projects, they have successfully implemented what we've done for them."

I know you just got back from Tacloban. What have you been busy with lately?
For us in the studio, we're mostly just catching up with work after the Christmas break. Working on some branding projects and also on some personal projects for the studio, like the comics, Malignx, which we just released. There are new client projects as well, which we've just started working on.
At Plus63, you develop graphic design identities and systems for brands. What about brand design and creative direction do you enjoy the most?
For me, it's really the process. I love the creative and design process. The process of launching a new brand is exciting. Or if it's an existing brand, you try to think of how you can tweak it to make it still relevant. Setting a brand's direction, its look and feel, I find that super exciting. And then when the work is finished and the new brand or the rebrand is launched, you're excited but also nervous at the same time because you don't know if the client or intended audience will like it. So the whole cycle of the design process, the back and forth with the client, the brainstorming with the team, the execution… I enjoy the whole process.
What is the biggest challenge—or the biggest problem that needs to be solved—when designing for brands?
The biggest challenge is clarity. In a project, there are a lot of moving parts. Within the agency, marami kayo [there are a lot of you] working on it: designers, researchers, etc. Same with the client side: you have the marketing team, the managers, etc. So all of these people—with different biases and opinions—in one room. The challenge is how to make all communications and directions clear. This is why a really good project leader is important—someone who will lead and connect everyone. And it's important to have a brief—from the client and for the designer—to set the direction.
In a design project, you're trying to solve many different problems. If it's a new brand, the problem you're trying to solve is: how do you launch this brand so that it reflects the brand's personality, mission, vision, future, and direction? If it's a rebrand, the challenge is to figure out why the current branding is not working. So we just try to provide the solutions to all these different problems.
As the designer, you can't approach a design project on your own—unless it's a personal project. Collaboration and communication are important.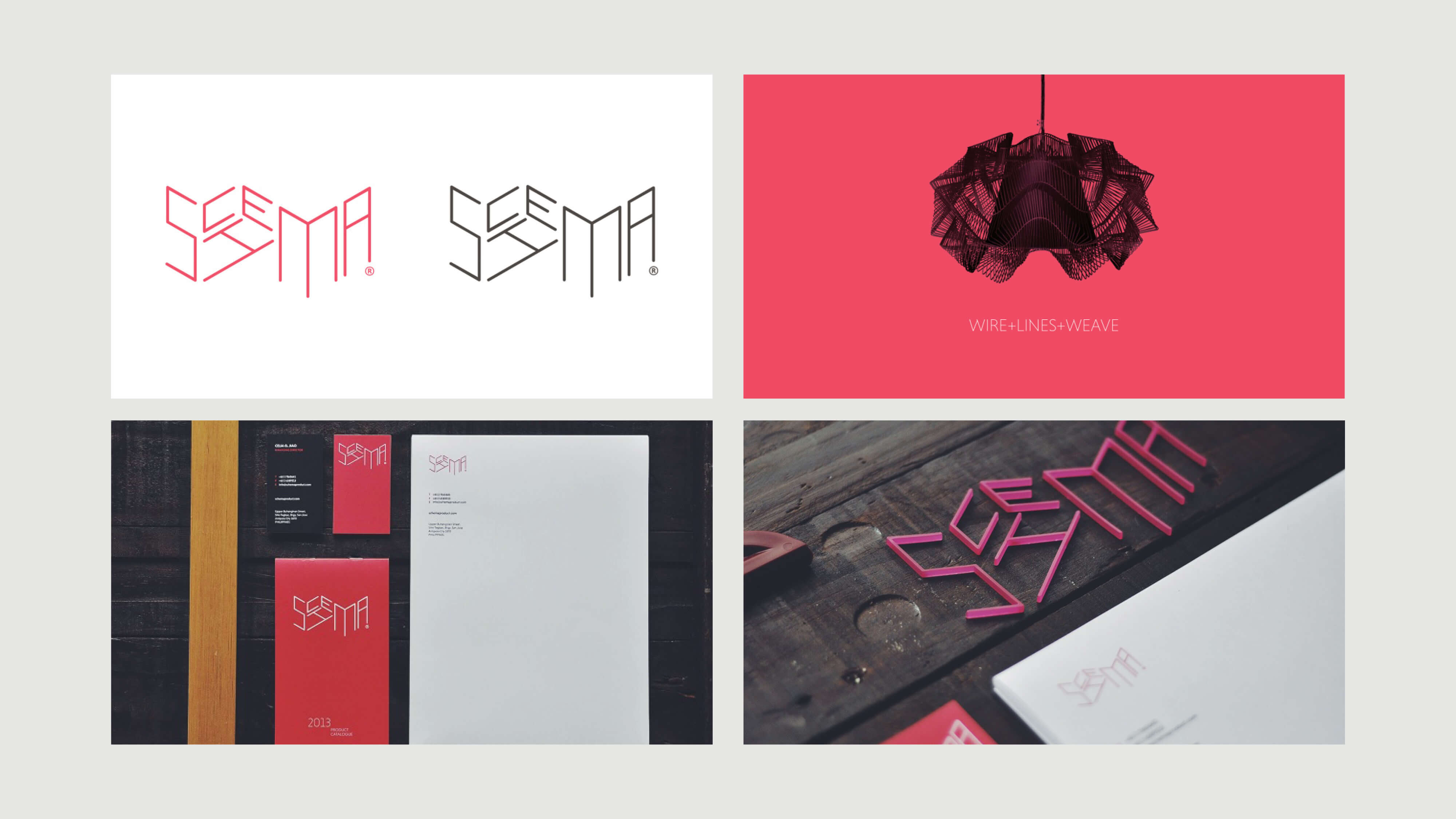 Plus63's design work for Schema: "I met them through CITEM, DTI, and Design Center, Matutina shares. "They were Kalikasan Crafts before, and they started a more modern, younger brand, Schema. They really imbibed the whole brand work we did—applied it on space, materials, and more. They were very open to our ideas, and so I really enjoyed working with them."

You work with different clients. Do you vary your approach depending on the brand/client? Or do you have a singular, universal approach?
Even if the design process is similar—you figure out the problem, come up with ideas, execute, produce, and so on—it doesn't have to be rigid. Of course, different clients have different needs. Sometimes, in the middle of the project, certain things come up, too, and you learn to adjust and adapt. So it's very important for designers to be adaptive to different situations—and not just for client work but in general. Like ask yourself about the work that you're doing: How do you know if it's still relevant? Or how can you tweak it so it becomes better or useful? So being adaptive helps in the design process but also in pushing yourself forward as a designer.
How does the brand design and creative direction relate to the business side?
Of course, design is important to any brand because it helps you tell a unified story or presence. Designers must present what's unique about your brand. They must help tell your story, your personality, in a more consistent, cohesive way. This will help differentiate your brand from the others.
But more than the design of the brand, the product, the service of the brand must be good. It's really hard to sell something that's not "good" in the first place. I mean, sometimes you can, but people will eventually see through the smoke and mirrors, so to speak. So the core of it—the service, the brand, the product—must be really good. And the design will just take it to another level.
This is why brand design is an important business investment.
The term "invest" in design is really true. There's cost implied, so that's probably why some brands and manufacturers balk at the idea of hiring designers or creatives for their business. It's not really a risk in a sense that mawawala yung pera mo [you will lose the money you invested] because the work is going to be done. But it's still a risk because, of course, it's still money that could go elsewhere.
But that's what we always tell brands: when you're ready, then we're also game to work with you. When I say "ready," I mean ready for what's to come, for what will happen. Because when we work with a brand, we really get into every tiny detail. We'll make sure that all bases are covered. The worst thing that can happen is to do half-baked work, so we really need to get into all the details of the brand. And so I always warn the people I work with: "Uy, makulit kami ha!" ["We're importunate!"]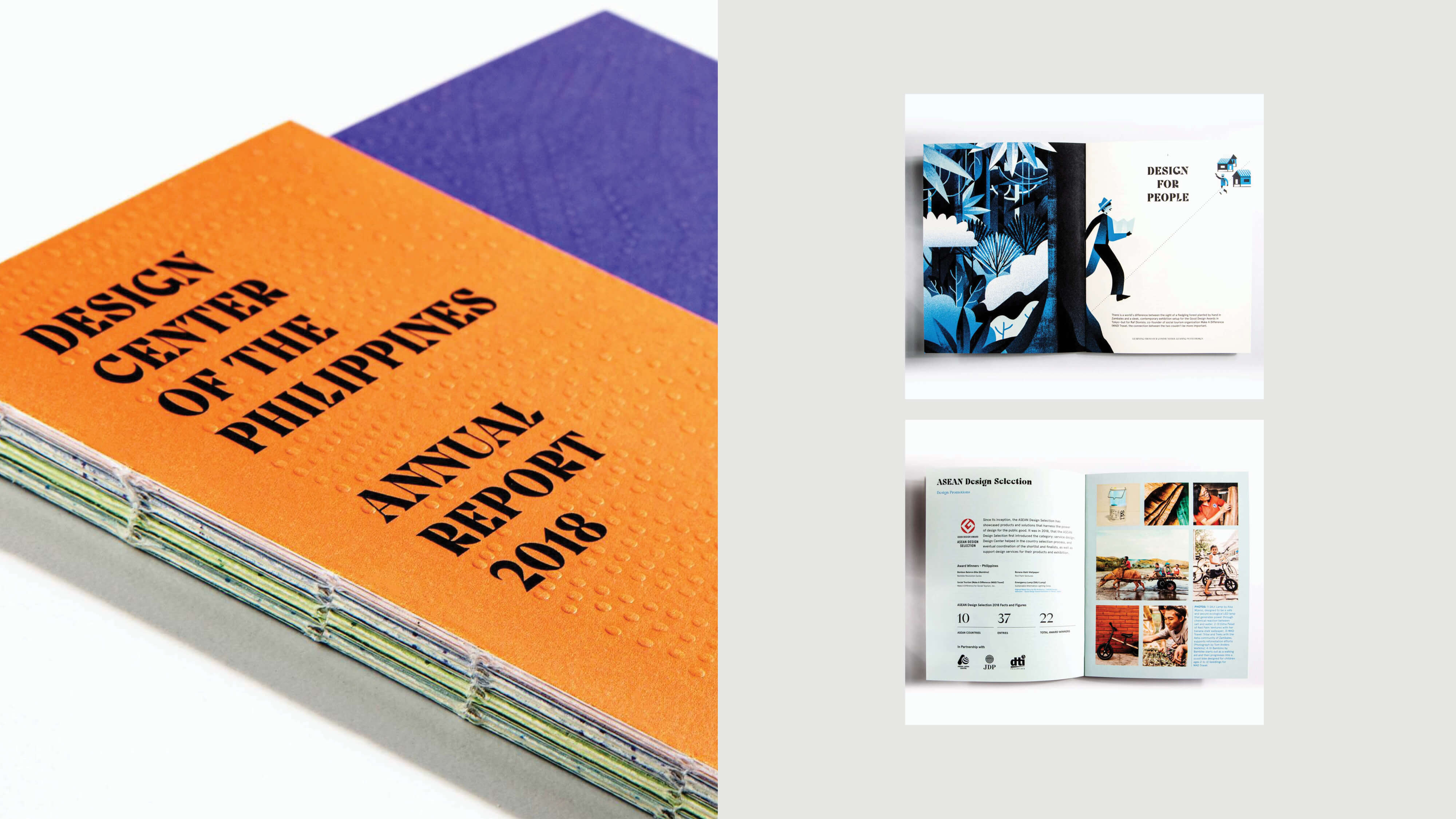 Annual Report design for Design Center of the Philippines. "Using the "dot" as a visual element, it moves across the book and directs the reader to these intertwining stories about the people, places, and ideas that the Design Center has been working on that year. The use of dry emboss adds a tactile quality that emphasizes this."

Plus63 also does prototyping furniture pieces or custom objects for memorable retail experiences. What has the experience been like working with local home, fashion, and lifestyle brands?
Echos lang yan! ["That's just an embellishment!"] (laughs) I mean we really do it, but it was originally just an excuse for me to do the things I want to do. (laughs) When you do design work, there's always a scope, right? In our studio—and I don't know if this also happens in other agencies or if it's unique to ours—what happens is, while working on some projects, we come up with other ideas that are outside the scope of work. It just naturally becomes part of the design process and how we work. But, also, because we feel like these objects will help the design or brand work. So we'll actually produce the pieces to demonstrate the idea—and convince the client.
It's also how we work. We like collaborating with people—so like, for example, we're working on a project that has a physical space, we would sometimes end up working with the architect, the interior designer, etc. And so these ideas come to us when we start working with all these other people. This is the approach we always prefer: there's interaction, collaboration with all the stakeholders of the project. A lot of them are also brilliant and you learn from them.
What's next for Dan Matutina? Any projects or plans you can share with us?
With Hydra Design Group—we've been doing this for some time now—the design assistance program. So last year, I asked help from my friends from Curiosity and Photo Kitchen. We work with small brands all over the Philippines and help them with projects. Like there's Tambali, a kombucha brand, and we did their packaging. There's also this ice cream brand from Ozamis that we rebranded to Ozam. The challenge right now is the packaging—the MOQ (minimum order quantity) requirement is high since it will be produced in China. So these are just some of the challenges facing these SMEs—that's why sometimes the product packaging all look the same. Because production is not very accessible.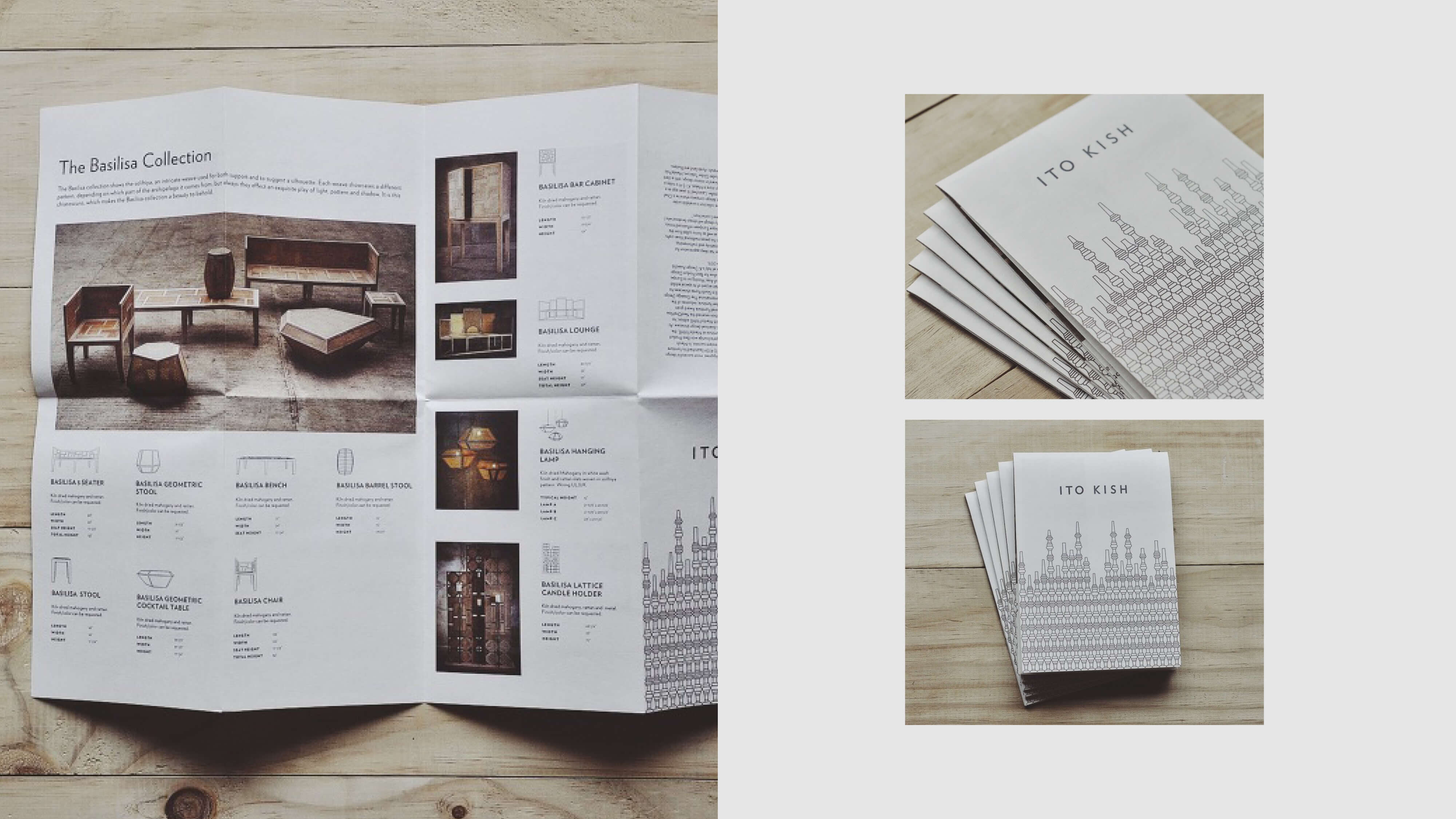 Brochure design for Ito Kish. "When Ito Kish went to the Maison & Objet trade show in Paris, he asked us to design his brochure. We went with a simple and elegant design, using heavy textured paper to perfectly complement the minimalist aesthetic."

Do you like working with SMEs?
Yes, because they need help. And also, collectively, SMEs hire more people and really help with local employment. But, of course, it's also exciting to work with bigger brands.
This is something I ask all creatives: What's a dream project—or even a legacy project—for you?
I haven't really thought about a legacy project because I feel like if you're going to leave a legacy, kailangan sobrang galing mo [you have to be exceptional] and you've touched a lot of people's lives—and not just because your work is good.
But I do have a dream project but it's medyo mababaw [a bit shallow]. I really want to do branding work for an airline company. That's been a long-time dream. Another thing, which we've done in smaller applications, is the creation of a super friendly brand or system that people can refer to for education on disaster preparedness—since the whole country is prone to natural disasters.
Video Art Director Kit Singson
Video Editor Cheen Rivera
Portfolio photos courtesy of Dan Matutina, Plus63, Hydra Design Group