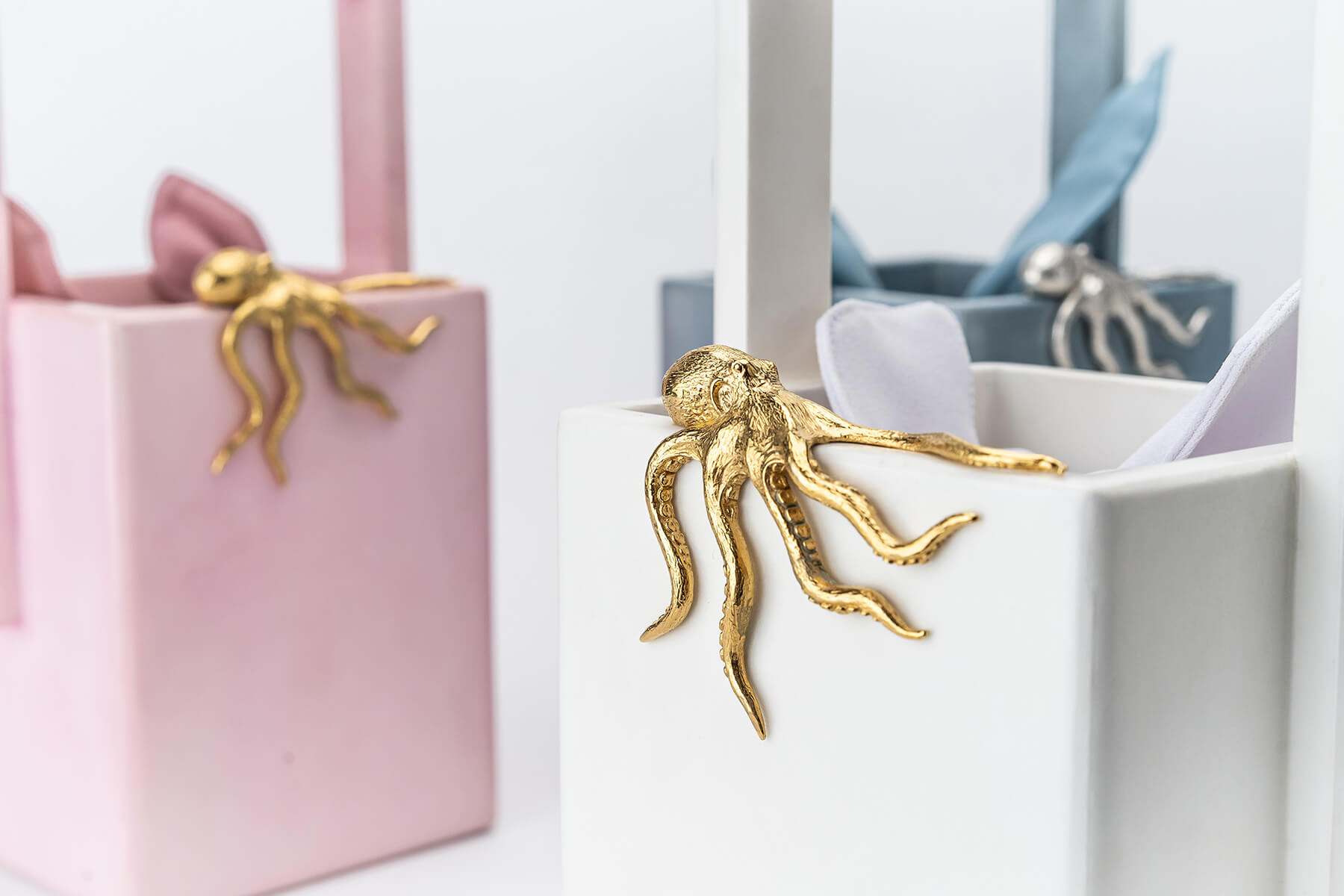 Added value is in the details
Japanese have a long-lasting love affair with fashion, and when it comes to discovering new foreign brands, the detailing contributes significantly to the perceived value.
By Jason Lee Coates
From the H3O Tokyo showroom, Jason Lee Coates shows us ways on how a young and emerging fashion brand can score a space in a fashion boutique in Japan.

In fashion, as cliché as it sounds, you need to have love for what you do to succeed. Your work must radiate this burning passion, and best believe that the Japanese buyers will buy for love. To help you make sense of this, I thought I would take you on a quick tour around H3O's Tokyo showroom and talk about "perceived value" of young brands by the Japanese buyers.
For years now, Japanese Select Shops (multibrand boutiques) have been masterful at picking out new brands from across the globe and featuring them in their lineups. The reason for this is two-fold: it creates a sense of newness; and it also brings thrill and color to their shop racks. Most Select shops offer a selection of foreign brands along with their own branded items of classic, simple pieces made with the Japanese customer in mind; these pieces, often created by the merchandising team and not an actual fashion designer, usually lack heart. These are not fashion items but rather simple tailored pieces, pretty dresses or lovely blouses. Wardrobe essentials, basically….
Adding a foreign brand brings excitement, diversity, flair and glamour to this otherwise simple row of basics. But for a young designer to compete with the big-name brands for a space in their racks, they need to offer more than just good design. Japanese consumers find value in simple yet impactful details like embroidery, customized buttons, original prints, lace work and a creative mix of materials. While young designer brands need to be priced well, it is these added-value details that really make them a selling point.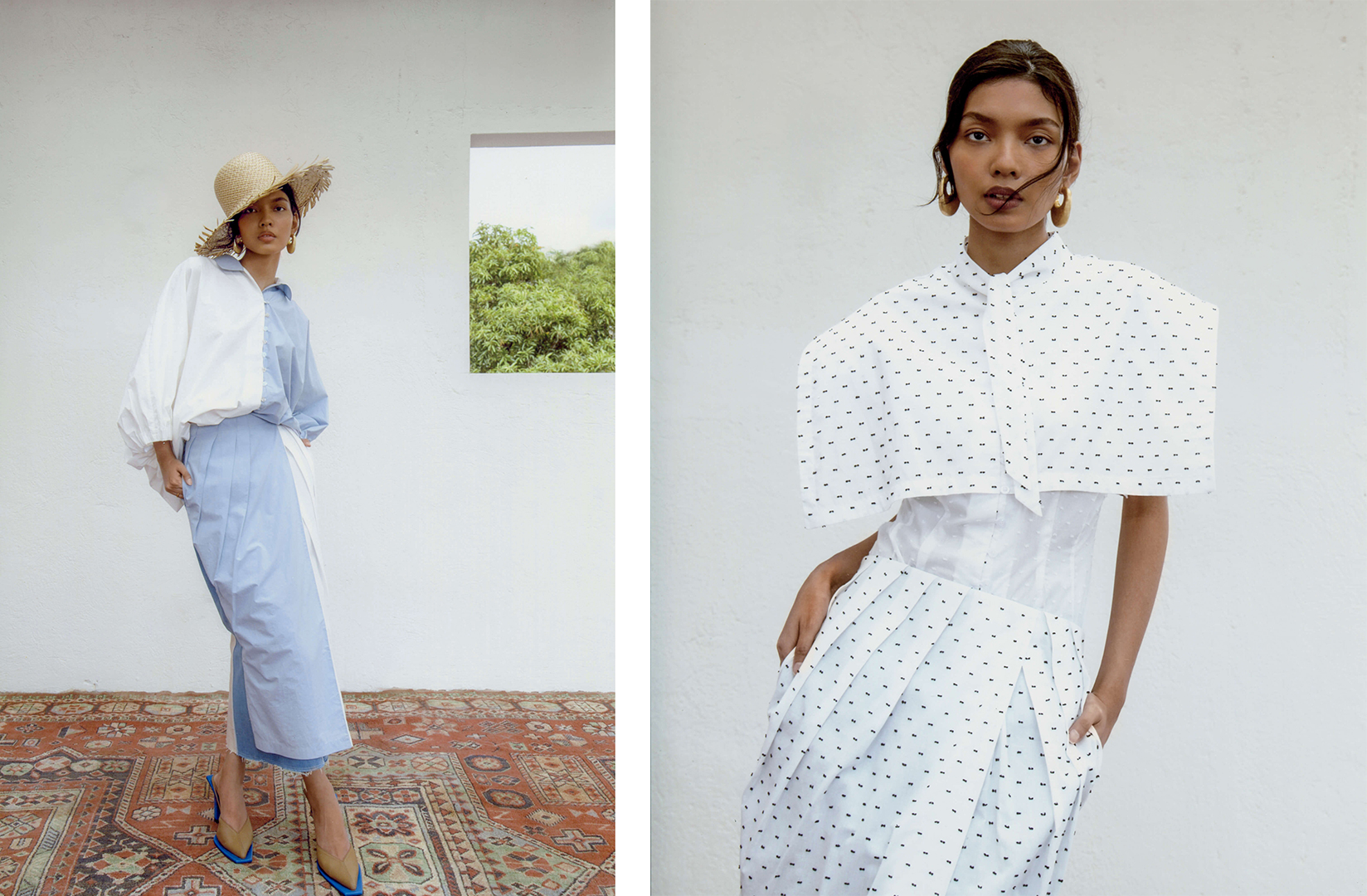 Seph Bagasao delivers nothing less than perfect detailing and seamless tailoring in his SS22 collection.
When we show the collection in our showroom, we show the brands according to how they might appear in a store. H3O always has a highly curated brand selection, so it's important for us to show the buyers how they can maximize their budget on brands they might or might not have heard of before.
This allows buyers to walk along, inspect the brands according to their seasonal buying guidelines (a theme, a color palette or an age group, for example), and imagine how they will look in their own stores. Japanese buyers like to try on the garments, allowing them to not only check the fit and cut on a Japanese body but also giving them a chance to inspect the workmanship and quality of the garment inside and out.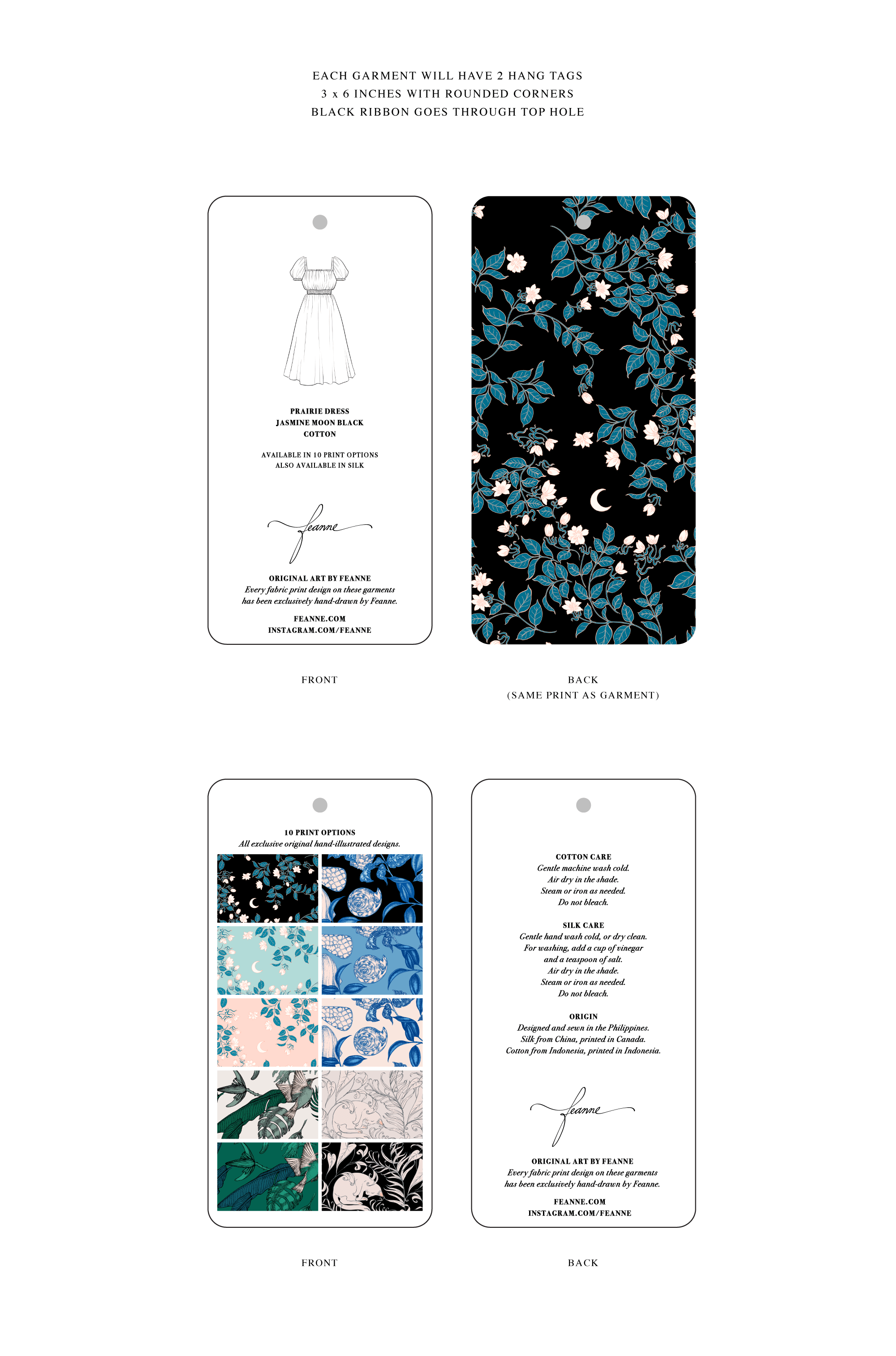 Feanne has put a lot of heart in creating 10 original prints especially for her Tokyo collection. She creatively produces swingtags to show the available print selection.
Showroom swingtags should be oversized, easy to read and feature images if possible. This allows a buyer to easily see colour variations –because Japanese buyers respond to images better and faster than English text– as well as sizing and clearly marked Japanese prices. Often a buyer might not like to get into a conversation about a brand before checking the swingtags and fabrics, so this is an incredibly useful sales tool especially if it's done well.
Japanese buyers are not necessarily looking for one thing in particular. Most of the time, they are looking for a brand or garment that is a combination of every detail that they put value on –– the fabric can be inexpensive as long as it feels soft to the touch; the seams must be perfect; the finishing touch must be unique and tell a story. Japanese buyers love fantasy; they love an ethnic or authentic product; and they love anything with a narrative or theme.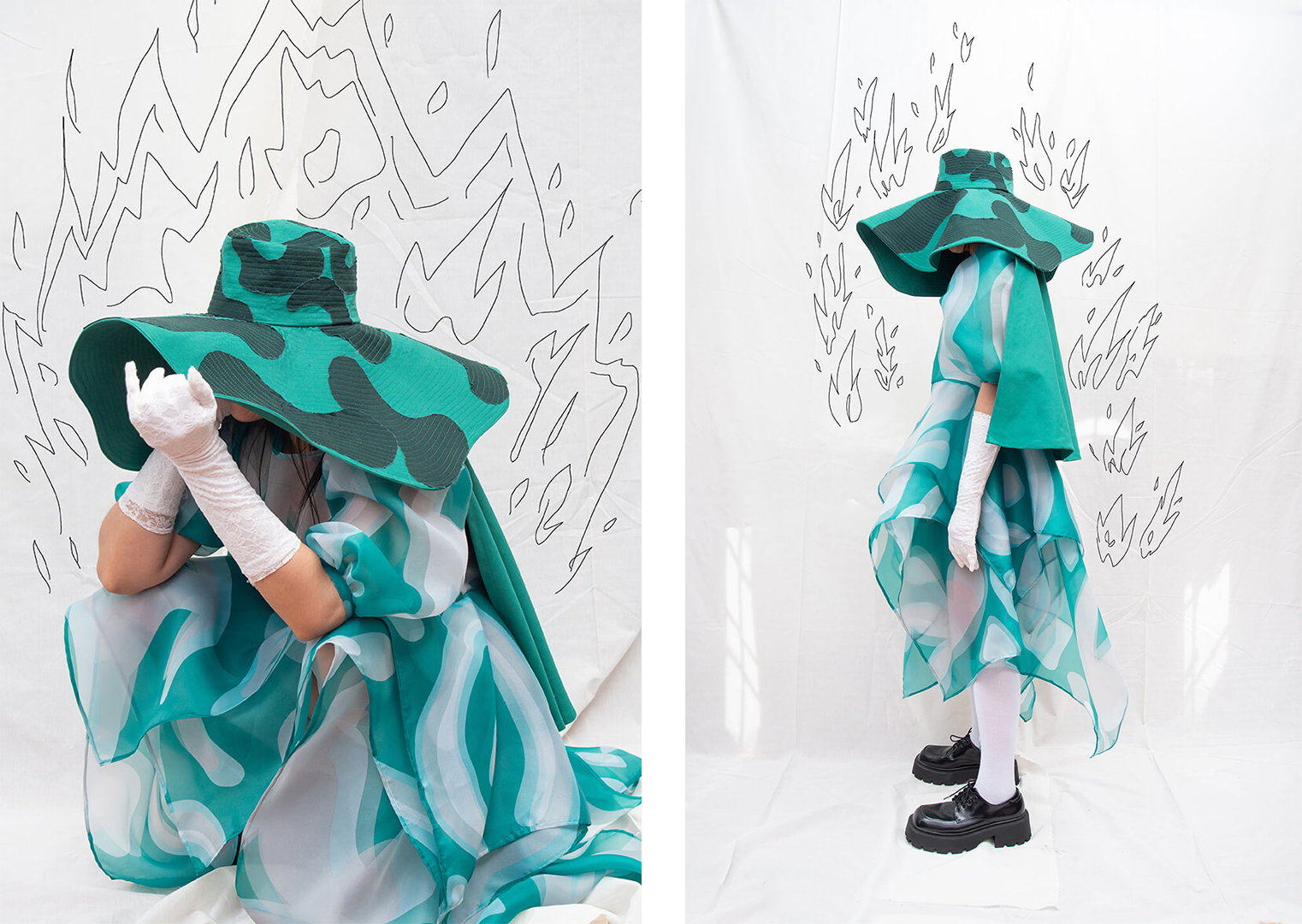 HA.MÜ might have taken a step back by creating more wearable pieces than usual for the new collection, but the designer duo does not fail to stir imagination through experimental storytelling.
To survive in the Japanese retail market, a garment by a young foreign designer must present itself as unique and special. When a buyer sees hundreds or thousands of samples every week, it is essential that the product appeals at a personal level. Stand out, but for all the right reasons.
Remember –– your product is only as good as its sell-through. Ensure that your brand sells a consistent story of quality and uniqueness from swingtag to skirt hem, while including a sense of great value for money, a perceived value far in excess of the retail price. This is how you capture the Japanese buyers. This is how you make them fall in love.
---
Check out other articles for this series:
Part 1: Beat designer's block: finding inspiration for your next fashion collection
Part 2: Concept with core for your collection's theme
Part 3: Developing and perfecting a fashion range plan
Part 4: The quality is in control
Part 5: Getting in line to get ahead
---
Jason Lee Coates is a prominent fashion stylist, magazine editor and fashion agent based in Tokyo, Japan. He, along with H3O Fashion Bureau co-director Hirohito Suzuki and fashion consultant Tetta Ortiz-Matera, has been mentoring the eight Filipino designers of CITEM's PHx TOKYO.