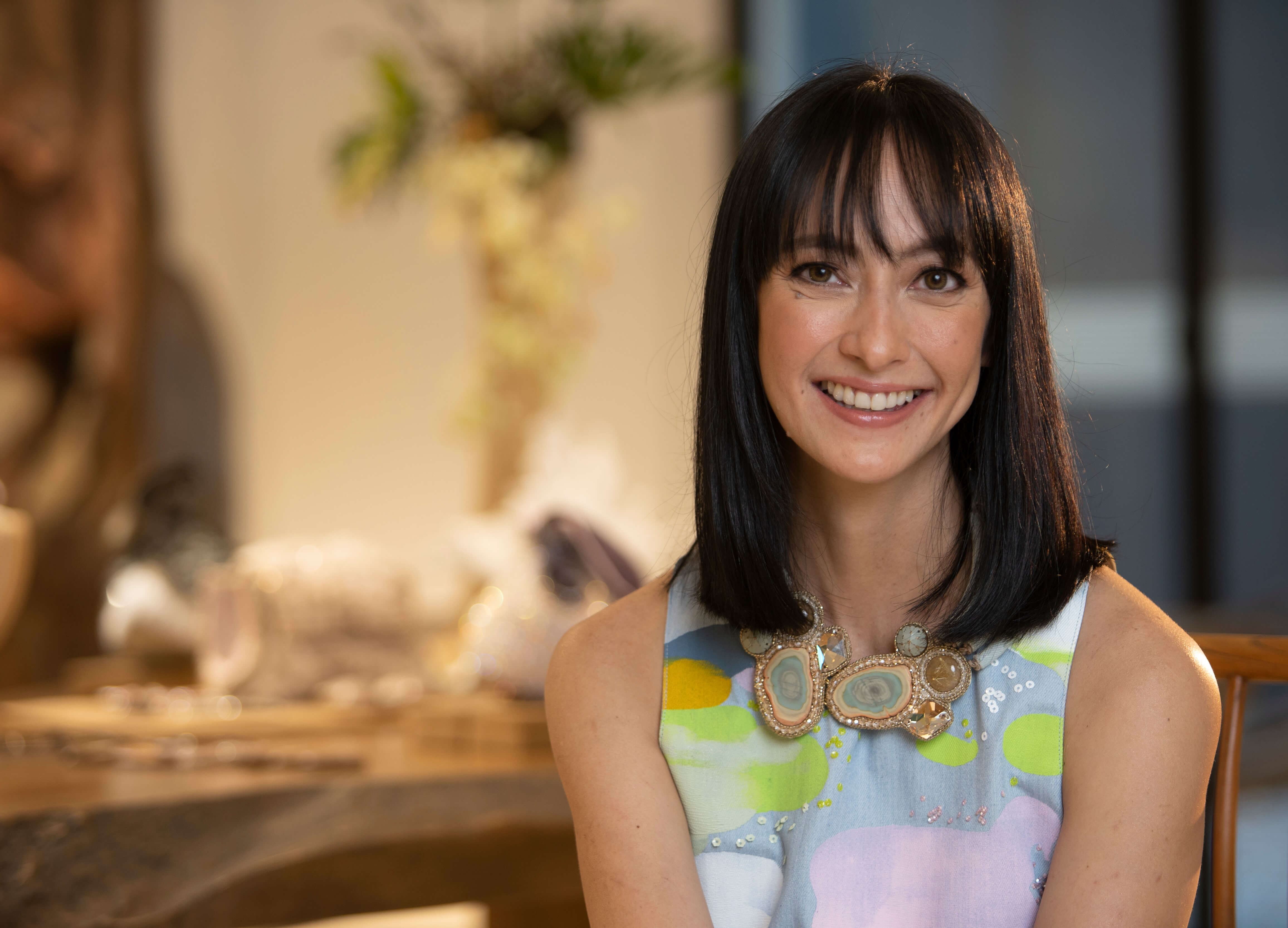 The Art of Accessory Design, the Beauty of Slow Fashion
Great things take time, effort, and a team of skilled workers. Known for her statement bags and jewelry, Bea Valdes emphasizes the "how" in her design-making process
by Patti Sunio

"Our grandmother had a special mantel, a traditional tablecloth for a 14-seater, which was made of delicate piña, and filled with motifs, all of which had been embroidered by hand," shares designer and artist Bea Valdes, on her early inspirations. "It seemed to us, as children, impossibly long and yet incredibly fragile at the same time. My mother had explained to us that it would take a group of women, seated side by side, at a single table, months to finish this single piece."
"This sparked a fascination with the heritage of Philippine craft—and a lifelong curiosity for the kinships that create it," Valdes adds. "That idea of women coming together, creating in unison, was as powerful and as poignant an impression, as the embroidery that was stitched onto the piña."
Hailing from a family involved in the business of fine jewelry trade for three generations, Bea Valdes is no stranger to the craft—its inner workings, the traditions it preserves, and the values it upholds. The household she grew up in offered an endless space for creativity and exploration, where she and her sisters spent much of their time drawing, painting, and attending art classes.
In school, Valdes studied English and creative writing. She then ventured into industrial design, where she learned "systems design for objects and furniture," and eventually went on to study interior design. Her body of work, likewise, is an amalgamation of all the things that have inspired her—and continue to do so.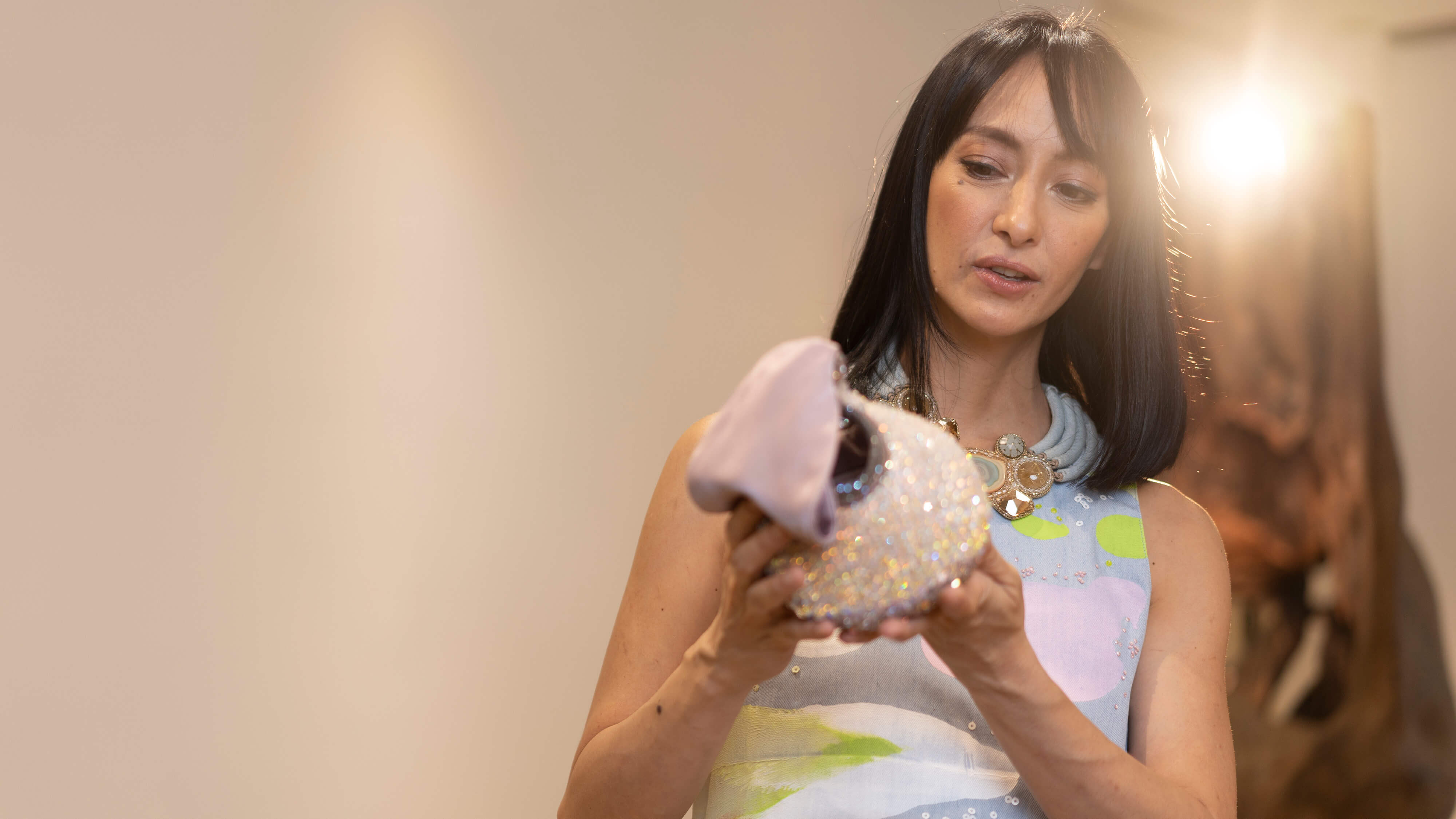 Coming from a family well-versed in the business of fine jewelry, Bea Valdes carries with her the cherished memories and craft-making techniques passed on to her from generations back, all of which materialize in her designs with modern interpretations

She debuted as an accessory designer in 2004, launching her first-ever bag collection. True to her brand's "materials as muse" principle, her pieces showcased an intricate work of semi-precious stones, beads, crystals, fabrics, feathers, and the like, and how she has beautifully combined them in a way that only she—and her team of skilled crafters and beaders in the Philippines—can.
On her choice of materials, she says, "I personally prefer to work with odd, unusual, and imperfect stones" and those that are "unique and rare by nature." "When a piece is perfect, it seems unwise to tamper so much with it," she adds.
In the next year following her launch, the BEAVALDES brand was featured on American Vogue, and her piece was nominated as the "must-have evening bag of the year." While she first made herself known through her evening bag designs and, eventually, statement neckpieces, Valdes would then move on to making furniture, clothing, and even artworks.
"Though I may have started with beadwork as the language of our team's creative expression, the progression through these different aspects of jewelry, fashion, art, and furniture was not unfamiliar to me," Valdes points out, sharing how her work from one discipline to another came about, and merges seamlessly. "It was not so much a new venture as it was a revisiting of past loves," she muses.
What stays the same across what Valdes creates is the respect for the craft and the preservation of the meaning and value behind each piece—be it an evening bag or a chunky necklace. "From inception, our goal was to bring Filipino beadwork and embroidery to a global audience, to celebrate the craft of the hand, to redefine what we call precious, and to offer our views on luxury," she says.
In this Creative Dialogue with TouchPoint, the designer and artist talks about the local accessory design industry and going global; how slow fashion isn't really about the slow process per se, but giving proper time to the things that need time to make; and how she espouses this in her own work—always prioritizing the traditions, heritage stories, and meaning behind the craft in all her statement-making accessories.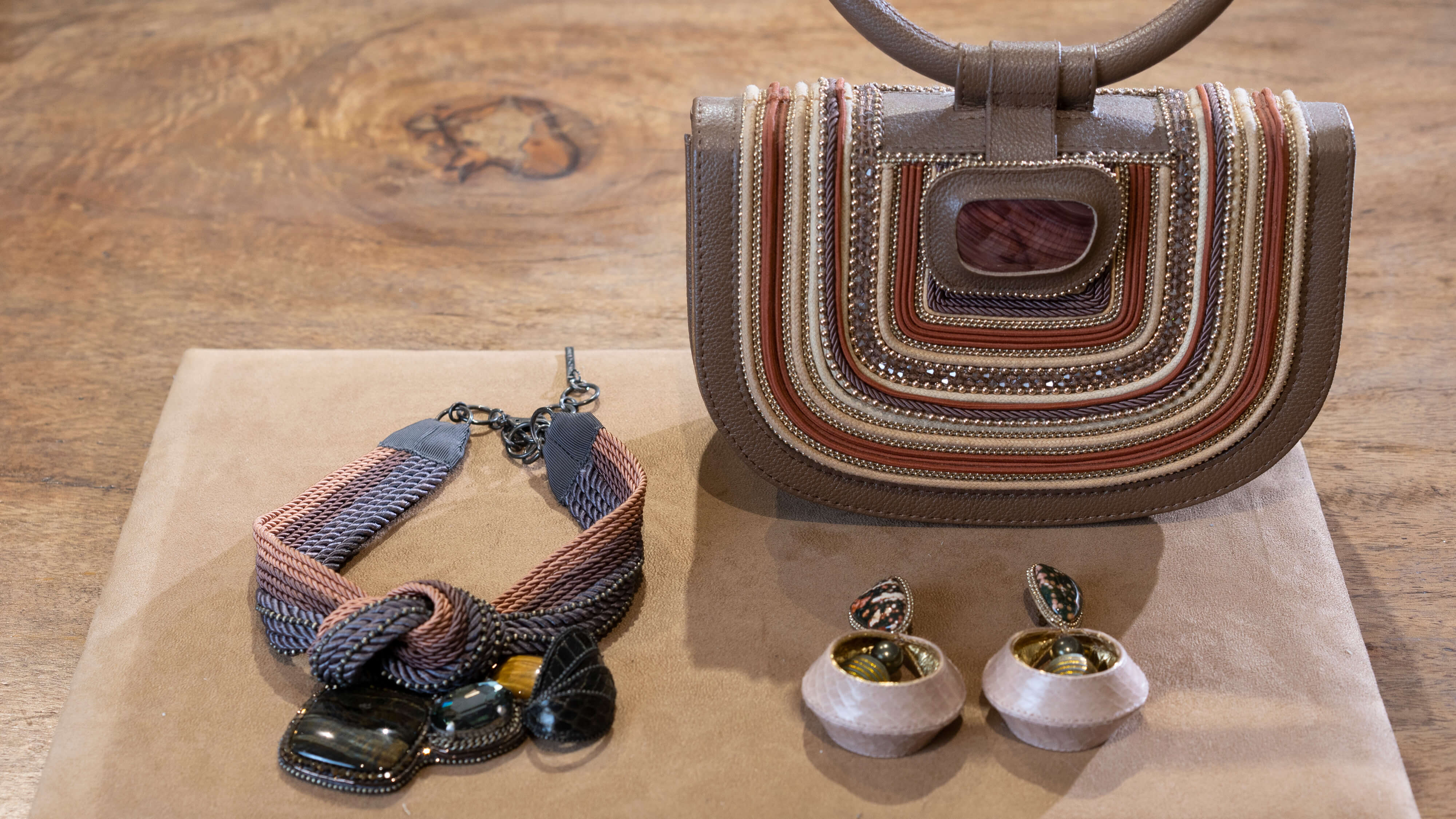 The BEAVALDES brand was first known for its evening bags and statement accessories. As the fashion bible Vogue hailed Valdes' imaginative use of rare materials and traditional techniques, opportunities started pouring in and reservations for her pieces quickly filled a long list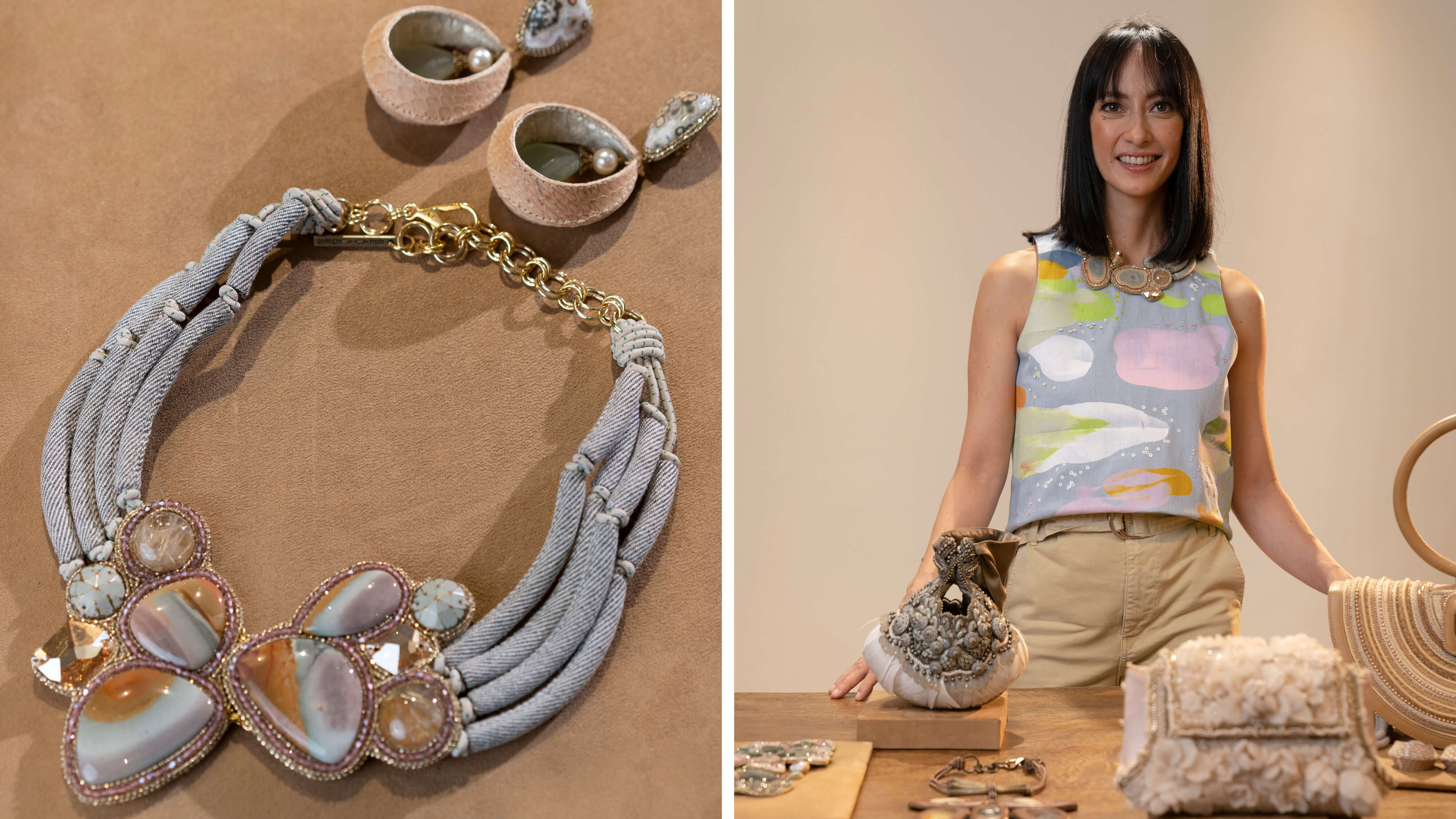 Valdes' love for the craft knows no bounds. From bags to necklaces, she's "revisited past loves" and has tried her hand at making furniture, clothing, as well as art works. "What we make and why we make things are paramount, but the magic is really in the 'how' we make things," she says. Always on the lookout on how else she can elevate her craft, there's no telling where Valdes will be headed next

TouchPoint: Having been in the business for many years, what can you say about the local industry, specifically, accessory design, then and now?
Bea Valdes: The local accessories industry has turned inwards, toward celebrating Philippine craft, with a deeper focus in telling local stories. When we first began in 2004, the general outlook was outward, more toward export and how we were framed by that concept and defined in those terms. We observe now that local retail platforms have successfully disrupted that trend by fostering an awareness—provided by the likes of Artefino, Katutubo Market, the Designer's Holiday Bazaar—that has helped nurture a profound sense of local pride.

TP: How has the pandemic changed your plans, perspective, and goals for your business? What shifts have been made and what are your thoughts on these?
BV: The pandemic, for us, really exposed how interwoven we are, and therefore, we truly have to strive towards a connected system that can endure by creating and regenerating value. We have always been a workshop—or, in today's language, a micro factory—which is agile and flexible enough to explore different mediums, scales, and applications. We have never created overstock, but prefer to create bespoke pieces, only crafting what is asked for, and always conscious of efficiency of materials, our labors, and time.
TP: With this in mind, what new values and ways of doing things can you share with other brands?
BV: Customization has always worked for us, and we have been doing this since our inception. It is not a new value, but a mindset that inherently connects the object deeper to its clients, adding personal meaning and, inherently, uniqueness. We also share an appreciation for the idea of reworking vintage pieces. Unlocking value and moving the essence forward into a contemporary expression of itself. If the brand has older items that need repairs, or [is able to do] some creative work to be able to extend its lifespan, this is definitely an avenue that we would encourage further exploration of.

TP: What are your thoughts on sustainability practices within the industry?
BV: It remains hopeful. There is awareness taking root locally and there are some real movers in this arena who we should be looking to and learning from, if we are to contribute to both acceleration and application. The scope of what is considered a truly sustainable practice is vast, from ethical practices, partnerships, to materials and processes. There are many aspects, large and small, where people can begin to shift toward better choices from those they are currently making. Everyone starts with what is in front of them.
TP: How do you know when your design for a piece is ready or good for production?
BV: Our team does several initial section samples to strategically address as many design-related problems early on. We do a few partial research and development passes before committing to the work—so that mistakes or issues that become apparent along the way, always remain manageable. After we complete that step, we build the first sample to 100% each time.

TP: What is the value in bespoke pieces—or pieces that are mindfully made with careful consideration of materials and craftsmanship?
BV: True luxury is time and the value of bespoke is that you have quality that lasts, and an object that has personal significance. To be able to weave meaning into our pieces is how we can give them a life beyond a season, and hopefully, this can be carried on throughout the years.

TP: Most local brands aim for a global audience. You are one of those who have successfully penetrated the international market. How did you do it and what advice can you share?
BV: Before a brand aims for a global audience, perhaps they can examine why they would like to do this in the first place. The vision behind this specific goal will guide the necessary steps that one may need to take in order to reach their destination. Every decision for the brand's creative direction and growth must be rooted in these same values so that professional choices remain expressions of alignment with their goals. Today, there are multiple platforms available to be able to speak to a global audience. Each brand must take that journey to find the medium that they are best expressed in.

For us, our vision was rooted in being able to showcase the best of Philippine beadwork, embroidery, and handcrafting to a global audience. Initially, we had been quietly making pieces, a single piece at a time, for almost four years. It took us that amount of time to build skills and to create our first collection of accessory items shown locally at Firma [a luxury shopping and retail store in one of Manila's top malls].

We also had the opportunity to do a select manufacturing run for an American designer. It was through the hand-embroidered work that we did for him, coupled with the images from our show with Firma, that we were able to push open the doors with international press and American institutional retailers. Our path toward speaking to a global audience began with select pieces from our local collection for Firma being featured in American Vogue the following year.

To build on that, it will be the daily decisions and actions that you take after those kinds of incredible opportunities that will sustain and define you.

TP: How should brands deal with competition from other countries? What makes Philippine-made brands better?
BV: While applying best practices is necessary for the management of the business, it may be wiser to also turn that focus inward, and spend time examining how to make unique aspects of their brand better, competing against oneself, and pushing your own excellence from within.
TP: What are your future plans for the BEAVALDES brand?
BV: We will always be committed to craft, and the different applications and mediums that it can be continually expressed in. We hope to foster new kinships and communities as we move forward in our exploration of what we can do when we work skillfully together, with our hands.
Art Director Kit Singson
Video by Chapters PH
Videographer Ken Tan
Editor Kurt Rebolledo
Producer Andromeda Tan
Sittings Editor Patti Sunio