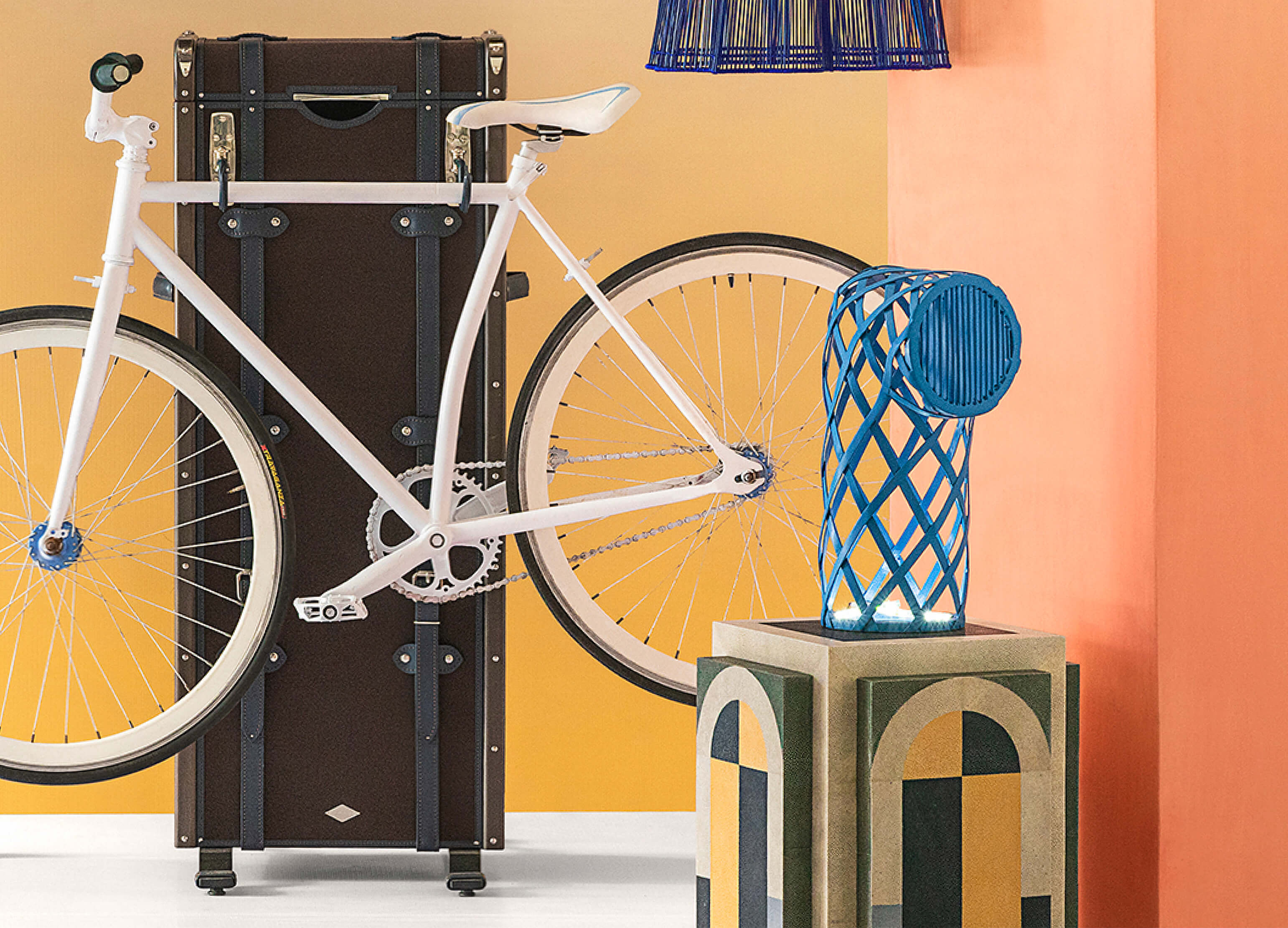 Designs That Make You Smile
Nostalgic sports, staple Pinoy food, pasalubong, and more fun objects of desire inspire Nazareno/Lichauco's latest designs in collaboration with Philippine home and furniture brands for Spring-Summer 2022
by Patti Sunio

Ask creative directors and product designers Rita Nazareno and Gabby Lichauco about the inspirations behind the curious objects they create and one can expect to get a mishmash of references and interesting behind-the-scenes answers.
For the design duo's Spring-Summer 2022 collection, Nazareno/Lichauco draws from eras of the past reminiscent of today's times: art and architecture, iconic images in music and film, as well as their own fond memories of childhood, hobbies they've cultivated during the pandemic, and more. The pieces are also currently on virtual display at the digital French trade fair, Maison et Objet and More (MOM).
Having spent a year in lockdown, we see ourselves slowly shifting from buying utilitarian things we need for our homes, to looking for things that don't necessarily have a certain function—but bring us joy. "These are the pieces that give you a smile," begins Lichauco. "Anything goes—as long as it makes you happy to see it in your homes. I think that's now the direction for everyone. It's not about trends anymore and how pieces have to look like this or that, it's more about building your personality around these objects."
For this season, Nazareno/Lichauco wanted pieces that are more colorful, that's funny, and may even make people go, "what's this?" but still end up buying it.
Working together with more than 20 Philippine brands for this season, "we made sure that the materials and the techniques of each brand are really highlighted and celebrated, but still in a contemporary and playful way that we, Nazareno/Lichauco, always do," says Nazareno.
The design landscape is slowly transitioning, turning from practical purchases to desirable designs, as well as migrating to digital spaces, making viewing and purchasing available 24/7. Nazareno/Lichauco talk about how they respond to this through their theme, In Any Kind of Place, and the poem that ties their concept together, "Tender Buttons" by Gertrude Stein.
Below, a quick rundown of some of the Spring-Summer 2022 pieces that are sure to make you smile:
INDIGENOUS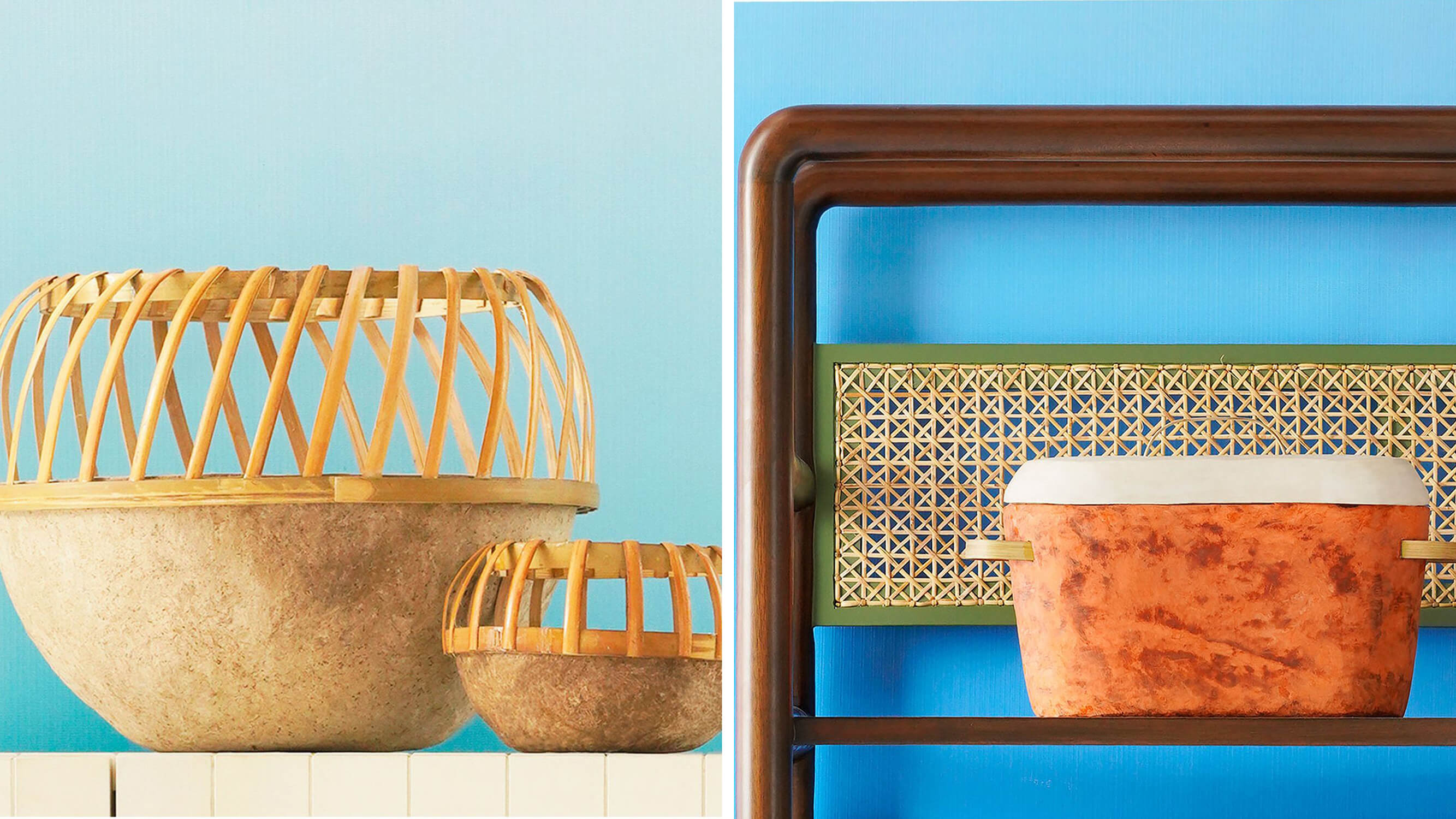 Paper Clay Basket and Paper Clay Storage with Cover: Taking cues from the shape of Dutch ovens, Nazareno/Lichauco wanted to "translate that oven into home accessories using Indigenous' paper pulp and paper plates and the processes they use." They experimented with colors and dyes and combined new materials to incorporate with the paper, such as bamboo, which were used on the lids and handles.

E. MURIO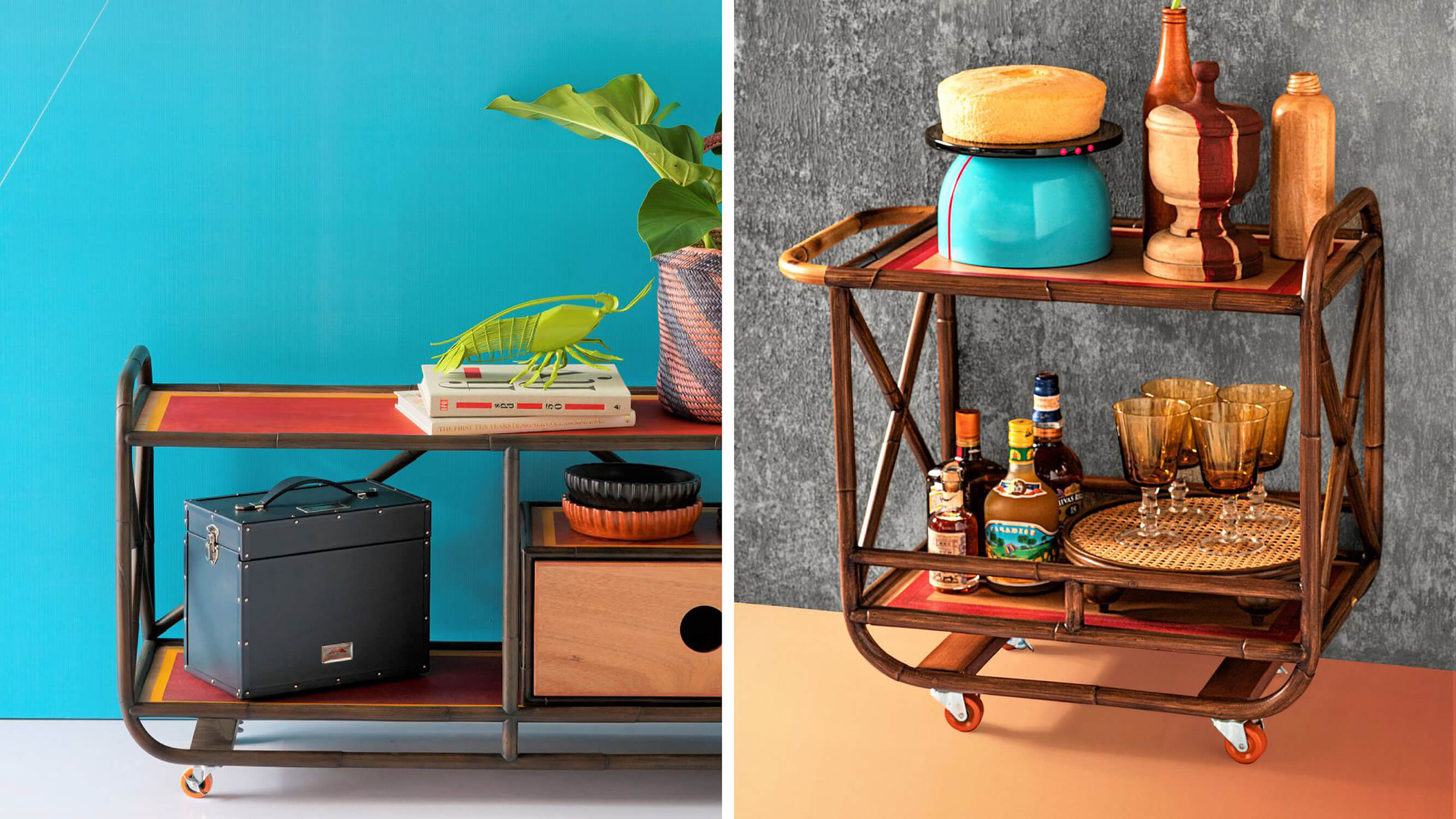 Happy Trolley Side Table and Happy Console Table: The aesthetic of the '70s, particularly the colorways of sports jackets and sweaters, were applied to E. Murio's traditional pieces, as seen in these two products.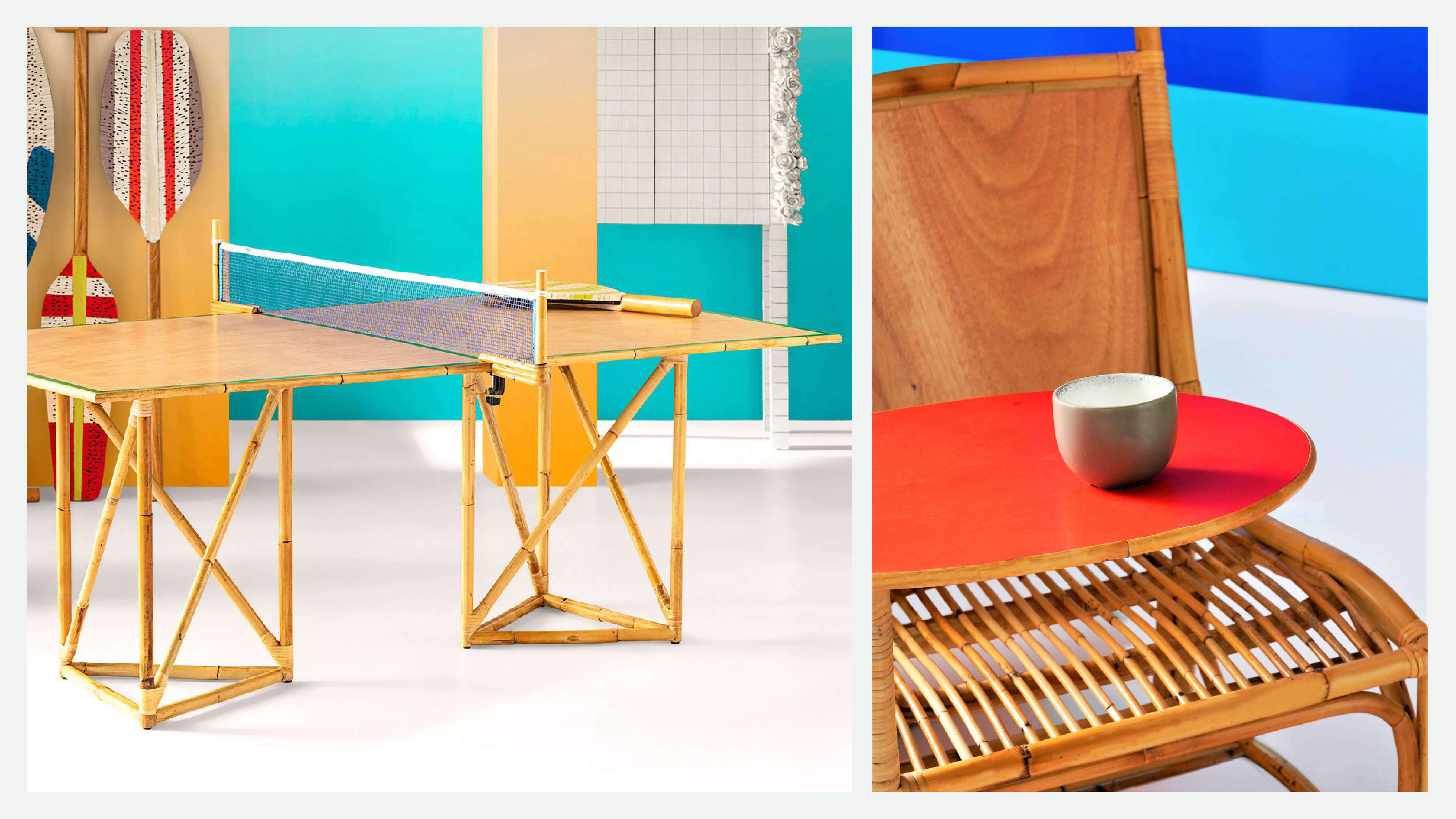 Silid Study Table and Chairs and Happy Table Tennis and More: Other "throwback" pieces include: the Silid Study Table and Chairs—E. Murio's version of the staple classroom chairs with built-in tables, and Happy Table Tennis and More—an ode to nostalgic sports.

FINALI FURNITURE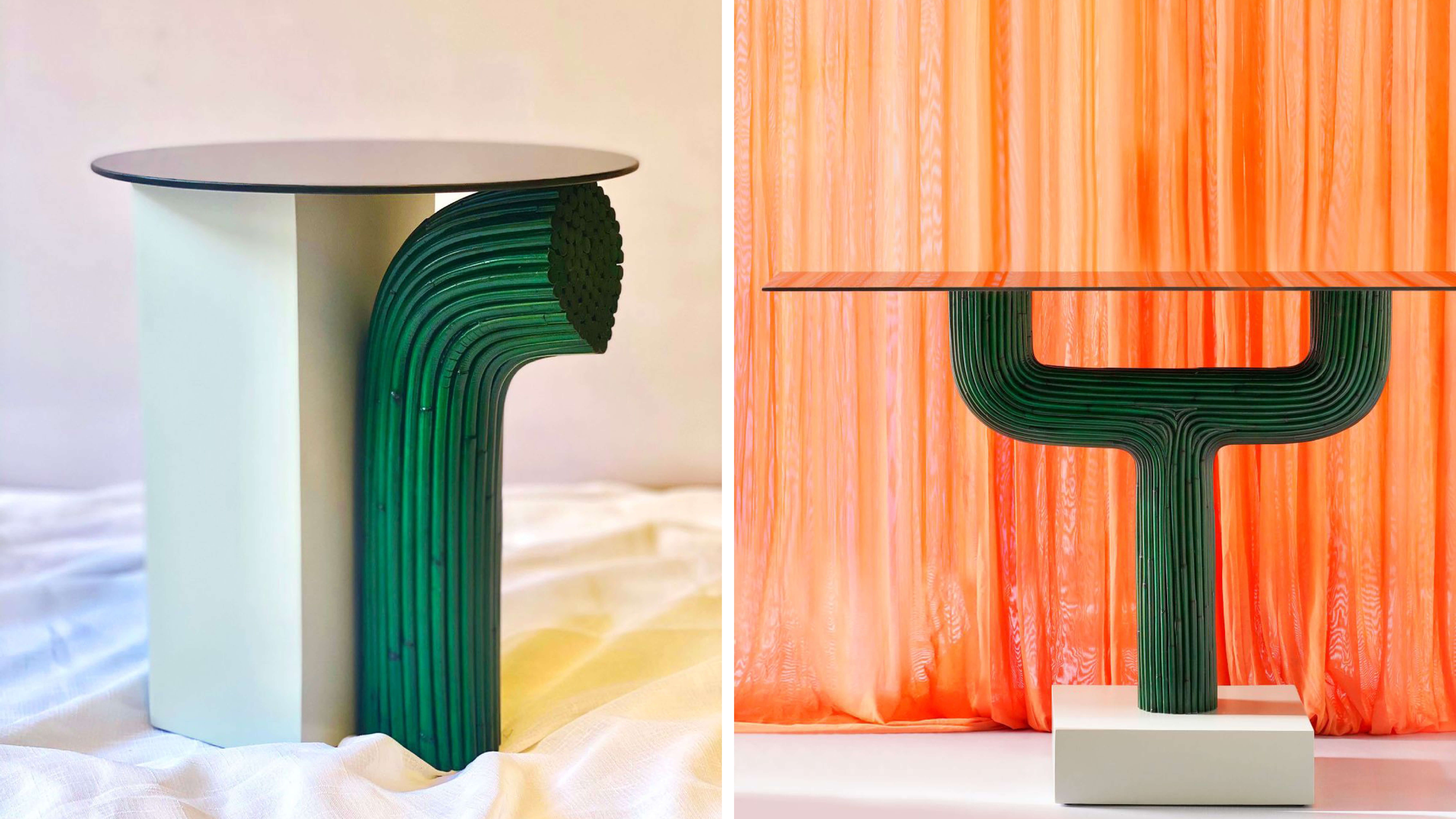 Joshua Side Table and Joshua Console Table: "We call it the Joshua Collection—this kind of abstract, future nostalgic view of desert cacti. The combination of materials—bamboo, wood, and glass, are crafted together to create a functional form," shares Nazareno, who adds that she has recently been obsessed with the slow-growing Joshua trees and the desert life.

NATURE'S LEGACY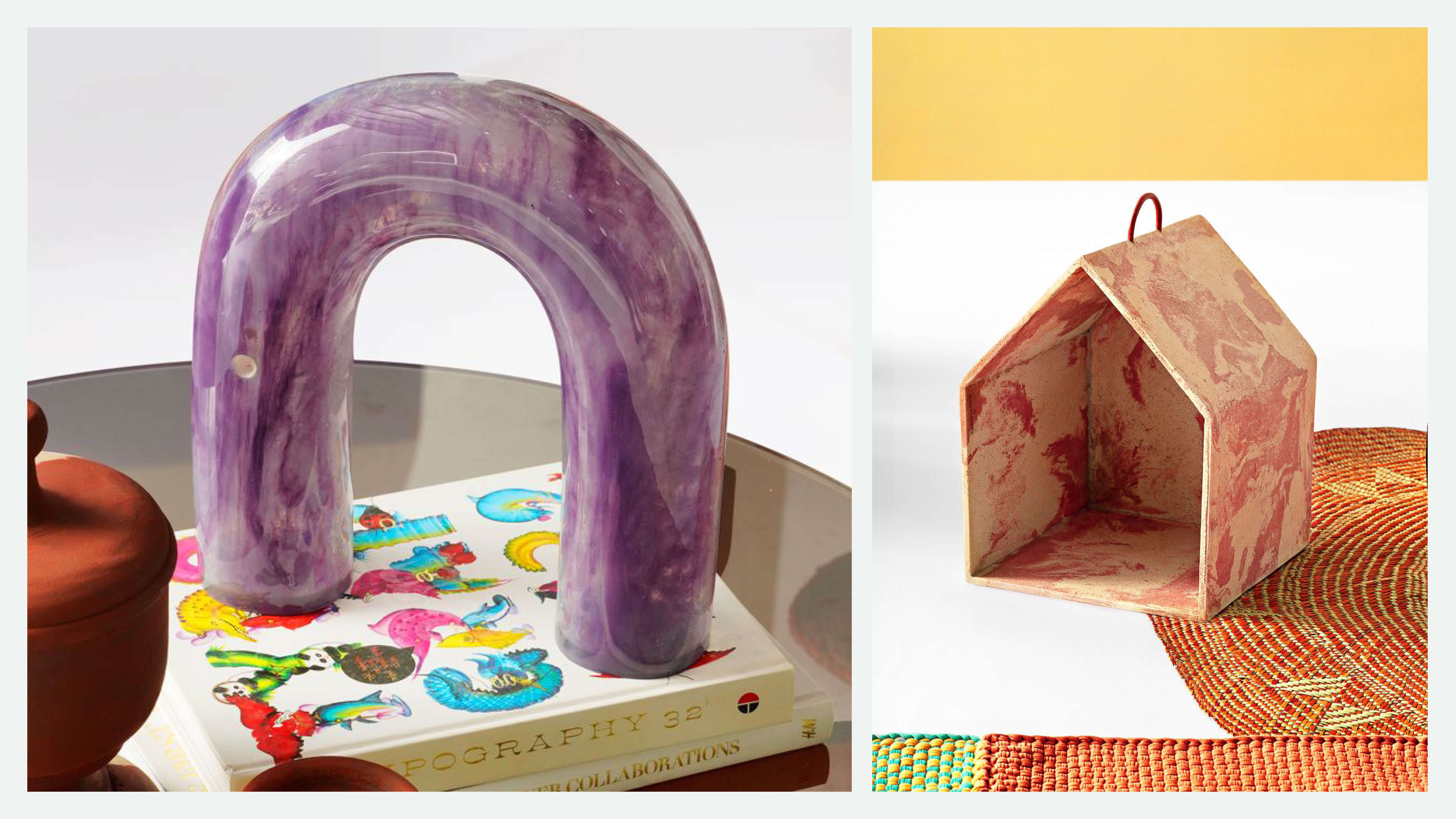 Cini Loop Vessel and Birds Nest: Nazareno/Lichauco takes off from the unique U-shaped handle found in the metro subways of the '70s for this collection, applying this onto different forms, uses, and objects, like the Cini Loop Vessel, made from a colored and marbleized version of the brand's MARMORCAST® material; and the Birds Nest, which features the U-shaped element as a handle on top.
PRIZMIC & BRILL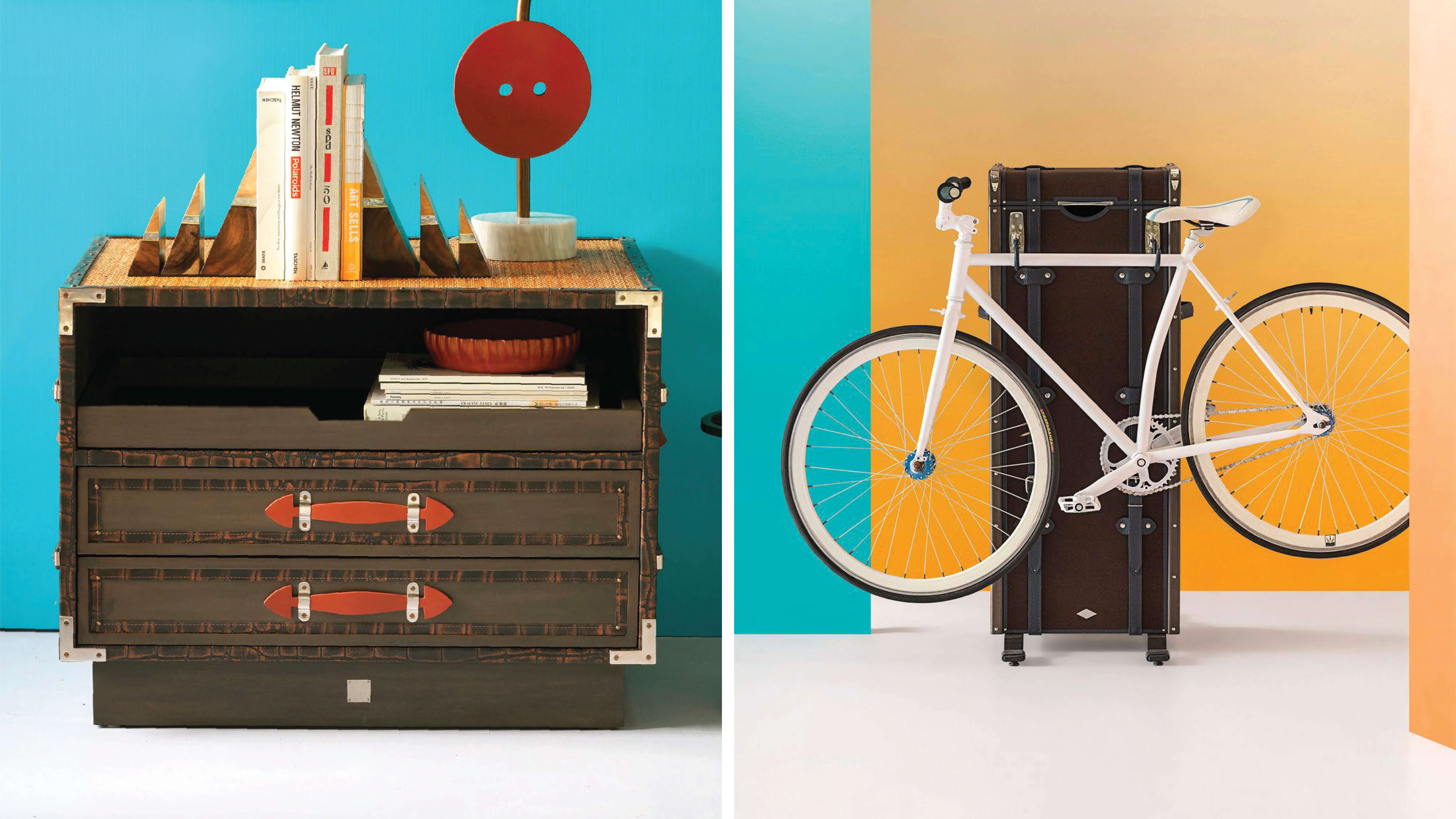 Napa Chest Table and Bicyclette Trunk: Nazareno/Lichauco have been wanting to do a commuter collection for years. Lichauco is in fact an avid biker and, last year, Nazareno gifted him with a bike lock she made wrapped in woven wicker. They soon found out that Prizmic & Brill founder Matthew Brill is into biking as well, and once produced and sold vintage bikes many years ago.
"We took the bike components as elements to the collection, knowing that Prizmic & Brill are good at wrapping leather," explains Lichauco. The luxury commuter collection includes coat racks, hanging coat racks, racks for bikes, and storage accessories.

S.C. VIZCARRA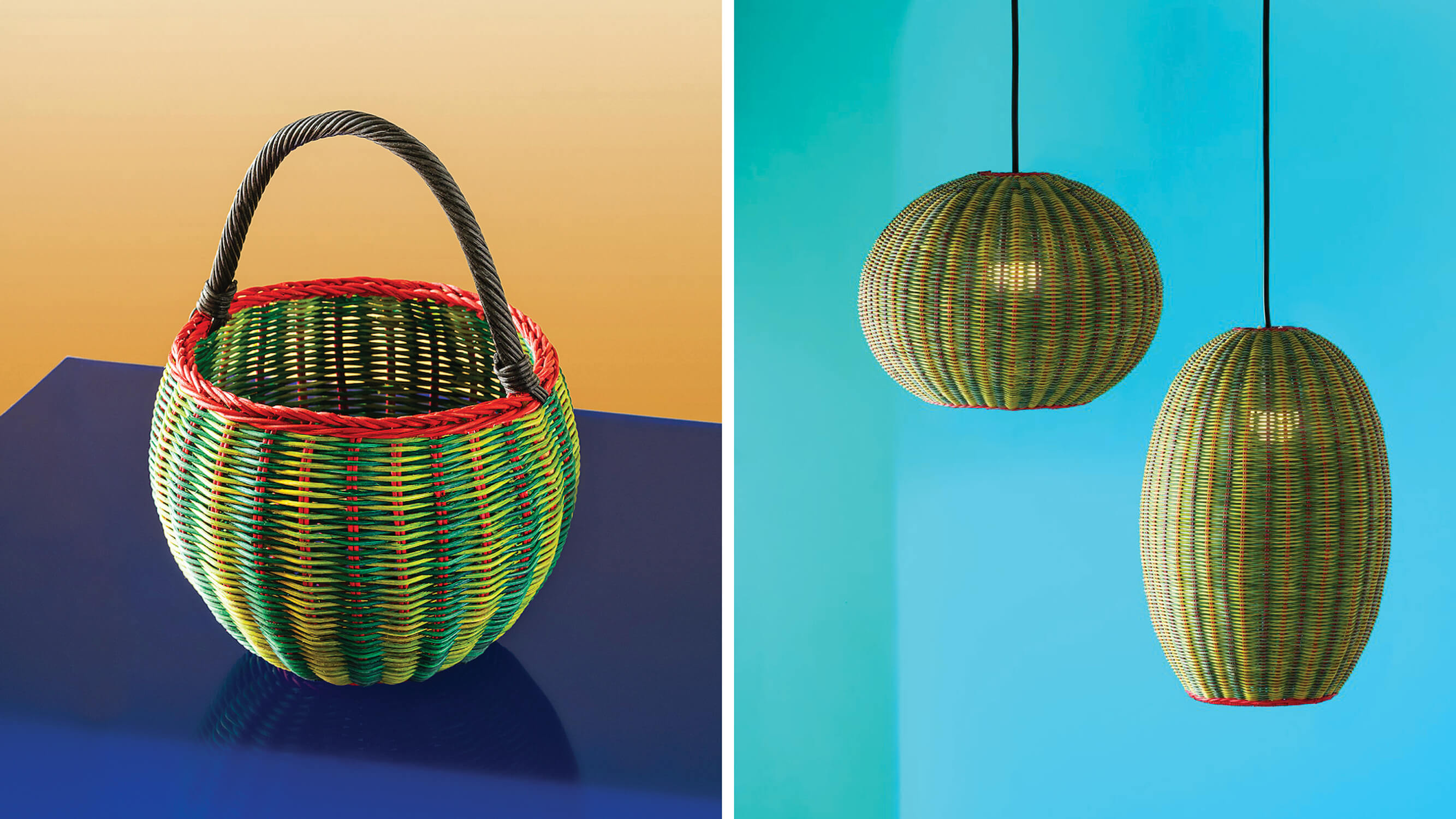 Pakwan Baskets and Pakwan Lampshades: The pakwan ('watermelon' in Filipino) series started from a collection of watermelon-like bags produced and sold by S.C. Vizcarra, who have long been known for their bags. Nazareno/Lichauco thought to do it in a lamp form, among other things. "It's a good entry into the home industry, using the company's techniques, colorways, and archive collections translated into home accessories," says Lichauco.
"For the pakwan series, the weavers came up with very abstract weaves in three different colors in their dyed strands. They're not painted on, but are woven on," adds Nazareno.

ZACARIAS 1925

Bowling Pins and Brutalist Picnic Basket: A brand that the duo consider their "playground," Nazareno/Lichauco introduces decorative woven skateboards and bowling pins in this collection, an ode to the old times when these sports were popularly played as pastime or bonding activities of friends and colleagues in Manila.
Another key piece is the Brutalist Picnic Basket, where Nazareno/Lichauco veers away from the usual romantic picnic basket image, and creates a whole new idea through a collection of baskets-slash-backpacks in black and gray, using chaircane, wicker, and leather details.

VENZON LIGHTING AND OBJECTS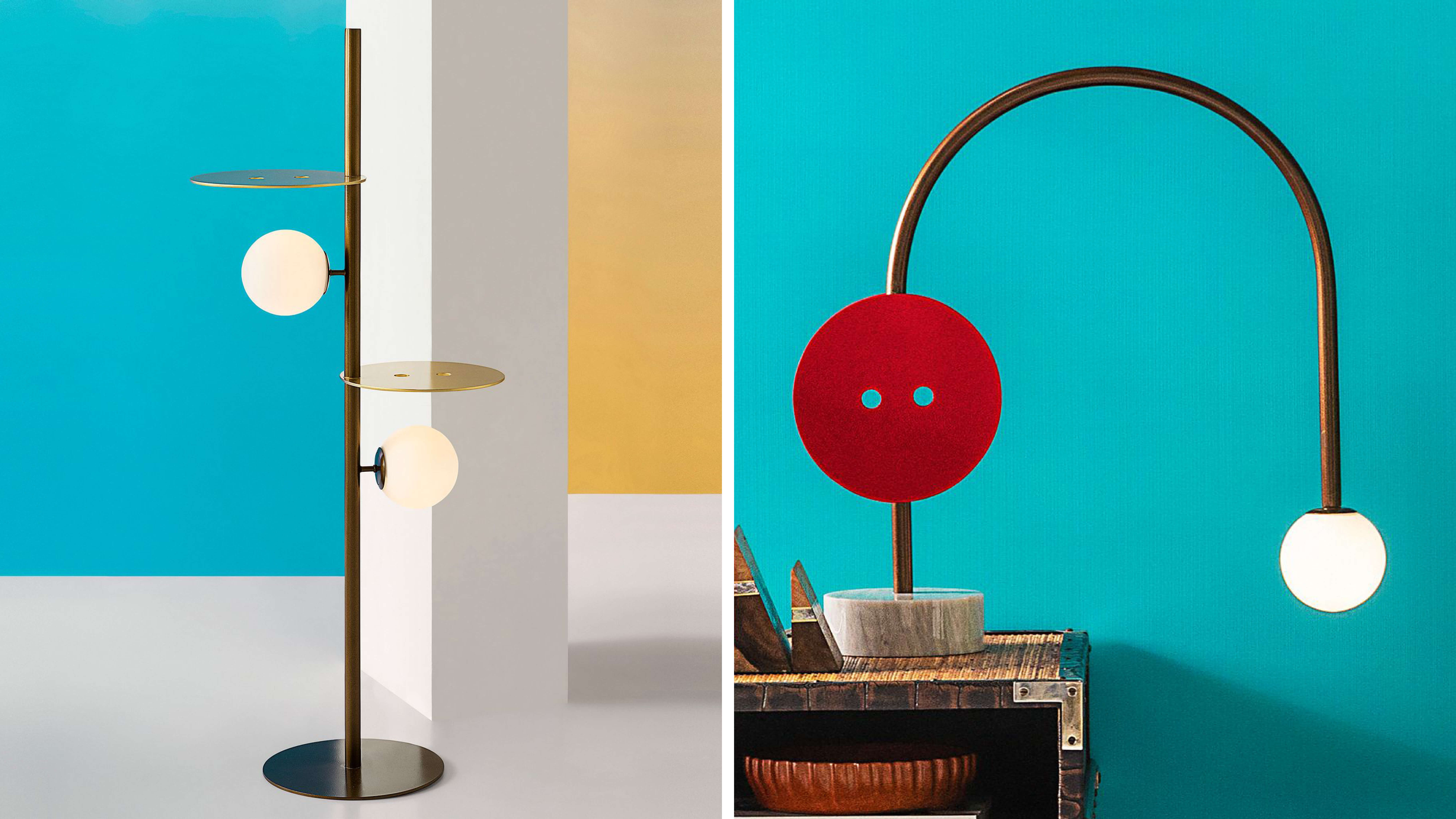 Button Collection Desk Lamp and Floor Lamp: "We wanted to do something really playful and also something that's literally quite a button," says Nazareno. The Floor Lamp, for example, has a button-shape plate, where one can place a vase on, Lichauco suggests. "The bulbs add a vintage, nostalgic feel to it," he adds.

WEAVE MANILA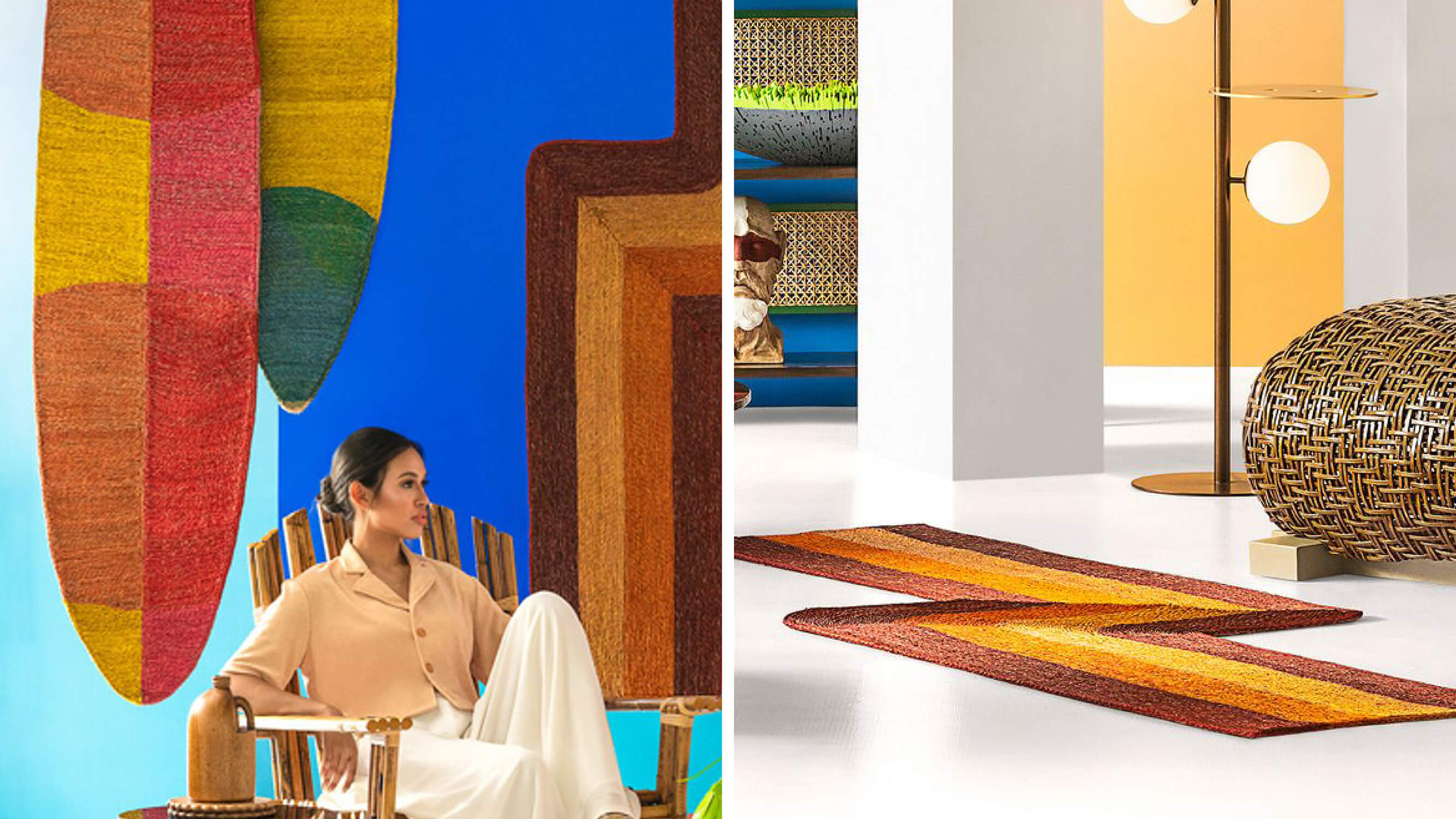 Artweave ZZ-Runner and Artweave Surfboard: "We came up with different rugs, and they were very gung-ho to work on the surfboards and the different shapes, like the ZZ-runner," shares Nazareno. "The pieces are fantastic not just as rugs, but art pieces, too, that you can put on the wall," she adds.
Nazareno herself has already ordered a surfboard rug. "I can see myself placing it in the middle of my living room, I'm pretty sure I'm gonna stand on it and pretend I'm surfing, and then I'll go back to whatever I'm doing."

ZARATE HOME FURNITURE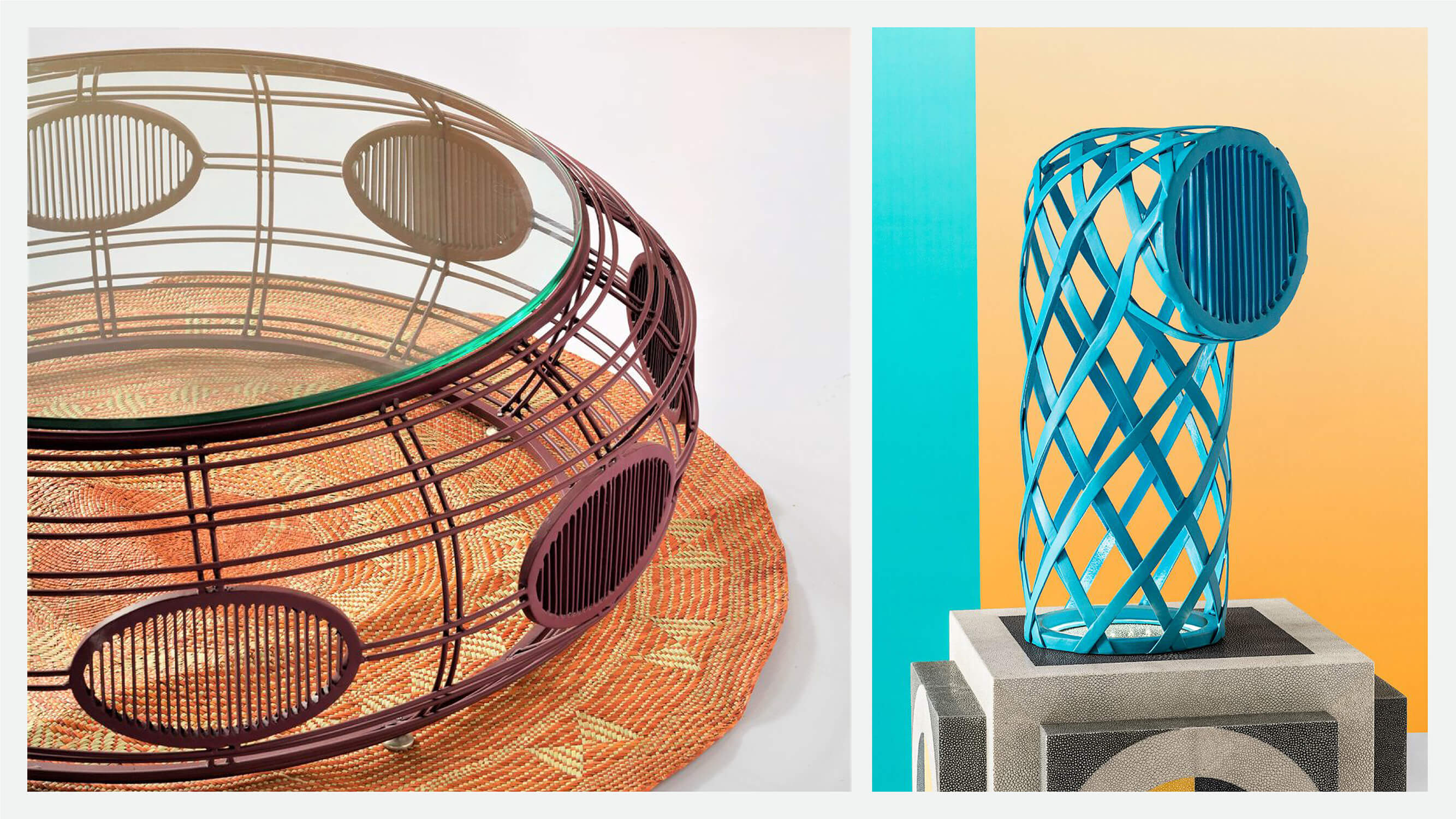 Saucer Lamp and Saucer Coffee Table: Nazareno/Lichauco refers to this set as the "Deep Sea" collection, inspired by the Beatles song "Yellow Submarine" and the curved, round shapes of an actual submarine. Lichauco shares, "It's a bit different from the previous collections they've been designing but using the same techniques, like the metal weaving. We did have a bit of a challenge doing the form, but the prototype turned out to be good."

OBRA CEBUANA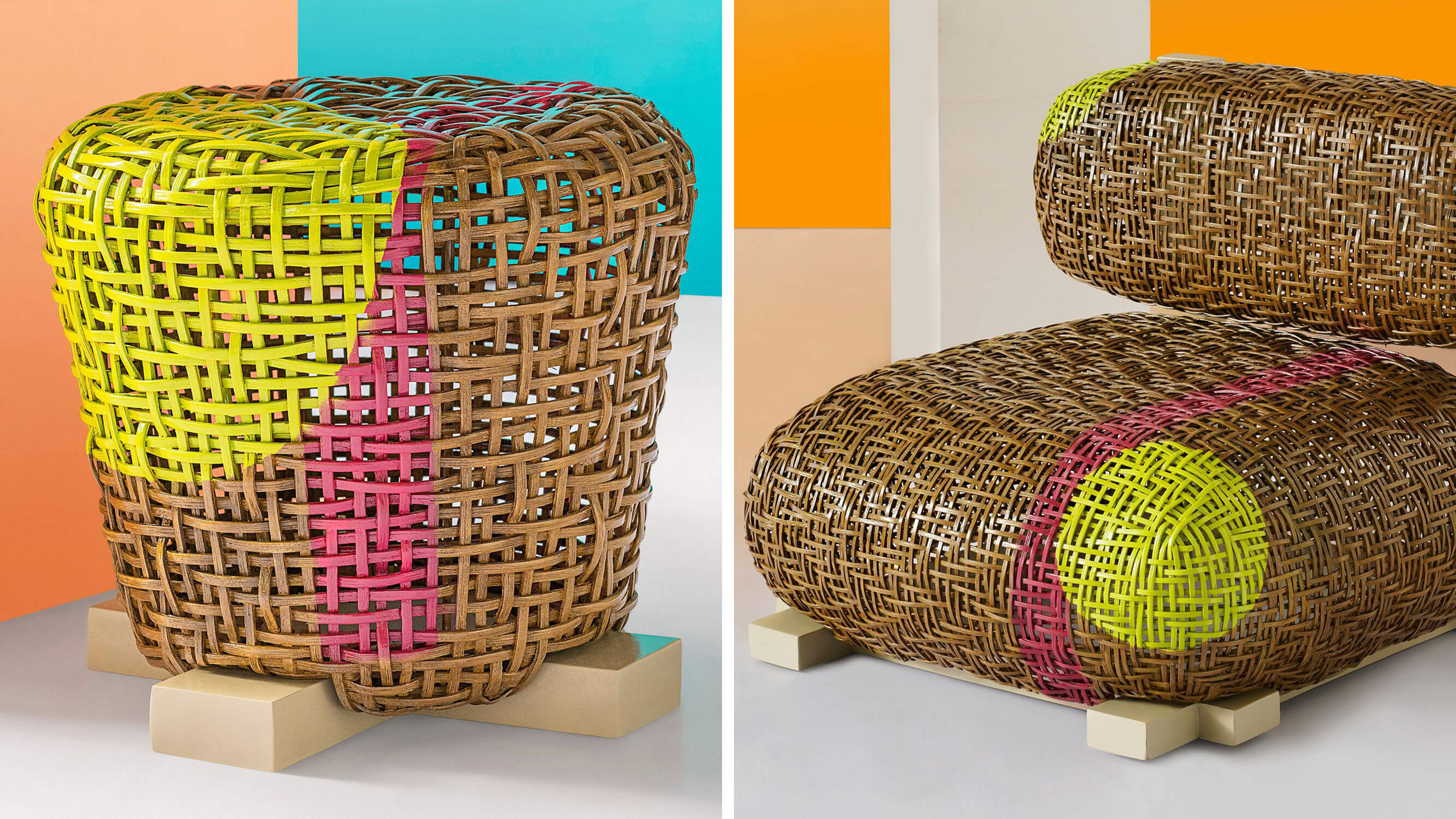 Poof Stool Round and Poof Lounge Chair: "We were literally told by the owners: 'go crazy,'" Nazareno reveals. "They were open to experimenting with this sort of melting form," adds Lichauco. "Most of their pieces are streamlined and flat and with thin metal legs. We wanted to do something a bit different, like put more volume into the design. The weave kind of melts onto the wooden frame, like a cushion, it 'sinks' and follows the form of objects you put on it."

KINDRED HOME
LA GALUCHE

Baybayin Boards and Shagreen Side Table: "For this collection, we really wanted to do a door stopper with them, inspired by Art Deco graphic patterns, different artists, and food—and the nostalgic food for us is the sapin-sapin (a type of Filipino rice delicacy)," reveals Nazareno.
For nostalgic sports, Nazareno/Lichauco created decorative skateboards with scribbles in baybayin, an indigenous script used by pre-colonial Filipinos.

CHANALLI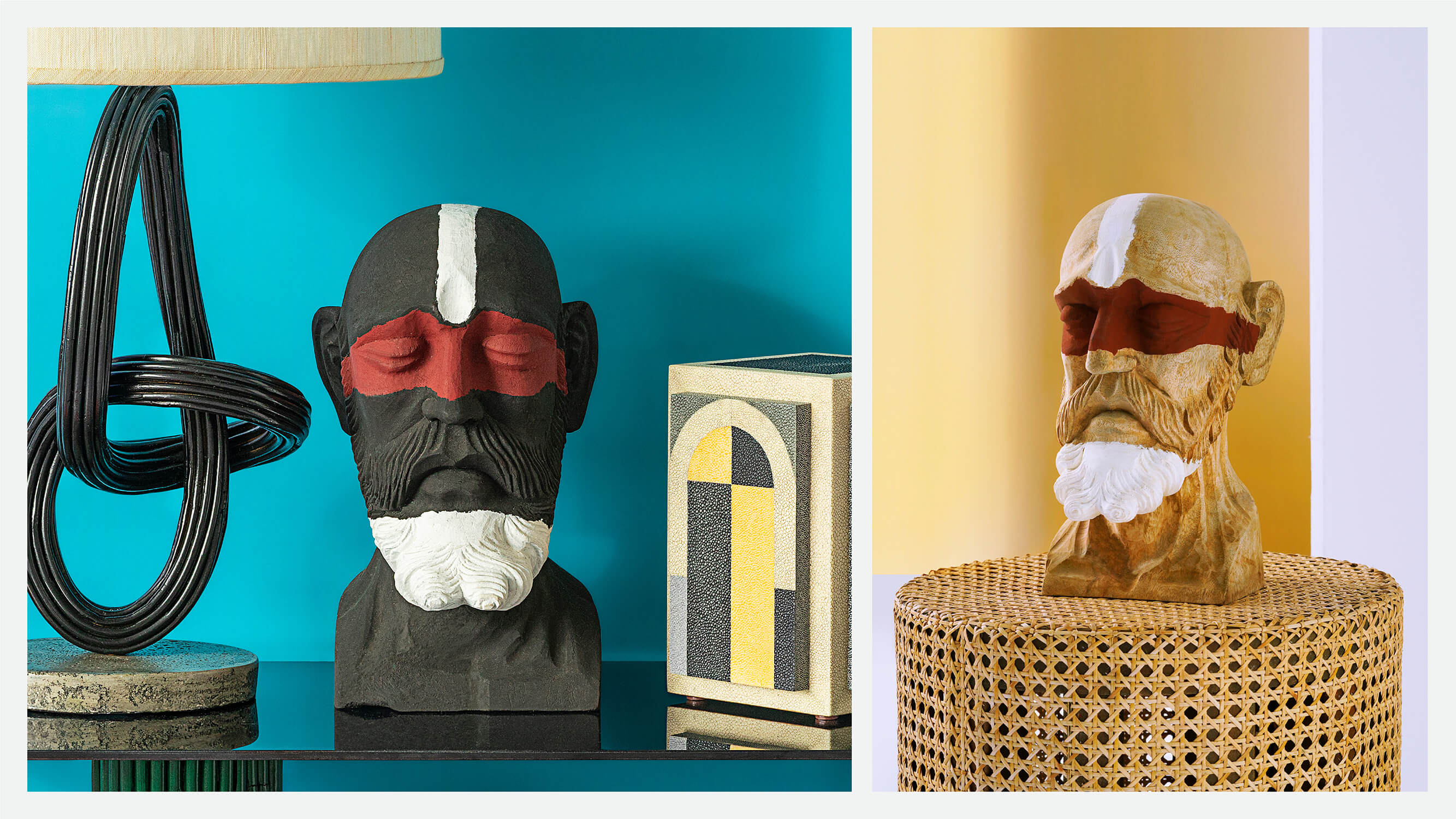 Nazareno/Lichauco have been experimenting with different finishes with Chanalli and it did well. While logistical challenges became part of the process, the collaboration was nonetheless fruitful because of the brand's effort and willingness to try out the concepts.
CELESTIAL ARTS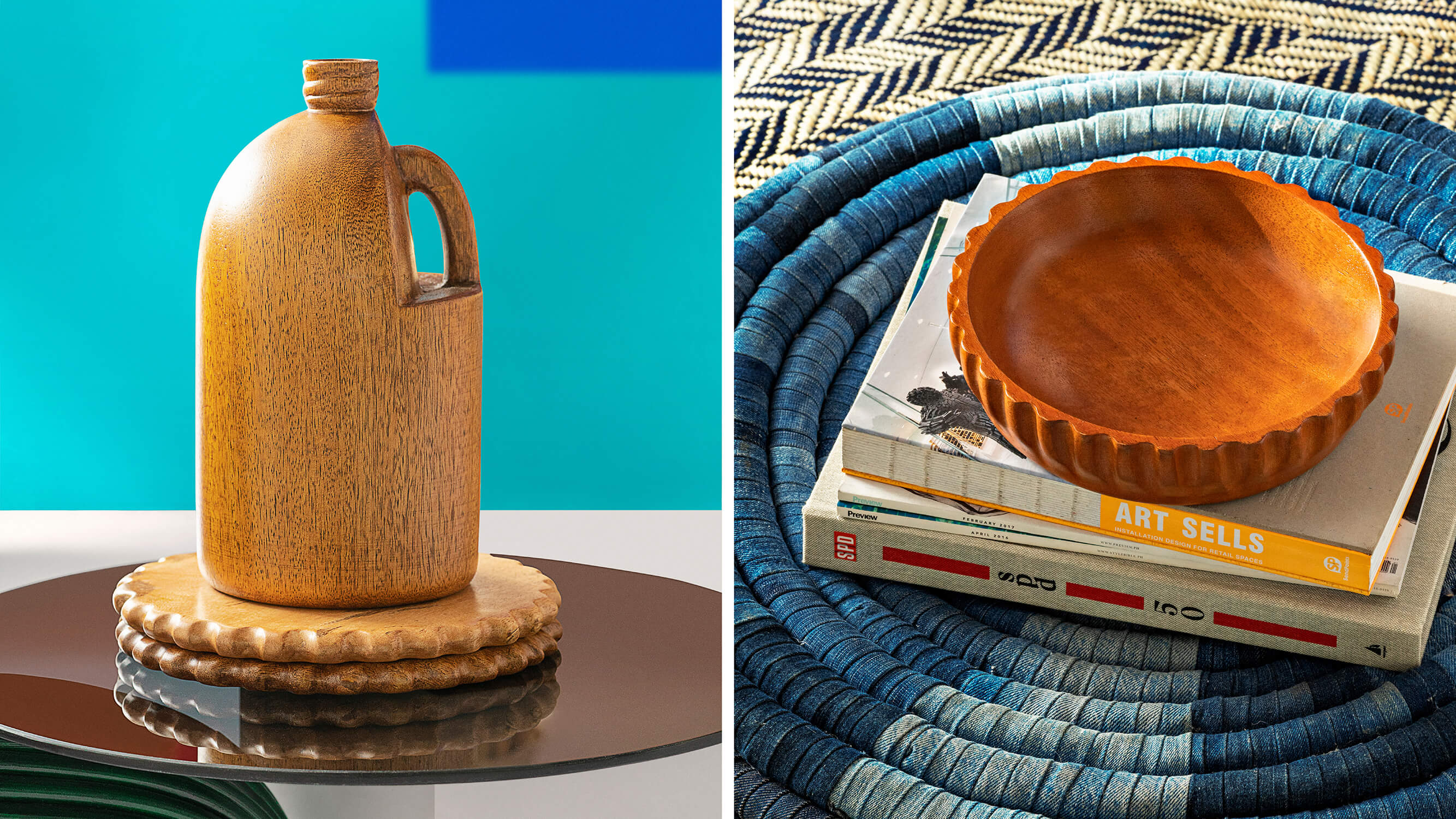 "That's the sari-sari store collection, which is based on the things you usually see in a sari-sari store!" begins Nazareno. The collection includes toyo (soy sauce) bottles, sachets, and popular snacks like ice candy, and mallows and biscuits covered in chocolate.
"We don't really know the purpose of these things," Lichauco jokes. "It can be a bowl, a paper weight. It can be a decorative piece." The wooden sachets, for example, can be used to rest your cooking ladle on.

PRADO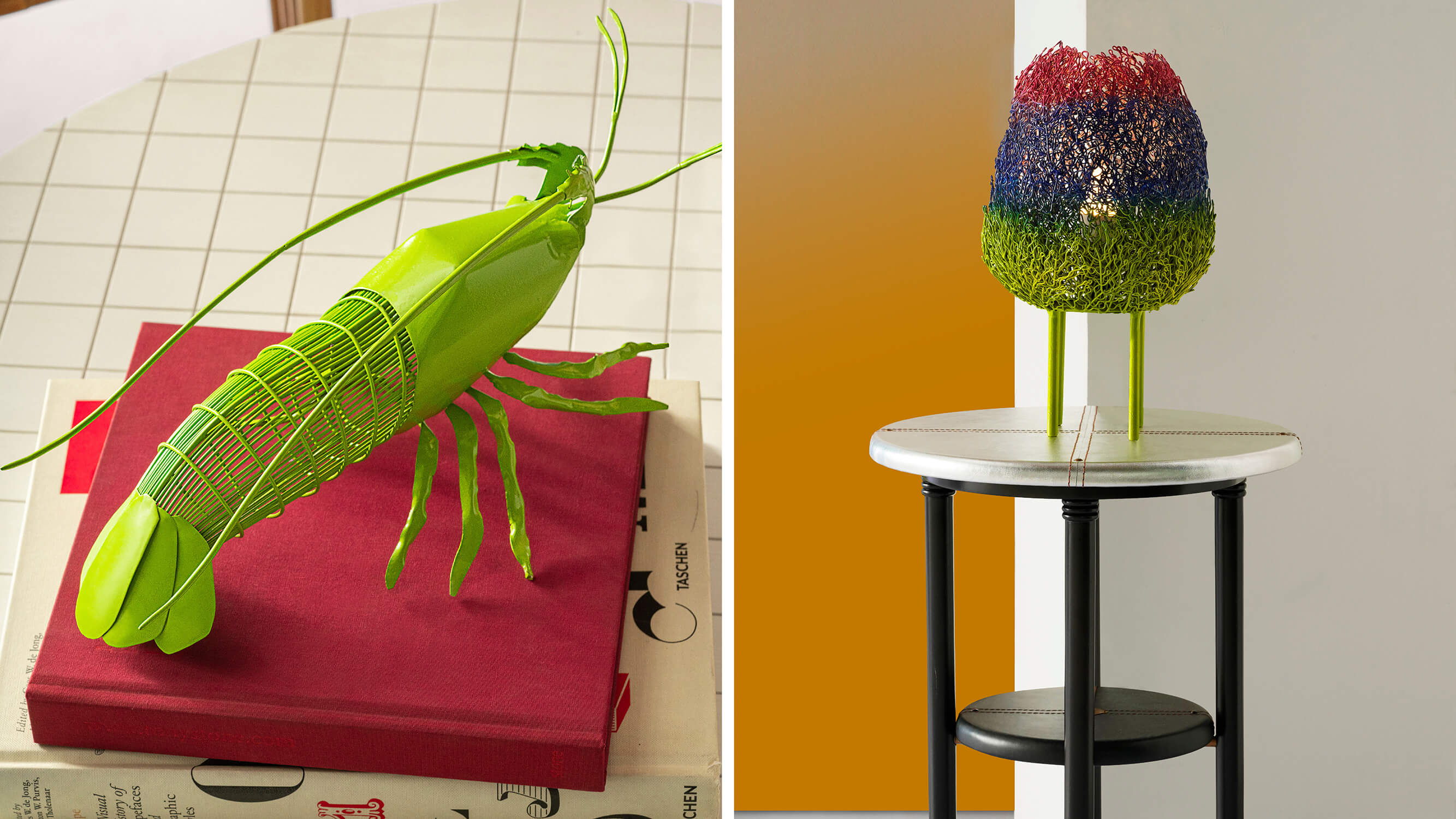 Scalloped Spiny Lobster Tabletop and Wall Decor: This series is obviously inspired by Philippine crustaceans and marine life, like the lobster shrimp, alimango (crabs), and more.
Another key piece is the hanging lamp, which is derived from a previous Cloud collection, and gets a new '70s-inspired colorway.

CONTEMPORANEO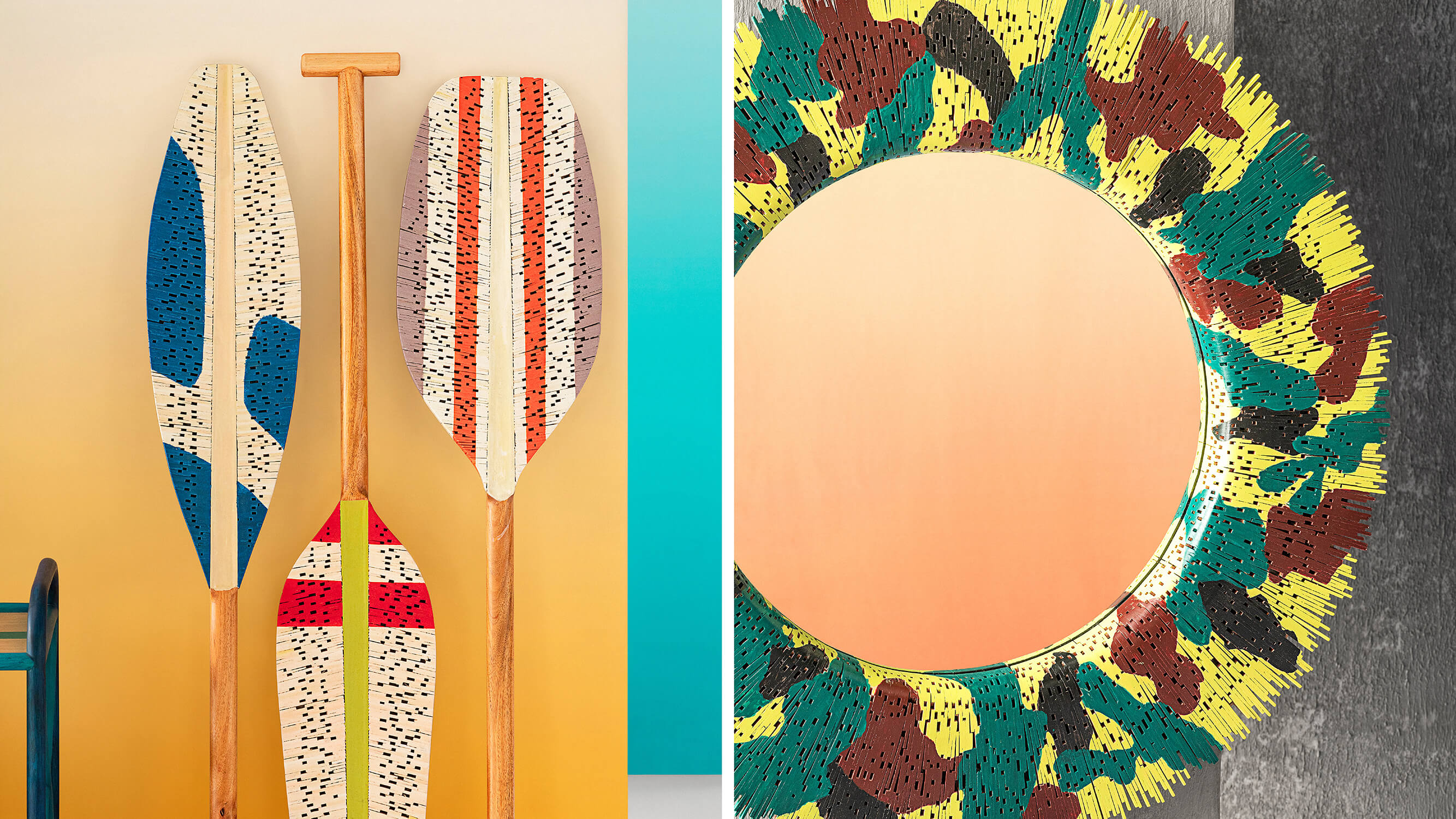 Dali's Mirror and Decorative Paddles: For Contemporaneo, Nazareno/Lichauco worked on a bevy of home decor: a mirror with a camouflage colorway, a bowl and table decor, and decorative paddles made of mahogany wood, material that's "abundant, but people don't really know what to do with it."
"We're really happy with the paddles," adds Nazareno. "It's one of their specializations, using recycled wood chips. They have all sorts of forms and objects using that particular method."

KINDRED FURNITURE
MEJORE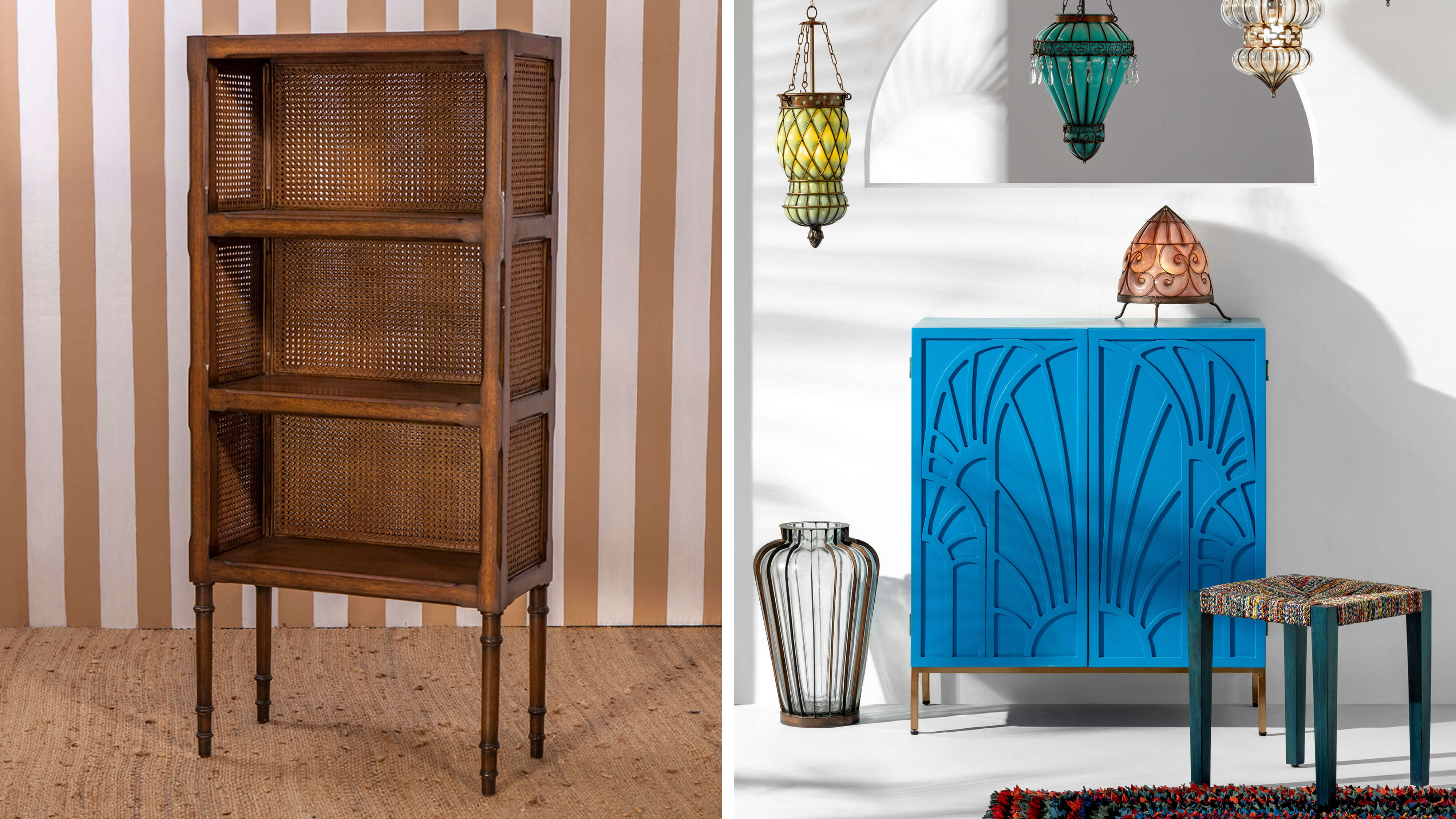 Diana's Bookcase and Bar Cart in Blue: This series derives inspiration from optical illusion art, made with help from a machine that can precisely cut through metal and wood.
CEBU HOMECRAFT

Driftwood Planter: A statement home accessory, this age-old dead wood is made into a smaller piece of decor with a touch of color at the base. The mini version easily fits small spaces, like a condo unit, and can be placed on a table, or any small area for a decorative piece.

JB Woodcraft

JB+ Desert Coffee Table and JB+ Column Stool: Nazareno/Lichauco were looking at different artists, outdoor spaces, and desert spaces. "In the desert, once in a while, you'll see small parts where flora grow," explains Nazareno. "And JB Woodcraft are so good at wood carving," she adds, referring to the carved flora on the grid slate. The flora also comes from a design Lichauco had done many years ago. "The flowers are bigger than what they're used to doing. It feels like a piece from 'Alice in Wonderland,'" says Lichauco.

HASPE DESIGN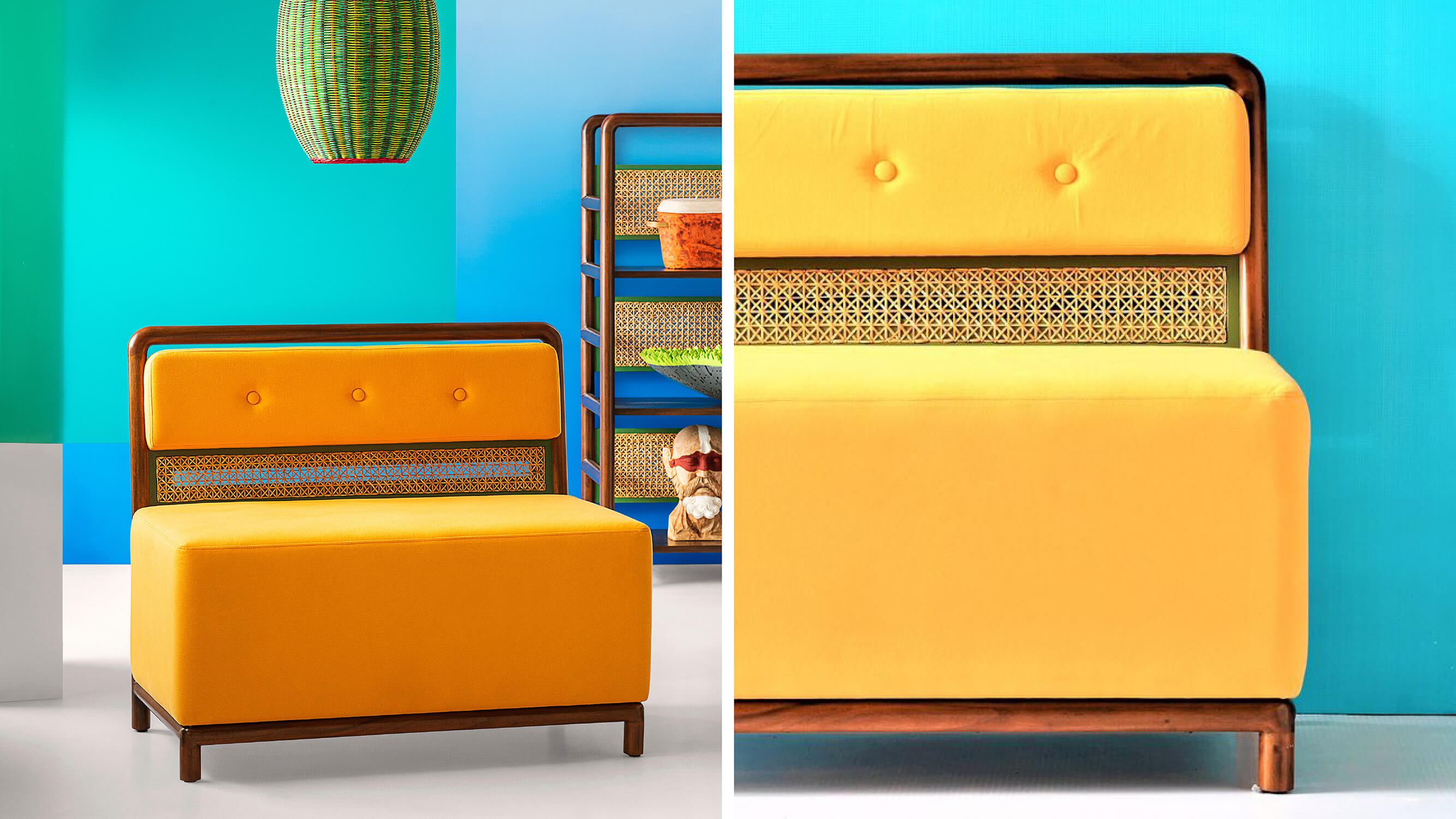 Jeepney Bench: The piece dates back to the '70s where the jeepney started to be an iconic image of our culture. In the '70s, it was a source of pride for the jeepney drivers to have the best-looking jeepney. These days, however, the usual jeepney decor—such as the dangling accessories, the horses, hand-painted photos of their families—are starting to disappear. For this collection, Nazareno/Lichauco pays homage to the jeepney's distinct qualities and creates a "more abstract, sleeker version of the different jeepney elements," such as the round-edge rails and handles, its leather seats, and the bright colors used to decorate it.

STONESETS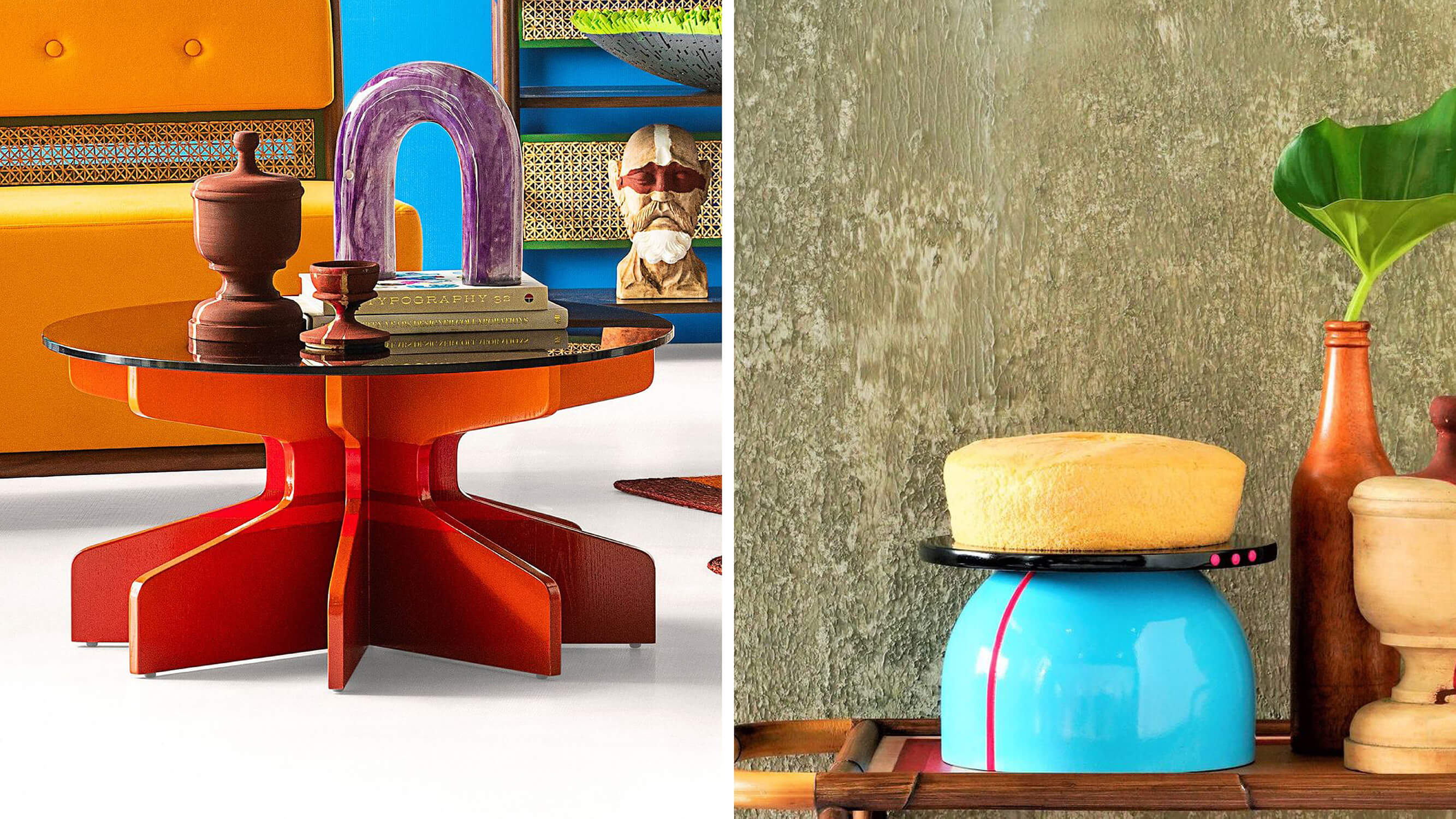 Fin Coffee Table and Sol Cake Stand: It's a coffee table and cake stand inspired by the flapper look of the '20s. The beads also take reference from the beaded jeepney and taxi seat covers that Lichauco describes as "multi-cultural objects that are probably therapeutic as well, massaging your back and butt when you sit on them."

DESIGN PHILIPPINES
TADECO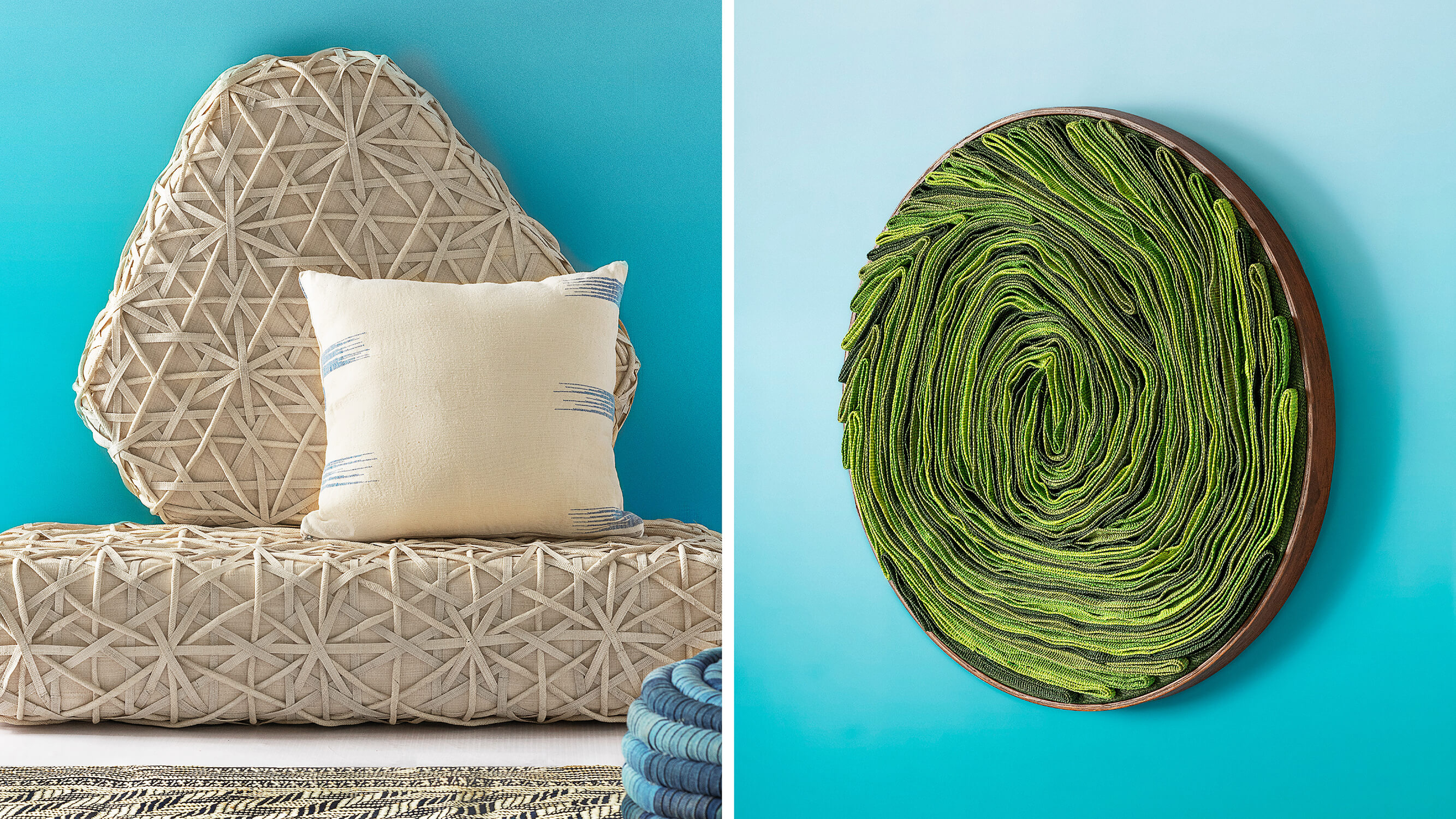 T'nalak Ottoman Poof and Bark Wall Art: "They had all these techniques already, which, for us, made sense to reapply in a different approach," says Lichauco. Tadeco has a big market for throw pillows, for example, and Nazareno/Lichauco thought to apply one of its throw pillow weaves onto bags and scaled up cushions, like ottomans, for example. The wall art is made of t'nalak strips crafted into a decorative piece that looks like a cross section view of a sliced lettuce.

HACIENDA CRAFTS

Cannele Pendant Lamp: This piece comes from Nazareno/Lichauco's collection inspired by pasalubong or souvenirs, such as the canele French pastry, blancmange, and the jello mold shape to make this. Lichauco cites a fond memory: "When you open the maleta (suitcase), the candies or food are soft and squishy already."

Art Director Kit Singson
Production Designer Tala Singson
Video producers Marga Mina and Victor Elijah Gador (in loving memory)
Video Editor Cheska Marfori
Sittings Editor Patti Sunio
Shoot Coordinator Erica Seran
Photos by CoStudio