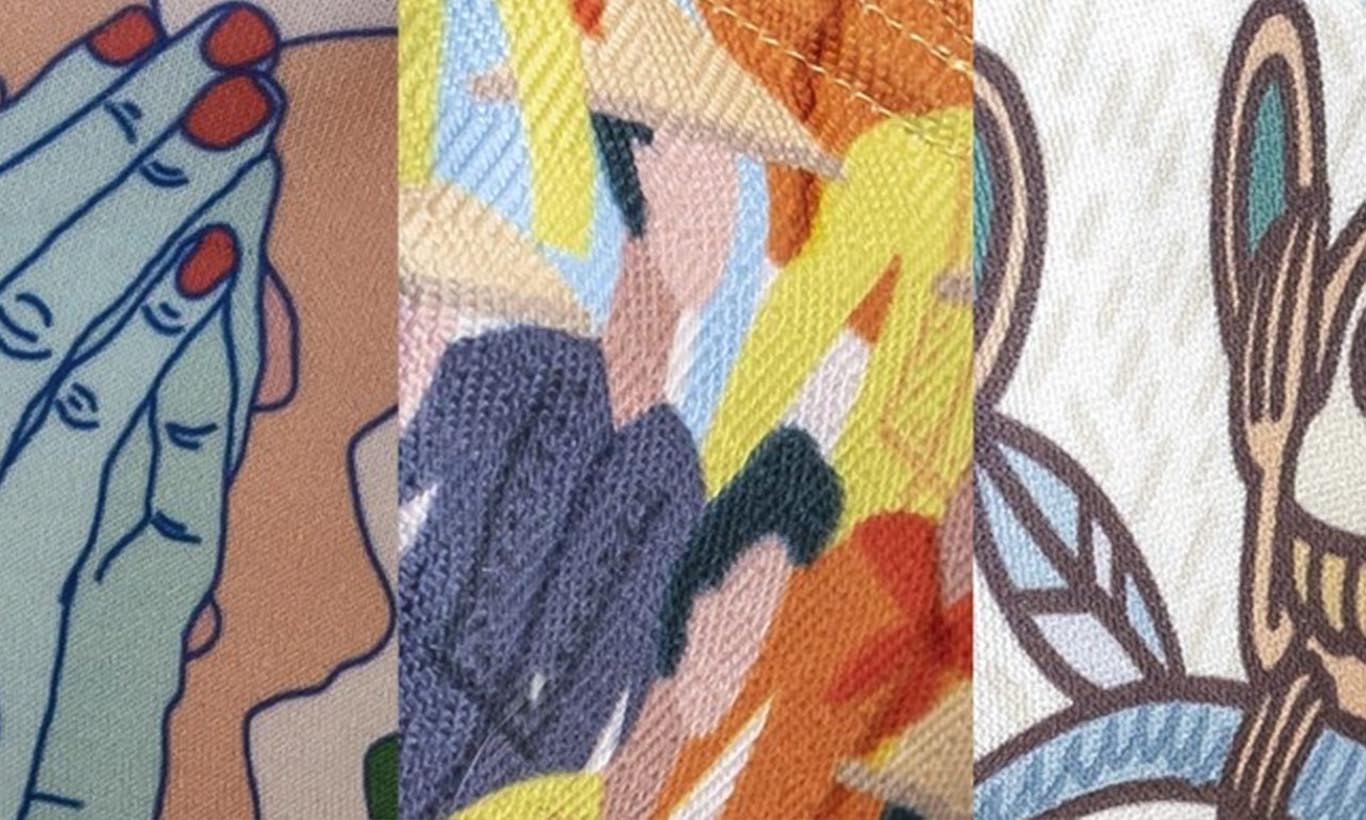 On the Bright Side
Trust the indominable Filipino spirit to put a vibrant, stylish spin on anything—yes, even something as bleak as protective gear in a global pandemic.
These non-surgical, reusable face masks don't just serve as pretty, life-affirming armor in the New Normal, they also allow homegrown brands a clever pivot to keep the fashion industry afloat. From face masks featuring traditional barong embroidery, to hip and quirky Filipino iconography, here are some of our current favorites.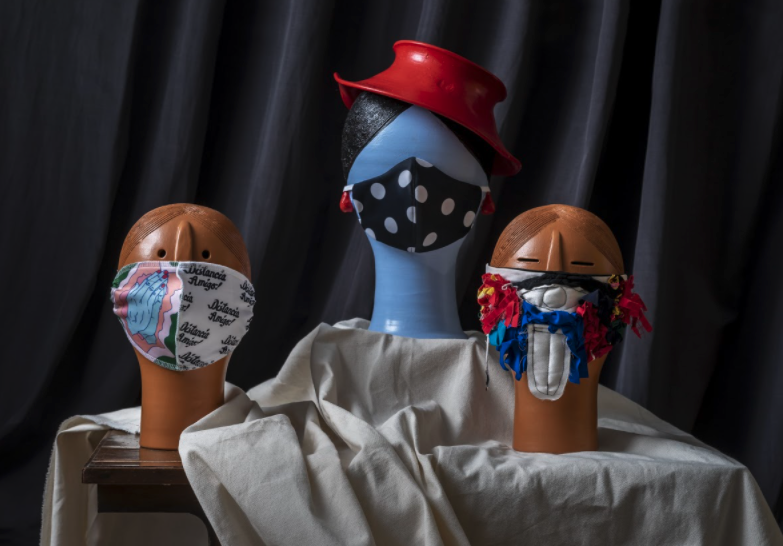 (From left to right): Distancia Amigo Mask by Randolf, P1,950/set of three designs; Polka dot Mask by Basic Movement, P450; Monster Mask by Retaso, P1,200; Polychrome Terracotta Heads by Alessi Ceramiche, Guava Sketches
PINOY POP

Randolf's Distancia Amigo mask is a play on jeepney iconography—praying hands, pop art, and the popular bumper catchphrase apt for this era of social distancing. Made OF lightweight neoprene, each mask features exposed overlock stiches and built-in filter pockets.
Basic Movement's Polka-dot mask is the perfect everyday basic for style renegades. The mask is made of neoprene and comes with a built-in filter pocket and garterized straps.
Ha.Mu takes inspiration from their signature Retaso (fabric scrap) Pants to create their deliciously camp Monster Mask. It secures at the back with fabric ties to fit any head size and encourages us to live out loud in the face of present-day horrors.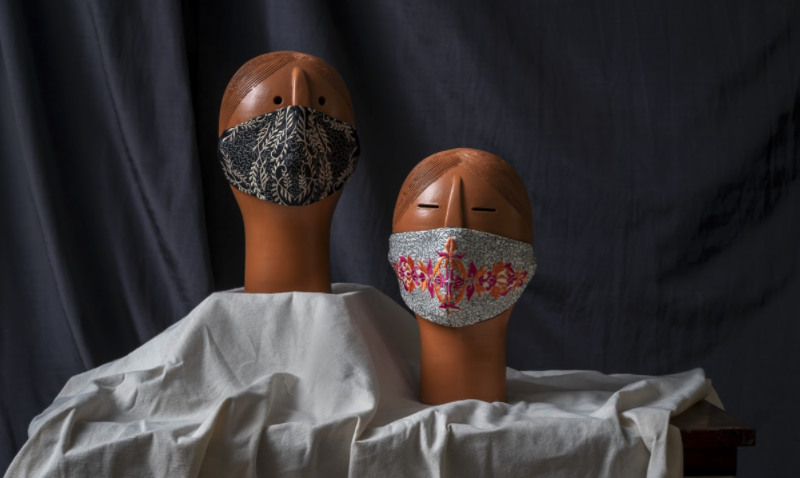 Both masks in this layout, Maskarong Tagalog by Jor-El Espina (price available upon request); Polychrome Terracotta Heads by Alessi Ceramiche, Guava Sketches
CULTURE CLUB

Jor-El Espina continues his contemporary take on the classic Barong Tagalog with the Maskarong Tagalog line. The signature face mask features elegant artisanal embroidery and is made of barong/jusi, layered with cloth lining, and designed with a filter pocket and sinuous snug fit—your best bet for special events.
The Maskarong Tagalog not only helps preserve and celebrate traditional culture, but for every purchase, a portion of the sales go toward relief efforts and support for medical frontliners.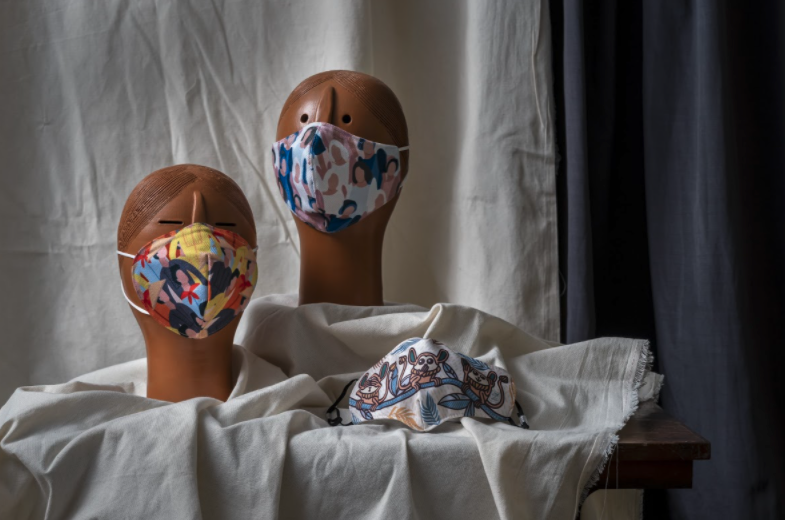 (Left to right) Malaya Mask, Pag-Asa Mask, both from the Makabayan Collection by Zarah Juan, P1,250 for a set of three; Tarsier No Evil Reversible Mask by Jim Weaver, P250. Malaya (left) takes inspiration from the N-95 mask, with a round shape that allows room for circulation, while Pag-Asa (right) offers full ear-to-ear, nose to chin coverage. Polychrome Terracotta Heads by Alessi Ceramiche, Guava Sketches.
ISLAND SPICE

Zarah Juan's Makabayan Collection is inspired by a love for country and encourages national solidarity in these challenging times. The top fabric is handwoven by weavers of Isabela Province and features a beautiful digital print, while the second and third layers are made of satin-finished nylon for comfort. Each mask is equipped with a nose-pinch wire for a snug fit, a custom pocket for a filter, and includes six filters per mask.
Stay protected in style with this cheeky Tarsier No Evil reversible mask by Jim Weaver. Designed by Filipino artist Isabelle Ocier, the mask features the adorably palm-sized primate that is endemic to Southeast Asia, particularly the Philippines. Here, three tarsiers are depicted as the three wise monkeys on one side, while the reverse features a single tarsier. The triple-layer mask features lightweight polyester on outer and inner layers and a water repellent washable filter in the middle.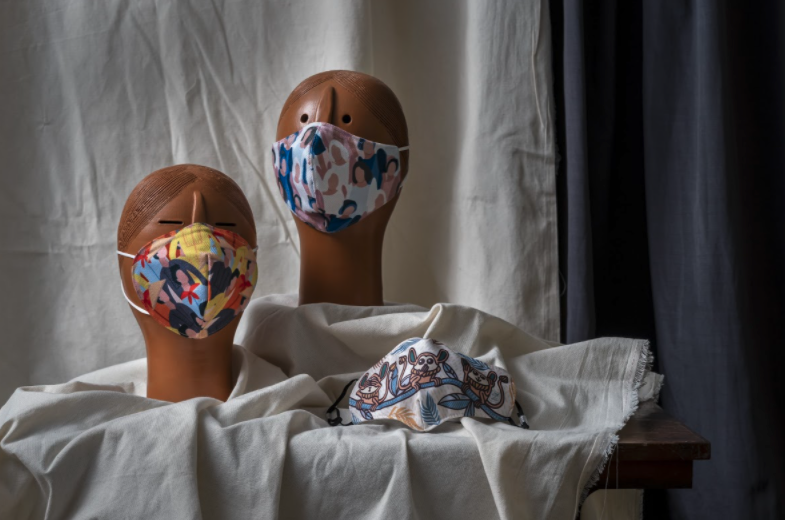 \(Left) Raffia Visor + Face Shield in Black, P650, (right) Raffia Swivel Goggles in Brown, P495, both from Island Girl; Polychrome Terracotta Heads by Alessi Ceramiche, Guava Sketches
SUPER VISORS

Island Girl's face shields offer an extra layer of protection with their signature tropical flair.
Looking for a simple shield that comfortably leaves room for eyeglasses or sunnies? Try the Eyewear-friendly Raffia Swivel Goggles, made with heavy-duty acetate plus foam-padding and elastic backing for comfort.
Meanwhile, errands in searing heat call for the Raffia Visor + Face Shield, a chic, handwoven raffia sun visor with elastic backing. The heavy-duty acetate is removable, so you can simply snap off the shield for post-pandemic fun in the sun.
Words: Pierra Labrador Photography: Toto Labrador. These masks are available at the Basic Movement marketplace. All masks on this page are part of the Masks for Masks project, wherein the commission fees will go towards buying N95 masks for frontliners through the Faceshield Drive Plus Team.
[contact info]

BASIC MOVEMENT
Instagram: @basicmovement
GUAVA SKETCHES
URL: www.guavasketches.com
HA.MU
Instagram: @_ha.mu_
ISLAND GIRL
URL: www.islandgirlph.com
Instagram: @islandgirlph
JIM WEAVER
URL: www.jimweaverdesigns.com
INSTAGRAM: @jimweaverdesigns
JOR-EL ESPINA
Email: espina_jor_el@yahoo.com
Instagram: @jorel.espina
RANDOLF CLOTHING
Instagram: @randolfclothing
ZARAH JUAN
URL: www.zarahjuan.com
Instagram: @zarahjuan