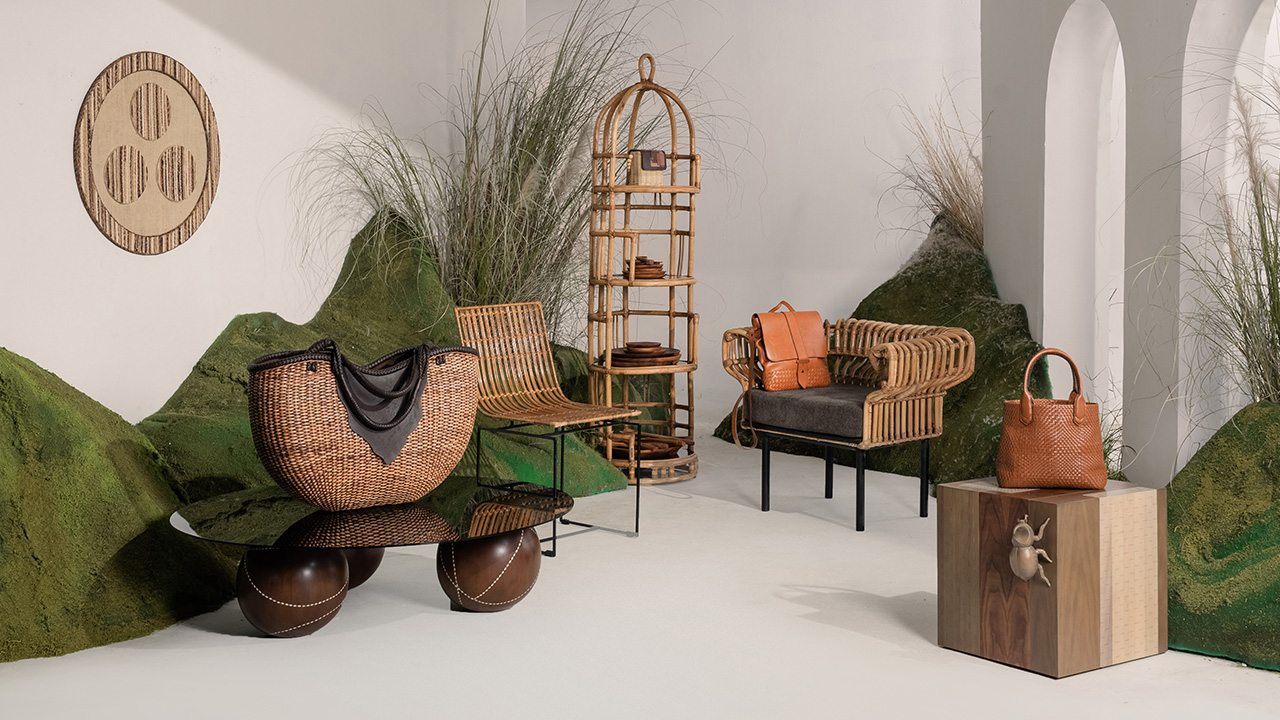 Inviting Natural Home Furnishings are the Heavy Hitters to See from DesignPhilippines in 2023
Discover a collection inspired by stitching, mending, and joining.
When it comes to furniture and home decor, you can look to DesignPhilippines for pieces that give life to any space. Call it the lived-in feeling that natural materials like bamboo, rattan, and abaca exude. Or perhaps it's how each item has been skillfully crafted into inviting organic shapes. The 2023 collection is rife with options to give your interiors an elegant and welcoming boost.

Stitching, Joining, Mending Natural Materials into Furniture and Decor
This year's unifying theme of "Stitch" was conceptualized by Nazareno/Lichauco, and references various methods of stitching, joining, and mending.
Call it a nod to the sewing traditions and tools of various cultures. You'll find, for instance, the tell-tale stitches of an American baseball on the spherical base of a coffee table. Thimbles and sewing boxes have been reimagined as seating, shelving, and desks. Japanese Sashiko embroidery patterns also find their way onto the carvings of wooden room dividers and cabinetry.
It's a collection of exuberant designs that have been highly crafted with local materials that are prized as much for their beauty as their durability.

Gearing Up for Global Orders
This year, DesignPhilippines is working with Patti Carpenter, an award-winning designer in globally-sourced home decor, with experience in product design and development. Through an international business development program, Carpenter is guiding 19 brands, preparing them for the global market.
Expect unique designs and skilled craftsmanship from the following furniture and home decor brands that are part of the program:

FURNITURE
With 40 years of experience in manufacturing premium furniture, find pieces with modern elegance from Mejore.
Handcrafted furniture in a combination of natural and man-made materials from Finali Furniture.
Fine furnishings made with tropical woods, fiber and grass weaves with bindings of leather, metal and bone from the family-run workshop of E. Murio Manila.
Rattan furniture and home accents skillfully handcrafted by generations of Filipino craftsmen from Obra Cebuana.
Handmade indoor and outdoor furniture for homes and commercial establishments from Coast Pacific Manufacturing Corp.
Classical furniture made with Philippine wood and indiginous materials from Stonesets International Inc.

HOME DECOR
Contemporary home accents made with abaca fibers from Tadeco Home.
Modern clay jars with indigenous engravings from Red Slab Pottery.
Bespoke Abaca Handwoven Rugs and Carpets from Weavemanila Inc.
Beautiful and 360-degree sustainable homeware made with trademark material innovations from Nature's Legacy.
Handcarved wooden kitchen and home accessories from Lapekto Lapel.

Discover Lamps and Lighting from DesignPhilippines here.