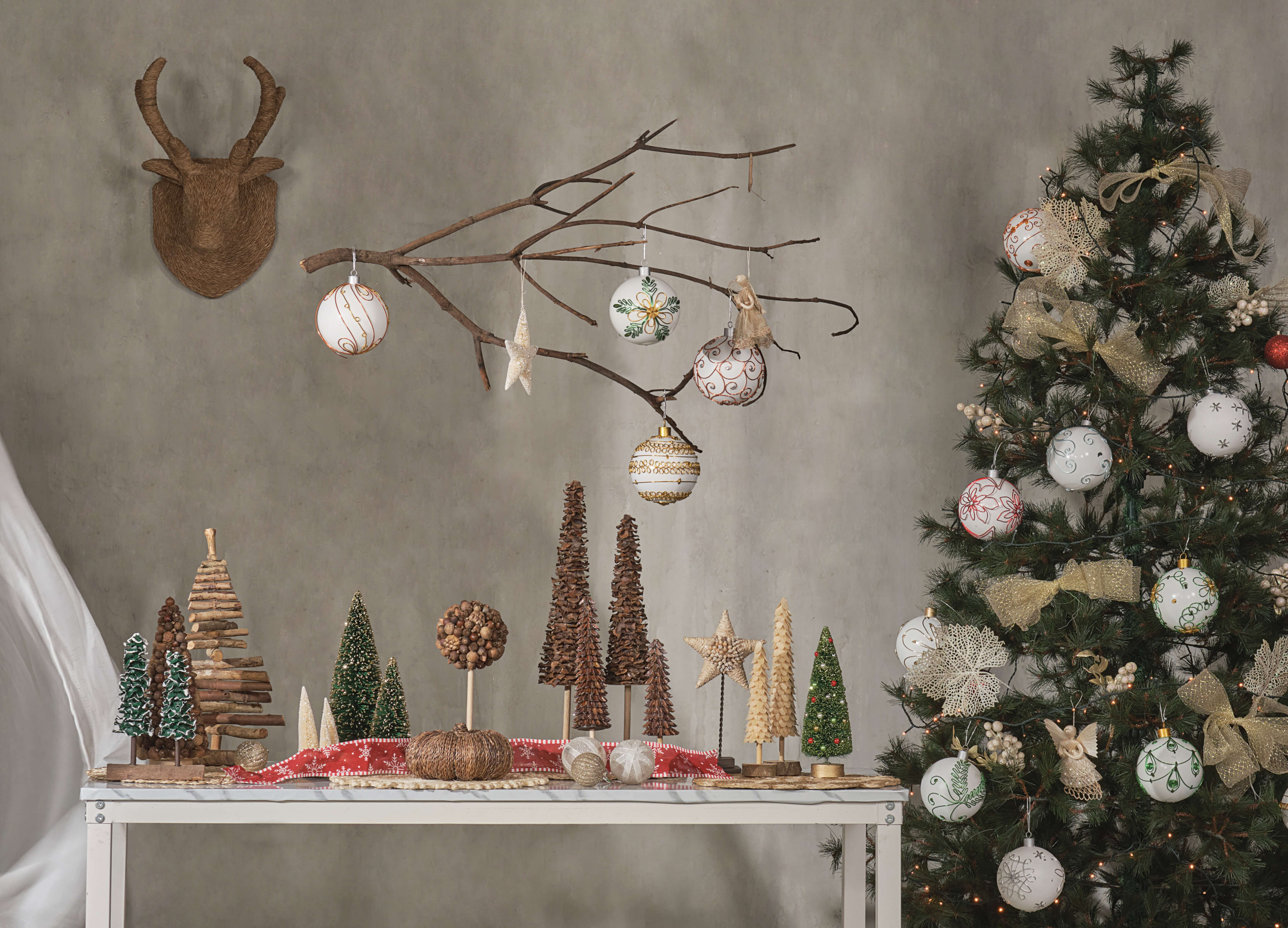 'Tis the Season for Style
Designers share their themes and tips for the holidays
by Vicky Montenegro

Now that things are looking up, Christmas this year seems more celebratory. It's still not too late to put up the tree and decorations, if you haven't yet. So how do you deck your halls this season? Let these interiors and design experts show the way.

JAMES RAZO: GREEN AND RUSTIC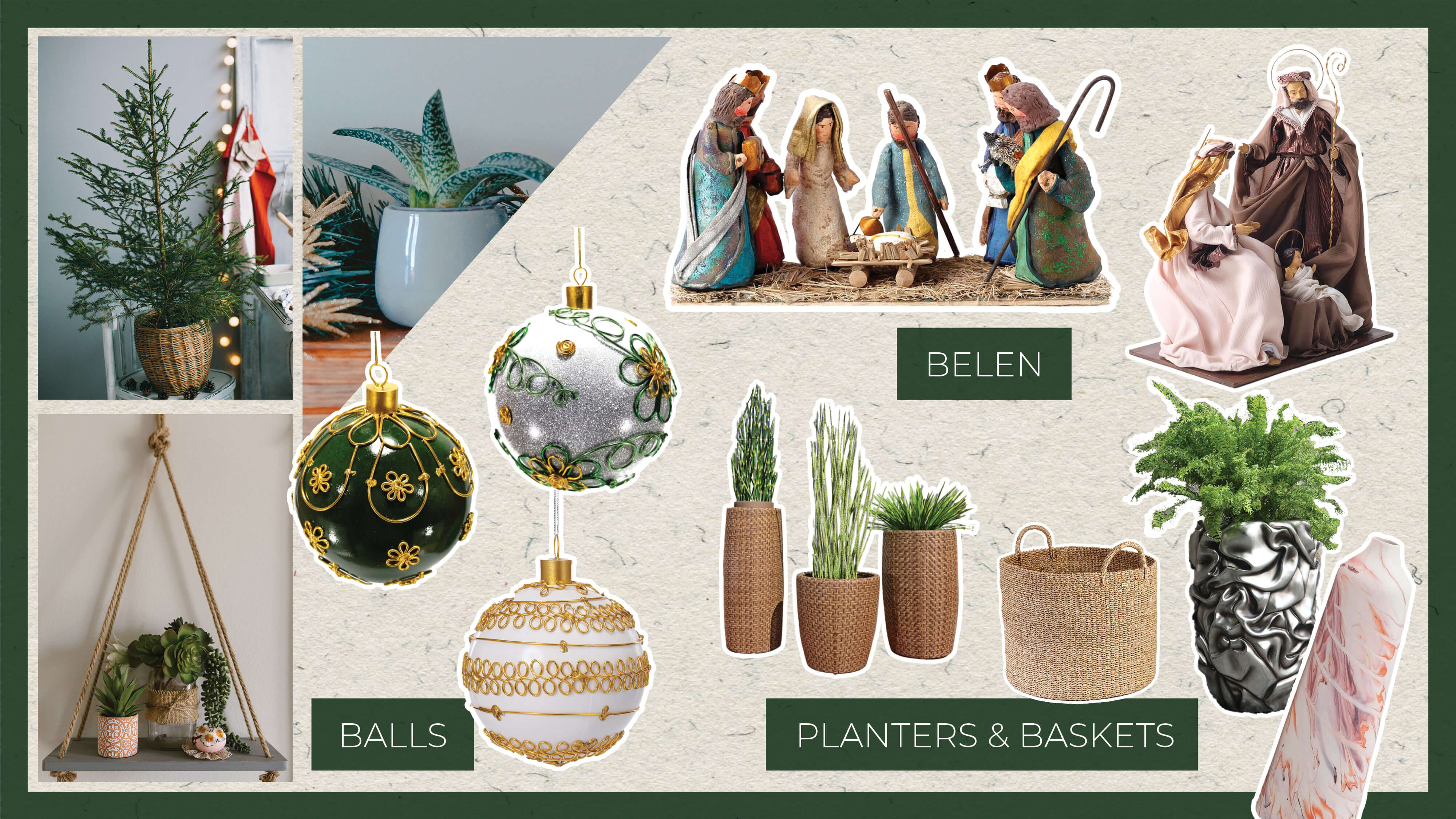 Balls: Christmas balls with aluminum wire design, all from LIMAN GLASS HANDCRAFTED. Belen: Canvas Nativity by KLASSY COLLECTIONS AND DESIGNS CO. (left); Gilded Nativity Set by DEPARTMENT 24 (right). Planters and Baskets (left to right): Valiente Planter Small, Medium, Large by OUTDOOR SOLUTIONS; Camille Round Basket by LARONE; Tela Planter in Silverleaf by HEINIMEX CORPORATION; Bulacan Marble Peach Vase by CSM PHILIPPINES INC.
"Christmastime is a joyous season, especially for Filipinos, as we always find ways to celebrate no matter what, be it in a time of prosperity or even otherwise," interior designer James Razo says. But the interior designer is all about thinking out of the box this holiday season. "The idea is to avoid the additional spending for decorations as times have been hard for most of us because of the pandemic," he adds, "so the challenge is to use more of our creativity, ingenuity, and imagination!"
Razo's whole take on the holiday this year is green and rustic. "Plantitos and plantitas, don't leave our indoor plants out of the fun," he says. "Green is already one of the traditional holiday colors, so make use of these live house plants as your main decorative element."
Dress up your plants. Razo suggests using planters and pots in white or metallic finishes. If these are not available, spray painting or wrapping them in recycled metallic wrappers will do the trick. "Add in some fun ribbons of solid red or gold and silver on either the pots or on the plant itself," he adds. "The objective is to complement the greeneries with the more festive colors of reds and metallics." You can dress up the plants even more with Christmas ornaments, creating a different kind of Christmas tree.
Introduce raw elements. Baskets and planters from natural materials like rattan, abaca, or bamboo are also good complementary elements to the usual 'sparkly and shiny' holiday decor. "These are in-theme and also tell the humble story of the birth of Jesus," Razo explains. "Holiday colors like greens and reds and metallic materials pop up better when combined with these organic finishes."
Celebrate abundance. "Pull out those old Christmas balls and other decorations from the storage," Razo recommends. "Inspired by the cornucopia, which is the symbol of abundance and festivity, fill in bowls and vases—clear glass or opaque—with these balls. You can combine colored and metallic ones or create a color blocking technique by using only one color for each container. Finish off with decorative leaves and flowers on top or on the side." These will be perfect as centerpieces for Christmas dinners.
Reimagine your belen. The belen is quintessential Filipino holiday decorating, and Razo suggests telling a story with it and beautifying it further with plants. "Set up mini-arrangements and vignettes reminiscent of Christmas themes like the Holy Family, the Three Kings, or the manger scene," he shares. "Arrange your plants in groupings of threes or fives, in multi-level heights using plant stands. Or use plants and vessels in varying sizes and shapes. Layering is key. Fill in the gaps with those bowls of balls."
Be strategic. "Position your décor and vignettes in strategic locations, like the entrance and available corners—ideally under an existing pin light where they can be appreciated more," Razo says. "And don't forget to illuminate these special vignettes with your Christmas tea lights or play with a floor lamp. Opt for warmer white or yellow LED bulbs as illumination. You may also use colored cellophanes as filters for your existing lamps."

NIX ALAÑON: MERRY MIX AND MATCH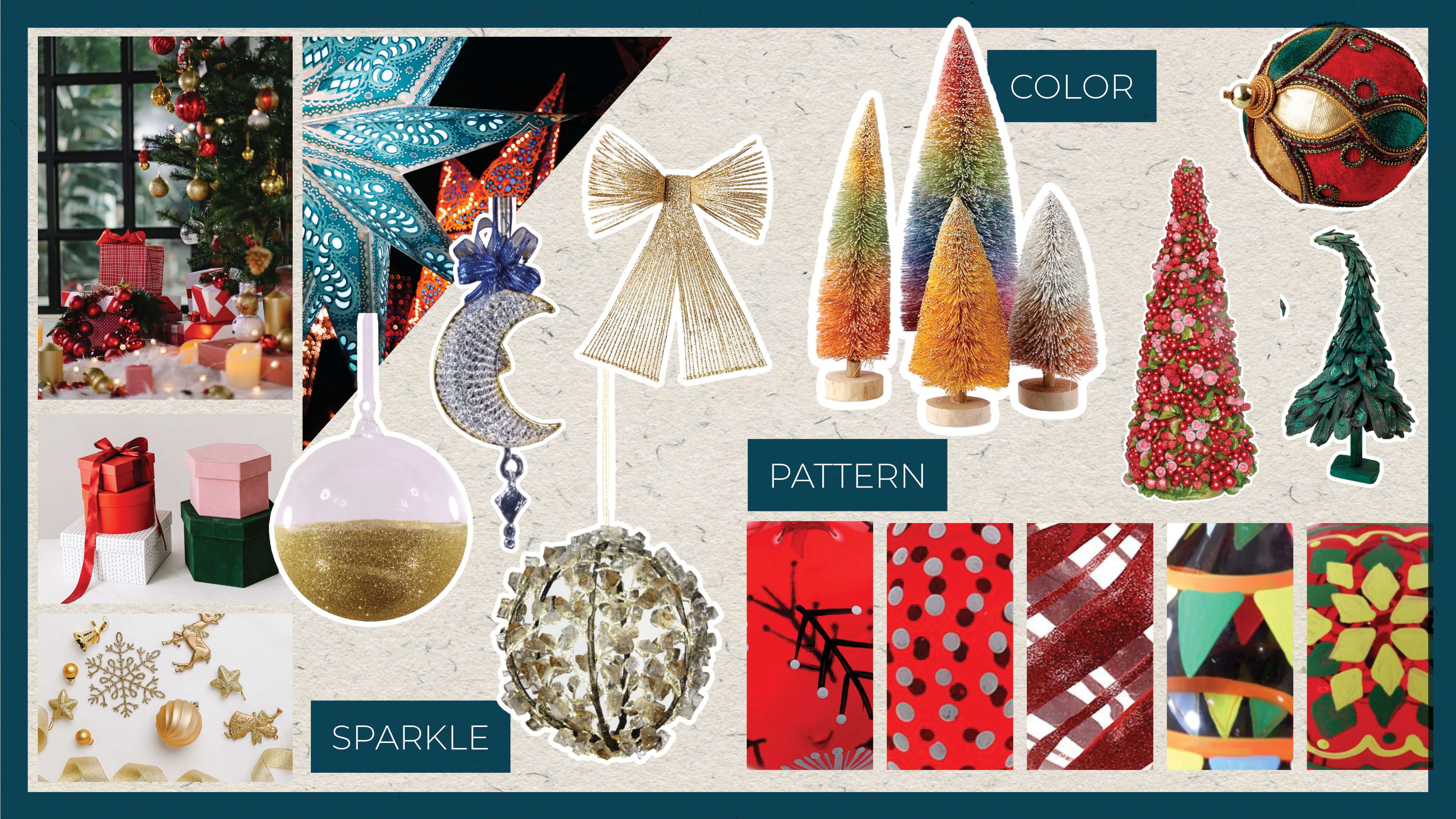 Sparkle (clockwise from top): Ribbon Wire Bundles by PHILCONCORDE INTERNATIONAL INC.; Gibo-MRWG 4" by PHILIPPINE TREASURES INC.; Handpainted Lines Design Glass Christmas Ornament and Crochet Glass Christmas Ornament, both by LIMAN GLASS HANDCRAFTED. Color (left to right): Brush Tree in Pastel Rainbow by KLASSY COLLECTIONS AND DESIGNS CO.; XT-Abal 70 by PHILIPPINE TREASURES INC.; S/2 Bending Green Tree with Green Glitters by FREDEN EXPORT; Christmas Ornament 10 by SARILINLIKHA NOVELTIES. Pattern: All Christmas tree ornaments by LIMAN GLASS HANDCRAFTED
FTA Design and PhoeNix Home founder and lead designer Nix Alañon wants to chase the negativity away by going all out with his holiday décor this year. "Our theme this year is festive!" he shares. "After all the restrictions in the last two years due to a global pandemic, I think it's high time to be more joyous by way of color, sparkle, and shine!"
For Alañon, achieving the theme is just a matter of mixing and matching—and doing so as merrily as possible.
Mix old and new. Alañon doesn't see the need to always purchase for your theme for the year. Mixing old and new is the way to go. "Go through your archives from holidays past and select decor that will fit your theme," he says. "You don't necessarily need to buy new ornaments all the time and what's fun is that you can also mix and match pieces from what you already have."
Mix those metals. Metallic finishes add instant sparkle and shine—and don't be afraid to mix your metals, too. You don't have to choose between silver and gold. You can do both.
Don't forget patterns and textures. Mixing up your Christmas prints and patterns and layering in textures will make your theme look and feel more dynamic.
Mix up your style. Merry mixing and matching involves doing what makes you happy—throw out the rule book. "It could also be a mix and match theme of different patterns, design styles, or textures," Alañon points out. "That's how you can create a theme that is uniquely yours in decorating for the holidays."

ITO KISH: ALL ABOUT THE TREE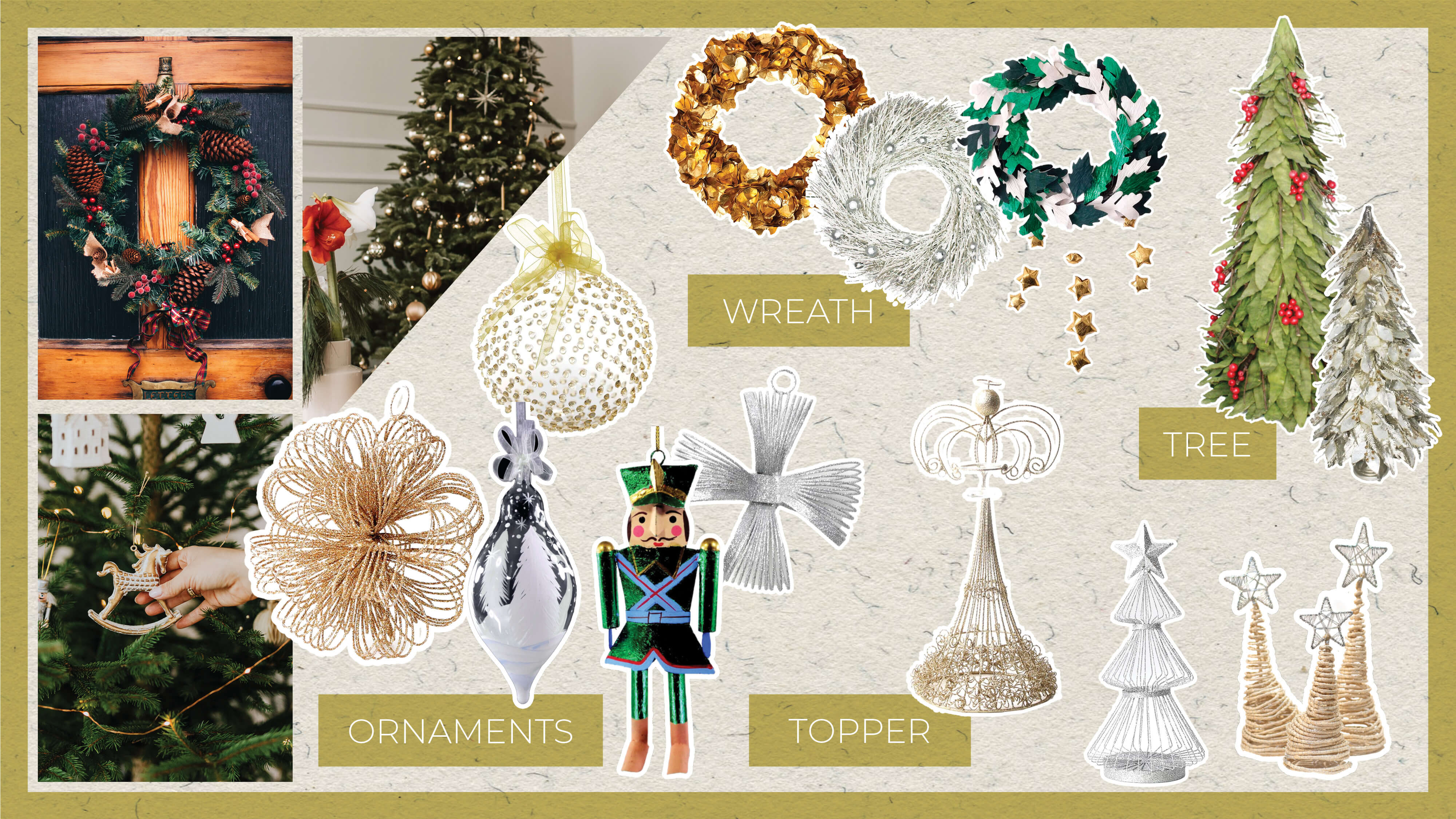 Ornaments (clockwise from top): Colored Dotted Yellow Corona Glass Balls by LIMAN GLASS HANDCRAFTED; Flower Bow by PHILCONCORDE INTERNATIONAL INC.; Nutcracker Ornament and Glass Christmas Ball 5 Inches, both by LIMAN GLASS HANDCRAFTED; 3D Christmas Ornament by PHILCONCORDE INTERNATIONAL INC. Wreath (left to right): Gold Leaf Blossom Wreath and Falling Star Oak Leaf Wreath, both by DEPARTMENT 24; W-TWGBLSF 24" by PHILIPPINE TREASURES INC. Tree: XT-EULTWBR 30'' (left) and PLXTP-WGCLF 27'', both by PHILIPPINE TREASURES INC. Topper (left to right): Christmas Angel by MIL EXPORT; Christmas Tree Wire by PHILCONCORDE INTERNATIONAL INC.; Spiral Christmas Tree by T'NALAK HOME
Designer Ito Kish is taking out his tree after five years, and he has really good reasons for doing so. "I moved to a bigger space," he says, "and I think I need that Christmas spirit after two years of feeling gloomy because of the pandemic. We all need that!"
This season, Kish wants everything to "glow, glow and glow." Lighting is such an essential decorating element to him. "I even added lights," he shares. "Lights are crucial to decorating for me." Kish also seems hell-bent on dressing up his tree to the max—it's been five years, after all. "I brought out all my traditional silver glass balls and gem-colored ornaments, over 500 pieces of them. And, yes, five have dropped out from the tree—and broke," he laughs.
"For me, Christmas decorating is all about the tree, a wreath on your door, and Christmas music," Kish adds. "That's it!"
Pick a color theme. Kish suggests choosing your colors before you begin hanging ornaments. Pick a main color or two—and the complementary ones.
Size matters. You can't force a big tree into a small space. "If your space is limited, opt for the slim trees," Kish suggests. For height, a good rule of thumb is to leave about six inches between the top of your tree (including the topper) and your ceiling.
Get lit. A beautiful Christmas tree is well-lit. Invest in quality (read: safe) lights. Add the lights first—before the trinkets—so you can really be strategic with the placement. It's harder to get into the nooks and crannies when all the other ornaments are already in place.
Consider groupings. Group some of your tree ornaments. Creating a cluster of baubles and ribbons, for example, will create a visual impact.
Have fun with your tree. There are no hard and fast rules on how to hang your ornaments—or which ones to choose. Whether they're balls, ribbons, garlands, angels, or flowers—choose the ones that speak to you (for personal or sentimental reasons), your theme, and your style.

TALA SINGSON: PERFECTLY IMPERFECT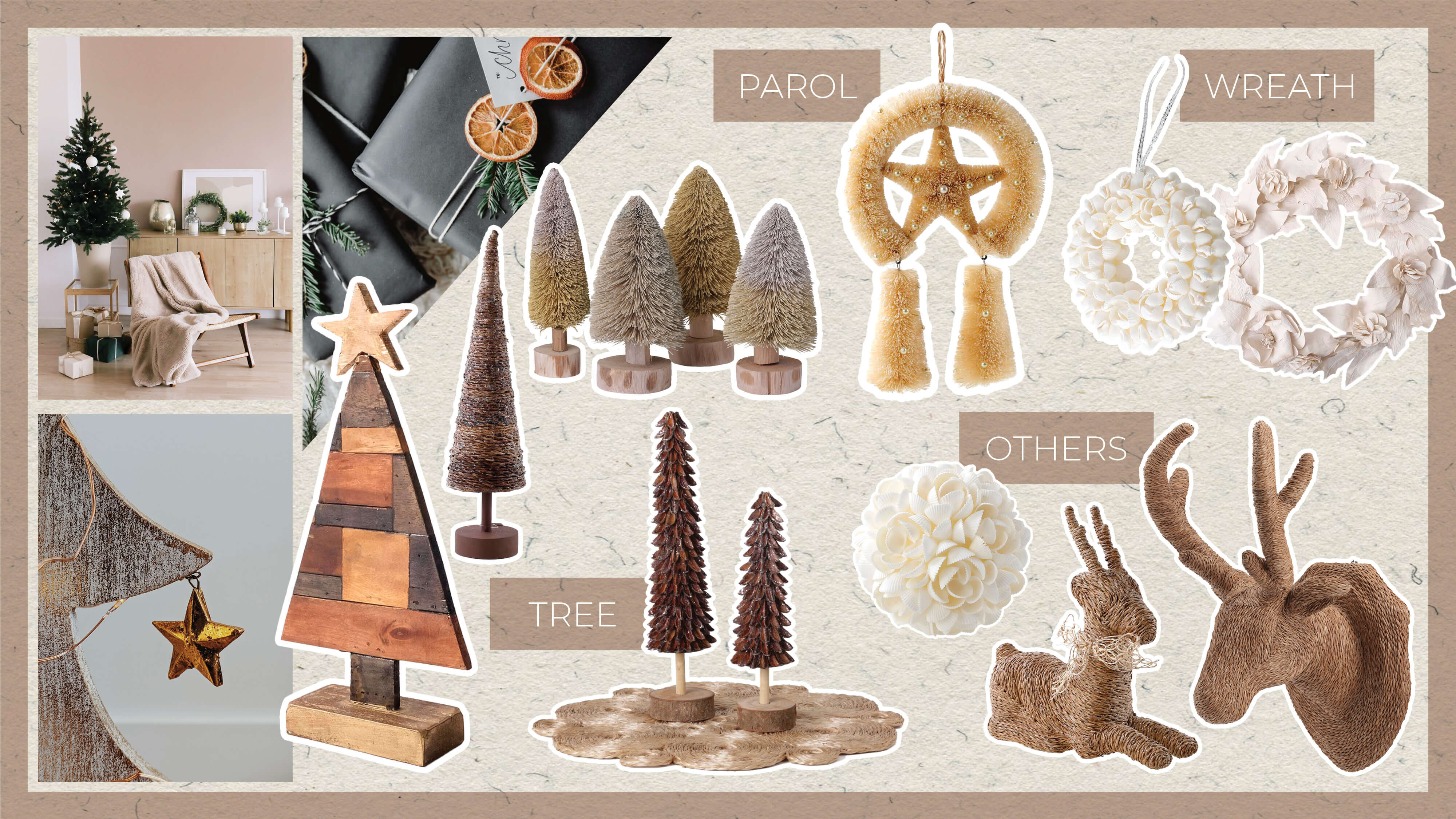 Tree (clockwise from top): Brush Trees by KLASSY COLLECTIONS AND DESIGNS CO.; 9" and 12" Pods Tree Natural by NATURELINE ENTERPRISES; Woodblock Christmas Tree by 2911SOURCING; 16" Bacbac Rope Tree by NATURELINE ENTERPRISES. Parol: 9x14" Parol Abaca by NATURELINE ENTERPRISES. Wreath: Wreath and Ball Ornament Set by NATURELINE ENTERPRISES (left); D24-DEV52 by DEPARTMENT 24. Others (left to right): D24FGI-36 by DEPARTMENT 24; 12.5" Sitting Reindeer and Mounted Reindeer Head by NATURELINE ENTERPRISES
Interior designer and editorial and commercial stylist Tala Singson has always leaned toward a more minimalist aesthetic when decorating for the holidays. "I've always decorated my space minimally with non-traditional holiday decor items," she says. "For this year, it will be the same, but I will be doing it with even more restraint. The past year has been a challenge, and the next few years will be, too. I think we can all echo that what's most important are family, relationships, and our well-being. The rest is confetti."
Her version of minimalism this year is a mix of deconstructivism and wabi sabi, "a Japanese philosophy that finds beauty in the imperfect and incomplete," Singson explains. Going for very minimalist-designed and/or minimally embellished holiday decor pieces will do the trick.
Curate your colors. "Get your Christmas tree ornaments from storage and get a handful, and some ribbons," Singson suggests. "Select your ornaments—you can go monochromatic—and even achromatic—or you can choose two colors. Get a large bowl and arrange these randomly. You can fill the bowl to the brim and place it as your dining table's centerpiece."
Try a naked wreath. Singson also suggests the use of a naked wreath. "You don't need to add anything," she says. "You can just fluff up the branches and leaves, tie the top with a ribbon, and hang them on your door or on your walls. Two to three wreaths mounted at different heights can look very beautiful."
Go heavy on the lights for the tree. "You can have a naked tree as well," Singson adds. "Even without any ornaments, you can still make it the focal point of the space. Wrap your tree with all the Christmas lights you have, you don't need to hold back."
Go traditional with a parol. "A Pinoy Christmas isn't complete without a parol (lantern)," Singson says. "If you have one already, or want to get one, you can choose to have it as the only decoration in your home. Personally, one large parol hanging in front of the house is festive enough. When you buy, you'll be supporting local artisans and small businesses in your area, too."

Product photos courtesy of brands