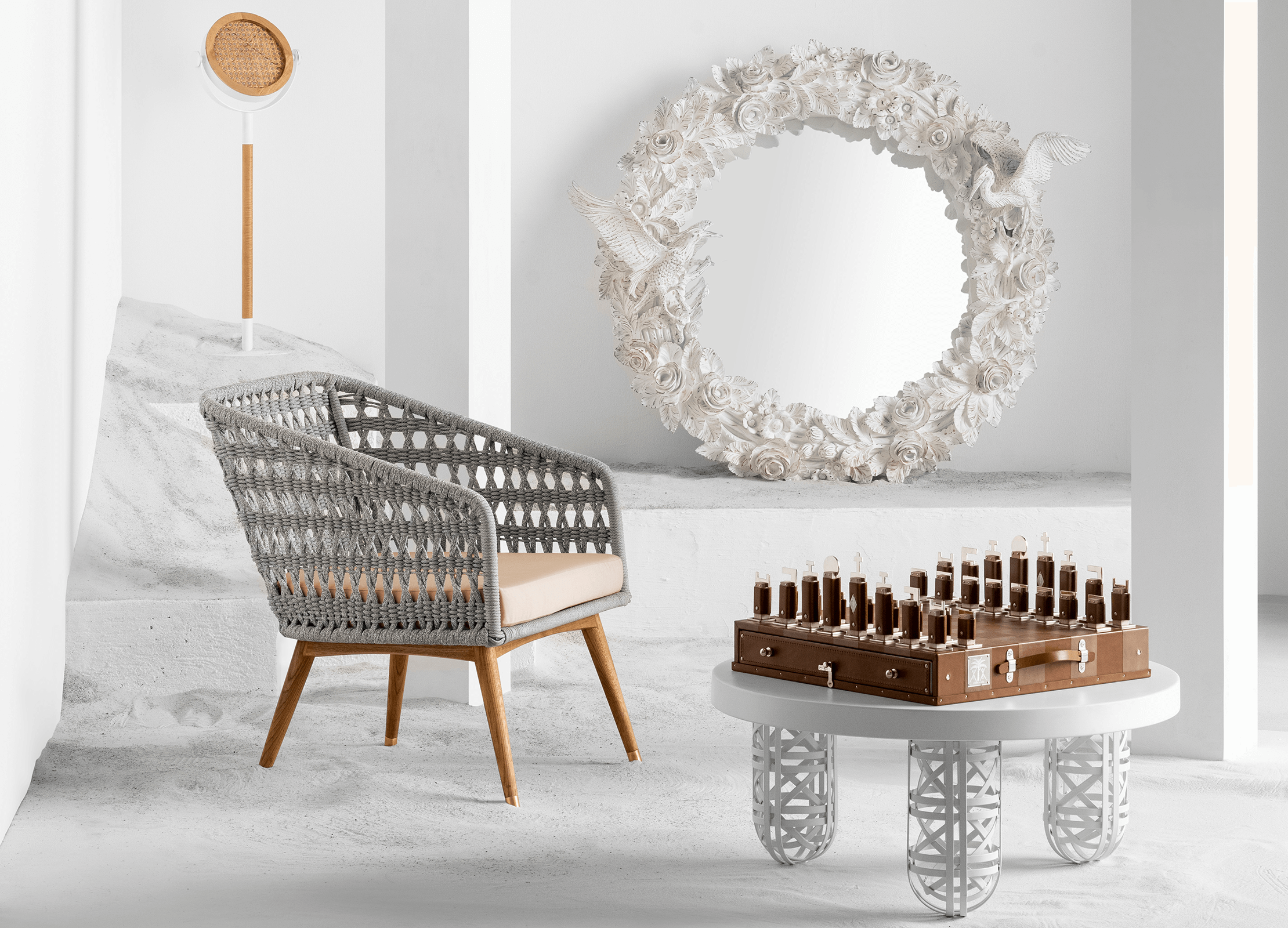 Showcasing the Best of Contemporary Filipino Design
Kindred Design Collective brings Filipino design and craftsmanship to the fore at Maison & Objet and More's digital fair.
by Angelica Gutierrez
Since 2019, creative directors Rita Nazareno and Gabby Lichauco have been bringing Philippine brands together to exhibit at Maison & Objet and Maison & Objet and More (or MOM, the French trade fair's digital platform) under the umbrella of Kindred Design Collective. This season—as in past seasons—the products featured on Kindred Design Collective's MOM showrooms all share a contemporary aesthetic and showcase the best of Filipino craftsmanship and design. Nazareno and Lichauco selected existing pieces from the brands' collections and collaborated with them to produce new designs as well.

The pair has also mentored several brands with standalone showrooms in MOM. These include Albero, Indigenous, Finali Furniture, E. Murio, Venzon Lighting & Objects, Weavemanila, and Nazareno's own Zacarias 1925.

Kindred Design Collective has two sub-groups: Furniture and Home. The former includes Cebu Homecraft, La Galuche, Home Edition, Mejore, JB+, Stonesets, and Southsea Veneer, while the latter features Prado Filipino Artisans and Chanalli.

While the last edition's theme was Bubble Living, this time, Nazareno and Lichauco came up with the theme "White Out" to symbolize a fresh start for 2021. In line with this, the products on exhibit are mostly in soothing neutral shades, with splashes of color here and there.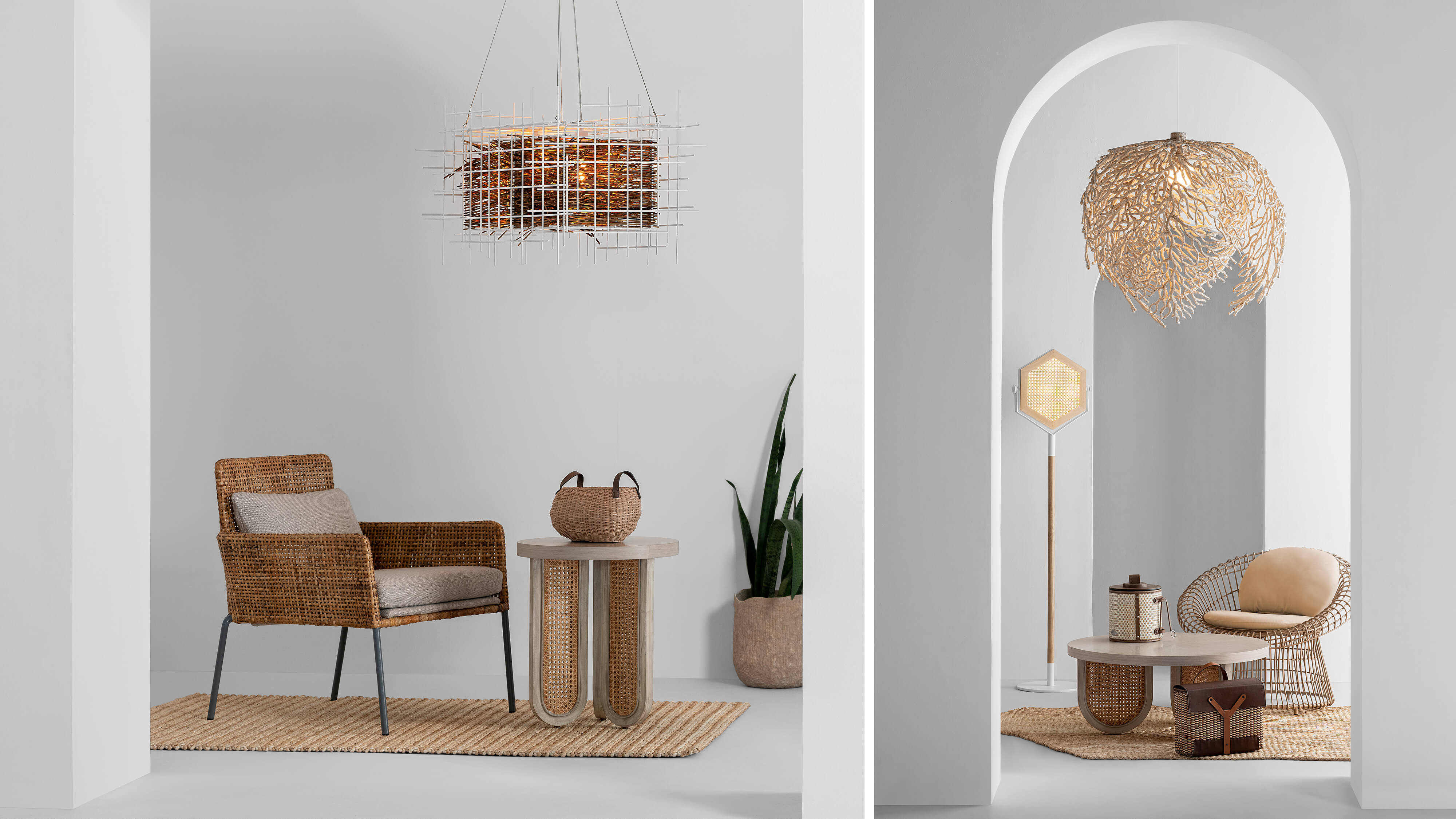 Kindred Design Collective Furniture has pieces by Cebu Homecraft, La Galuche, Home Edition, Mejore, JB+, Stonesets, and Southsea Veneer
For many of the brands, exhibiting online was completely new territory. "It's very different from what we are used to. Yet it is exciting as well because it opens to another adventure," says Leslie Bituin-Mendiola of JB+. "We are still getting used to technology which is the new way of selling. But we just need to move forward and embrace these changes with an open mind and heart."
Cebu Homecraft founder James Doran-Webb found participating in MOM exciting, since it was his first time to take part in digital design meetings. "And the digital exhibitions, we probably would never have done it ourselves because it's a very painful thing, especially for a company that hardly manages to update our website and Facebook page," he adds. "Although we're getting a bit better at it now, we would never have been able to dedicate the resources to doing our online show and gearing up for it. So I think that was the biggest benefit initially for the first Maison & Objet program last year."
Admittedly, some brands were initially hesitant to let Nazareno and Lichauco design pieces for them. After all, they already had their own experienced designers and were proud of their products. But CITEM assured them that it would be a very collaborative process and that they could say no to designs they didn't feel were a fit for their brand. And in the end, these brands were happy with the fresh, innovative ideas that Lichauco and Nazareno brought to the table. In contrast to his initial reluctance, Mejore marketing consultant Mard Tecson now looks forward to collaborating with Nazareno and Lichauco in person and showing them around the brand's factory once the pandemic is over.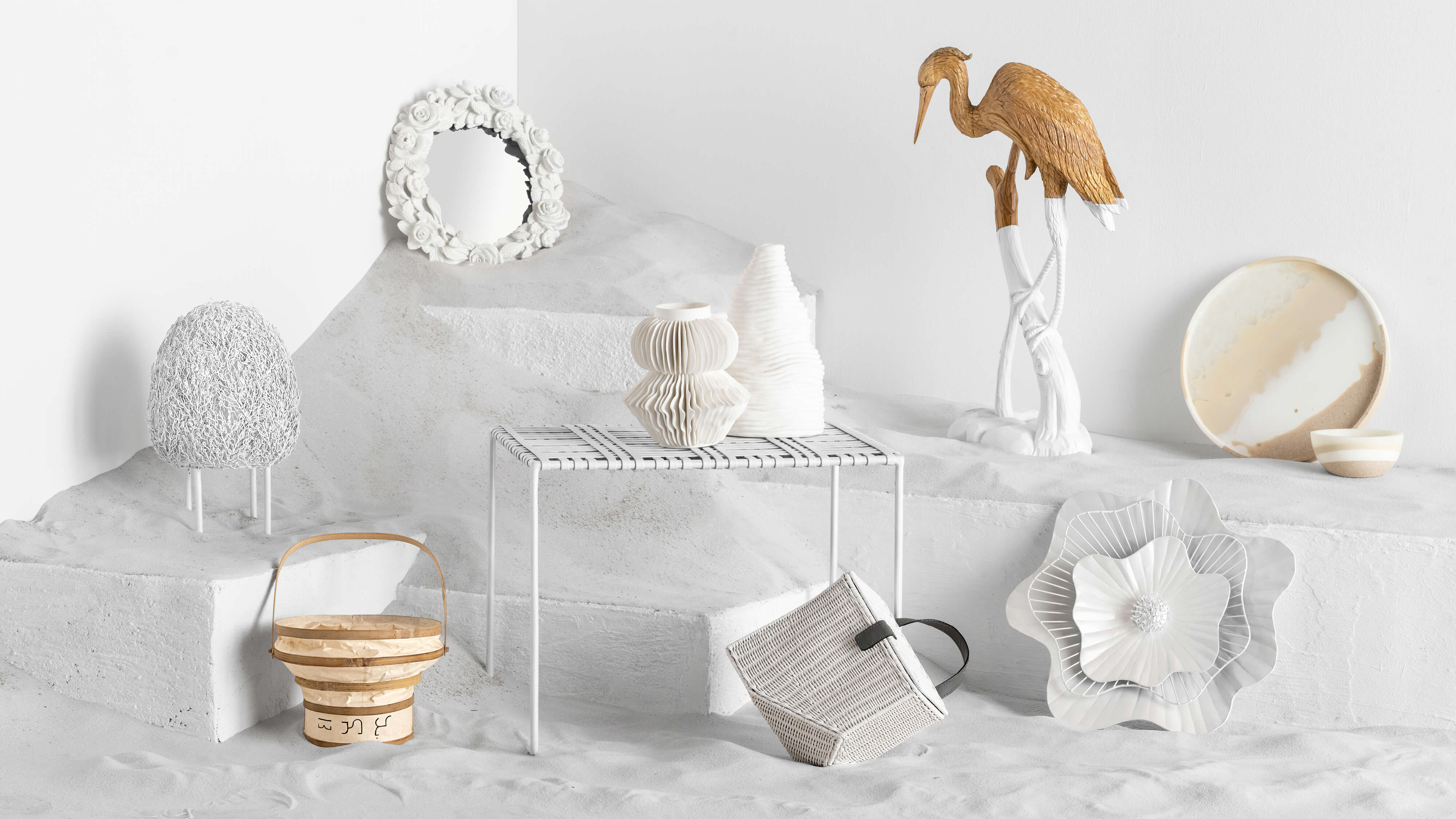 Kindred Design Collective Home features pieces by Prado Filipino Artisans and Chanalli
Managing director Evelyn Selma says that Stonesets is much more open to new concepts and collaborating with designers now, as the brand has become a playground for Lichauco and Nazareno. "At first, I was intimidated simply because of their achievements that they have both received in the industry throughout the years," she recalls. "However, Gabby finished his Masters at Scoula Politecnica di Design in Milan, just like my son, Vito, so I trusted him. Rita, on the other hand, comes from a family that has produced handwoven bags and home accessories since 1925… just like us, a family that has a passion for producing beautiful furniture since 1988. But after our first meeting, I realized that I was in good hands with them. We will only elevate each other with our expertise. They say that when people feel that you are able to do great work, they will likely approach you with even better projects and higher expectations of your work!"

Miguel Prado, founder of Prado Filipino Artisans, is all praises as well. "With Rita and Gabby, it's wonderful because it's really a joint collaboration. We respect each other's input. And that's how we're able to come up with something nice. They're nice to work with, and they're open to suggestions. There is really mutual respect for each other."
In terms of drawing attention to Philippine brands, Kindred Design Collective has certainly been successful. All of its members report that they've received a good number of inquiries. "We haven't done that many orders yet, but we have gotten a lot of exposure. And to new buyers, being a part of things like MOM really legitimizes our company," says Stephanie Sharpe of La Galuche.
Here are the brands, under Kindred Design Collective, currently exhibiting at MOM: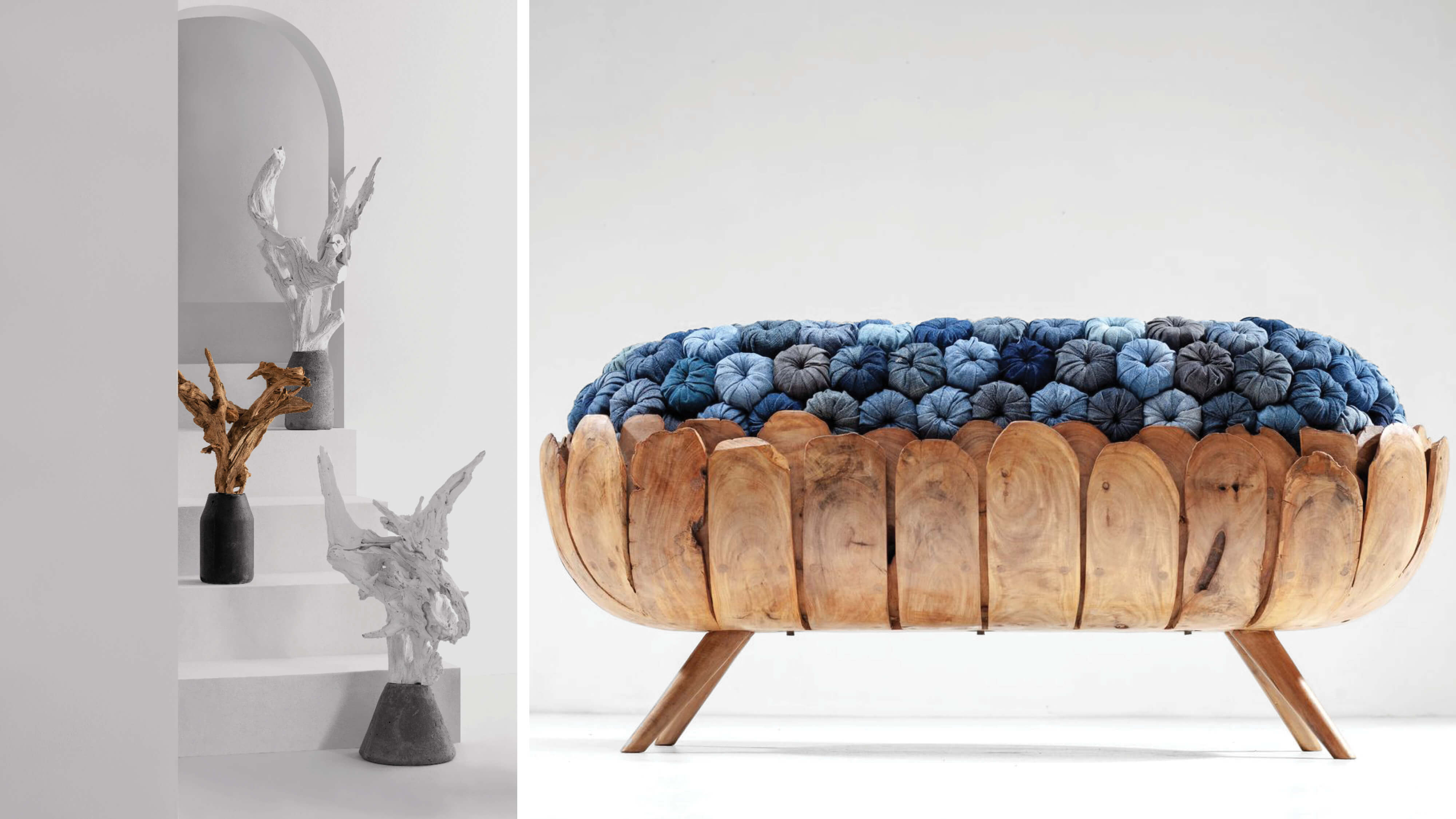 Driftwood planter (left) and driftwood bench with recycled denim cushion by Cebu Homecraft
Cebu Homecraft
This brand is well-known for its commitment to sustainability. All of their pieces are created entirely from second-life materials, an endeavor that pushes its designers to be more creative and resourceful in creating furniture that makes use of Doran-Webb's extensive collection of driftwood and scrap material. The brand's denim collection is currently on exhibit at MOM. Its standout piece, a driftwood bench with a recycled denim cushion, is reminiscent of a coral reef. Along with the whimsical pineapple tabletops and bolster pillows with imposing driftwood horns, these statement pieces are a novel way to bring nature into your home. Cebu Homecraft is also exhibiting handmade driftwood planters under Kindred Design Collective Home.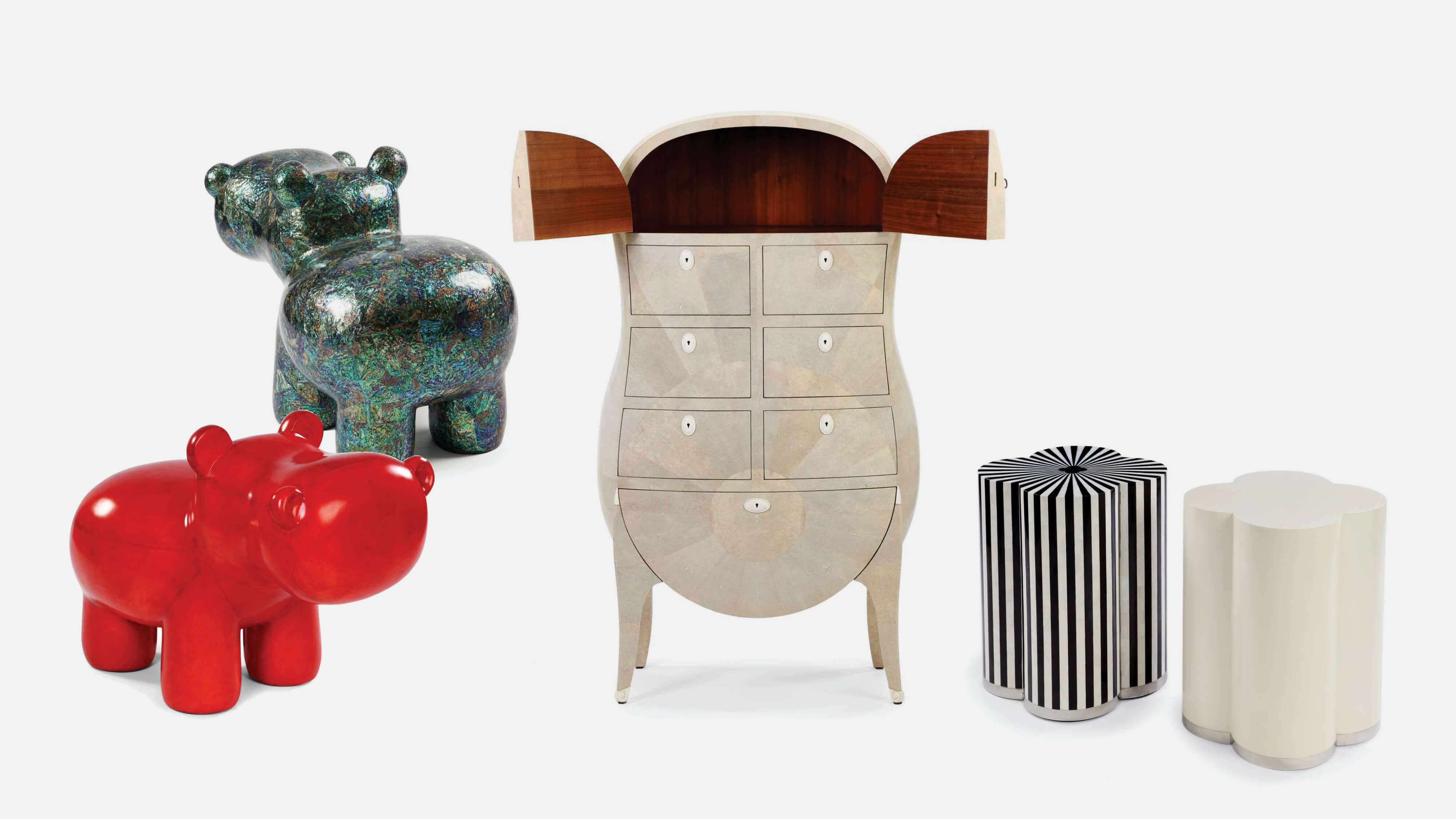 (from left) Hippo Seat, Female Groult Chest of Drawers, and 2-Tone Clover Drum by La Galuche
La Galuche
The Cebu-based manufacturer is well known for their artisans' mastery in producing and working with exotic raw materials such as shagreen or stingray skin. They often take inspiration from Art Deco designs while updating them to suit a more current aesthetic. Take for instance the Female Groult Chest of Drawers, a reproduction of the famous Andre Groult "Anthropomorphe" chest. While the original was finished in sharkskin with ivory details, La Galuche's version makes use of antique shagreen and bone. The rest of their MOM collection showcases the variety of finishes they produce, with a playful hippo seat entirely inlaid in Paua shell from New Zealand and a two-tone clover drum covered with black and brown mother of pearl or abalone shell and kabibe (clam). Their Tripod Clement Tout Galuchat side table and chess box highlight their skill in working with shagreen as well.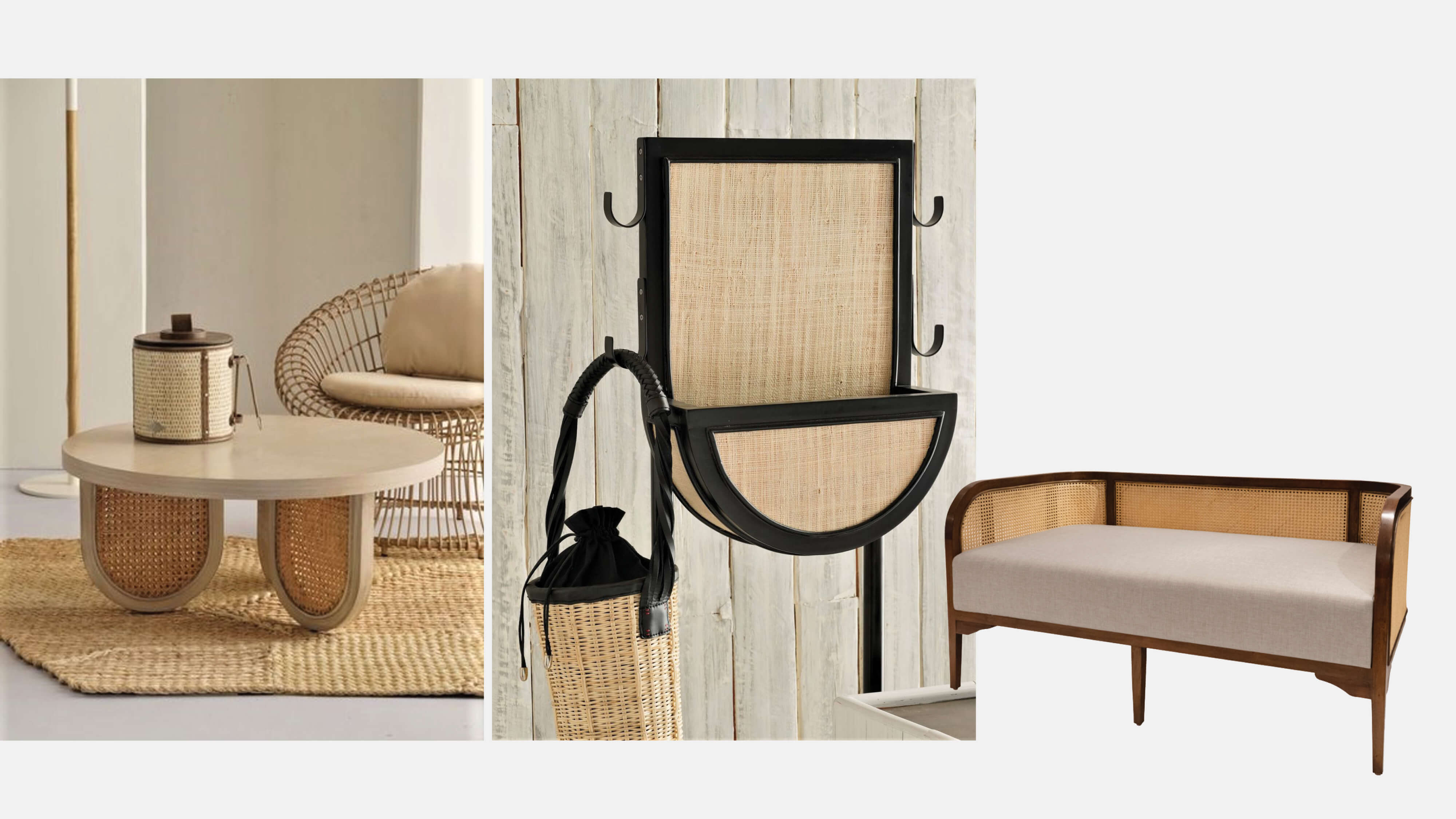 (from left) Stella Coffee Table, Stella Coat Hanger, and Leonor Sofa from Mejore
Mejore
While this company started with colonial and transitional furniture, they are now moving toward a more contemporary style, producing designs that go well with both traditional and modern Filipino homes. "Our point of view when you say contemporary, it doesn't necessarily have to be very modern or out of this world," Tecson explains. "It just needs to be clean and very adaptable to whatever aesthetics you may want."
Nazareno and Lichauco collaborated with them on their Stella collection, which features furniture with distinct U-turned designs made even more striking with solihiya and raffia. Each piece is available in black or neutral shades—a departure from Mejore's usual warm, dark wood pieces. The design duo also selected the Leonor sofa and Santino armchair from the brand's Nathalie collection, which was named after co-founder Nathalie Ong in celebration of Mejore's 35th anniversary. The brand's best-selling Diane bookcase rounds out the solihiya-themed exhibit.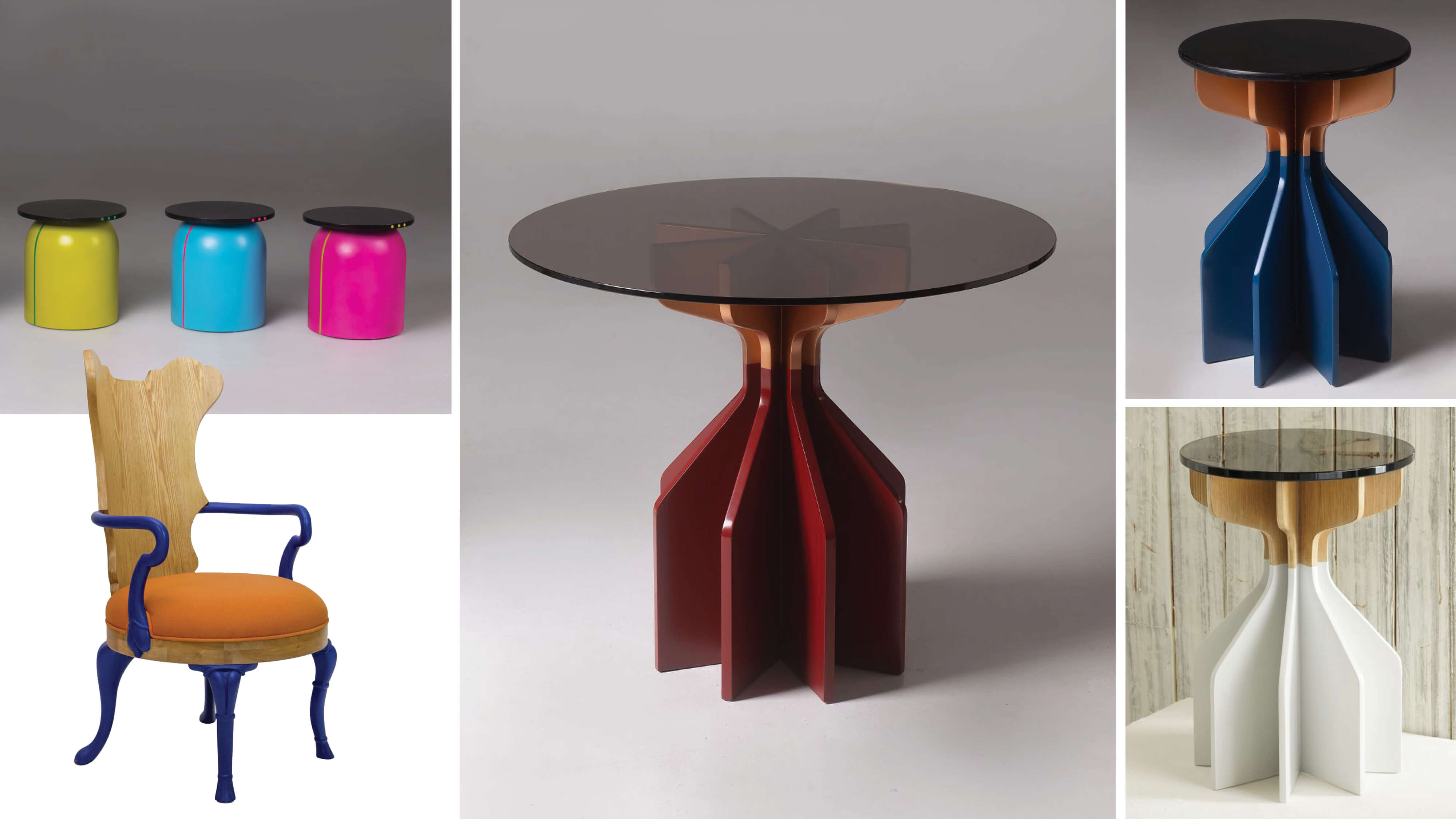 (from left) Sol Side Table, Corinne Accent Chair, and Fin Dining and Side Table from Stonesets
Stonesets
Evelyn Selma thoroughly believes that the details make the design. "I feel that we should relish the details and that's when our design will cut the mustard," she says. This is certainly reflected in Stonesets' Sol collection. Nazareno and Lichauco drew inspiration from modern arches, resulting in minimalist pieces that are unembellished, save for wooden studs and a line of contrasting color that slices through the "austere yet seductive arch form." The eye-catching Sol side table was recently highlighted in MOM's "The Collector's Mindset" selection.
Nazareno and Lichauco also designed the Fin collection, composed of dining and side tables whose bases are reminiscent of diving fins. The pair also selected original Stonesets designs such as the Gioia sideboard and Corrine accent chair, which feature a natural finish with splashes of color.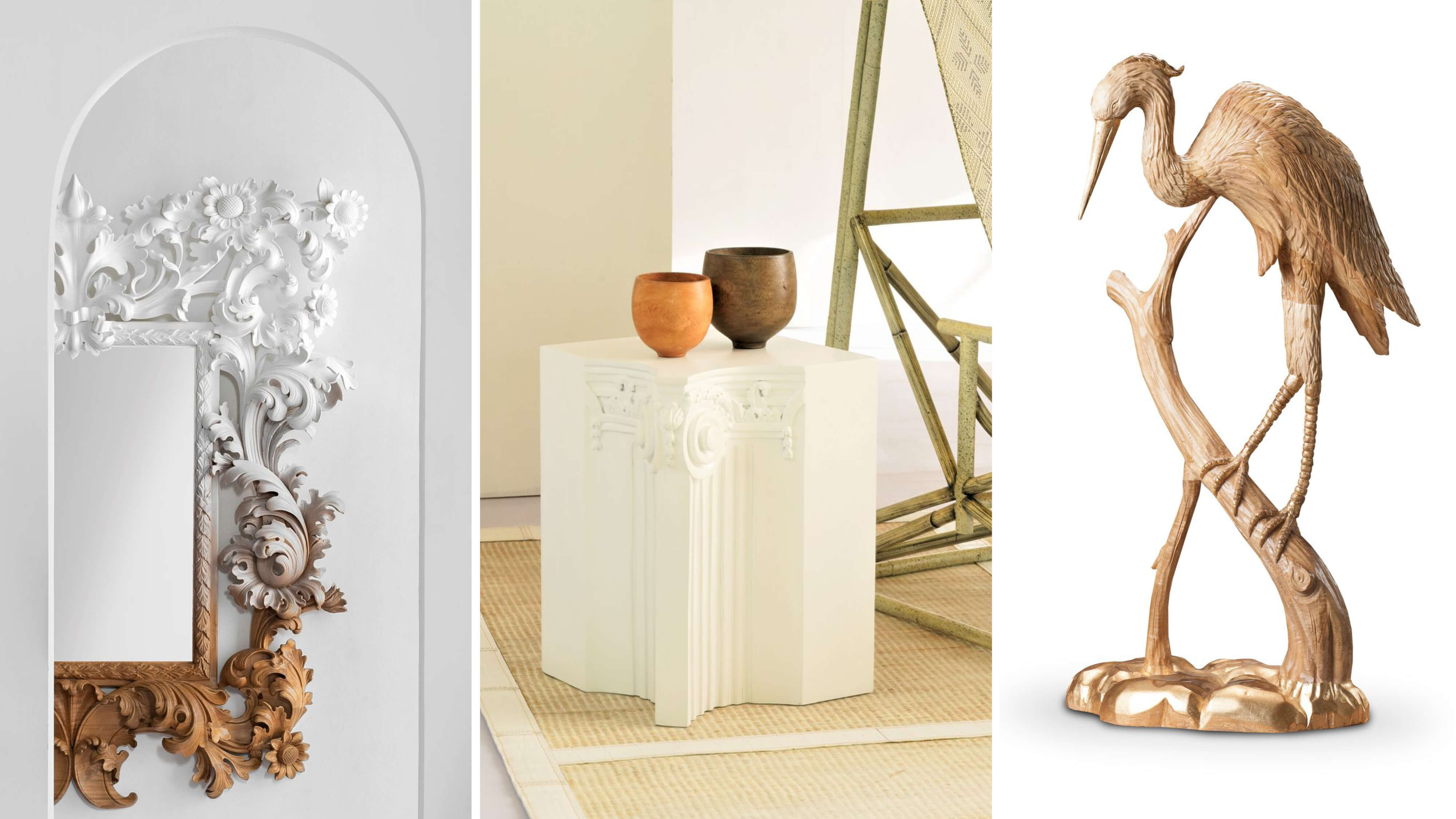 (from left) Philippe Mirror, Column Stool, and Alcornorque Heron from JB+
JB+
JB+ is Leslie Bituin-Mendiola's modern spin on her parents' brand, JB Woodcraft. The latter is known for traditional, ornate woodwork, and JB+ updates this aesthetic to appeal to younger clients by finishing their furniture in contemporary colors. Their Philippe Mirror and Alcornorque Heron look as if they had been partially dipped in Klein blue or white paint, instantly adding a modern edge to what would otherwise have been very traditional pieces. The Wall Mirror Frame features intricately carved roses in similarly bold shades. Reminiscent of ancient Greece's Ionic columns, the Column Stool is a functional art piece finished in black, white, or ombré.

(clockwise from top) Chiclet Bench, Mountain Weave Bucket Chair, and Saucisson Ottoman from Home Edition
Home Edition
Home Edition specializes in furniture hand-woven from indigenous materials such as rattan, buri, abaca, arurog, and nito. Their Chiclet collection gives native materials a more modern vibe with stark black stools, benches, and dividers interwoven with magenta and supported by metal bases. By contrast, the Saucisson collection features ottomans and stools in warmer colors. Their MOM exhibit also includes an impressive selection of chairs, showcasing the mastery of their artisans in producing all kinds of shapes using various weaves.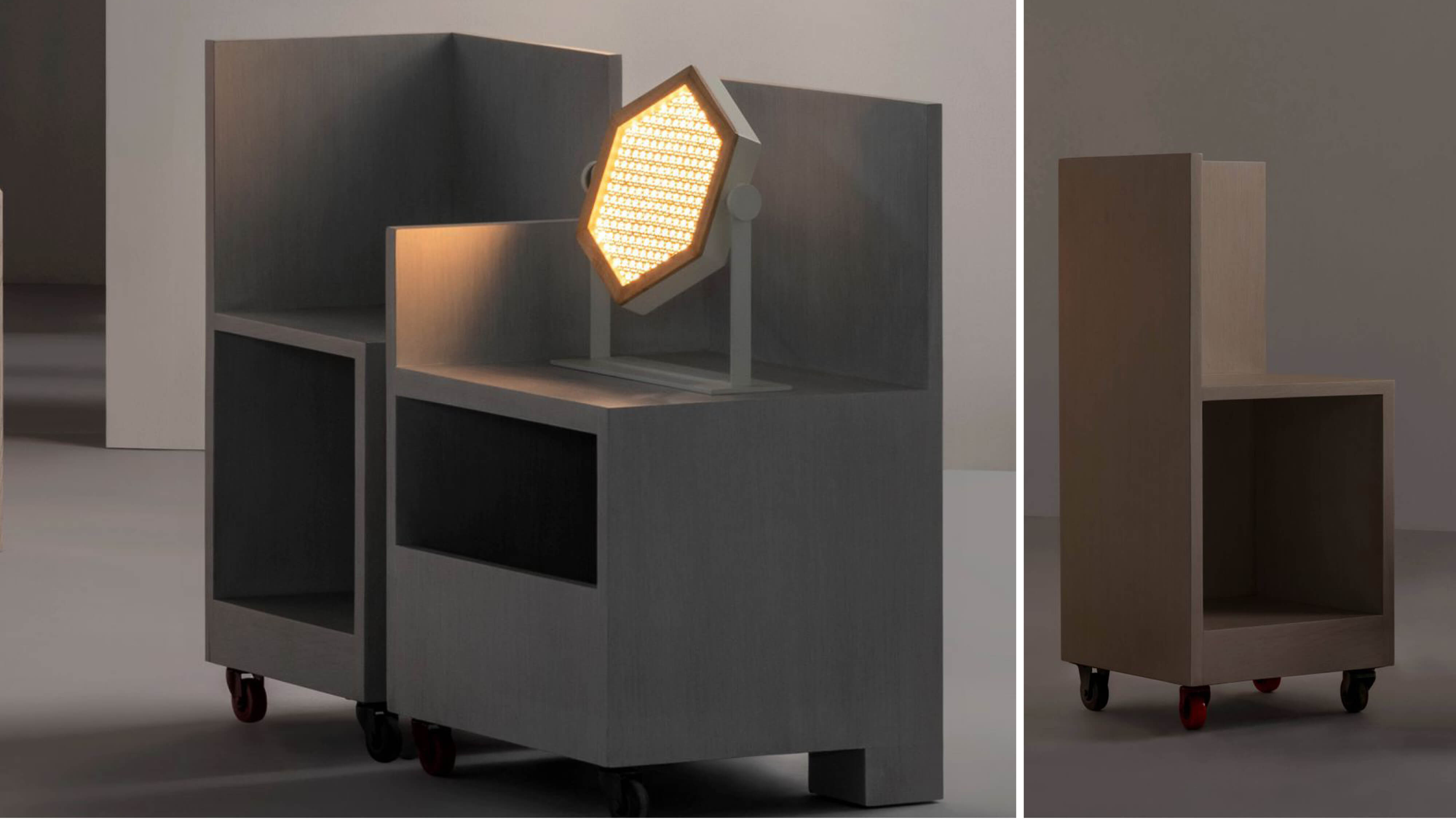 Epic Side Table in mappa burl veneer by Southsea Veneer
Southsea Veneer
The Pampanga-based brand is best known for their skill in making furniture with eye-catching surfaces such as marquetry wood veneer inlay. After all, they did start off producing wood veneer panels for other manufacturers. For the MOM showcase, however, Nazareno and Lichauco selected a simple mappa burl veneer side table that complements the rest of the pieces showcased under Kindred Design Collective.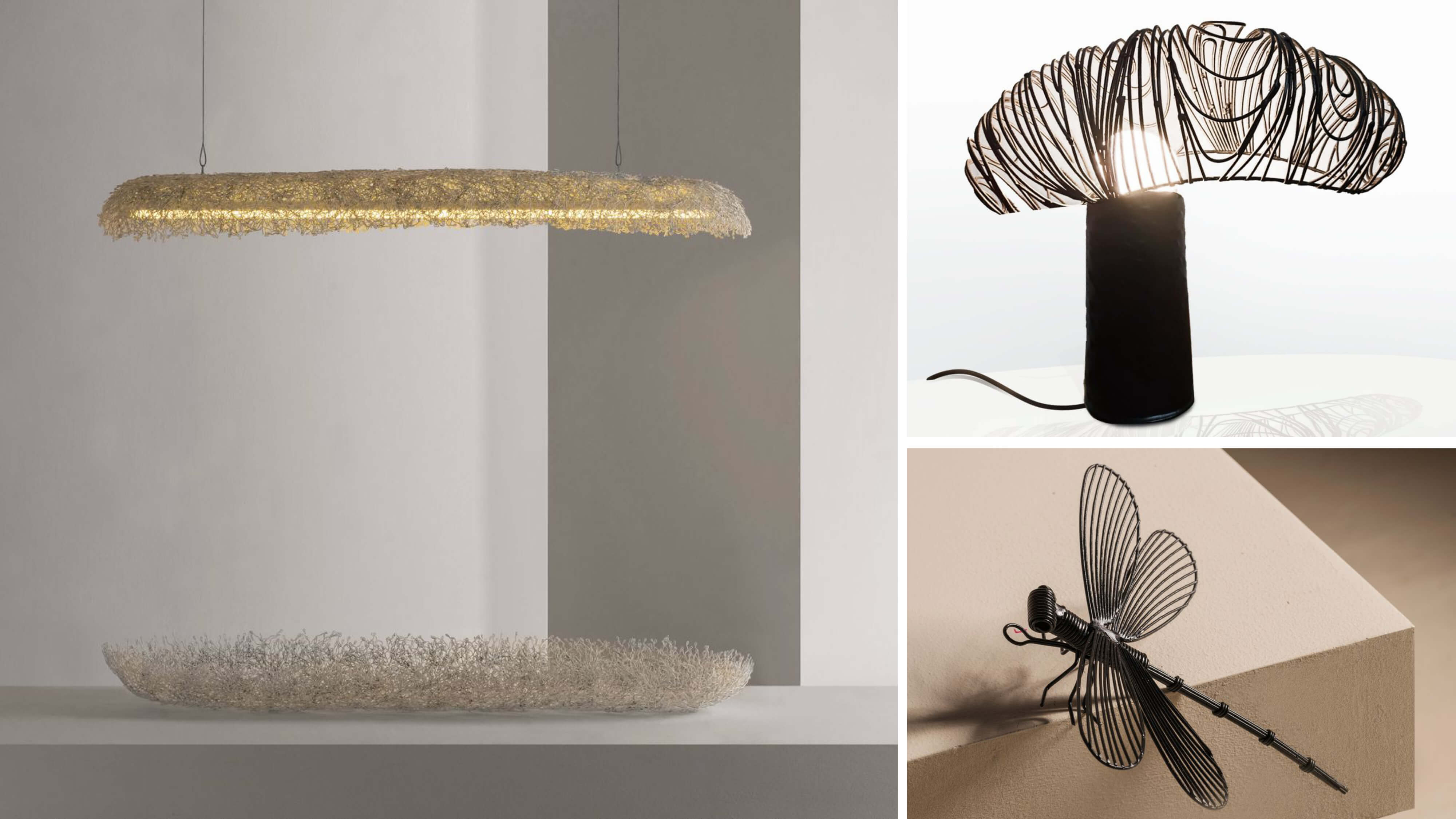 (from left) Cloud Hanging Light, Ripples Table Lamp, and Black Bug from Prado Filipino Artisans
Prado Filipino Artisans
This brand started out as the top exporter of dyed wicker baskets, selling their wares to international clients such as Saks Fifth Avenue. After China began producing cheap copies of their designs, founder Miguel Prado pivoted to working with GI and BI wire. "I was really challenged by the material. Metal or wire is cold and hard," he explains. "And the challenge is for me to be able to come up with something that will make this more than cold material. I should be able to make something which is light and airy, warm and edgy, calm and serene, that integrates the graceful, emotional, inspiring, unique and exciting, and the spiritual as well."
This resulted in the beautiful, intricately handcrafted lighting and décor Prado Filipino Artisans is now known for. For Kindred Design Collective, Nazareno and Lichauco selected simpler pieces such as the Comet Lamp and Montblanc Hanging Lamp alongside the show-stopping Cloud Hanging Light. The latter's soft, delicate form was achieved using a labor-intensive process similar to filigree. The new Ripples collection exudes warmth as well, with each piece's graceful curves conveying the movement of water.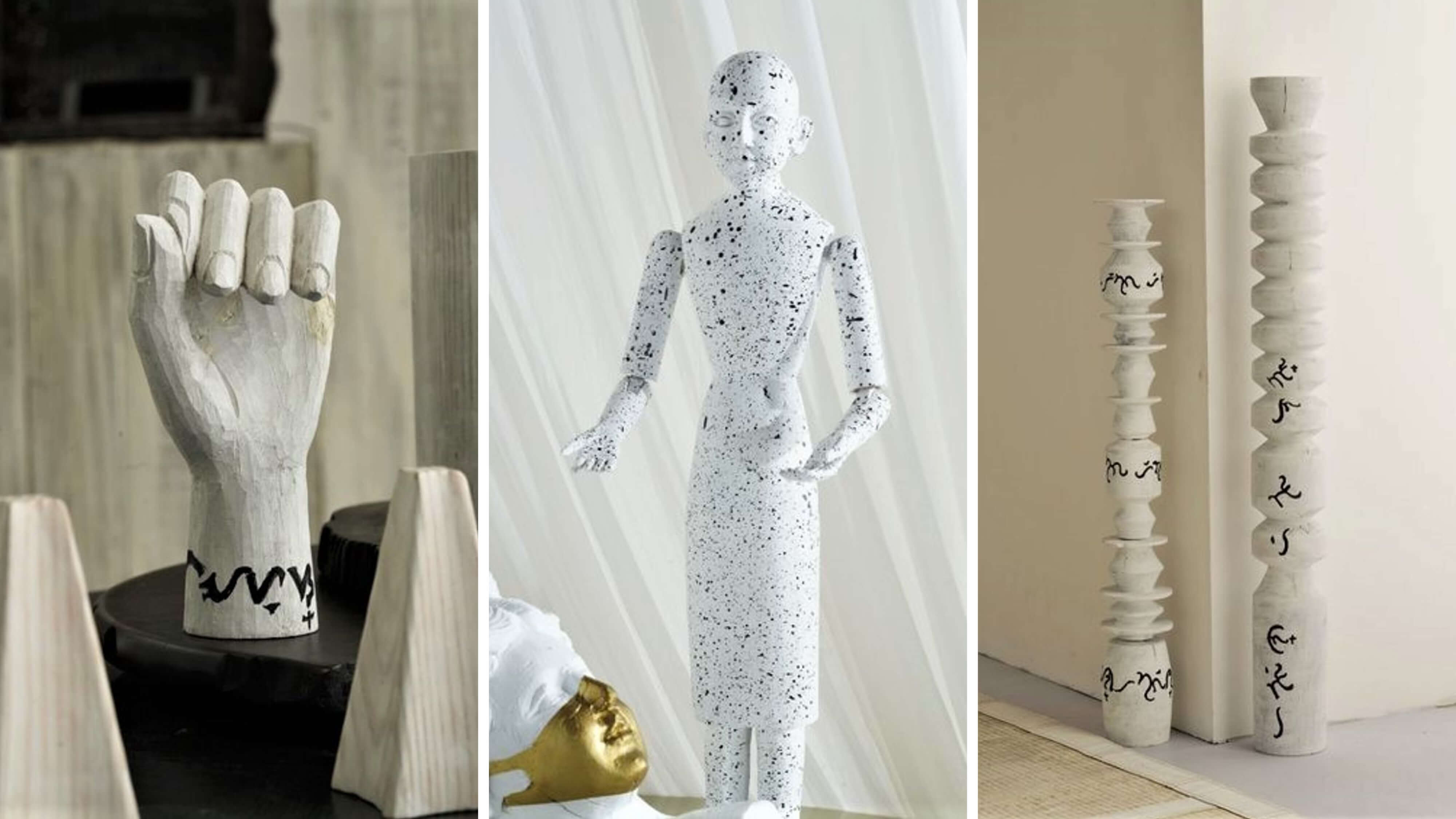 (from left) Jesu Hands, Wooden Statuette, and Candelabra by Chanalli
Chanalli
Chanalli's hand-carved décor will certainly stand out in any home. Each piece is a work of Filipino ethnic and tribal art inspired by colonial and Asian influences. Their most timely pieces are certainly their wooden busts wearing face masks of various hues, and their androgynous bust painted in the colors of the pride flag. Their Wooden Statuette makes a stand for equality as well, with the LGBTQ+ colors painted on its waist. Their Jesu Hands are inspired by Filipinos' devotion to the Virgin Mary, and do remind one of the wooden statues that are a fixture at old churches. Their beautifully carved candelabras are painted with alibata (a pre-Hispanic Philippine writing system) letters, and make a perfect tabletop centerpiece or accent.
Photography: CoStudio
Video editing: Kit Singson