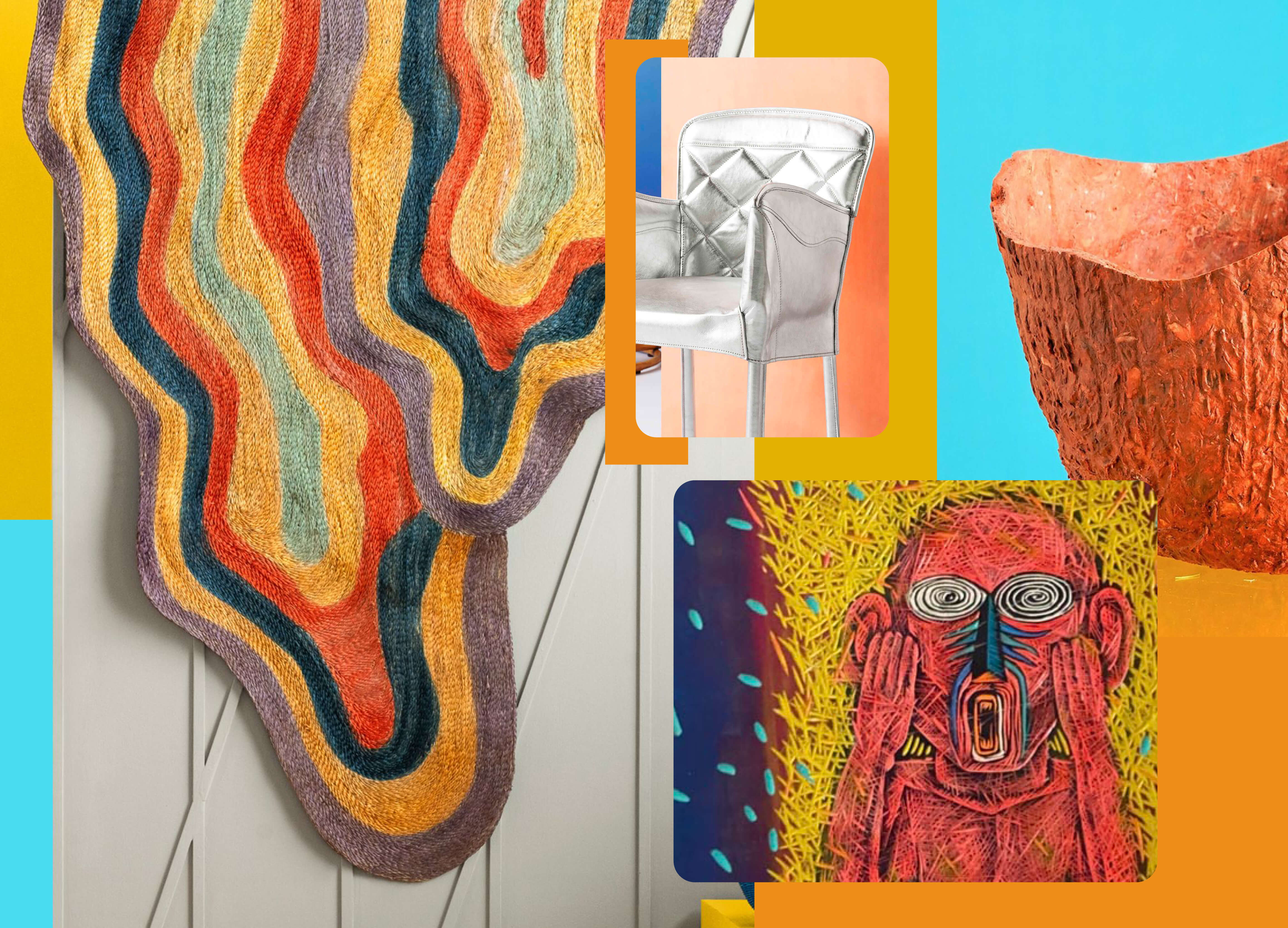 Cool and Collected: The Art of Maximalism
Many design enthusiasts have an enduring love affair with everything pared-down and bare-bones, but it may be time to consider another aesthetic—one that pushes for individuality, unique perspective, and an unapologetic creative expression
by Vicky Montenegro

What refreshes the mind can vary: some people find energy in calmness and simplicity, and others find it in the opposite—like in the merry mishmash of maximalism.
CoStudio Founder/CCO and Manila FAME Creative Director Vince Uy is of the latter mindset. A self-proclaimed maximalist, every nook and cranny of Uy's home is filled with a veritable treasure trove of beautiful furniture, art works, decorative pieces, books, and all sorts of curios. "As a creative, I fell in love with so many decor elements—mid-century, Hollywood regency, modern, and more—and I wanted my home to be a reflection of all that," he shares. "What I love most about maximalism is the beauty in layers—in design 'chaos,' if you will—and the element of surprise when you combine contrasting design elements."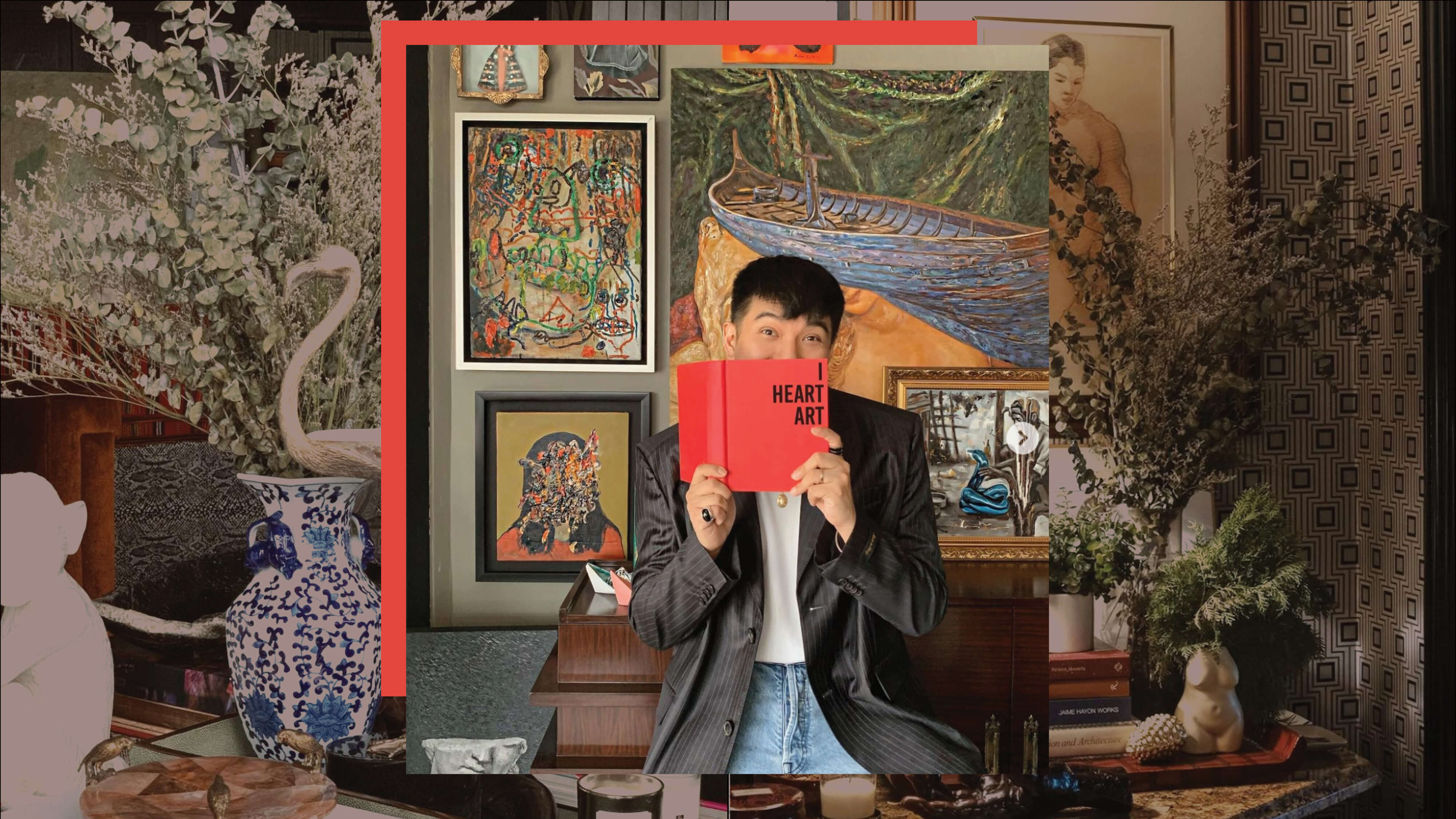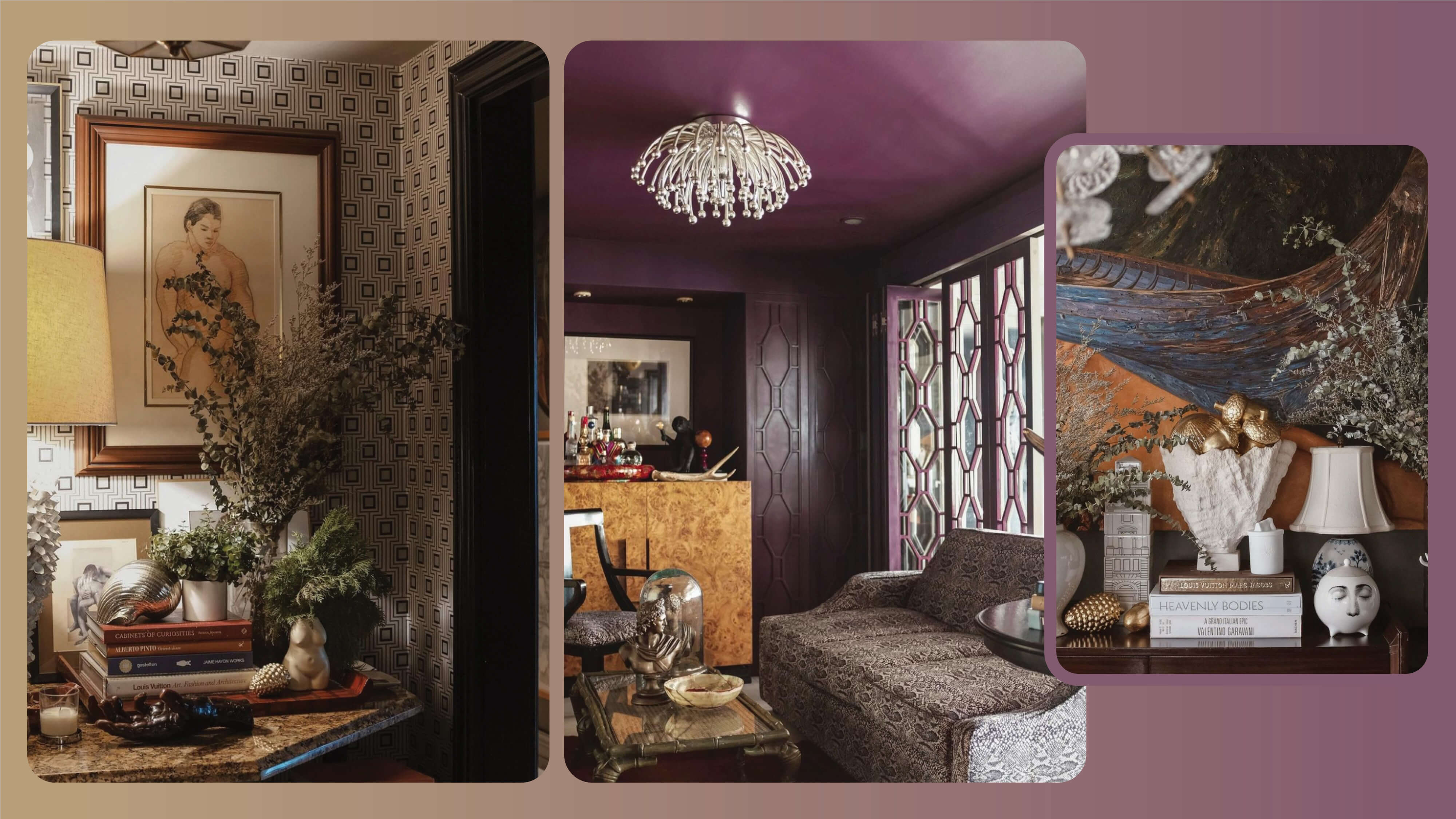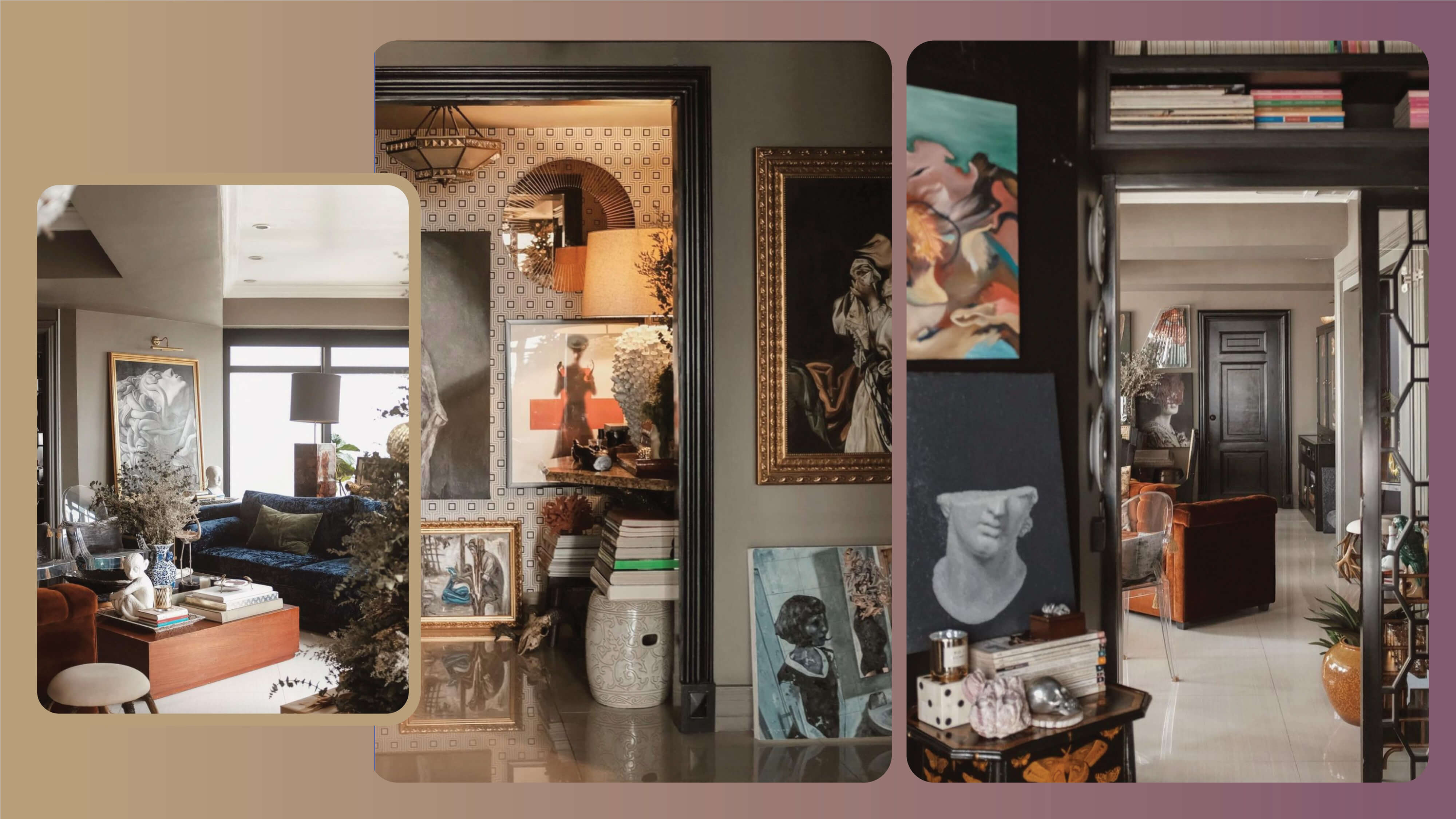 Vince Uy's creative journey has exposed him to so many design philosophies and movements, and his home is a showcase of all his design influences (photos from Uy's Instagram)

The past year has seen people honing in on their homes: choosing to create a refuge from the pandemic-stricken outside world and subscribing to a more minimalist aesthetic. Maximalism is the exact opposite of a "less is more" ethos, but lest you think it means that it always means acquiring more stuff, that's not always the case.
If anything, maximalism is more about being bold—and, perhaps, "over the top"—than believing that "more is more." It's about not limiting your space to colors, prints and patterns, textures, objects, and other design elements that you love. It's about making an unapologetic design statement.
But unapologetic does not mean unmindful. While maximalism does espouse a "go big or go home" ethos, Uy says that it still involves a tasteful curation of pieces. "Maximalism is a commitment!" he laughs. "Start small—maybe a console table or corner in your space. Layering and proportion is key; believe it or not, there is still an order to maximalist arrangements."
If you're just joining the maximalism movement, Uy recommends taking baby steps—like starting with a color palette you're comfortable with. His Quaranthings video perfectly illustrates this point

If you're coming from a neutral territory and adding more color to your space, you don't have to subscribe to the full spectrum for impact. You can make a gradual transition and start with colors you're familiar with. Then just add in the essential maximalist elements. "It may feel overwhelming at first so another good way to start is to work with a color palette," Uy explains, "whites and beiges or golds and jewel tones, for example. Even if you are arranging a lot of elements, similar tones will help ground them all together."
Here are some maximalist elements that you can start with, and some product picks from the FAME+ catalogue:
UNIQUE SILHOUETTES, EXAGGERATED PROPORTIONS
Maximalism is a bold statement, and pieces in exaggerated proportions and with unique silhouettes are bold and beautiful—and are the perfect exclamation points in any room. But the magic truly happens when you put them all together.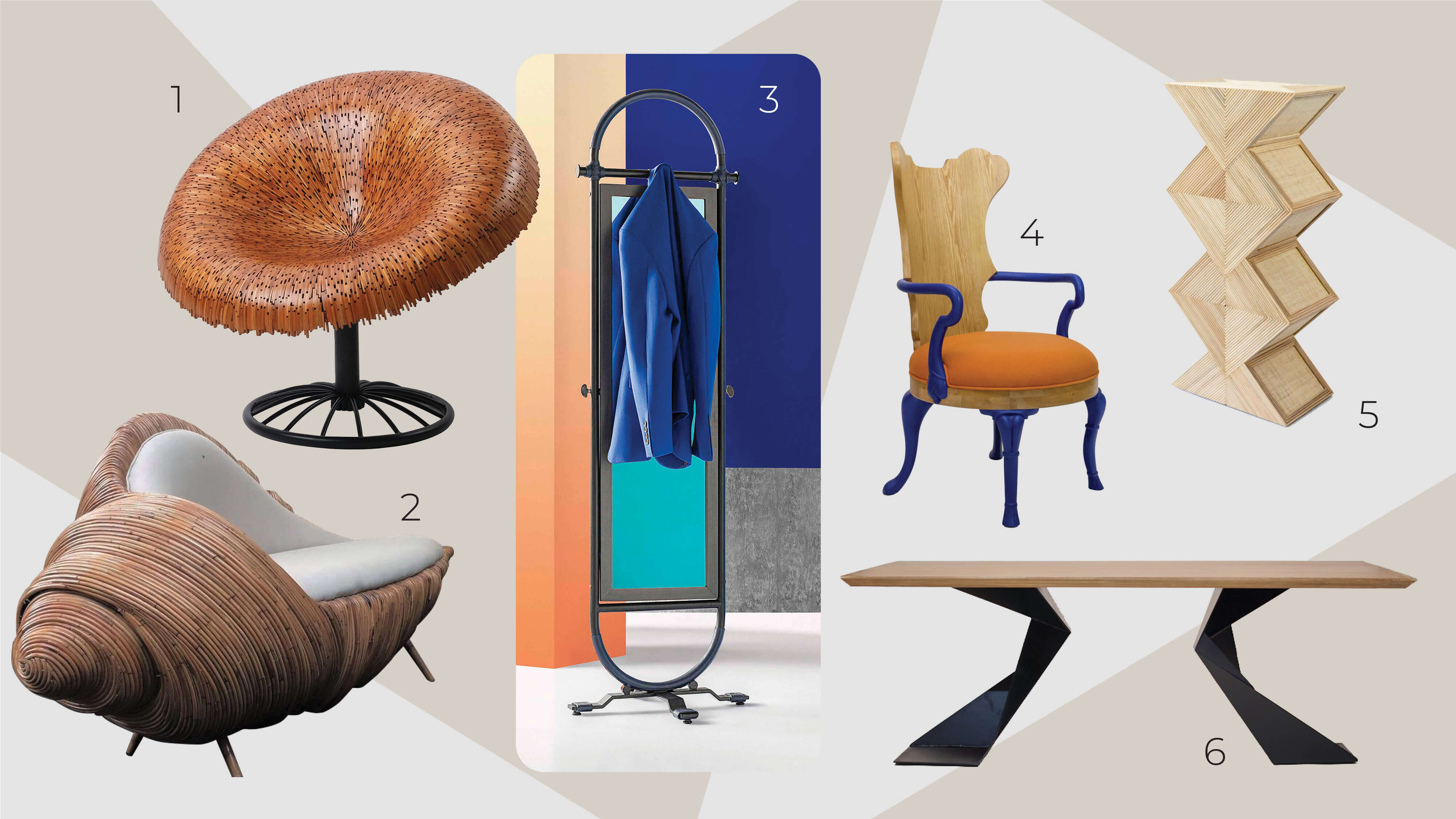 1) The brand's signature method of using discarded wood chips is on full display in this lotus-shaped chair. Lotus Chair, CONTEMPORANEO 2) Shell-shaped beauty that works as a lounge chair or chaise. Shell Lounge Chair, FINALI FURNITURE 3) Why settle for a regular floor-length mirror when you can have one that's bicycle-inspired, with pivoting fame, and in leather-wrapped powder-coated black iron tubing? Bicyclette Mirror Stand, PRIZMIC & BRILL 4) Bold, bright colors update a traditional silhouette, resulting in a piece that looks straight out of Alice in Wonderland. Corrine Accent Chair, STONESETS 5) Wooden carcass, laminated pencil rattan, and saguran (leaf fiber textile) matting create a sculptural statement. Diamante Pedestal, OBRA CEBUANA 6) Handcrafted using mahogany and steel, the table's crazy-cut legs add whimsy to a classic furniture piece. Pas De Deux, BEYOND FUNCTION.

PATTERNS AND COLORS
Prints and patterns of every design, every color of the rainbow and all 50 shades of them—there is no limit to the maximalist's vivid imagination. An easy "rule" would be: try layering classic prints with bolder ones—stripes with ikat, for example—and use one or two colors to tie your prints and patterns together.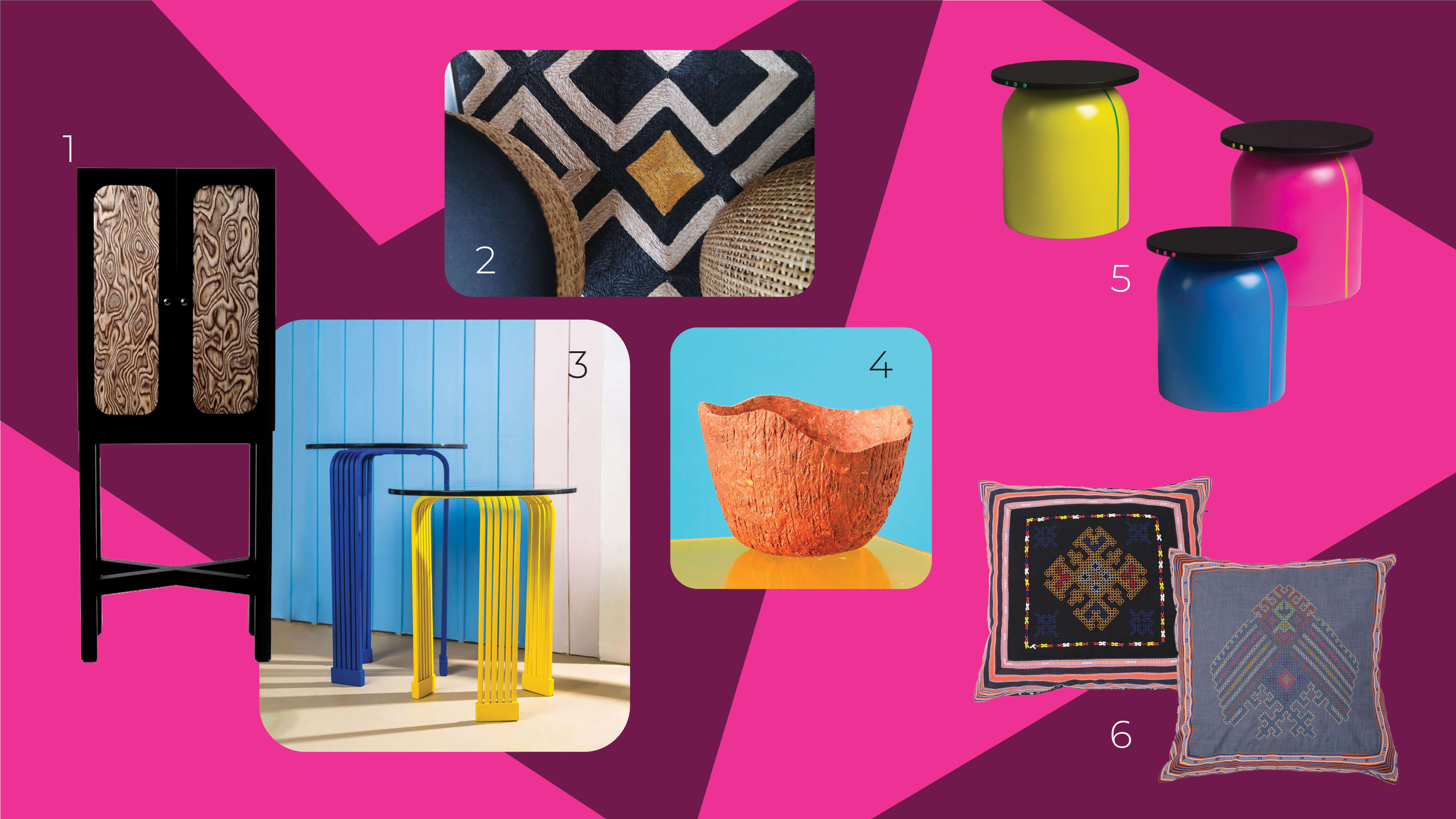 1) Burl veneer creates a dramatic statement in black. Senyora Cabinet, SOUTH SEA 2) An abaca rug in a truly contemporary design. AW15 Gemini, WEAVEMANILA 3) Glass and metal in the most vibrant shades. Trio Side Table, ZARATE MANILA 4) The free-form lid bowl shape paired with effervescent orange is a tabletop highlight. Wood Bark Paper Clay Bowl, INDIGENOUS 5) Available in different vivid colors of blues, fuchsia, and yellow-green, this arch-shaped side table is quite the stunner. Sol Side Table, STONESETS 6) Small décor pieces, like pillow cases, are the easiest ways to experiment with prints and colors. Manobo Throw Pillowcase and Manobo Accent Pillowcase, WYC WEAR YOUR CULTURE

WALLS THAT TALK
Imagine enveloping your whole space in expressive walls. How you create walls that talk is completely up to you. Artworks—or anything that stirs creative stimulus—make soulful and spirited statements for your walls.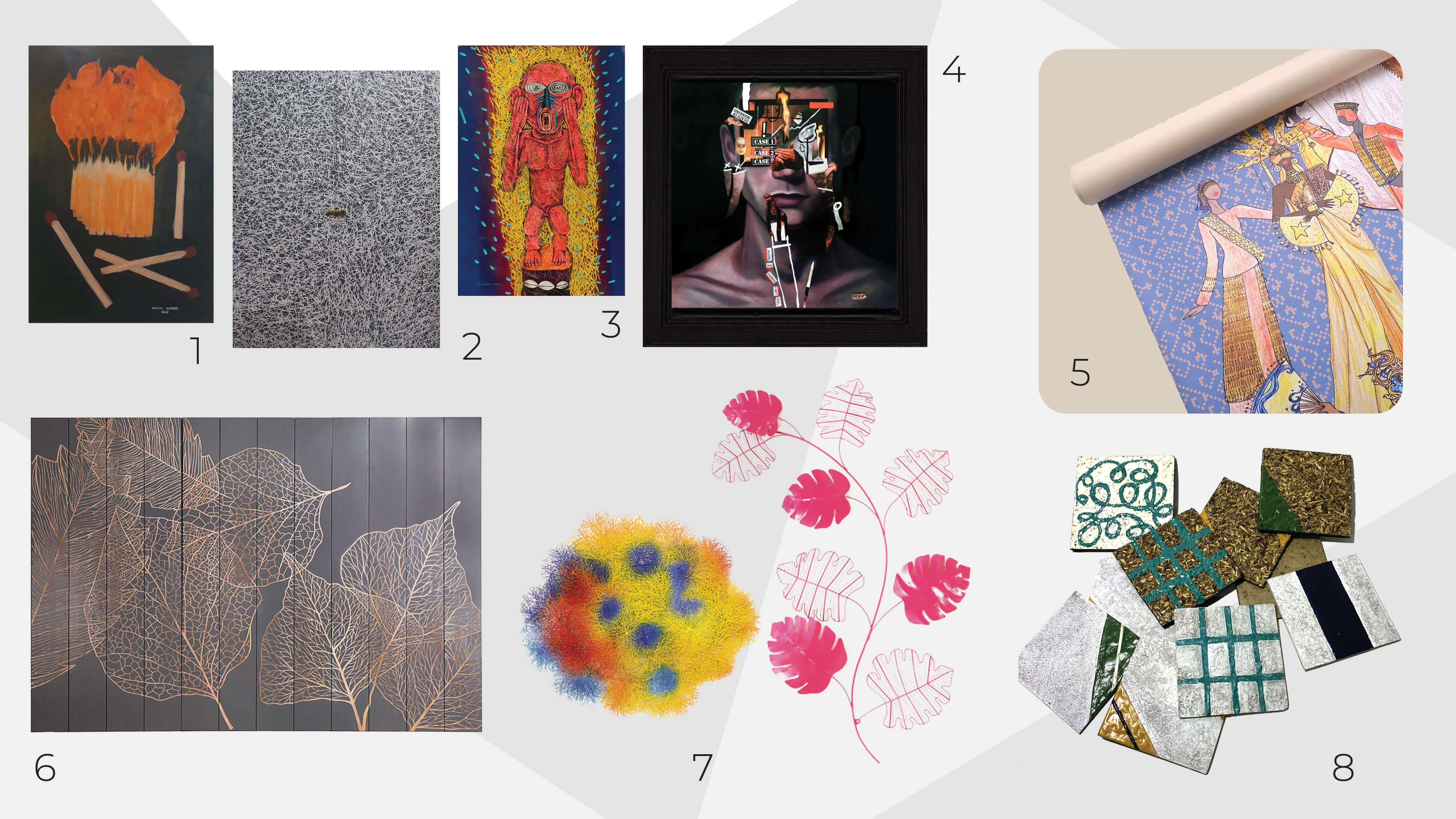 Create a gallery wall featuring your favorite art pieces. 1) Social Distancing Works, 2) Line Between the Line, both TRANSWING ART GALLERY 3) Screaming Bulol by Leonard Aguinaldo, GALERIA DE LAS ISLAS 4) Lockdown, TRANSWING ART GALLERY 5) The exotic spirit of the Lanao folk dance is captured on this wallpaper design. Wallpaper Singkil, PAPERBOUND 6) Gmelina wood comes alive with leaf patterns. Fyllo Wall Art, TRIBOA BAY LIVING 7) Nature-inspired patterns are organic ornaments for your walls. Harmony in Coral and Monstera, both PRADO FILIPINO ARTISANS 8) Go wild with patterns with these tiles made of Nucast material. Tile Decors, NATURE'S LEGACY

CURIOUS PIECES
Creative curios in the form of decorative home pieces will always add magic and wonder to your home. Carve out some corners that will spark curious conversations in your space with these pieces.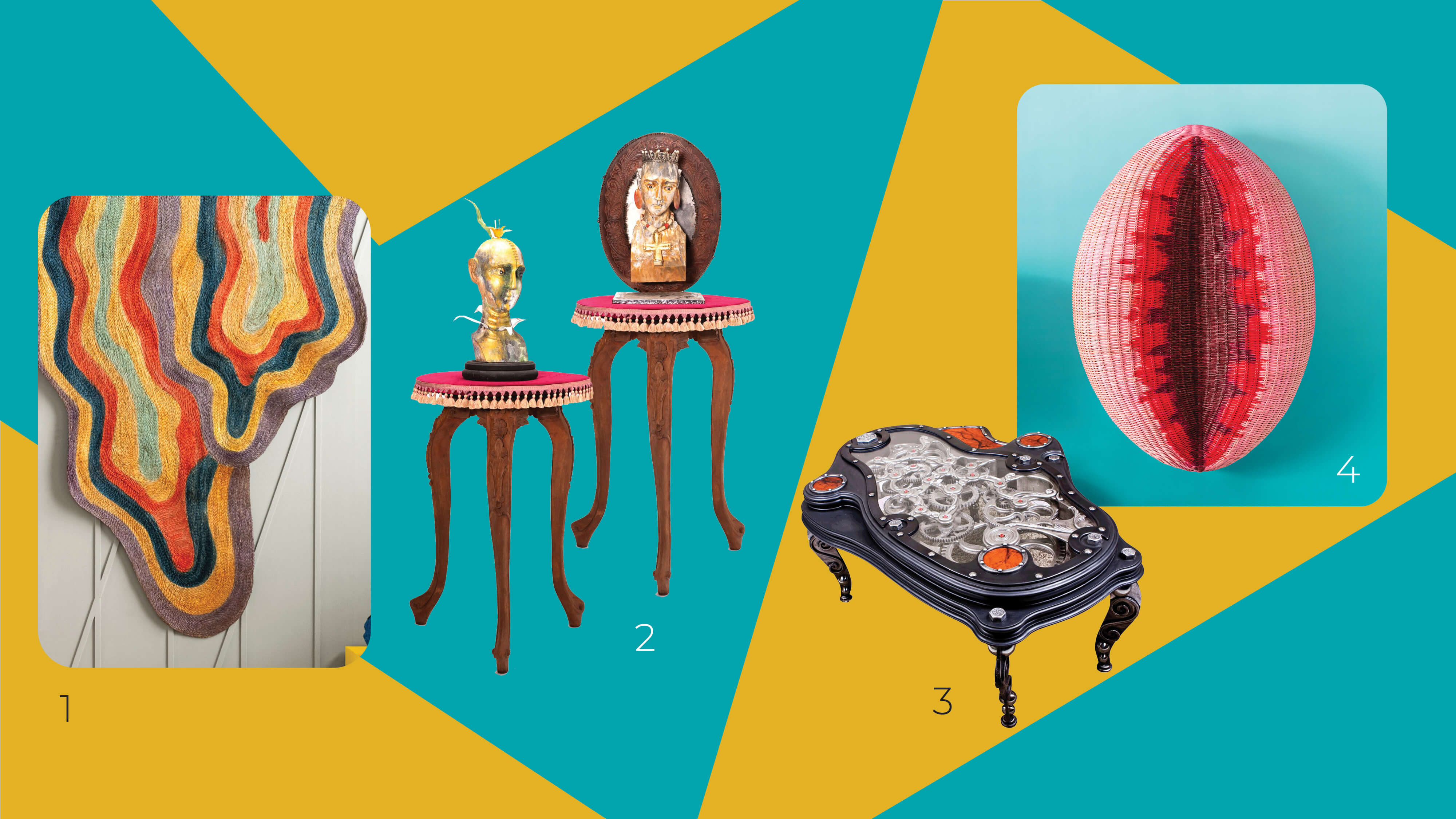 1) The wonder that is the aurora borealis can be displayed in your very own home. Artweave Aurora Borealis, WEAVEMANILA 2) Chanalli's hand-carved pieces will always command attention and pique curiosity. Past, Present, Future and Martyrdom, CHANALLI 3) A Steampunk art piece by Dale Mathis, this retro-futuristic table will be the center of attention. Wicked Coffee Table, VENZON LIGHTING 4) A third iteration—first a bag then a rug—this wall piece is still as inspiring and thought-provoking as its predecessors. Be Stash Wall Piece, ZACARIAS 1925

LOUD LUXE
Luxury has innate maximalism—its extravagance, splendor, and grandeur are all hallmarks of the design philosophy. Inject loud and luxe details into your home with these.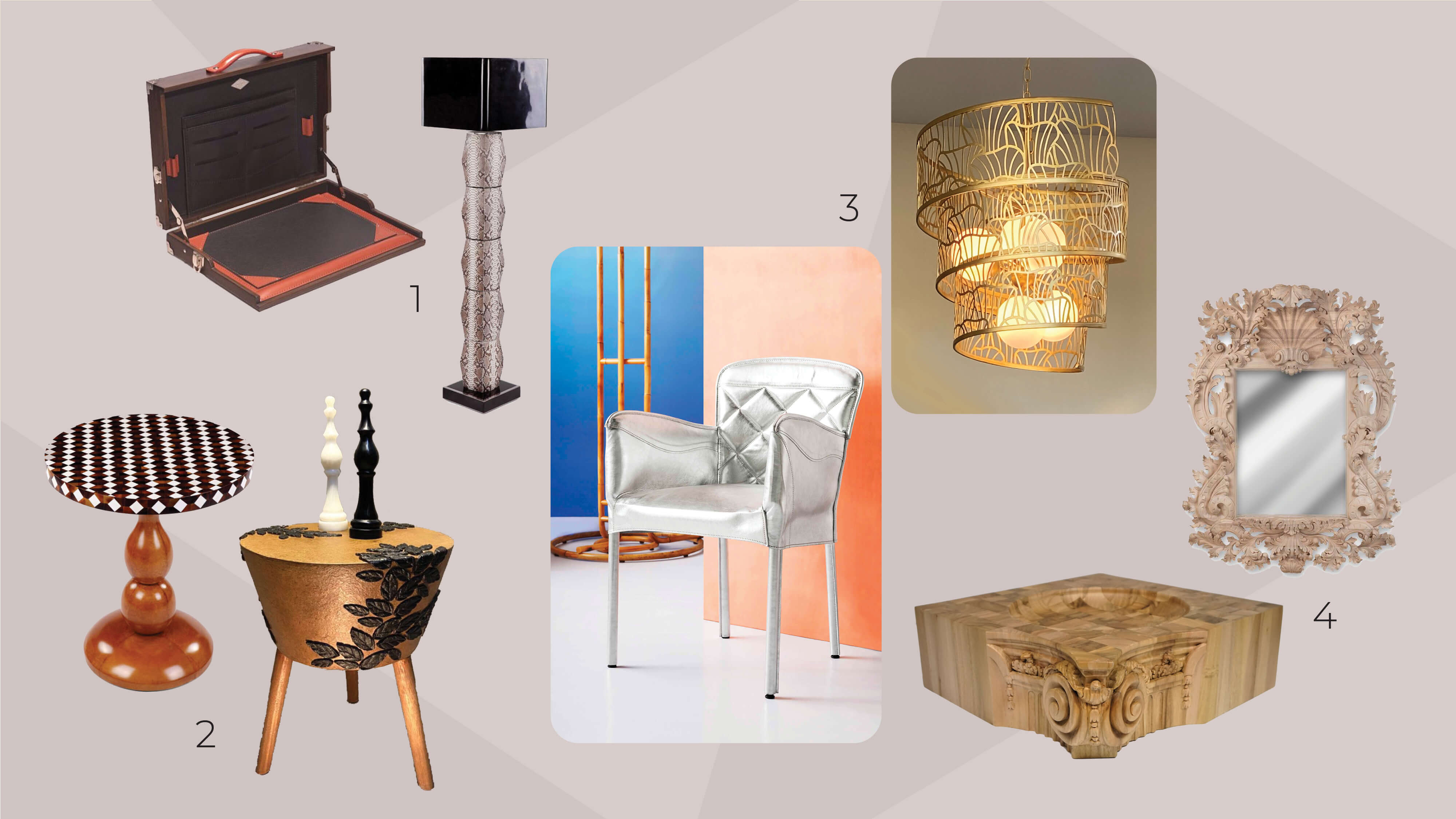 1) All kinds of leather will add the luxurious pattern and texture every space needs. Desk Caddie, PRIZMIC & BRILL and Python Floor Lamp, LA GALUCHE 2) Nothing feels more opulent than details executed in workmanship perfection, like these two splendid side tables. Bone and Tortoise Side Table, LA GALUCHE and Vienna Side Table, NATURE'S LEGACY 3) Pieces in polished metallic materials and colors are razzle-dazzle staples. Hanoi Café Chair, PRIZMIC & BRILL and Capri Spiral Chandelier, VENZON LIGHTING 4) Ornate, fairytale-like hand carvings are lavish details on basic décor pieces, as these pieces illustrate. Large Bowl and Philippe Mirror, both JB Woodcraft