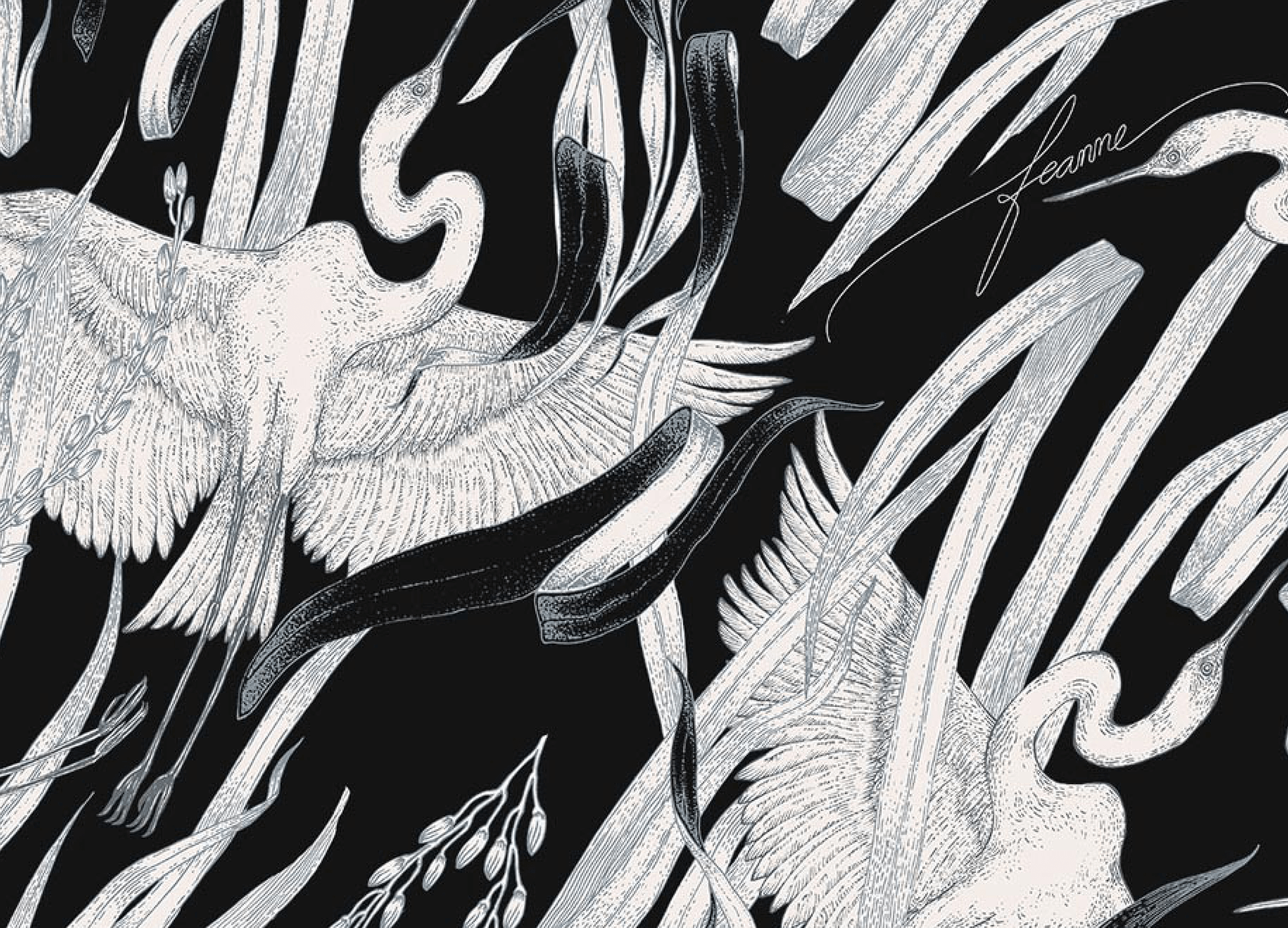 Flora, Fauna, and Fashion
Elevate everyday looks with fashion accessories inspired by nature, the tropics, and the wild
by Patti Sunio
Nature is having a moment. At home and in fashion, we're bringing the outdoors in, incorporating nature into our everyday lives, as a way to cope with having to stay indoors. Understandably so, we turn to the best of nature: the beautiful flora and fauna and their natural charm and curative effect that keep our spirits up and help us find a sense of calm in these crazy times.
By now, most of us have likely rediscovered the outdoor spaces in our homes and have found ways to bring nature in. It's high time we do the same with our wardrobes, adding a touch of nature each time we dress up for video calls or essential trips outside.
Below, a roundup of key fashion accessories from the FAME+ catalogue, designed to elevate your everyday look.
MONOCHROME FLORALS
Small, subtle accessories in monochromatic hues are an elegant way to dress up any look. An intricately crafted tiara goes well with a casual outfit, while a hand-painted minaudiere easily makes for a conversation piece. Adorned with freshwater pearls, crystals, brass, and other choice materials, consider these accessories as investment pieces you'll keep wearing through trends and seasons.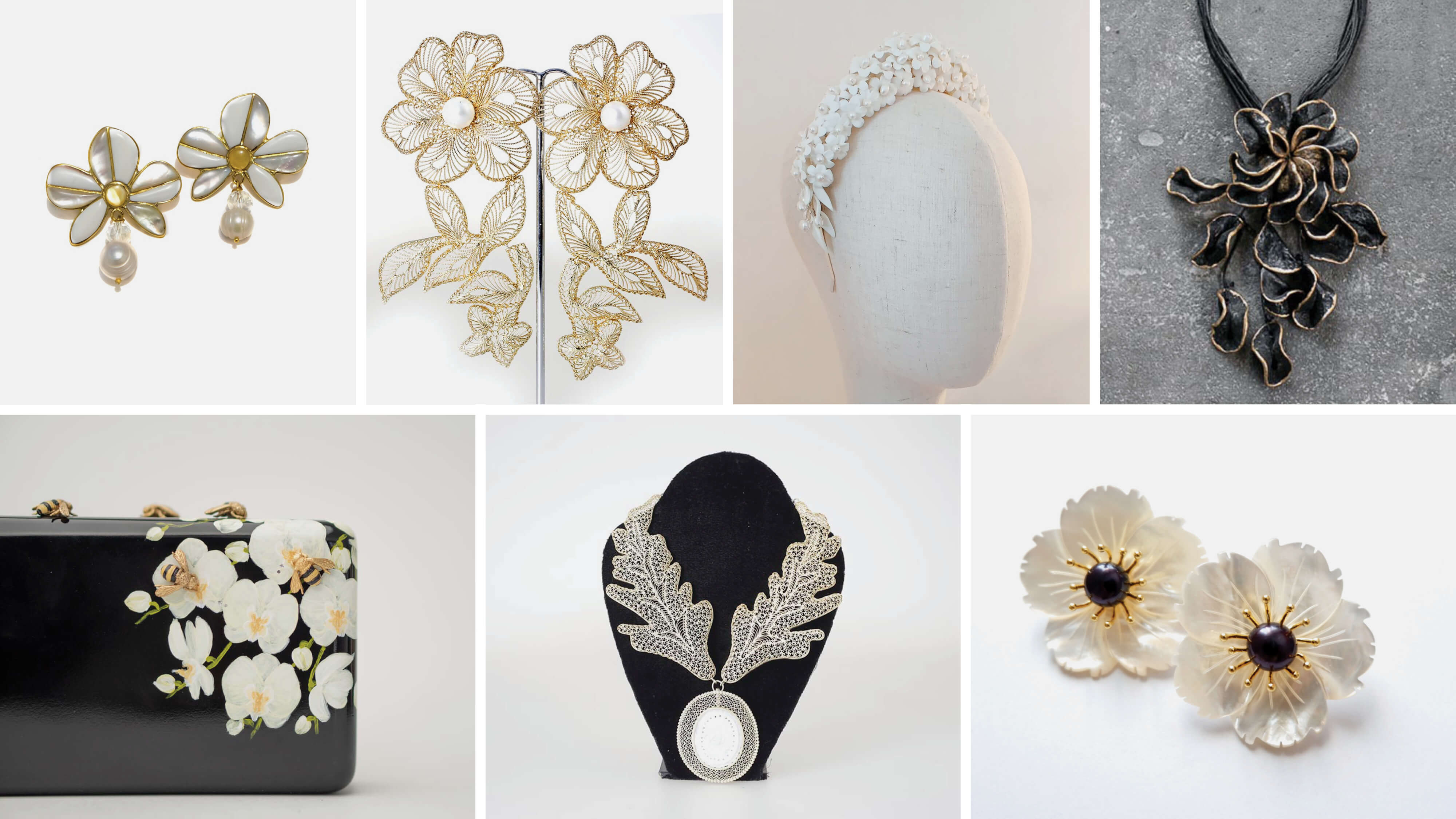 (Top row, from left) Dainty floral earrings made of brass metal, mother of pearl, swarovski crystals, and freshwater pearls, Sampaguita Earrings, STROZZI JEWELRY. Dangling earrings that resemble the Gumamela flower, made of silver and freshwater pearls, Gumamela Filigree Earring, KITSILVER JEWELLERY. Porcelain tiara with over 100 handcrafted flowers, Sampaguita Full Tiara, MIRTH & YIFT. Floral necklace made of recycled paper, CN17-0129 HOWIE, FLOREIA. (bottom row, from left) A black parchment minaudière with hand painted white flowers, Persephone Minaudiere in Black Parchment, NEIL FELIPP. Statement necklace with intricately designed oak tree leaves and a mother of pearl cameo pendant, Oak Filigree Necklace with Mother of Pearl Cameo, KITSILVER JEWELLERY. White mother of pearl floral earrings with freshwater pearl centers and gold-tone brass anthers, Belinda Classic Earrings | White with black pearl, MIRTH & YIFT
FABULOUS FOLIAGE
Big, chunky, maximalist accessories spell confidence in style. On days when you need an outfit that packs a punch, these flora-inspired pieces can do the trick: try a luxurious silk scarf in a colorful foliage print, bags with lush embellishments, or overbearing neck pieces that make an impact.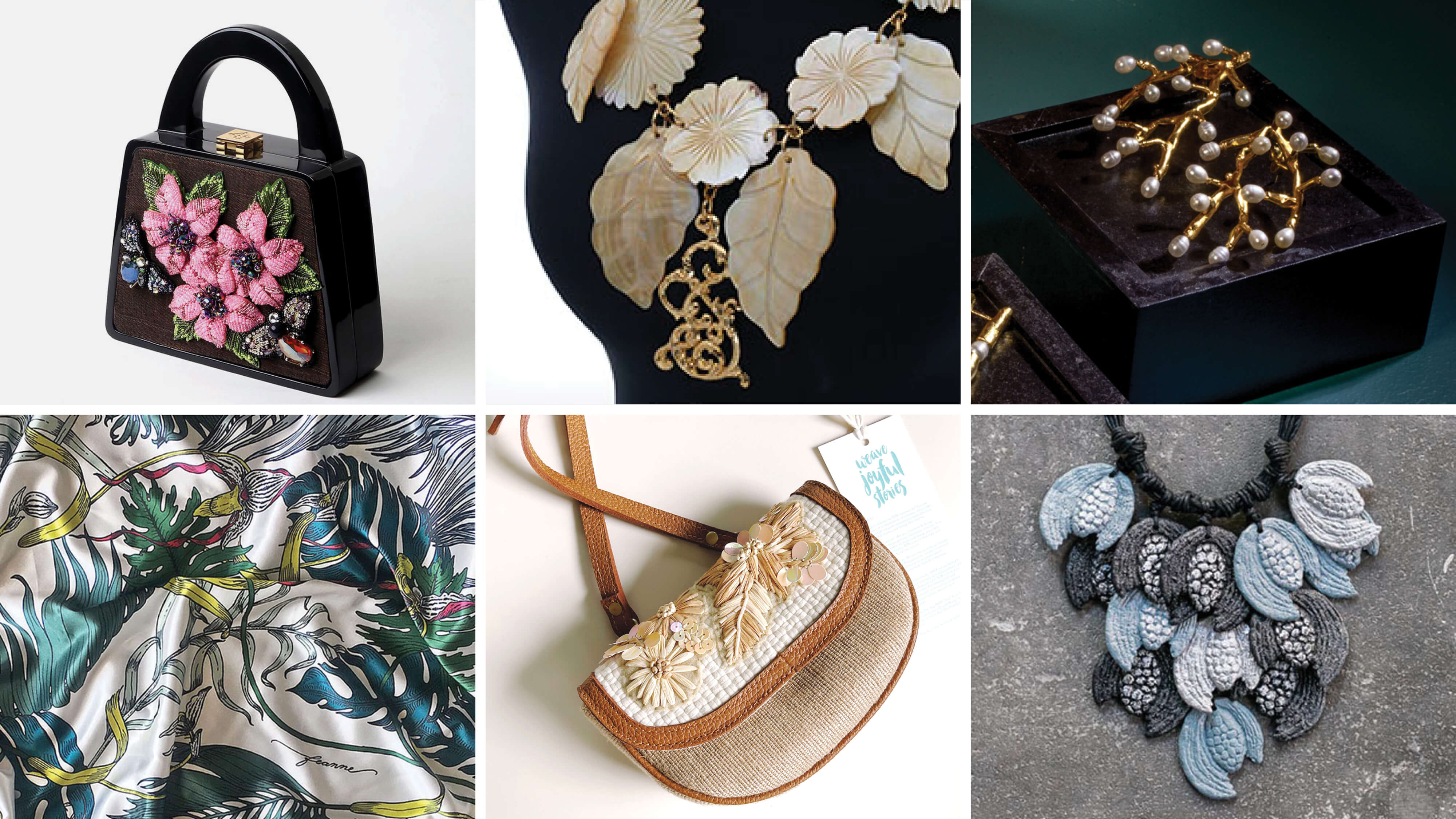 (Top row, from left) Acacia wood handbag with fancy floral embellishments, Sonia Handbag, CALLI. Neckpiece with carved mother of pearl shell and brass, Flora Necklace, EARL GARIANDO. 24k gold-plated branch-like earrings with freshwater pearls, Earrings #1, ARNEL PAPA. (bottom row, from left) Silk scarf with tropical foliage design, Tropical Foliage Artwork (Scarf), FEANNE. Belt bag or crossbody bag with raffia floral embroidery and beadwork on hand-loomed jute body, Vinia Hardin Fanny Pack, R2R. Corn on cob necklace made of recycled paper, CN20-894 RHODA, FLOREIA
TRENDY TROPICS
Filipino fashion designers often take inspiration from our country's abundant flora and fauna—and for good reason. Wild animals and the tropical fruits and blooms that the Philippines is known for breathe new life into colorful accessories and statement jewelry you'll want to wear this summer.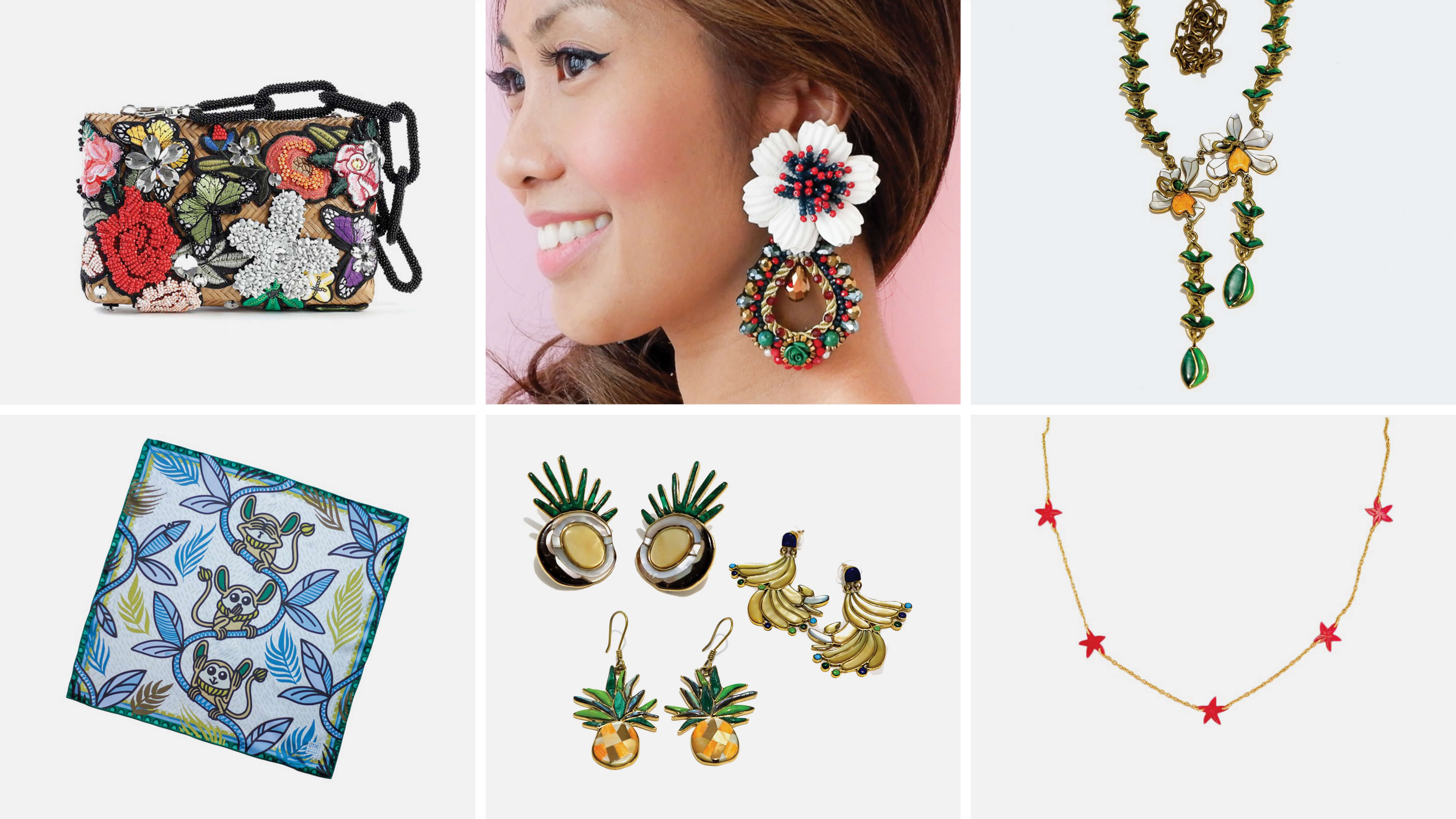 (Top row, from left) Floral garden bag made of bamboo, embellished with acrylic beads, sequins, and glass beads, MUTYA, ADANTE LEYESA. Floral statement earrings that can be worn two ways—made of leather, beads, resin, silver, and pearls, Shimra earrings, FARAH ABU. White orchids neckpiece, made of brass metal, malachite and gaspeite stones, mother of pearls, spiny shells, and Swarovski crystals, Bella Orchida, STROZZI JEWELRY. (bottom row, from left) Tarsiers on a silk pocket square by Filipino artist Isabelle Ocier, Tarsier No Evil Silk Pocket Square/Scarf, JIM WEAVER DESIGNS. Fruity earrings, Coco Loco, Double Saging, and Pinya, all STROZZI JEWELRY. Necklace with santan flowers, made of gold-plated stainless steel and dyed mother of pearl shell, Cinque Santan Necklace in Red, LILY
INTO THE WILD
Drawn onto scarves and carved into clutches, explore the ways designers are bringing the birds and sea creatures into your daily wardrobe. A cluster of shells in a neckpiece adds personality and style to an ordinary look, while a dainty, bluebird brooch may just be the pop of color your outfit needs.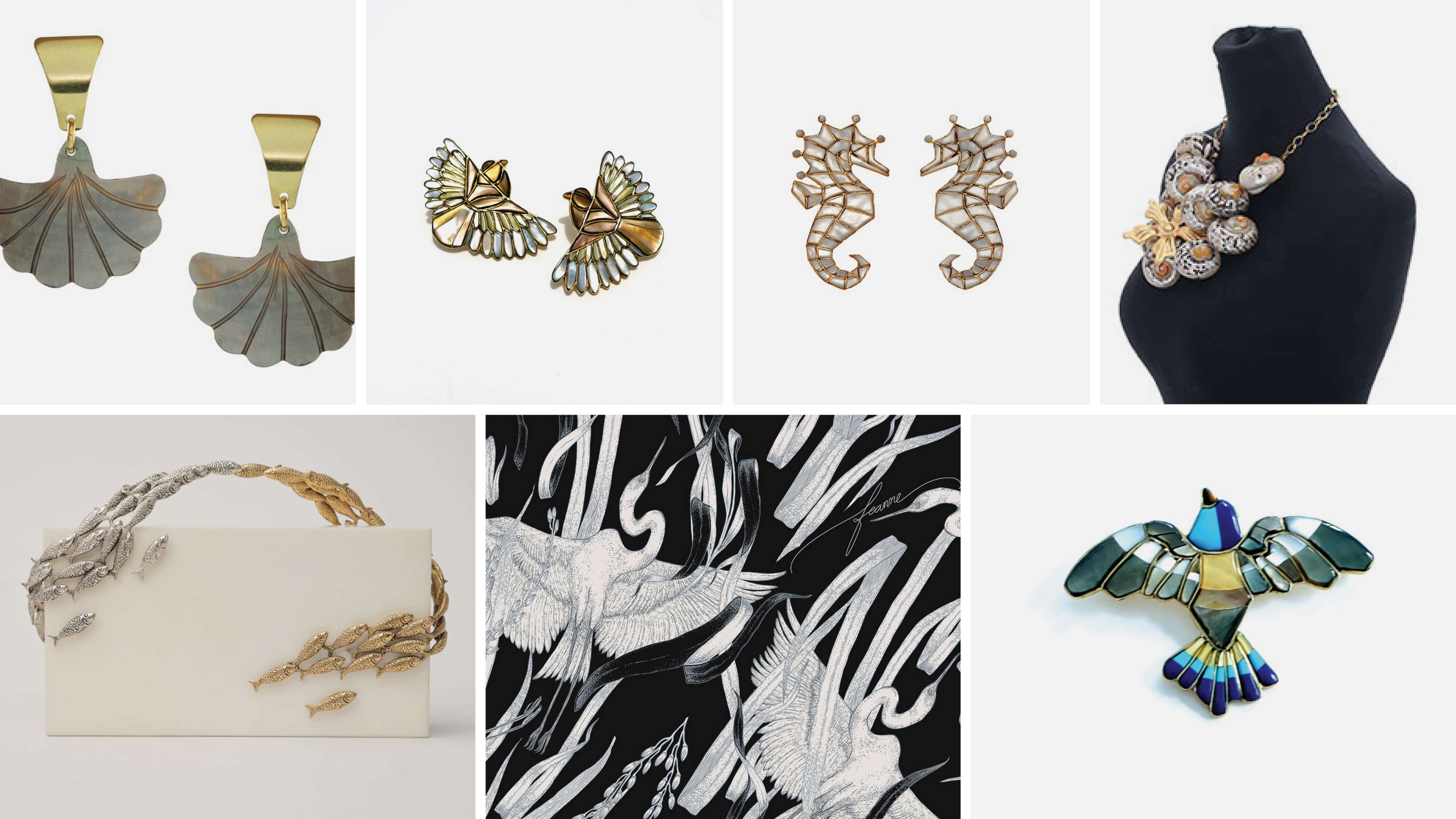 (Top row, from left) Shell earrings made of gold-plated stainless steel and black lip shell, Gabriela in Black Lip Shell, LILY. A pair of bird earrings, made of brass metal, mother of pearl, and brown lip shell, Eura Bird Earrings, STROZZI JEWELRY. Seahorse earrings made of brass and mother of pearl, Seaver MOP Earrings, MATTHEW AND MELKA. Statement necklace made of sarmaticus shells and brass, Sarmaticus Necklace, EARL GARIANDO. (bottom row, from left) White parchment minaudière with a school of brass finish, Oceania Minaudiere in White Parchment, NEIL FELIPP. Silk scarf with egrets and palay artwork, Egrets & Palay Artwork, FEANNE. Bluebird accessory, made of brass metal, mother of pearl, turquoise lapis lazuli, Cristata Fera, STROZZI JEWELRY