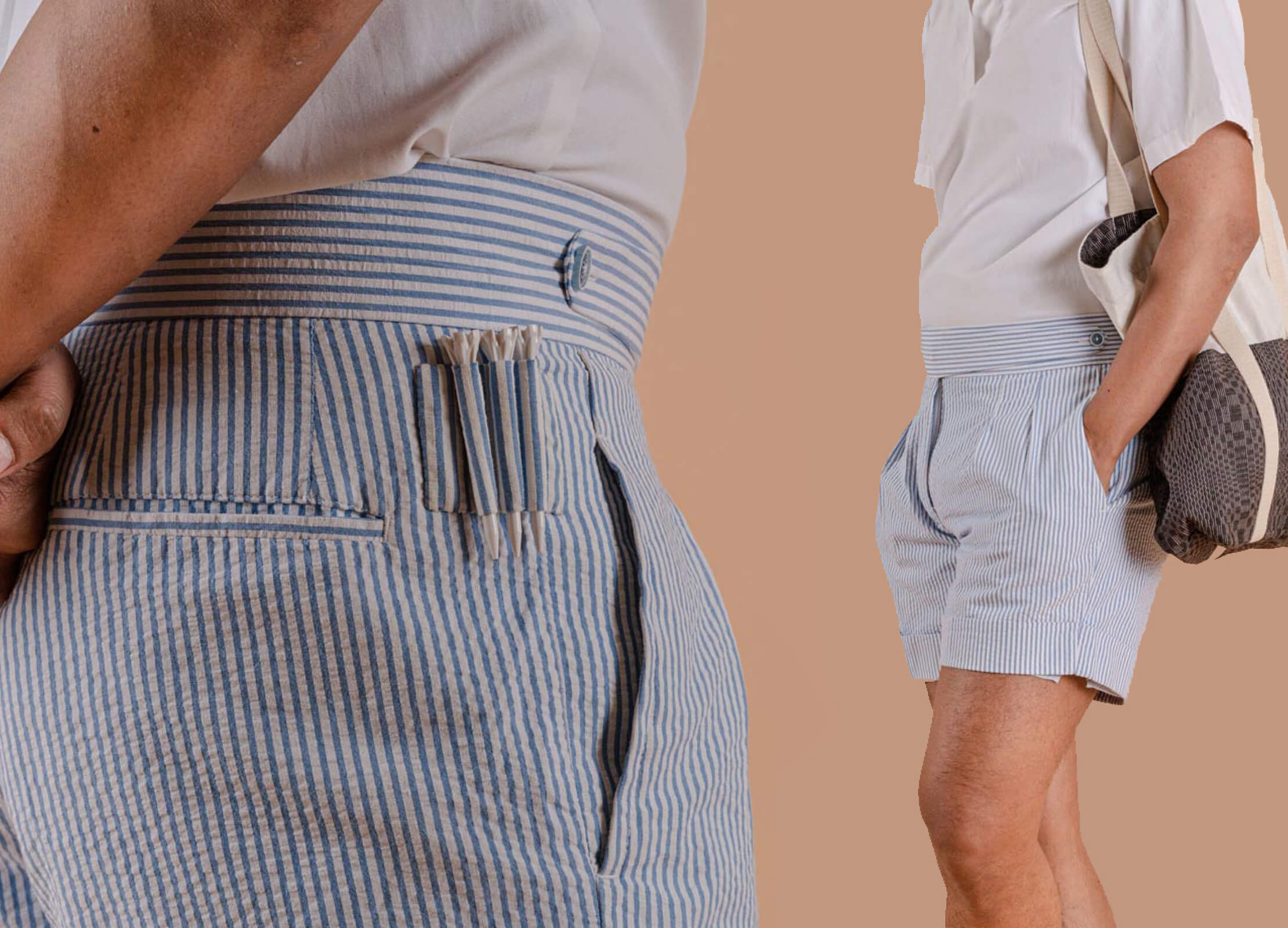 The New Menswear
Homegrown fashion brands are redefining menswear must-haves with easy, transitional looks that are timeless and pragmatic, and with a force of personality
by Patti Sunio

Menswear options have gone far beyond the traditional suits and basic shorts and shirts, and we're seeing—and liking—the changes more and more. While unfussy sensibilities, perfect tailoring, and styles that'll stay relevant through seasons remain the hallmarks of great menswear pieces, today's designers are happily introducing new ideas into the mix: transitional pieces that can be worn to multiple functions, gender-nonconforming styles, more color and detail, and, generally, styles with a lot more personality.
Find below TouchPoint's list of menswear picks for every occasion from the FAME+ catalogue.

WEATHER-PROOF
While dressing according to the weather seems like good advice, it's not always fool-proof. When it's sunny in the morning and storming the next second, what you need are transition pieces—like a lightweight jacket or a woven scarf—to make sure you're dressed weather-appropriately and looking stylish, too.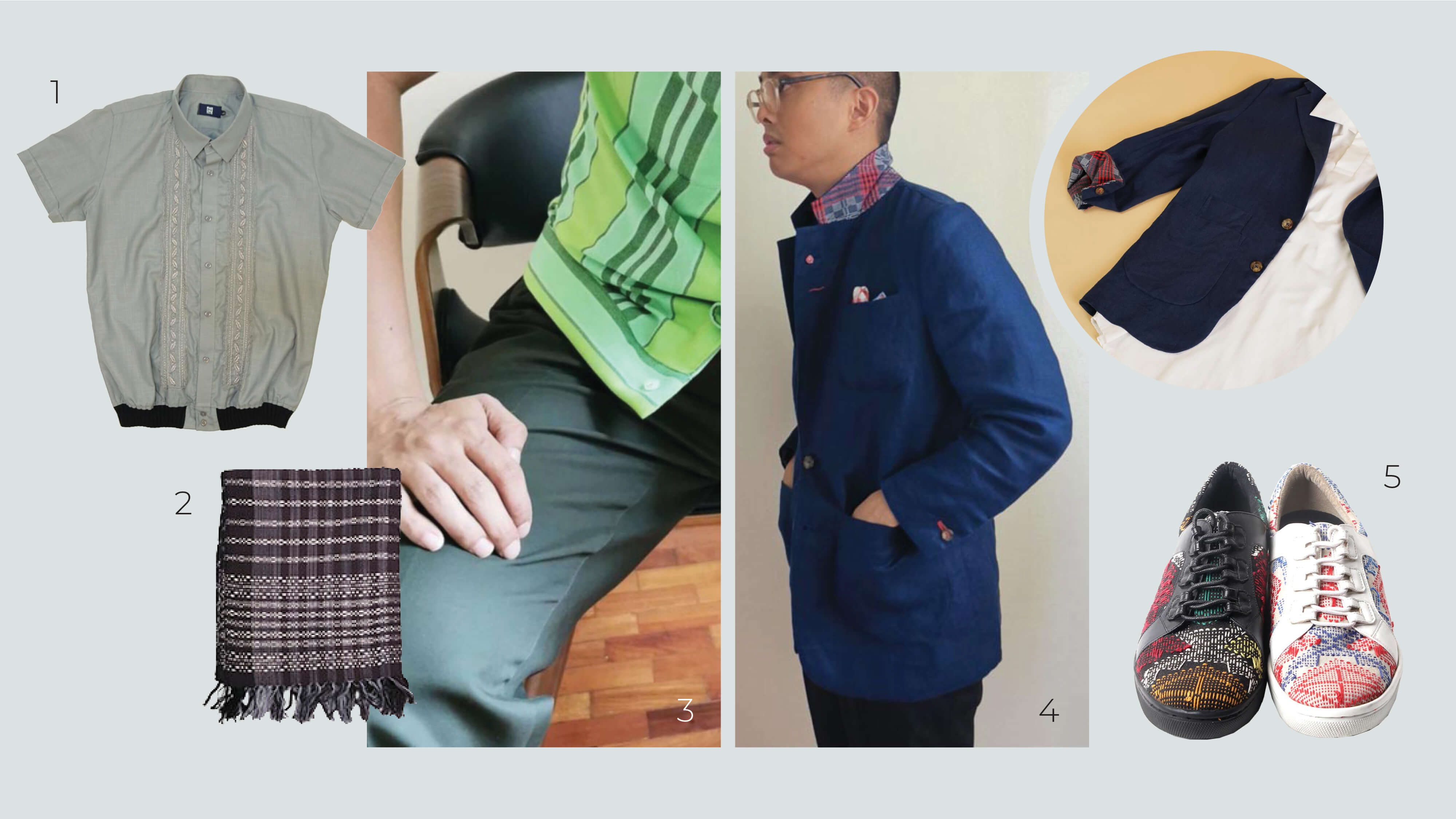 1) Cardibarong, ORIAS Studios. A hybrid of the traditional barong and a cardigan. 2) AMION cotton shawl, CREATIVE DEFINITIONS. Designed by Valladolid master weaver Helen Managuit. 3) Pilyo Trousers, STUDIO SAMPAGUITA. Comfy, tailored trousers for casual and dressed up days. 4) Presko Jacket, STUDIO SAMPAGUITA. A traveller's jacket made from 100% linen. 5) Yakan Sneakers, MACO CUSTODIO. Stylish sneakers made of rubber, leather, and woven fabric.

HOME-TO-WHEREVER
Times are unpredictable, that's for sure, but your outfit need not be as chaotic. If it's any consolation, remember that choosing what to wear remains one of the things you can have control over, so you might as well have fun while you're at it. Here are casual cool pieces that can effortlessly take you from Zoom meetings to an errand run before curfew.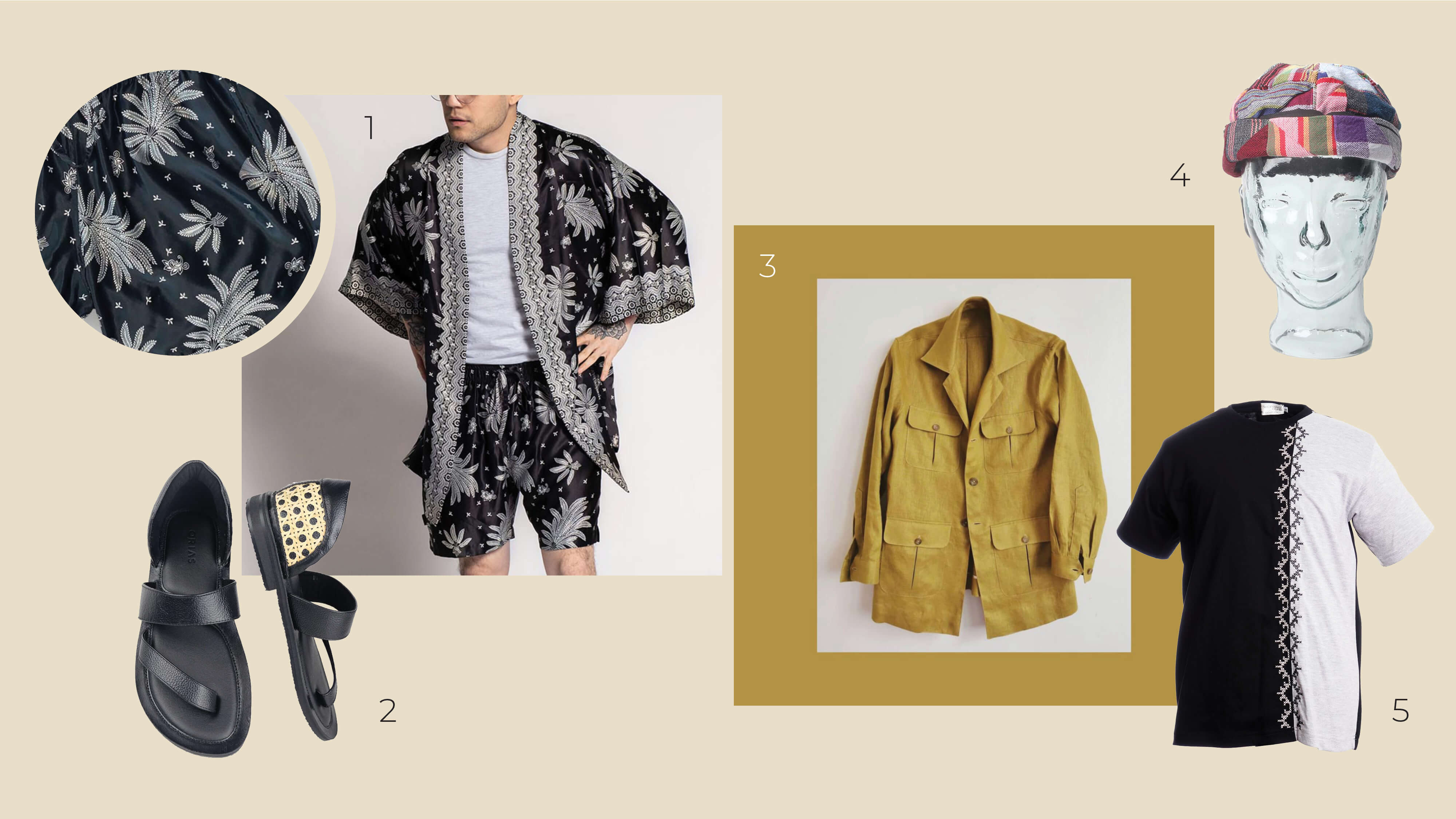 1) Low Thigh Rafiki Shorts, RAFIKIMONO. Unisex shorts with pockets. 2) Solihiya Sandals, ORIAS Studios. Half-shoe, half-sandals with a solihiya weave detail. 3) Manila Shacket, STUDIO SAMPAGUITA. A lightweight jacket and shirt hybrid. 4) Buhi Skullcaps, MACO CUSTODIO. Unisex patchwork hat made by weavers from Buhi, Camarines Sur. 5) Lahit Tee, NIñOFRANCO RTW. A casual tee with embroidered details by the women artisans from Lake Sebu, South Cotabato.

PICK-ME-UPPER PIECES
Sometimes, all you need is one key piece to upgrade your look and lift your mood. We suggest: a no-brainer set you can just "throw on" when you wake up on the wrong side of the bed or fancy kimonos to layer over your loungewear to level up an otherwise work-inappropriate outfit.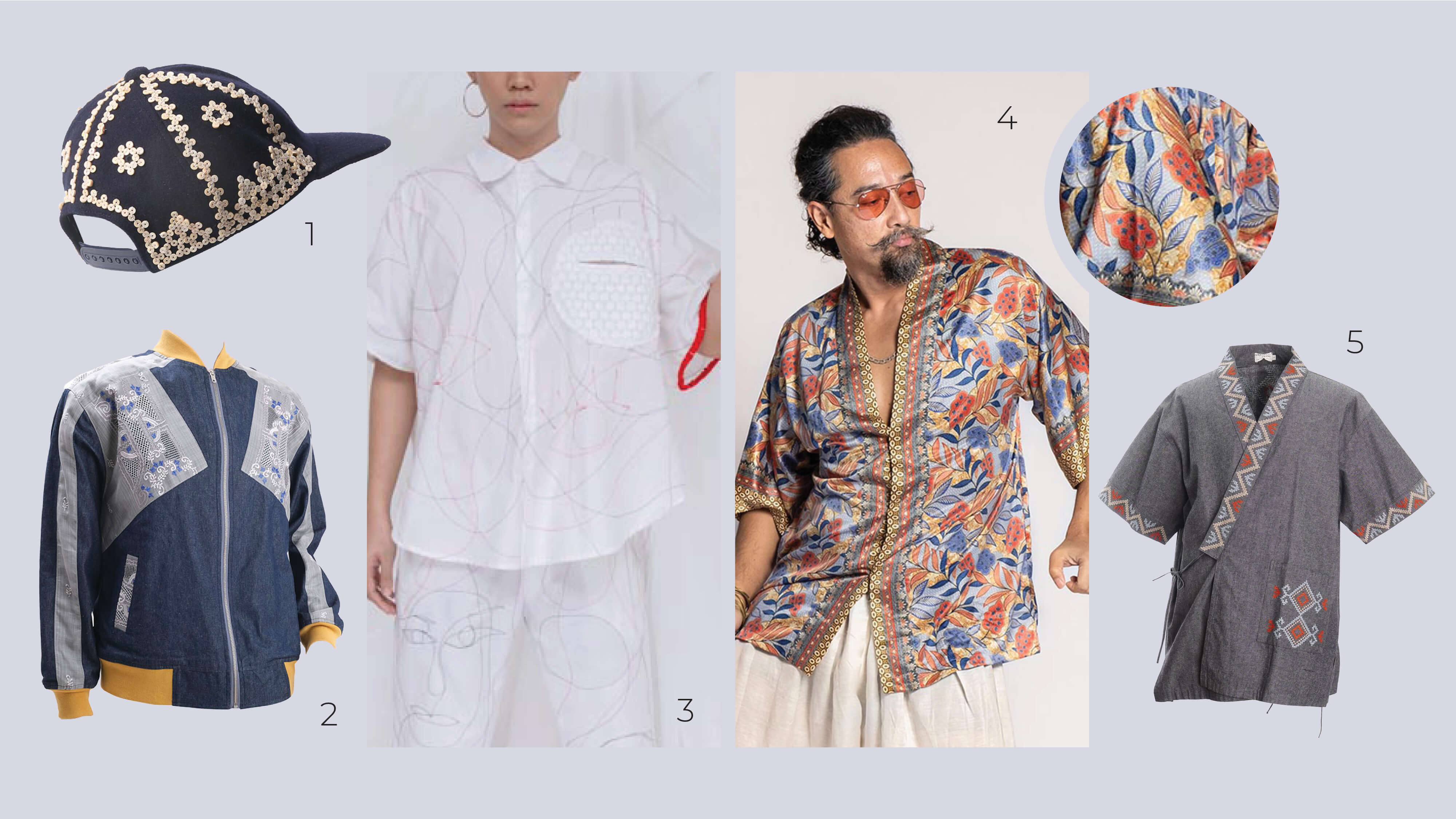 1) Kalo Takmon, MACO CUSTODIO. Wool cap with embroidery by the Blaan weavers. 2) Barong Bryden Bomber Jacket (M), WYC WEAR YOUR CULTURE. A denim bomber jacket with woven Yakan fabric. 3) Doodletime Buttondown Shirt + Pants, HA.MÜ. A comfy set with embroidered "doodles." 4) Crawling Vine Blue - Shorty Rafikimono, RAFIKIMONO. Luxurious kimono that can be worn open, belted, or as a kaftan. 5) Bente Kimono, NIñOFRANCO RTW. A loose-fitting kimono top with embroidery by the women artisans from Lake Sebu.

BASICS WITH A QUIRK
It's always a good idea to invest in basic pieces you can wear on rotation, and with any piece you have in your wardrobe. Here, menswear designers show how they've upgraded the usuals with intricate embroidery or pattern details that pay homage to good old weaving traditions.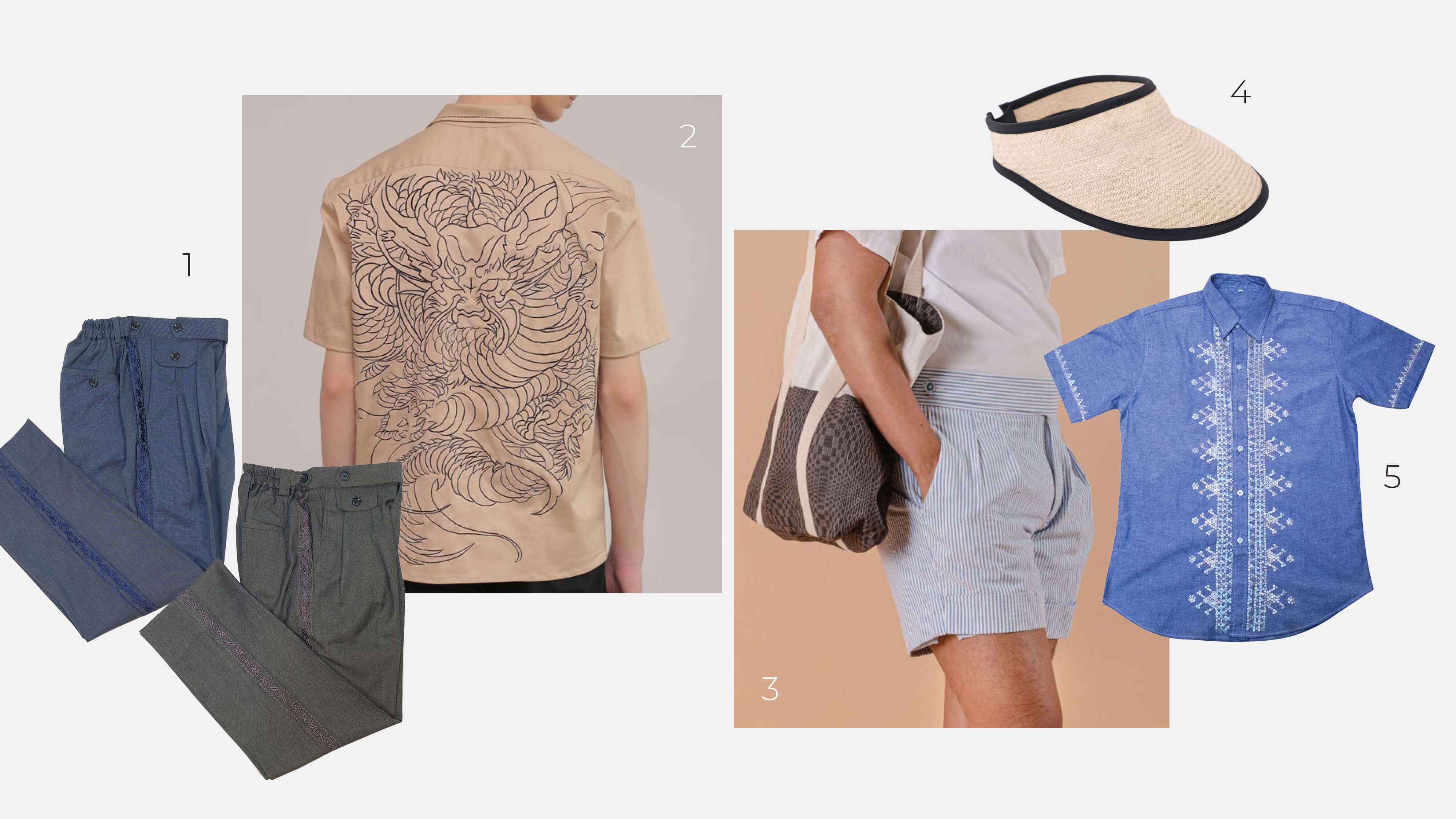 1) Pantalon UNO, ORIAS Studios. Linen trousers with embroidery on the outseam. 2) Embroidered Dragon Tattoo Shirt, KELVIN MORALES. Cotton shirt with an embroidered dragon "tattoo" at the back. 3) Porma Shorts (Blue Cotton Seersucker), STUDIO SAMPAGUITA. Casual shorts with sleek tailoring details on the waistband, pleats, and hem. 4) Fine Raffia Visor Hat (HT17-1047), ORIENT MEADOW. Lightweight visor made of raffia. 5) T'boli Beaded Polo, CRYSTAL SEAS. Cotton polo with embroidered details by the T'boli artisans.

OVER-THE-TOP EXTRAS
If you're in dire need of good outfit energy, here are pieces teeming with spunk and personality. Whether it's ruffles galore or mandals (man sandals) in bright colors, there's certainly room in your closet for a fun piece that's not conventionally "practical."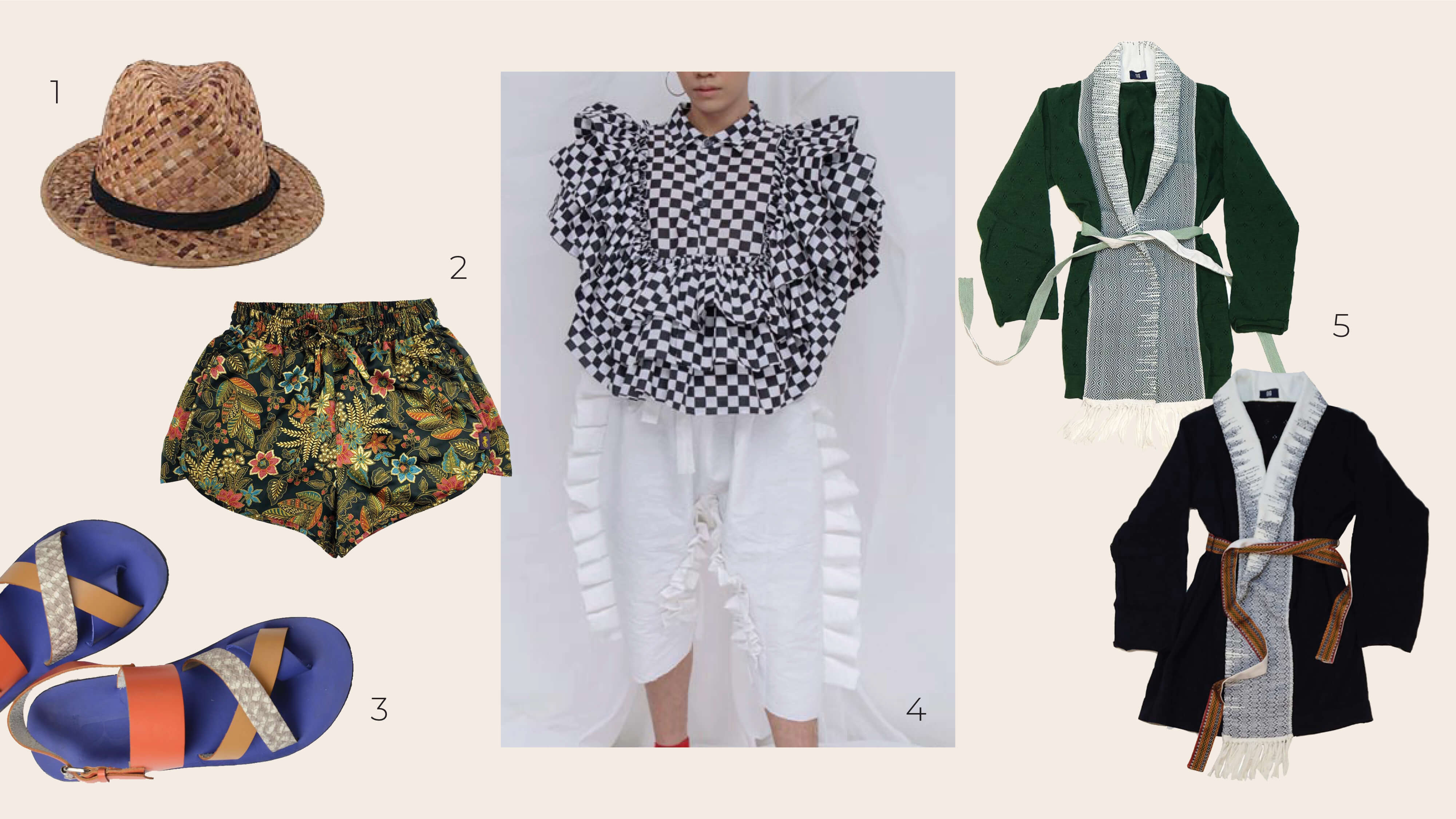 1) HAT (S-2651), SOMBRERO DE MANILA, INC. Safari hat made of handwoven bacbac. 2) High Thigh Rafiki Shorts, RAFIKIMONO. Unisex shorts with pockets. 3) The Bailey, RAMIR. Handcrafted leather sandals. 4) Racegurl Ruffled Top, HA.MÜ. Black and white checked statement top made of polyblend cotton. 5) Inabel Beach Robes, ORIAS Studios. Handmade robes for the beach or lounging.