Relaxing On-The-Job
"WFH" or work-from-home can be a necessary evil: images of endless Zoom meetings coupled with messy office files and wires that take over the place can make you more exhausted than productive. The immediate solution is not to create a home office space that is cold and clinical; try to decorate it as you would your home—in a stylish and comfortable way.
Interior designer Dagny Madamba suggests going for minimalism for a cleaner, calmer aesthetic instead of doing frou-frou décor for your WFH spot. "Try a style that's more functional but minimal…but a bit playful and relaxed. Nothing should be too serious." And that is just what she did in styling this WFH vignette: relaxing colors of earth, straw, and forest green, accents in young pastel tints and soothing shades of gray.
Work comfortably.
A work-from-home setup should never look like an office, and the litmus test is, if you take away the laptop, it should look like part of the interior. Case in point: a minimalist dining table/desk with a nifty slot for storage and wire access, plus upholstered chairs for extended working comfort. Exotic wood, burl veneer, and capiz give it a slight modern-tropical vibe.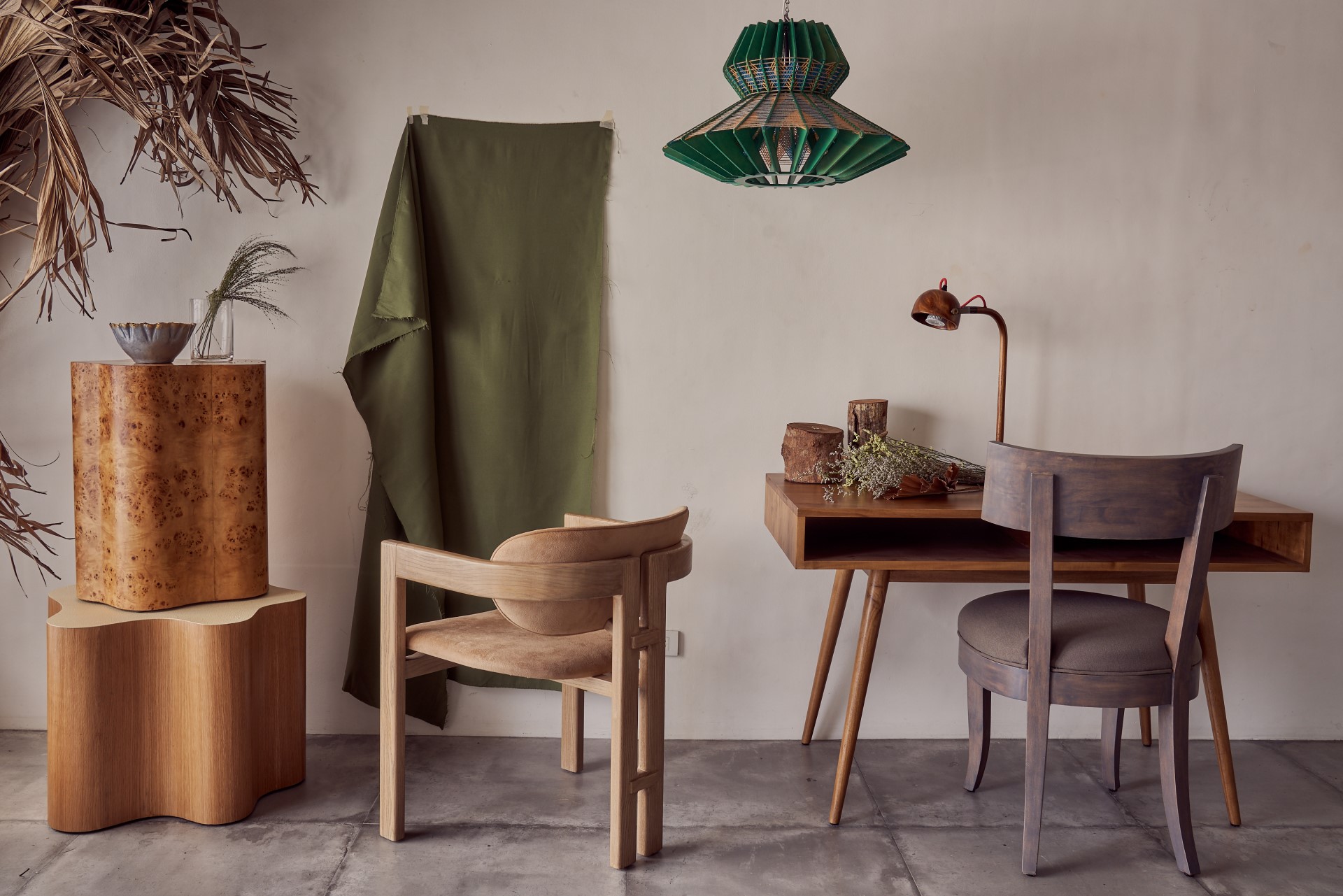 Work-from-home, tropical style. (From left): Epic Side Table and Coffee Table, South Sea Veneer; Bowl, Shell Arts; Side Chair, Albero; Wataru Small Pendant Light, South sea Veneer; Hans Table (used as desk) and Vasco Table Lamp, both from Triboa Bay Living; Marida Chair, South Sea Veneer.
Lounge-from-home.
WFH outfits should be professional looking, yet super-comfortable. This shorts and shirt set from Unif0rm combines Zoom-friendly professionalism on top, and lounge-about-casual comfort on the bottom.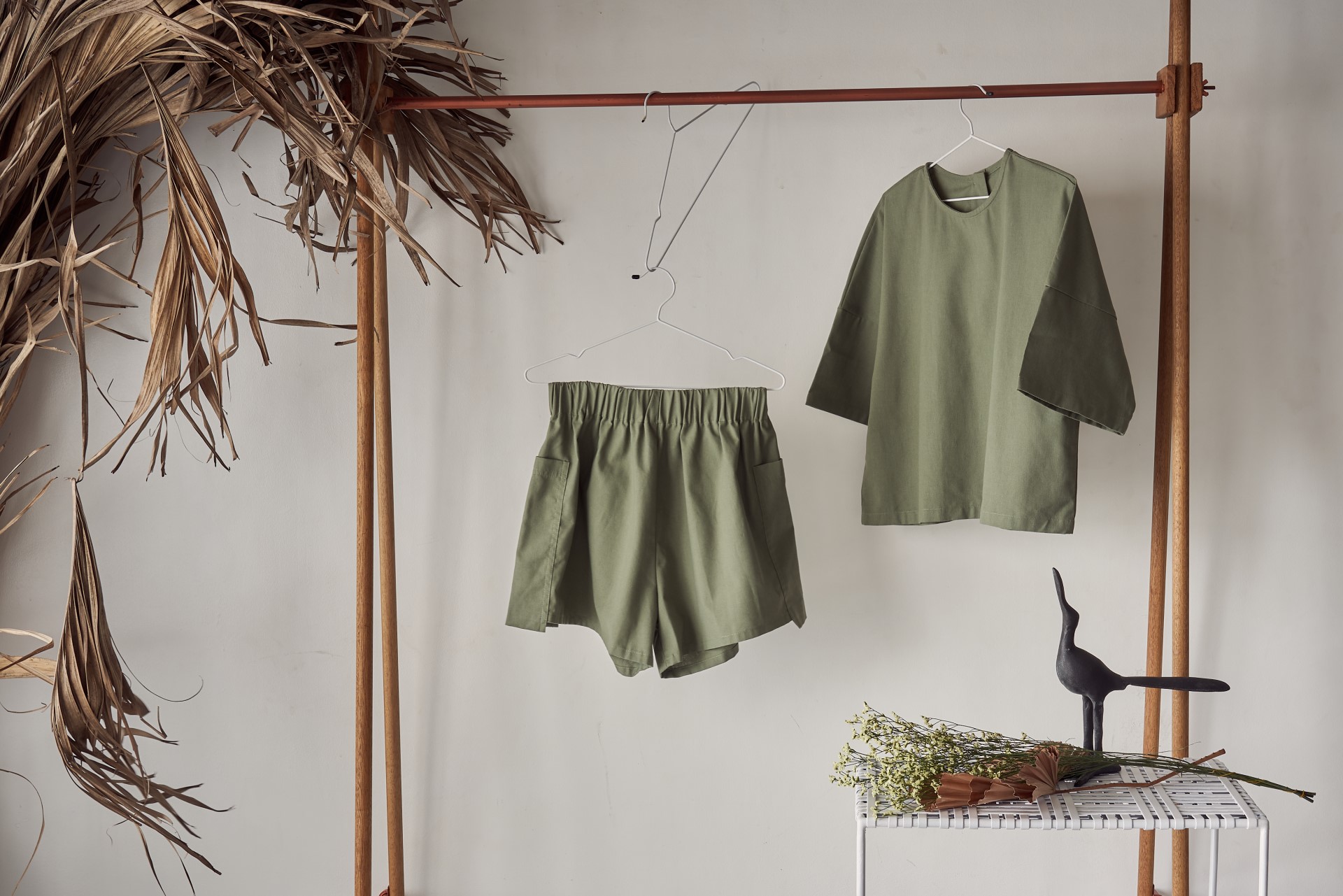 Lounge-from-home. (From left): Casa Shorts and Shirts in Olive, Unif0rm; Cheque Nesting Table, Zarate Manila; Crow Tabletop Décor, Triboa Bay Living
Accessories make the (Zoom) scene.
Deck out your desktop with Post Modern-style bookends, organizers, and vases that'll accent your immediate space when on Zoom. Soft pastel tints and grays are more unexpected and thrilling than basic black and white. Bold clip-ons will show who's boss when you're handling a webinar, and if you're heading out right after, don't forget to wear your (silky, sexy, beaded) face mask.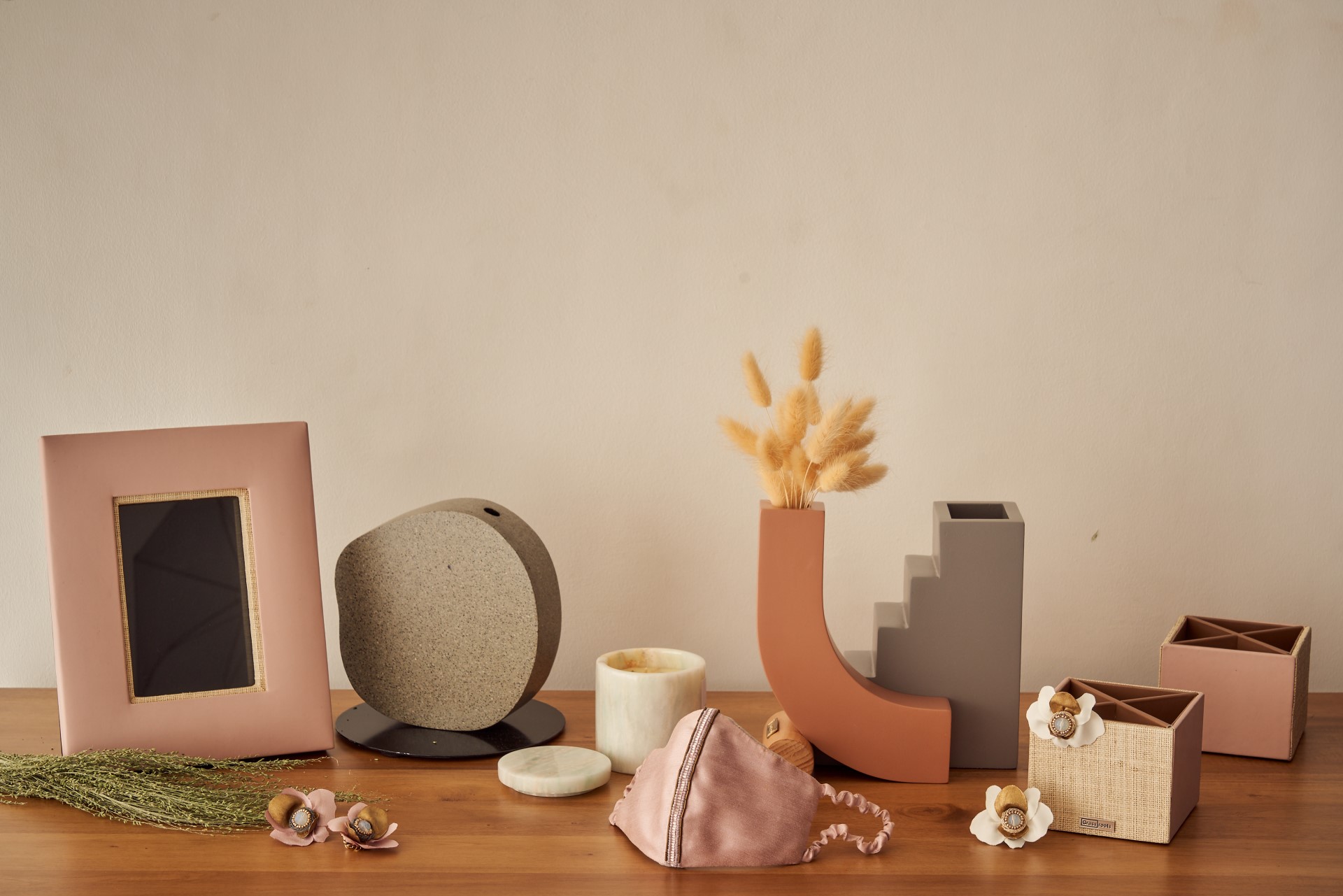 Desktop accessories definitely make the space. (Left to right): Spencer Photo Frame, Grassroots; Clip-on Earrings, Merriam Batara; Lahar Bookends, South Sea Veneer; Scented Beeswax Candle in Marble, Finn the Label; Beaded Face Mask, Merriam Batara; Jay Vase and Staircase Vase, both from Albero; Clip-on Earrings, Merriam Batara; Spencer Pen Holders, Grassroots
Control the WFH clutter.
Run-of-the-mill metal or plastic office supply organizers just won't do. Warm it up and add a sophisticated touch with wood. Plus-points, too, if it's made out of upcycled or sustainably farmed wood like these pieces.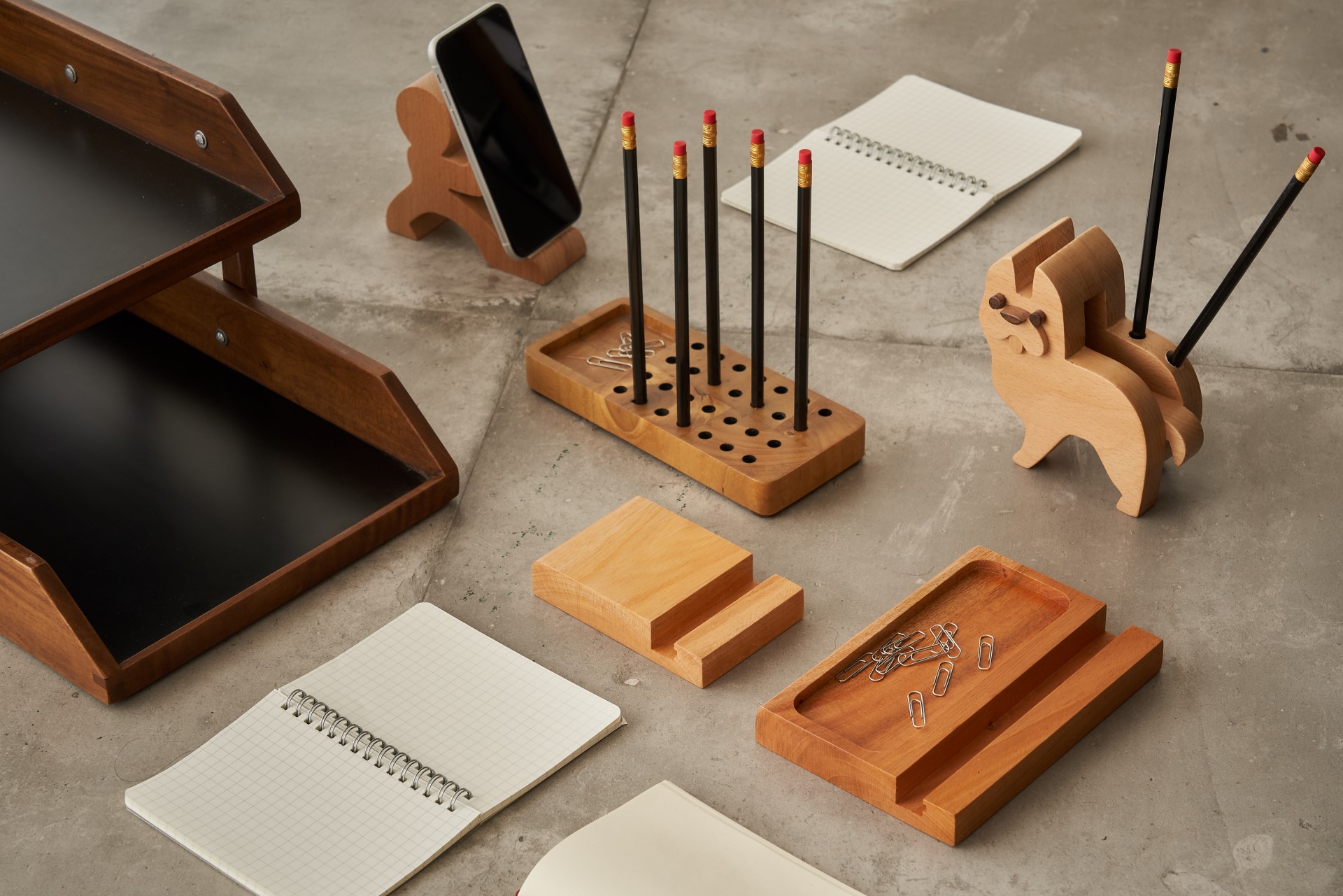 To control your tabletop clutter. (From left to right) Ron Desktop Tray, Triboa Bay Living; Uomo Phone Holder, Albero; Molino Pen Holder, Triboa Bay Living; Gadget and Tablet Stands, Sustainably Made by MARSSE; Gaston the French Bulldog Pen Holder, Albero
Styling: Dagny Madamba and Tala Singson. Photography: Dairy Darilag.