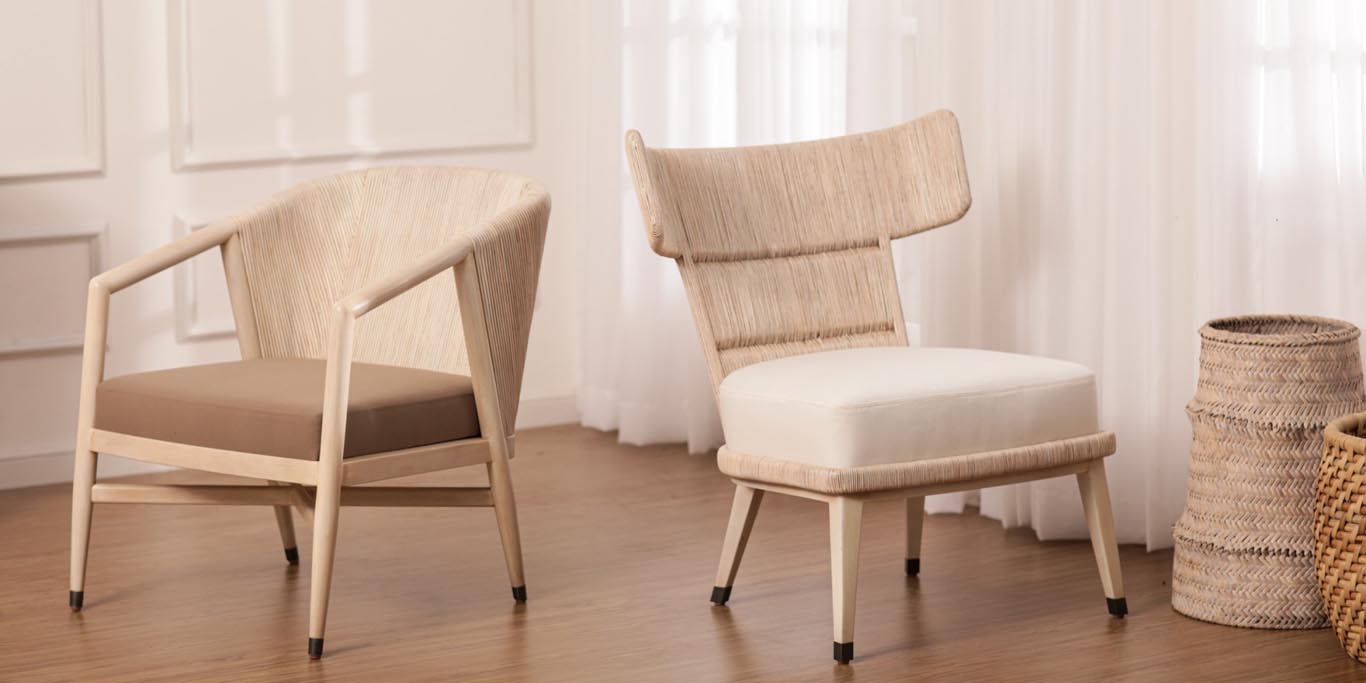 10 Types of New Natural Chairs
Mention the words "woven," "rattan," or "wicker," and images of thatched beach huts immediately come to mind. This popular look, mostly composed of furnishings in natural materials and a neutral color palette, are usually associated with resort style.
But all-natural and neutral don't have to be relegated to strictly tropical climes. In fact, wicker and other weaves can work pretty well with the Rustic Vogue trend, as reported in homeandgardens.com. This trend mixes contemporary furniture of different finishes and textures with vintage pieces.
We could also describe it as the New Natural look, and interior design site Décor Blueprint explains that this particular trend has a relaxed, organic vibe that is more urban than beach-y. Homes and Gardens' other trend, Global Influence, culls elements of earthy tones and natural textures and infuses these into a modern interior aesthetic.
Apply the New Natural look to your space by using furniture pieces made of natural, indigenous materials, but done in a fresh and contemporary way. We think that the collections of Pampanga-based manufacturer Calfurn fit the bill perfectly. Here are our top ten picks.
Sleek and White Style
How to be not-too-tropical: make it pale. These Bow and Kea Lani Lounge Chairs (main photo, above) have a woven rattan frame that's bleached white, rendering the material sleek and modern. The Kea Lani's backrest follows a modified Klismos shape for added flair.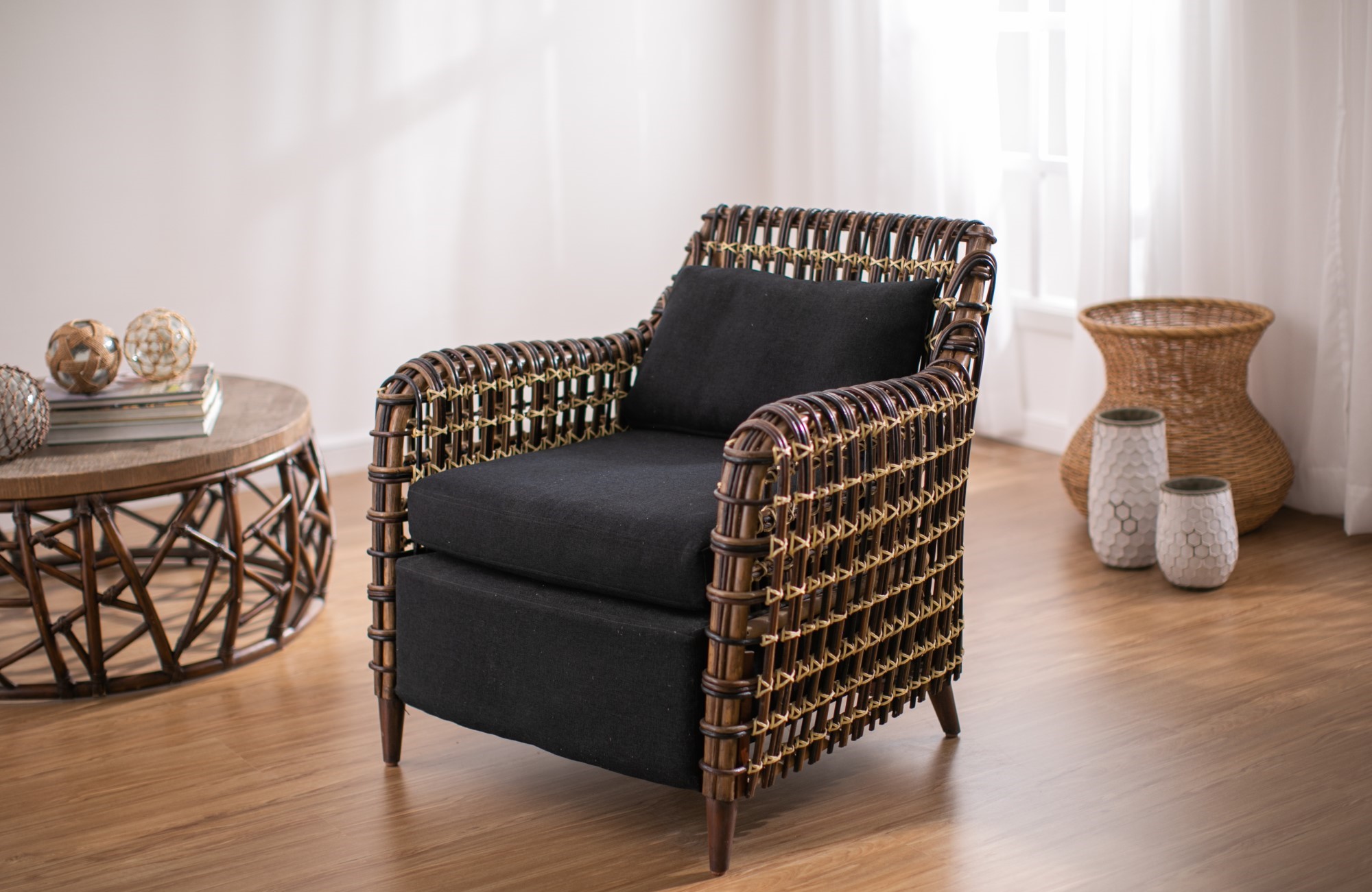 Tunisia Lounge by Calfurn in rattan roundcore.
Exotic Texture
This bold Tunisia Lounge Chair stands out with the strong texture from the prominent, multi-layered, cage-like weaves of rattan roundcore on a red mahogany chair frame. Finishing details of leather strips tie the whole look together.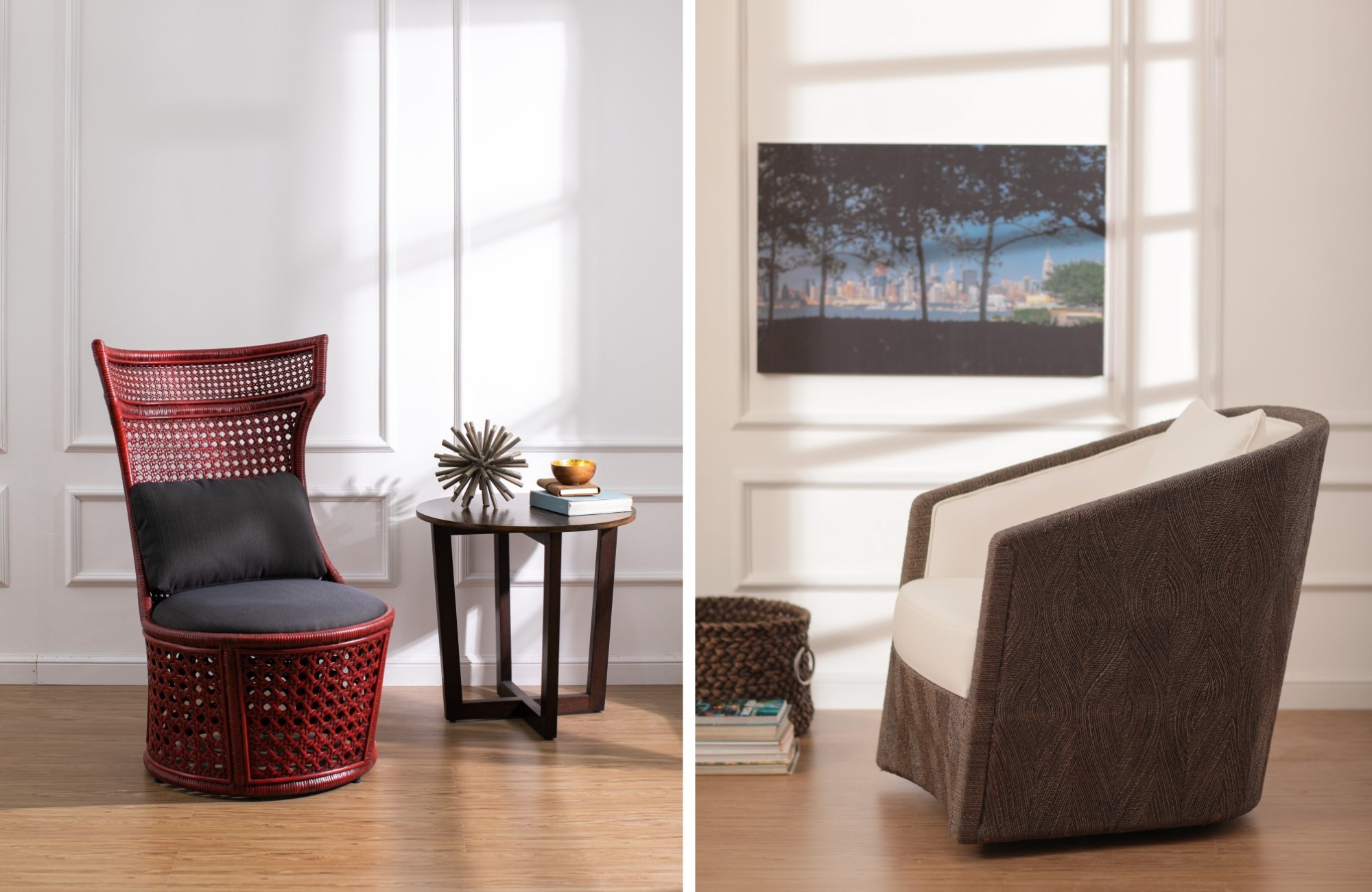 Solihiya Monza Accent Chair (left) in red glaze, Orlando Swivel Chair (right).
Sophisticated Solihiya
Woven chaircane or solihiya has been a traditional furniture weave for centuries. Solihiya gets a modern upgrade in the shapely Monza Accent Chair in a red hot glaze finish. Set this chair solo in a neglected corner to brighten up the space.
Woven Wonder
From afar, the pattern seen on the Orlando Swivel Chair looks like wood veneer, but up close, it is intricately woven natural rope—and it adds delicacy to this chair's masculine form. Pair two of these with a round occasional table to make a cocktail corner.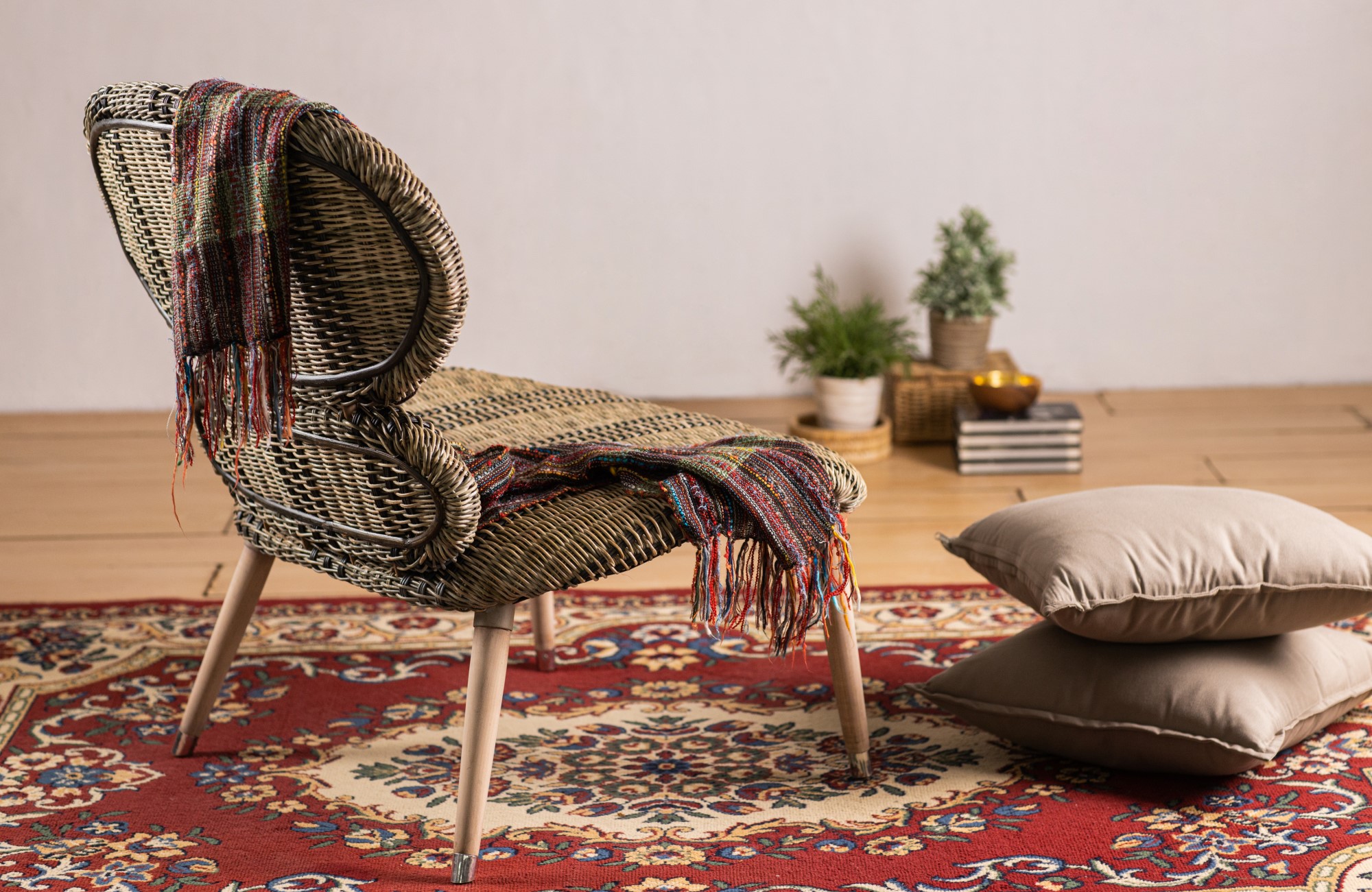 Use the Arezzo Slipper Chair as an accent seat or as a lounger.
Modern Slipper
Wicker material and slipper chairs are typical of Victorian-era style, but there is absolutely nothing old-fashioned about the Arezzo Slipper Chair. Its unusual shape wrapped in alternating dark and light wicker weave make it fresh instead of frilly.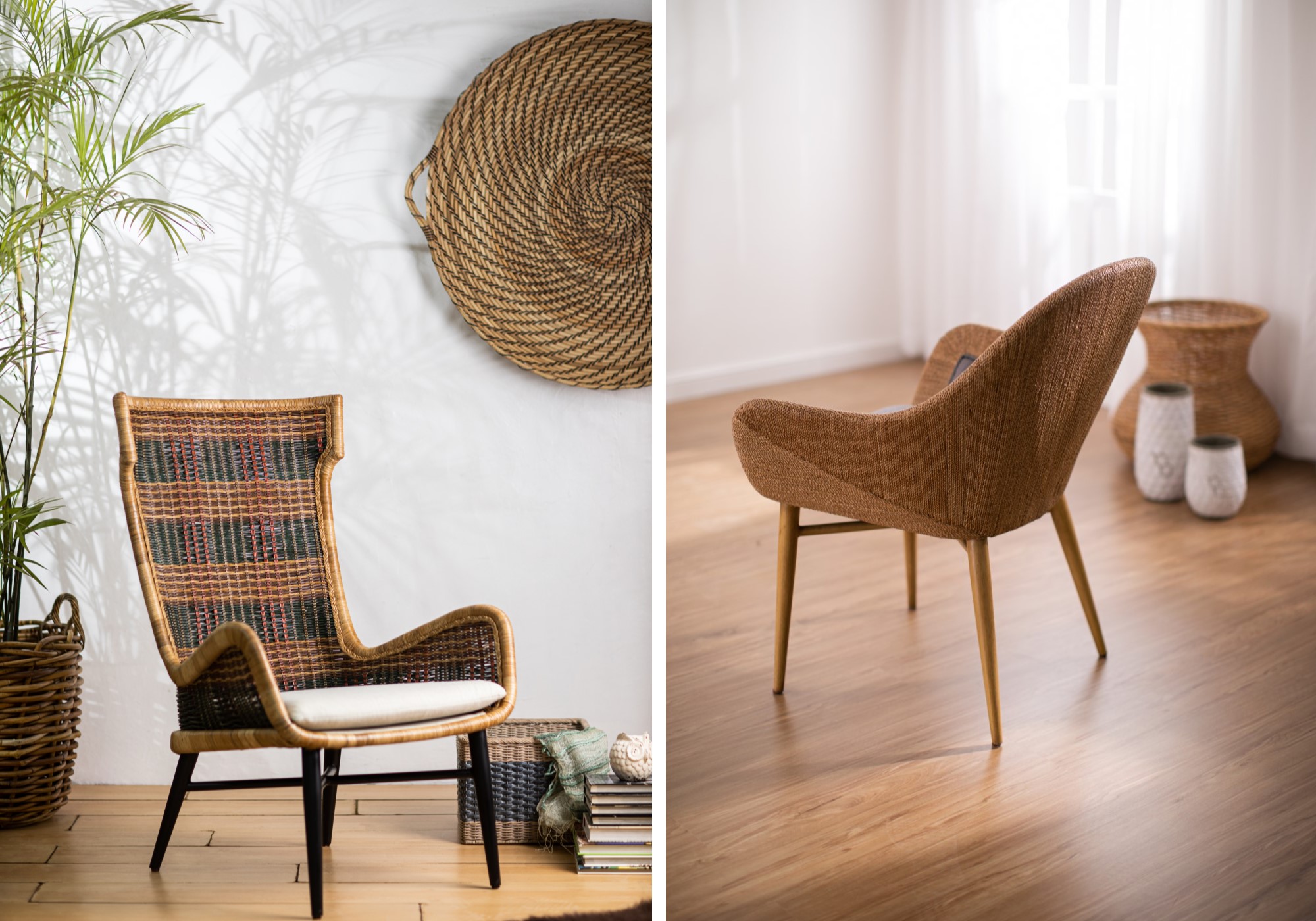 Livarno Wing Chair in multicolored rattan on metal base (left), Leila Occasional Chair (right).
The New Wing Chair
Another traditional furniture piece is the stuffy wing chair, which gets a revamp for hot and humid climes with the Livarno Wing Chair. Its powder-coated metal frame makes it lightweight, too.
Art Deco Lines
The Art Deco interior design trend of 2020 gets a much-deserved extension in 2021 with the Leila Occasional Chair, a simple, slim-legged occasional chair wrapped in woven fiber. Use this beauty with a vintage wooden dresser table.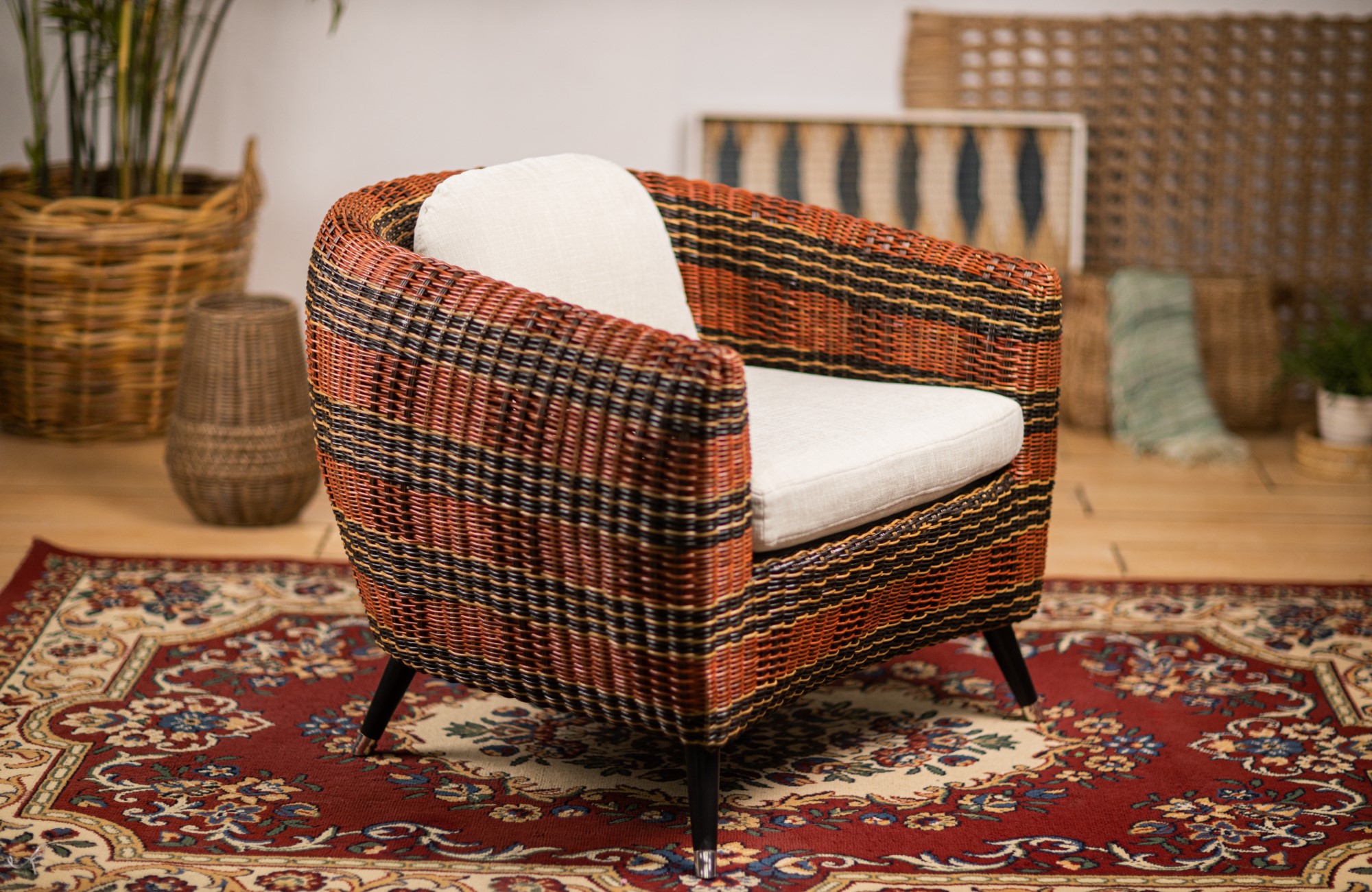 Grosetto Lounge Chair in black, orange, and natural rattan weave.
Striped Club
Club chairs are massive and eye-catching, but the Grosetto Chair in multicolored rattan weave is a stunner. Take it to the next level by swapping the pale seat and back cushion upholstery with rich, wine-colored leather.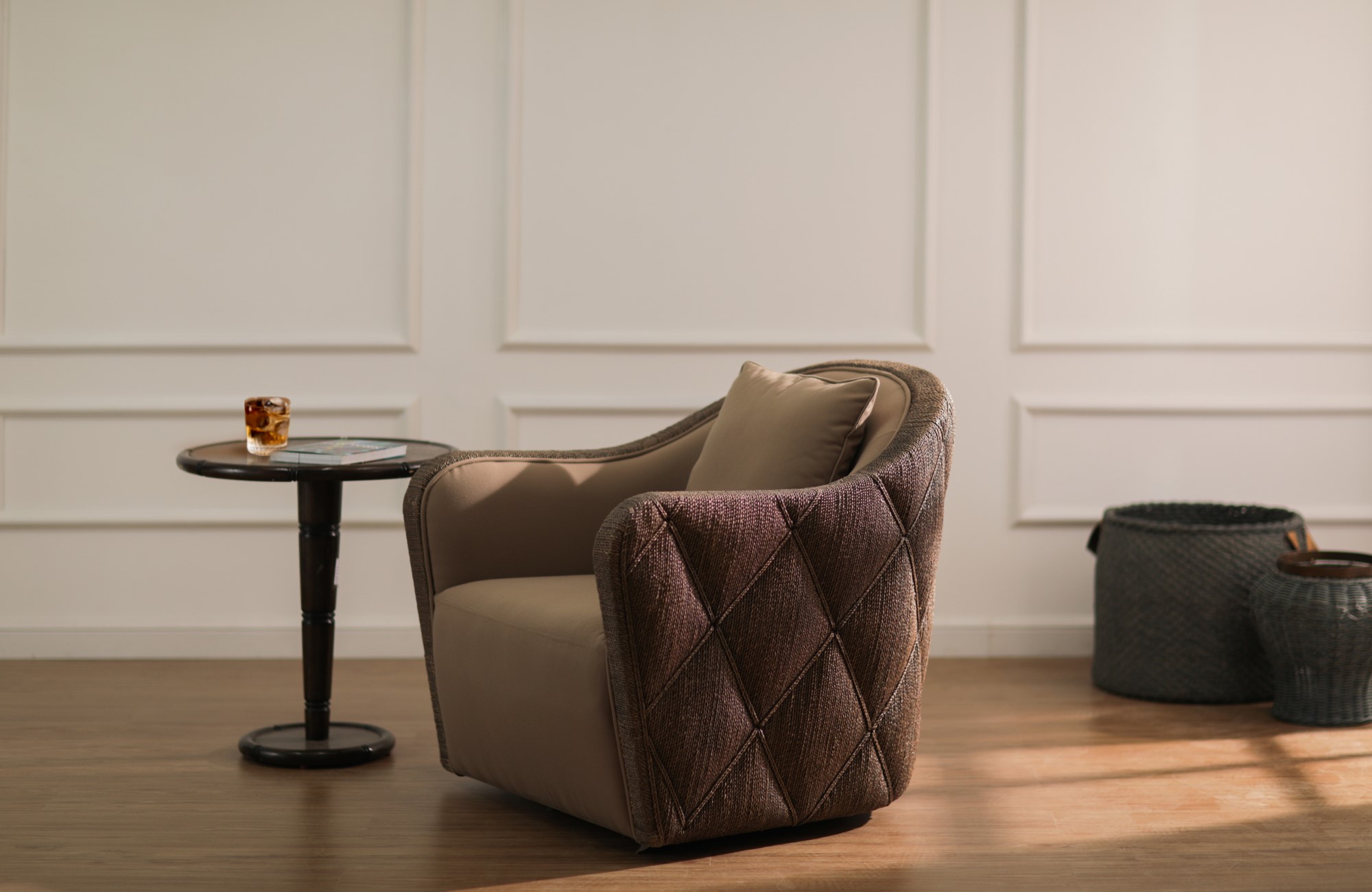 The upholstered and tufted rope Destin Swivel Chair.
Luxe Swivel
If you believe swivel chairs only belong in the office, think again. The Destin Swivel Chair will be perfectly at home in both elegant library or lounge area or with its deep, tufted woven rope design.
Images by Paolo Feliciano, courtesy of the brand.