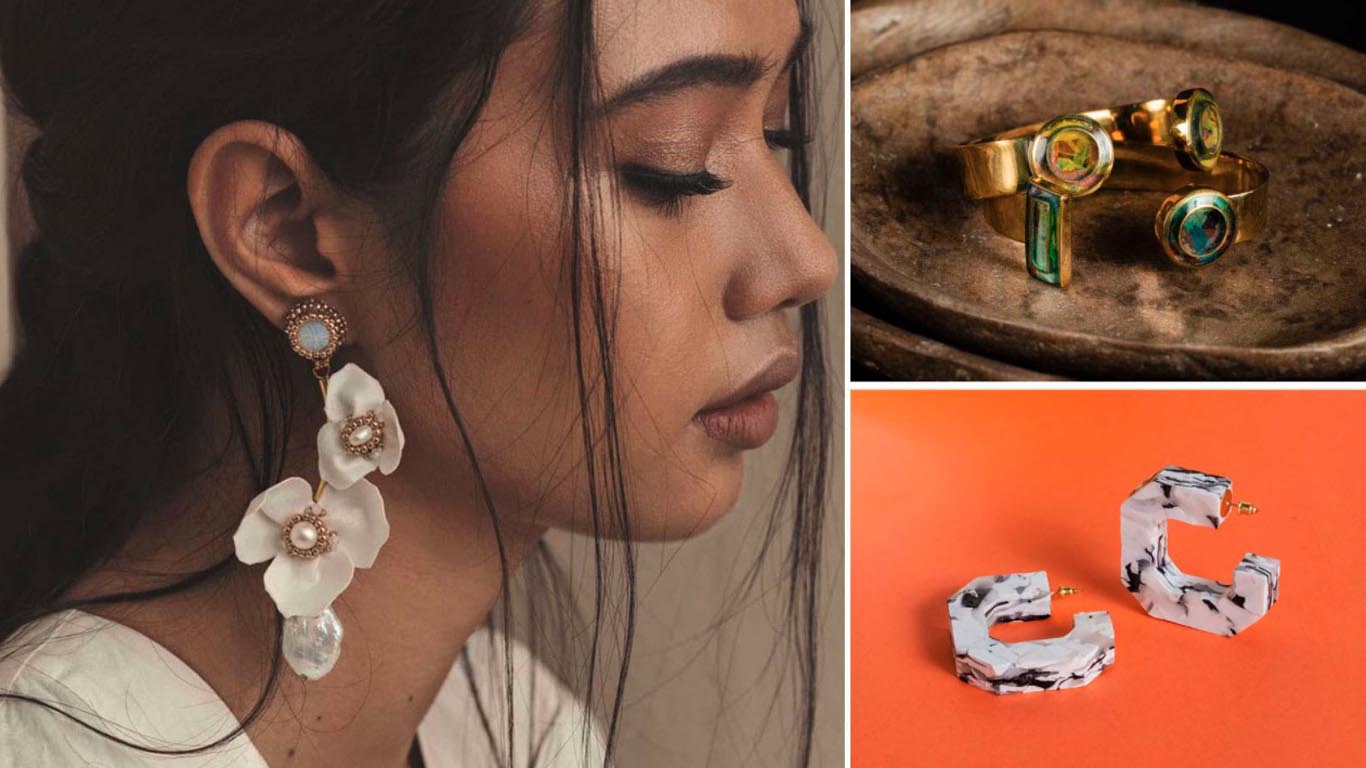 8 JEWELRY LOOKS FOR 2020
Jewelry and accessories are some of the easiest ways to update your wardrobe, and we've seen a lot of Philippine-made pieces at the 70th edition of Manila FAME to take you straight to 2020.
Nature in the form of stylized flowers and animals, as well as natural materials and sea creatures will all be having a heyday, according to Vogue. While whowahatwear.com along with other forecasting sites point to hoops and pearls as reimagined traditional pieces to collect.
Here's what to look out for:
1. Organic/Sculptural/Abstract
Raw, undulating forms, sculptural construction, minimalist details, and a free play in materials make these pieces stand out.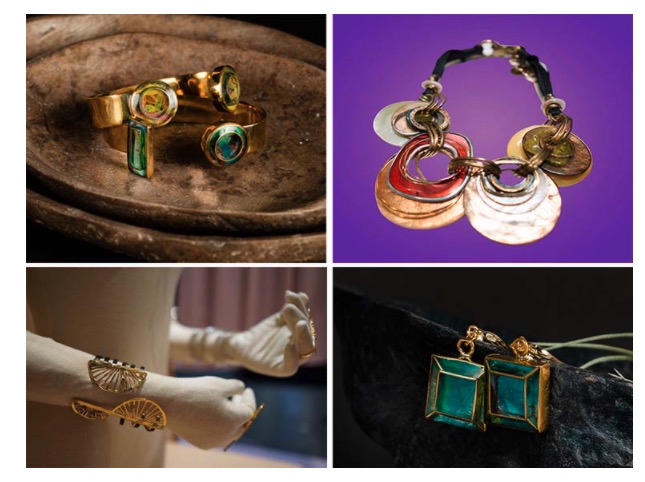 Clockwise from top left: Lolita Bangles by Virtucio on a Masaeco plate; Disc Necklace by Adante Leyesa; Diana Earrings by Virtucio; Abanico Choker and Bangle, collaboration with Andre Chang and Alcehemista.
2. Quirky Filipiniana
Cebu designer Strozzi does a whimsical take on Filipino motifs like the bahay kubo (hut) and jeepney with her enamel and shell on brass accessories.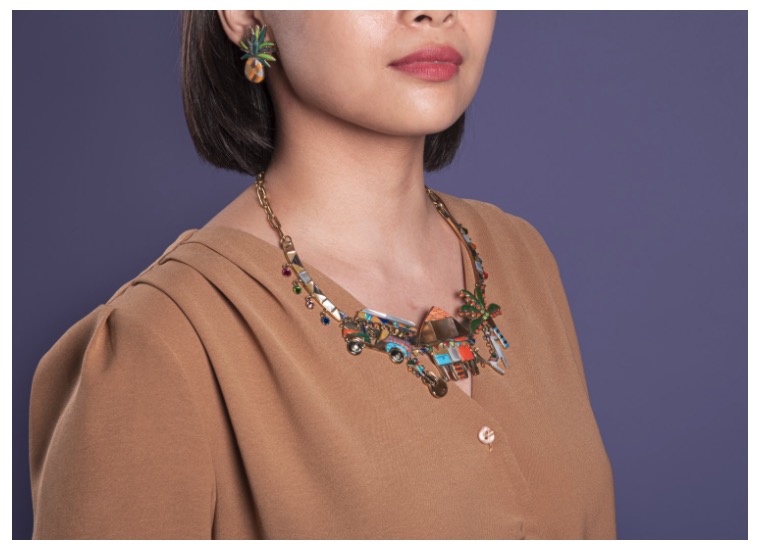 Bahay Kubo/Jeepney Necklace and Earrings by last edition's featured E-tailers, Strozzi Abecel Rosende.
3. Bauhaus/PoMo
The bold geometric forms and colors the Bauhaus movement from the 1920s-30s, and Post Modernism, its distant cousin, was seen in these young designers' accessories. Tropik Beatnik uses recycled plastic for some of its jewelry creations.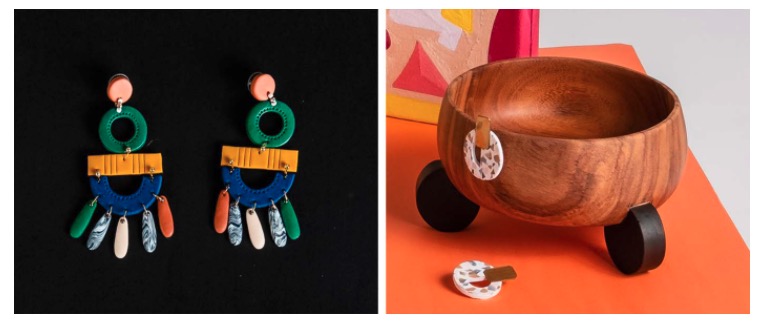 Bahay Kubo/Jeepney Necklace and Earrings by last edition's featured E-tailers, Strozzi Abecel Rosende.
4. Pearls
See pearls in a new light in hoops, lariats, and baroque pearl variants. These timeless accessories will go well beyond 2020.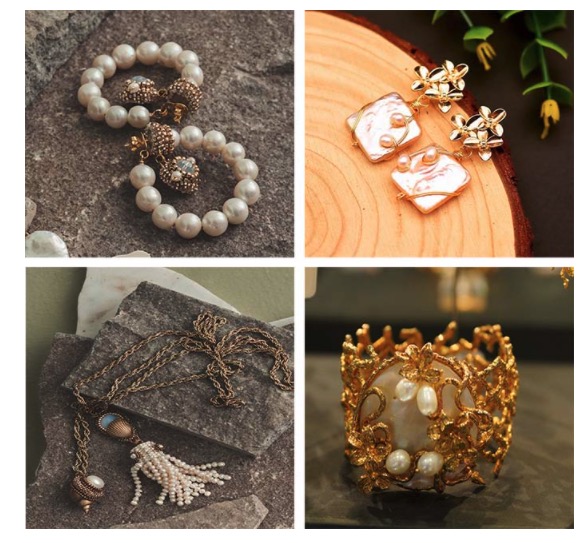 Two-in-one trends: Hoop earrings reinterpreted in pearls by Merriam Batara; floral and pearl Tina Campos earrings; gold vines entwining freshwater pearls and a mother-of-pearl disc by Tim Tam Ong; a boho Lariat necklace by Merriam Batara gets a luxe touch with seed pearls.
5. Cameos & Pendants
This is a throwback to vintage or antique jewelry with a Victorian or ecclesiastical feel, with some pieces referencing to the Filipino tambourin necklace.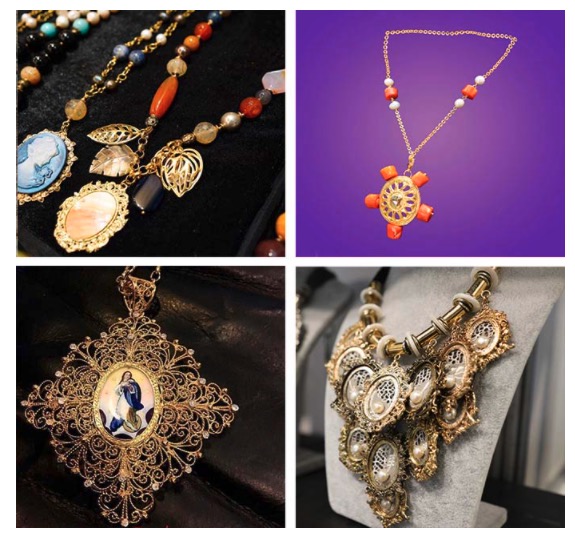 Cameo Pendant Necklaces by Tina Campos; Coral Pendant Necklace by Tim Tam Ong; Bib Necklace by Adante Leyesa; Filigree Cameo by Maria Angelica Rare Finds.
6. Sea Creatures
Biologist-turned-designer Ken Samudio has the best "under the sea" jewelry pieces and other fashion accessories with mother-of-pearl seahorses, nautilus shells, and scallops.
Mother-of-pearl Seahorse Earrings; beaded clutch by Ken Samudio.
7. Flora
A quiet and sophisticated elegance can be found in these jewelry pieces made out of enamel, pearl, gold, and recycled materials.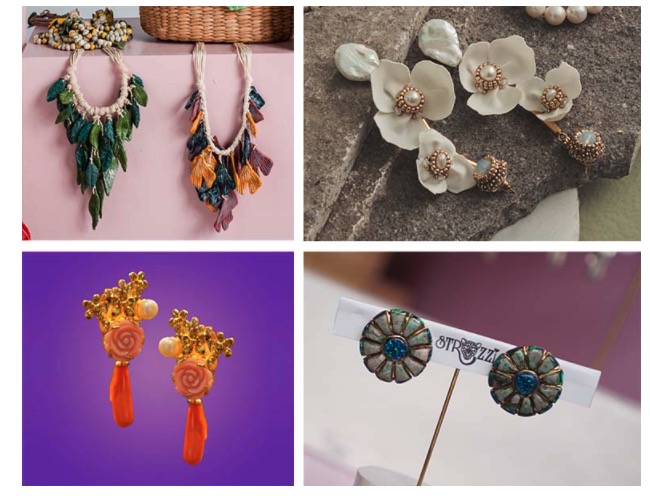 Clockwise from top left: Nucast recycled material necklaces by Floreia; freshwater pearl and glass beads floral drops by Merriam Batara; Dairy earrings by Strozzi; coral and pearl drop earrings by Tim Tam Ong.
8. Fauna
The birds, the bees, and pretty much every other animal from that kingdom was represented in stud earrings, drops, rings, and pins.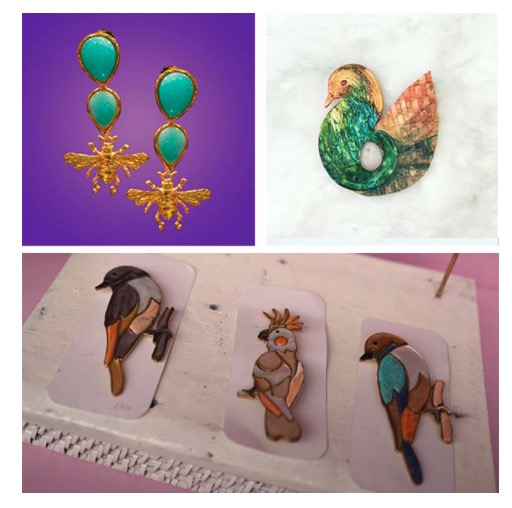 Turquoise bees and gold hummingbird earrings by Tim Tam Ong; mother-of-pearl pin by Alchemista; enamel bird pins by Strozzi