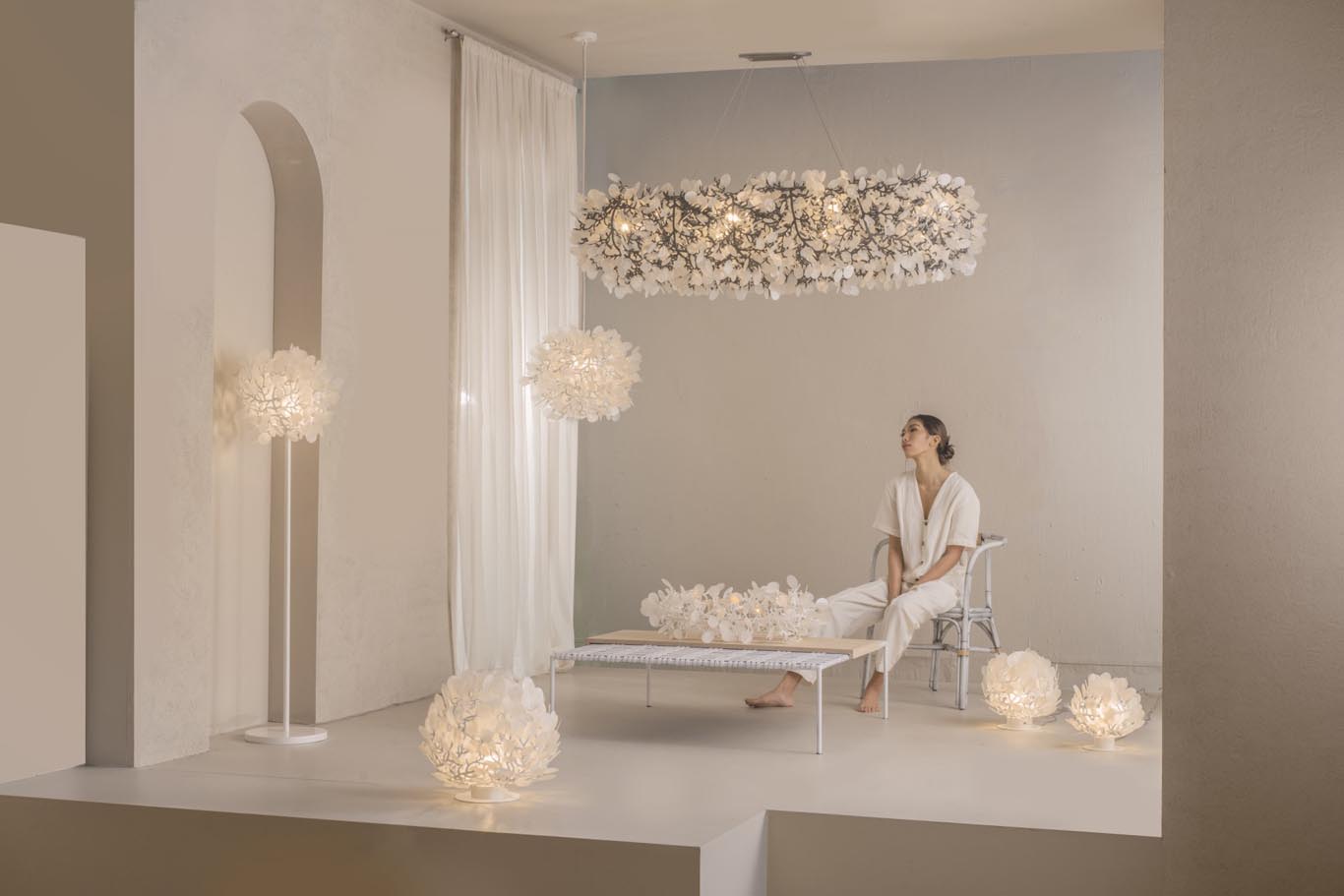 Blooming
The capiz pendant lamps, including the table lamps, come in an iridescent, translucent white that has an otherworldly glow—clusters of florettes that, when suspended, form cloud-like shapes floating over a table or conversational seating arrangement. Such is the nature of the Cherry Blossom collection, an ethereal series of lamps that have become a signature piece of sorts for Venzon Lighting and Objects.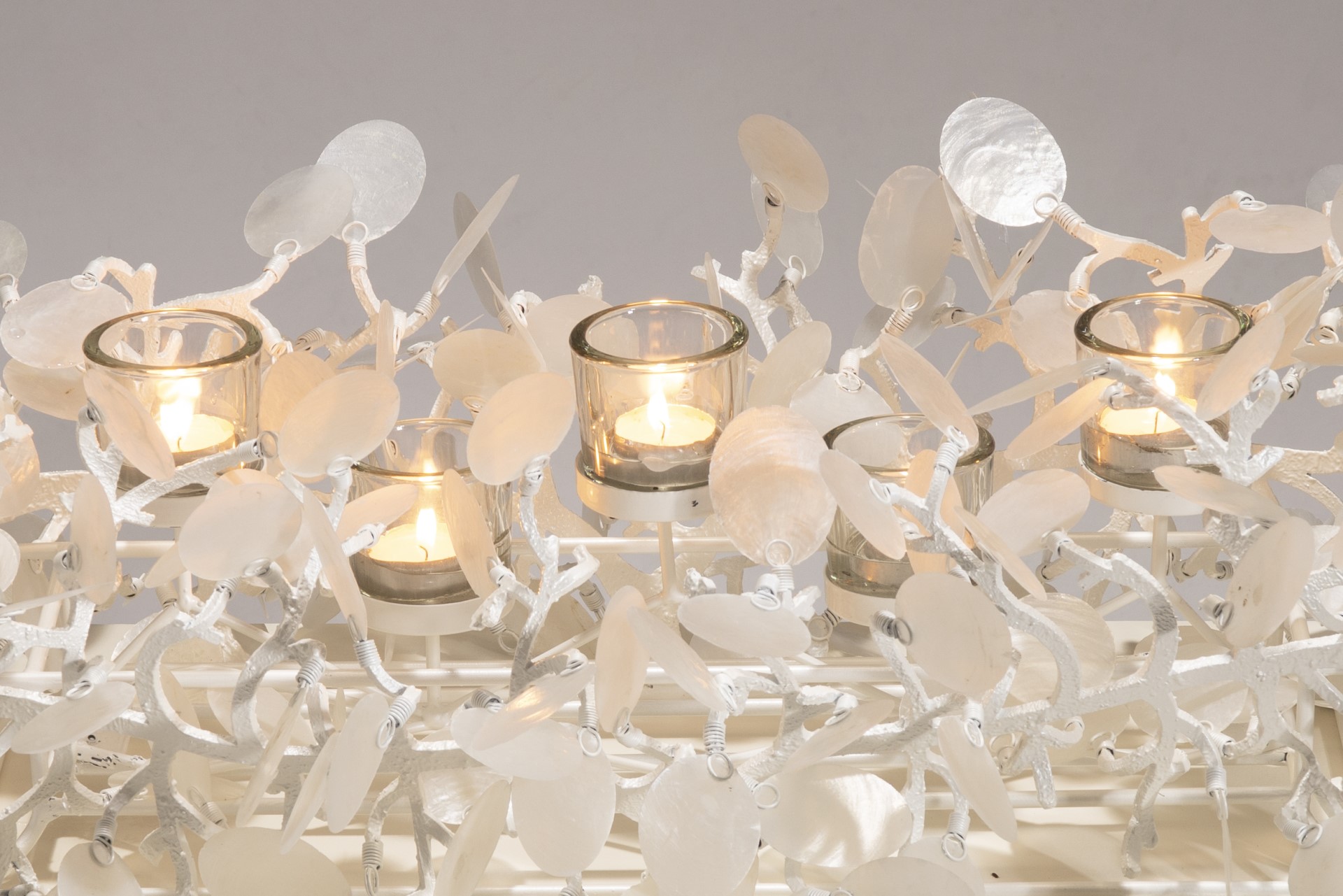 The capiz and aluminium-branch Cherry Blossom candle holder vessel is part of the Cherry Blossom collection (see top photo) that is the highlight of Venzon Lighting & Objects' pieces at the Maison & Objet Digital Show. "[Lichauco and Nazareno] looked at our existing collections and selected three collections to go with their Bubble Living theme," says Jackie Venzon.
So, it isn't any surprise that this collection was handpicked by Gabriel Lichauco and Rita Nazareno for the Maison & Objet Digital Show. The brand's creative director Jackie Venzon explains how they came up with this popular design. "It was designed by Cris Venzon—initially we discussed the inspiration to be a coral-like design with branches, but once we saw the branches, we decided that capiz would be a nice material combination." Jackie explains that aluminium allows for easier bending and forming, and more freedom in design. "Once we added the capiz petals, its natural beauty evoked a cherry blossom, hence its name."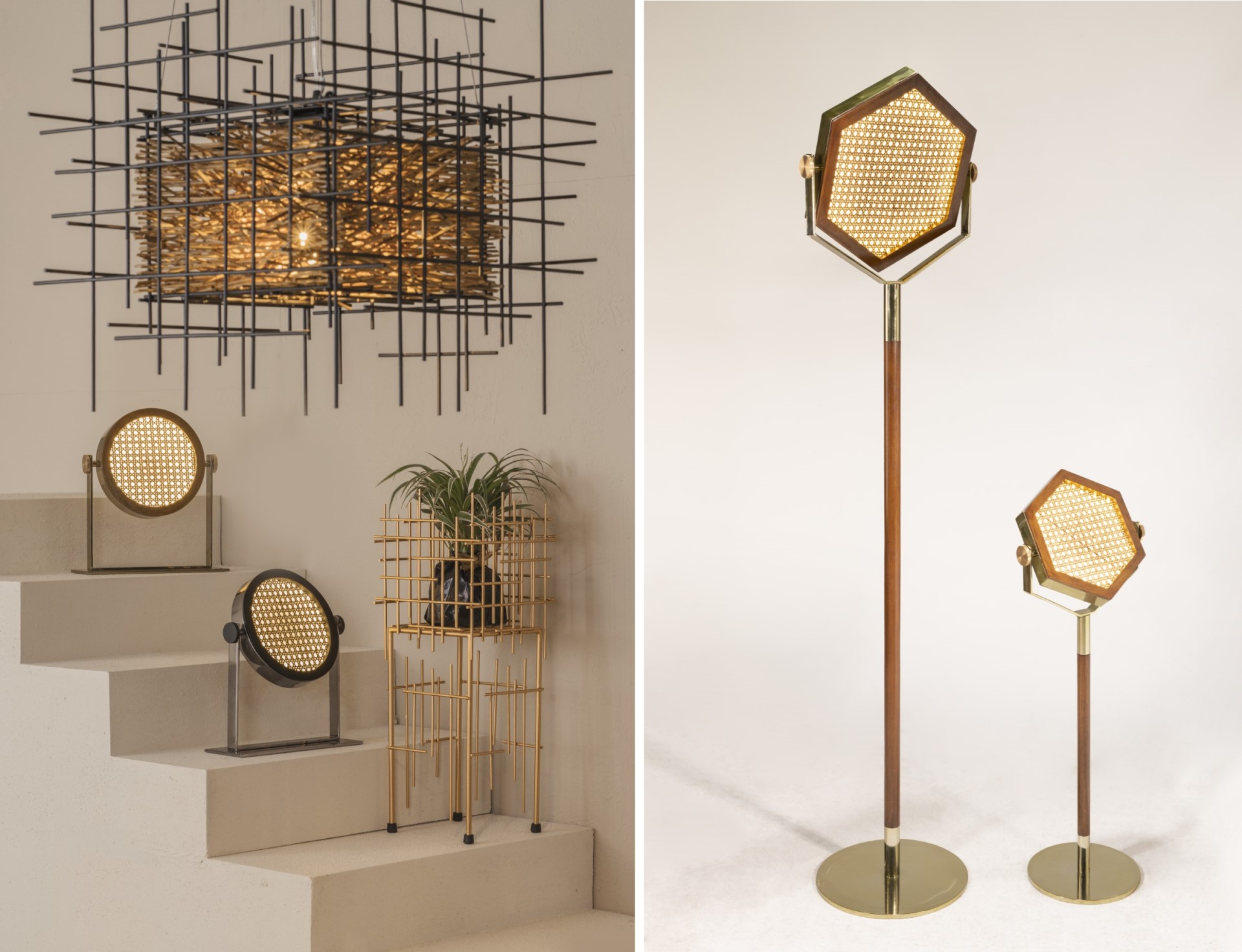 The curators of Maison & Objet proposed to expand on Venzon's collection to include more cherry blossom pieces, as well as Matrix planters, seen here (left) paired with the Benjamin Lamp-Round; (right) Benjamin Hexa Lamps in tobacco wood finish, stainless steel, and solihiya detail.
Filipino-contemporary, but fresh
Husband-and-wife team Cris and Jackie Venzon met at a lighting company in Las Vegas in the early 1990s, and with Cris's 30-year-long background in lighting, the couple decided to go back to the Philippines and establish their own lighting brand. Venzon is known for their unusual, can't-find-it-anywhere lamps that are fresh and contemporary yet uniquely Filipino—but Filipino in a way that isn't the expected rustic, resort-style aesthetic.
Case in point is their equally popular Benjamin Lamp, with its polished wood frame and solihiya insets, a traditional Filipino cane weaving.
"The initial design [for this lamp] was part of the Labyrinth collection designed in collaboration with [industrial designer] Stanley Ruiz and Cris using an etched acrylic cover," Jackie explains. "Later on, I asked them to redesign using solihiya on the cover instead—hence I renamed it Benjamin. Our main idea when collaborating with other designers is to be able to incorporate natural materials with steel and other metals we work with. In this particular design, I wished to combine the timeless beauty of solihiya fiber with modern luminaries that would elevate Philippine Design and craftsmanship."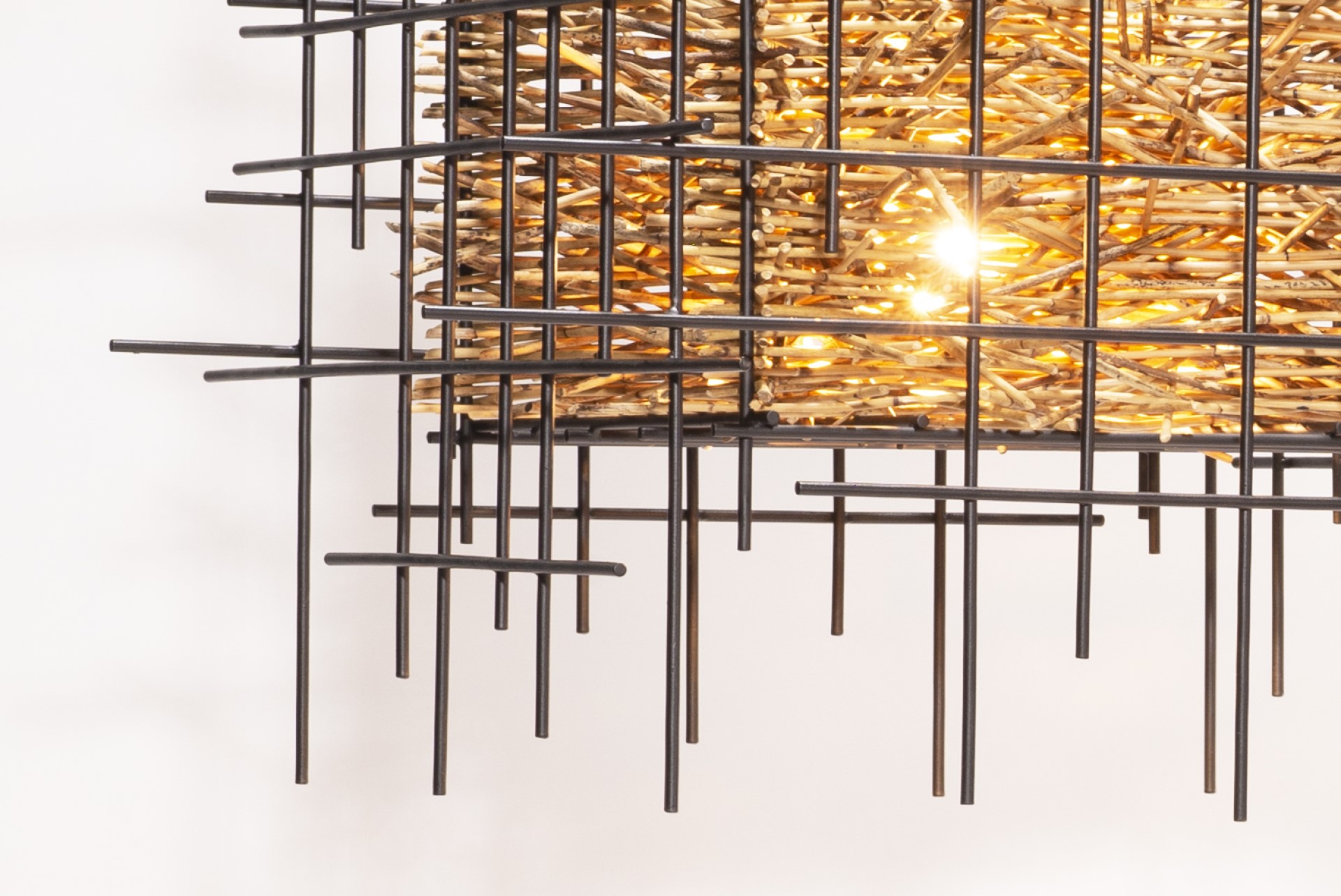 With the Matrix lamp collection, the poles that form the design are systematically arranged to produce a "nest" that diffuses the light.
Future looks bright
In spite of the pandemic slowdown, Venzon Lighting even found the time to do a little bit of physical expansion for their workshop in Pampanga. "[What's] new and exciting for us is going back to the global market by joining MOM Digital, and also, I am happy to announce we finally moved into our newly built creative studio/lab in Pampanga (we were caught in the middle of major construction then we had to pause work during the lockdown)," Jackie shares with us.
"Cris and I remain optimistic, and believe this pandemic too shall pass...hopefully soonest, especially for a much-needed economic recovery. At the same time we are taking the opportunity to use the slow-down period to focus on revamping our social media/marketing efforts to stay first of mind as a premier lighting and objects designer and manufacturer—our main goal is to keep Venzon Lighting afloat and to be able to help our community by providing jobs."