THE BEAUTIFUL SOUTH
There is so much more to Negros Island than it being one of the large regions in Southern Visayas. For Negros, life has always been sweet, as it is one of the prime players in the sugar industry.
All this sugar money gave rise to a thriving economy, not only of sugarcane plantations, but of other industrial businesses that created a wealthy population. This spurred on a culture of creativity and beauty, not only with rich landowners' mansions, but with the various crafts and arts born from the abundant natural materials in the region. Here are some of the noteworthy Negrense exhibitors and their products seen at Manila FAME.
Hacienda Crafts: Social design
This long-time export company run by designer Christina Gaston and her husband Joey Gaston focuses on "enviro-social" pieces and fair trade in the Negros area. These range from baskets and decorative accessories made out of sustainable, natural materials, habi (indigenous weaves), beach-glass lamps, and even coffee tables made out of recycled metal from old sugarcane trucks at farms.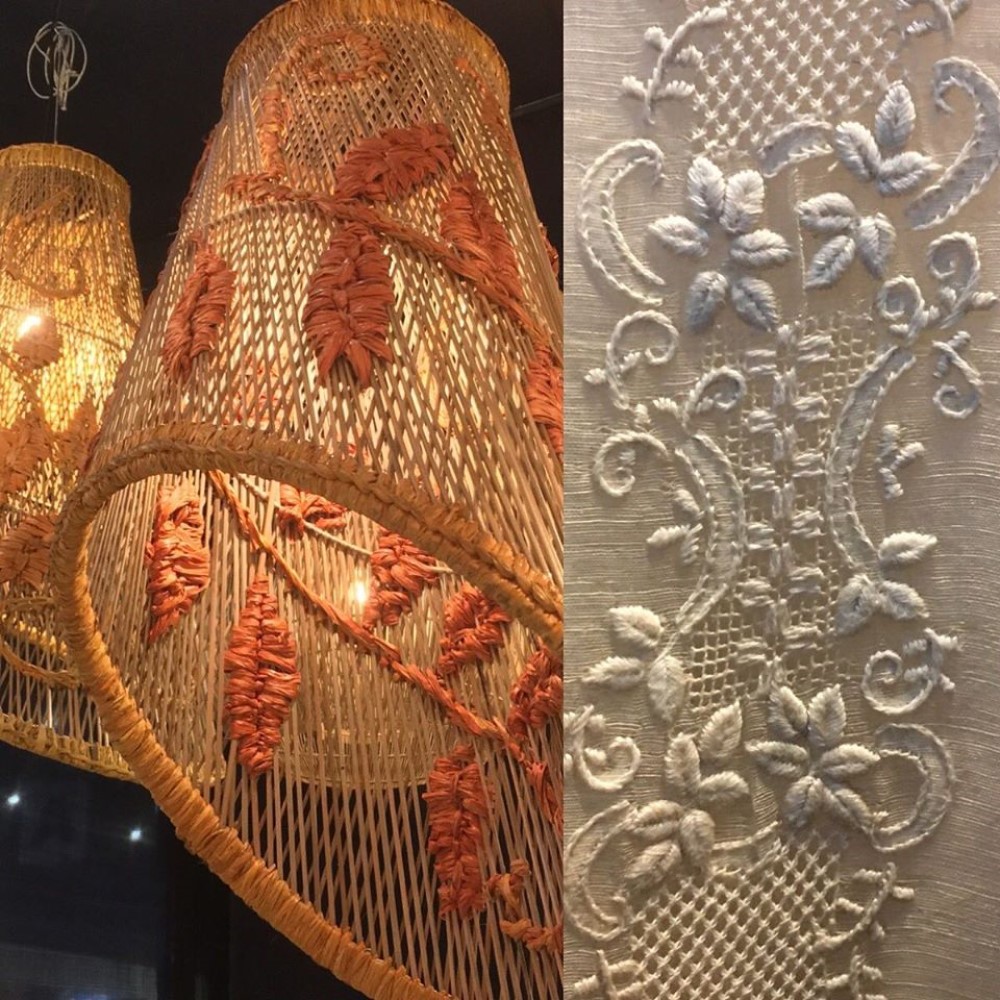 At the 70th edition of Manila FAME, Hacienda Crafts launched these pendant lamps made out of woven material and embellished with barong tagalog-inspired embroidery.
Creative Definitions: Modern Weaves
The brand partners with Negros 9 Weavers, a local group of weavers from Kabankalan, to provide a steady income from their community. Creative Definitions started out selling blankets, throws, scarves, table runners, and other accessories made out of woven fabrics. Their latest product is the Lakat sustainable shoe, a casual shoe design with uppers made out of habi, inner shoe of coco coir, and outer sole partially made of recycled rubber.

Creative Definitions' throw pillows made out of habi (woven indigenous fabrics) and Lakat sustainable shoes designed in collaboration with Andre Chang for Manila FAME's Design Commune.
Negros Silk Producers Association: Challenging the worm
There's a new Silk Road, and it's in Negros Occidental, where groups of sericulture (silkworm culture) farmers are emerging. Since 1999, silkworm farms produce the precious raw silk yarn from the worm's cocoons, which are then sent to silk looms to produce the fabric for Barong Tagalog (men's dress shirt), silk throws, scarves, bags, and even espadrille-type woven shoes.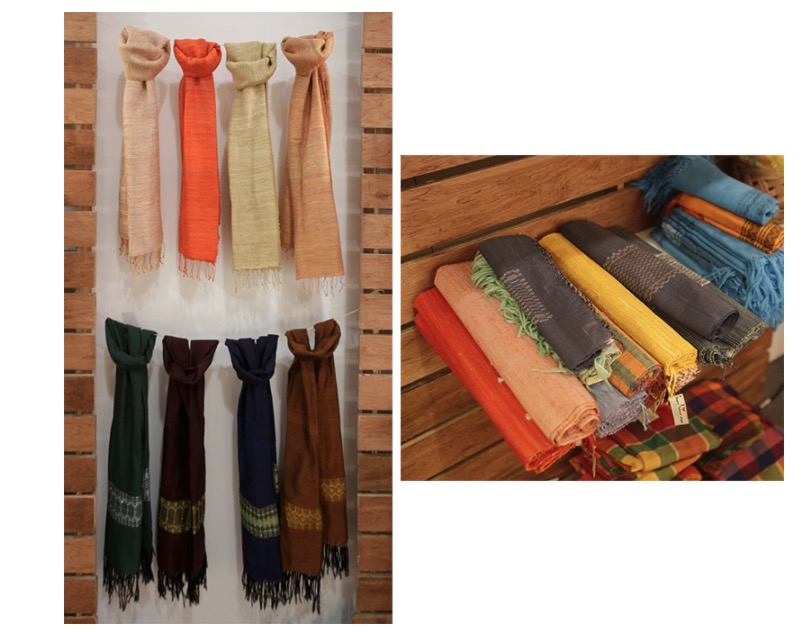 Beautiful scarves, throws, and runners in modern colors by Negros Duenas Loom Weavers.
Tumandok Crafts: Mastery of material
Manufacturers of fine décor for the past thirty years, Tumandok Crafts is also a social enterprise, hiring artisans from the local community, and using natural, indigenous materials and scraps that would have otherwise been disposed. The materials include bamboo, capiz shells, Nito Vine, banana bark, and coconut shells. These are cut and shaped into various patterns for the intricate inlaid decorative objects that Tumandok is known for.
Tumandok Crafts is noted for their mastery of local materials, which enables them to create products that combine inlaid coconut, bamboo, capiz shells, among many other finishes.
[CONTACT DETAILS]
CREATIVE DEFINITIONS
Email:creativedefinitions@gmail.com
URL: weavephilippines.com

HACIENDA CRAFTS
Email:info@haciendacrafts.com
URL: haciendacrafts.com

TUMANDOK CRAFTS
Email:mktg018.tumandok@gmail.com
URL: tumandok.com

NEGROS SILK PRODUCERS ASSOCIATION
Thelma Watanabe
Mobile +63917 328 9017
Email:nspa.oisca@gmail.com