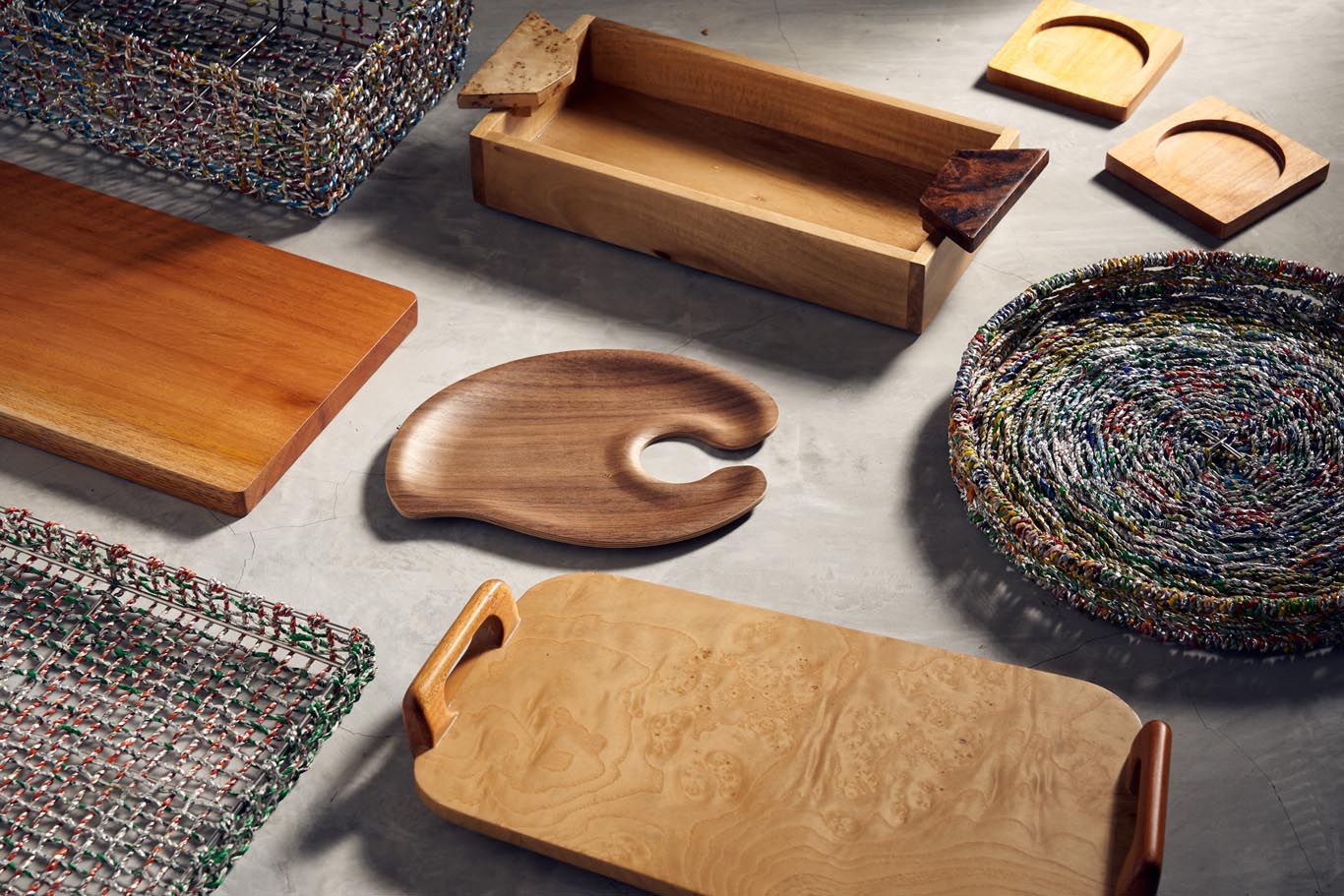 Eat Well
It's a risk to eat out, so let's dine in stylishly.
And if you can't whip up a delicious meal, there's always food delivery! But instead of bringing out the fine china, try setting an unorthodox, eclectic medley of all-Filipino, handcrafted tableware instead.
DISHES
For a relaxed brunch or lunch, go for a rustic mix of earthenware and elegant shell. Artist Jeng Cabrera of Bijin Craft hand-throws and fires up her ceramic pieces in her own backyard, and sometimes she asks her children to doodle on the glazes for a whimsical touch. Shell Arts' food-safe pieces are made of translucent, laminated capiz in delicate but sleek shapes.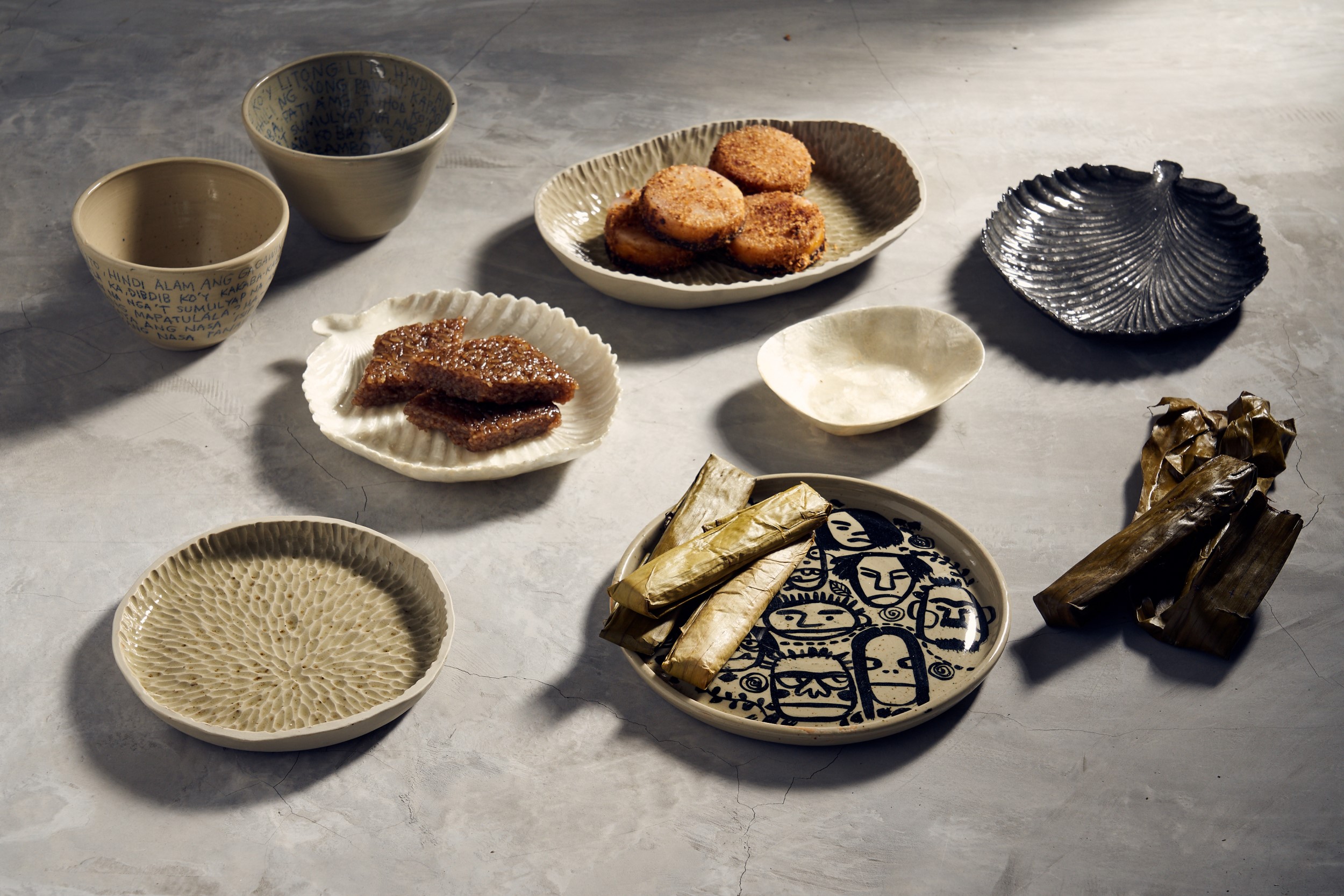 For comfort food (clockwise from top left): Ceramic Lyric Bowls and Textured Ceramic Circular Plate (large), Bijin Craft; Textured Oval Plate in natural, and Leaf Plate in Charcoal, both from Shell Arts; Doodle Plate, Textured Circular Ceramic Plate (medium) Bijin Craft; Leaf Plate in Natural, Shell Arts.
TRAYS
Make an impression with service ware that are so dramatic it won't disappear into the background. South Sea creates trays in a material that they know best—wood veneer, of course—in a mix of hardwoods or in a mesmerizing burl pattern.
As a sharp contrast to this, JunkNot Eco Creatives, whose advocacy is to make zero-waste products, weaves recycled junk food wrappers into modern trays and servers. Sustainably Made by Marsse goes the eco-consicous way as well, as their practical kitchen pieces are made of wood off-cuts from their own sustainable plantation.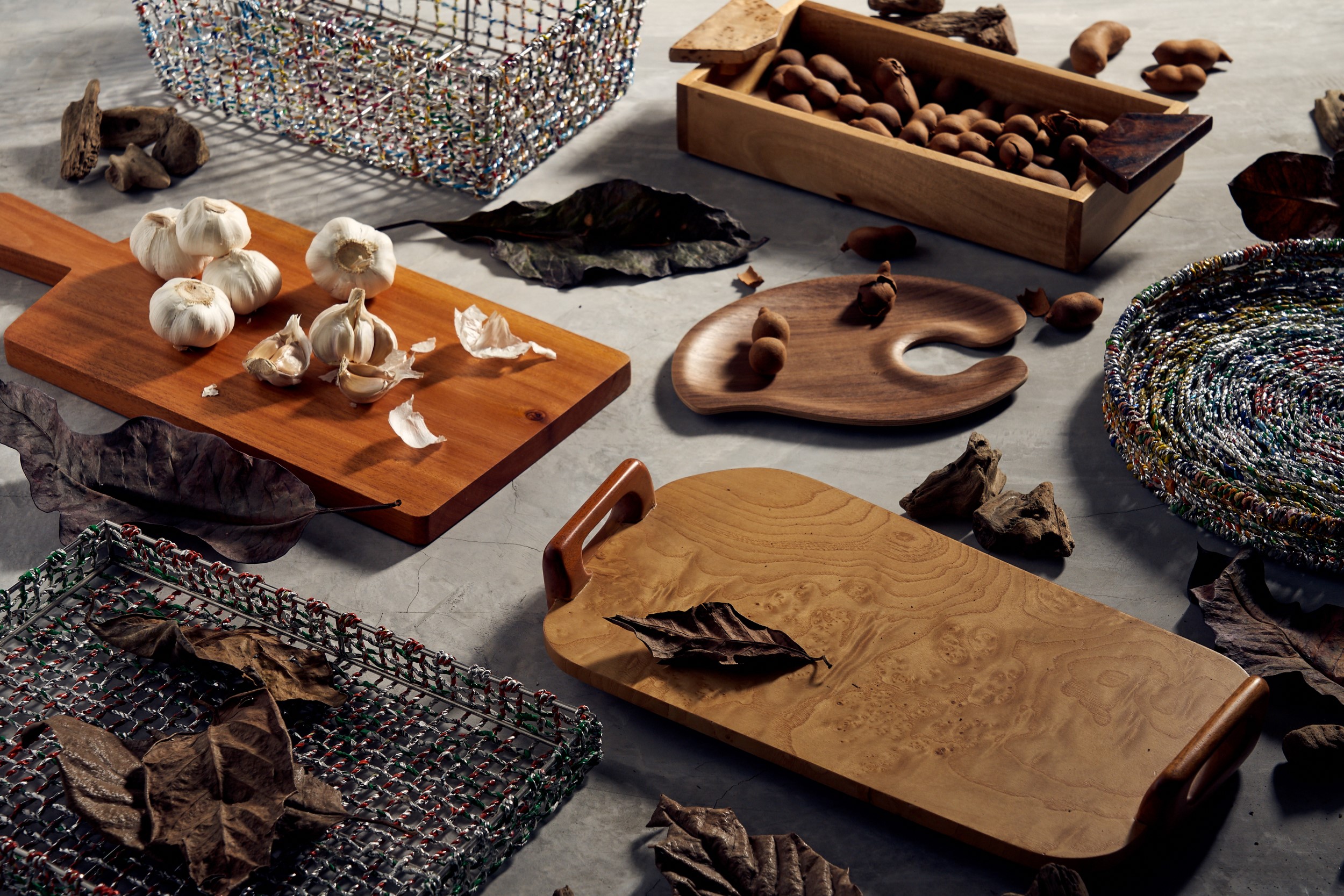 At your service (clockwise from top right): Organizer Box made out of upcycled food wrappers, JunkNot; Bauble Box, South Sea Veneer; Jacob Vin Tray (center), Triboa Bay Living; Round Tray, JunkNot; Crea Tray, South Sea Veneer; Organizer Box (lid) JunkNot; Paddle Serving Board, and Coasters (main photo above), Sustainably Made by Marsse.
TABLE LINEN
Set the scene with table linen, coasters, and napkins with handmade history. Kyla Olives of The Olive Tree works with women weavers from Ilocos, who she commissions to create fabric to use in her products. It has always been her advocacy to promote Filipino design and artisans.
Locano also works directly with Ilocano weavers for their handwoven inabel products. They also partner with Waves for Water—an international non-profit organization that provides clean water to vulnerable communities (incidentally, Nature's Legacy's Carlo Delantar was the former country director of Waves for Water).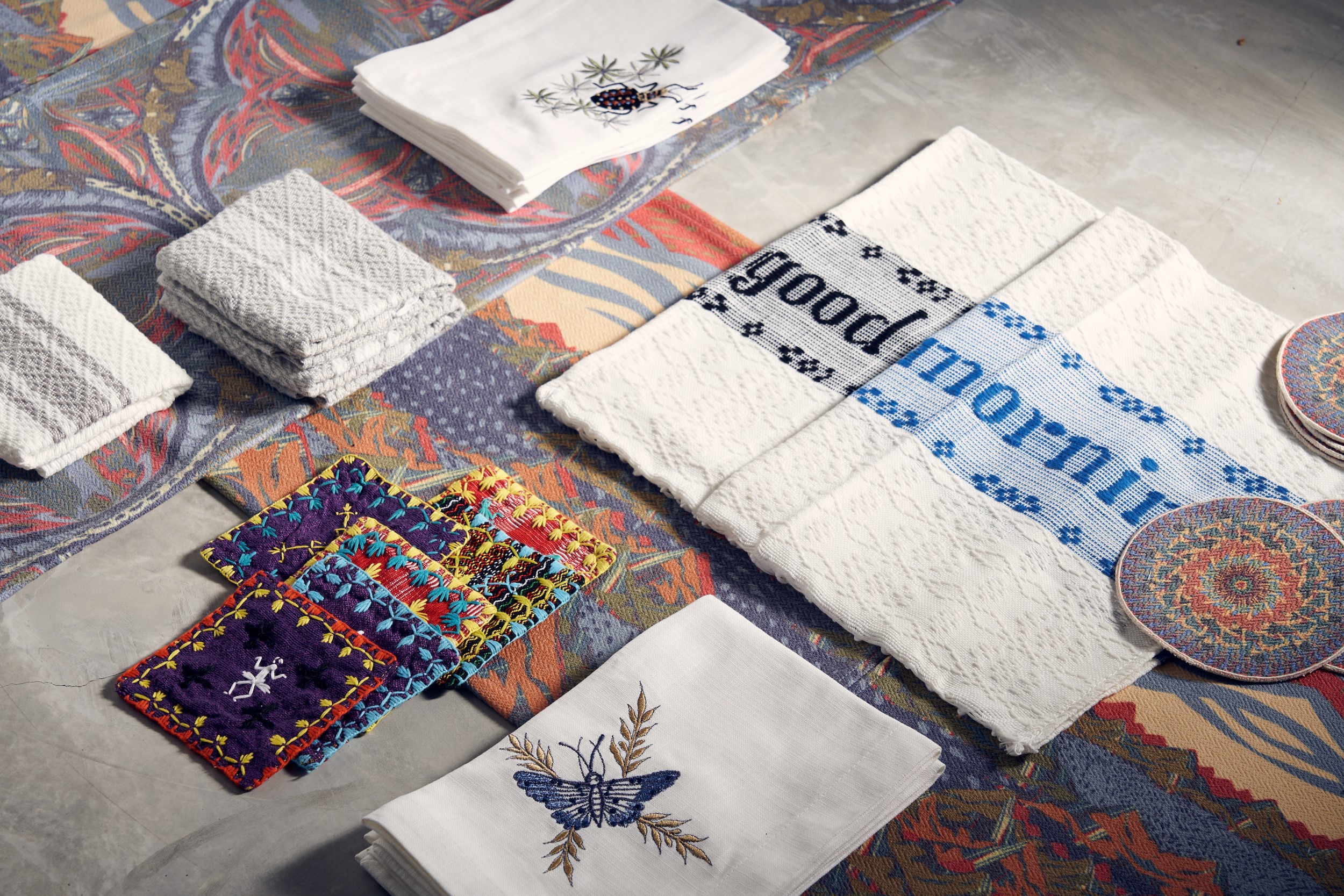 Lay it on (clockwise from top left): Habilin Table Runners and Embroidered Coreid Bug Nymph Napkins, The Olive Tree; Good Morning Hand Towels, Locano; Kalaro Round Coasters and Blue Tiger Moth Napkins, The Olive Tree; Handwoven Itneg Coasters; Yagam Coffee; Feliz Mini Hand Towels, Locano
COFFEE ACCESSORIES
End your meal with a warm cup of fair-trade Philippine coffee like Basilio's premium blends. Its owners, Bote Central's Basil and Vie Reyes don't just sell coffee; they also help elevate the coffee farming communities by loaning them roasting machines and equipment (which Basil makes himself) so that the farmers can become roasters and retailers, too.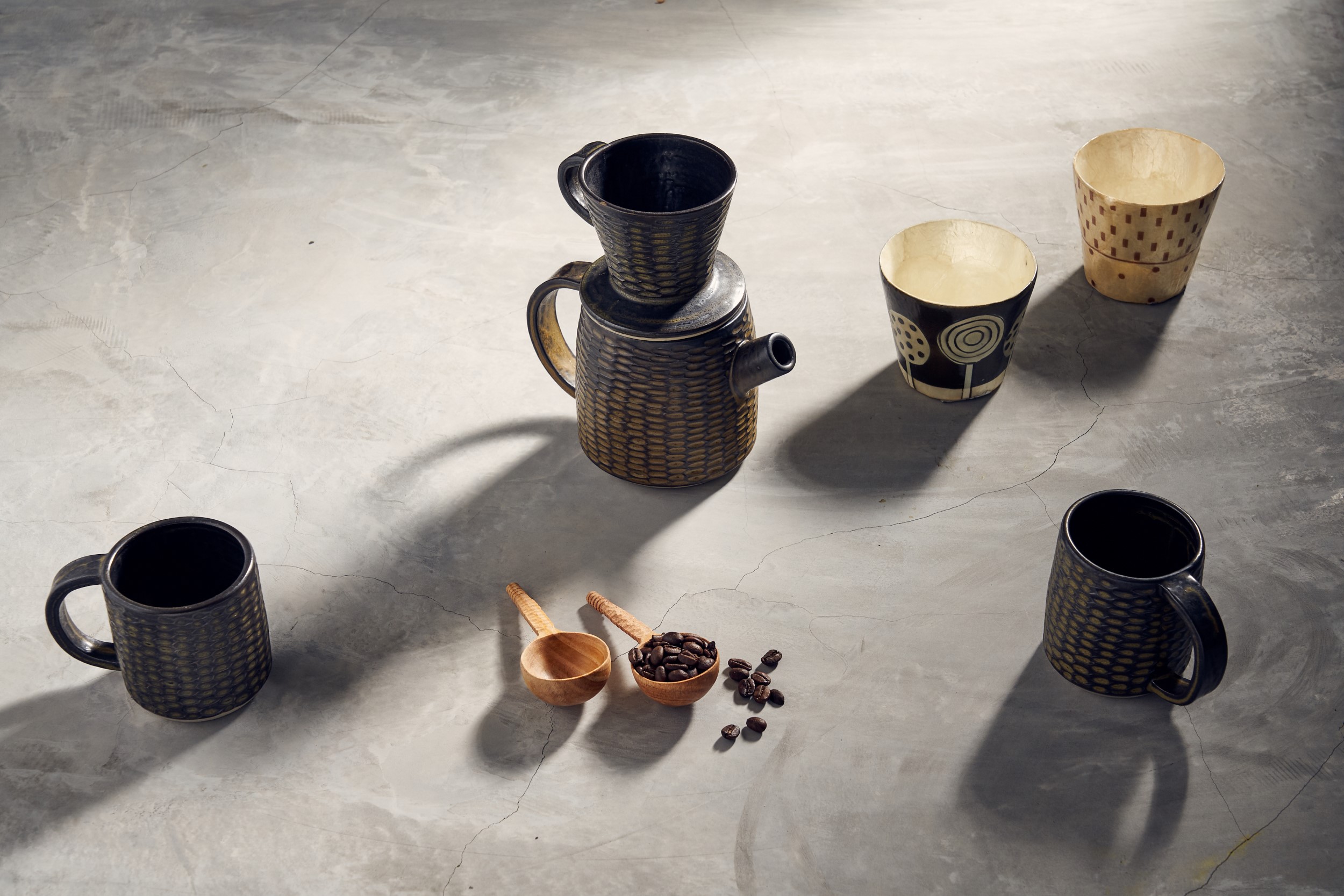 Home brew (clockwise from bottom left): Handmade Pour-over Set (1 dripper, 1 server, 2 mugs), Bijin Craft; Potter Bowls (used as cups), Shell Arts; Ifugao Wood-carved Coffee Scoops, Yagam Coffee; Tinatangi Blend Coffee Beans (in scoop), Basilio Coffee.
Photo credits: Styling by Dagny Madamba & Tala Singson; Photography by Dairy Darilag
CONTACT INFO:
BASILIO COFFEE
Email: areyes.bote@gmail.com
URL: basiliocoffee.com
BIJIN CRAFT
Instagram: @bijincraft
JUNKNOT CONCEPT STORE
URL: junknotconceptstore.com
Instagram: @junk_not_concept_store
LOCANO
URL: locano.ph
Instagram: @locano.ph
SHELL ARTS CO. INC.
URL: saciseries.com
Instagram: @shellartsco
SOUTH SEA VENEER
URL: www.southseaveneer.com
Instagram: @southseaveneer
SUSTAINABLY MADE BY MARSSE
Facebook: @sustainablymade
Instagram: @sustainablymade
THE OLIVE TREE
Email: theolivetreecorporation@gmail.com
URL: theolivetreeph.com
TRIBOA BAY LIVING
URL: triboabay.com
Instagram: @triboabayliving
YAGAM COFFEE
25 J. Felipe Street, Lualhati, Baguio City, Philippines
URL: yagamcoffeeshop.com