KEEPING IT ALL IN LINE
To call Designs Ligna a pioneer in Filipino furniture manufacturing is an understatement. The humble woodworking shop that Al and Kay de Lange put up in their garage 50 years ago has since grown into an institution for Philippine furniture, creating their own fine pieces, or crafting collections designed by the likes of Ed Calma, Dem Bitantes, Natalie Buijs, and Karim Rashid.
Currently at Design Ligna's helm is Nicolaas "Nicky" de Lange, who is also the chairman of the Chamber of Furniture Industries of the Philippines (CFIP), an association of manufacturers and other companies that help promote the growth of the Filipino furniture industry.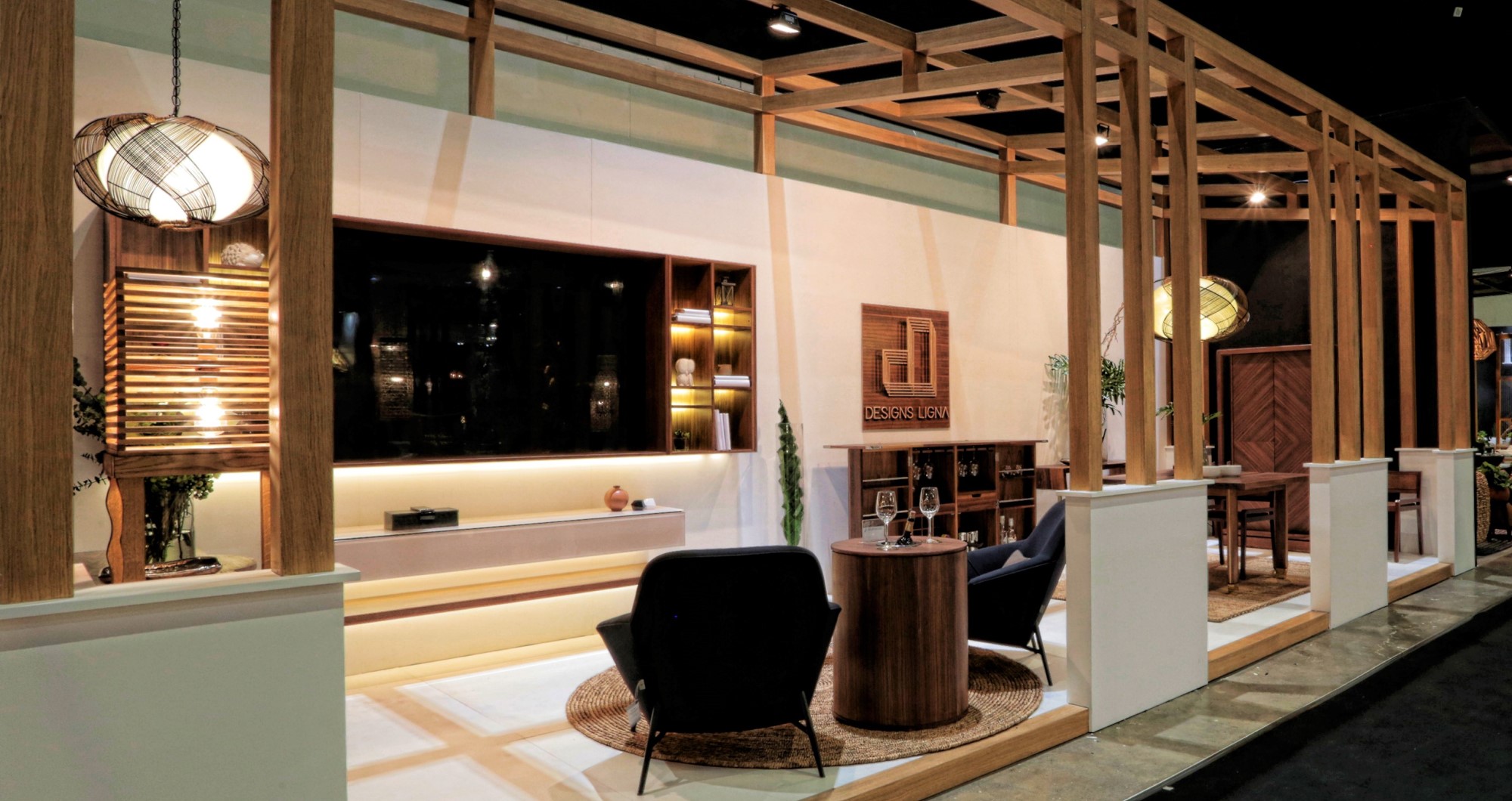 The elegant Designs Ligna booth at the 68th edition of Manila FAME.

De Lange shared that they were hosting the ASEAN Furniture Industries Council (AFIC) meeting at the launch of the 69th edition of Manila FAME last April 3, 2019. He also cited that in spite of being a smaller player in comparison to our neighboring manufacturers Filipino producers shine in terms of workmanship and customization.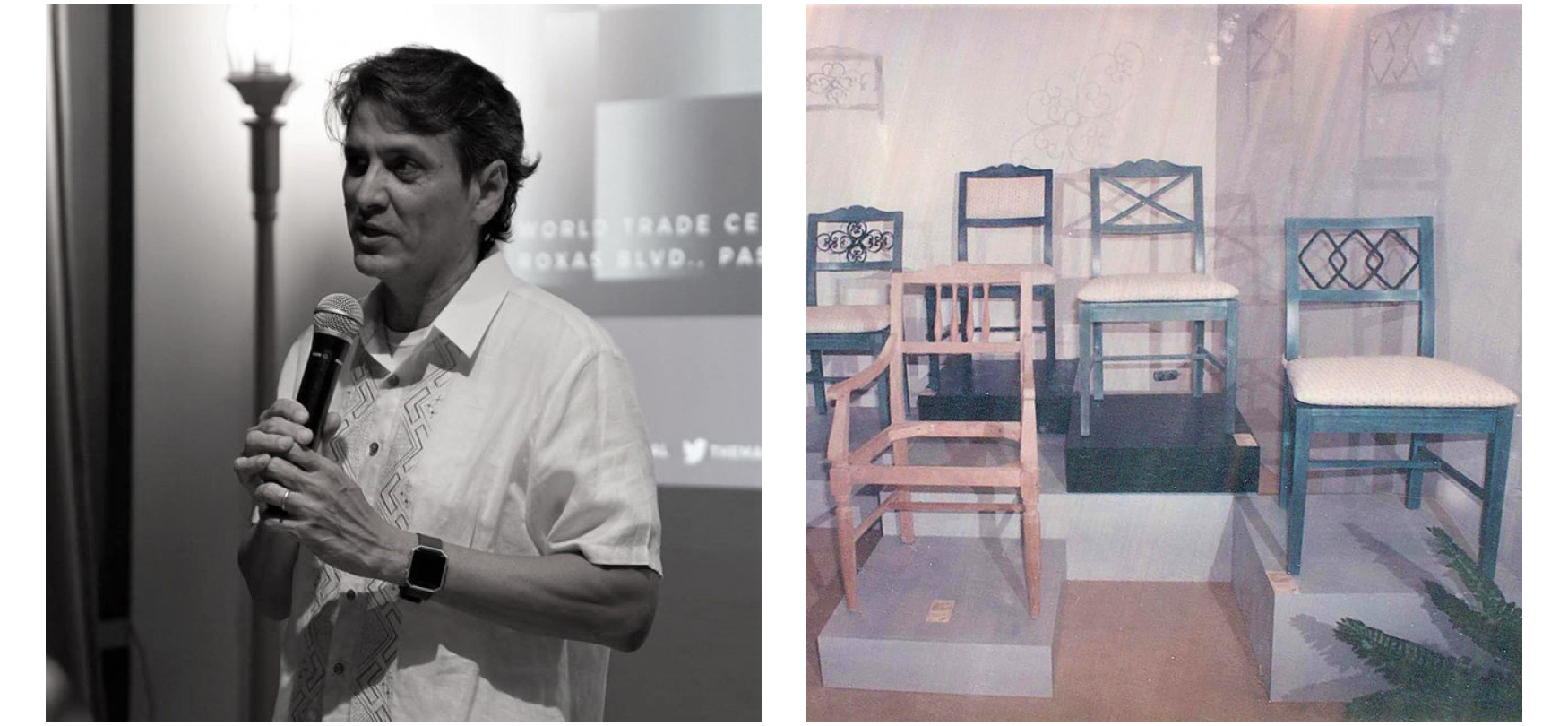 Designs Ligna's Nicky de Lange speaking at the launch of the 69th edition of Manila FAME in April 2019; Designs Ligna has exhibited at Manila FAME since the very beginning, as seen in this 1980s photo of their booth at the fair.

"Our industries are small- to medium-sized enterprises; we're not the Vietnams, we're not the Chinas, we're not the Malaysians," De Lange said. "So, our strength really is in doing smaller batch production, and for the local market we are surviving by doing made to order bespoke type of furniture. It's a challenge and an opportunity for us, and we are glad to be working here with CITEM for Manila FAME."

The sleek, sculptural form of the Cantilever Coffee Table belies storage at its base.

He shared the importance of the local Philippine market, and that its strength should not be ignored. "A recent survey sent out to our members revealed that about 20 to 25 percent of our members are full time exporters, and the rest are either fully in the domestic market or a combination of both," he reveals. "As you all know, the domestic market is booming, everyone wants to be in the Philippines, all of the foreign brands are here, and yet the Philippines is holding on its own."

Zen-like simplicity in the Bauen Coffee Table; Designs Ligna is also known for their bespoke bar cabinets and carts, such as this finely detailed Brooklyn Bar Cabinet.

De Lange also announced that they had put together a Special Setting for FAME that highlighted the companies that had a long-standing relationship with Manila FAME from the start, such as Mehitabel and Pacific Traders and showcased pieces that had been designed by the first-generation owners. The pieces, much like Designs Ligna, were a testament to timeless design. "We are known for our design, talents, and craftsmanship," De Lange adds. "That's the core of the Philippines."
[CONTACT DETAILS]
DESIGNS LIGNA
+632 8869 4126, +632 8553 8973
info@designsligna.com, casaligna@designsligna.com
www.designsligna.com/
@designsligna
@designs_ligna, @casa_ligna