HoliCOW Store Pushes for Green Retail and Mindful Design
These days, design should not only be tasteful, it should also be mindful. Ask yourself and the manufacturer: How is this accessory made? Are its materials renewable or recyclable? Did its production pollute its immediate environs? Were its artisans treated and paid fairly?
The Cebu-based HoliCOW (Holistic Coalition of the Willing)—a group of designers, manufacturers, and crafters, mostly based in the Visayas region—covers all the bases.
With HoliCOW, "green" doesn't have to mean "crunchy" or "hippie." Just take a look at the indigenous weaving of Hacienda Crafts lamps, the sophisticated home accessories of Katha Award winner Luisa Robinson, and the exquisite craftsmanship of bag designer Neil Felipp (of Crazy Rich Asians fame).
Stylishness aside, what ties the members of this collective together are their sustainable production and fair-trade practices. We asked HoliCOW's marketing maven Kae Batiquin what makes this coalition tick, and how to stay green and clean in these challenging times.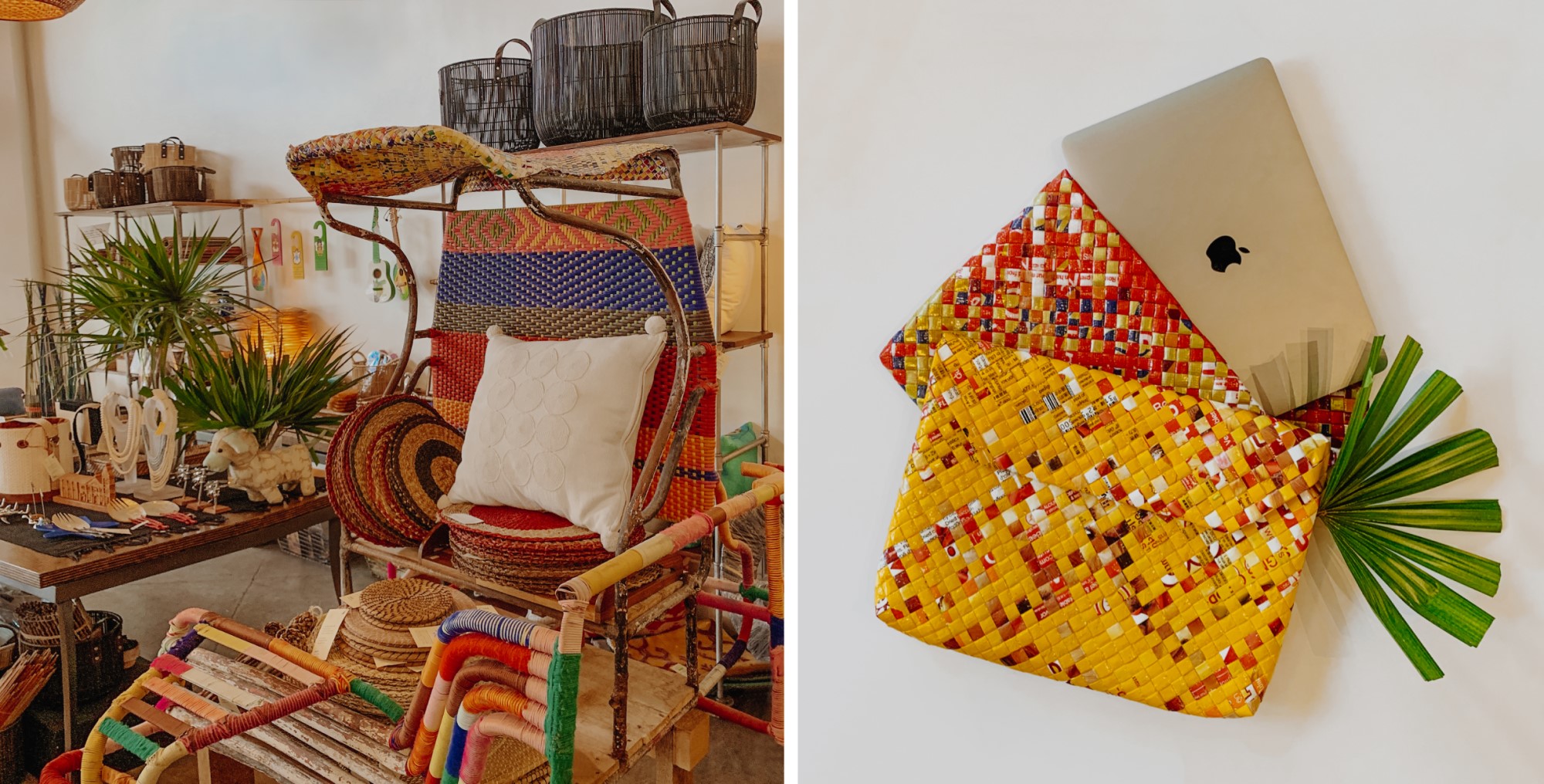 HoliCOW's products promote a circular, zero-waste economy. (Left) This playful "trisikad" (a bicycle pedicab) embellished with colorful woven recycled plastic was part of a vignette in Cebu Design Week. (Right) document sleeves made out of recycled woven plastic can also fit a laptop! These are made by the mothers of the Rise Above Foundation.
A designer solution to an industry problem
According to Batiquin, the seed of HoliCOW grew from the problem of Philippine recession in 2009 to 2010. "The export market had neglected to nurture the tastes of the domestic market for homegrown, world-class Filipino products, and while the world knew about Visayan craftsmanship in furniture, not a lot of our fellow Filipinos did," Batiquin explains. "Our natural resources are dwindling; that we needed to reframe and completely reengineer the way production is structured, to answer these problems."
"We were supported by DTI, DOST, and a non-government organization backed by the German government (which was instrumental in helping us get accreditation), AFOS. Initially there were five companies who were 'willing' (hence the name) to undergo this potentially costly experiment of changing our perspectives, and going towards the sustainable route."
The initial concept of this coalition was to sustain the future of furniture making—and the Cebu industry in general—to make mindful living an attractive, "designer" option, and to tell the story of responsible Filipino design. "These condensed into the three company values which we hold very dear, today: Sustainability, Community, and the Filipino Identity," says Batiquin. "We really wanted to steer people towards the notion that sustainable can be beautiful and functional, that we decided to open a retail store. This would reach more people, would make our items accessible, and show folks proof that Filipino designs lauded abroad, are indeed from here."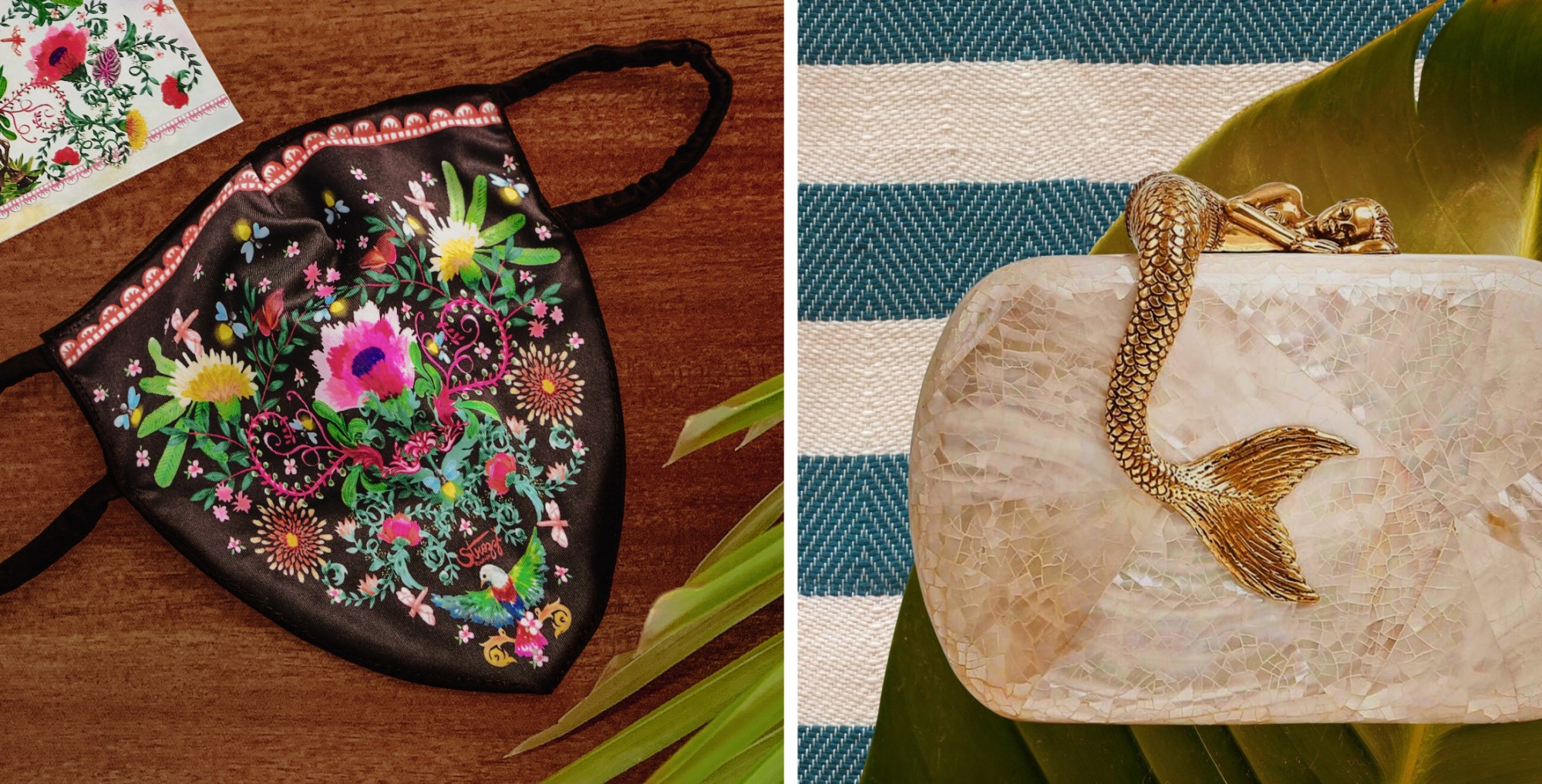 Glamour for the New Normal includes Strozzi's elegant Transce-Dance Mask Care Package complete with a kerchief-style face mask featuring Strozzi's illustrations (left). Neil Felipp's delicate, handmade minaudieres (right) have been seen in Crazy Rich Asians.
A treasure trove of a store
The HoliCOW store is tucked in a trendy district in Cebu City, in between bars, galleries, and a hip bakeshop. The physical store serves to highlight each manufacturer's pieces (a treasure trove of Visayan designer names) in a charming retail space, while the website, which used to be more informative than retail, now has an e-commerce section to cater to buyers during the pandemic.
"We began modestly with the people we knew in the furniture industry in Cebu, but then designers and makers from all over Central Visayas, and later the Eastern and Western Visayas, aligned with what we were doing, which was so encouraging!" Batiquin enthuses. "Not everyone could make the complete production process turnaround to sustainability, or at least sustainable practices, especially for large companies, but we worked with them, to do one item, one collection at a time."
"Initially we were [working with just] Hacienda Crafts, Debbie Palao helming. We never imagined we would be joined by designer/artists from the realm of fashion, such as Neil Felipp, Zai, All That Glitters, and Strozzi! All told, grassroots communities included, we are probably working with close to about twenty entities."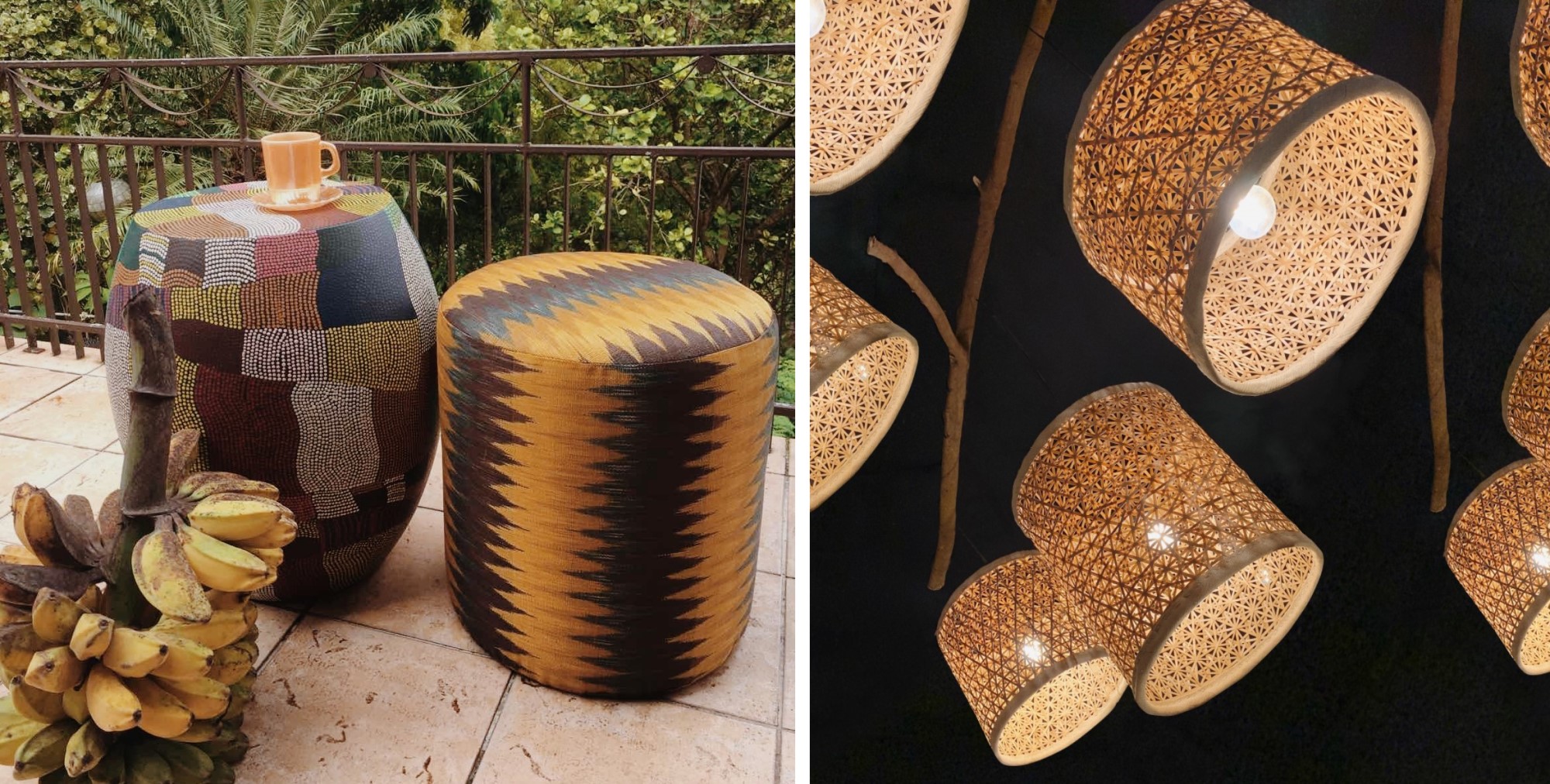 (Left) Debbie Palao's Drum Table paired with Debbie x Hacienda Crafts' T'nalak Ottoman. (Right) Hacienda Crafts' hanging DUNE lamps (right) are made out of sustainable bamboo.
Pushing the future of Cebu design
The pandemic slowdown was a challenge for HoliCOW, but it gave the creators an opportunity to rethink and re-plan. "[It has] given us time to work on the designs and projects we had put on the back burner because of the breakneck speed at which pre-COVID life came at us," Batiquin relates. "Instead of packing and sending items to meet a trunk show deadline, we're ideating, nurturing our city. HoliCOW has been one of the case studies for Cebu's bid for Creative City under UNESCO, and the time in lockdown has given us the opportunity to help spread awareness, encouragement, traction, to creatives…who are unable to create in the way that they were used to."
In fact, HoliCOW played a big part in the 2020 Cebu Design Week (which also highlighted Cebu as a Creative City) with Cebu Furniture Industries Foundation (CFIF) producing and hosting all the Design Week virtual events and creatives. "If there's anything Cebu Design Week has taught us, it's that creativity takes on a vast array of forms, and our job as designers and creative conveners is to be sensitive to detecting these forms, especially since they are woven into the emerging needs of the people."
When asked about the future of HoliCOW, specifically, Batiquin says that they will continue to work with and learn from communities, as well as push the story of the Filipino creative to the world. "What we do know is we'll continue to use our kalibutan mindset (kalibutan is Cebuano for 'environment'), and look at 'what naturally occurs', and work from there, ensuring that all value-providers on every level are fairly acknowledged."
Photographs courtesy of HoliCOW.